A Proper Troll
Indian Hill Trail, Newington
January 2023
Oh Newington, you vexing mistress, you. First, you go and elect a guy with my name as mayor (He didn't run in 2016, but whatever). Then you claim to have the "world's smallest waterfall" which is just the dumbest thing – that screams out for me to investigate. Then you publish a town trails guide, full of ridiculous "trails" that aren't trails at all. If I had any sort of ego, I'd think y'all are positively messing with me.
I've walked your fake trails. I written about them. I've wondered who was responsible for the pdf on your town website.
And I tip my cap to that person. After all, Newington doesn't have too much to work with in terms of hills and dales, so why not make up some "trails" along sidewalks through town?
I'd venture to guess that I'm the first person to chronicle a trip along the full length of the Indian Hill Trail. Which makes you the first people to read a report of a person who actually chronicled this nearly four mile adventure… which is really dumb on our collective part.
Let's start at the western end on Liberty Street. The guide has the trailhead all the way at the end of Liberty Street. This is a very weird street. Like something out of some forgotten Ohio town. There are well-maintained modest homes for three-quarters of its length, but then at the bottom of the hill there's a collection of businesses you don't necessarily brag about sharing the same dead-end street as you.
Motor repair joints, something called "Hose and Coupling", something resembling a junkyard, an air conditioning repair place. All this is next to the train tracks. Beyond the tracks? A swamp. Beyond the swamp? Route 9. Beyond Route 9? New Britain. It just gets worse and worse.
I kid, I kid. Longtime CTMQ readers know I love New Britain.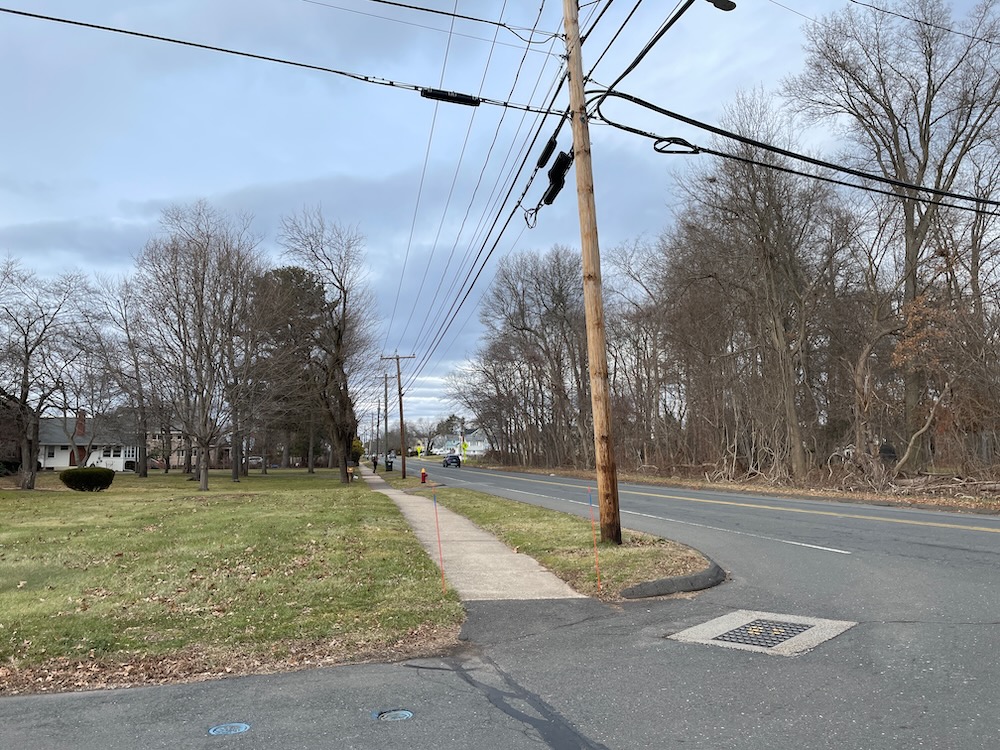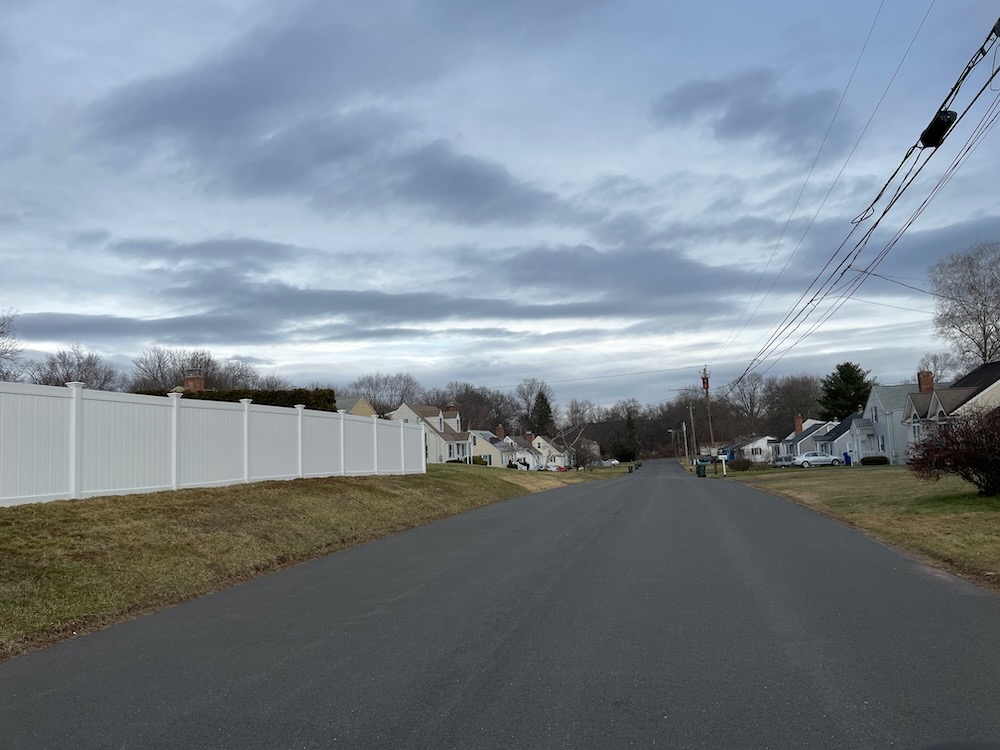 Besides, we're going east, not west, up the Liberty Street Hill out to Maple Hill Avenue. Bang a left up that road past all the other tree name streets (Pine, Ponderosa, Hemlock, Evergreen, Juniper) and then head up Spruce Street. All the way until the 90-degree turn to the right. Here, you're supposed to waltz onto a cart path at the Indian Hill Country Club. In reality, you aren't doing that.
There's a rusty fence, a few Private Property and No Trespassing signs, and a thick wall of overgrowth – all working in concert to keep you from getting to that golf course. Even in January.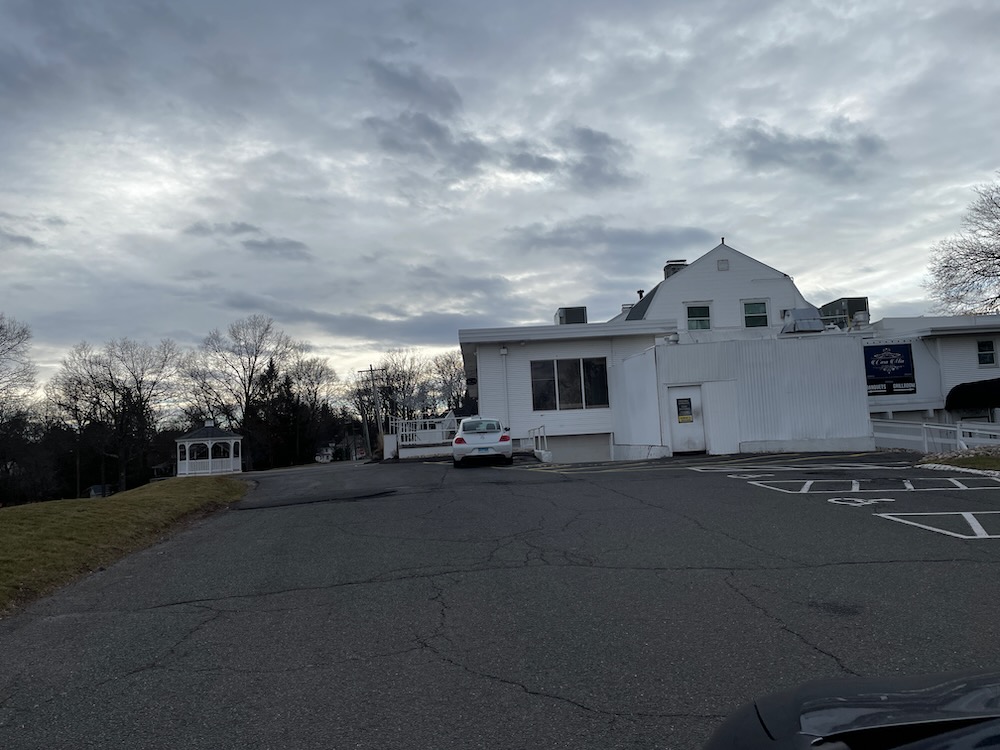 No worries, a good hiker is prepared to adapt to changing conditions. Green Avenue parallels the cart path behind the houses and at the end, there are woods along the protective fence that allow the intrepid Newington explorer to cut through to the golf course's maintenance buildings – back on track.
Another short climb up past the club's Casa Mia on the Hill restaurant. I think this is open to anyone, so perhaps when you retrace my steps here, you can pop in for a cold one and regale everyone about your exploits through town. They'll love it and think you're totally normal. Promise.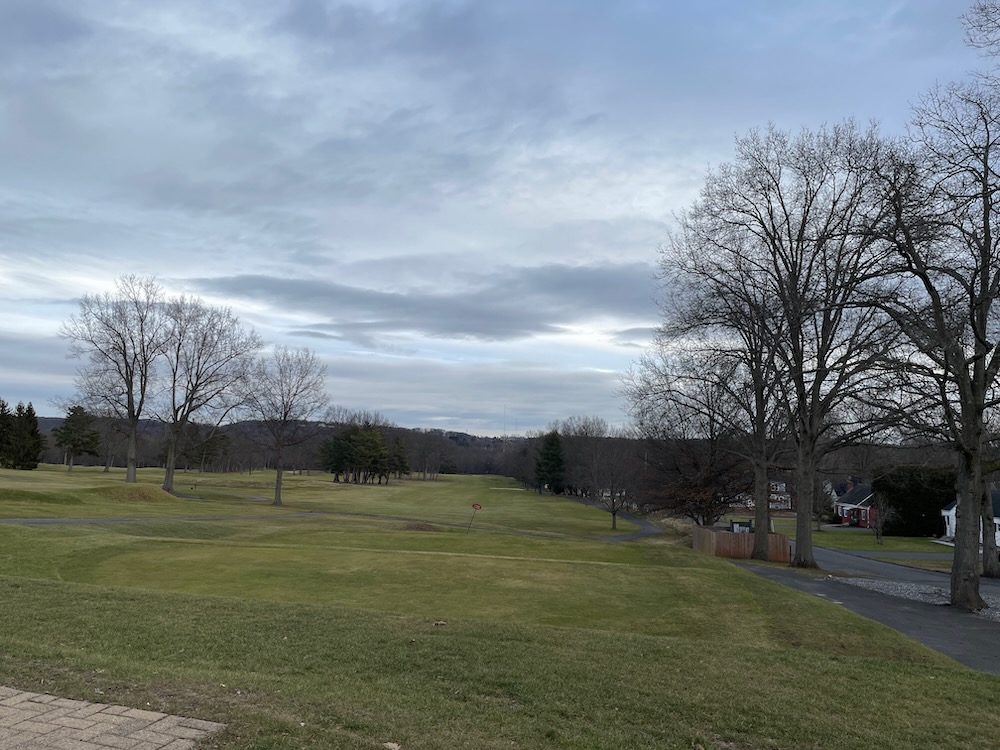 Left onto Oak Street – it was here I passed some fellow hikers – and then another left onto Indian Hill Road. I cannot impress upon you enough that this is merely a walk through Newington suburbia. The one break from it, onto the golf course, is not possible. Left onto the very busy Robbins Avenue and another quick left onto Willard Street (Route 173).
I passed the tiny little WYRM radio station which is something I've always wondered about every time I pass this place. It is old, it has changed ownership and formats a billion times. "WYRM" is (or was) pronounced "Rhyme" in 1962, when the station converted to a "beautiful music format" — the first in Connecticut – and apparently "Rhyme" sounded cool. It's now a Hispanic station with a tropical flavor. And probably some religion too. The station signed on August 18, 1946 so I guess it's not going anywhere.
Continuing north on Willard and then veering right onto Garfield to what is, I suppose, the highlight of the "trail." Let's see what Newington has to say about that:
Indian Hill Trail is the second longest trail in town. It passes Mill Pond Park and the landmark waterfall, the symbol for the Town of Newington. It also passes near and around the Indian Hill Golf course before ending at the end of Liberty Street.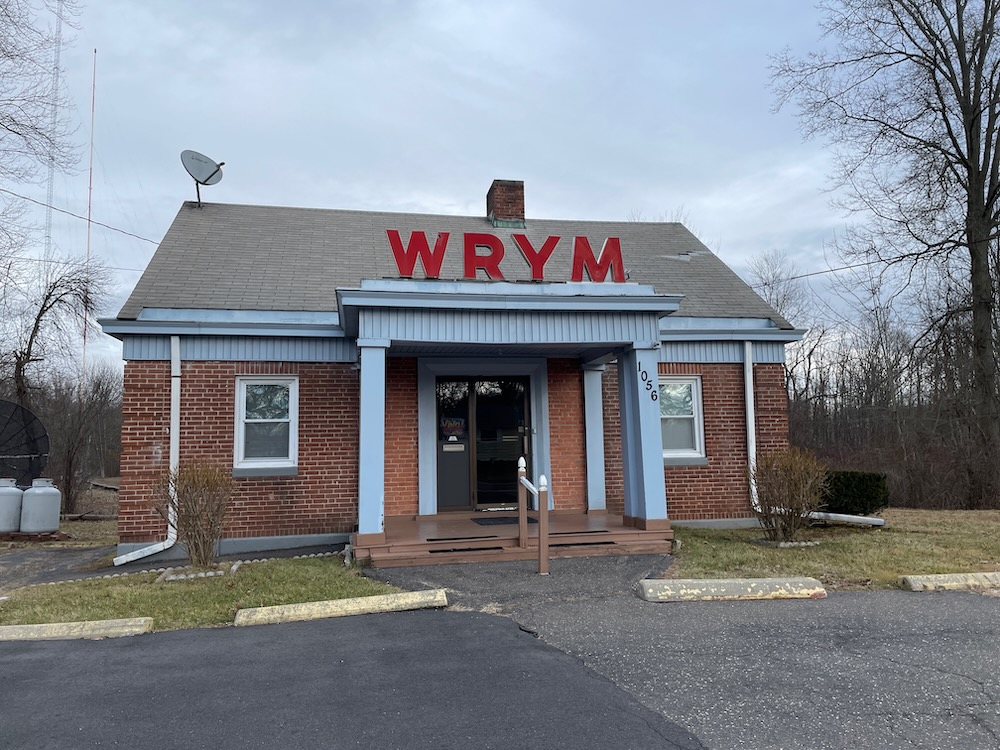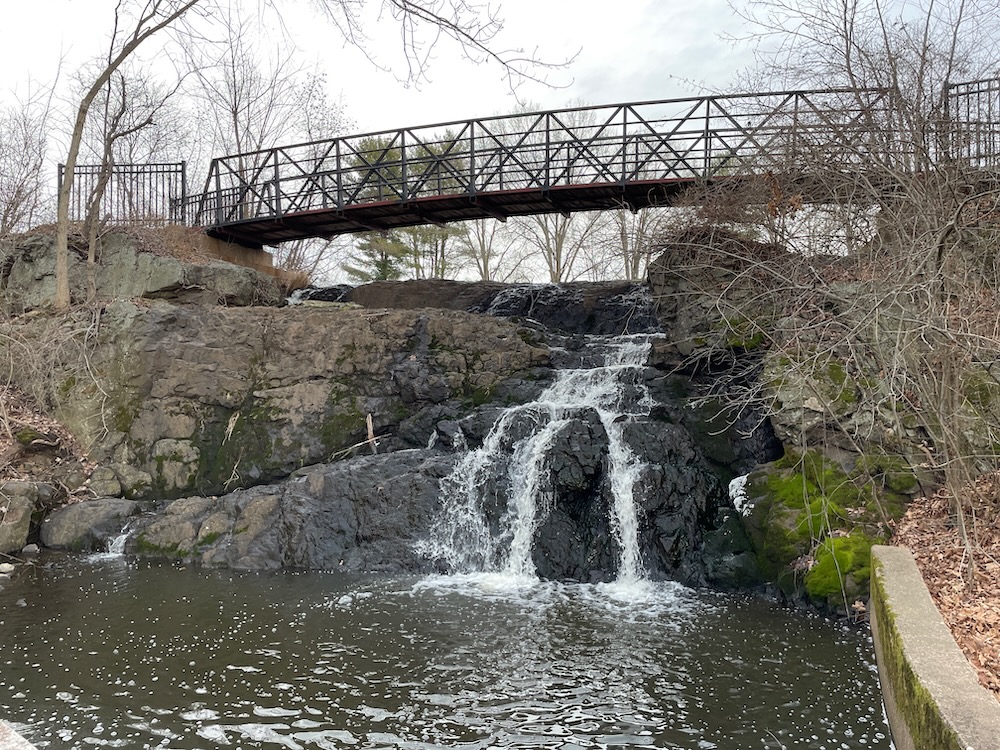 Yup. There it is. The "landmark waterfall." Newington is the state's top troll town, I swear. But they got me to write a page about this "landmark waterfall" and this trail marks my fourth time taking a picture of it.
Past the school bus depot, the police station, the town offices, the library… and on into the center of town. At this point, I've come to enjoy the Indian Hill Trail. From the train tracks, past the town's golf course, through the municipal buildings, and now into the heart of downtown Newington. Y'know, that's pretty cool I guess.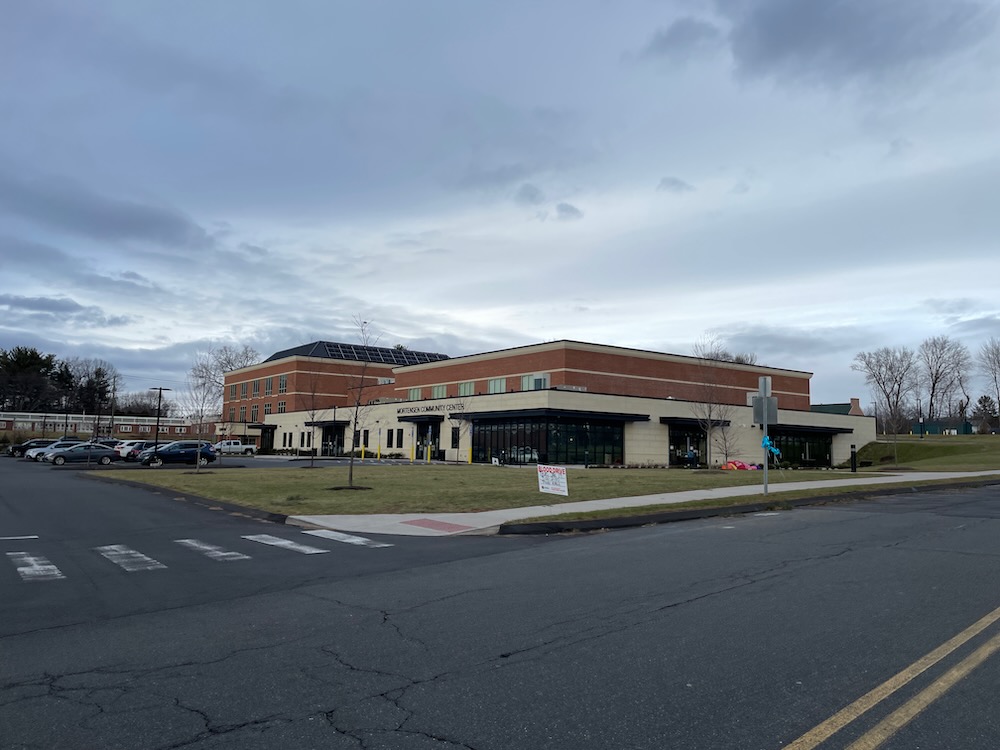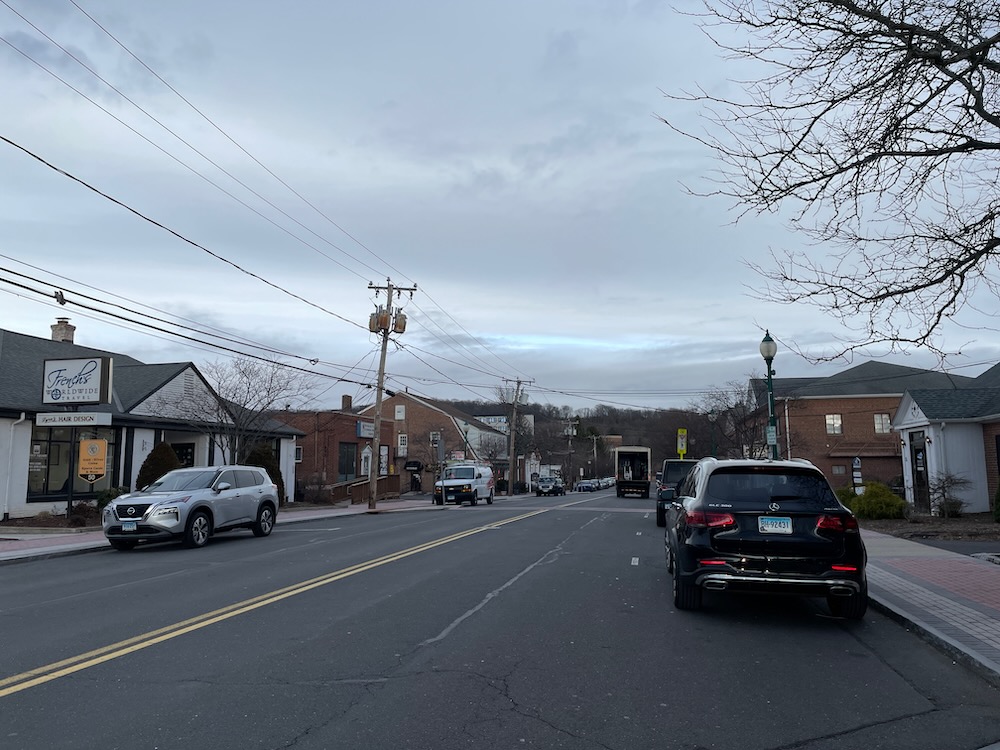 Plenty of places to eat and drink here. Left at the end, then a right towards the Hartford Healthcare facilities along the sidewalk. Oh snap, this is a little climb too, up towards Cedar Mountain.
There are a bunch of creepy old abandoned buildings here. There's a big VA hospital near here and some state buildings associated with Developmental Services. I'm guessing some of the abandoned joints were housing for special needs people back in the day – and I'm sure it's a good thing they are no longer used for such purposes. Oh sure, there's still housing here for those with intellectual disabilities. Right here on Mountain Road in Newington, hidden away under the bridge away from any businesses and family housing, there's a few Medicaid Certified 25 Bed Intermediate Care Facilities certified by the Centers for Medicare & Medicaid Services (CMS) serving individuals with intellectual disabilities and other related conditions. The focus since 1988 is on helping people live in their own homes, controlling their own lives, and being members of their home communities.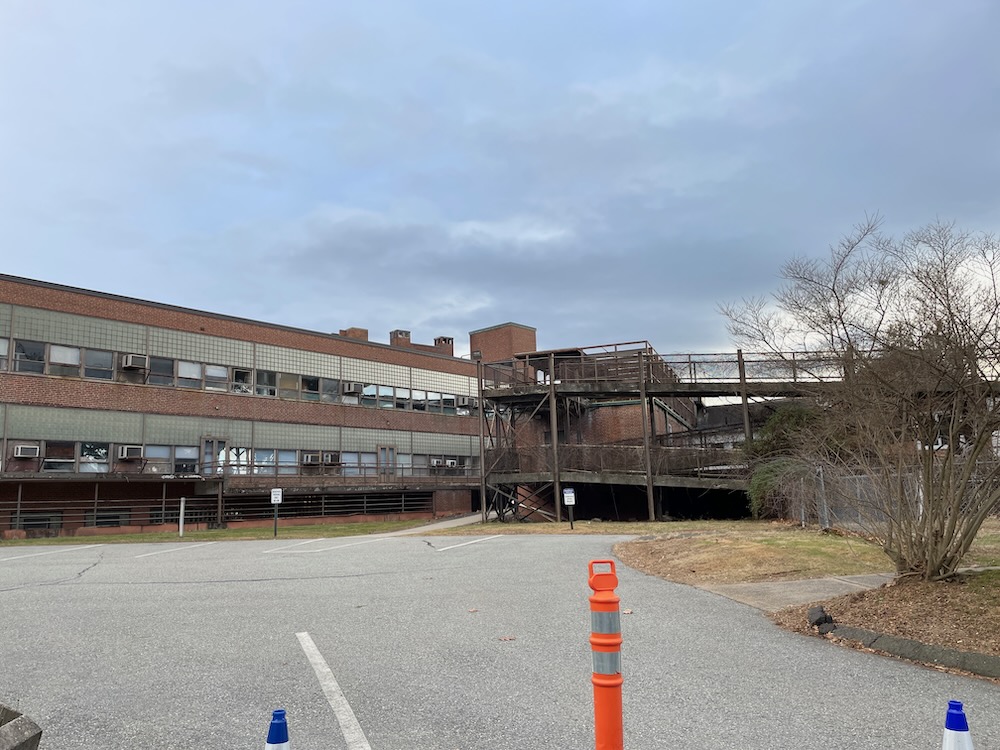 I know all about this because this would be an option for my son in the all-too-near future. An option, yes, but a terrifying one to me and my wife.
Anyway, I didn't mean to get all heavy on you… it's here, under Route 175 before the housing, where the Indian Hill Trail ends and the Cedar Mountain Trail begins.
Which is kind of silly, I suppose. You've come all this way to end under a bridge next to a bunch of creepy abandoned buildings and hidden state housing? With a trail that takes you up an actual mountain (not really) with views (sort of) and everything?
Yes. That's exactly right. That's how Newington leaves you – under a bridge like a proper troll. And you like it.