Okay Balf
Cedar Mountain and Balf Nature Preserve, Newington
January 2023
If you happen to be a Newington resident and have read some of the other pages I've written about Newington trails, you're probably gritting your teeth preparing for another smarmy screed from me. I can hear you from here… "here we go, Steve's gonna goof on our nice little town yet again…"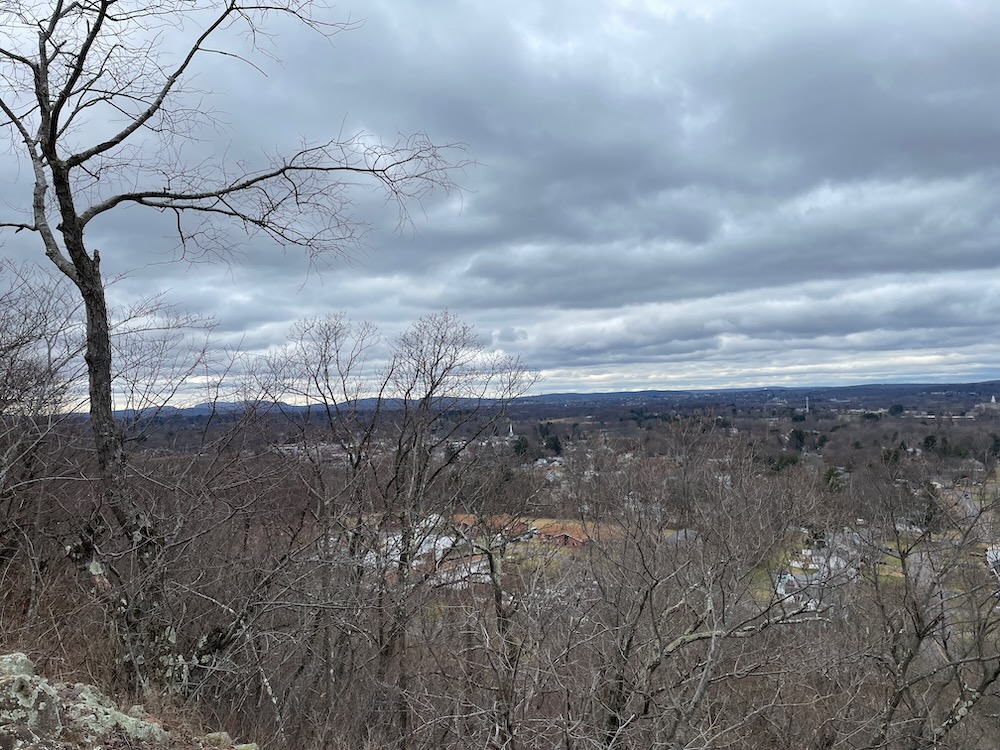 Is that what you think of me? I hope not, especially since I live in adjacent West Hartford, a town with almost literally no trail miles to speak of.
I happen to love what Newington has down with its limited woods and hills. I just also happen to love pointing out how silly the town's published trails guide is. Both can be true.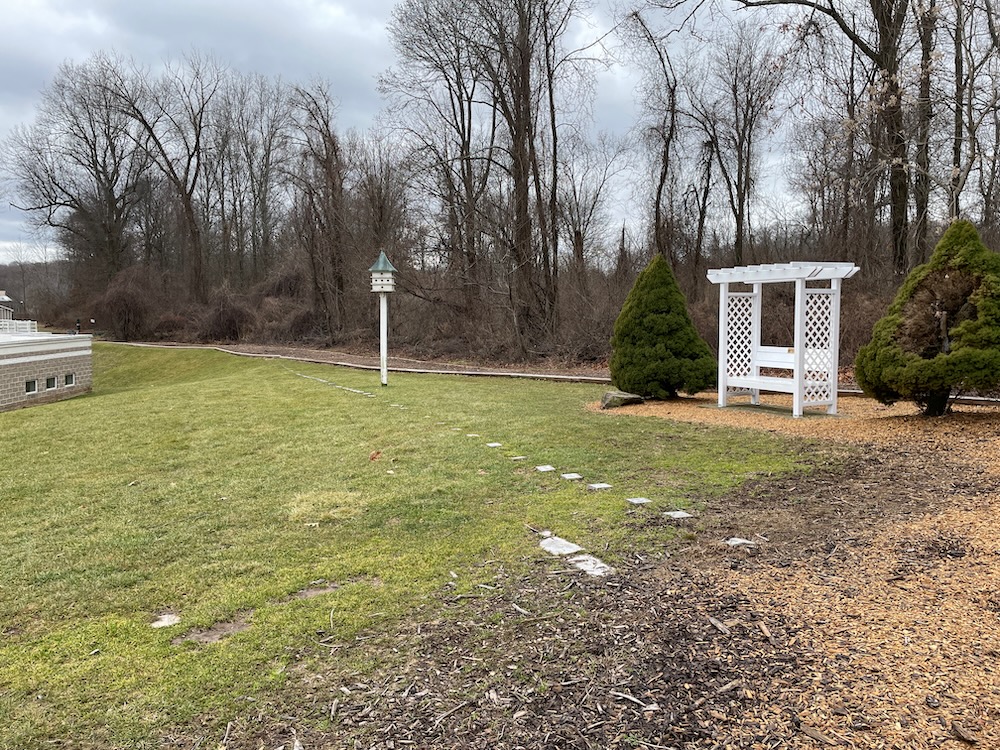 It's funny to me hiking Cedar Mountain now in 2023. The trails are wide and clear and a clear loop is clearly blazed white. When I first attempted to tackle these woods in northern Newington that extend to the Hartford border, I became confused and stupidly couldn't find the main reason to hike these woods: the overlook giving expansive views across Newington and into Farmington, West Hartford, Berlin, Meriden, and beyond.
Now? Now you'd have to be a complete idiot to not make it to the viewpoint.
The Old Cedar Mountain Highway Trail offers a unique opportunity to enjoy the outdoors by hiking through a rustic setting on Cedar Mountain. The trails have a blend of trees such as red maple, white ash, red oaks, black oaks, red cedar and birch. Encounters with local wildlife are also a treat. Animals that roam the area include an abundance of deer, raccoons, possums, rabbits, squirrels and an occasional coyote. Many beautiful birds also make their home on Cedar Mountain.
So… like my backyard? Basically?
As I mentioned in my write up of Newington's amazing Indian Hill Trail, you are more than welcome to combine the two treks since the Indian Hill Trail ends where Cedar Mountain begins. And if a person is to actually hike the entirety of the Indian Hill Trail – 4 miles of sidewalks through town – that person deserves to enjoy some woods I think.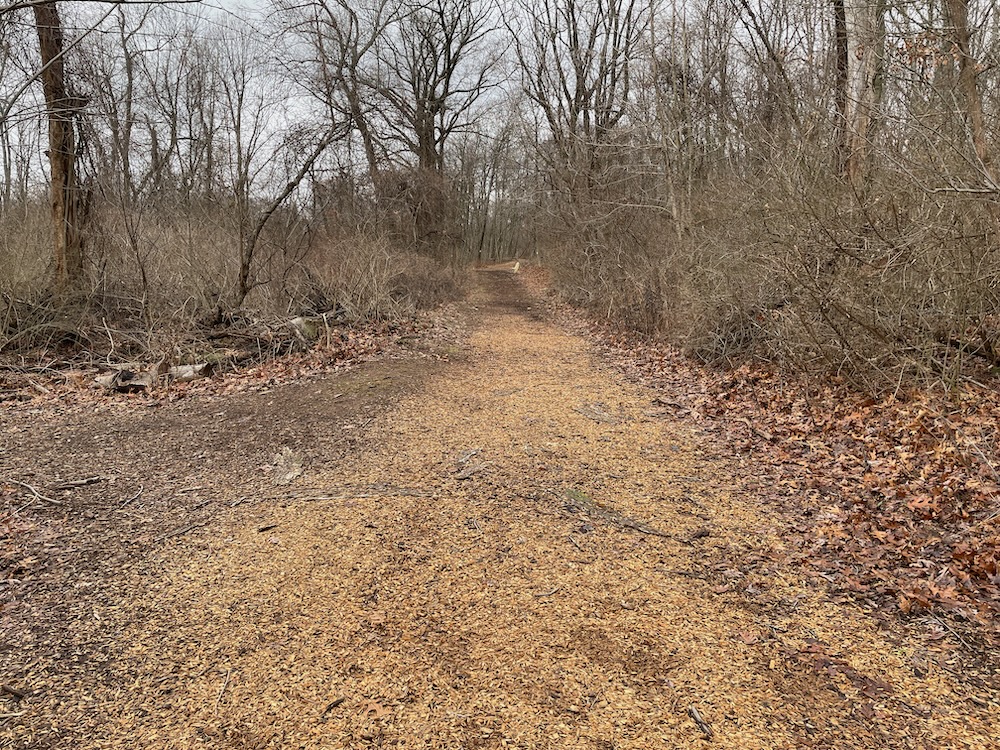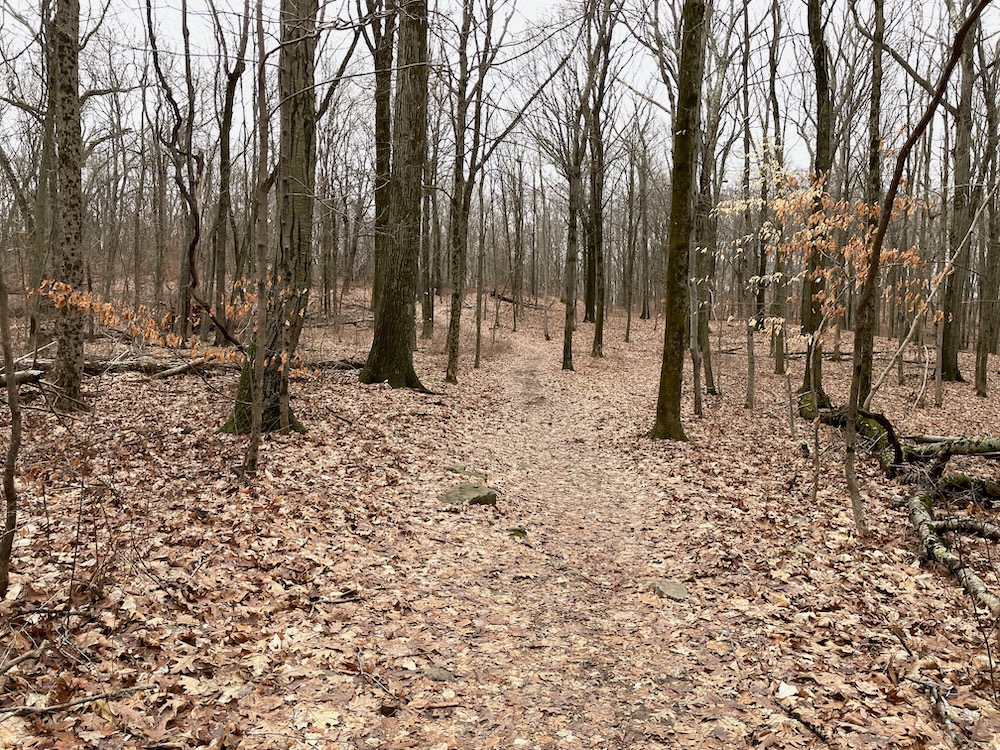 Unfortunately, that person's introduction to Cedar Mountain would be a paved access road to a water tower. A very, very steep access road. This is where the sign above explaining which paths here are "official" and which aren't. But parking at this western side is weird.
So if you didn't just hike the four miles across town, parking at the eastern end is much easier. You could even say that it's more humane.
Because you can park at the Connecticut Humane Society on Russell Road. Arf arf.
Most people park in the Society's lot and wander around the building a bit. If you drive past the main parking lot, there's actually a decent hiker's lot. I suggest parking here, especially if arriving at off hours. From there, the main trail is a simple straight shot west.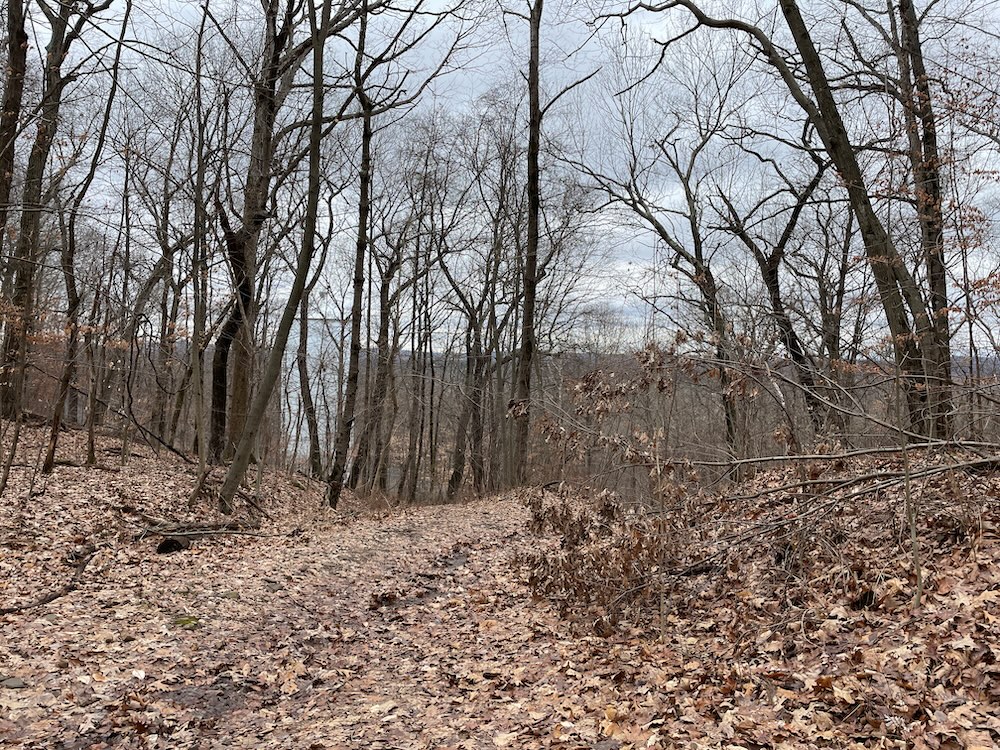 It is blazed white and it really is totally straight. No steep climb either. If you stick to this trail, you'll see the aforementioned water tower and paved downhill in about 10 minutes. At that point, a well-defined white-blazed trail heads north. If you follow that, you'll be taken by surprise at the overlook in just a few minutes.
That's it. That's the gist of this place.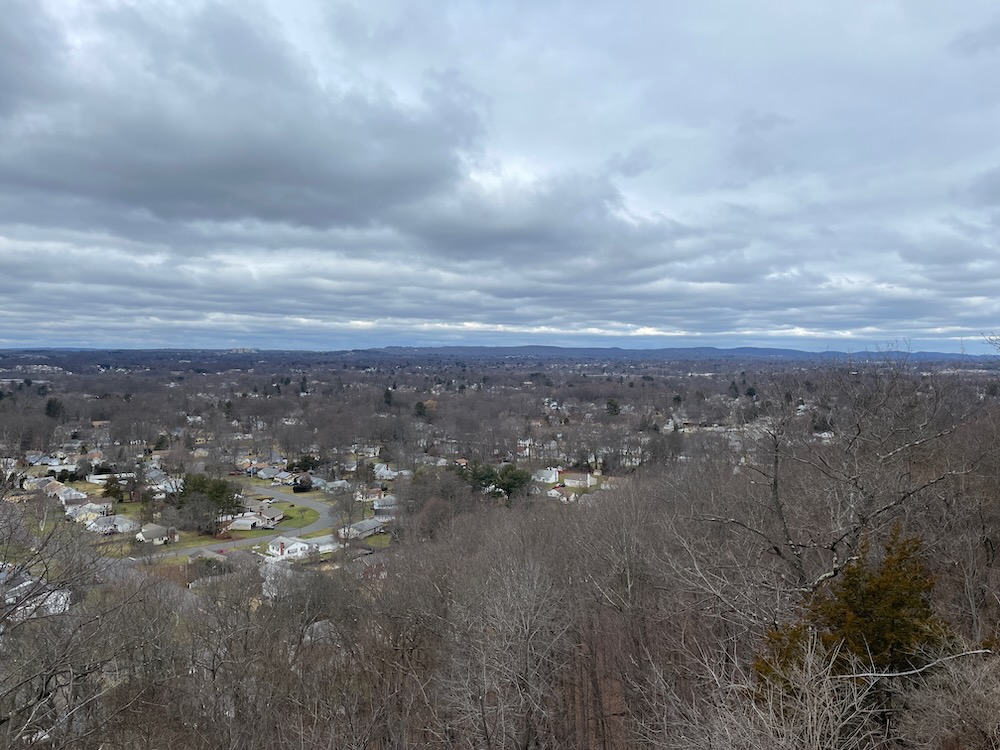 Located behind the Connecticut Humane Society on Russell Road in Newington, the trail is a great place to take man's best friend for a walk. The trail has a sign at the front entrance and leads to a couple of connector trails that are outlined with heavy branches and covered with mulch. Continuing on the main trail will eventually lead to the "outlook." This outlook area offers a scenic view of the area for miles from Cedar Mountain. It is a great place to star gaze at night. In July, 1965 and the fall of 1966, there were published reports in the Hartford Times of UFO sightings over Cedar Mountain.
I'm sorry, what? "Published reports" you say? Not "verified reports?" Of course not.
And if you come here and see the view, great! But you'd be missing a lot. Now, I should say up front that I would not come here for stargazing alone. For one thing, it would be dark. And you will absolutely die if you fall off the cliff at the overlook. But in addition to that, in January 2023 anyway, there are at least two encampments of unhoused people in these woods.
My first thought when I came upon them – well off the main trail mind you – was that this was a pretty good place to live if one had to live in such a place. Trails to downtown Newington, the Berlin Turnpike, and Hartford abound and this is pretty centrally located for that. My second thought, when a man emerged and began following me was, "oh man, really? After 30 years of hiking all over the place this is where I'm going to have trouble?"
For the record, I had no trouble and he wound up taking a different trail split after a couple minutes.
So what's up with all these trails? There are a lot of trails here and it can get confusing. The signs at the ends note which are Newington-maintained town trails, and they are blazed white. However, so are a bunch of other trails.
Those north of the main Cedar Mountain Trail generally loop around back to where you came from, but if you get adventurous, you can spend some time here in what is called the Balf Nature Preserve.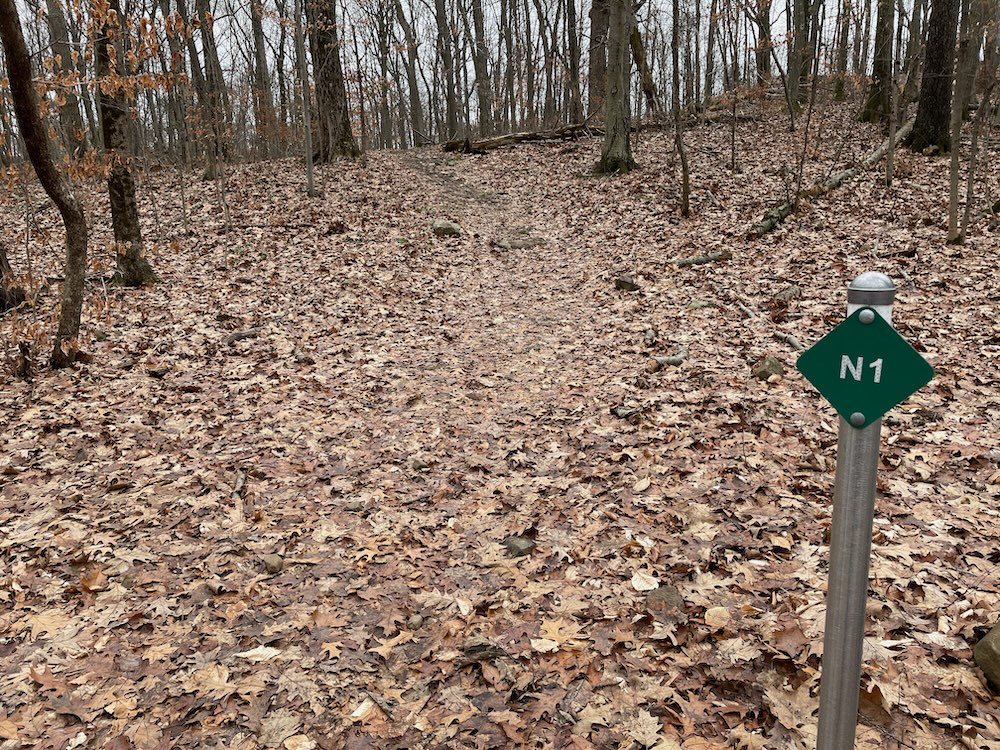 I would think there are many local residents these days that are unaware that there's an active Tilcon quarry just south of Elmwood and just west of Cedar Hill Cemetery, final resting place of Samuel Colt, JP Morgan, and Katherine Hepburn. The quarry was founded by Edward Balf and has been in operation for a century. I'd guess the company owned all the land on the north side of Cedar Mountain and deeded it to be preserved – likely only because there wasn't enough traprock and limestone to pull out of it.
I'm somewhat fascinated by this whole area. But hold on. Let me finish the proper Cedar Mountain Trails first.
After the overlook you can turn around and go back to your car. The "official" Newington approved trails actually contain a loop south of the main trunk trail, and I recommend you do that loop. It's a nice loop and will take you into a wholly different niche – edge and meadow.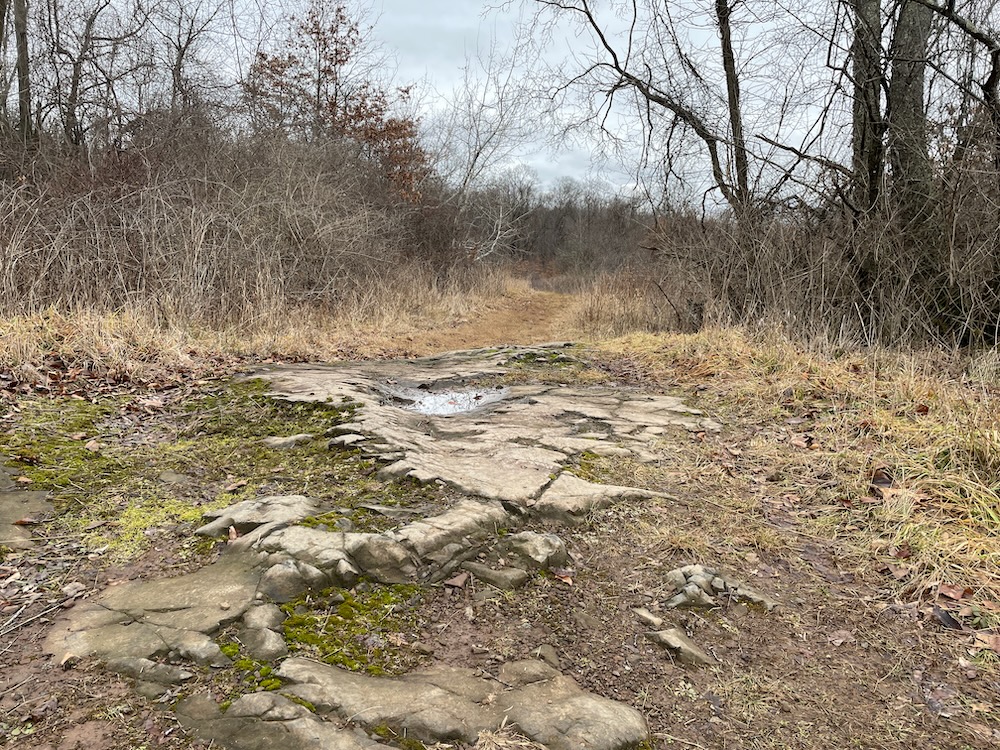 I wasn't expecting that myself, but yup. It's true. Dozens of songbirds flitted ahead of me as I made my way through the winter meadow – again, there are tons of trails here, so keep your head about you and make your way back to the trunk trail. And then go back to your car I guess.
Okay, the web of trails north of Cedar Mountain are interesting to me not just because people apparently live there, not because they take you near an active quarry in an urban setting, but because you can follow them up into Hartford to Cedar Hill Cemetery.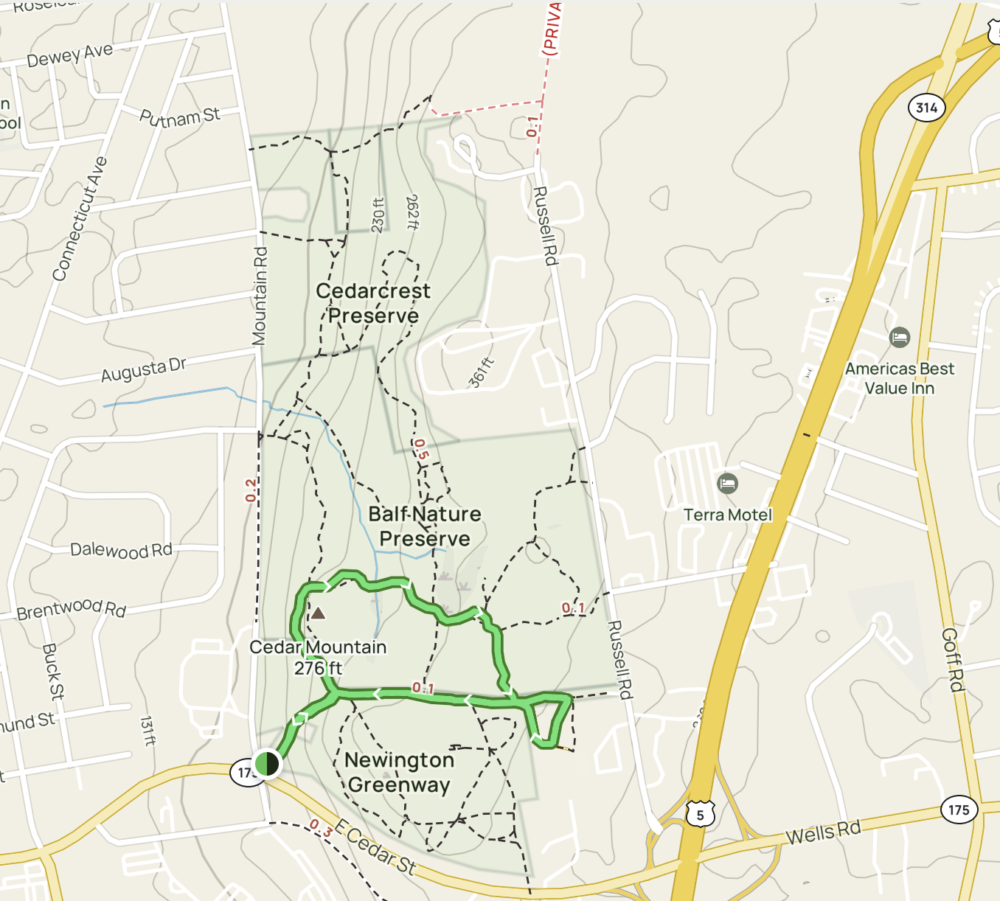 That map is from the notorious AllTrails but it's actually pretty accurate. If you go to the northernmost trail and to that private (and closed to cars) road, you can follow that to the cemetery and beyond. I will bet you $1,000 that in fifty years this stretch of Russell Road will be "haunted."
All the ingredients are here: a whole bunch of creepy old abandoned and forgotten state buildings, "unexplained sounds" which are actually just quarry operations echoing through the hill, a closed road that used to be open to traffic, a cemetery with famous people, a nearby population of marginalized people (state special needs housing just over the hill), and what the heck, the Connecticut Lottery workplace killings were a mile away, but over time, people will say they happened here.
Mark my words.
I'm rambling, much like the unofficial trails up here. A quick jaunt to the lookout and then circling around a loop or two is certainly a nice little escape for those of us in the greater Hartford area. Go adopt a rescue pet when you're done. What a lovely Newington day!