This Place is Mint
Lacroix's Homemade Ice Cream, Plainville
November 2023
That's right, November. I went and had some ice cream in November.
I'm not sure if Lacroix's plans to keep winter hours, but why not? Other than the fact there's no indoor seating? And ice cream is cold? And winter is cold? Or it used to be anyway. Hey, maybe year-round homemade ice cream joints are a glimmer of positivity amidst the vast sea of climate change despair.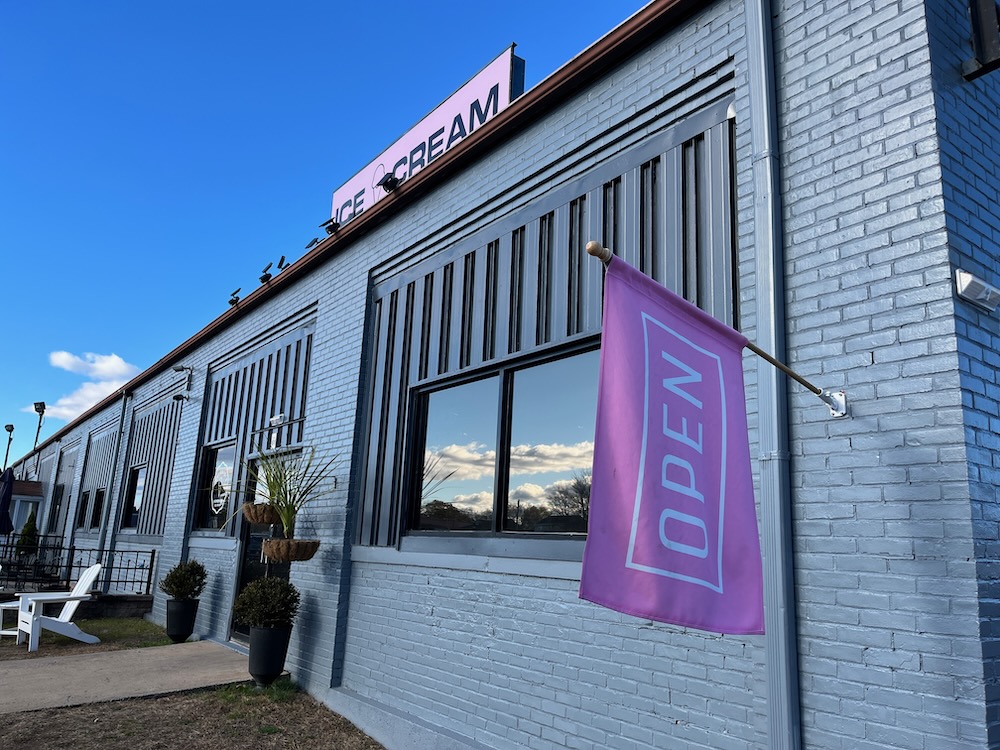 Speaking of despair, I must admit to some mild form of it when I first saw Lacroix's location. It's… weird. Then I saw there's an Italian bistro next door. Which is next door to the Plainville Sports Arena. Which is next door to a business that sells stuff for your reptile and amphibian vivariums. All of which share space with a few industrial milling, deburring, and manufacturing concerns. Which is next door to some lawn care company and a bunch of trucking equipment.
In other words, it's not the prettiest location. But, I wonder, is the advantage here that Lacroix's is close to larger populations than, say, the prettier ice cream spots at farms in Litchfield or Windham County?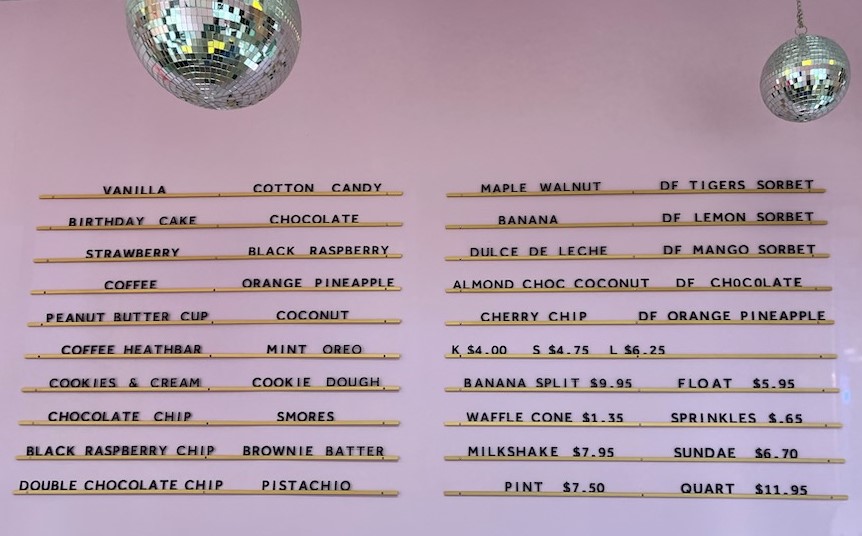 Let's take the idealistic route and say hey, if the ice cream is good, it doesn't matter where they're located.
Spoiler alert: the ice cream is good.
Lacroix's Homemade Ice Cream opened in July 2023 and is named after one of the owner's grandfathers. He loves ice cream. So they honored him with an ice cream shop named after him. (The ridiculous irony here is that the owner who is the granddaughter of Mr. Lacroix is named Lauren Minty.)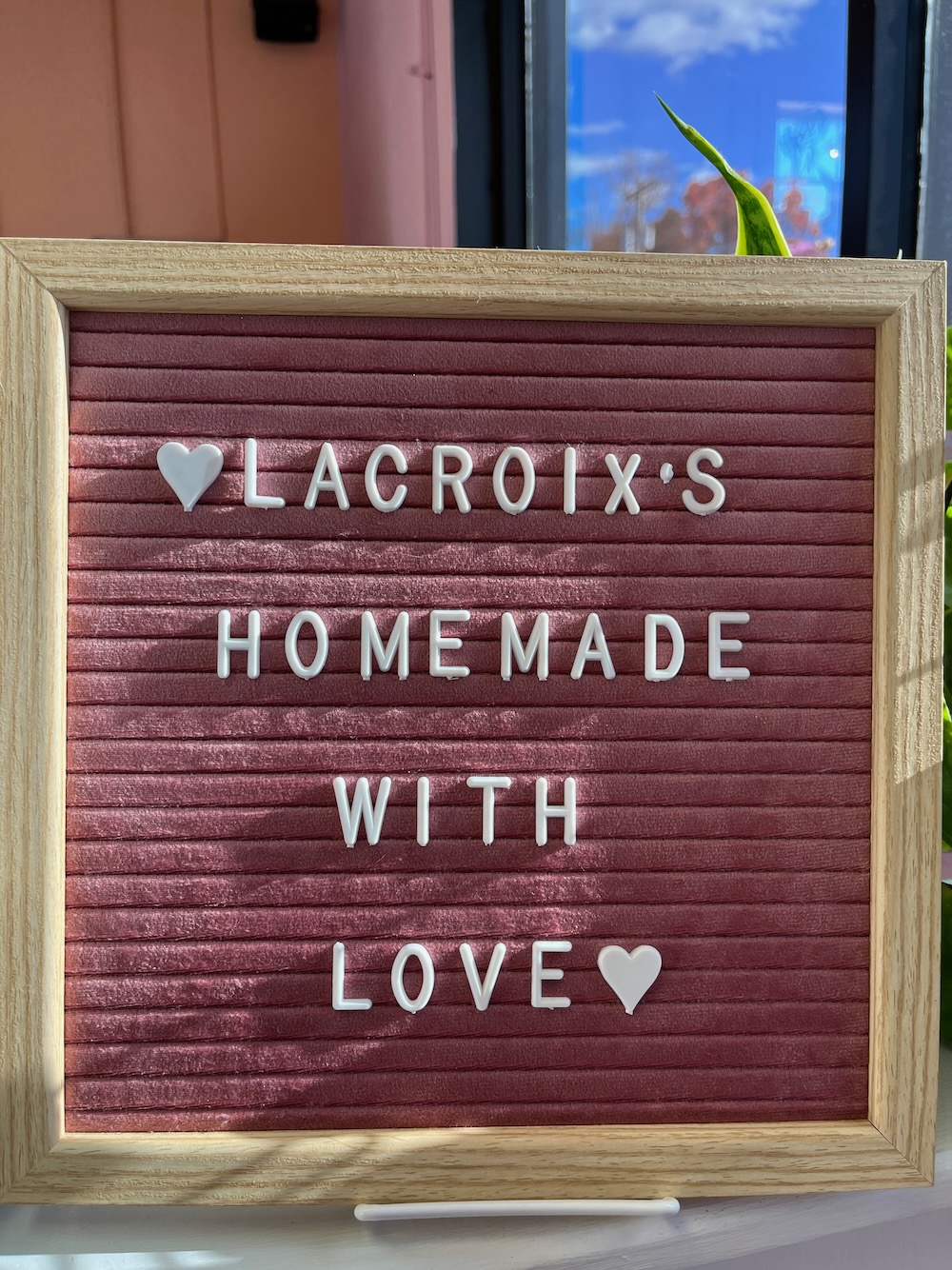 That's right. Minty. As a person who puts chocolate mint chip on my ice cream Mount Rushmore, just name your place "Minty's"! I guess Old Man Lacroix is a special guy.
Along with partner Sean Williston, who served me, they'd been planning their own joint for six years. They trained in ice cream making pre-pandemic, then bided their time.
And their time came in 2023.
(The space used to be The Creamery which… I'd never heard of and am mad about that.) Lacroix's was a hit right out of the gate, selling out of ice cream in their first week. And then again in their second. For a place that usually has about 20 flavors on tap, that's pretty nuts. For a place located in an ugly industrial plaza next to I-84, that's incredible.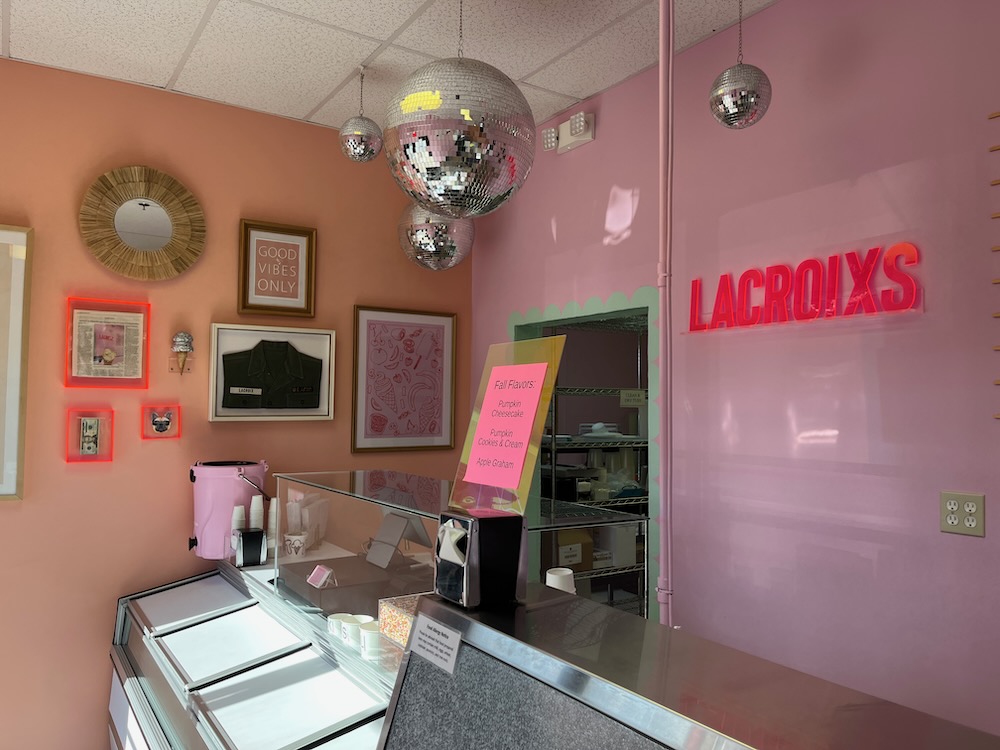 I parked and entered the tiny retail area and owner/maker Williston was perfectly pleasant. Not pushy, not annoying, just chill. I took my time staring at the large menu and settled on Cherry Chip. Helpfully, I was left alone in the store for a minute allowing me to take a bunch of pictures, which you now get to enjoy. Thanks owner/maker Sean Williston!
The following is from a paywalled article that will disappear in a couple months, so I won't bother linking it. But it's helpful!
Each day, Lacroix's offers about 20 flavors, the couple said, with staples like vanilla, chocolate, strawberry, cookies and cream, cookie dough, coconut and mint chip. Other popular varieties include coffee Heath bar and peanut butter cup, they said, and the menu has featured options like brownie batter, birthday cake, Butterfinger and cotton candy. A banana ice cream is made with whole blended bananas, Minty said, as she wanted as natural of a flavor as possible.

Dairy-free options are available, including fruit sorbets and creamy flavors made with coconut. The couple plans seasonal flavors heading into fall, like maple walnut and apple pie, but they haven't yet decided if Lacroix's will be a year-round operation.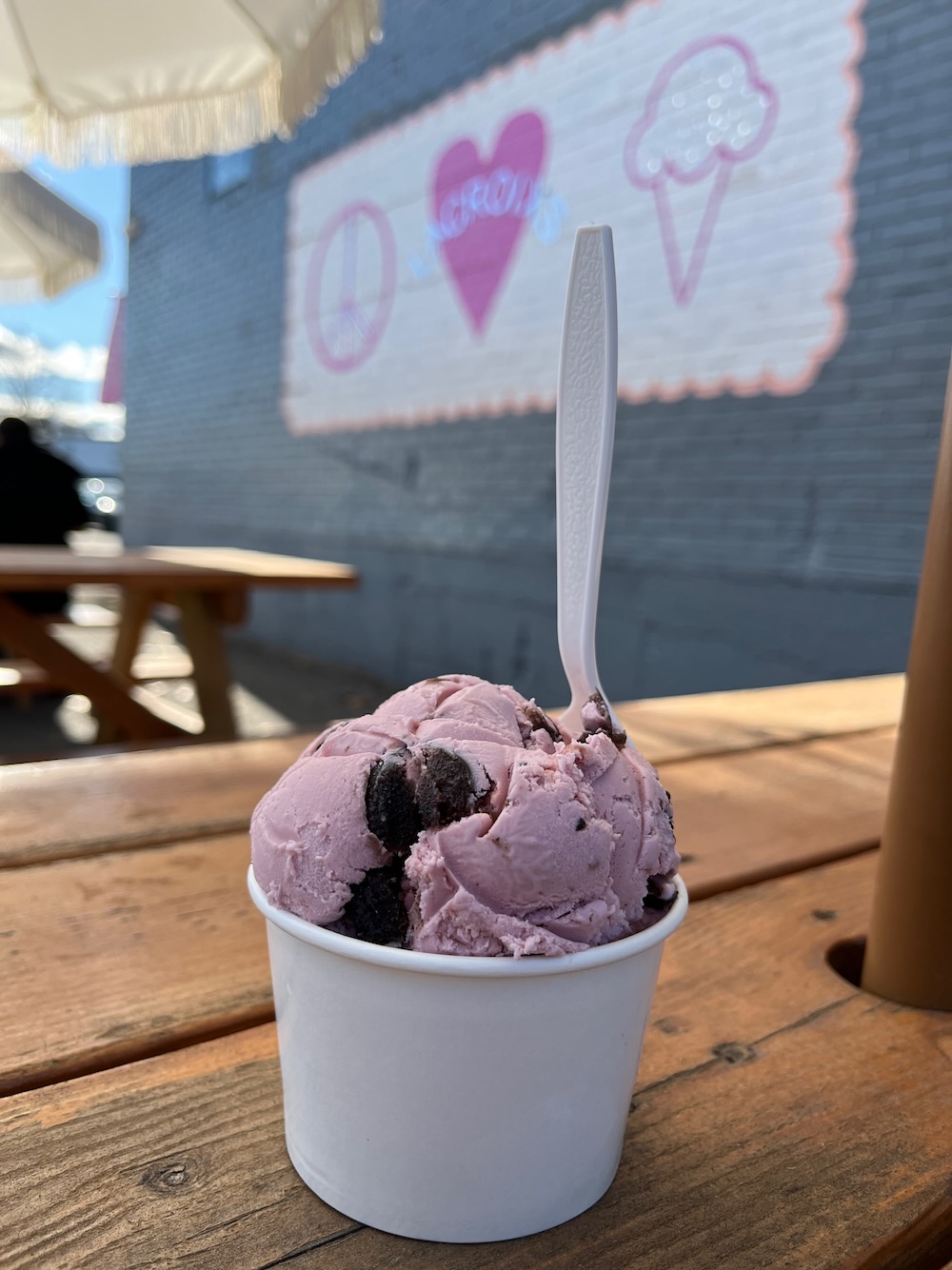 Well, they made it to mid-November in 2023 anyway.
I fortunately visited on a relatively warm day of about 50 degrees, so I ate my small cup (5 bucks) outside. Lacroix's has done the absolute best they can do to spruce up what is, straight up, an ugly parking lot. Cool oldies music played over a speaker and fake tropical plants swayed in the autumnal breeze.
My ice cream was excellent; creamy and had a "pull" that was longer than usual. I think that's a good thing. The cherry flavor was… cherry flavor. Like, not overly sweet or artificial tasting at all, and I loved it.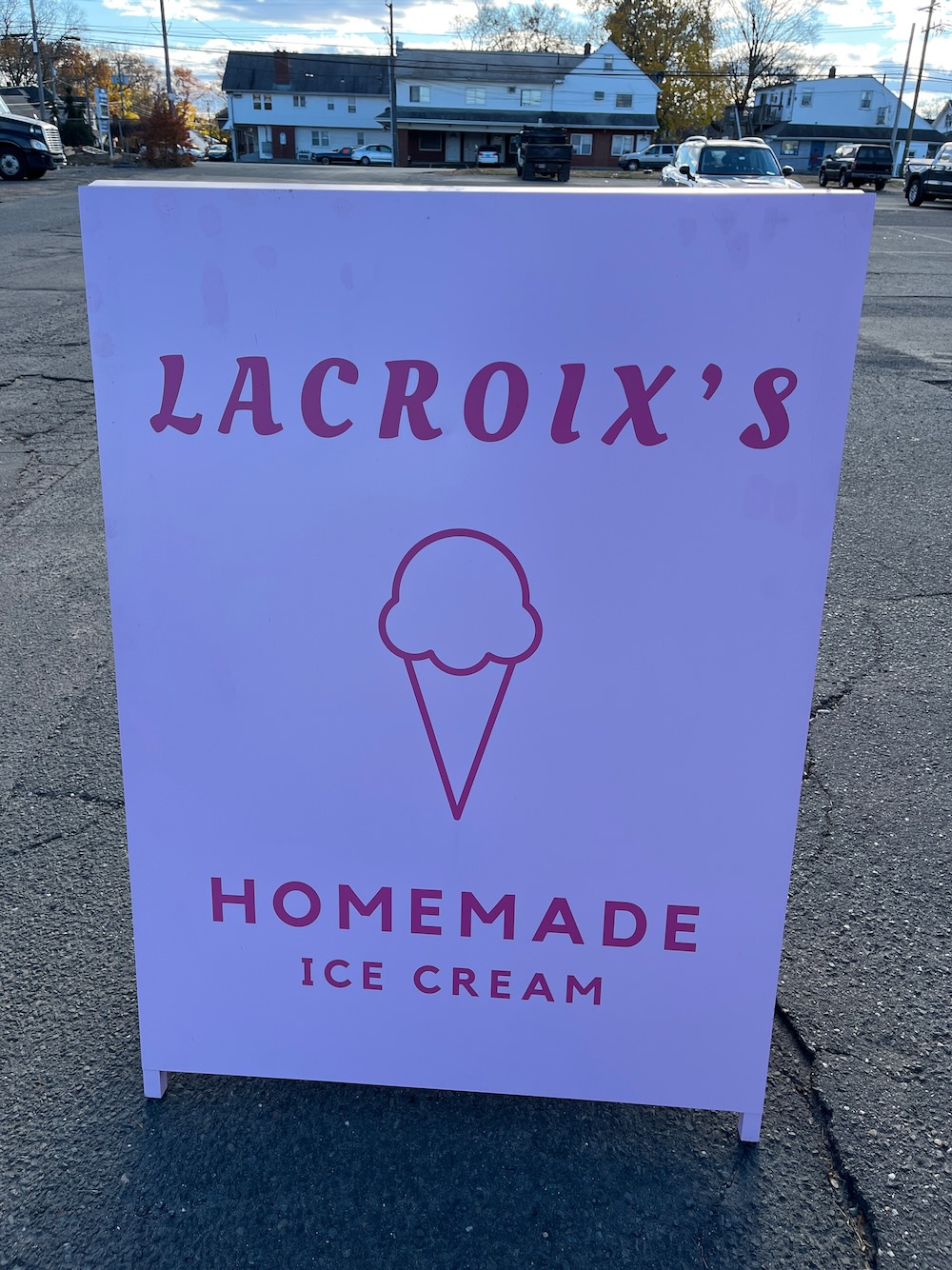 The owners seem super nice and earnest and I applaud them for going for it here in Plainville. I can't think of a better example of "If you build it, and it's good, they will come, even if it's in an industrial parking lot in the shadow of the highway."
"Minty's" would have just made sense though, right?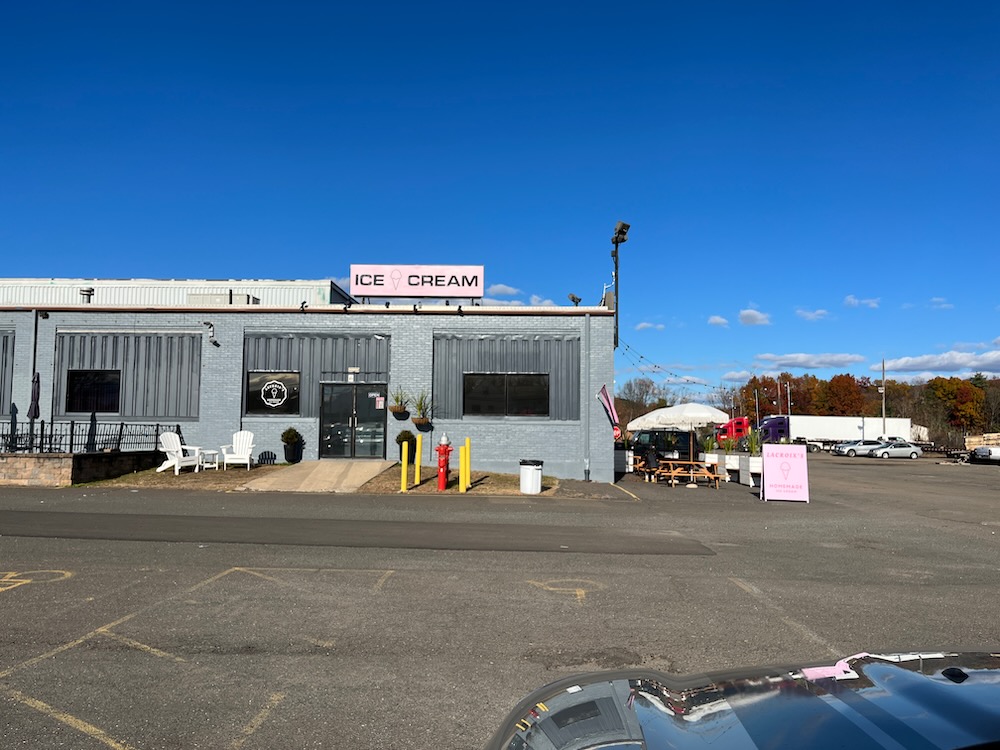 Lacroix's Homemade Ice Cream (Facebook page)
CTMQ's Homemade Ice Cream Trail