BaSilly
Lake Basile
East Granby, Granby, Simsbury
I'm sorry, for those of you familiar with tiny Lake Basile. I know right now you're wondering why in the world it features on this website. It's a little pond (not a lake) choked with vegetation that no one really thinks about. I get it, I do.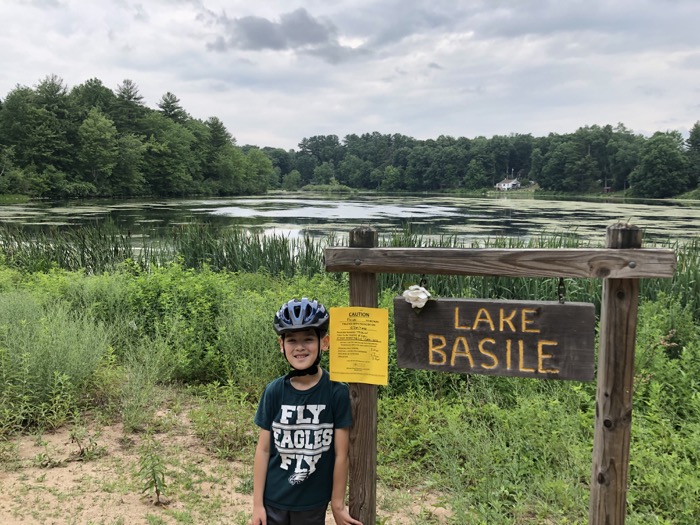 There's just something weird about Lake Basile to me. It's not that three towns border its shoreline – even if the Lake Basile Association claims that makes it rare in Connecticut. No, it's the fact that Lake Basile is an accidentally man-made pond that a community of people has sort of rallied behind and have written voluminously about for some reason.
And I had never heard of the thing until Calvin and I rode our bikes down the Farmington Canal Heritage Trail and passed a handsome permanent sign for Lake Basile. We had to check it out.
That's when we learned there's a "beach" here. Benches and kiosks were installed via an Eagle Scout project, so while Calvin rested a bit, I began reading about this place. The people around here love their Lake Basile.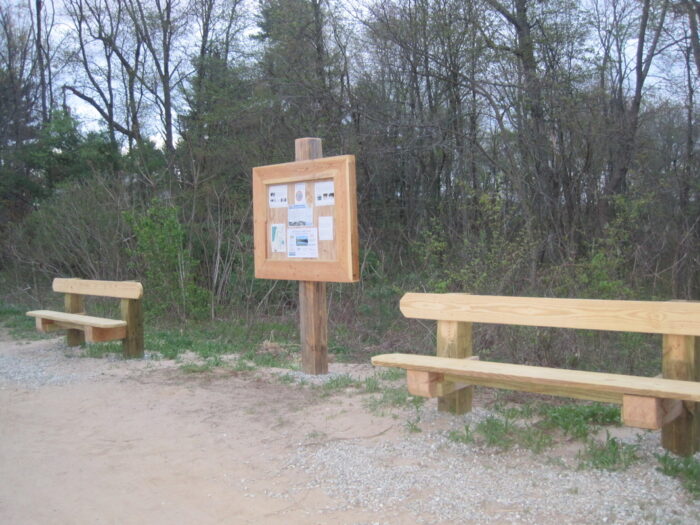 There was no lake or pond here 200 years ago; just Minnisunk Brook. Then the Farmington Canal was built and the brook's flow was diverted underneath it and sort of forgotten. The canal became the railroad and the culvert was filled in by nature and lack of care over time and voila! Fake Lake Basile was created.
It was a junky pond, used for ice skating and, well, ice-harvesting in the early 20th-century. (Granby's Ice Pond Road of off 202/10 is named that for a reason.) In the 1930's, Lake Basile was dredged with the idea of creating a permanent centerpiece for what was to become a small community of cottages, many of them summer homes little more than log cabins. Some of these homes still exist today.
The community here refers to Lake Basile as "her" and "she." A children's author, Clara Dean Marshall, built one of the first cabins here and lived in it year-round. (Several of her books feature the lake in some way, including "The Invisible Island".) There are definitely year-round houses here now, but several of the seasonal cabins are still present.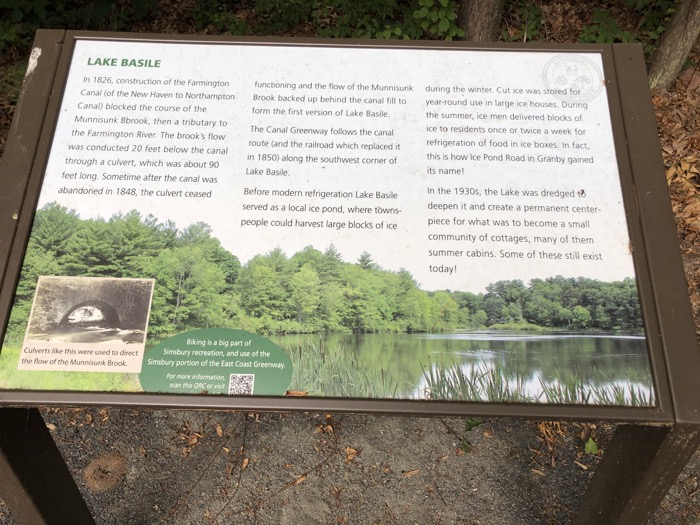 Not present? A lake monster. Yes, even little Lake Basile has a mythical beast probing its depths. Somehow this nonsense has appeared in a couple silly books. I'm far more interested in the reality of the lake. Like how in the 1990's and 2000's it became absolutely choked with waterweed, watermeal, duckweed, curly-leaf pondweed, algae colonies, and that's only the stuff at the surface. (It's probably received nitrogen rich run-off from the giant Monrovia nursery just to the north which doesn't help.)
However, through the Lake Basile Association and fundraising efforts, the lake was cleaned up in recent years and looked pretty good when I visited. There looked to be a trail that went off into the woods connecting to some apartment buildings and of course people canoe and fish here as well.
Aren't you now glad that I felt the need to write about this place? An accidental fake lake that no one's ever heard of? Even I'm questioning this now.

Lake Basile Association
CTMQ's Houses, Ruins, Communities & Urban Legends