Finding Balance
Balanced Rock Trail, Ernie Boothroyd Preserve, Northern CT Land Trust
Ellington
After finding the trailhead here, out in the far eastern reaches of the Ellington panhandle, I was immediately struck by how nice the sign was. It's clearly quite new, but the creator used some great fonts and the overall quality of it was impressive.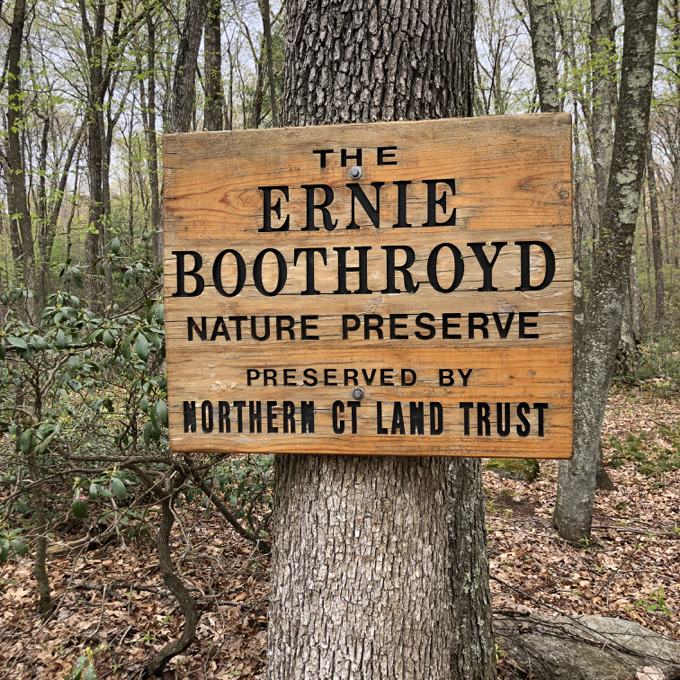 This being a Northern CT Land Trust loop trail, I was curious if the hike itself would stand up to the signage. The loop is a lollipop red-blazed 1.2 mile loop, and it's well marked and cleared. It's another perfect little hike for little kids.
While you're walking through the pleasant woods of Ellington, serenaded by birdsong as I was, perhaps you can spend time talking to your little kids about the preserve's namesake, Mr. Ernest Boothroyd. The man was selfless in service and seemed quite keen on conservation and preservation. He passed away in 2005, and the following is from his obituary:
… He served in the U.S. Army during the Vietnam War. Ernie was active in town politics serving on the Charter Revision Committee, The Conservation Commission, the Public Safety Commission, the Forest and Open Space Commission, the Ellington Fire Department and the Ellington Ambulance. He enjoyed attending town meetings and believed strongly in common sense in government. Ernie volunteered many hours to the Northern Connecticut Land Trust working to preserve wooded areas for generations to come. Ernest also volunteered countless hours to the Hartford County 4-H where he served as Director of the Fair and at the 4-H Camp in Marlborough. His love of nature and of machinery was evident in all his activities with the 4-H especially his announcing of the Doodlebug Draw at fair time.
Good man.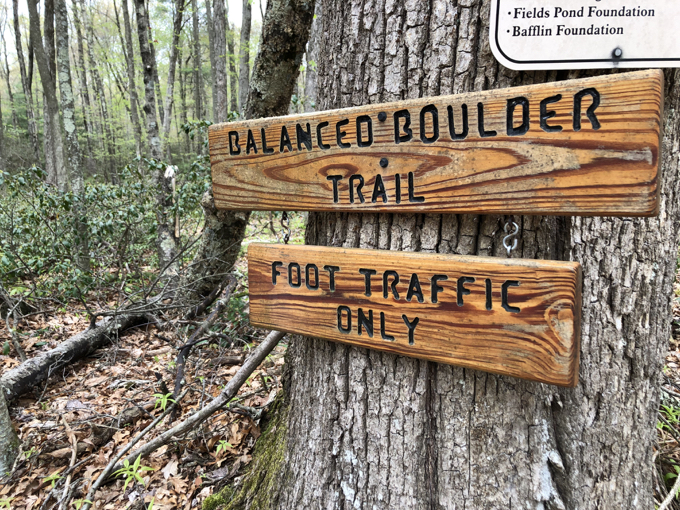 "His" preserve is a fun little place to poke around. I recommend hiking it counterclockwise, for then the "payoff," the "balanced rock" we're all looking for, appears towards the end. At least I'm pretty sure.
You see, the balanced rock of the Balanced Rock Trail fame is… more or less just a big rock in the woods. Not knowing this while I followed the blazes through tunnels of laurel and near several rivulets and marshes, I kept taking pictures of all the boulders I passed.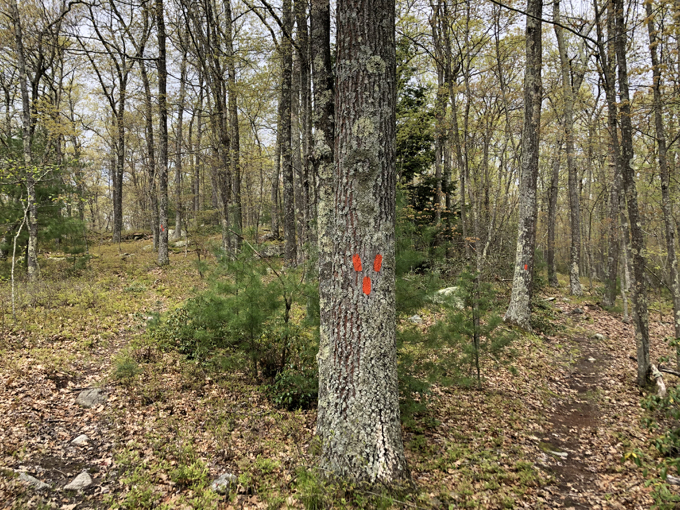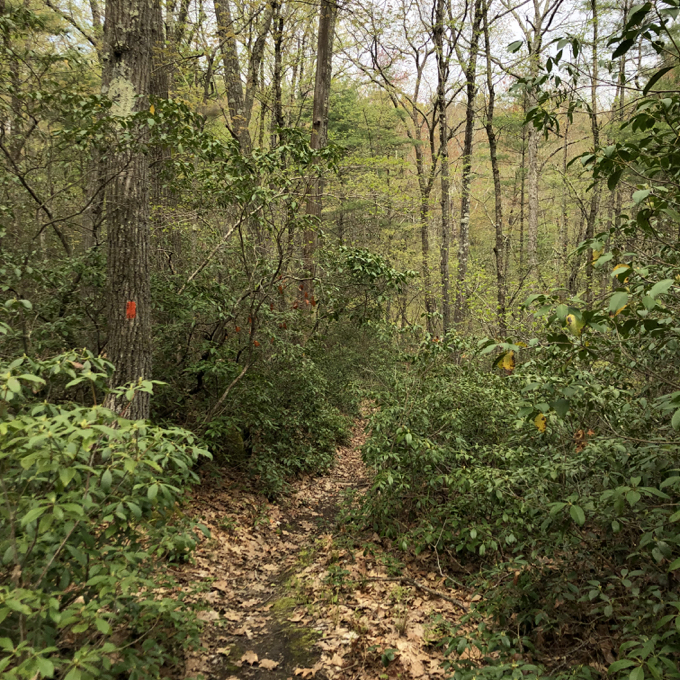 The trail makes a point of taking hikers by, to, and over every boulder on the property. It's like a tease if you hike counterclockwise. "Did I somehow miss a boulder that was balanced?" I wondered.
I did not. After a few twists and turns, there it was. A rounded boulder on top of a small rise in the woods of the weird eastern Ellington panhandle: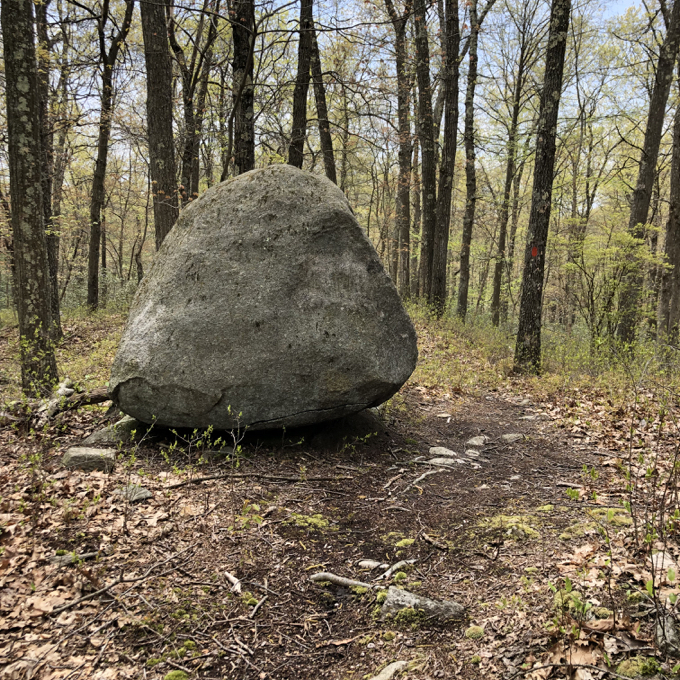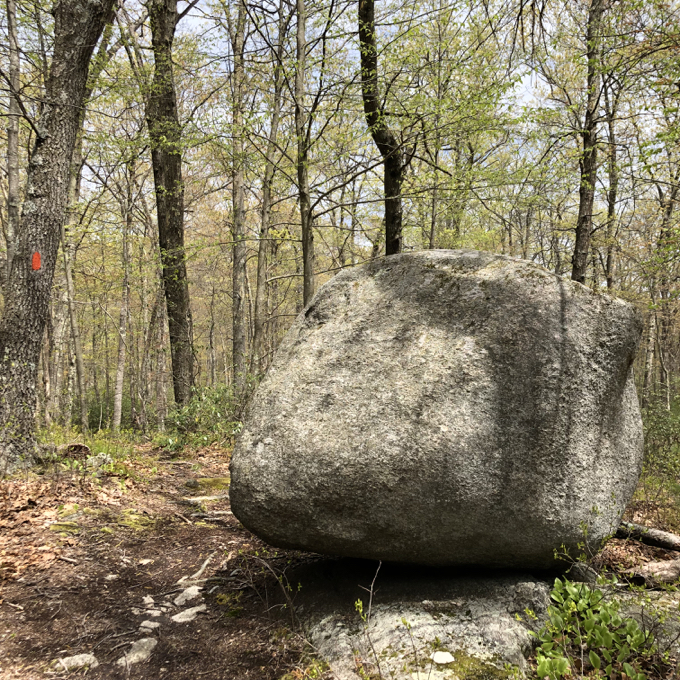 Bask in its glory!
I must admit some mild disappointment. But that's all me – the trail is a fun little walk and feels quite remote. There's more to see than the boulder – hey, you know what? It's not so much "balancing" rather than just sitting there. It's just the "Boulder Trail" and – let it go, man, let it go…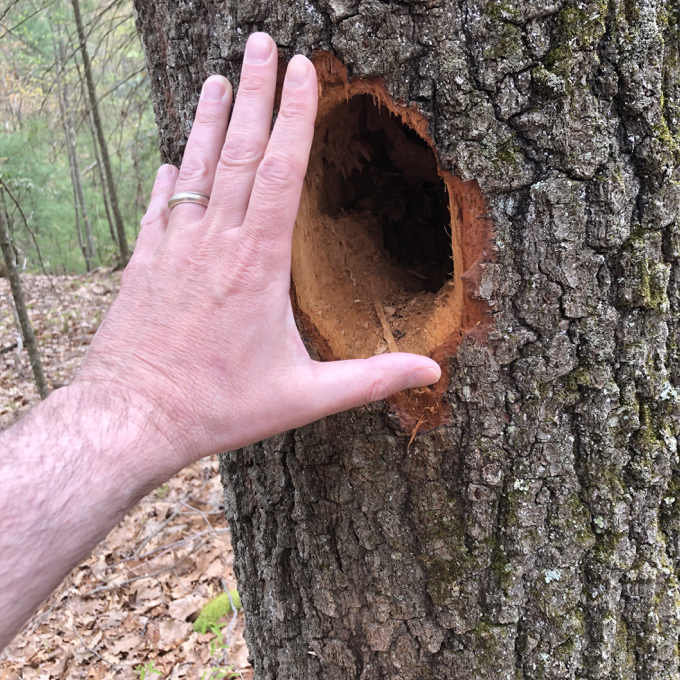 Check out this massive pileated woodpecker hole. These birds are masterful drillers. Some of their handiwork often looks fake, or impossible for a bird to create. But they do, and this is real.
I guess there's a chance that I was too enamored with the woodpecker hole at one point and walked past a true balanced boulder… but I don't think so. I don't know why I'm so hung up on this. I enjoyed this trail very much and you will to.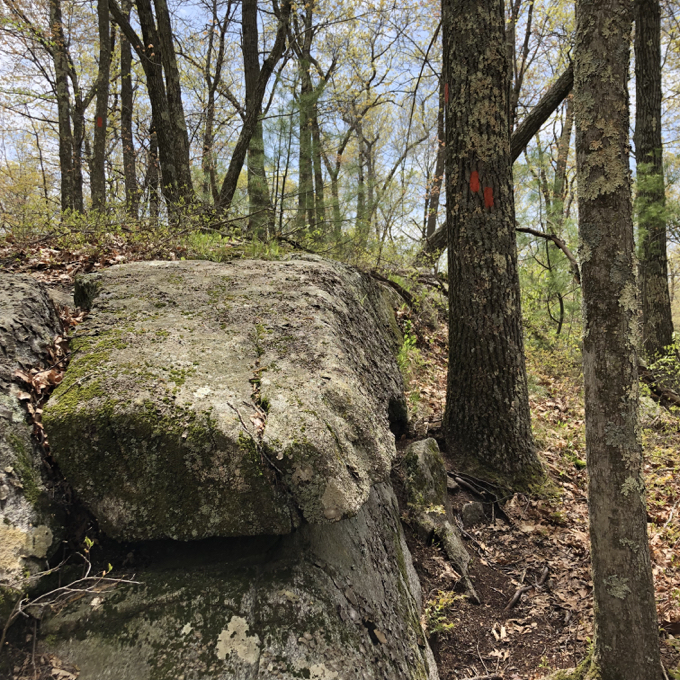 CTMQ's NCLT Main Page
CTMQ's Land Trusts Main Page
Northern Connecticut Land Trust