Just a Quirk of Geography
Ellington
2021 update: While this page is cute, and I'll keep it for posterity, I now realize that Middletown borders eight towns too (with a river separation), but more importantly, Glastonbury borders 10 – three across the river. Oh well.
There are two towns in Connecticut that border 8 other Connecticut towns. One is Shelton, though several of its border towns are "across" the Housatonic River. Shelton's border towns are Monroe, Oxford, Seymour, Derby, Orange, Milford, Stratford, and Trumbull.
However, the other eight border town has eight land-bordering towns. And of course, you now know that town is… Ellington. But can you name all eight?
I think this makes the Tolland County cow-town rather unique in our little state of 168 other towns. Especially considering Ellington's weird panhandle – which is a big reason why it borders so many towns.
Why write a CTMQ page about this? And not the town that borders only one Connecticut town (Greenwich)? Or the one that borders only two? (Thompson?) I don't know. There's not a whole heckuva lot going on up in Ellington, and as a geography/map nerd, I rather enjoy this sort of thing.
And since you just read down to this sentence, I'm guessing you do too. At least a little bit? And perhaps you'd like to know why Ellington is shaped so oddly? Okay, I'll give you that too at bottom.
Answer: Enfield, Somers, Stafford, Willington, Tolland, Vernon, South Windsor, East Windsor. Nailed it.
Anyone looking at Ellington would wonder about its shape. Most would guess there was some sort of concession made in the early days and that Ellington wanted access to the Willimantic River. All of that is more or less true, as you can read in my truncated version of Dorothy B. Cohen's explanation from her book, Ellington Chronicles of Change.
The land that is now the east half of Ellington was compensation to the Town of Windsor in 1716 for land taken from its northern borders. It was part of a boundary dispute settlement agreement between Connecticut Colony and the Province of Massachusetts Bay in 1713. The Colony agreed to cede 6,24O acres of Windsor's land to Enfield, and 1,019 acres to Suffield, and allow both towns to remain under the Jurisdiction of Massachusetts. The Province relinquished a disputed ungranted tract of land above "Joshua Legatees Claims," lying between Windsor's frontier line and Tolland's west bound. The court-appointed commissioners of both colonies agreed in 1716 that the land was owed to Windsor. The Connecticut Colony agreed that "if at that place there shall not be found sufficient land to make the equivalent, consideration as to the distance of the place and quality of the land, the remainder shall be laid out in its ungranted land above Tolland."

That year the petition of the Windsor Proprietor-Inhabitants to take possession of the "Equivalent land was granted, and a committee was appointed to supervise its layout. In May 1722, Mr. Israel Stoughton, a Selectman in Windsor, complained to the General Assembly that the committee appointed six years ago, though often requested, refused to lay out this land division. Five months later the Court appointed John Hall, Esquire, James Wadsworth and Thomas Kimberly, surveyors to replace the last committee. On April 19, 1723, the committee completed the surveys, and reported that including the ungranted land eastward to the Willimantic river there were about 8,000 acres in all.

The Court then issued a patent to Windsor on April 2O, 1723 bearing the "Colony Seal" which was signed by Governor Gurdon Saltonstall. On April 1, 1725, it was voted to divide the "Equivolent" land reserving sufficient land for highways according to the 1723 public list of Windsor Proprietors.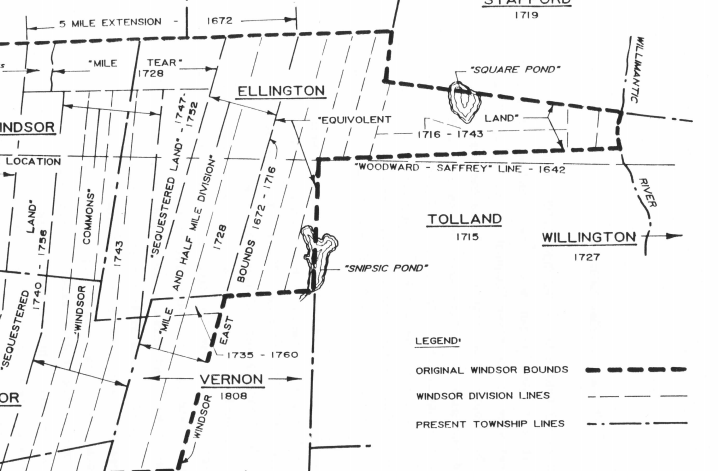 It goes on with the specifics, but basically Ellington deserved some land and they got it in the form of a weird panhandle, which is called the Equivolent Land for obvious reasons.