A Real Juke Joint
New England Jukebox and Collectibles
Vernon
This store closed in the fall of 2021 and reopened as Paul's Boutique Records.
Longtime readers know by now that I have a rather loose definition of what a museum is. One of the hardest categories for me to define are places like this place. It's a retail store… but man, it sure feels like a museum.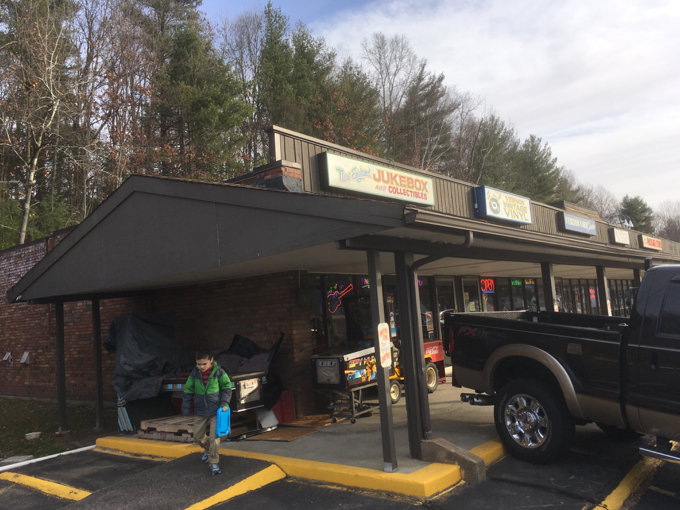 But I'm not calling it one. This, from a guy who slotted my post about "Gene Pitney 'Stuff'" as one. Take it up with my PR flack. (Note: I don't have a PR flack.)
I bring up the Gene Pitney page because at the end of you, you'll see a wonderful picture of my son with a well-preserved old Gene Pitney record. As in vinyl.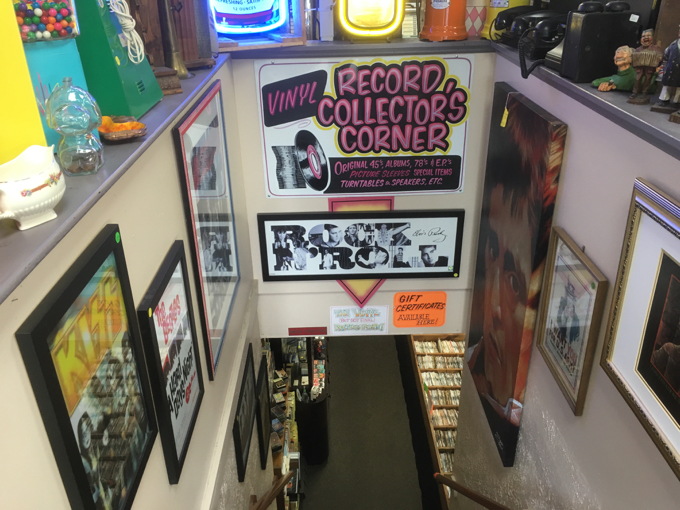 There aren't too many places to buy such relics anymore and as you've probably guessed by now, New England Jukebox and Collectibles is one such place.
And cripes, if record stores aren't museums already, they soon will be. But we'll get to that in a minute, as records aren't really this store's calling card. Hint: take a look at the name of the place again.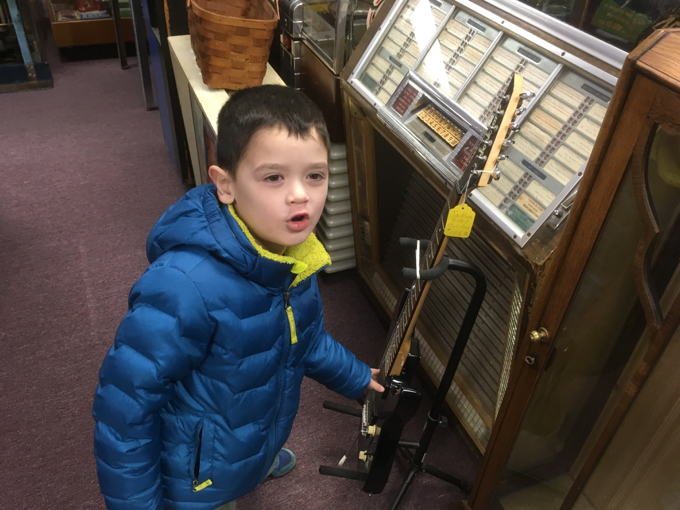 Yes, this orderly cluttered store/showroom at the end of a little stripmall in Vernon that include a store that only sells stuff to coin collectors. Seriously, how does this store exist?! (It's pretty awesome that it does though.)
I took the boys here after a day out and about doing what we do for the love of CTMQ. They were hesitant at first. But lo! What wonders awaited them upon entry!
Specializing in vinyl records from the 40's through the 80's… Music related memorabilia… Turntables, speakers, antique radios & Hi-fi's, & accessories.
Cool. Can't wait!
Welcome to New England Jukebox and Collectibles! After all, that is right where a beautifully restored jukebox takes you… back to the car hop, back to dropping a dime in the jukebox, just to see the changing lights glow and to hear it belt out your favorite tune.
I'm not exactly sure what they were trying to say here, but who cares. Jukeboxes are cool. They go on about some of the other stuff they feature, but you get the point.
These guys don't just sell this stuff – they also restore it. "Painting, Wood refinishing, veneering, electronic repair, chrome plating…"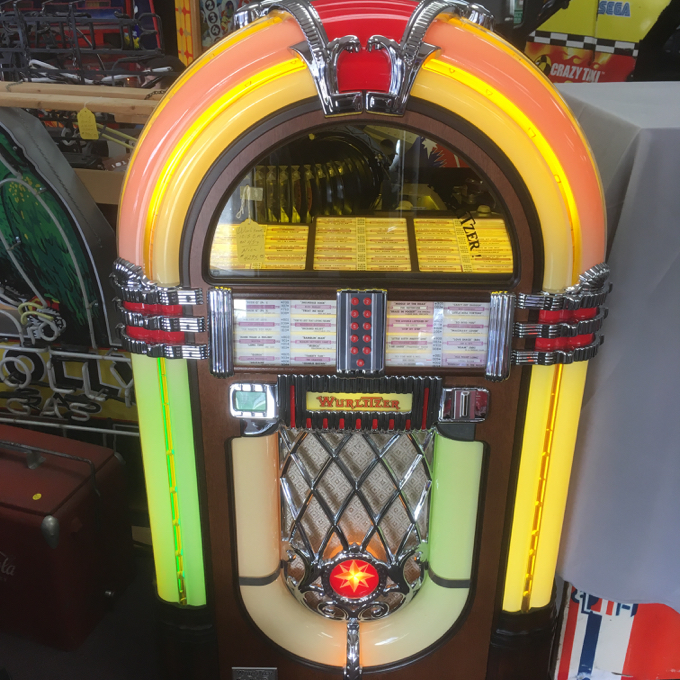 The first floor showroom/store is a mélange of vintage pinball machines, jukeboxes, stereo equipment, old concert posters… and everything in between. It's great. And really, now that I'm halfway through writing this, it should be a museum.
__Shut up weird brain. It's a store. Move along.__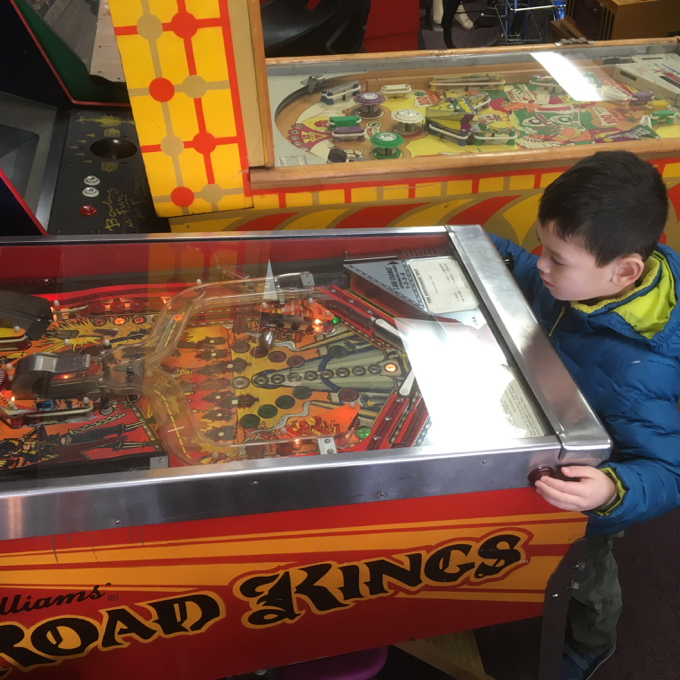 The store's owner (I assume) was kind enough to turn on a pinball machine to let Calvin play. This was his first time ever with a game from my youth and he loved it. And I loved that he loved it.
Not enough to strap it onto my little Impreza and drive it home, but almost.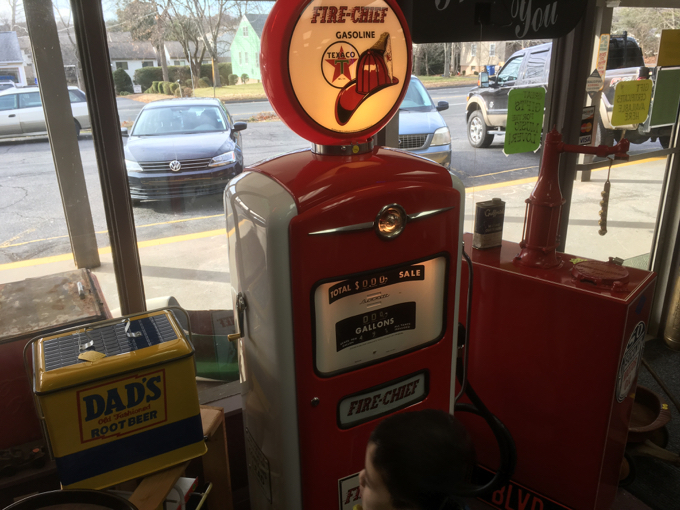 For his part, Damian was more into the jukeboxes. And there are plenty here. Some are real showpieces, too. I can't imagine the market for jukeboxes and pinball machines is too huge, but it's cool that there's a place in Vernon to find both.
I poked around some old concert posters and really thought about purchasing some nice, vintage, stereo equipment. The owner was gracious and helpful without being pushy at all. He was super accommodating to Calvin's wishes – even though I'm sure he knew I wasn't going to buy a pinball machine.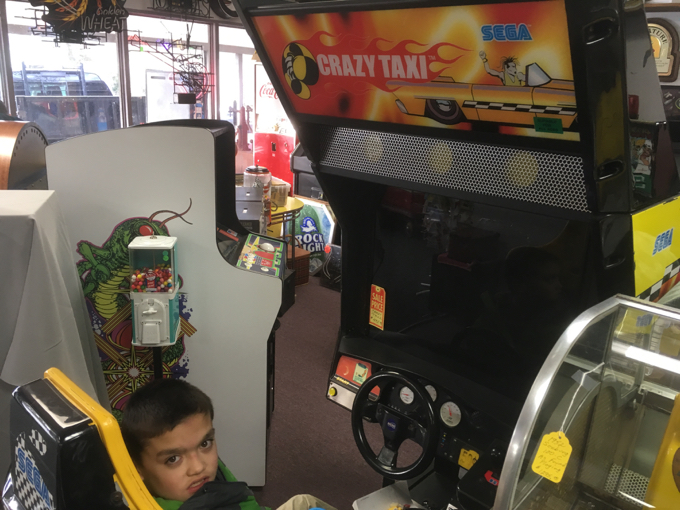 We made our way downstairs to the record room and I was impressed with the catalog – and the cataloging. I found my Gene Pitney album straight away and began looking for some vintage punk and American roots music.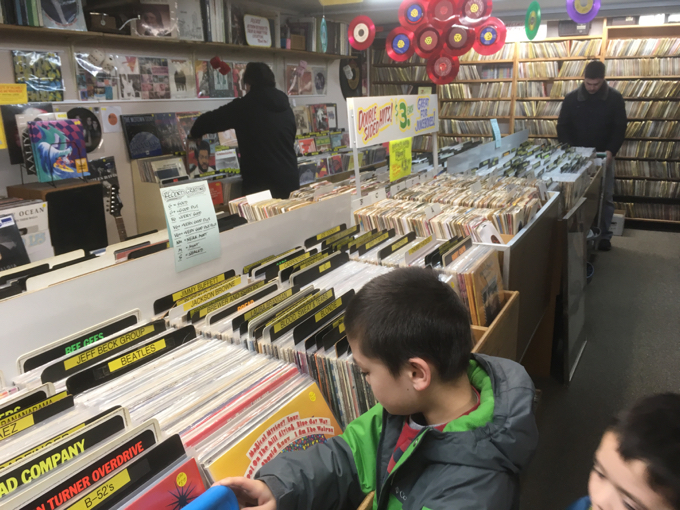 The selection for the former was rather lacking, but there was plenty of the latter. I plan on going to Jack White's Third Man Records in Nashville this year – more with the ridiculous hope that Jack will be there than for any other reason. I'm rambling.
As you can see, there are all sorts of random collectibles from a bygone era here. Records, electronic football, gas pumps… If they served burgers here it could be a Friday's from 1998.
Fortunately, it's not. No one was wearing any flair.
New England Jukebox and Collectibles is certainly a unique and cool outpost in Vernon. I will return.