I Call Him the Vernon Rocket
Rockville/Vernon (Google Maps location)
Early 2017
I promise I won't bore you (again) with a dissertation and dissection of the whole Vernon vs. Rockville thing. Of course… I could… but I won't. I'll admit that The Vernon Rocket doesn't have the same "oomph" as The Rockville Rocket does.
[If you're new here or to Connecticut, we have 169 towns and a slew of not-real towns that are as well or even more well known than the real towns they are part of. Rockville is part of Vernon.]
By the way, Rockville on its own looks like a gun.
See? All done with that. Now on to the part where I try to justify this page's existence.
This isn't a museum. It's not even a "sorta museum." But I couldn't figure out where else to slot this page, and this page is important. And if you're of a certain generation and are from the Vernon (Rockville) area, Gene Pitney is the greatest human that ever walked the earth.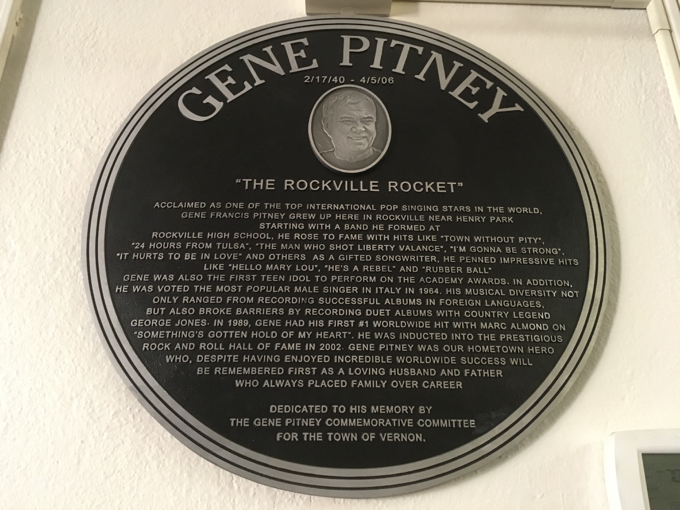 So this page is for you, people from Rockville (Vernon) of a certain generation. Especially if you're my friend Sheryl and you actually know members of the extended Pitney family.
Gene Pitney was born in Hartford and grew up in Rockville, now part of Vernon. (That'll leave a mark for the Rockville crew. They still care.) Pitney was a singer and charted 16 Top-40 hits in the U.S., four in the Top 10.
I won't pretend to know anything about Pitney, but I know "It Hurts to be in Love."
Pitney also wrote hits for others, including "He's a Rebel" for the Crystals; "Today's Teardrops" for Roy Orbison; "Rubber Ball" for Bobby Vee; and "Hello Mary Lou" for Ricky Nelson. Pitney's best performing song was the No. 2 hit "Only Love Can Break a Heart."
Here's a weird thing: Pitney is also remembered for the Burt Bacharach/Hal David song "(The Man Who Shot) Liberty Valance," which peaked at No. 4 in 1962. Though it shares a title with a 1962 John Ford/John Wayne western with the same title, the song was not used in the film because of a publishing dispute between Famous Music and Paramount Pictures.
Sigh. Lawyers.
This was a fun Pitney Moment.
Vernon has a whole bunch of Pitney things around town. We'll start at town hall where there's a section of wall dedicated to the guy. After he died in 2006, the state issued a citation which basically says nothing at all other than Gene Pitney was from Vernon and he achieved success during his lifetime.
Former Governor Jodi Rell declared September 20th, 2007 Gene Pitney Day in Connecticut. Does that mean it was only once 10 years ago? Or is September 20th always Gene Pitney Day here in Connecticut? I have no idea.
And if you didn't know, the Gene Pitney Commemorative Committee was formed in 2007 and is apparently the only non-profit organization that the Pitney family endorses. They have grand Pitney plans and have executed some good stuff in their 10 years – a music scholarship and a golf tournament.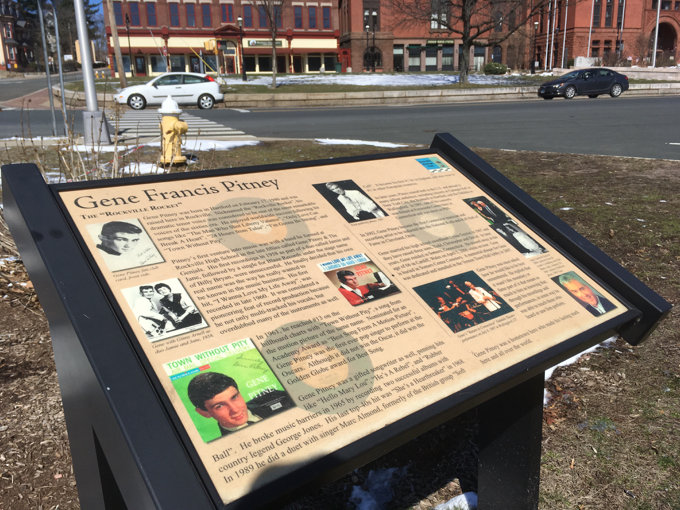 I believe they must've been the people responsible for the Gene Pitney Memorial Bench we'll be visiting in a moment as well.
Before that, the town of Rockville had a history trail. Part of that trail has a Gene Pitney sign right on at the corner of Main and Union Streets in the center of town. Prime real estate.
The sign doesn't really say much that's not on Wikipedia. However, I did learn from it that Pitney was the first Nutmegger inducted into the National Rock and Roll Hall of Fame in Cleveland, Ohio.
A quick walk up Main Street brought me to Russ's Time Rock 'n Roll Diner. It was closed so I can't really report on the Gene Pitneyness of this place, but I'm going to guess there is a fair amount.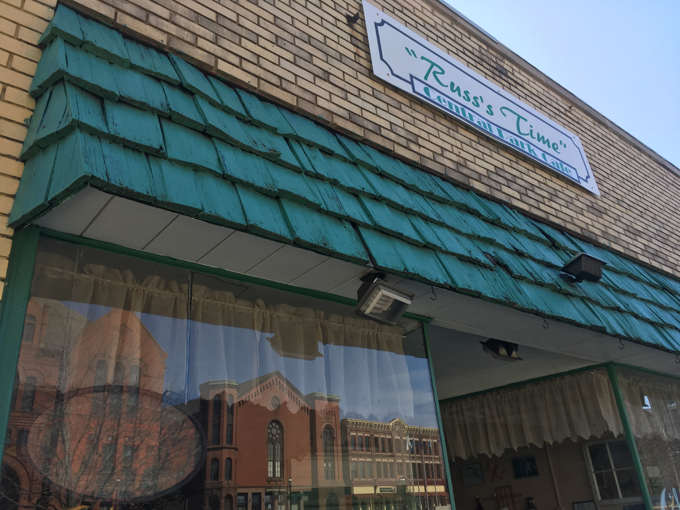 Yelper Ann H, whose husband I think I know, wrote in 2013:
I am not from Rockville and this is a townie kind of place. The decor was changed from 50s American Graffiti Rockville Rocket Gene Pitney to a combo of that and local images.
Owner Russell Johndrow takes his theme seriously. The walls in the restaurant are decorated with classic rock 'n' roll memorabilia from the 1950s and '60s, including many pictures of Gene Pitney. They serve a breakfast that includes pierogis and and kielbasa which just sounds… insane to me. (And I like both, just not in the morning.) Anyway, I think we'll keep Russ's Time Rock 'n Roll Diner on our Gene Pitney Tour.
Up next on the Rockville Rocket Rockin' Rockville Tour was on top of Fox Hill. Good ol' Fox Hill. Apparently young Gene used to climb to the top of Fox Hill and play.
A commemorative bench was installed a few years after his death and sits facing the overlook that takes in downtown Rockville and beyond. It's more beautiful than any of you who have never been up there are thinking.
Unfortunately…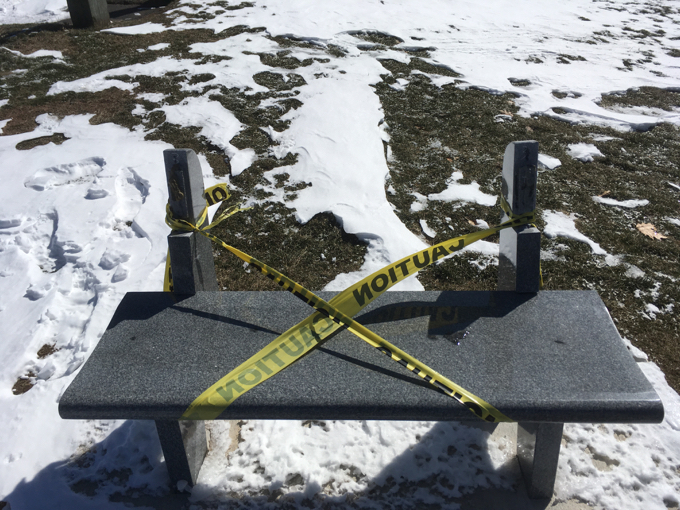 Man, people can really suck sometimes. Sigh. If you're lucky enough to visit when the Fox Hill Tower is open, go for it. It's pretty cool.
As I said, Gene Pitney passed away in 2006. He last lived in Somers with his high school sweetheart wife. He's buried up there as well. Everything I've read says that Pitney was fantastic human being.
As far as I know, there's one place in Vernon where you can purchase some Gene Pitney vinyl… and a classic jukebox and/or pinball machine while you're at it. That would be New England Jukebox and Collectibles and it's as awesome as you'd think. (It has since changed owners and names.)
I bought this Gene Pitney record there and it's in excellent condition and the first person to read this and comment with your favorite Gene Pitney song wins this album. This "contest" will exist here for decades until someone wins.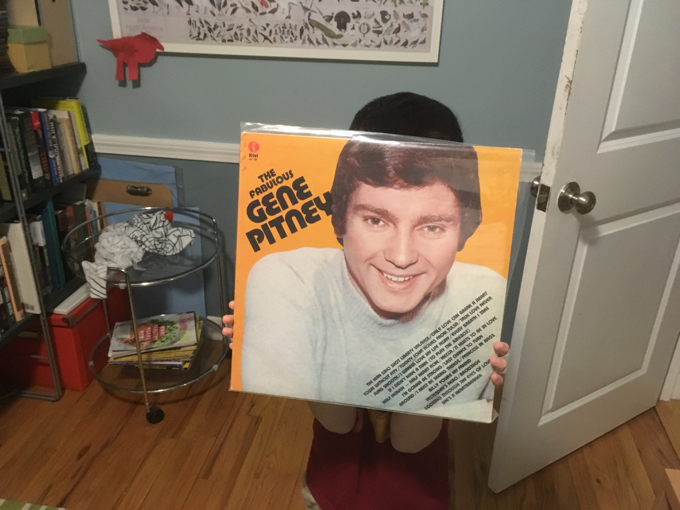 Here are someone's favorite Gene Pitney songs
CTMQ's Museum Visits