Thomas Taylor Gravesite
Grove St Cemetery, Putnam
True story… although I have a feeling I could totally lie on this page. I don't imagine too many read these Freedom Trail posts. Especially ones about graves out in Putnam.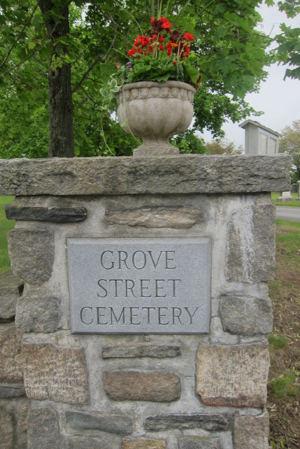 Anyway, my true story is that I totally forgot I "visited" this site in May of 2014. I know I was collecting CTMQ places on my way to a conference in Boston. I have a ton of unwritten posts, by the way. Many hundreds.
Then Putnam was chosen as a "completion project" town. And I knew that I'd taken pictures of Cargill Falls three years ago. So I went to go find those pictures for my waterfall post and lo and behold, Thomas Taylor Gravesite pictures too! Bonus!
Unfortunately, I never found Mr. Taylor's gravesite that day. But I decided long ago that I wouldn't spent precious time poking around old cemeteries looking for particular graves. Just not my thing. So let's call this one, "close enough."
The Freedom Trail says:
A simple rectangular marble gravestone marks the resting place of Thomas L. Taylor, an African American sailor who served with the U. S. Navy on the Union's ironclad ship, U.S.S.Monitor, when it fought the Confederate ironclad, Merrimac, during the Civil War. Taylor is recorded as being the last survivor of that famous battle. He died on March 7, 1932, at age 84.
Shout out to Mr. Taylor. And screw the Confederacy.

CTMQ's Concept of Freedom Trail page
CTMQ's Freedom Trail page