Quaint Quassy
Quassy Amusement & Water Park, Middlebury
August 2019
Not having grown up in Connecticut, I'd never been to Quassy in my life until this visit in 2019. One of only two amusement parks in Connecticut, it always seems to be second-fiddle to Lake Compounce. People kind of dump on it a bit, so I wasn't sure what to expect.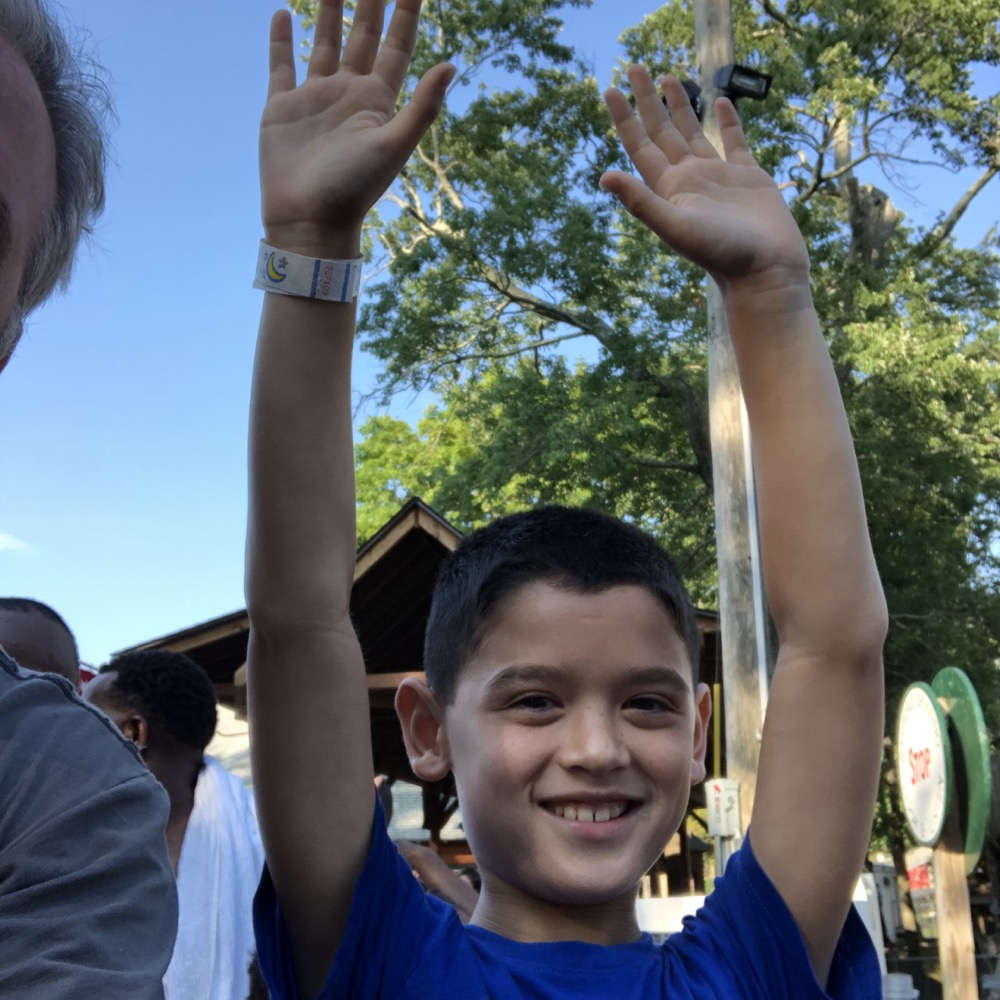 And really, with Six Flags mere yards over the border in Massachusetts, both parks become afterthoughts once rollercoaster and theme park fans become tall enough to ride everything up there. But Connecticut's parks are geared towards the younger set a bit, which is perfectly fine.
And both of our parks are historic. Quassy was founded as an amusement park in 1908, originally called Lake Quassapaug Amusement Park, as it's located on the south shore of Lake Quassapaug. The Native Americans translated Lake Quassapaug to mean "Big Pond" or "Big Rock".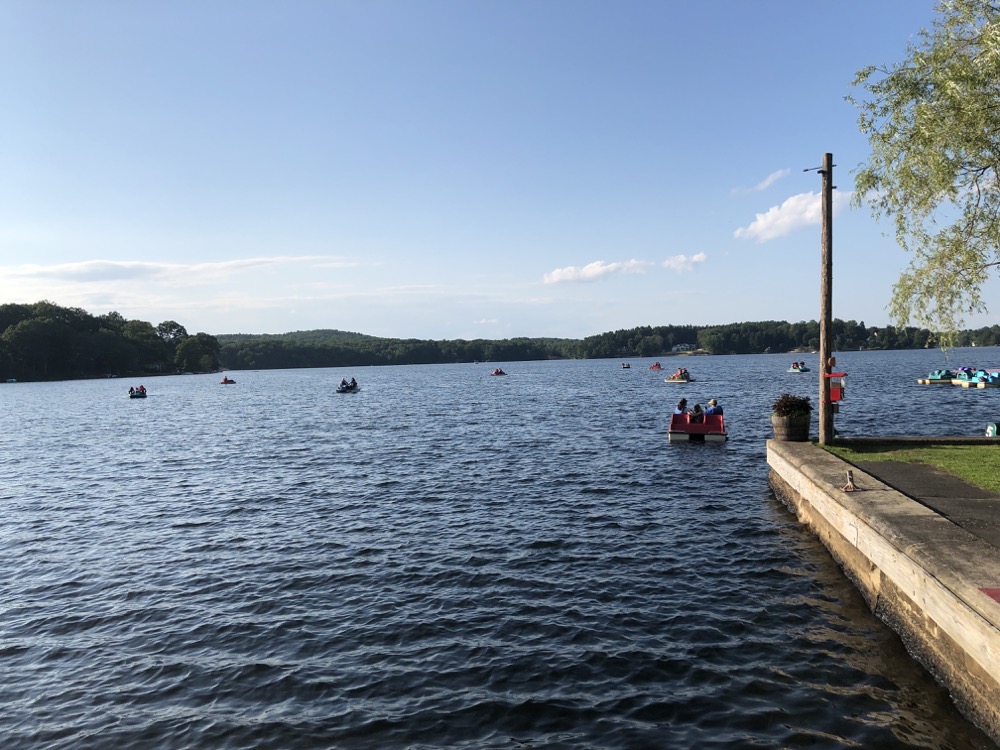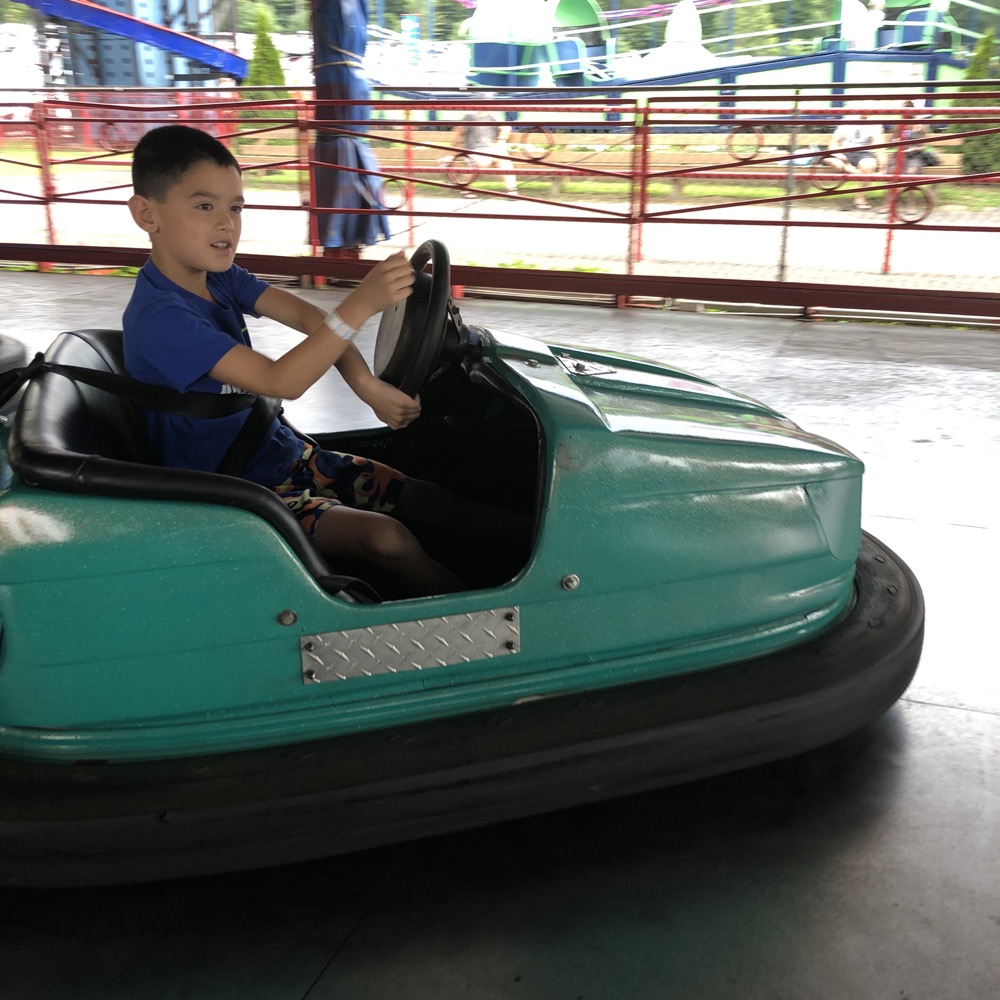 The pond was an attraction simply for its great fishing. By 1888, a man named Mr. Richards opened a Grove House. Clambakes became his specialty people would pay to come and picnic there. In 1905, the sea wall was put in and the Wallace Hotel replaced Mr. Richard's Grove House. By 1908, a trolley line was put through Middlebury and Lake Quassapaug became a summer resort. It featured swimming, a picnic grove, dancing and a carousel.
In 1937, three Waterbury businessmen bought the property and added other attractions including paddle boats and restored the carousel. Within the next few years a hot dog stand and a tearoom were added. Roller skating also became popular in the huge open-air dance hall, which was built in 1915.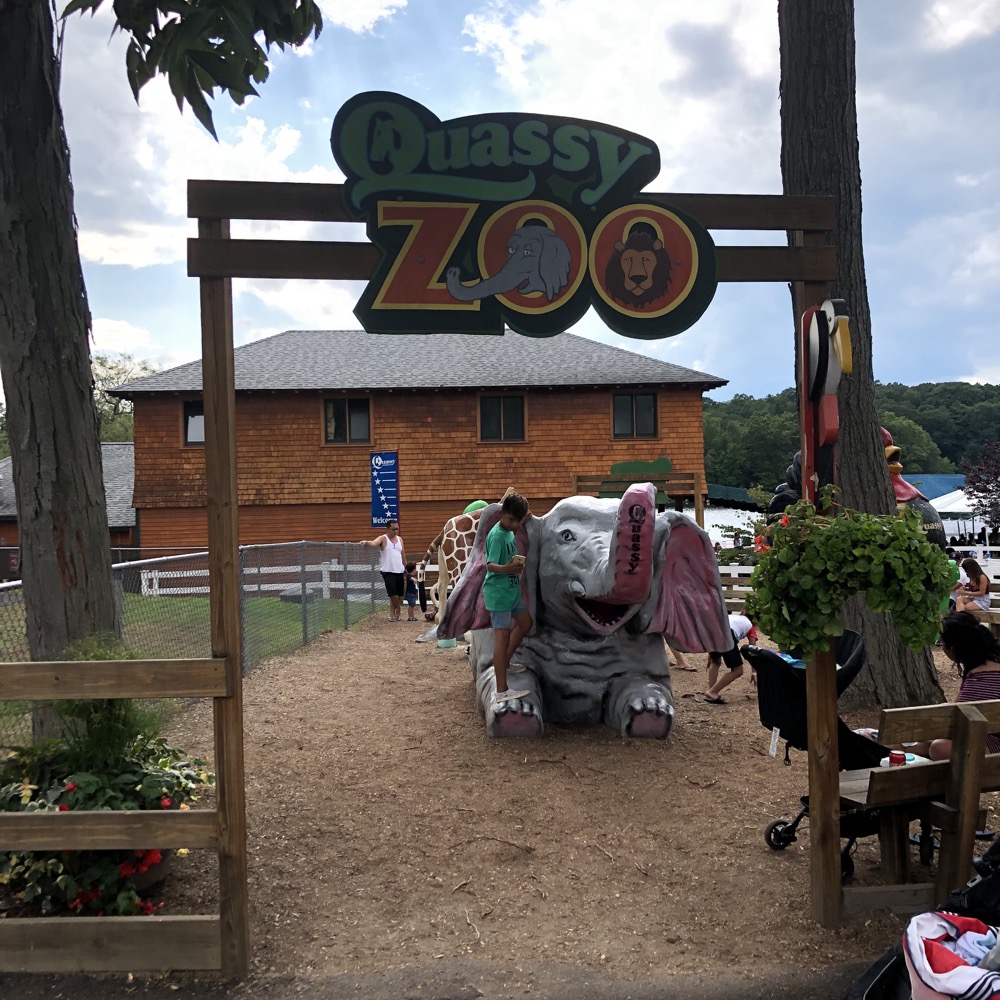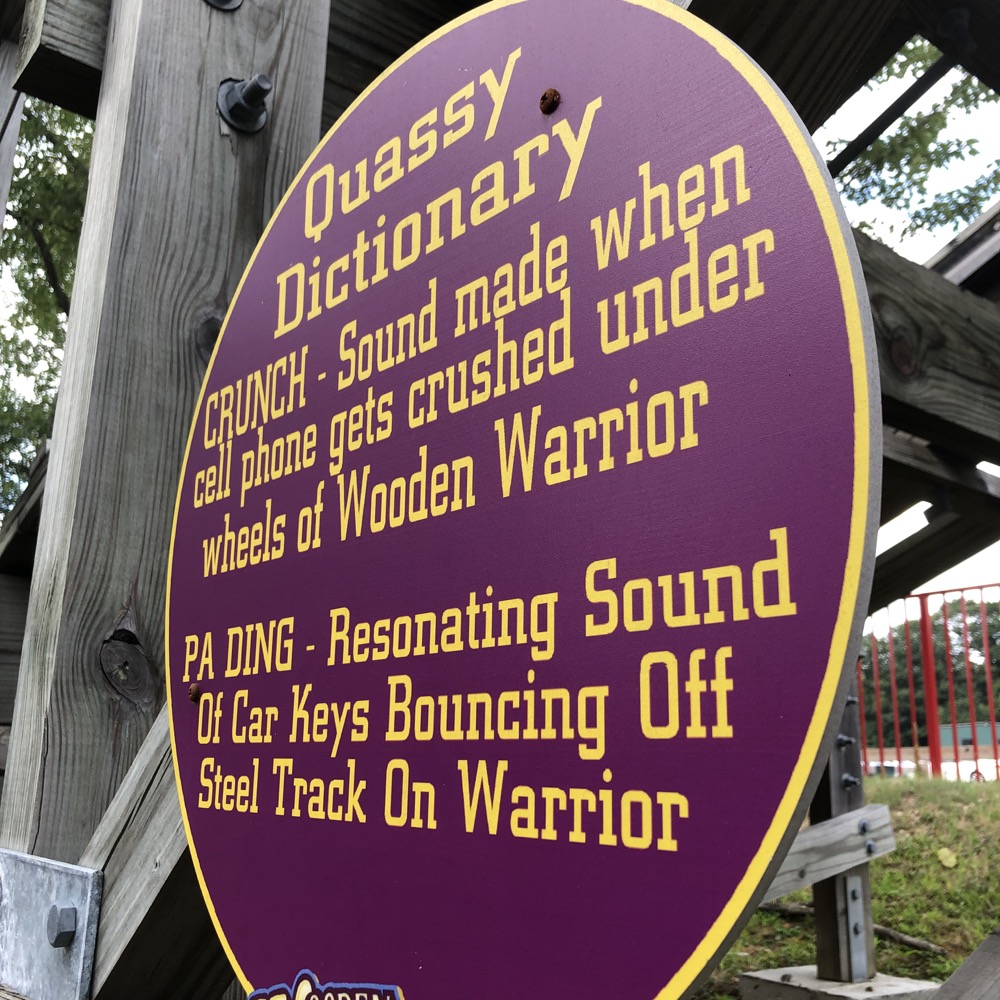 It was after World War II that Quassy established itself as a full-fledged amusement park with the addition of more rides. In 1952 the park purchased a complete kiddyland ride package and the park became a popular regional destination for families. And that's the hook these days – Quassy is all about family and families. There's still picnicking on the beach but also a waterpark and about two dozen rides, many of which are suitable for little kids.
And I think it's great. It's small and not too expensive and Calvin and I had a blast. (We went to Six Flags a few weeks later and rode every coaster there, but there's still something quaint about Quassy that I really like.)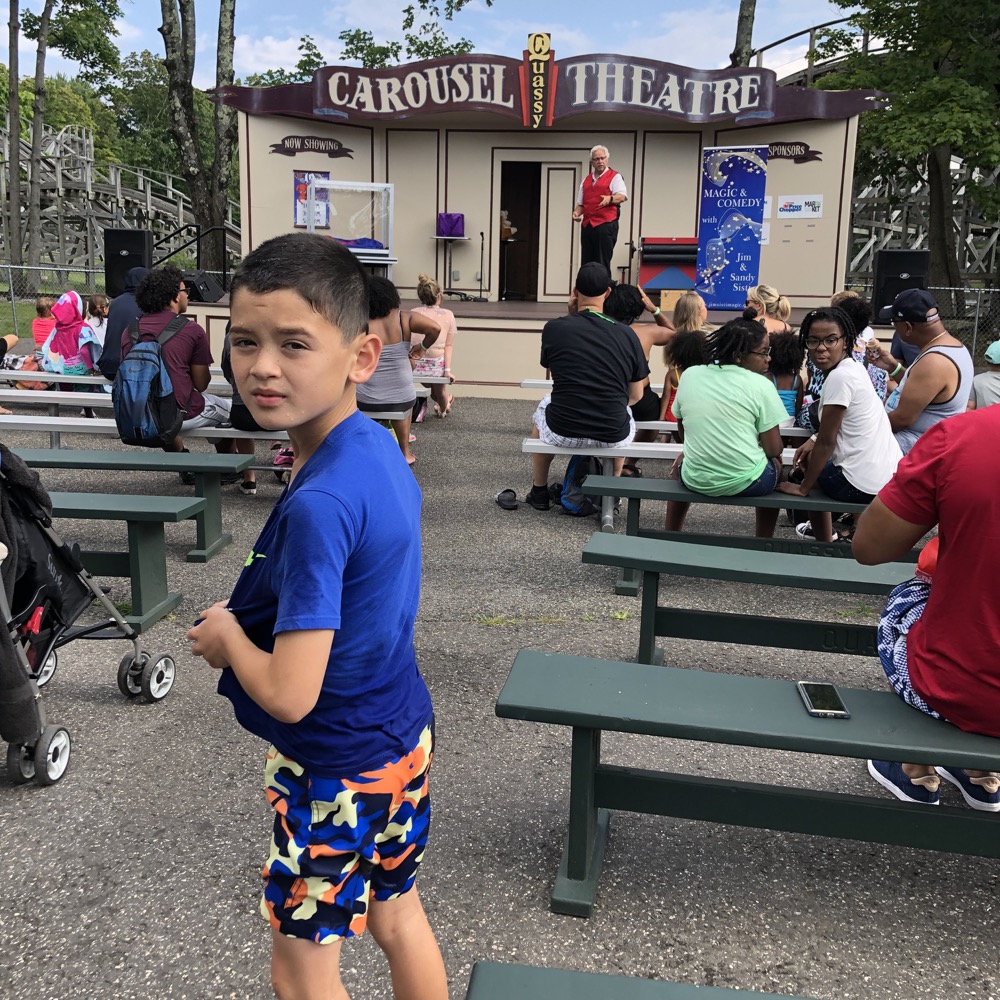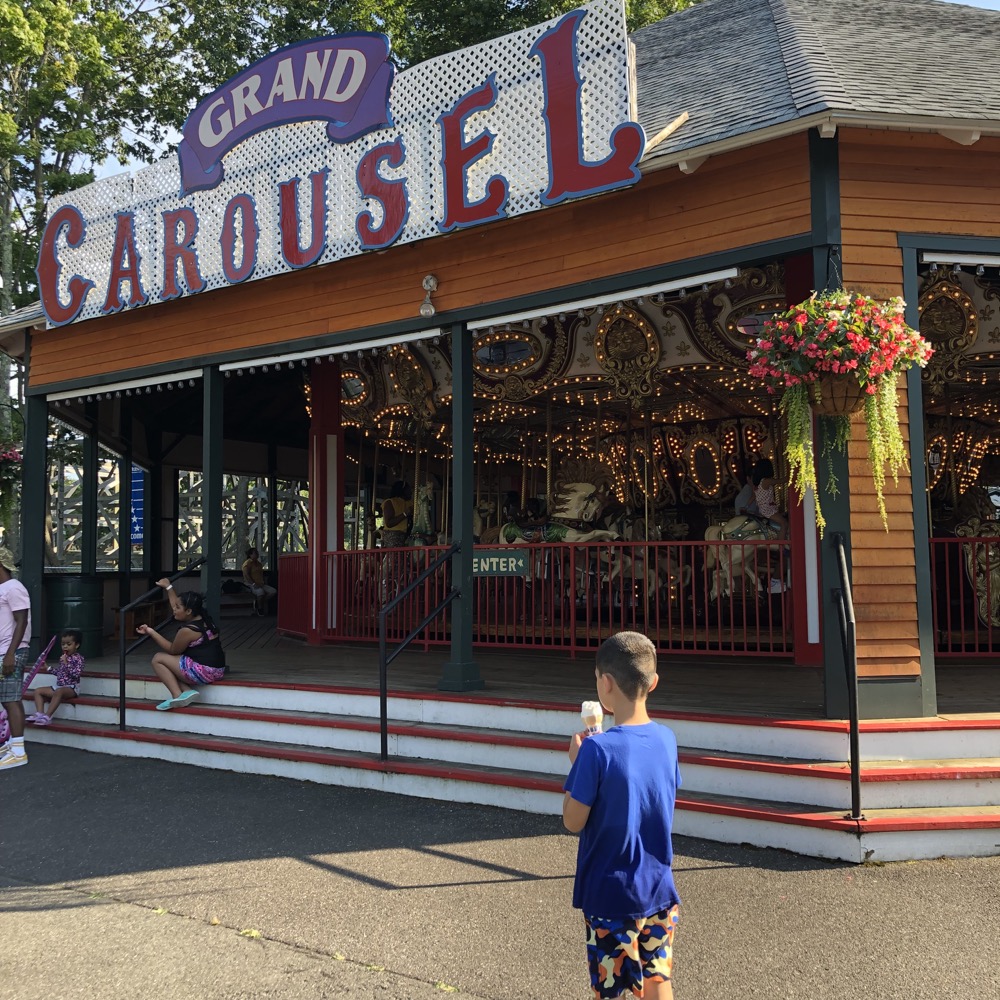 We rode every ride that we fit on. The weather was perfect and the lines were short. Calvin experienced the waterpark himself for a good 45-minutes and declared it "awesome." There's nothing "scary" or dangerous-feeling at Quassy, which is the point.
He even enjoyed the miniature locomotive that chugs along the half-mile track in the "Great Lawn" area of the park. It's just… nice, y'know? The park's description of it just… so quaint:
The train ride has plenty of fun, going through a covered, dark tunnel- but watch out as the track runs directly underneath the Wooden Warrior roller coaster for added thrills. Several models of the miniature train have operated at the park with the current version from Chance Rides in Wichita, Kansas. This ride opened at Quassy in 1948.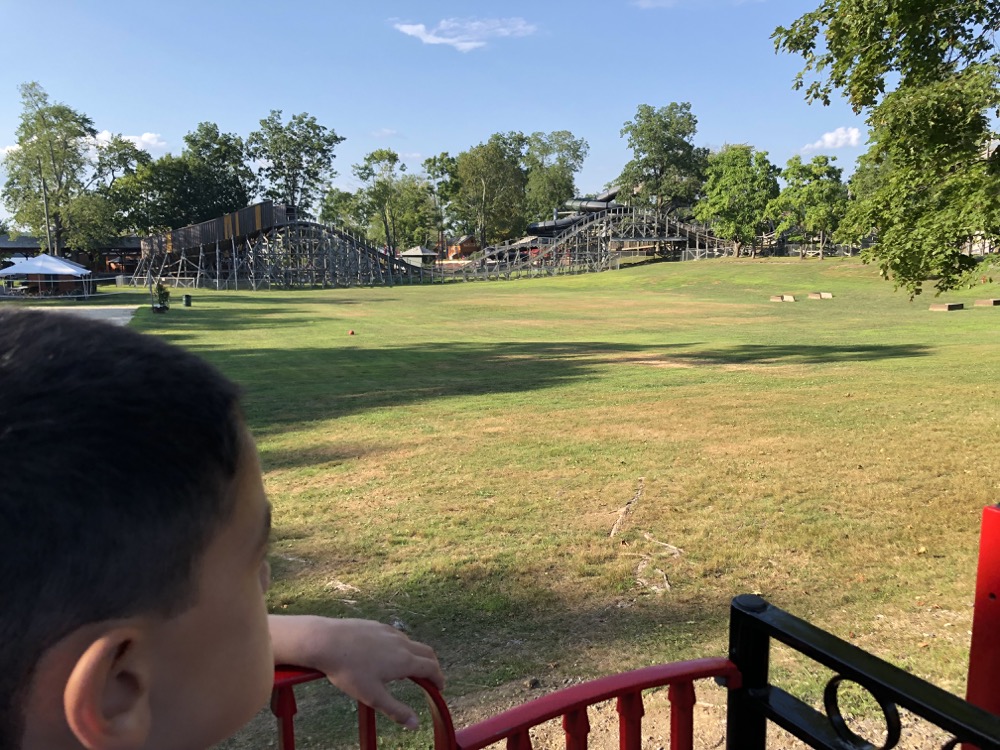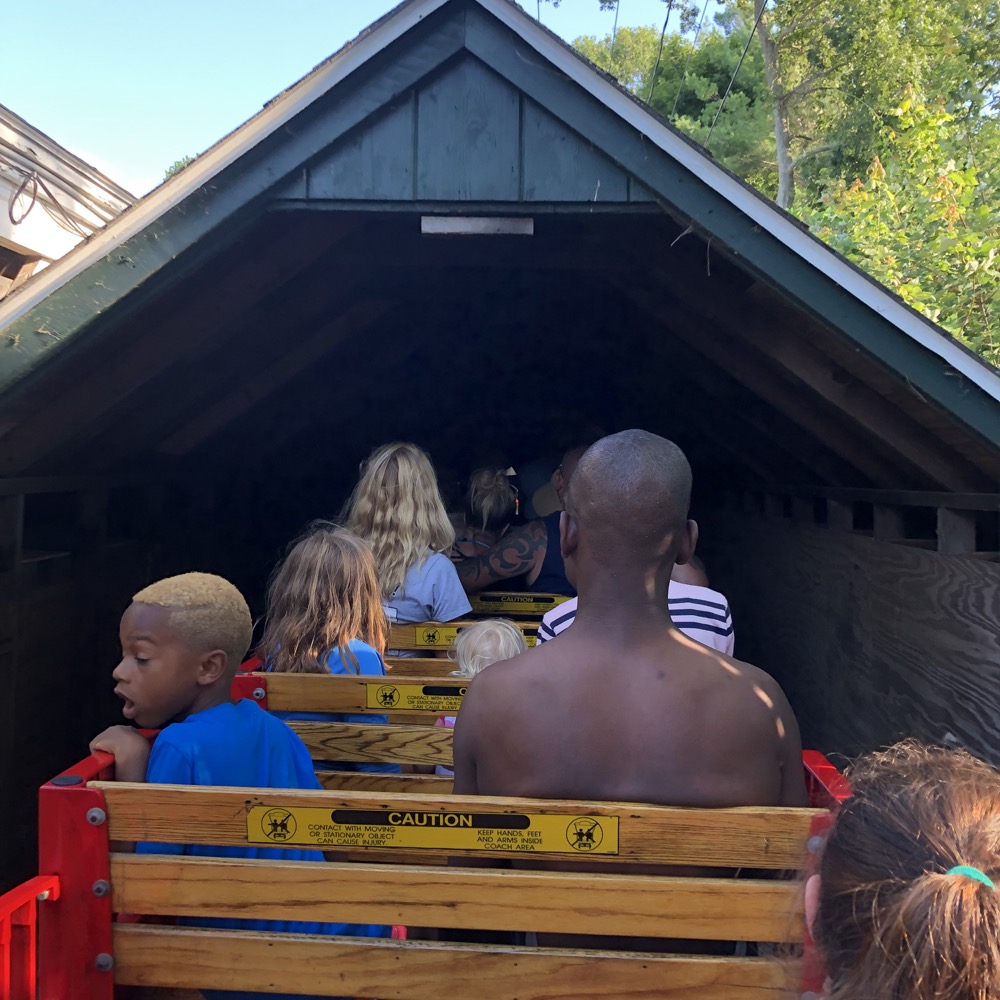 No old timey family-oriented amusement park would be complete without a carousel. At Quassy, the ornate Grand Carousel has a menagerie of animals and the proper organ music. The Grand Carousel operates in a 1927 roundhouse – one of the oldest buildings in the park. (But the carousel itself was installed in 1990, which I suppose is still old to a person born in 2011.)
I don't know why I found it funny that Calvin ate an ice cream cone on it, but I did. I also found it funny that he insisted on riding it three times in a row. Maybe he just liked the music or something.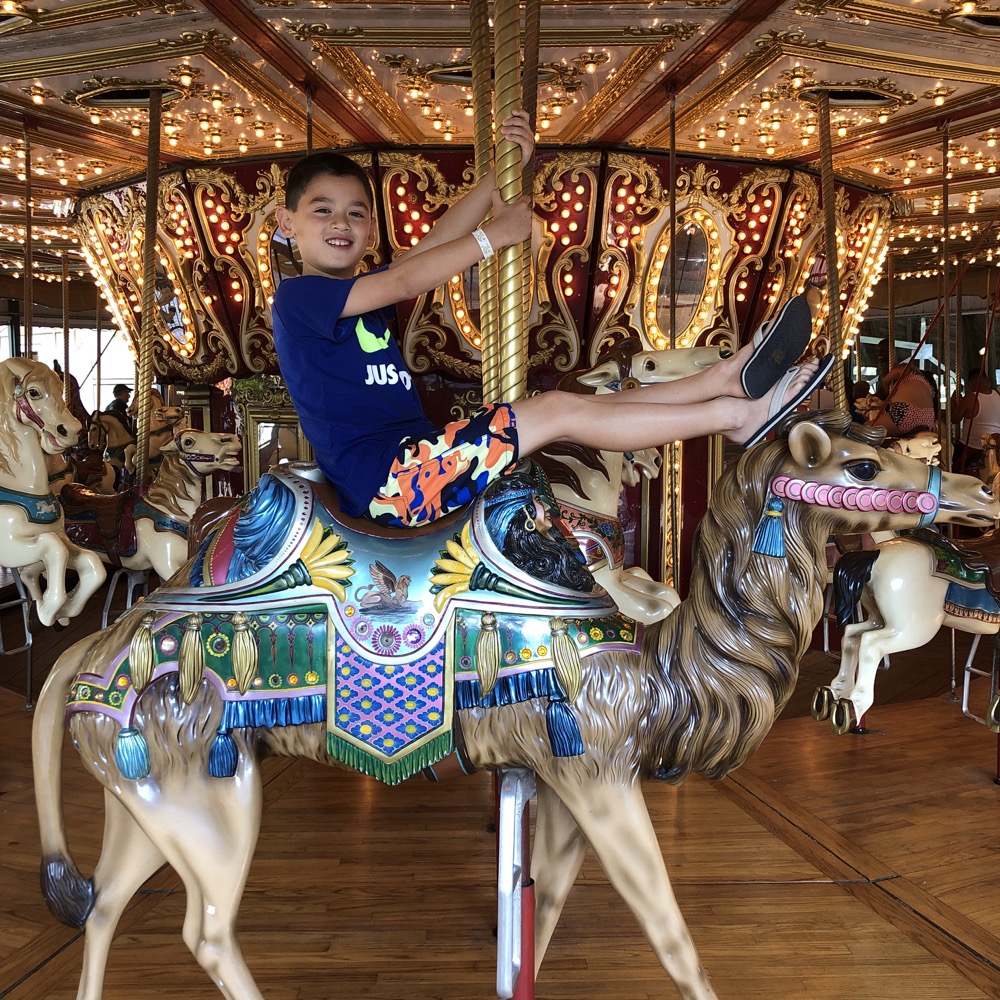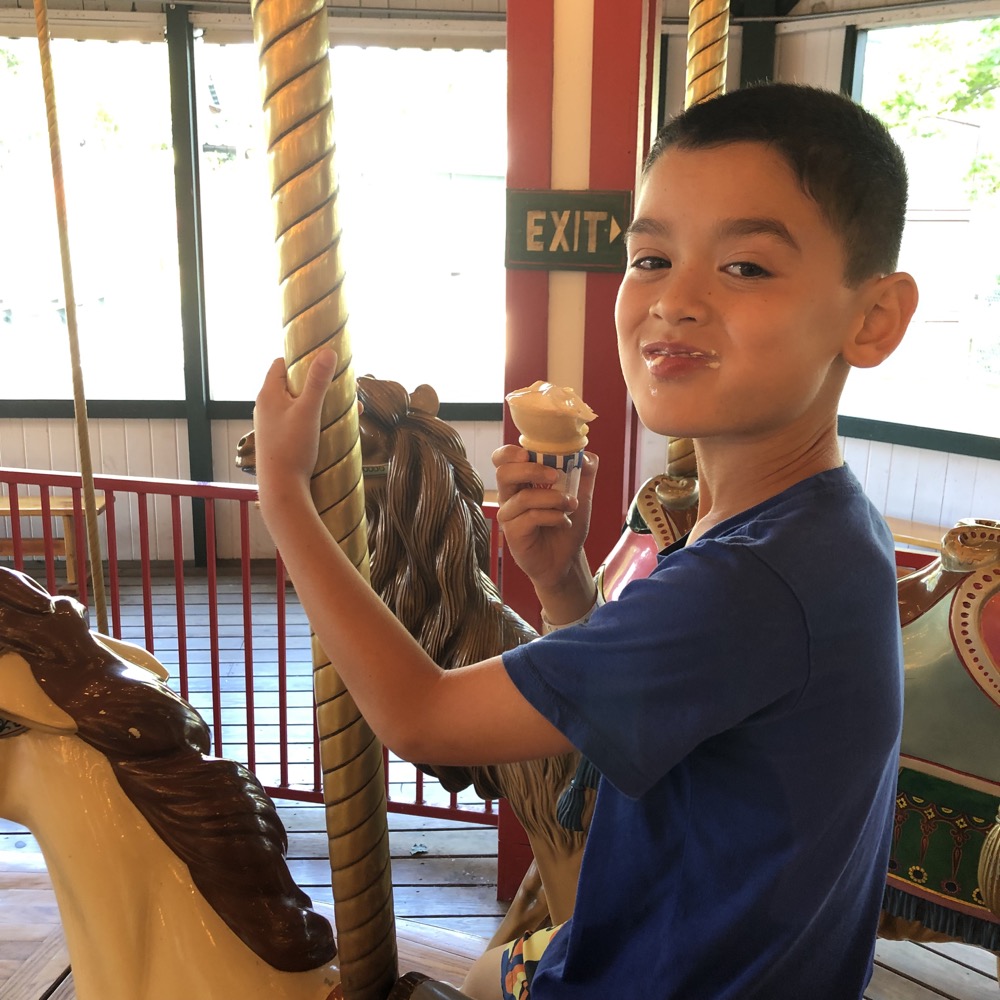 The highlights for both of us, of course, were the more thrilling rides. There's a "whitewater rafting" thing that Calvin insisted we ride multiple times – despite the fact I wasn't wearing a bathing suit. There was also a fairly intense thing that spins riders upside-down high up in the air. Calvin rode that a few times as well. Then there's the Wooden Warrior.
When it comes to roller coasters, Wooden Warrior stands out in the crowd. This family coaster debuted in 2011, and has been rated up there with many roller coasters in the big leagues. Don't let the small footprint fool you as our coaster packs some incredible "air-time" punch and a heart-pounding tunneled turnaround. It was rated among the top 25 wooden roller coasters in the world in a 2012 poll of coaster and theme park experts. After riding it yourself we're sure you'll agree that this marquee attraction is a winner.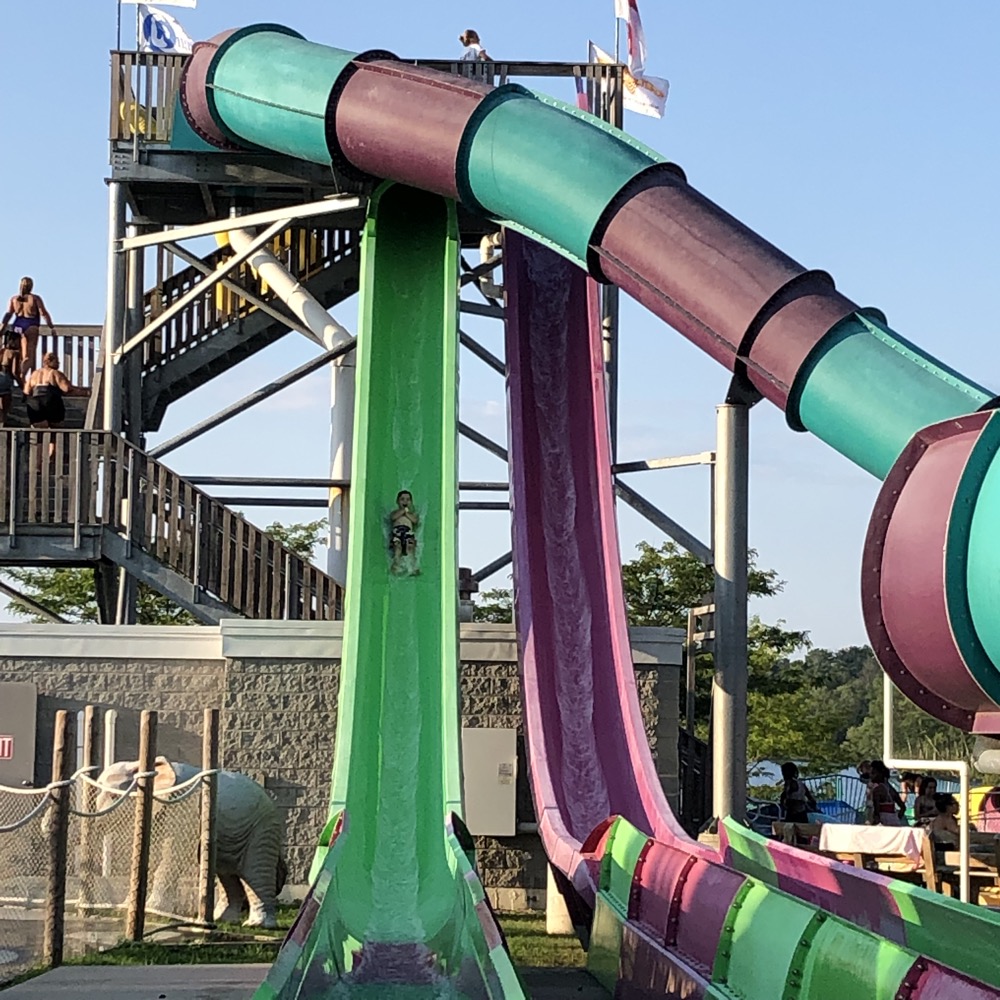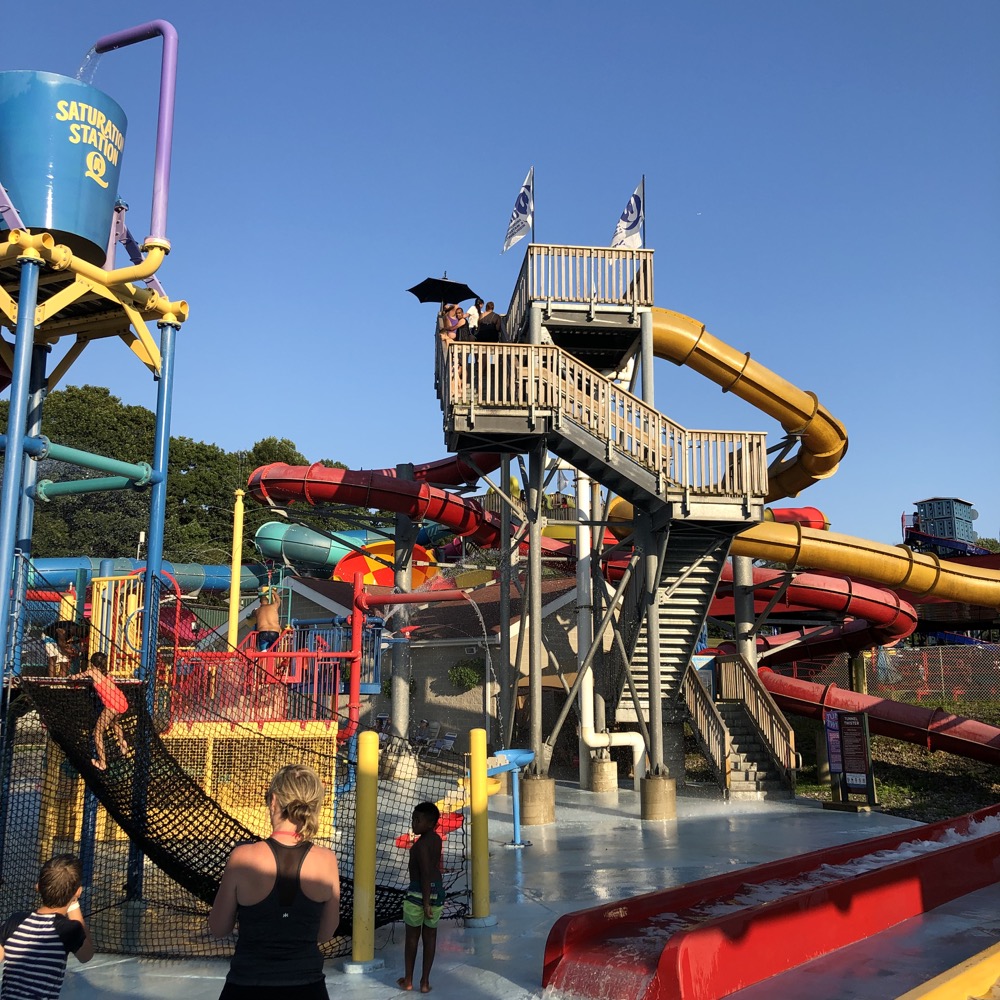 And it is! Or at least it was until Calvin rode all the "real" coasters at Six Flags. But this was a good introduction to coasters for him. One of life's simple pleasures is being able to ride a roller coaster over and over again with no line. Front seat, middle seat, back seat… try them all!
The most bonkers ride at Quassy, hands down, is the Little Dipper. It's a little kid coaster and it's just brutal. It was installed in 1952 and in 1952 no one cared about personal safety. Quassy calls it a "timeless classic" and I suppose that's true.
It's one of the oldest steel coasters in operation in the world. And unfortunately in 2021, it appears that it is permanently closed. Reports are conflicting, and I hope that's not true, as it is a true kiddie coaster. Which means 6'3″ old men are not built for it.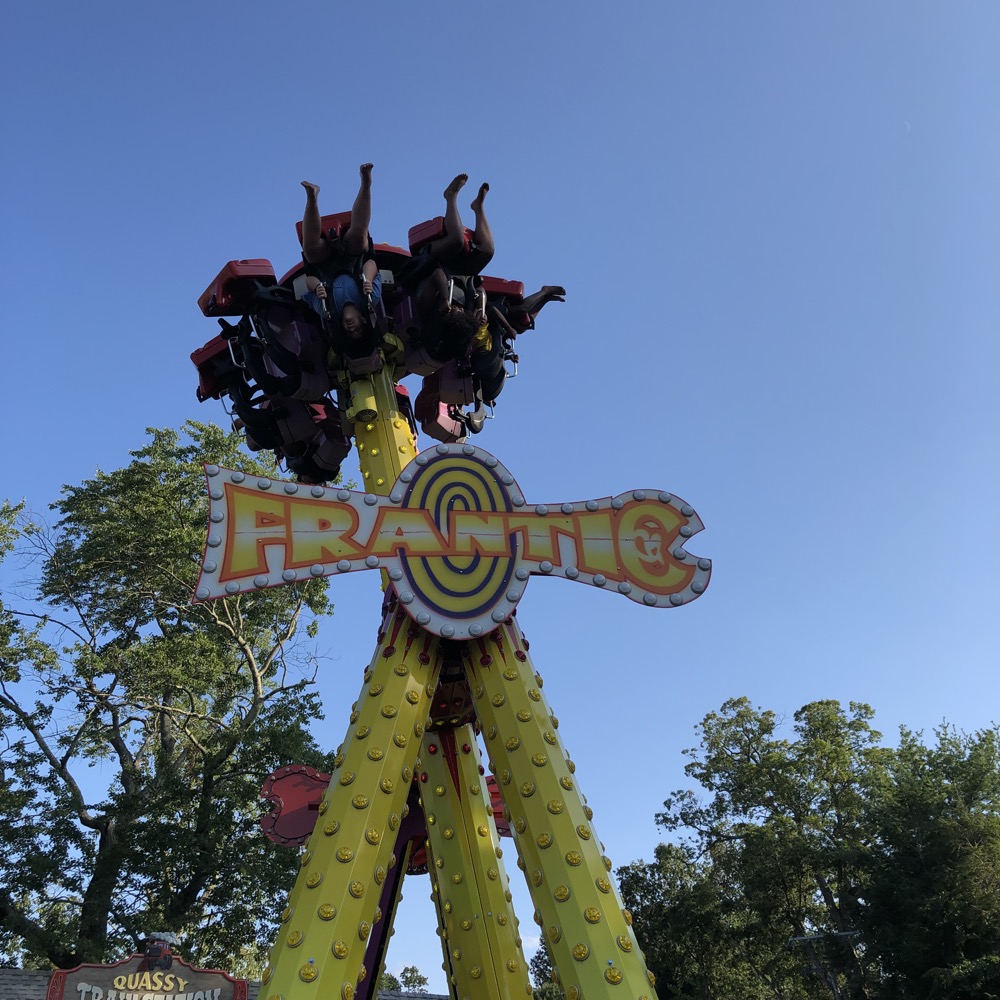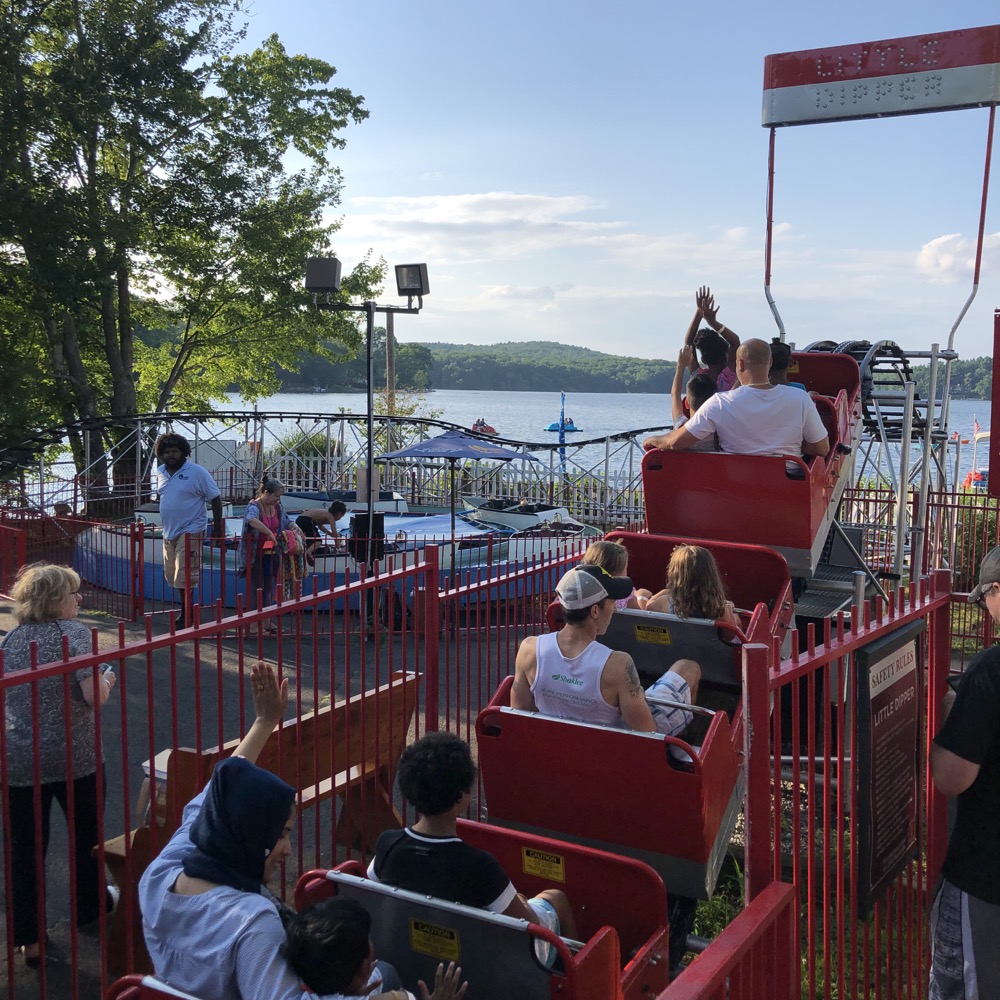 Oh but I rode it, whiplash be darned. If you watch this video, you can see the girl's head snap a few times in front. Now add a foot or more and you can imagine me on this thing. It was entirely unpleasant, but fun all the same. I have no idea why they even let tall people on to this thing.
Moreover, if you watched that video above, you can see the operator start it and stop it. Yes, a human operates a brake to stop the train in the stop house! He missed it for us, so we got to do three laps. My neck wasn't too happy about that.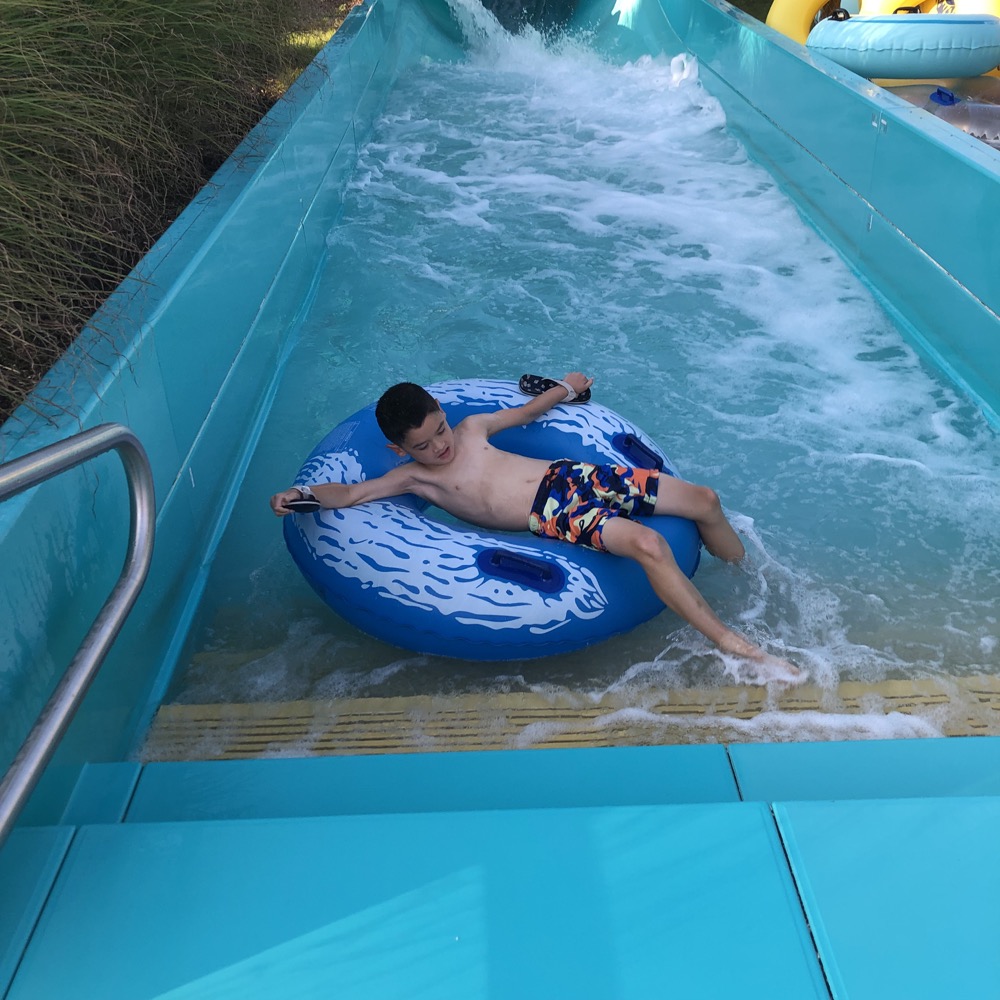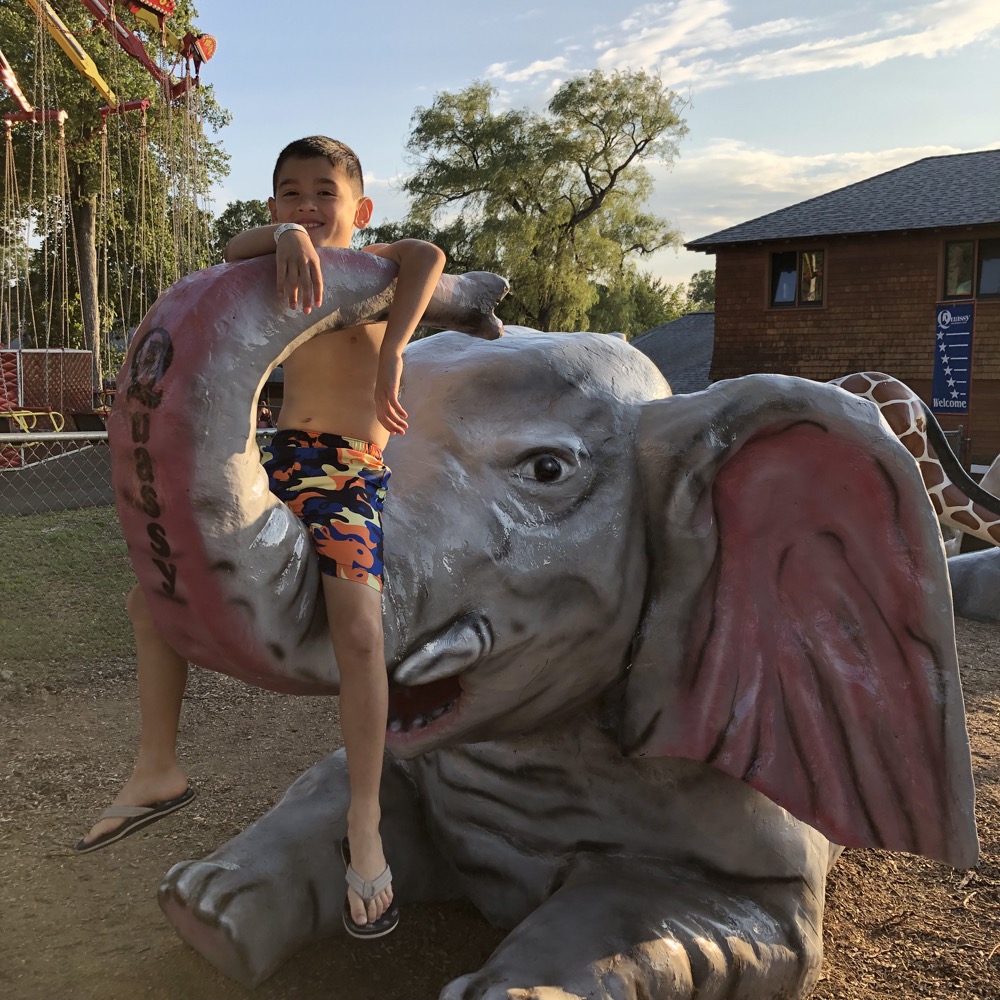 The food here is a smidge better than you'd expect and Calvin and I enjoyed some fried dinner of some sort watching the sun set over the lake. I successfully avoided the arcade with him and wound up at the "Quassy Zoo."
It's not a zoo. It's a toddler play area with fiberglass animals. Calvin decided that some of the photo opportunities were funny, so he climbed around and in the animals. Another kid apparently agreed and decided to squeeze himself into the kangaroo's pouch with my son. It's tough to appreciate how funny this was to all of us – and that kid's parents – at the time.
And that's how we ended our afternoon at Quassy – stuffed into a kangaroo's pouch with some random child. We had a blast and I don't care how jaded you think you are to this stuff. If you have younger children, you're doing them a disservice dismissing Quassy because of your own skewed memories from the 80's or whatever.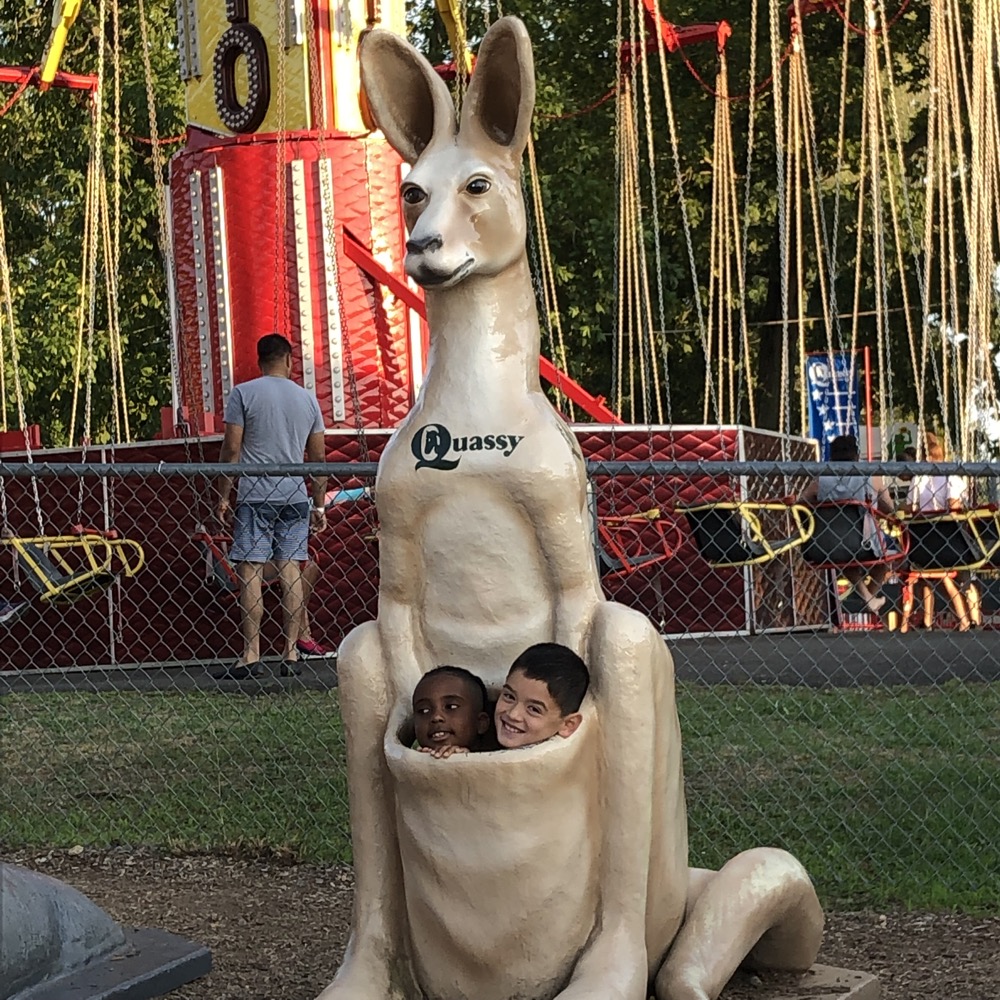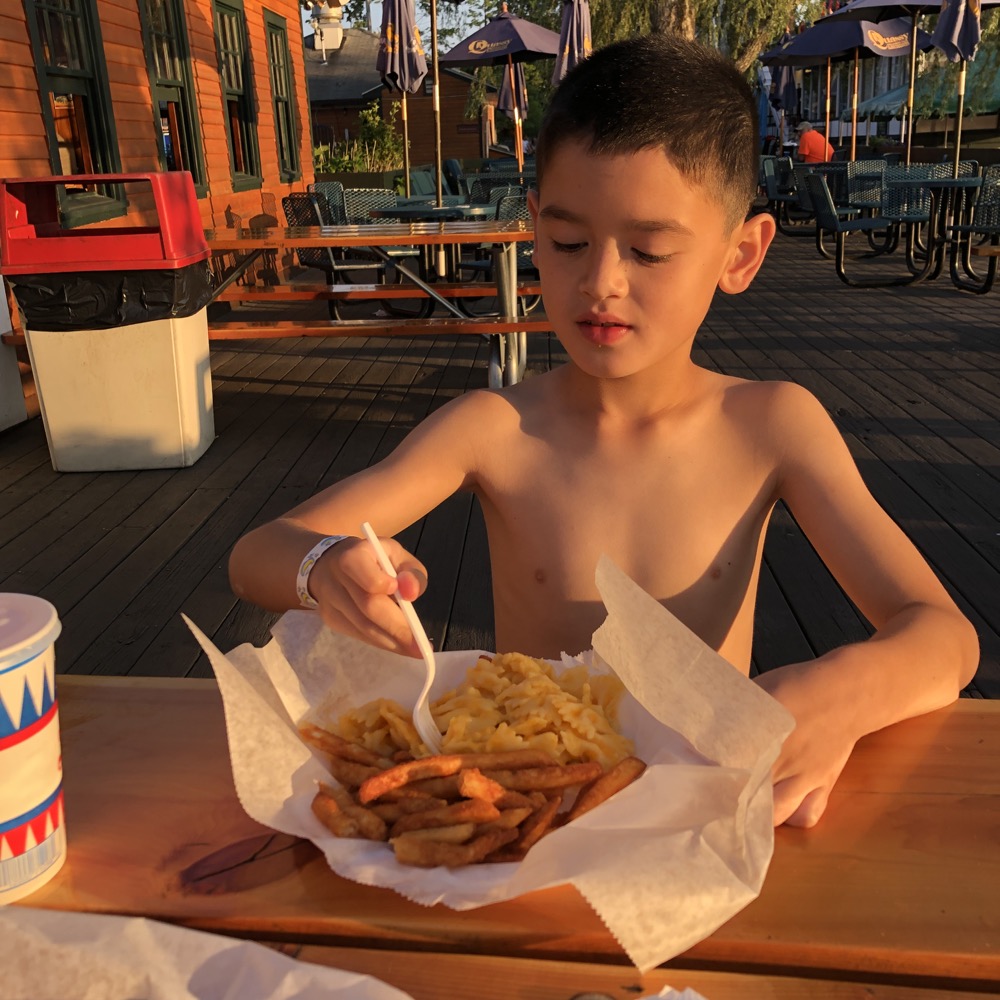 Quassy Amusement & Water Park
CTMQ's Theme Parks, Adventure Parks, and Carousels