Shhhhhhhhhhhhhhhhhhhh
Quiet Corner Creamery, Putnam
August 13, 2017
For some reason, many years ago, I decided to maintain a list of "homemade ice cream joints" for this website. Which, of course, meant that I'd "have to" visit and enjoy them all.
(The reason was fairly simple: I drag my lovely wife and sons all over the state doing things that perhaps weren't exactly on their to-do lists that weekend. Making high butterfat ice cream part of those itineraries makes such trips a little bit more bearable for them. Win-win.)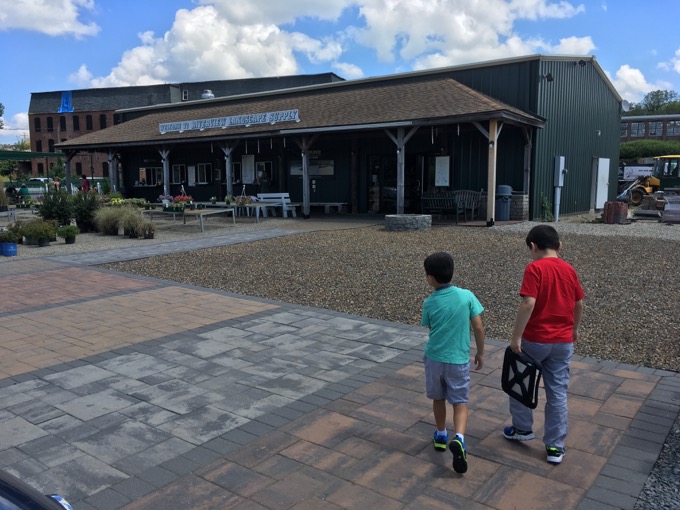 The problem, such as it is, rears its head now. Like, right now. How can I continue to write about so many different "homemade ice cream joints" vibrantly and excitedly, with fresh content, each and every time?
Truth is… I really can't. Aside from a few standout stands, homemade ice cream is… homemade ice cream.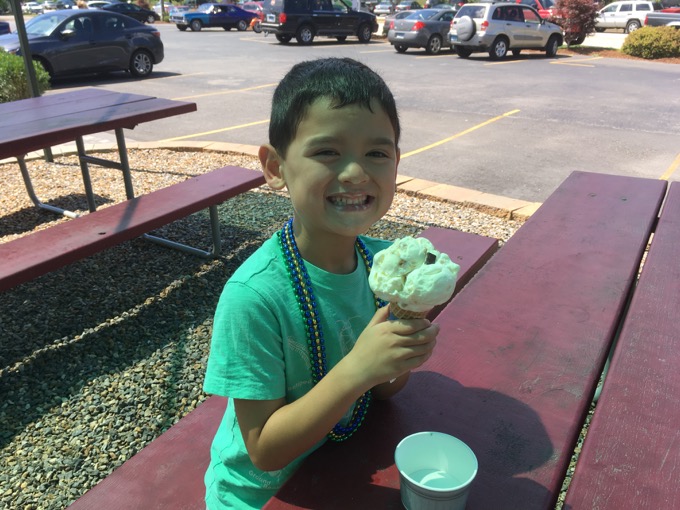 BUT – but I will continue because they all seem to be locally owned businesses making a delicious product that my family loves. And so, for those of you who were unaware of the Quiet Corner Creamery, the fact that you now are aware of it makes me happy.
Happier than my terrible photography makes me: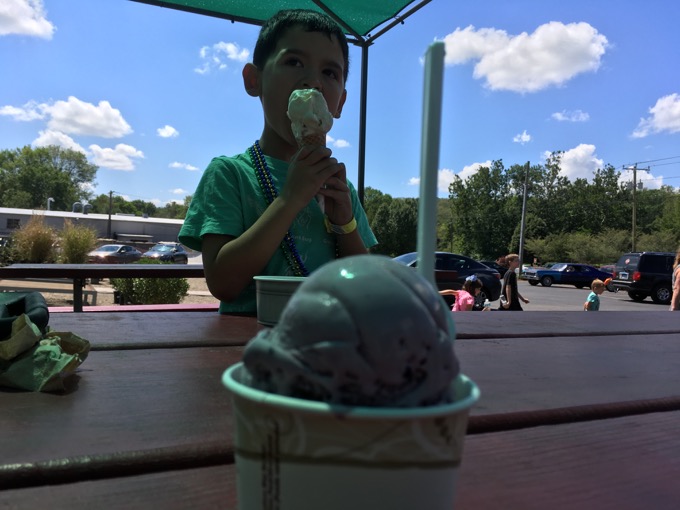 I always like to find what's unique about everything I write about. Sometimes it's a struggle. Be it museums or trails or beer or… ice cream. In the case of the Quiet Corner Creamery, I'm going to go with the fact that it is located in a landscape supply company's building.
Literally. You can go buy some mulch and pavers with your double scoop of delicious coffee oreo ice cream. I'm confident in saying that this is the only homemade ice cream stand in the state where that is possible.
And you can also play mini-golf here too! Granted, it looks to be a rather pedestrian course to say the least, but little kids don't care about that… do they? For his part, Damian seemed to enjoy poking around the course.
Don't ask me why, but mini-golf seems to be one of his obsessions lately. I can't explain it.
The Quiet Corner Creamery may also be the only homemade ice cream joint in Connecticut to cover their eating area in a green tent. This gives all patrons a ghastly green glow in pictures. Just skim their facebook page – lots of kids looking nauseous.
The ice cream was delicious and if I recall correctly, a bit cheaper than some of the other places that dot the state. I even enjoyed some myself, for we were celebrating our "completion" of the town of Putnam!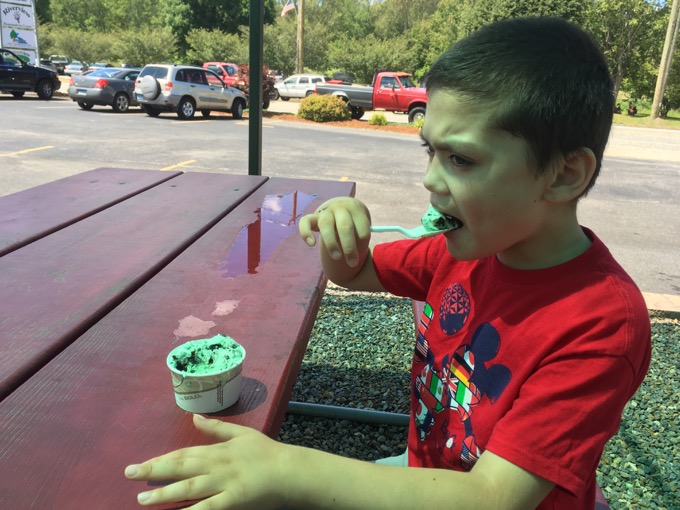 So here's to Putnam, a town with hidden fairy doors on Main Street, named after a guy famous for killing a wolf (among other things), home to the goofiest little DMV, and a combination ice cream and mulch shop.

Quiet Corner Creamery
CTMQ's Homemade Ice Cream Trail