A Hermitess Bishop?
Ridgefield Conservation Commission (RCC): Sarah Bishop
~.75 Miles, June 2017
This was my second Ridgefield Conservation Commission hike and if all their little properties are as well cleared and blazed as this one, I'm going to be happy ripping through their extensive list of properties.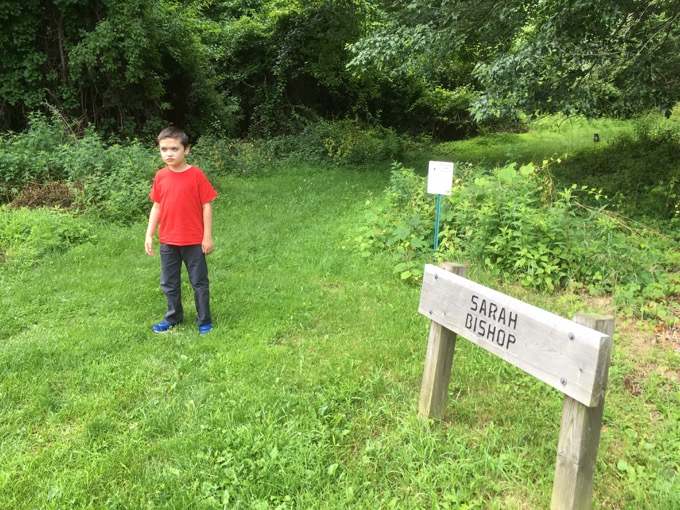 That's not to say that driving from, say, West Hartford and hiking the Sarah Bishop property on the New York border in Ridgefield is, um, worth it.
Except that it sort of is.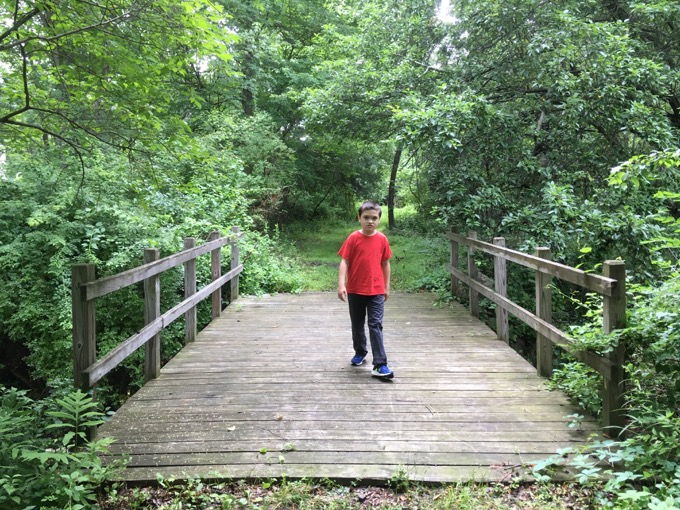 The property's entrance is along a lovely cul-de-sac'd road with children playing on lush green lawns and riding all sorts of wheeled playthings in the street. They clearly don't get traffic here and these are kids that don't know adversity.
And, I'm guessing, they don't see too many galoots from low-end towns like West Hartford parking and bumbling into their woods.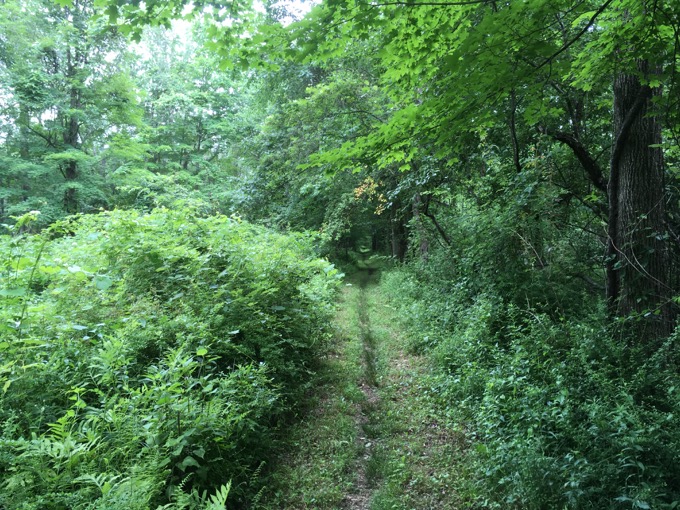 The trail begins along a pin-straight path and that alone makes for an interesting experience. When you hike as many of these little trails as I do, it is an almost alien experience to follow a perfectly straight trail through the woods.
(It follows a former rail-bed.)
For whatever reason, this had a calming effect on Damian and he seemed to rather enjoy the walk.
After several minutes, the yellow trail curves off its straight line and splits; one going to an easement to the cul-de-sac and the other up a little hill. We opted for the hill.
The yellow trail ends and turns into a red trail that sort of contours around the hill, skirts some wealthy person's back yard, nears a little swamp, passes a few rocks and then returns to the original straight-line yellow trail back to our car.
But… who was Sarah Bishop? I have now read several articles about her and I still can't tell you anything definitively about her. It seems to generally be accepted that she was a hermitess who supposedly lived in a cave-like thing somewhere near the Ridgefield/New York border around 1800. And that she was very nice.
There are a LOT of holes in her story. Not just about her but about her dwelling as well. From the Ridgefield Press:
Sarah Bishop lived in a tiny cave on West Mountain in Lewisboro, just across the Ridgefield line from Oreneca Road.
From the CT Historical Society:
A photograph by Marie Kendall in the current exhibition at the Connecticut Historical Society depicts Sarah Bishop's Cave, a hollow in the rocks overlooking a deep valley on West Mountain in Ridgefield, Connecticut.
The legend of Sarah Bishop, the hermit of West Mountain, has a long association with these cold, gray hills. She belongs as much to the folklore of Ridgefield, Connecticut as to North Salem, New York, for the mountain where she lived lies on the frontier of both communities.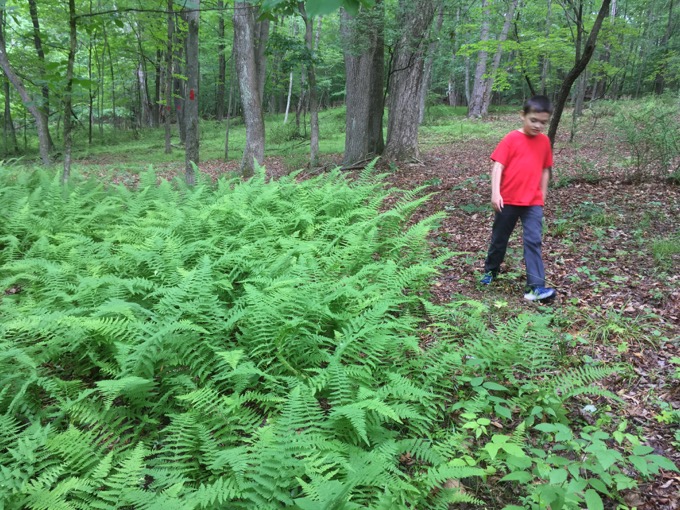 I'm pretty sure plenty of people know where the "cave" is. Especially since we know it's somewhere on West Mountain.
I can tell you that the cave is definitely in North Salem, New York. It is on private property, I think, but since it's in New York, I don't care to find it. If you do, it's somewhere in the middle of the white space here:
Go ahead and read those links above. Was she the tragic result of being raped by a British soldier?Was she just an overly pious loon? A jilted lover? The last link; (this one) gives many accounts of Sarah Bishop and lands "somewhere in between."
I'll let you decide.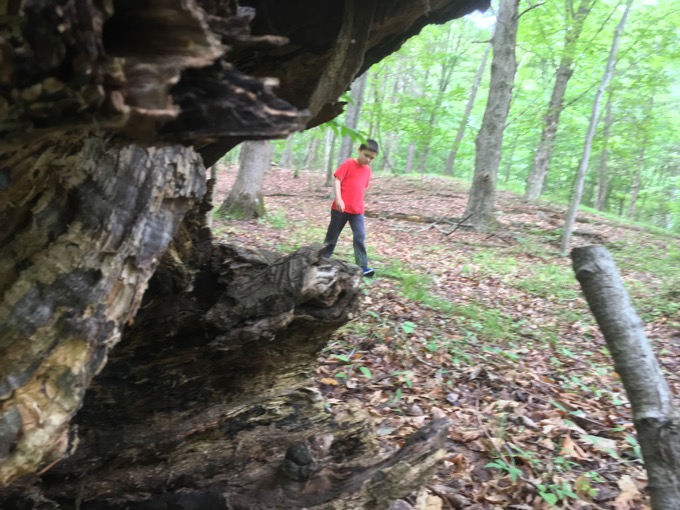 But oh! There's more! Ridgefield's favorite son Samuel Goodrich, who wrote under the pseudonym Peter Parley, wrote a lovely poem about Ms. Bishop:
For many a year the mountain hag
Was a theme of village wonder,
For she made her home in the dizzy crag,
Where the eagle bore his plunder.
Up the beetling cliff she was seen at night
Like a ghost to glide away;
but she came again in the morning light,
From the forest wild and gray…
AND some guy wrote a book about a fictionalized version of Bishop wherein she runs the Keeler Tavern, which is now, of course, a museum. Lucky for us, the book is on GoogleBooks.
And Peter Parley's schoolhouse is also a museum in Ridgefield.
And since Sarah Bishop reminds me of The Leatherman, there's never a wrong time to share this video of my sons from one of his caves in Watertown, Connecticut.
Ridgefield Conservation Commission
CTMQ's Ridgefield Conservation Commission Trails Main Page