D'oh!
Revenge of the Stepford Wives, 1980
The original Stepford Wives is somewhat of a classic. What that movie lacked in quality, it made up for in popular culture influence. The term "Stepford Wife" actually means something and is still used today. And it often doesn't just mean "Plastic robotic perfect appearing doting wife" either… it usually has Connecticut connotations attached to it – specifically Fairfield County Connecticut connotations.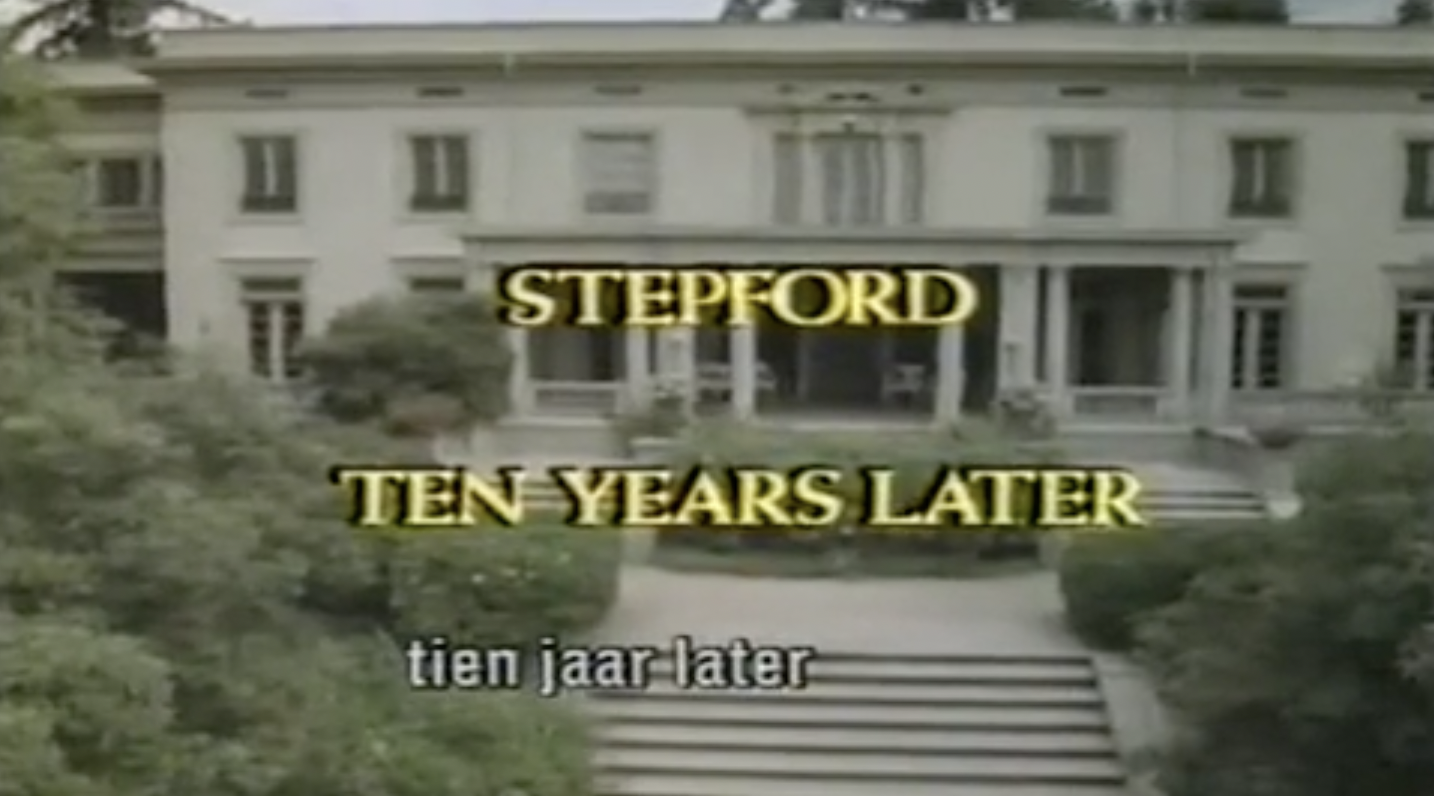 Which only makes sense, since the original Ira Levin novel was written with Darien or New Canaan or Wilton in mind.
That was in the 1960's and the original film was made in the early 1970's. This made-for-TV sequel was made in 1980. A glorious time for television.
And this movie is glorioussss…ly awful. I loved it.
But where else are you going to have a scene with Cagney before she joined Lacey, Crockett before he joined Tubbs, Marge before she married Homer, and Mrs. Roper after she was done with Jack Tripper and the girls?
Oh yeah, they're all here: Sharon Gless plays the intrepid investigative reporter Kaye, Don Johnson is new cop Andy, Julie Kavner (Marge Simpson) is Andy's snarky wife Megan, and Audra Lindley (Mrs. Roper) is Mrs. Parkinson, a top level Stepford Wife of sorts.
This Stepford is clearly in southern California with its palm trees and dusty canyons, but there is no mention of location. And since Stepford of Stepford Wives fame is in Connecticut, we've no reason to believe this sequel takes place in an alternate universe.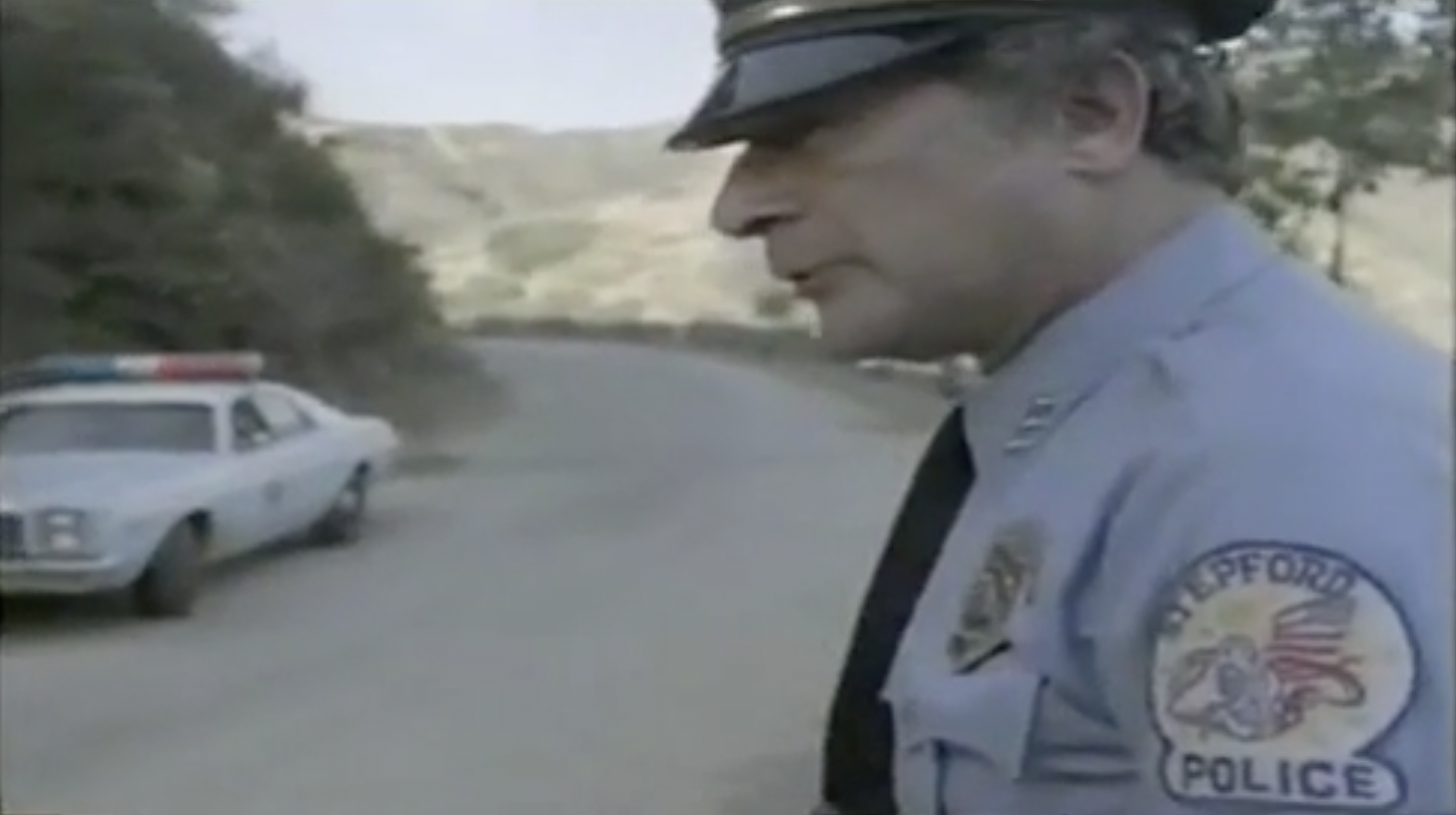 Set 10 years after the original film, a prologue sets the scene as a couple unhappy in idyllic Stepford attempts to leave town; incidentally, they are "moving to California," so that tells me we are, indeed, in Connecticut. No one is allowed to do such a thing and they are killed by the police chief. Driven right off the LA County road and into a canyon. A canyon that must've been littered with cars from The A-Team, Knight Rider, CHiPs, Hardcastle and McCormick… et cetera, et cetera.
I wound up watching a streamed version of this movie with Dutch subtitles. I don't know what the Dutch did to deserve this. These are the lengths I'm willing to go for this website.
The funniest part of this unique viewing experience was an inserted title page, almost certainly added by Dutch television: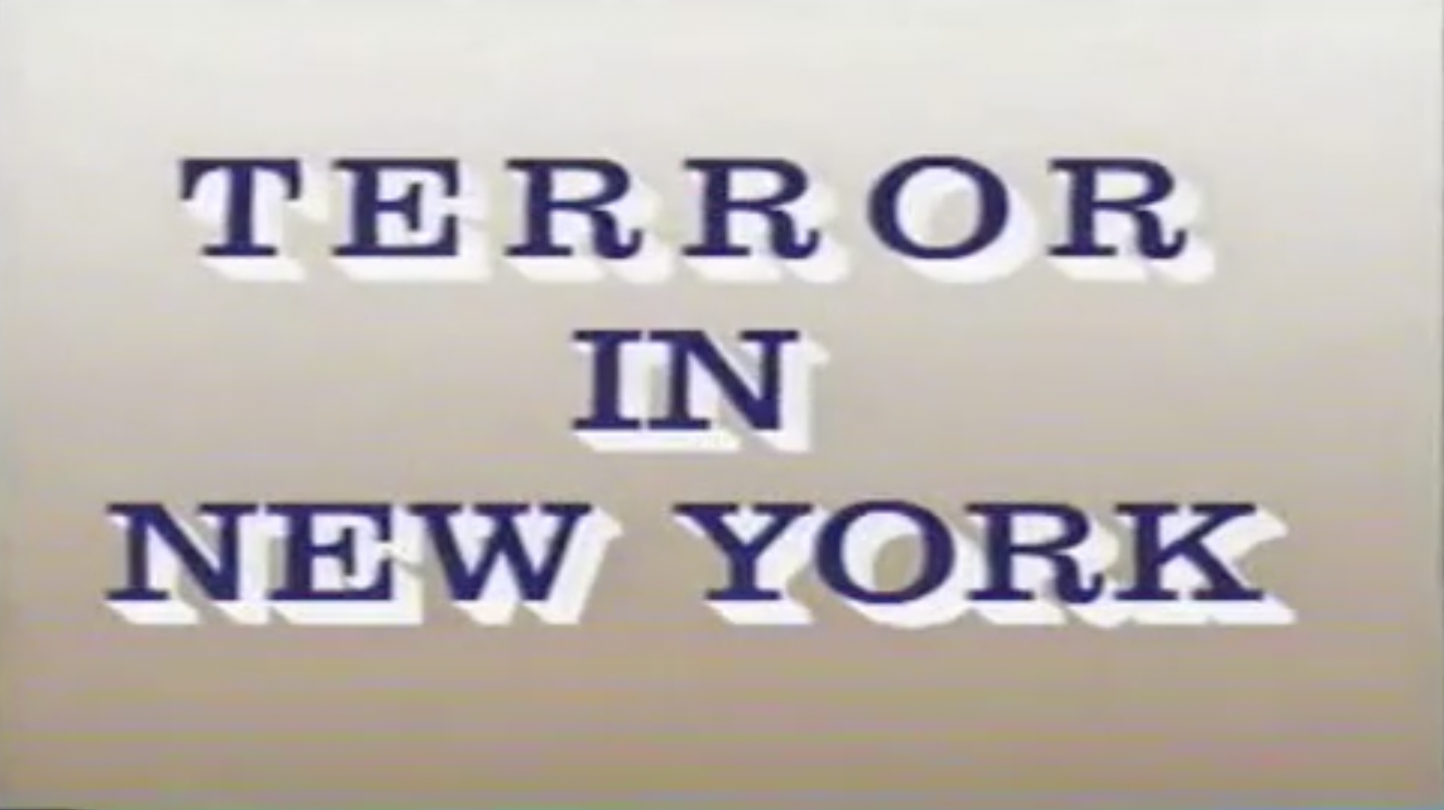 Anyone from our little state who has traveled internationally – say, to a small town in Holland or Belgium to watch professional cycling races – knows that you can't simply tell people you're from Connecticut. You wind up saying, "a small state near New York."
So the fake title just makes sense to me.
Investigative TV reporter Kaye Foster (Gless) arrives in Stepford to do a story on the American town with the lowest crime and divorce rates and the tightest real-estate market in the country.
She is at times hard-boiled and experienced and other times clueless and anemic. Right off the bat she notices the women in Stepford are weird and compliant but are also summoned by a town-wide alarm that forces them all to take a pill.
Like, that right there – which she observes in her first ten minutes in town – would be cause for alarm! But she gives it a pass. She's told the pills are for a thyroid condition. A condition that literally every woman in town has except herself! Gah!
She gets a room at the decidedly un-Stepfordy Stepford Motel. Seriously, her room is garbage. The producers didn't even try.
Kaye meets Megan and Andy Brady, newcomers to town. Megan is refreshingly down to earth, and Andy is interviewing to join the police force ("the highest paid police in the country) and become a member of the Stepford Men's Association, headed by refined but vaguely hostile Dale "Diz" Coba. Kaye needs a research assistant, and after being turned off by the seemingly plastic and subservient women of Stepford, she jumps at the chance to hire Megan.
Once the Men's Association gets wind of Kaye's snooping, they try to run her off. First, Mrs. Roper responds to a radio signal and tries to run over Kay with her station wagon. (That's another thing, the producers must've gotten a discount on giant station wagons, as everyone in 1980 Stepford CalifornNeciticut drives them.)
She fails and Kaye "notices" the matriarch wife acting strangely. Y'know, like a robot. Still, she carries on. Other attempts to kill Kaye fail; in one scene, she's drinking with Wally the motel manager when a couple wives try to stab her. It's wonderful stuff.
Meanwhile, Andy gets the job as a cop in town which comes with a mansion. Megan, who up to this point was Kaye's only friend in town, then disappears to get "converted" into a Stepford wife.
One guy is skeptical if he wants a robotic wife and is convinced by the following argument:
"I'm a sports nut and my wife used to nag me all the time about watching the games; I wanted to kill her! Now if she's not in the kitchen making me a snack, she's in the den watching with me!"
This movie doesn't involve any robotics like the original. No, the process has been improved I guess. Now it's "knock her out, stick her under a giant hair dryer, push some buttons at a hokey computer, and make her take pills four times a day."
If I'm rushing at this point, that's because I am. Sorry.
Kaye sneaks into the garden party welcoming Megan and other newly Stepfordized wives into the fold and overhears some of the rules, including "no alcohol," as that will mess up the process.
Then there's this dude: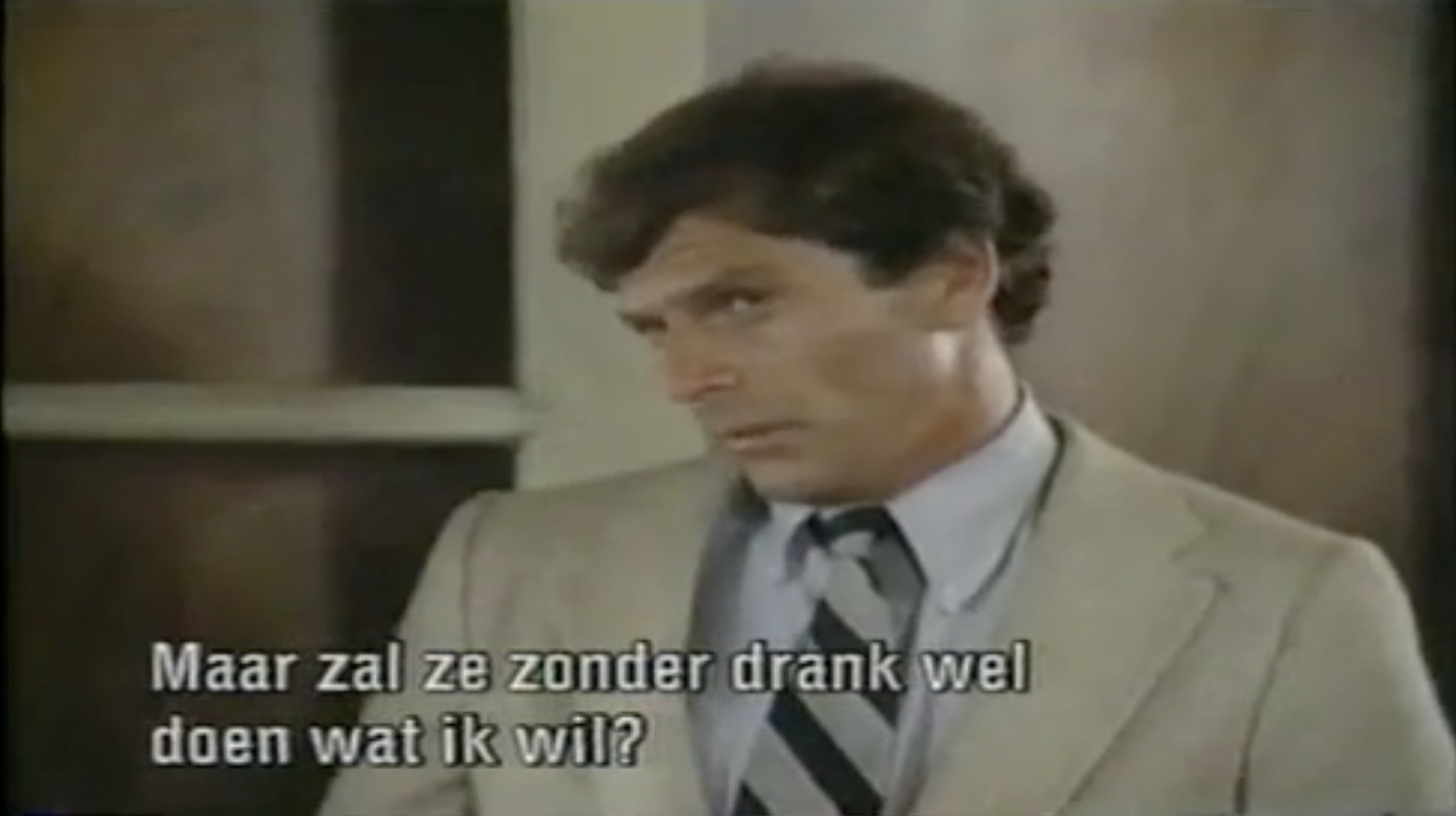 "Without alcohol, will she… do what I want?" (I checked the Dutch and yup, accurate: "But will she do what I want without booze?")
In other words, these guys use alcohol to get their wives to have sex and also don't believe in spousal rape. Ick.
Coincidentally, it's alcohol that ultimately saves the day. Kaye escapes capture and sneaks up on Megan at her new mansion. They agree to have tea but Kaye swaps out Megan's tea for vodka! Megan drinks the booze like a champ and goes haywire and tries to stab Kaye. It's bonkers.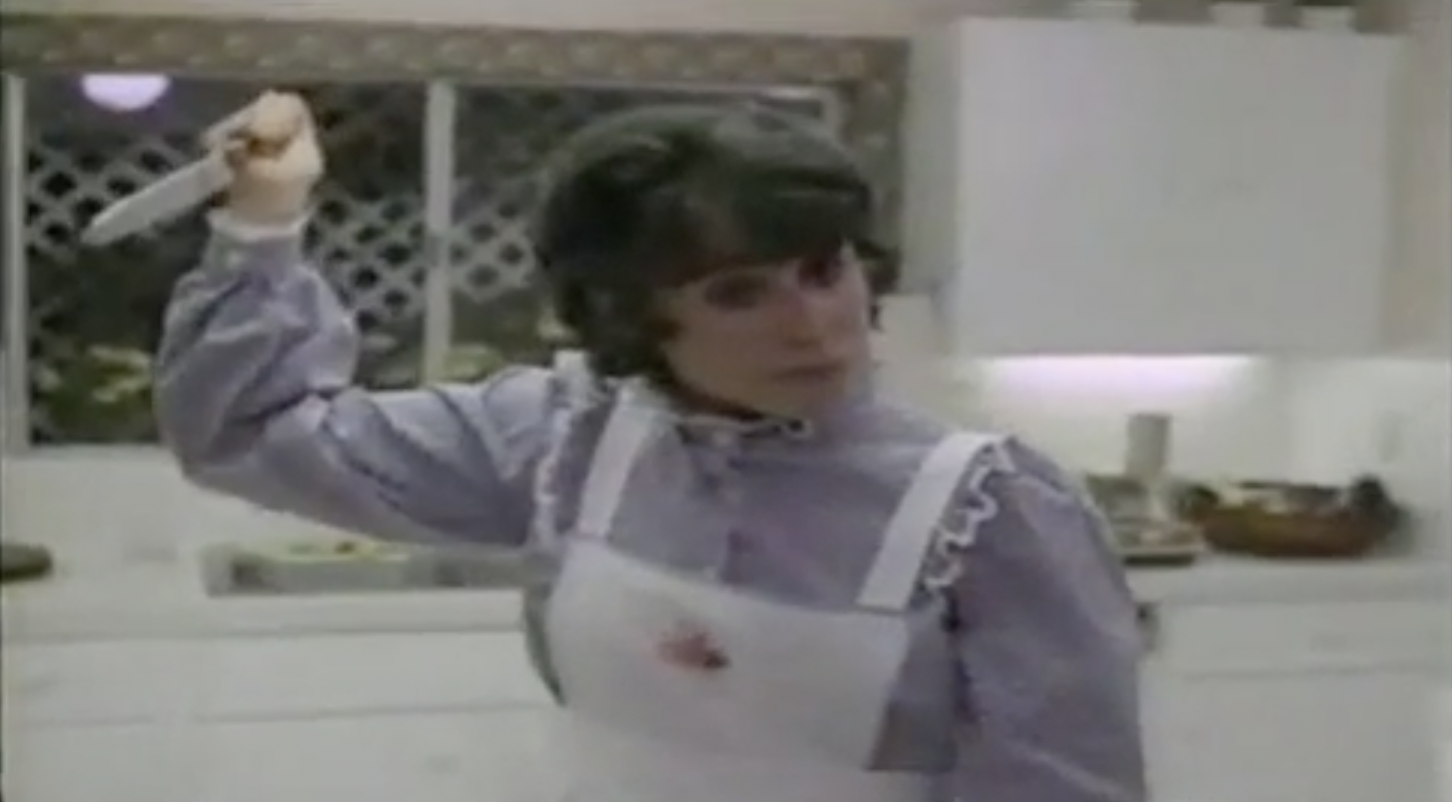 Sidenote: The 1980 women of Stepford are all dressed like the late 60's Stepford wives; like they're going to the Kentucky Derby in 1956 or something. It's not cute or sexy or anything remotely like men in 1980 would dress their subservient wives up in. It's a weird choice for the director to retain these dress relics. Megan is dressed like a classic maid – not "sexy French maid," no, just like Rosie on "The Jetsons" or Flo on "The Jeffersons."
Megan comes around and Andy comes home and Kaye bashes him over the head with a board and… cut to the end, Kaye winds up at the Men's Association and has the head guy at gunpoint. She and Megan sound the pill-popping alarm over and over and all the women in the town overdose on whatever pill that claxon forces them to take.
This somehow turns the women into and anti-Stepford mob. Andy realizes he doesn't want a robotic wife. The women attack the head guy, toss him out of the second floor window and then stomp on him and I guess they kill him.
Good stuff.
In one of the final scenes, a reason given for Stepford's whole thing is "we have men taking care of children now! Women coming for men's jobs!" so these guys think that by zombie-fying their wives that solves that issue? But their wives aren't coming for their jobs? It makes no sense.
I enjoyed the women curb-stopping the leader, but they had to overdose on their pills and now what happens? Does Kaye expose Stepford on her investigative show?
I need another sequel! (Yes, I'm aware of them all!)
CTMQ Rating: 2 out of 5 thumbs up
Connecticutness: 11 out of 169 Nutmegs
Filmed in Connecticut? No
Wealthy Caucasian with a Big House? Yes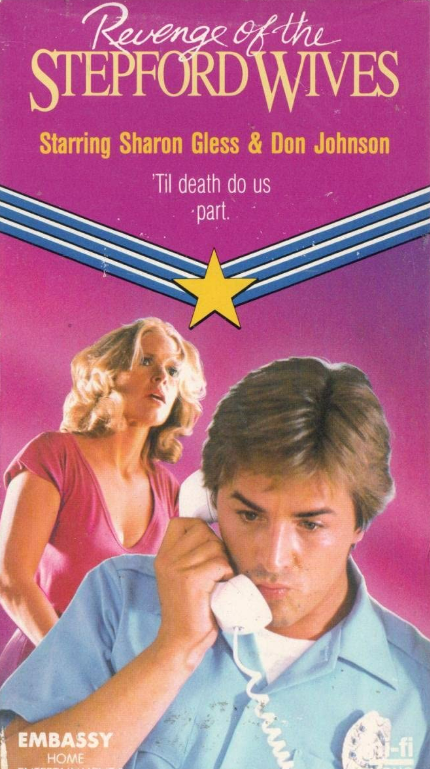 Connecticut Movies
Connecticut Horror Movies