Falls so Cool They be Ice
Sessions Woods Falls, Burlington
February 2014
The Connecticut Waterfalls 2013 guidebook notes that these falls are "south of Burlington," which would mean Bristol. They are not in Bristol, I promise. Anyway, these falls are as far away from the Sessions Woods visitor's center as possible, which means you need to hike over a mile to get to them. And that's good.]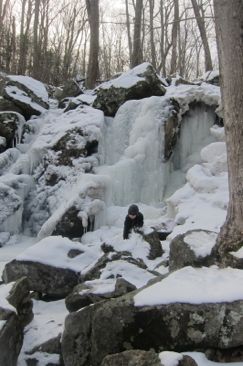 My comment above isn't a knock on Bristol at all. It's more of a, "Hey, this really great and scenic wildlife management area is mere minutes up Route 69 from downtown Bristol and I think that's really great."
And Sessions Woods IS pretty great. Other than the confounding fact that the nature center isn't open on weekends, the trails are great for families and they all provide educational signage along the way. They have a bunch of events throughout the year and I highly recommend you make this place part of your life.
(There's a little kid in the picture above, which I think it pretty cool – because you'd never notice him if I didn't tell you.)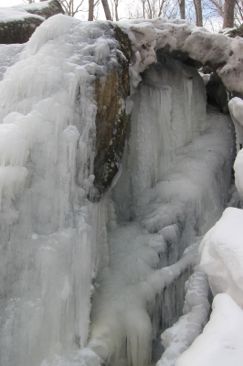 It's a been a big part of my life for a few reasons. The nature center, the Tunxis Trail system snakes through here, the Burlington Trail Master Challenge is a thing in town, these falls, an observation tower… big fan… big fan of Sessions Woods.
The waterfall is found down a short but steep spur trail off of the main Beaver Dam Trail (which is really a dirt road). I just read this on another site: "This is one of the most rewarding easy hikes in the entire state."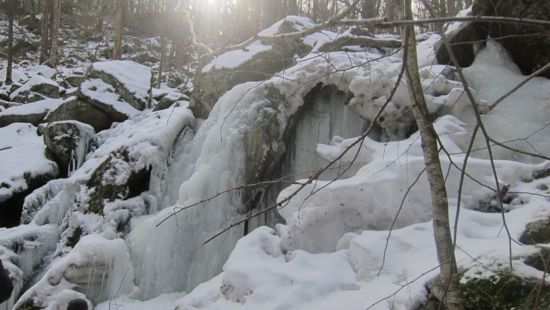 That's a bold statement. Anyway, from the visitor center lot, you need to find the main Beaver Dam Trail. If you go right, you'll have more downhill and it's about 1.4 miles to the falls.
The day I took these pictures wasn't as cold as it looks, but it was still the dead of winter. Obviously. There were people on the main trail, but I must admit that I was a bit surprised to find a Granddad and grandson down at the falls. The pathway down is a steep set of stairs and with the snow and ice, they weren't exactly easy to navigate. The little kid seemed fascinated by the frozen falls and that warmed my heart.
Now get out of the way so I can take some terrible pictures already. Thanks.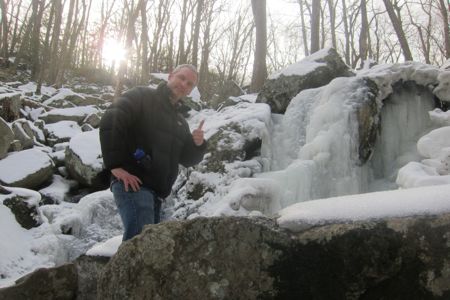 The falls only fall 15 feet or so, but they are quite pretty. By the way, the original (and long-standing) name of the stream here is Negro Hill Brook. The name is still retained here and there in Burlington, but it is being phased out. (These falls were the Negro Hill Brook Falls until recently. The name of the brook now is Falls Brook. Which is just boring.)
Oh, and my man Justin Coleman has a nice shot of the falls actually falling.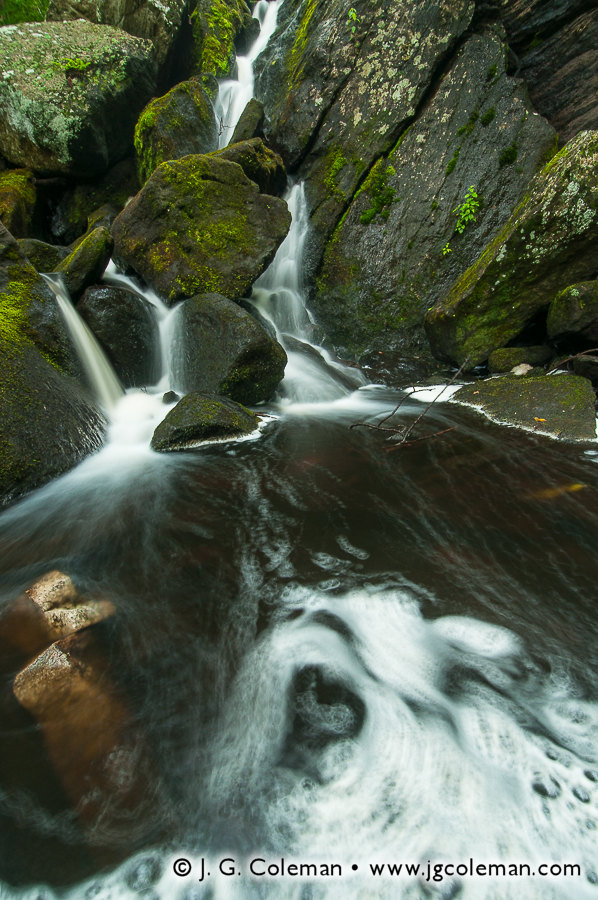 Yeah, that's nice.

CTMQ's Waterfalls & Cascades
CTMQ hikes Sessions Woods