Big and Tall Treats
Tall Man's Homemade Ice Cream, Cromwell
July 2023
Holy cow, I just realized that this website is nearing its 17th birthday and our Seattle nephews have never appeared on it. Let's change that today.
Welcome to CTMQ Ryland and Jonah!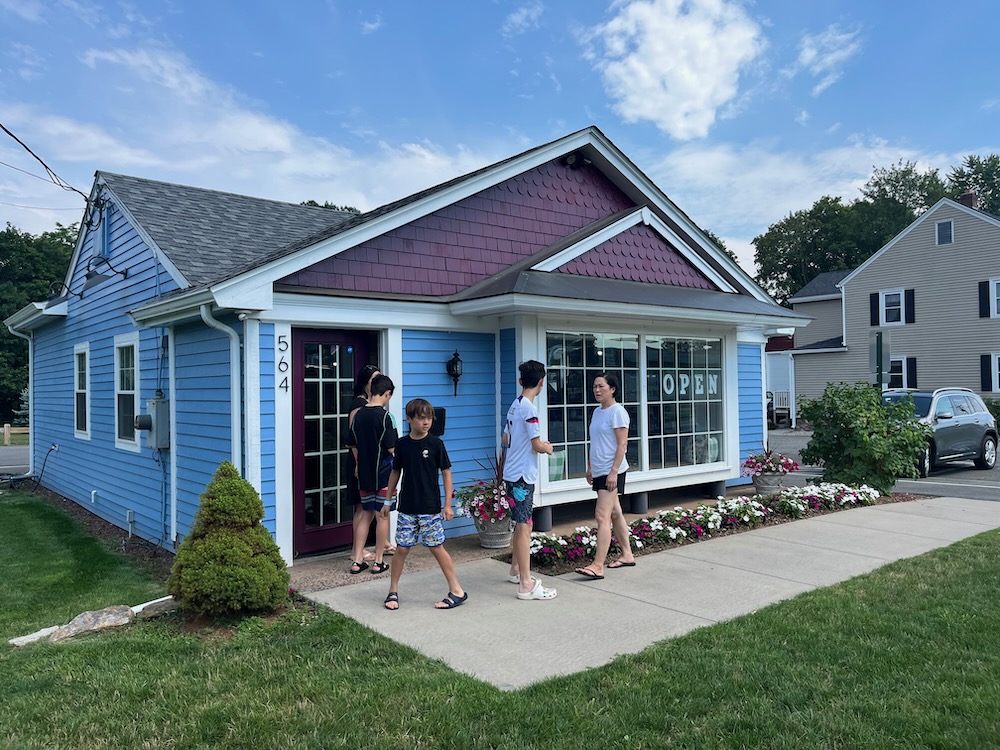 They were visiting with their mom (my wife's sister) for a week and did a Connecticut speedrun. Lots of CTMQ-worthy stuff, but I wasn't with them for most of it. I did take a day off from work to join them at Portland Brownstone Adventure Sports Park with Calvin after which we made the short drive up to Tall Man's Homemade Ice Cream in Cromwell.
CTMQ superfans will remember Calvin and I went to Cromwell Creamery after our last visit to the Adventure Park. (You should also know that the Park is pretty awesome as long as you can swim and aren't afraid of heights.)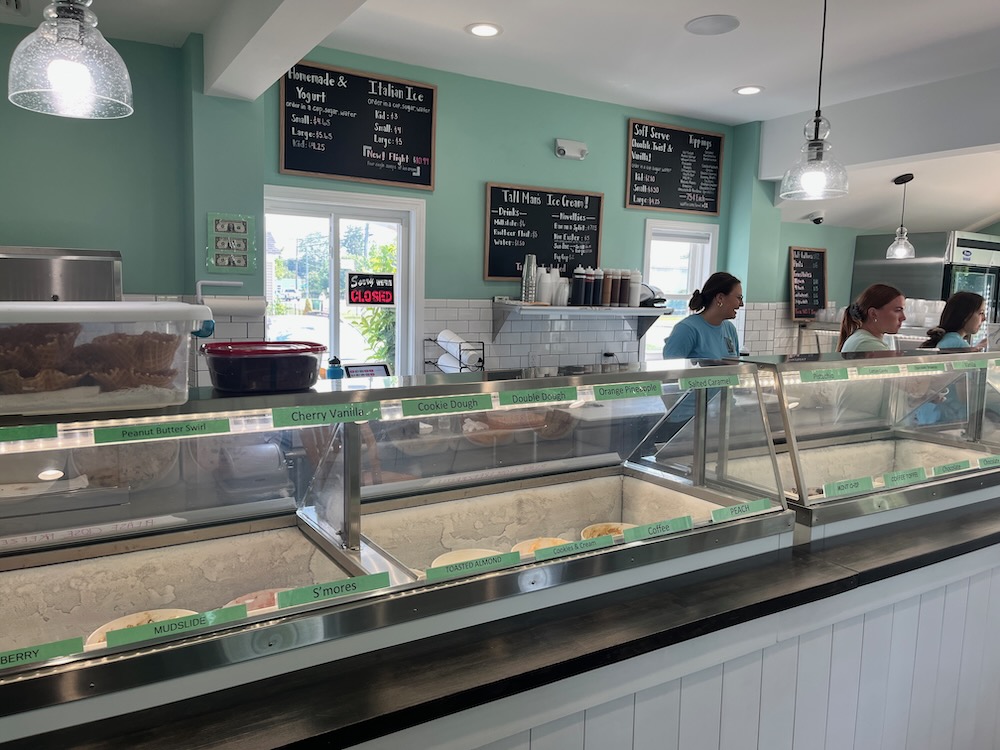 And even if you can't swim and/or are afraid of heights, you should go to Tall Man's at some point. This is darn good ice cream.
This slightly out-of-the-way joint opened in 2020; pandemic times. While it's not near Cromwell's business district, it is nearish the high school, which I'm sure helps business. Perhaps founder and owner Tim Farrell's stature helps as well. (He's a former basketball player – no idea where or at what level, but I saw him working in the back and he's pretty tall, but not, like, wacky tall.)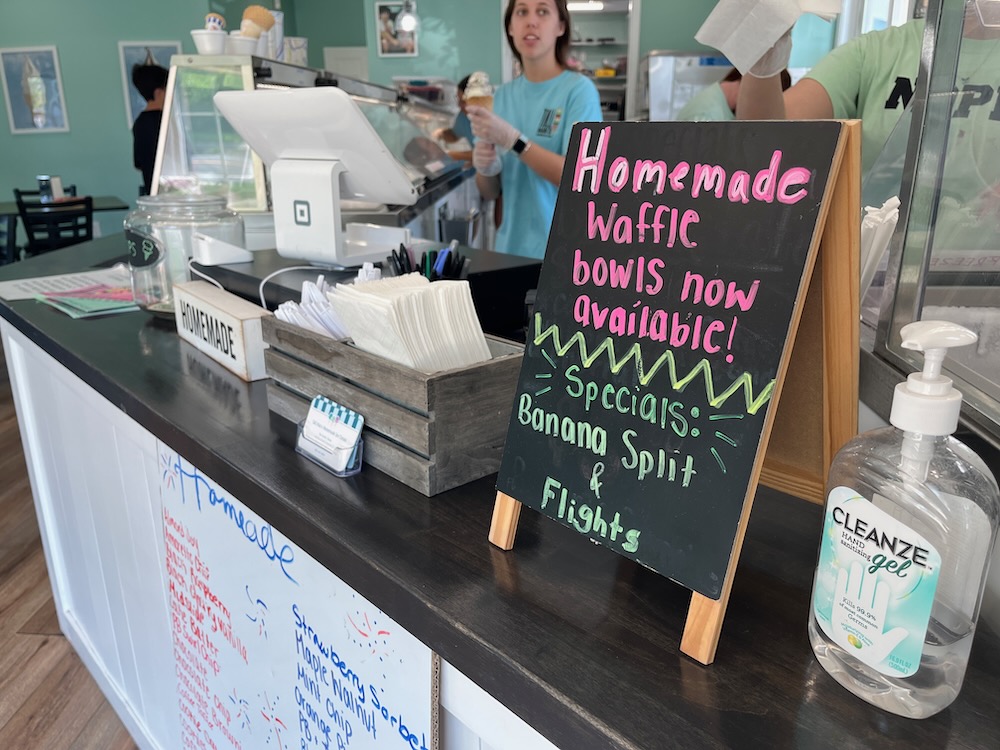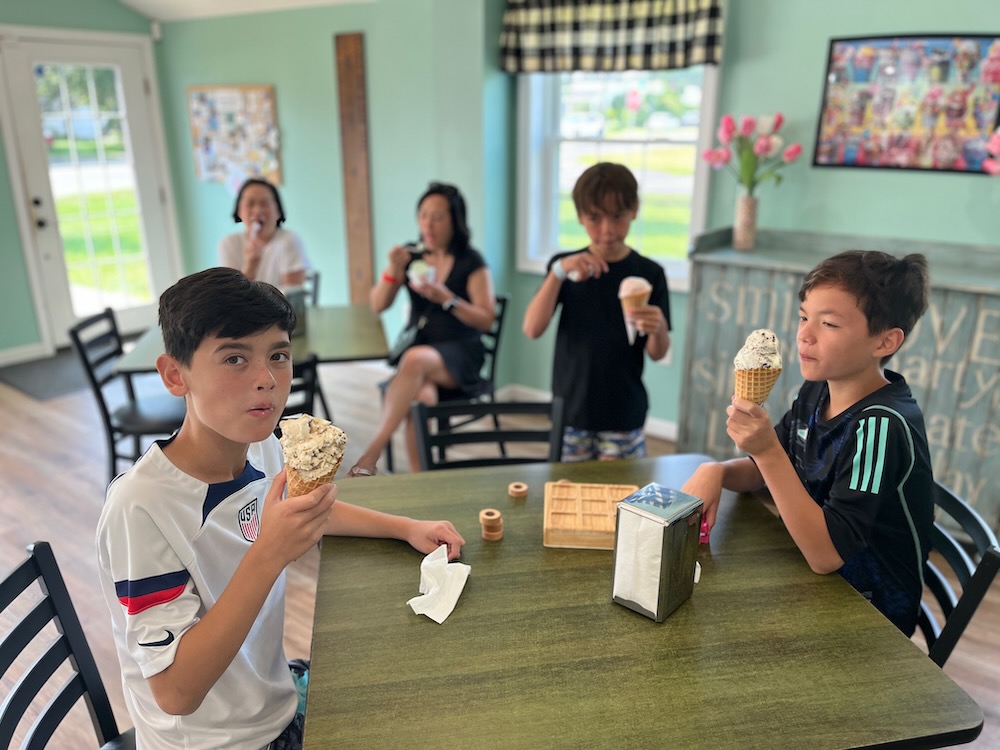 Tall Man's is a pandemic baby. Farrell was running a party supplies rental business that all but dried up in 2020, so he turned to plan B: Ice Cream. We'll all want ice cream during the apocalypse, and so far, that hypothesis has worked out pretty well: Tall Man's has been successful enough to expand with a mobile/rental ice cream business.
The space used to be an ice cream spot decades ago, so it was a natural fit. With plenty of outdoor space and seating, it was a viable spot in 2020 when no one was allowed to eat indoors. There's a bit of romance to the outdoor space though; a large lawn a space away from the road for kids to run around like loons after their treats. There's an old-timey quaintness about Tall Man's for sure.
Inside, though, they've adopted the cloying beachy style that you'd expect in places like Orleans, MA or Ogunquit, ME. Pithy sayings adorned the pale turquoise walls. (The giant ruler to measure height is a cute touch though.)
Several young women milled around behind the ice cream counter. Tall Man's isn't messing around as they have dozens of flavors available. I was immediately impressed. There were six of us – me, three boys, my wife Hoang and her sister Quynh – and it took me a second to figure out the system here: Everyone ordered and then the army of scoopers went to work.
And they were not shy with their scooping. The portions here are rather generous. Of course Calvin had to get a large waffle cone which was magically downed in five minutes. The kid is ridiculous with the ice cream.
(His normal cousins did not match his speed or intake. Because they're normal cousins.)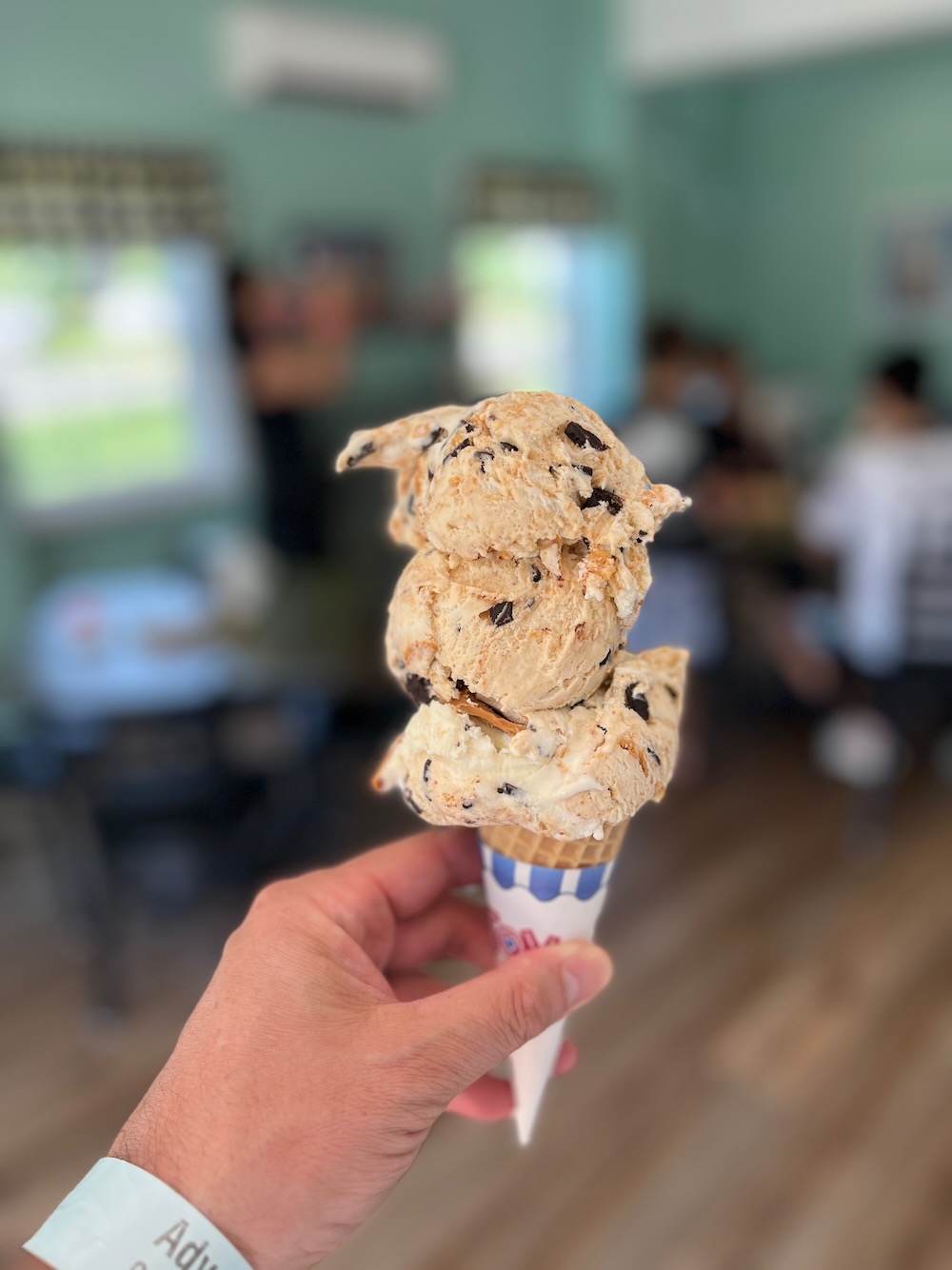 I got peanut butter swirl which was phenomenal. I have no idea what everyone else got, but I know Quynh went with pistachio which she claimed was "excellent" and Hoang got cherry Italian Ice which made her lips a dazzling shade of "Escort Service Red." Hawt.
I was very impressed with the relatively new effort here in Cromwell. Really great variety of flavors and styles, super attentive staff, "tall man" portion sizes, and most importantly, solid, solid ice cream.
We will be back.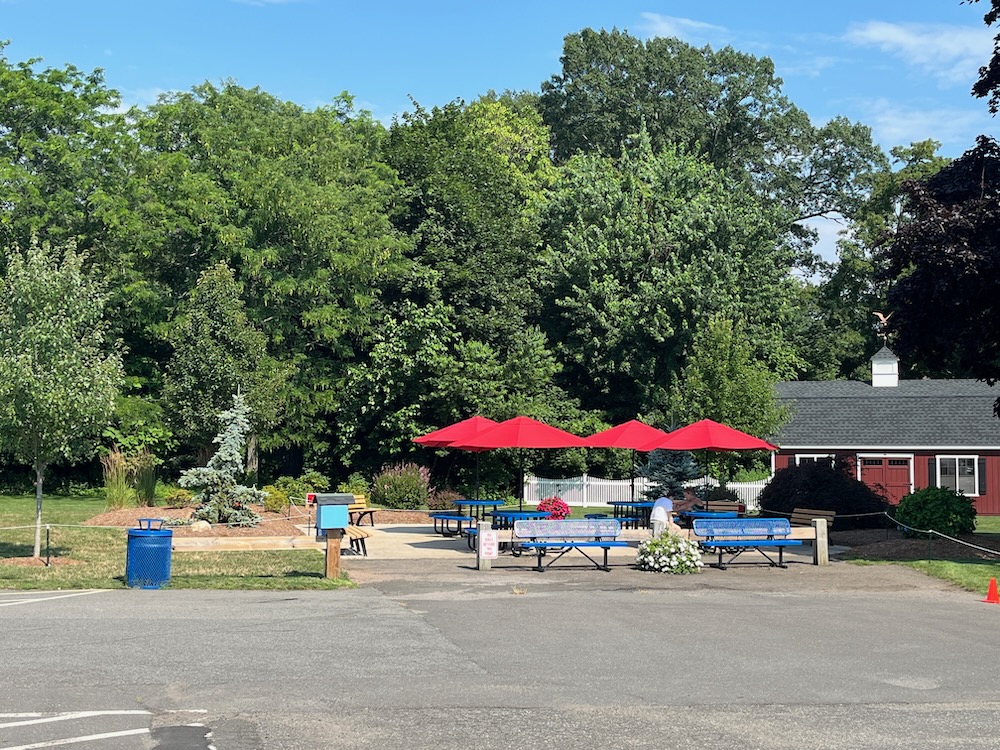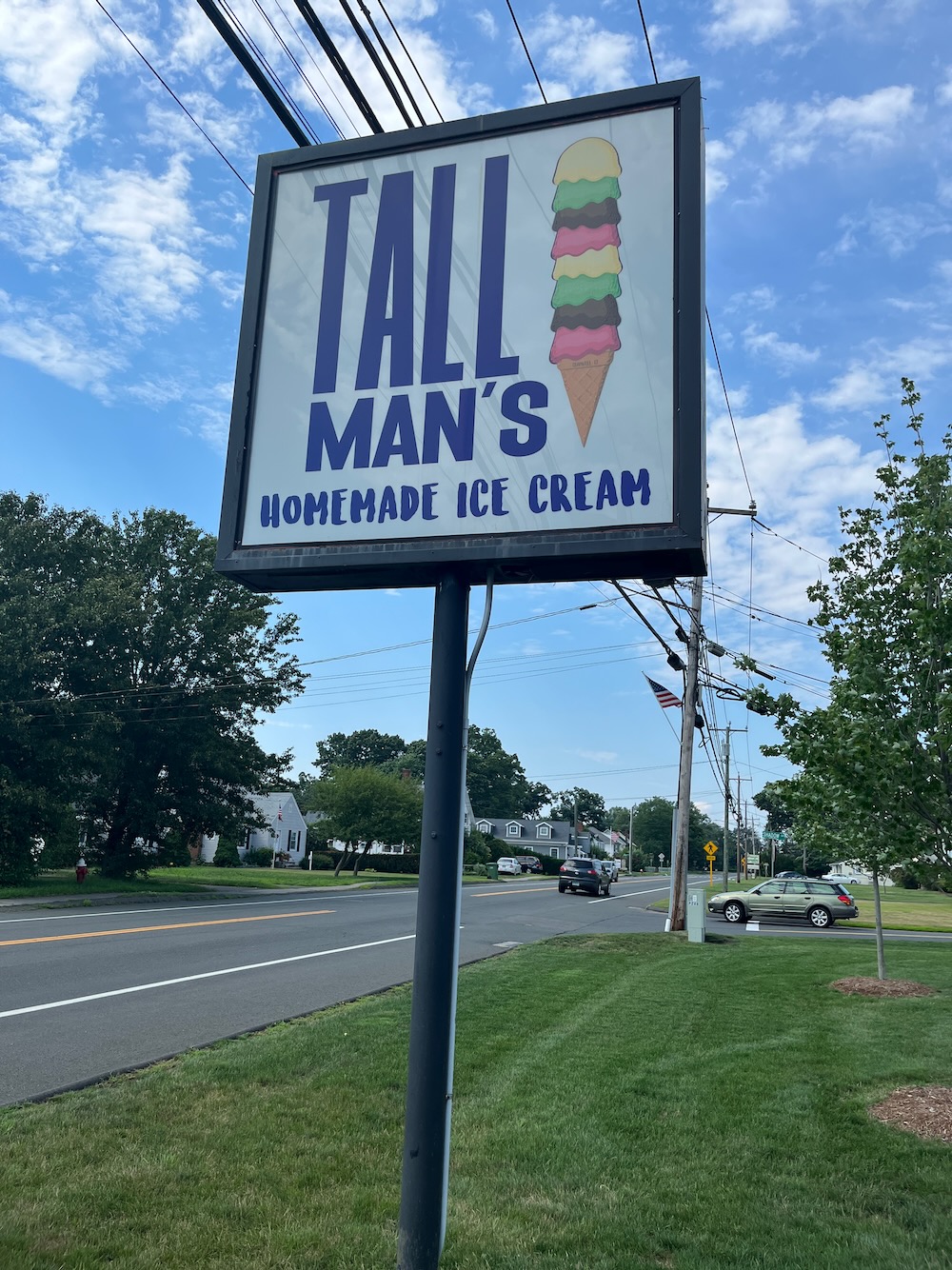 Tall Man's Homemade Ice Cream
CTMQ's Homemade Ice Cream Trail