The Canaanites
Canaan, North Canaan, New Canaan, East Canaan, … and Falls Village
As a non-Connecticut native, I'm not qualified to write this. Quite simply, I can't make sense of it. Then again, as an outsider, I can see the issue for what it is: stupid.
Let's dispense with New Canaan off the bat, as it really has nothing to do with this. New Canaan is a very wealthy town in lower Fairfield County. It existed before Canaan, but was incorporated 62 years after Canaan, so we'll let the "New" part slide. (Especially since the original Canaan was more or less Bronze Age Israel so all Canaans after that are "new".)
You're fine New Canaan. Be well.
Our focus is on Litchfield County's rural and hilly Canaans: Plain Canaan and North Canaan. It was all one Canaan for well over a century but for some dumb reason, the few people who live in what is now North Canaan just haaaad to split off from what is now Canaan and become their own town in 1858. Only about 1,400 people lived in each Canaan in 1860. I'm sure it had to do with some parish or church that was hard to get to or something. That was always the way back in the day.
There are fewer people in Canaan today than there were in 1860. No one lives in Canaan and not too many more live in North Canaan. From what I know, there's no rivalry between the towns although they tend to be less well-off and more Republican up north. (Canaan's median household income is nearly double that of North Canaan's.)
Fine.
So what's the big whoop?
Here's the big whoop: No one calls Canaan "Canaan". Residents, visitors, and fellow northwest hills residents all call it Falls Village. Fine. So what?
Well, here's so what: no one calls North Canaan "North Canaan". Residents, visitors, and fellow northwest hills residents all call it Canaan.
You see the problem. The following comments are from a New York Times article about the town. They seem wholly unaware of how goofy they sound: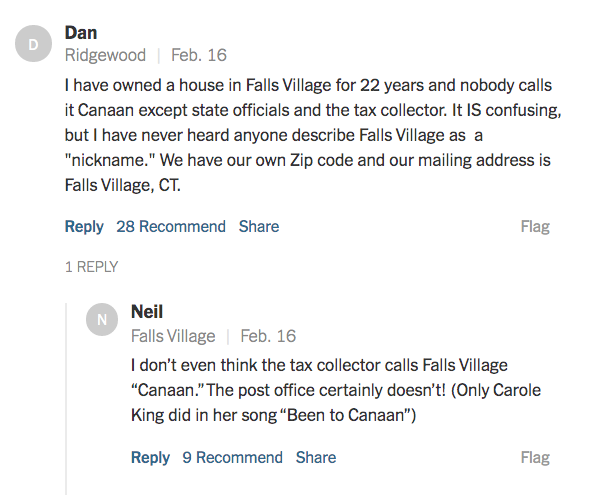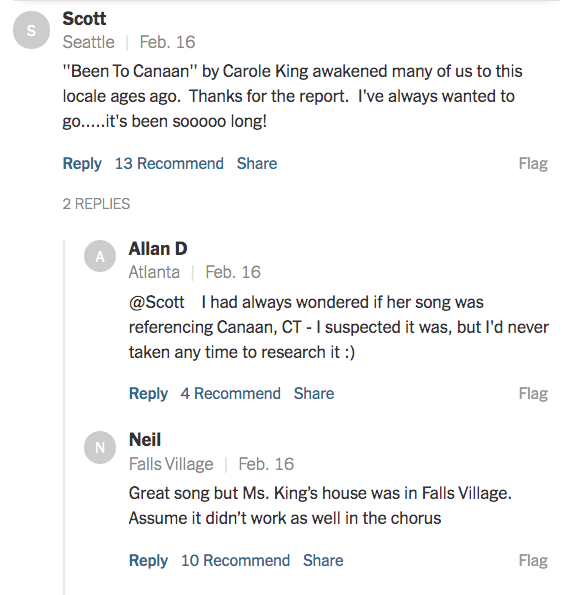 There is a historic explanation for this: Back when Canaan was one Canaan, the center of what is now North Canaan was the town's hub. So it was called Canaan. And the eastern part of what is now North Canaan was East Canaan (now a section of Canaan), and the southern part of town was called Falls Village.
But then they had their split and 160 years later, everyone calls North Canaan "Canaan" and Canaan "Falls Village". I mean, look at Canaan's official town website: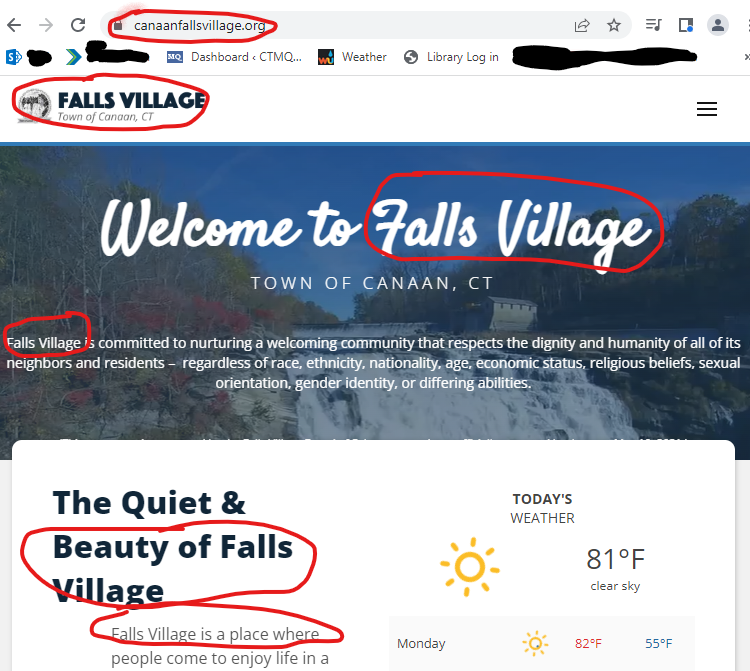 Want to mail something to the Town of Canaan? Here's the address:
108 Main Street, PO Box 47, Falls Village, CT 06031
Want to visit one of the cool things in North Canaan and need to ask directions? You better say "Canaan" and not North Canaan. Who knows where you'd be sent if you did that? Maybe way up to Sodom or Gomorrah.
That's right, North Canaan had a settlement called Sodom which was just a short ways south of Gomorrah across the border in Massachusetts: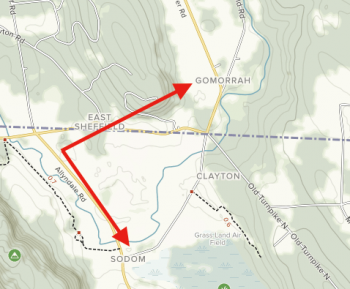 Rad.
Okay, it seems as though Sodom really was called Sodom – and Sodom Road still exists up there. But Gomorrah seems to have been more of a colloquialism. Sodomites attended the Sodom School. But the few residents of the area grew tired of the jokes and did their level best to remove all vestiges of the name: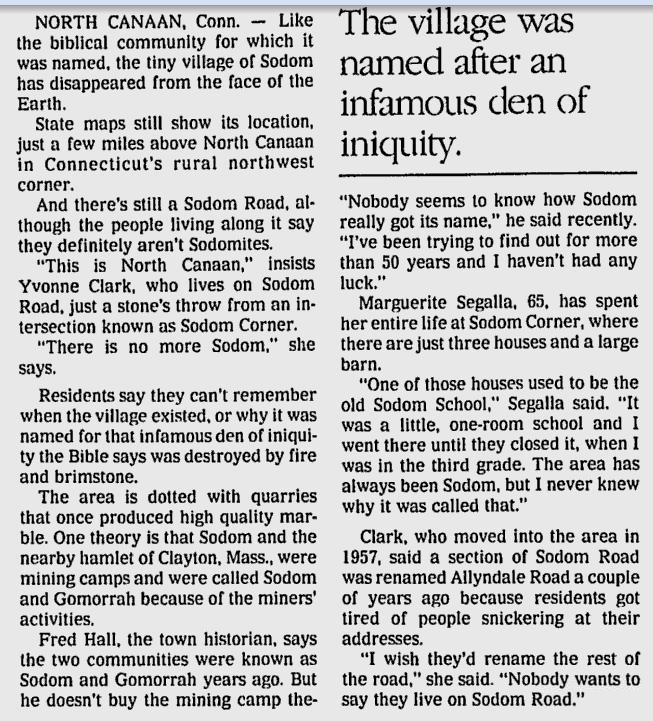 This has nothing to do with the Canaan Conundrum, but where else am I going to have the chance to tell you that we had our own little Sodom and Gomorrah here in southern New England?
So there you have it. A page no one knew they wanted me to write that I just had to write. Right?
Right.

CTMQ's Town Essays
CTMQ's Geographic Oddities