Everything Canaan
I've been exploring and writing about Connecticut since 2006. After a decade, I began compiling CTMQ guides for each town in the state. I plan on "completing" Canaan CTMQ-style… as well as the other 168 towns, cities, and boroughs in Connecticut. That is the ultimate goal of CTMQ.
If I've missed anything in town or if anything has closed or changed, please let me know.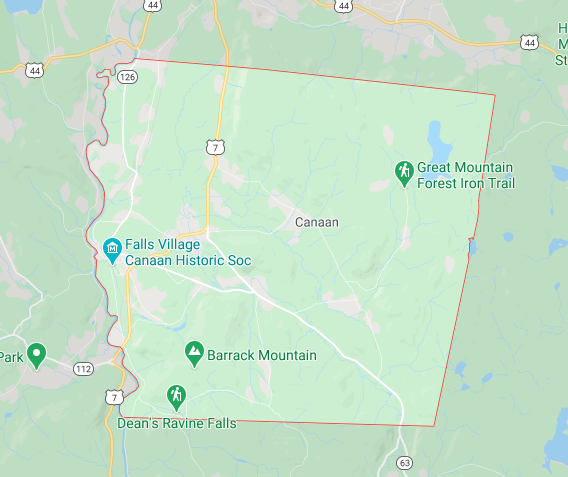 Museums
Beebe Hill School
Falls Village-Canaan Historical Society
South Canaan Meeting House
Hikes
Explore Connecticut's Canaan Outdoor Guide
Appalachian Trail – Intro
Housatonic State Forest
Canaan Mountain Natural Area Preserve
CFPA's Iron Trail
CFPA's Mohawk Trail – Intro
CTMQ's 10 Highest Peaks & CT17'ers – Intro
5. Bradford Mountain, 1,962 feet
9. "North Yale Peak," 1,740 feet
12. Stone Man Mountain, 1,722 feet
13. "South Yale Peak," 1,720 feet
Nature Conservancy Trails – Intro
Canaan's Town Trails – Intro
Falls Village Nature Trail
Isabella Freedman Jewish Retreat Center Trails
Food & Drink
CT Cheese Trail: Rustling Wind Creamery
Looking for your favorite restaurant? Here is an explanation as to why it's not here.
Everything Else
US First: Chamber Music Festival
Dean's Ravine Falls
Great Falls
Seldom Seen Pond
Canaan Mountain Fire Tower
Last Post Cat Sanctuary
Music Mountain
Bunny Williams' Garden Conservancy
CT Cool Library Trail: David M. Hunt Library
Town Essay: The Canaan Conundrum
Canaan Wrap-Up
Completion Celebration Meal @ TBD