Enfield: Complete!
Sarapes Restaurante
Here is the CTMQ Guide to Enfield with my list and stories about everything I've done there!
After a decade of writing CTMQ, I decided to try to "complete" towns. In that decade of traveling and writing, I had already done a lot of stuff in many of our towns already. However, I have been continually surprised by how much more there often is to do. This page includes my "town completion celebration meal" and recap of my Enfield experiences.
Let's get to it.

Enfield, Hartford County
Population: 44,654 as of the 2010 census. (22nd in Connecticut)
Founded: 1683 (26th)
Size: 33.38 sq mi (55th)
Enfield was my: 4th town completed
First CTMQ Visit: Shaker Village, March 2009

The Celebration Meal
I have a couple good friends that live(d) in Enfield. And they aren't just regular ol' friends, both are actually food friends. So when I was wondering where to enjoy my Enfield Completion Celebration meal, I turned to them for advice.
"Sarapes."
"Sarapes."
Okay. That was easy. It's worth noting that one of those friends is none other than Hartford Courant food writer extraordinaire, Leeanne Griffin. (she no longer lives in Enfield and no longer works for the Courant.)
I love good Mexican food even though I'm certainly no authority on the cuisine. I tend to favor small, family run joints who know how to make good homemade mole sauce and offer up some atypical authentic fare.
Sarapes fit the bill perfectly. Located on route 5 next to a laundromat, it quietly sits west of I-91, and therefore comfortably away from the seemingly endless chain of chain restaurants over on the east side of 91.
It never crossed my mind to go "over there." I wanted to celebrate completing Enfield, not commiserate.
The restaurant has moved since my visit, but is still located "over there."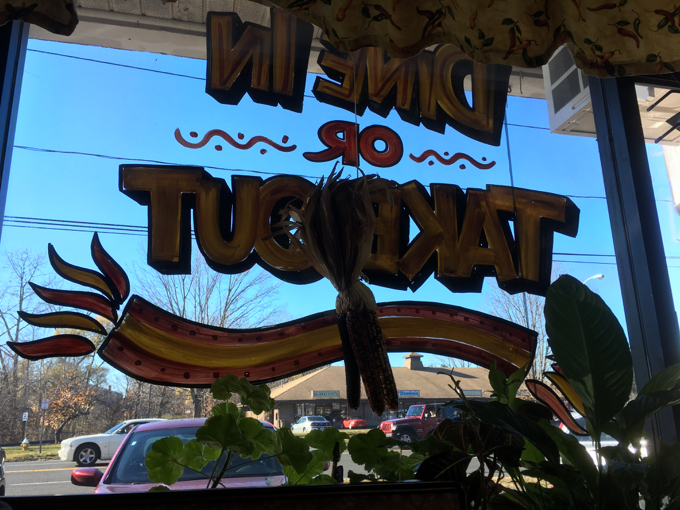 I went to Sarapes with Damian and took a slightly cramped seat in a corner. My server seemed to struggle a bit with English – another good sign. I wanted some sort of "authentic Mexican drink," but wound up with a Modelo.
I'll take it. (I love Modelo.)
The décor at Sarapes is a bit bonkers; a deer mount (hey, we're in Enfield), chili pepper curtains, and the required sombreros and such. There were many families enjoying lunch with us who appeared to be from central America.
I realize I can't sit here and pretend to know where my fellow diners were from. But they spoke Spanish and had darker complexions than me. What am I supposed to assume? And yes, this is another good thing.
I ordered one of the combo plates – a couple enchiladas and a tamale. Maybe I was afraid to order something with their mole sauce because I didn't want to find better mole sauce than my favorite family run authentic Mexican restaurant near my house. (Monte Alban in Hartford, where my man A.C. Slater eats tacos.)
The food was good. The little restaurant was fun. I have no idea if it's the best restaurant in Enfield, but it clearly must be one of the best. And if I'm ever in need for a meal in that town again, I know where I'm going.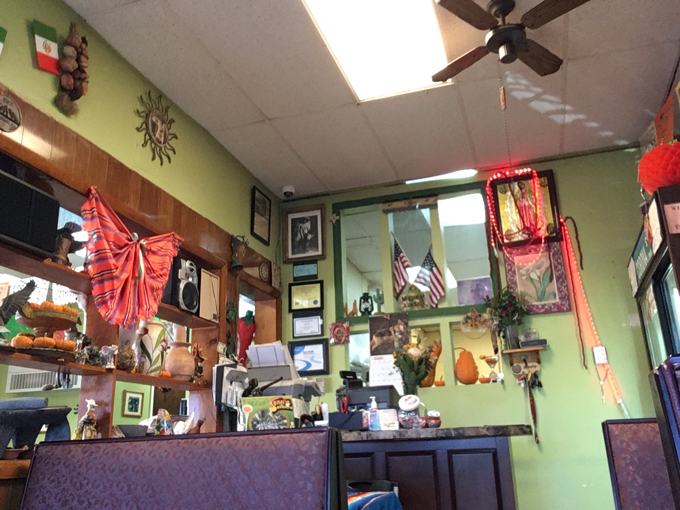 Enfield Wrap-up
It's funny. Two of the three previously "completed" towns (Manchester and Vernon) are sort of defined by a mall and/or the Interstate highway that courses through it past its strip malls. Enfield is kind of in that same boat with its Enfield Square "mall" and Hazard Avenue businesses.
And honestly, after exploring the entire town over several months… I still sort of define it by the busy shopping areas. Sorry, Enfield. I mean, yeah, the Connecticut River is a big part of town but it's just not really celebrated here for whatever reason.
The historic section over on route 5, which includes the Old Town Hall and Martha A. Parsons Museums, is a relatively unknown part of town that has a really nice row of large, historic mansions. The whole Hazardville story is quite interesting and exploring it in the Scantic River State Park parcels – as well as Powder Hollow Brewery – can make for a relatively fun afternoon.

Thought exercise: If I had to send someone to Enfield for a daytrip, I'd… hm. I'd tell them to kayak over to King's Island and then have lunch at Sarapes, dessert at Collins Creamery, and to take a picture by giant LEGO bricks. That's would do it, I think. (Note: I'm pretty sure the giant bricks are gone now.)
Surprise(s): Paul Robeson lived here
Favorite fact: That the LEGO North American headquarters are here
Disappointment: Not getting over to King's Island and deciding to postpone it for Suffield's completion.
Enfield: Done!
Previous completed town: Vernon!
Next completed town: Stafford!