Stafford: Complete!
Basil's
Here is the CTMQ Guide to Stafford with my list and stories about everything I've done there!
After a decade of writing CTMQ, I decided to try to "complete" towns. In that decade of traveling and writing, I had already done a lot of stuff in many of our towns already. However, I have been continually surprised by how much more there often is to do. This page includes my "town completion celebration meal" and recap of my Stafford experiences
Let's get to it.

Stafford, Tolland County
Population: 12,087 as of the 2010 census. (89th in Connecticut)
Founded: 1719 (51st)
Size: 57.96 sq mi (4th)
Stafford was my: 5th town completed
First CTMQ Visit: Shenipsit Trail, May 2010

The Celebration Meal
I can't pretend that I knew anything about Stafford before I started exploring it for the town completion project. I certainly didn't know anything about its food scene. So I did what everyone does in these days and I asked the Intertubes.
Those "in the Stafford know" suggested Basil's in West Stafford. I put it to a vote and hearing no dissent, Basil's was chosen. I'm fairly confident in saying that Basil's is Stafford's best restaurant.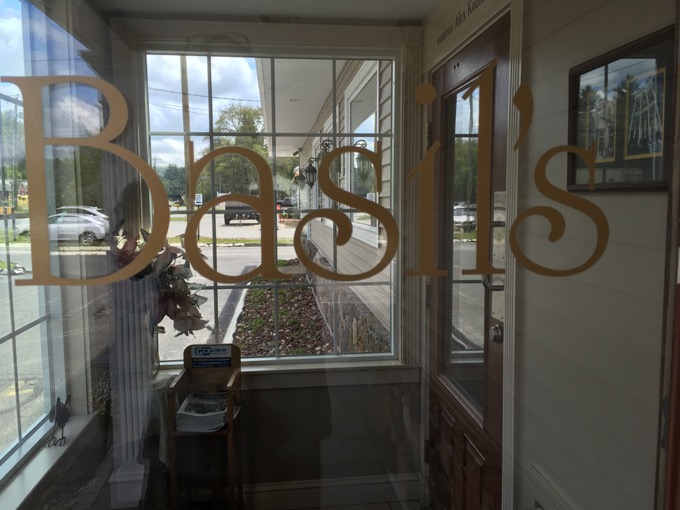 Damian and I went there for lunch one day after doing some Stafford hiking. We were hot, tired, and hungry. We took a high-backed booth and were greeted by the bubbliest of servers.
Conveniently located in Stafford on Rte 190, neighboring Somers, Ellington, Tolland and Monson, Basil's Restaurant offers a fresh alternative to the typical dining experience.

Something for everyone — from Burgers & Nachos to Surf & Turf & Zuppa de Pesce, from kids & families to dinner for two, or a night in the bar! We welcome you to come in and enjoy anything on our menu or create something to your liking.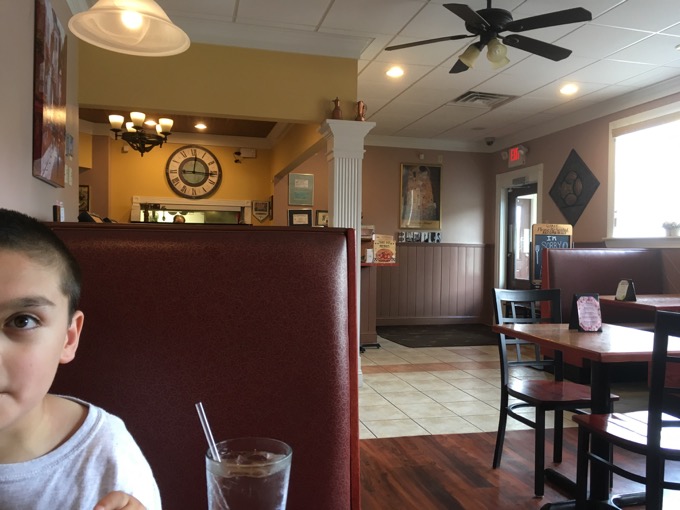 Basil's is that restaurant in your town that sort of serves every function. Sort of like a Greek Diner all grown up I guess. Classier atmosphere, higher quality menu and ingredients, but still a bit of everything for everyone.
As has become tradition, I simply had to have a drink to celebrate my Stafford success. And since we were at Basil's, I went with the Basil Lime Margarita!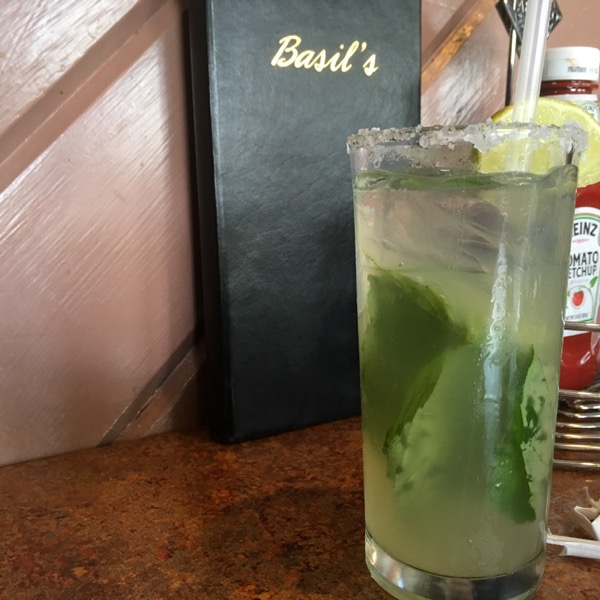 Yeah. I probably shouldn't have done that. Served with muddled lime and basil, and sweetened with simple syrup, this wasn't so much a margarita than it was a sugary drink with an entire basil plant and I assume some tequila thrown in.
Though I can't complain – it was exactly what the menu said it would be. I went with it simply because we were at Basil's. I drank it, sure, but there are better options.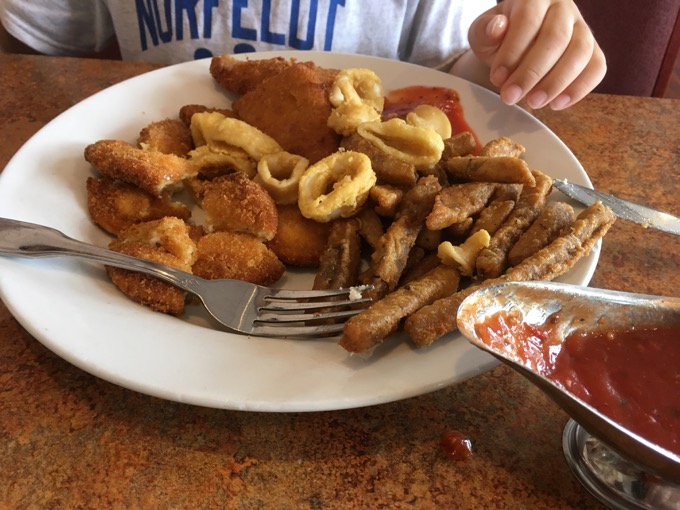 For lunch, I got a buffalo chicken sandwich and Damian had the "Basil Sampler Platter." The latter being one of the most unhealthy items on the Basil's menu probably… just a whole bunch of fried stuff.
Fried calamari, eggplant fries, fried Mozzarella and fried raviolis.
Delicious.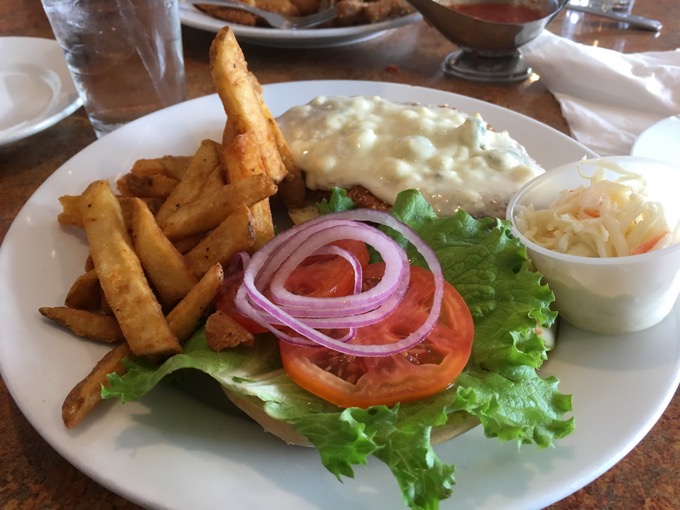 But back up – my buffalo chicken sandwich, and I'm a bit of a buffalo chicken sandwich connoisseur, was one of the best buffalo chicken sandwiches I've ever had in my life. A juicy slab of chicken breast, "buffaloed" perfectly, sitting beneath a creamy robe of blue cheese. I loved this sandwich.
Damian's fried stuff was as good as a plate of fried stuff can be I suppose. He liked it and ate a ton of it, so I was happy.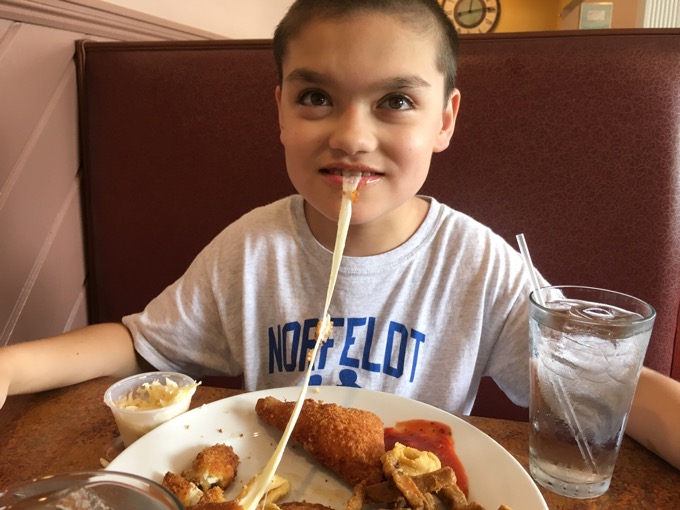 One thing I was not happy about was the music being played at Basil's. It was, quite simply, the worst. Just horrible. That nameless, soulless, smooth jazz Pablum that is derisively called elevator music. But the Basil's Spotify selection threw some sort of weird gospelly smooth jazziness into the mix and… my word, it was awful.
I asked the server about it and while she remained professional about the situation, I could see her pain on the inside. Working in this environment was melting her brain and I feared for her future. The least I could do is to slide her an extra cash tip in cash to help pay for the therapy down the road.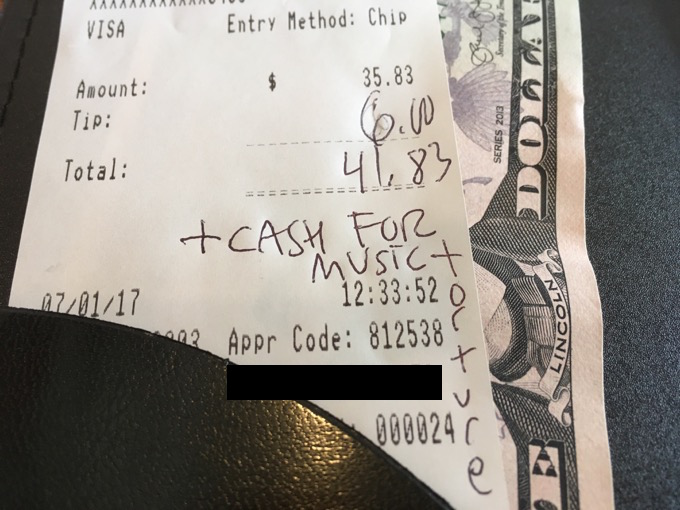 Basil's: Clean, well-run, makers of one of the best buffalo chicken sandwiches I've ever had, need a new music selection. Thanks to those who recommended it, as I'm not sure I'd have wound up there on my own!

Stafford Wrap-up
The first thing that jumps out at me when it comes to Stafford is the fact that it is the fourth largest town in Connecticut. I bet you didn't know that.
And since it's only 89th in population, you know right off the bat there are a lot of woods in Stafford. Lots and lots of woods. A lot of those woods are part of the Shenipsit State Forest, but a lot of them are not.
So when I started compiling my "everything to do in Stafford" list, I was somewhat shocked by the lack of hiking trails in town. The CFPA's Shenipsit Trail, which begins down in East Hampton, has its terminus here, but beyond that, there really isn't all that much in the way of hiking.
I was also shocked at the "downtown" area known as Stafford Springs. It is much more vibrant and "hip" and fun than I would have guessed before experiencing it. Everything is there: the excellent town history museum, a nice park, a cidery, restaurants, bars, bakeries, coffee shops, funky artisans, and more.
And I bet Staffordites want to keep their little secret to themselves. Sure, people visit the town on Friday nights for the car racing at the Speedway, but beyond that? Stafford is like an island up on the Massachusetts border; one that you must drive through other towns off the highways to reach.
And speaking of secrets, my favorite thing in town has to be the super secret Horse Ridge Cellars. Great group of folks running the show in the cold war bunker. Just a really neat story and a really pretty location.
This whole "town completion project" thing kicked off with me asking the CTMQ Facebook crew to name any five towns in the state. The first commenter included Stafford in her list and as it turns out, she lives in Stafford.
And she's been following along as I visited and wrote about all the stuff in those five towns. I'm pretty sure she suggested Basil's at some point as well. I hope my travels in her backyard and nearby environs weren't too painful to read about!

Thought exercise: If I had to send someone to Stafford for a daytrip, I'd say to hike the Woodlawn Trail, recover at the Stafford Historical Society Museum, dine at Basil's, drink local hard cider at Stafford Cidery, and go check out the racing at the Stafford Motor Speedway. Can't get much more Stafford than that. Oh, buy a suit from American Woolen too.
Surprise(s): I had fun at Stafford Motor Speedway
Favorite fact: Everything to do with Horse Ridge Cellars
Disappointment: The lack of trails.
Stafford: Done!
Previous completed town: Enfield!
Next completed town: Putnam!