Putnam: Complete!
85 Main
Here is the CTMQ Guide to Putnam with my list and stories about everything I've done there!
After a decade of writing CTMQ, I decided to try to "complete" towns. In that decade of traveling and writing, I had already done a lot of stuff in many of our towns already. However, I have been continually surprised by how much more there often is to do. This page includes my "town completion celebration meal" and recap of my Enfield experiences.
Let's get to it.

Putnam, Windham County
Population: 9,584 as of the 2010 census. (100th in Connecticut)
Founded: 1855 (155th)
Size: 20.29 sq mi (118th)
Putnam was my: 6th town completed
First CTMQ Visit: Cargill Falls, May 2014

The Celebration Meal
My sixth completed town! I know, right? Amazing. And as with each town completion, I like to celebrate at a local restaurant. I've been fortunate thus far in that I've yet to have to deal with a restaurant-less town.
In Putnam's case, I had a few choices but 85 Main seems to be THE place to dine. It has been chugging along for 12 years, serving an eclectic menu that runs the gamut from sushi to New York strip to ratatouille.
I dined here twice, actually. In September 2016 with the boys and again with the boys AND Hoang. It has an impressive pedigree…
Chef and General Manager James Martin, along with brothers Barry and Brian Jessurun of The Vanilla Bean Café in Pomfret and Dog Lane Café in Storrs, opened 85 main in 2005. 85 main was created with goal of offering fresh, quality seafood and steaks along with locally grown produce in an atmosphere one might expect to find in a "big" city.
Bold.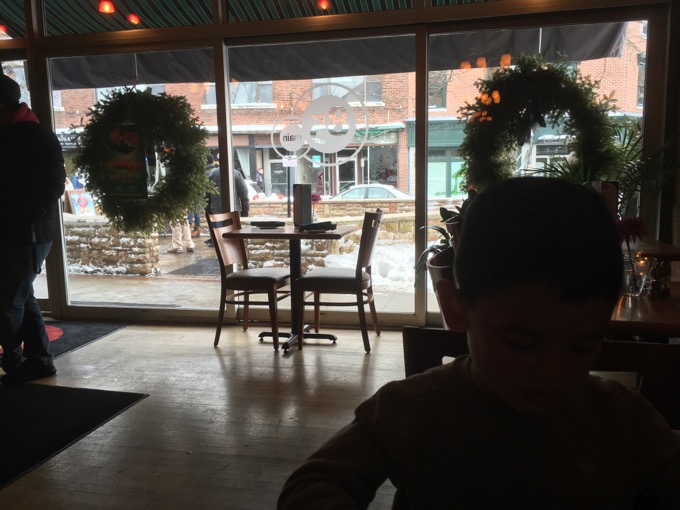 And it seems to be working. Mostly.
Personally, unless I'm on a cruise ship, I'm leery of restaurants that "do it all." It's just hard to do. But in this setting – in Putnam – I think it probably makes more sense than other places. Putnam is like a baby city; not big enough to have competing sushi restaurants, but not small enough to have none. 85 Main fills that gap.
They also claim to have the "only raw bar in northeastern Connecticut."
I am spending time writing about the restaurant rather than our meals because, well, they were hardly worthy of the "celebration" we were supposed to be enjoying – having completely completed Putnam.
Our meals in 2016 was very good. Our entire experience in 2017 was… pretty terrible. This, after I promised Hoang that 85 Main was the best joint in town. I hate disappointing my wife.
We were ignored for a long, long time. No apologies were offered. Our meals, which included such complicated fare as "buttered pasta" and "chicken fingers" took FORRRRRRever.
And no apologies were offered. Again.
By the time our meals arrived and after being ignored FORRRRever, the food… "just was." Not bad, but certainly nothing memorable at all. One thing that was memorable was Hoang's drink.
I'm not sure what it was exactly, but the glass was filthy and the hunk of citrus that was dropped into it was straight up gross. In fact, even if the fruit wasn't browned and old, many people rather dislike large hunks of thick-skinned citrus fruit dropped into their drinks. It's not like anyone washes oranges or whatever.
She didn't drink it.
I tasted it and it wasn't even good.
I was bummed about our 85 Main experience. We talked quickly with the floor manager about our absurd wait time and yes, we remarked on the terrible bartending skills to our server. But our suggestions were mostly ignored.
I know this place can be better. I've experienced it myself! A restaurant doesn't stay open for 12 years if they don't know what they're doing. I'm sure we hit an off day with an understaffed roster.
I hope.
85 Main is well-appointed and fits in nicely with downtown Putnam's quirky arts-slash-mill town vibe. I respect what they're going for. And I hope they succeed for a long time.

Putnam Wrap-Up
Plucky Putnam is smackdab in the middle of the Quiet Corner. There are other towns in the roughly defined "corner" with "downtowns" there (Killingly certainly does and if you want include Willimantic and Storrs I guess) but Putnam sort of stands out to me.
Its downtown is tightly clustered; just a few blocks in either direction, chockful of the types of businesses you'd expect in a larger city. Artisans, bars, coffee shops, a theater, and the like. Everything is just smaller here.
Most other smaller towns with equally vibrant downtowns… Essex, Washington, Salisbury, Litchfield… bank on their tony reputations and fanciness. They don't have the bluecollar underpinnings of Putnam or the existing mill infrastructure.
So in a sense, Putnam is a fairly unique town in our little state. And I came to appreciate that during my visits. I visited during the crowded Fire & Ice Festival in February. And I visited during the very crowded Main Street Car Cruise in August.
Putnam people turn out for Putnam stuff.
And this West Hartford guy turned out for Putnam stuff too. Even if there's really not too much to it for CTMQ purposes. I keep coming back to the word "quirky" to describe the town, which I'm sure is surprising to many people.
But really, the town's only true museum is Gertrude Chandler Warner Boxcar Children Museum. It's literally in a boxcar. The town's art galleries are sort of pop-up-ish and willy nilly. There's a giant paper airplane in a tree.
More? Putnam's DMV is in a trailer and those waiting must line-up outside. The local "brewpub" doesn't really brew beer in the traditional sense.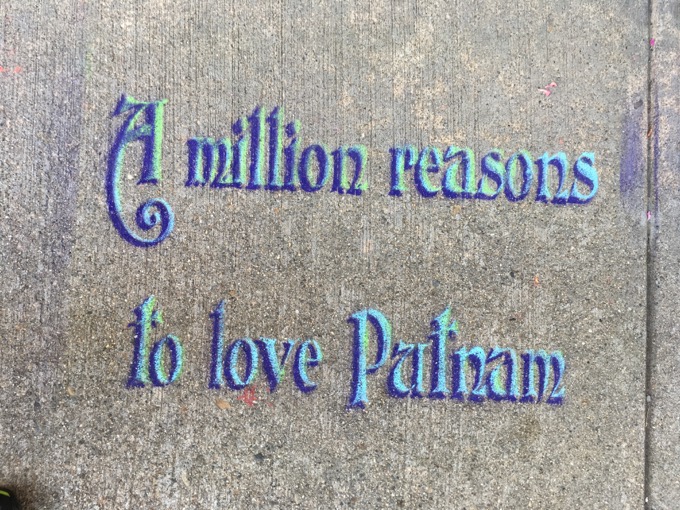 And there are no woodland trails at all.
Which is sort of my longwinded way to say that for me, Putnam was a nice and quick town to "complete." And every now and then, I very much like that.

Thought exercise: If I had to send someone to Putnam for a day… I would send them during the August car show and rubber duckie race. The town really celebrates everything Putnam and everything is open that you'd want to experience. And please, go to 85 Main and prove my experience was an anomaly.
Surprise(s): That my two sons also actually "completed" the town and I didn't realize it until I was done.
Favorite fact: The "Putnam River Trail" is along the Quinebaug River
Disappointment: Gertrude Chandler Warner's writing
Putnam: Done!
Previous completed town: Stafford!
Next completed town: South Windsor!