South Windsor: Complete!
The Reds: CaBiN & Onion
Here is the CTMQ Guide to South Windsor with my list and stories about everything I've done there!
After a decade of writing CTMQ, I decided to try to "complete" towns. In that decade of traveling and writing, I had already done a lot of stuff in many of our towns already. However, I have been continually surprised by how much more there often is to do. This page includes my "town completion celebration meal" and recap of my South Windsor experiences.
Let's get to it.

South Windsor, Hartford County
Population: 25,709 as of the 2010 census. (43rd in Connecticut)
Founded: 1845 (144th)
Size: 27.96 sq mi (83rd)
Here's the Wikipedia page and the town page
South Windsor was my: 7th town completed
First CTMQ Visit: Wood Memorial Library and Museum, February 2009

The Celebration Meal(s)
The Red Onion closed permanently in April 2019.
My seventh completed town! I know, right? Amazing. And as with each town completion, I like to celebrate at a local restaurant. I've been fortunate thus far in that I've yet to have to deal with a restaurant-less town.
In South Windsor's case, I asked the CTMQ facebook group for a decent independent, locally owned restaurant. (The list of chain restaurants in town is long and boring.) Someone mentioned the RED CaBiN and that was that…
Except it wasn't. Because when Calvin and I went to The Red Cabin, I noticed The Red Onion almost directly across Sullivan Avenue. What are the chances? Weird, right? It was then that I decided that there would be two celebration meals in South Windsor.
Hey, no one ever said this stuff had to make sense.
The Red Cabin only serves breakfast and lunch, and serves breakfast during lunch. Calvin's favorite food is pancakes. He was home sick from school; having just getting over a bout with the flu. So what would be better than a pile of pancakes in South Windsor?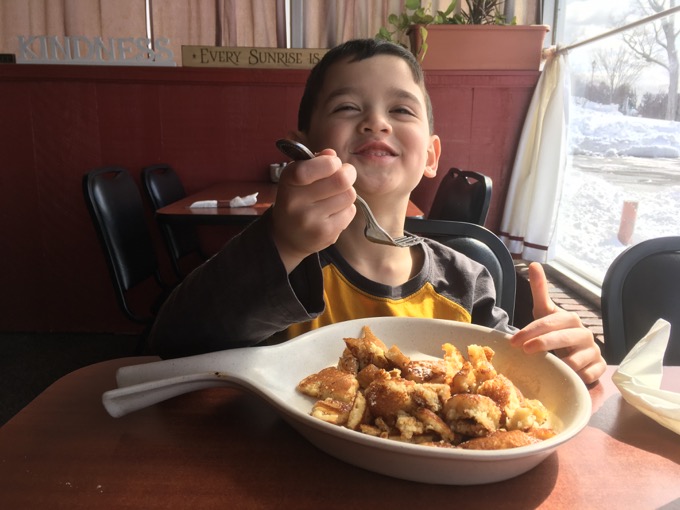 The restaurant is officially "The RED CaBiN" but it's too annoying to type it that way over and over. Besides, I can't find an explanation for that quirk.
Todd and Laura Pineo first met in 1993 at a restaurant in Bloomfield where they were both working. In 1995 they got married and bought a home in South Windsor.

In the summer of 2006, the location for The RED CaBiN became available, so Laura and Todd made some renovations to the building and opened The Red Cabin on September 26, 2006.

Todd and Laura are so grateful to all of their loyal customers who have and continue to support them.The Pineos hope to have The RED CaBiN opened for many years to come.

They continue to reside in South Windsor with their two incredible kids, Sam and Will.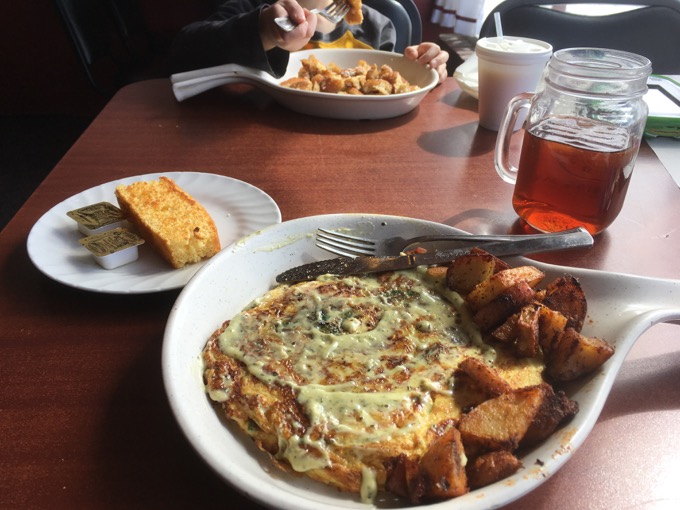 (Note that they missed a capital B and N themselves.) The restaurant is small and "cute," with a rustic vibe that I'm sure many central Connecticut suburbanites appreciate. I went with an order of "Carl's Skillet," which thankfully included food with the skillet.
This was some sort of veggie omelette and it was very good. Calvin enjoyed his pancakes. The meal set me back less than 20 bucks, so that's always a win in my book.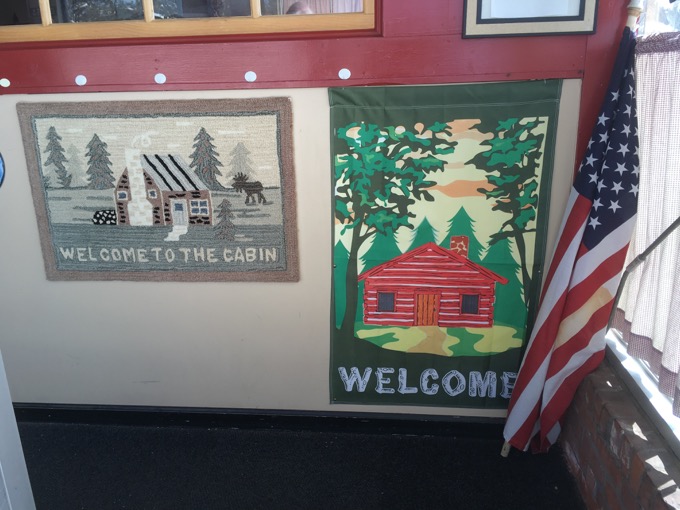 But the whole time I was eating there, I found myself staring out across the street at the other Red: The Red Onion.
I had to know, which Red was first? According to facebook, it was the Red Onion:
Red Onion has been serving satisfied customers in the South Windsor area for over 15 years. Steve and Despoina Austin took over ownership in November of 2016 and can be found at the restaurant daily as the new Management. We take pride in using only the freshest ingredients in all of our recipes. Whether you crave one of our gourmet pizzas, abundant salads, or a Red Onion house specialty, the wide variety on our menu has something for everyone. We offer lunch and dinner specials that change every day. We hope to serve you soon!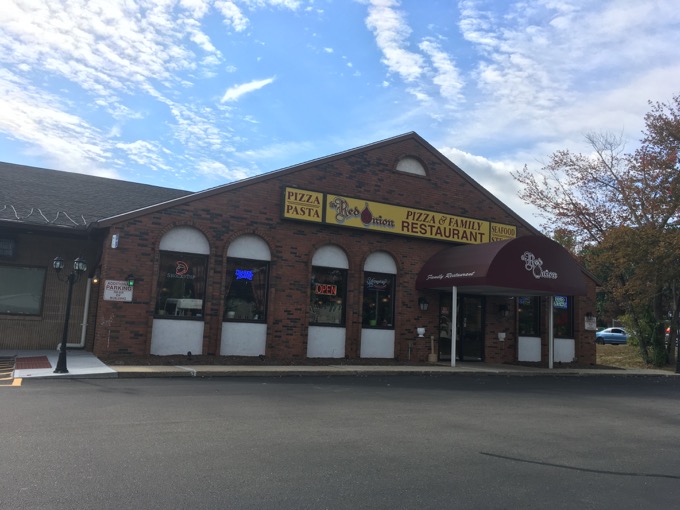 In fairness to the Red Cabin, the building looks like a red cabin. So they really didn't have a choice in the matter.
I picked up an eggplant grinder from the Red Onion one day. It was not the best eggplant parmesan grinder I've ever had.
But the restaurant was pretty darn busy for a random weekday afternoon, so that's good. The decor is quite different from the other Red. Here, it is very dark and loungey, in that Quincy kinda way. Y'know, like where the creepy old coroner would work his suave magic on some poor woman while Sam tried to remain focused on the case.
Anyway, when I make eggplant parm, I "sweat" the eggplant to remove the inherent bitterness. It does not appear The Red Onion employs this technique, but the bread and sauce were great, overcoming any eggplantian shortcomings.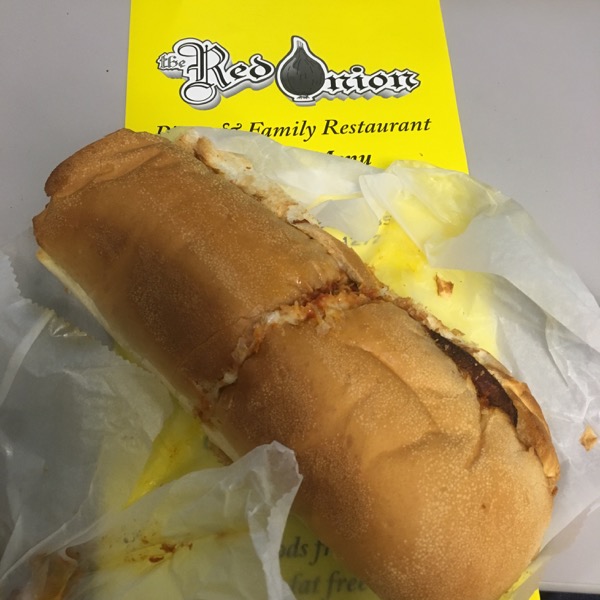 Oh, and the woman forgot to charge me until I insisted I had to pay her. She was smitten with my honesty, but her boss didn't seem too pleased about the mistake.
In the battle of the South Windsor Reds, I'm calling it a draw. Both joints are serviceable and homey. And certainly better than Johnny Rockets or whatever.

South Windsor Wrap-Up
I would guess that most people view South Windsor through the prism of strip malls and whatever Evergreen Walk is called. "Mixed use consumer experience" or whatever.
And while that association is pretty fair, I've found that there's much more to the town than that junk. It is, after all, a true Connecticut River town. Even if they don't really play that up much at all. Most of the tobacco fields are gone, but the town does still retain a tiny agri-economy here and there.
Even though it seems to be defined by Route 5 and the Buckland Hills area, I found many rather pleasant areas away from those areas. The five properties that the town maintains for hiking and recreation are unbelievably well-kept.
With each property I walked, I became ever more stunned at the amount of upkeep the towns town performs at each one. And a drive west off of Main Street towards the river offers explorers a chance to feel like they are far, far away from the overcrowded roads the town is known for.
I've made many trips to South Windsor over the years; mostly because it's not far from my work or home. Once I took Calvin there simply to look at all the fish at the Aquatic Wildlife Company. It's an impressive store – not CTMQ-worthy, but a quick and fun little place for kids to think they are at a real aquarium or something.
As Steve Wood, I must give some love to a town with a museum named The Wood Memorial Library and Museum. A couple impressive "US Oldest" superlatives, a brewery, and at least one unique (Pakistani) restaurant, South Windsor more or less lives up to its "SoWin" hashtaggy portmanteau.

Thought exercise: If I had to send someone to South Windsor for a daytrip… I would start them out at the Hartford Audubon Society's property along the Connecticut River to clear their mind. From there, they must drive down Beelzebub Road. Then out to Route 5 for lunch at Rasham and then a jaunt through the Frank Niederwerfer Wildlife Sanctuary in the northeastern pip of the town.
Surprise(s): The beauty of the Niederwerfer Sanctuary
Favorite fact: The "oldest Post office" thing
Disappointment: That the John Fitch Distillery isn't open yet
South Windsor: Done!
Previous completed town: Putnam!
Next completed town: Harwinton!