The Sky's the Limit 2016 Hiking Challenge #1
Dinosaur State Park, Rocky Hill
February 20, 2016
We're back! I had so much fun completing the 2015 The Sky's the Limit Challenge that we're rarin' to get going with the 2016 version. We couldn't even wait for the snow to melt.
Just like last year, some of the challenge points are easily accessible whereas others are not. None are too crazy or difficult, but some actually do require a bit of effort. This first one in Rocky Hill? Not so much.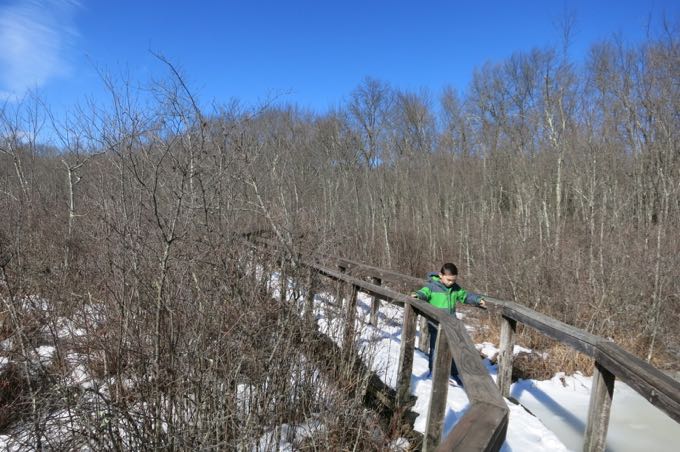 In fact, an able-bodied person can nab this one in under 10 minutes. Of course, you'd be lame for doing only that at DSP.
Which makes me lame.
But – and this is a big but – I've taken my boys to DSP several times over the years. We've been inside the dome to the museum enough that they have it nearly memorized, AND I've hiked all the trails at the park before as well. So I didn't really feel all that "lame" for simply walking to the required sign and turning tail back to the car.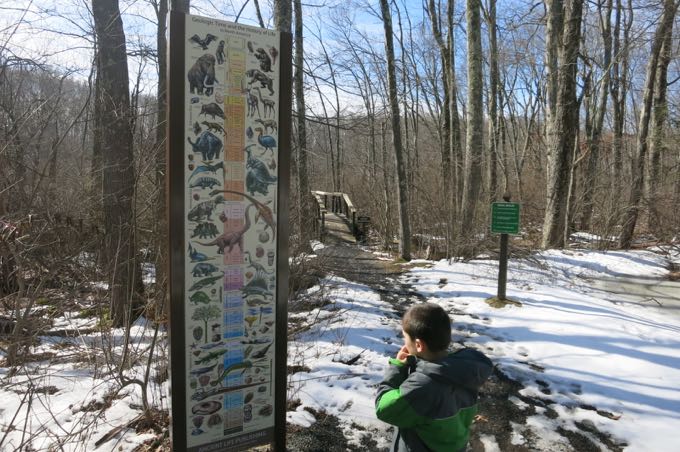 Especially since Damian, my TSTL 2015 special needs Super Star, refuses to wear boots and walking through snow, slush, and mud for an hour would not be too fun for any of us. (As it was, I had to carry him over certain sections of muddy puddles and slush.)
Actually, kicking off the 2016 TSTL Challenge was a challenge in itself. As Calvin ran off down the trail on the unseasonably warm bluebird day, Damian refused to budge. Perhaps because of the snow and the icy footing, but he went through his routine of Smith-Magenis Syndrome behaviors: screaming, running backwards, throwing himself on the ground in the snow and mud, punching himself in the head. You know, the typical stuff we deal with every day.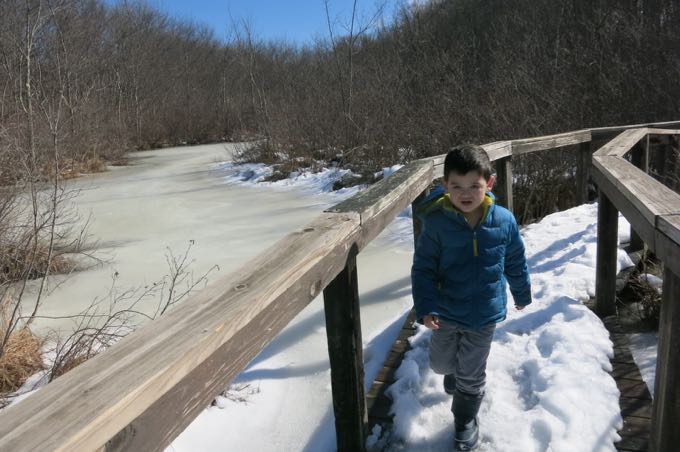 All that as a prelude to a five-minute flat walk in the woods.
Please know that I'm certainly not "torturing" my kid by taking him out to do these things. Those behaviors are very typical of his syndrome and they occur just as often at home when it's time to brush his teeth and at school when it's time to go to the bathroom and … everywhere. Once he gets past it, we usually have a rollicking time.
SMS makes our lives … um… interesting.
Once we got past the behaviors, we walked along the boardwalk through the red maple swamp and to the Arthropod interpretive sign required for the TSTL Challenge. Here's the sign: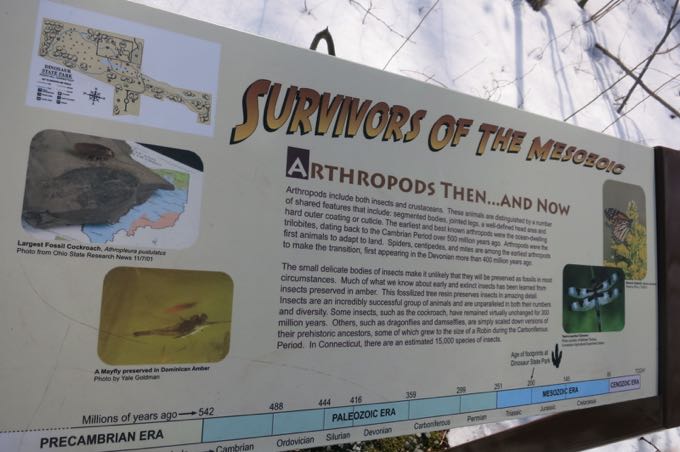 Actually, since I'm harping on Damian's behaviors and such, I feel the need to mention something else. I've written about these little "quirks" in the past, and how, over the past couple years he's mostly gotten over them. Damian has always had difficulty with unsteady ground and crossing streams and such, and I've focused some CTMQ posts on his overcoming these fears and hesitations – to the point where he's more or less conquered them.
It's been hugely rewarding for me to watch this happen, slowly, over the years. He's now far more apt to yell at me to let him get through the "challenge" himself than he is to accept my help. I love that. On the snowy boardwalk, while his little brother ran back and forth and asked me if he could jump down to the icy swamp (no), Damian gingerly made his way across, holding onto both railings the whole way.
It's a teeny tiny thing, but if you look at the pictures, you see Damian holding on the railings whereas Calvin is not.
Anyway, at the end, right before the sign, there's a small ramp: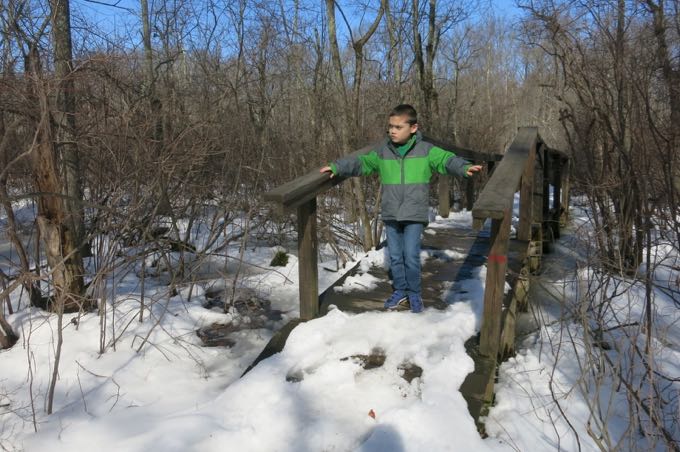 Damian froze. He took a few tentative test steps with the toe of his shoe – like a cat testing a puddle you could say. He simply didn't want to navigate down the pitch. I offered help. He told me, "No. I got it!" So we waited.
And we waited.
But he did it! All by himself. That's my Damian.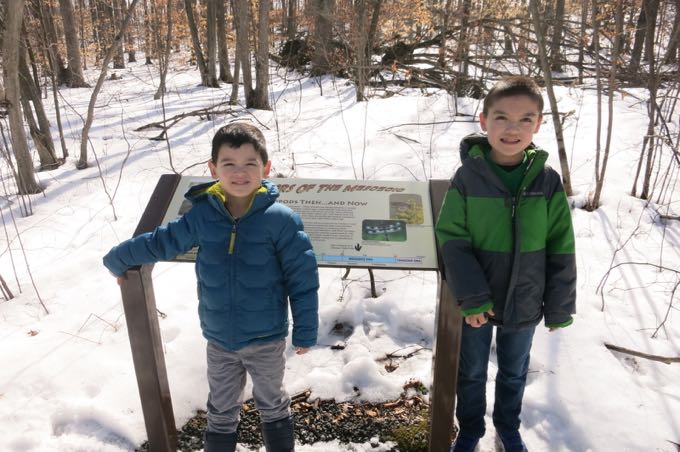 We walked the 20 feet to the sign and I happened to snap one of the rarest pictures in existence: both boys looking at the camera and smiling! Trust me, this never happens. It made my day.
Once back in the car, we parked near the shield sign for the other required picture. "Smile!" I said, and…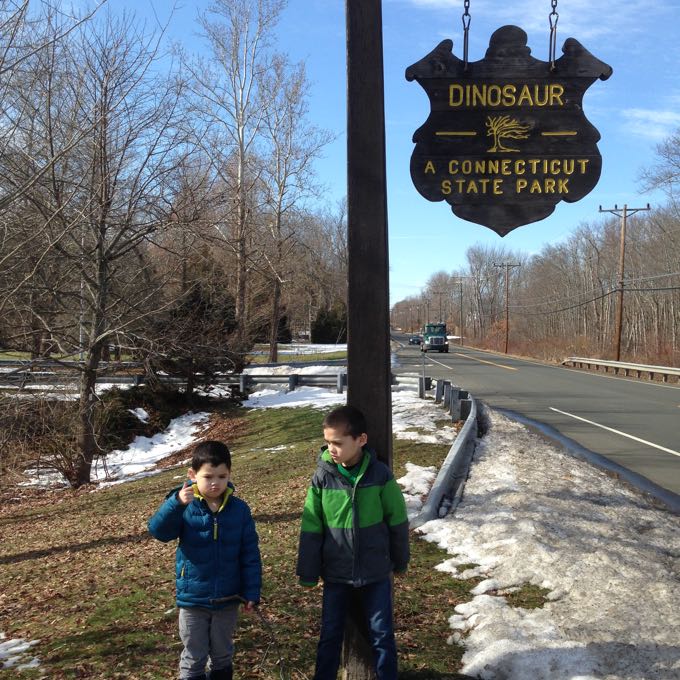 Yeah, one out of two ain't bad.
CTMQ's 2016 The Sky's the Limit Challenge
DEEP's 2016 The Sky's the Limit Challenge
CTMQ's Hiking Challenges Main Page