5 Mainline Section Hikes, 6 Regional Hikes
Began: 2/17/2008 (Southington)
Finished: 10/20/2013 (Hartland)
The following conversations are real, and the names are real. Karl is a fellow CFPA red-liner – that is, a CFPA Blue Blaze Challenge Completist, who actually just DID complete his CFPA Blue Blaze Challenge in November 2014. Karl is awesome.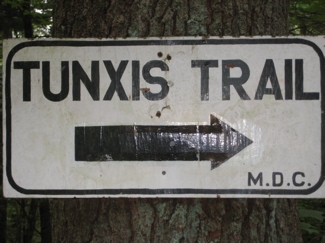 Sagacious 2007 Karl: "Dude, I'm actually jealous of you right now."
2007 Me: "Why is that?"
Sagacious 2007 Karl: "Because you're just starting out on your Blue Blaze Challenge journey. I'm almost done and I'm a little bit sad. I'm jealous because everything I've already done… all that cool stuff around Connecticut… is still unknown to you."
Ignorant 2007 me: "Whatever."
I relayed this conversation to my dad while having lunch along a pristine cascade in the Tunxis State Forest, somewhere in the wilds of Barkhamsted.
Wise ol' Dad: "Well, it's the same thing with children. When they are young, like yours are, you almost take it all for granted and then when they are older, you are jealous of younger people just starting families."
Sandwich-eating me: "Yeah, I guess."
That's what happens when you hike with a nearly 71-year-old man. Things get serious. But finishing up the longest trail in Connecticut on an absolutely perfect October day allowed me many hours of internal thought.
For one, Karl was absolutely right. For I will never experience anything anew on the 79-mile long Tunxis. And there is a lot to experience: Lake Compounce from above, Tory's Den (which was on fire during my hike to it), Devil's Kitchen, the old itinerant jail in Burlington, the weird stuff in the Nepaug, Satan's Kingdom, Ski Sundown, Barkhamsted Reservoir, Pine Mountain, the vast expanse of woods in Hartland, the crazy patchwork of the Tunxis Trail network in Burlington…
I loved it all. I started out in February 2008 and finished in October 2013. (I actually finished in January 2015 because of an addition that was added.) Five and a half years. (Again, it was more in reality.) I had a child in the middle of it (two, to be accurate) and got the difficult diagnosis for my eldest son just after starting. My dad survived cancer. I changed jobs. Kemba Walker won a national championship. Shabazz Napier was about to embark on his. All through it, the Tunxis remained there for me to complete.
And I did.
I still have a long way to go to complete the Blue Blaze Challenge list… which will soon probably near or over 1,000 miles of official trail to hike, with the addition of several trails, notably the Menunkatuck Trail and the East-West Trail which will connect the Metacomet in Simsbury north of Penwood over to the Mohawk and Appalachian Trails in northwest Connecticut.
But for some reason, completing the Tunxis, and all it's crazy nonsensical fits and spurts in the southern sections, made me reflect more on this journey than most of the others along the way. Was it because I did the last 21 miles with my dad? Or because it is the longest trail in the state? Certainly a combination of the two – plus the fact that "completing" the Tunxis requires a lot of patience and, let's face it, completing a few rather absurd trails in Wolcott and Bristol and Burlington.
But to me, those weird loops and random spurs in those southern regions of the Tunxis is what makes it so unique.
But man, once to route 44 and Satan's Kingdom, the final miles north to the Massachusetts border are just fantastic. Rugged, remote and beautiful, completing the Tunis north region gives one a sense of solitude not easy to find in our compact state. A friend of mine just asked me today if there was anything "worthwhile" north of the Indian Council Caves on the Tunxis. (This inquiry spurred me to finish writing up my trail experience.) I told him that aside from a great view from Pine Mountain in Hartland, not really. Except that I loved the 10 or so miles north of the caves. Simply because they are remote and quiet and beautiful. I'm not sure I convinced anyone to go hike those ten miles though… and that's fine.
For those of us that do, especially in autumn, will continue to appreciate the fact that most of you won't.

Tunxis Mainline Trail Intro/Hikes
Tunxis Regional Trails Intro/Hikes