Games 8, 9, 10
Rookies in Cromwell and my living room
June 12 & 14, 2006
Rookies has since closed.
USA vs. Czech Republic
For some reason, I get very patriotic when it comes to soccer, cycling, and hockey. I guess because we are actually the underdogs for once in those sports and the random successes in my lifetime has been great fun to watch. Beginning with the 1980 US Olympic hockey team, then Greg Lemond, Lance Armstrong, the 1996 World Cup of Hockey team… I'm ready for some soccer success. I went to a couple qualifying games and I've been reading all the press about how our team is going to do some damage this time around.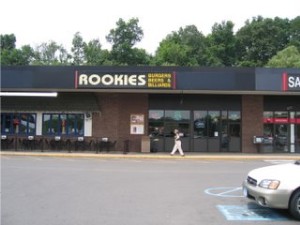 Well, they certainly did some damage alright; to their own ranking and to American soccer in general. Oof! I figured I'd take in most of the game at an all-American sports bar: Rookies in Cromwell, CT. The place has about 100 televisions and bad cover bands nightly and an array of artery-clogging fried pub fare. They have NASCAR Sundays in the summer. Now THAT'S America!
I took a loooong lunch and sped over to Rookies. I took my seat as the game began and was very impressed with the crowd – there must have been about 200 people there, most, it appeared, there to watch the game. Unfortunately Rookies didn't realize that the US was playing the Czech Republic at noon and only staffed one bartender and one waitress. I didn't care, as I wasn't there to eat or drink; I was there to cheer on our boys in blue! USA! USA! USA!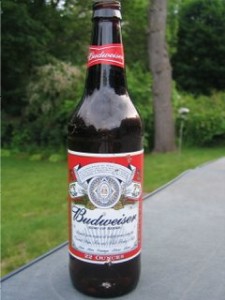 5 minutes in, down 1-0. Then it was 2-0 before halftime. And that's when I contemplated drinking. (The "All-American beer above is for purely illustrative purposes.)
Yeah, we got our butts kicked and looked like boys among big, giant Czech men at times. Sigh. Props to the two-table gathering of Czech dudes at Rookies who cheered (loudly) throughout. Good for them.
South Korea vs. Togo
On Tuesday, Damian finally got a chance to see an Asian team – a team tangentially representing half of his ethnic roots. Strangely, he chose to root for Togo this time out, sticking to his underdog ways. Perhaps because the South Korean coach's name is Dick Advocaat. One never knows what Damian is thinking half the time, but I'd have to back him up if that was his reasoning.
Switzerland vs. France
After that surprisingly exciting match (a 2-1 come-from-behind South Korean victory), D and I got ready for Switzerland vs. France. Of course my boy took the side of the Swiss, insisting on a change of clothes and to be allowed to watch the whole game sitting up on the couch. Unfortunately, the game was terribly boring and ended 0-0. Oh, wait. Make that nil-nil. I'm totally becoming a soccer dork.
The last matchup of the day pitted the mighty Brazil and the middling Croatia. Boy, talk about an opportunity for Damian to back an underdog! He was with the Croats throughout the match, going so far as to repeatedly make sounds that sounded, to my ear, very much like he was saying, "Croat… Croat…. Croat… Uhhh… Urp… Croat." Even though they were down 1-0 late in the game, the Croatian fans proved themselves insane by lighting flares, signing, and dancing around with no shirts on. Damian was right – this is a team to watch! (Sidenote: I highly recommend watching the games on the Spanish channel rather than ESPN/ABC. They have their own independent camera crews and focus much more on the players' emotions and crowd reactions. The blather on the english stations doesn't add anything to the game, trust me.)
We took a few days off from the World Cup Tour, but returned on Friday to report from an authentic Mexican cantina in Hartford. So yes, we missed the Poland/Germany match this week. Then again, seeing as though Germany won it in injury time, perhaps that was a smart move.

See what happened at the Mexico vs. Angola game
2006 World Cup Tour