No Walnut Ice Cream? Hello?
Walnut Beach Creamery, Milford
August 2021
Regarding my title, I have no idea if a pure walnut flavored ice cream would work. It probably wouldn't, and I really like walnuts. But you'd think Walnut Beach Creamery would have some sort of thematic walnutty option.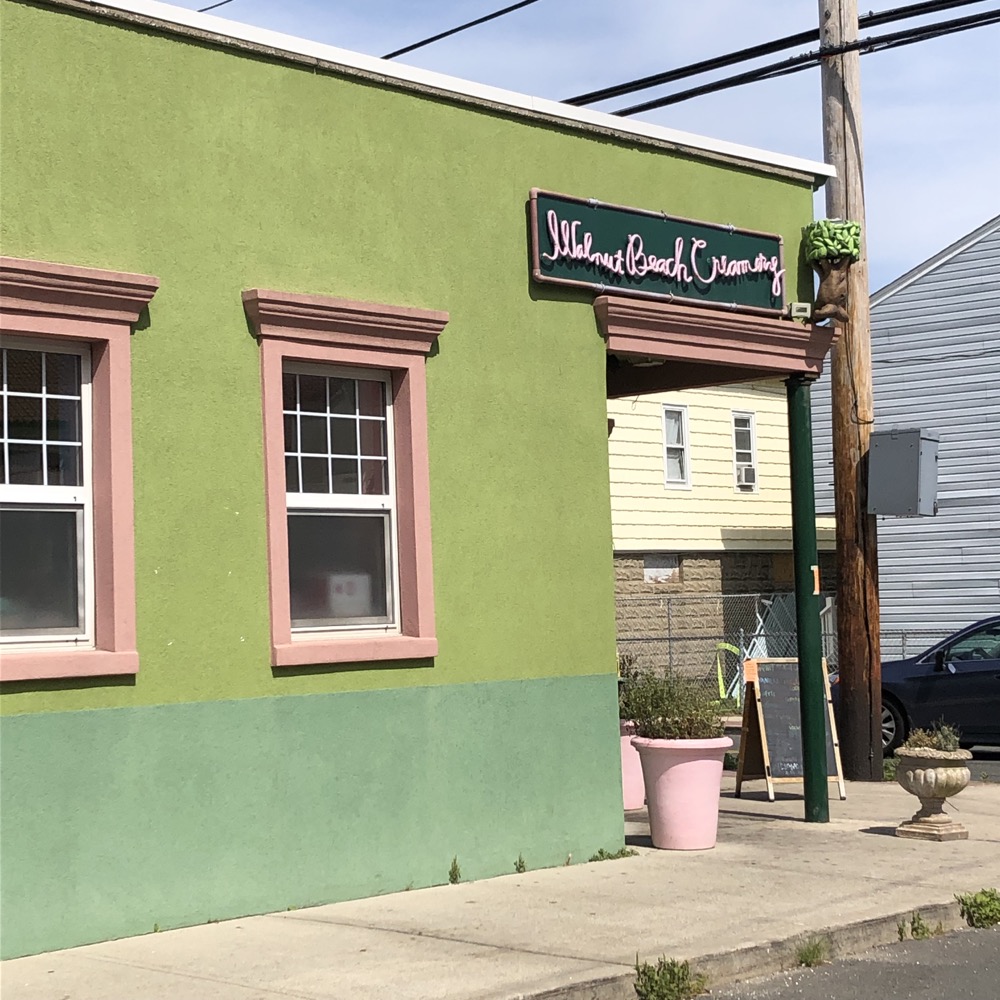 Happily, that silly idea was quickly forgotten when Calvin and I were confronted with the list of flavors they did have available. For the tiny little shop with a funky paint job in a compact beach community in Milford had a ton of unique and interesting flavors from which to choose.
The shop had two young women running the joint. The customer area is very, very small and in fact the whole retail area is. Which is fine. Except with two women working, I couldn't do my usual quick on-the-downlow pictures without raising eyebrows. In this case, with Calvin as a sort of buffer, I just went for it and sort of forgot about it.
Later, Calvin told me that the woman who scooped his cone had some very raised eyebrows. I can't imagine too many men my age are caught snapping photos of cute little ice cream shops. Oh well. Doin' it for the 'Gram. (This is not true, as I don't use "the 'Gram," but that's what I imagine they think is going on.)
What's going on in the shop is more important, and what's going on is good. Walnut Beach has a lot of creative flavors and a solid rotation of classics. Their "thing" is to run an annual flavor contest among employees and from that contest, they've retained a bunch of winners.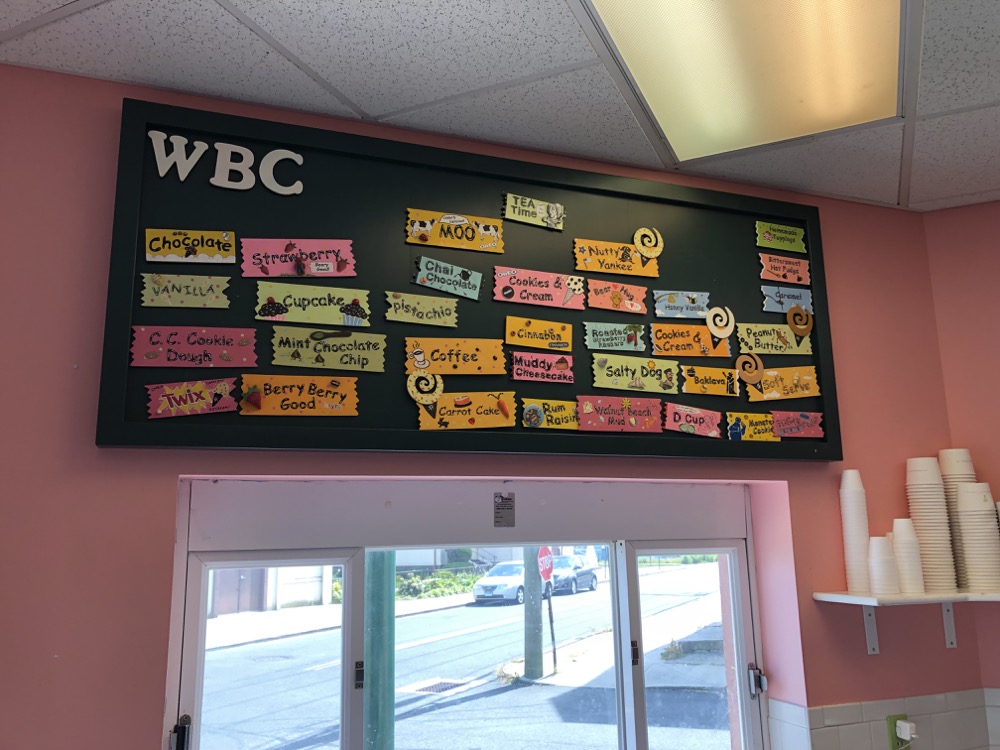 One of those flavors, called Tea Time, was created over a decade a go by a teenage employee in honor of her cozy tea times with her great-grandmother. It's black tea infused ice cream with shortbread cookies. It made some list from "Food Network Magazine" as "the most amazing ice cream flavor in Connecticut." So there you go. (It was actually available during our visit, as were other past winners like Carrot Cake and Cinnabon.)
But once I saw they had a Twix flavor, my choice was made. Twix ice cream! I know some national brand has a deal with Mars and you can buy it in the grocery store, but this was the first time I'd seen it as a homemade flavor at a local shop. Awesome. Calvin went with one of his usuals – Cookies and Cream.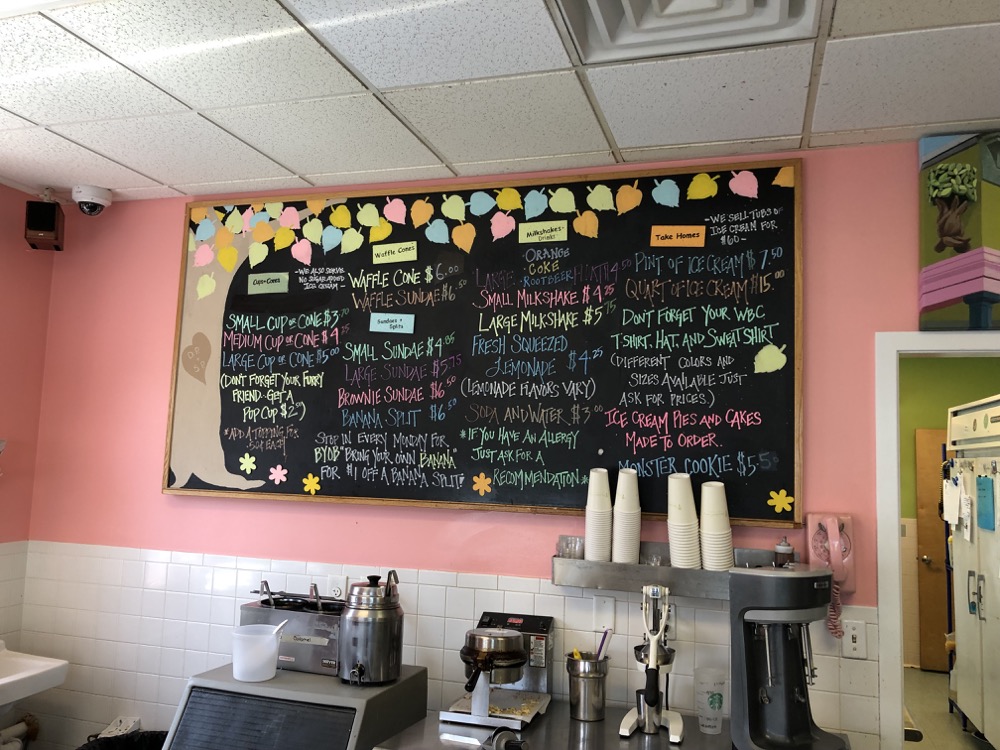 One woman scooped my small cone, and the other scooped Calvin's. Each was $3.70, which is a perfectly normal price, but seemed impossibly cheap to me after going to too many overpriced ice cream joints recently. I even told them they could raise the prices a dollar per size and no one would care and they just laughed at me. We took our cones outside and that's when I noticed something…
The two young women had very different conception of what a "small cone" should look like.
My ice cream volume was what one would expect. Calvin's was what one would expect if one ordered a large. If that was a small, what does a medium look like? How would a large even work, from a physics perspective? Now, of course there could have been reasons for this massive discrepancy maybe it was the end of the container for his flavor, maybe she felt bad for the kid because his dad is a weirdo old many Instagram Influencer Wannabe… I don't know. But he did get probably 33% more ice cream than I did.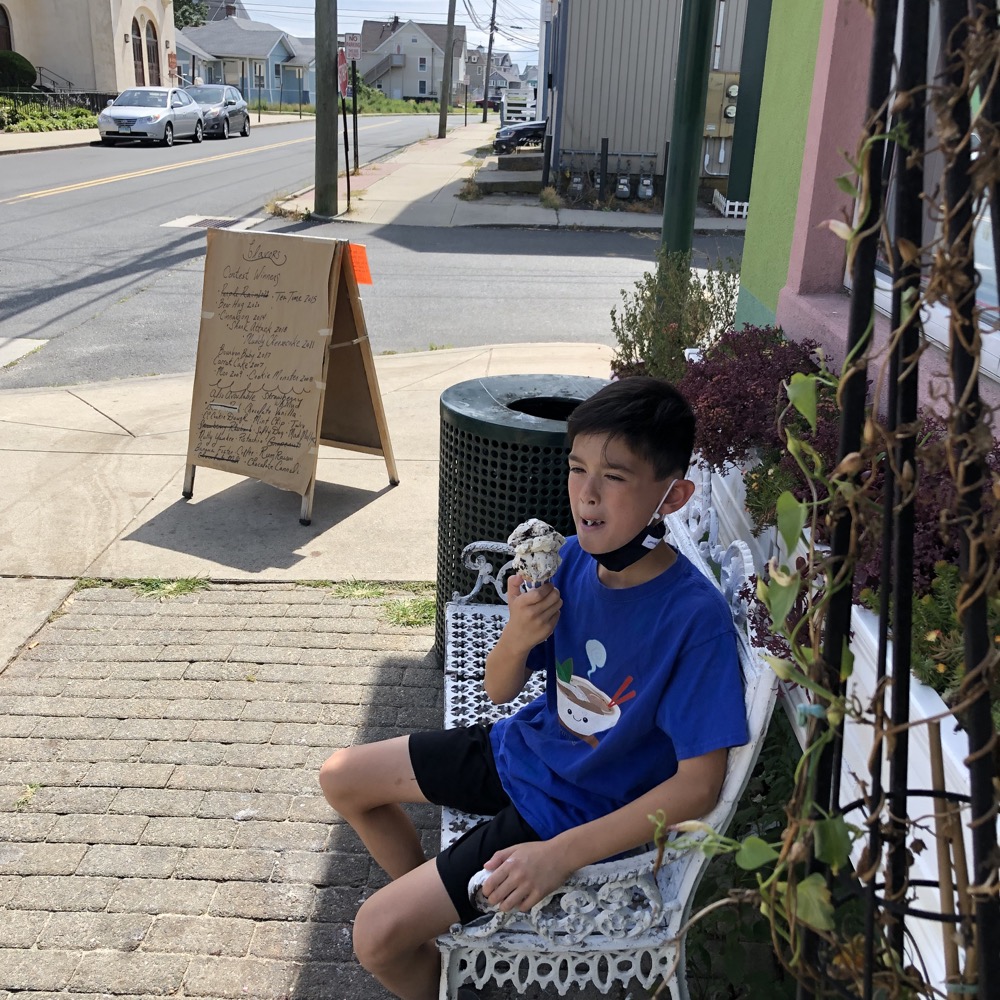 More importantly, both flavors were excellent. And Walnut Beach ice cream is a legit homemade, small batch operation.
Our mission is to make every batch of ice cream by hand with a single batch freezer and using the best and freshest ingredients we can find.

All our ice cream, sorbets and many of our toppings are made in our kitchen. Our flavors change all the time and even through the flavor is listed it may not be in stock when you visit. We make small batches of ice cream so we may run out. We hope this is an opportunity to try something different and find a new favorite.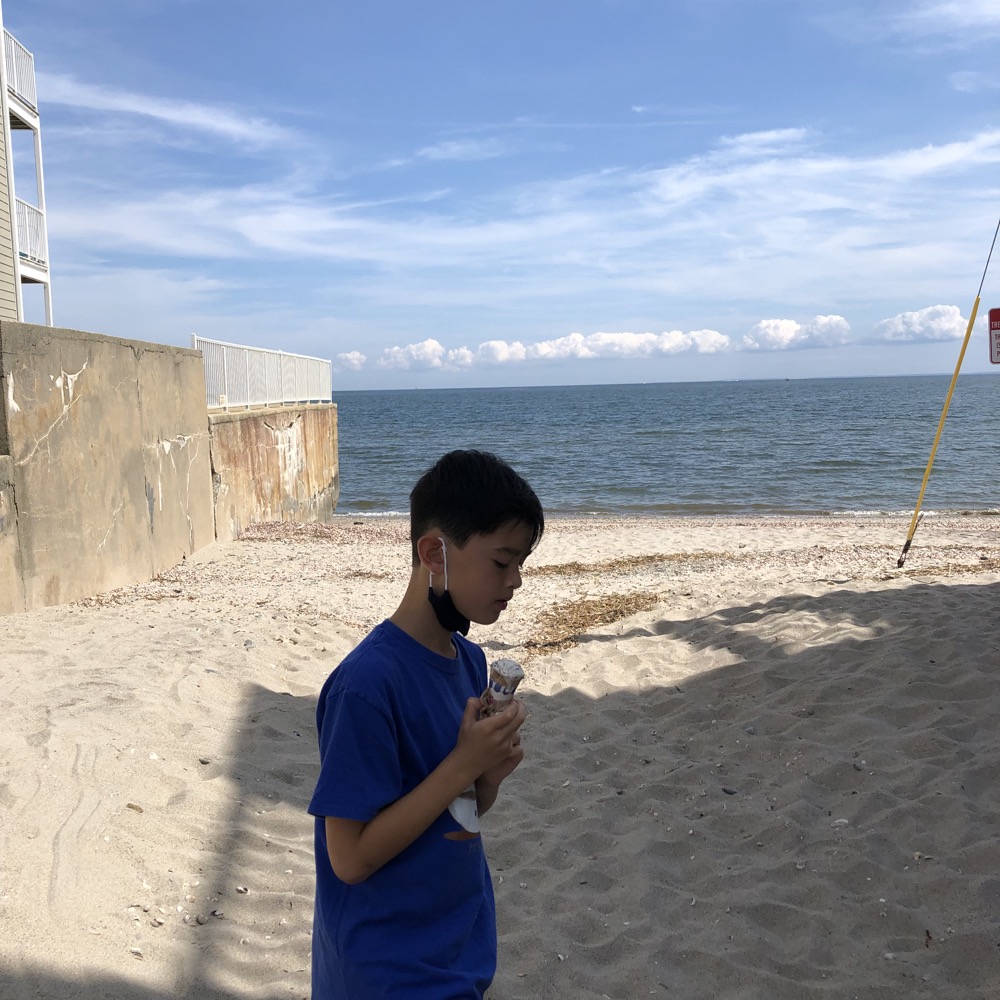 Just looking over some of their flavors, I would like to return to try Baklava (honey vanilla base with a honey citrus swirl and pieces of baklava) and Berry Good (blueberries, raspberries, and strawberries with chunks of bittersweet chocolate.) Heck, at their prices, maybe I'd get both.
We walked the block to the beach. Walnut Beach proper is a couple blocks east of here, and Silver Sands State Park is just east of that. In other words, this is a really cool little part of Milford and, quite honestly, all of Connecticut.
Oh wait, I'm supposed to say this is a really sweet little part of Milford and all of Connecticut. Sorry. Gotta do it the 'Gram way.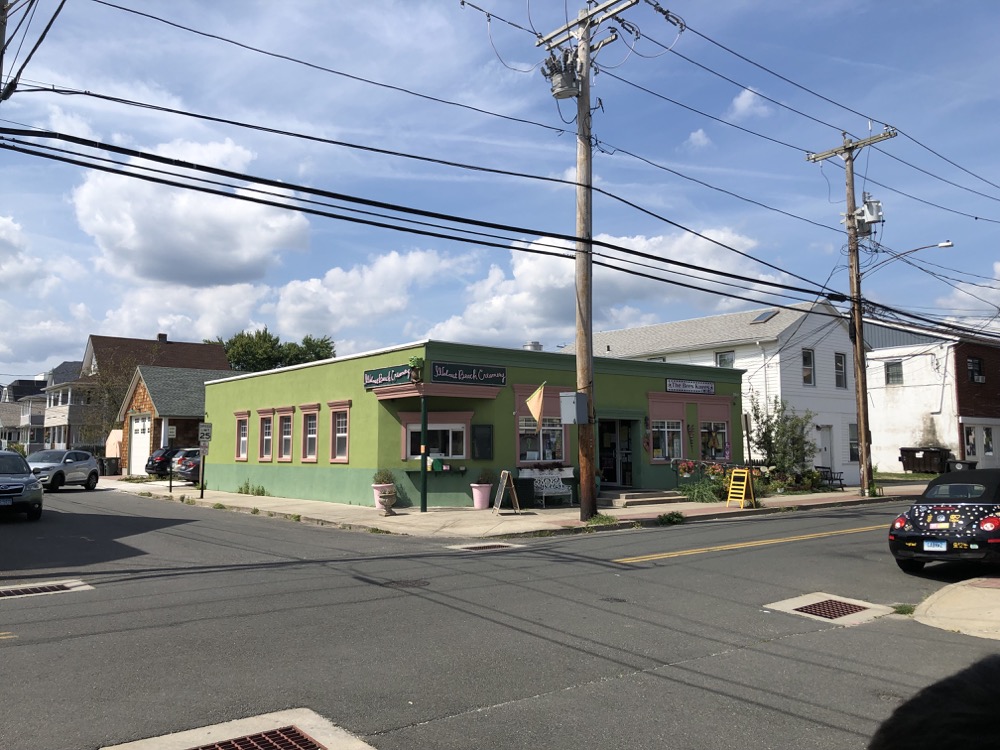 Walnut Beach Creamery
CTMQ's Homemade Ice Cream Trail