Everything Milford
I've been exploring and writing about Connecticut since 2006. After a decade, I began compiling CTMQ guides for each town in the state. I plan on "completing" Milford CTMQ-style… as well as the other 168 towns, cities, and boroughs in Connecticut. That is the ultimate goal of CTMQ.
If I've missed anything in town or if anything has closed or changed, please let me know.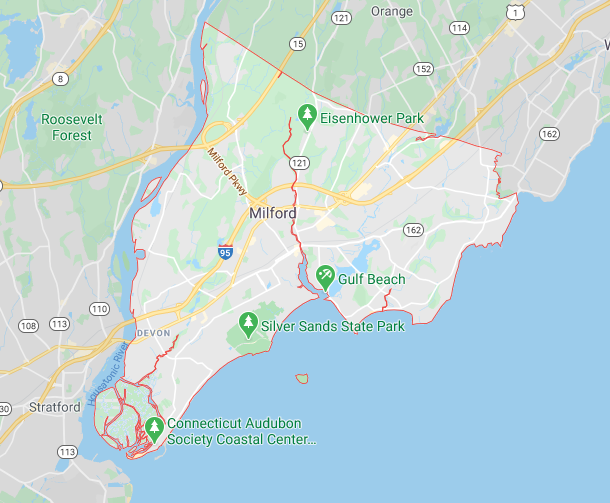 All The CTMQ Milford Stuff
Museums
Audubon Coastal Center at Milford Point
Bryan-Downs House
Clark-Stockade House
Eells-Stow House
Kuehn License Plate Museum (Closed)
MAC & Firehouse Galleries
SCELBI Computer Virtual Museum
Hikes & Bikes
Silver Sands State Park & Charles Island NAP
Milford Land Conservation Trust – Intro
Nancy's Meadow
Pond Point
Audubon Hikes – Intro
Milford's Town Trails – Intro
Beaverbrook Trail
Eisenhower Park
Great River Walk
Mondo Ponds
Red Root Nature Trail
Sikorsky Bridge Walk
Solomon Woods
Walker's Pond
Wilcox Park
Food & Drink
CT World Food Tour, Basque: Bistro Basque
CT Homemade Ice Cream Trail: Walnut Beach Creamery
CT Chocolate Trail: MELT Chocolatier
CT Beer Trail: Dockside Brewery
CT Beer Trail: Milford Point Brewing
CT Beer Trail: Tribus Beer Company
Looking for your favorite restaurant? Here is an explanation as to why it's not here.
Everything Else
World's First: Personal computer manufacturer
CT Freedom Trail: 2 Spots
Charles Island & Tombolo
Liberty Rock
Regicides Rock
Simon Lake's Explorer
Audubon Coastal Center Observation Deck
Milford Memorial Bridge & Tower
Monk Parakeet Invasion
The Oatmeal Lots
Bic Drive/Sub Way & Subway
Pumpkin Delight Road & School
Completion Celebration Meal & Milford Wrap-Up
TBD