Dockers and Docksiders Fit Right In
Dockside Brewery, Milford
August 2021
Tales From The Dockside? Dockside of the Moon? Sittin' On the Dockside of the Bay? Nah, I went with making fun of bad dad fashion instead.
Dockside Brewery, located on the banks of the Housatonic River in Milford, was all set to open on March 23rd. Of 2020. A week after businesses were shut down for the emerging COVID pandemic.
Not the best of timings.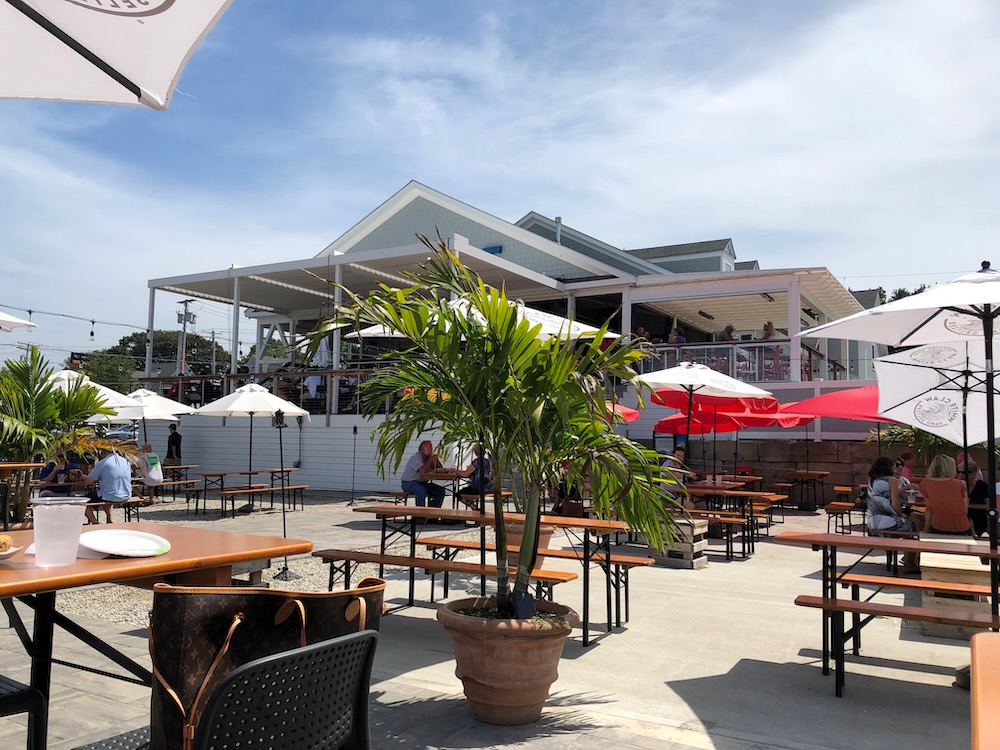 But the owners had invested two years of blood, sweat, and tears – not to mention hundreds of thousands of dollars in the 4,200 square foot waterfront brewpub. There are 70(!) slips for boaters, jet skiers, and others to pull up and relax. There's a huge bar, and an indoor game room, and the massive outdoor space has five levels of decking.
It's that outdoor space that kept the brewery humming during the height of COVID – that, and, I suppose a need for beer and a healthy curiosity for the new.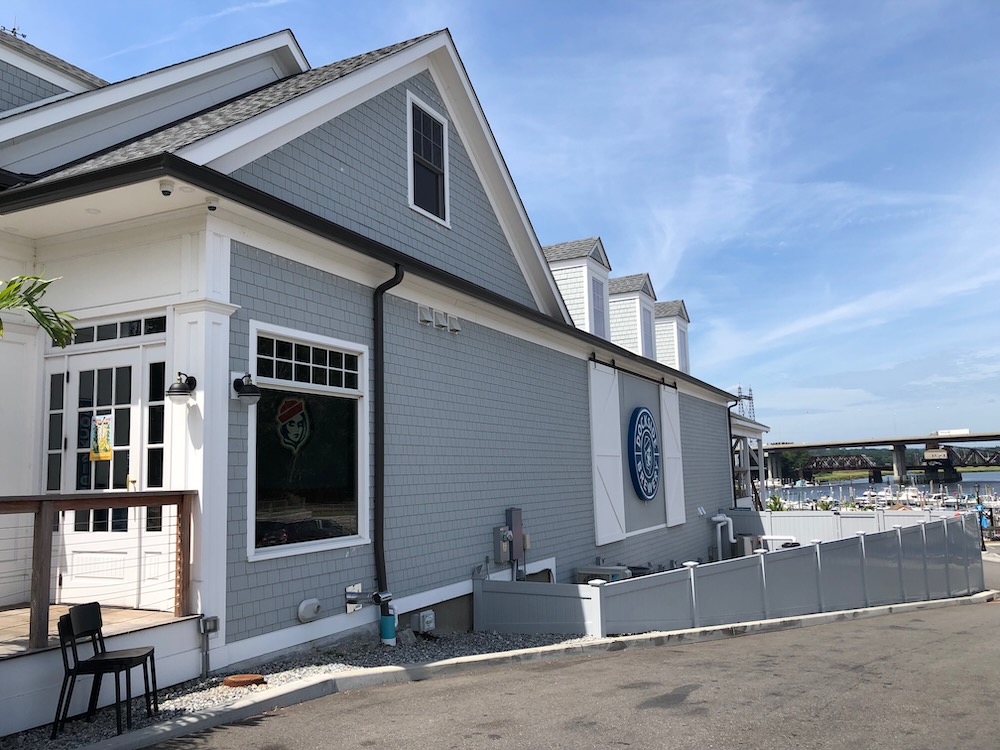 Customers purchased beer they'd never tasted via a drive-through set-up, which is pretty amazing, really. Yes, Dockside did all the right things pre-launch. They built a little hype but didn't overdo it. They hired away Andy Schwartz from Stony Creek Brewery to lead the brewing program and I guess some people followed him down the coast from Branford. I don't know, but good for Dockside.
Once the pandemic subsided – or, perhaps more accurately, once the state stopped caring as much about the pandemic – the brewery opened to the public. I would guess their massive outdoor space was hugely beneficial in this endeavor. And if you haven't visited, it is rather impressive.
I stopped in for lunch and a few short beers one beautiful summer weekday afternoon. It wasn't too crowded, which is a rarity here. Summer weekends get pretty packed as I understand it. Is it the food? The beer? Or the fantastic space?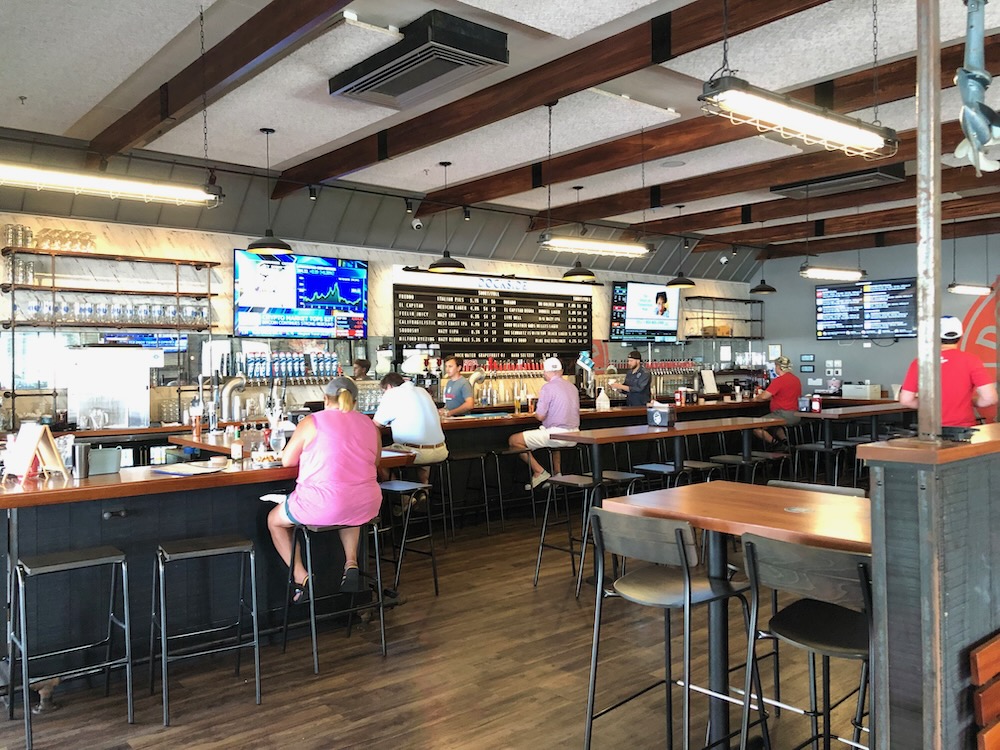 "This is not going to be a place where we have 700 people just because we're outside," said the owner in an old newspaper article. Well, if my experience with breweries and wineries in Connecticut is any guide, I think you actually will get 700 people there just because of the outdoor decks.
At Dockside, we believe in keeping things exciting – we are more than just a beer bar. We take everything extremely seriously, our house-brewed beer, our cocktails, our food. We assembled the most talented kitchen and front-of-house crew in the state. We also strongly believe that there are things in life that should go hand in hand with all this; our community, our friends and family, and our environment being first and foremost. Fortunately, a fresh brew, a cold cocktail, and hot New Haven pizza all go hand in hand with this.
Fair enough. Dockside certainly is more than just a beer bar. They take their food program quite seriously. Have they assembled "the most talented kitchen and front-of-house crew in the state?" Hm. Lemme think… no. That's ridiculous. I don't think the most talented chefs are toiling away on burgers and pizza at a brewpub in Milford, but that's just me.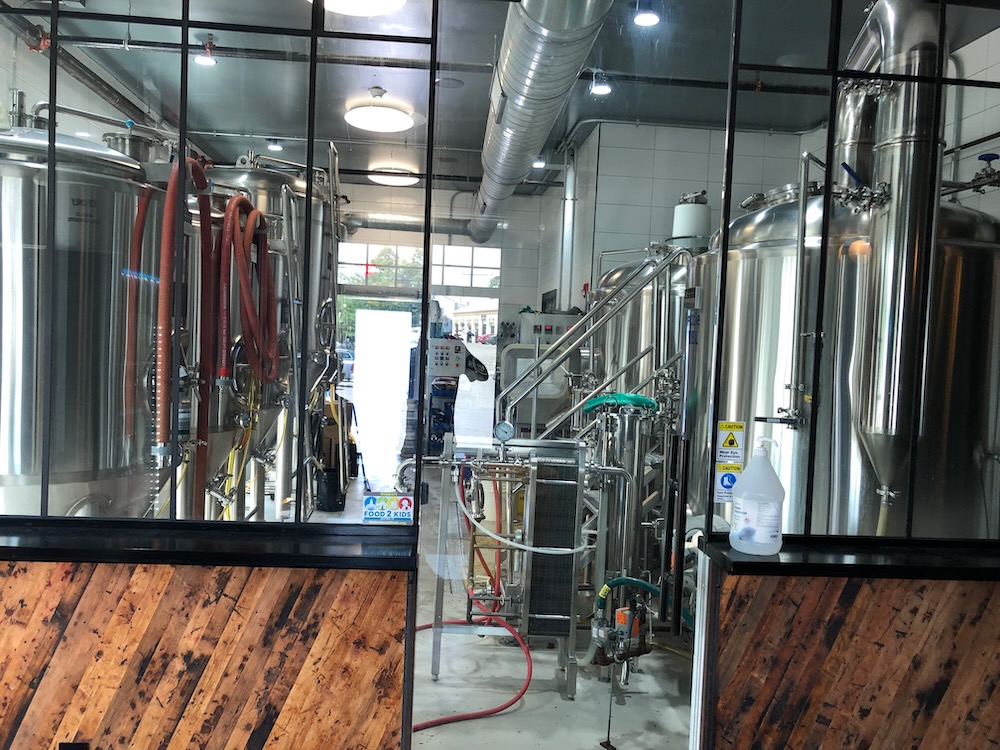 Dockside also says this about themselves:
Since opening its doors in the spring of 2020, Dockside Brewery has received critical acclaim and national recognition. For example, Resy – an online reservation app used by over 4,000 restaurants in over 200 cities – says that Dockside Brewery is #5 worldwide with the number of daily reservations made.
I guess that's just a natural result of having the most talented kitchen and front-of-house crew in Connecticut. Congratulations!
Calvin and I put them to the test. Ever the gourmand, my son ordered mozzarella sticks and a pizza. I ordered an Ahi sandwich. The pizza was fine but my sandwich was as dry as the sand the brewery has shipped in for atmosphere. But here's a funny story. I don't think I'd ever had mozzarella sticks in my life. Calvin has had a lot. Too many, surely.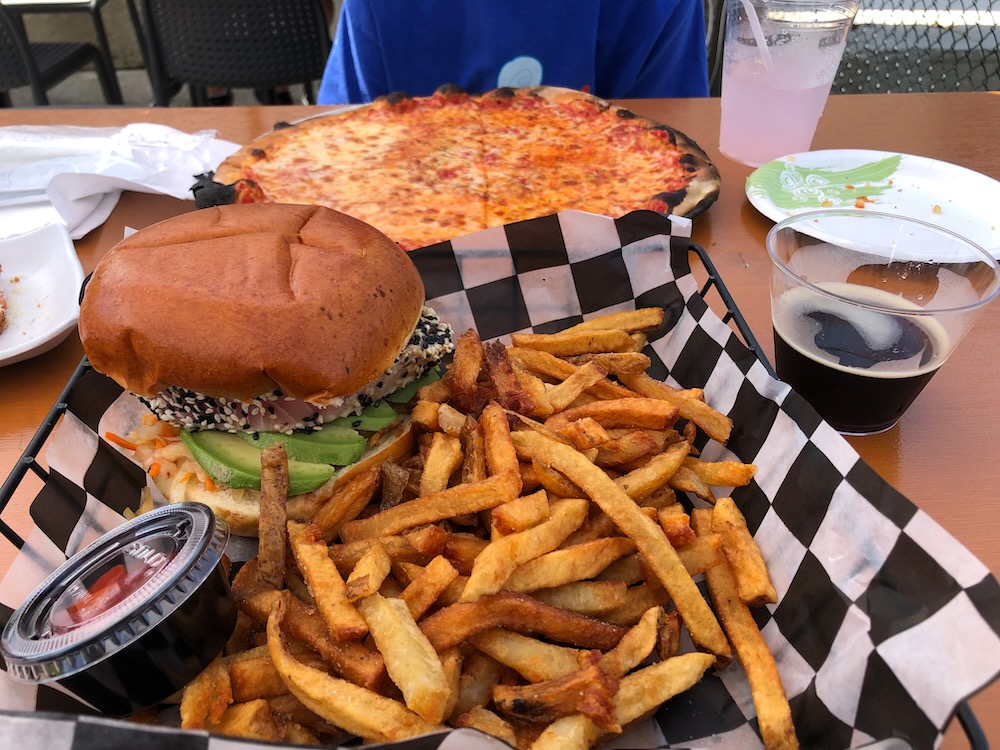 He claimed these were the best he'd ever had, so I had one. At 11 bucks, they better be more than some Restaurant Depot frozen box of cheese and breading. Now, I don't have anything to compare these sticks too, but yeah, they were pretty great. As far as these things go.
I really liked this place. It's just… really nice. The tap list features around 40 beers, 30 of which are from elsewhere. It featured a lot of really, really good beers from really, really good breweries. I, of course, stuck to the home-grown stuff for the simple pleasure of being able to write the next few paragraphs about them.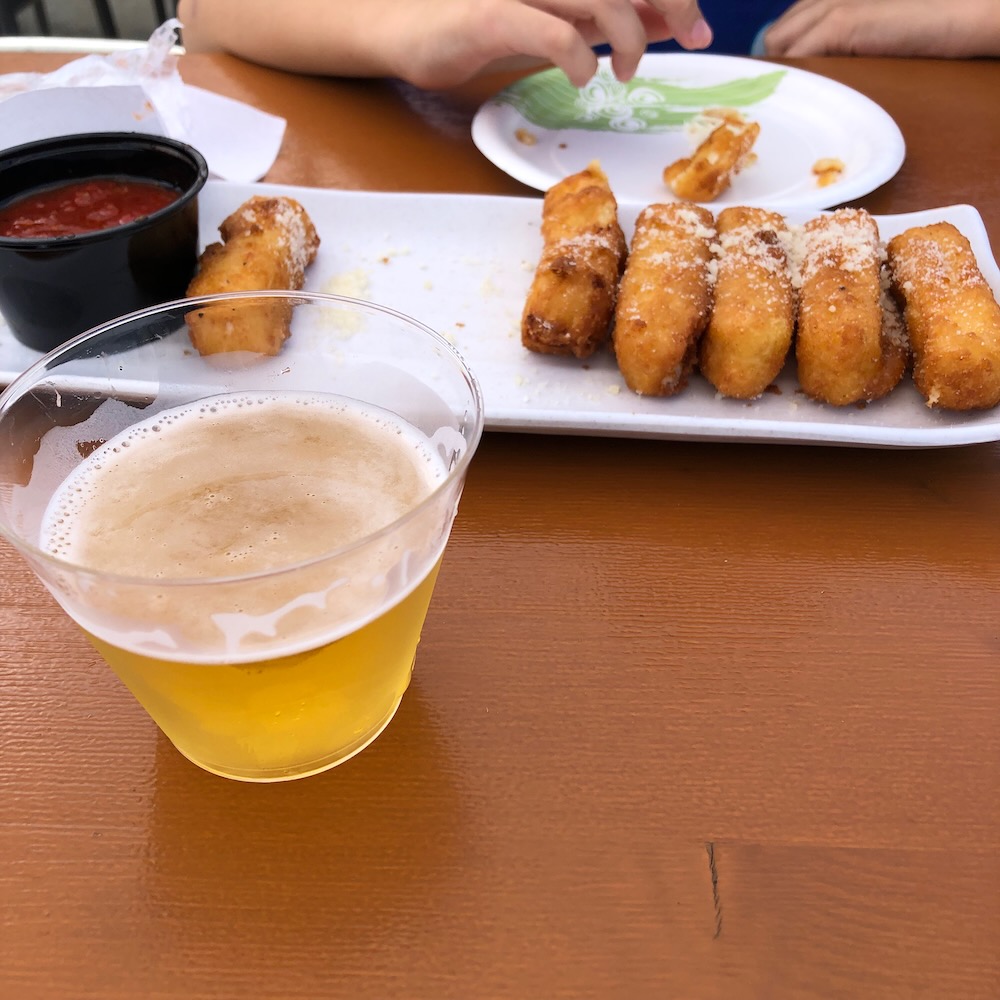 Now, for the first two years of Dockside, the head brewer was Andy Schwartz from Stony Creek as I mentioned. This is mildly interesting because he joined Stony before they opened to get their whole beer program up and running, and then he came here to get Dockside's brewing house in order. Schwartz dealt with some ups and downs at Stony, taking constant slings and arrows from the insular Connecticut Beer Bro World; some of his core beers were much maligned to say the least.
Happy to see him get a fresh start down I-95 in Milford… so what better beer to start off with than "The Schwartz is With You," a Schwarzbier. It was pretty good. Freddo, the pilsner was okay. The beer menu when I visited even had two "West Coast IPAs" listed. Two! Brewed at Dockside! Exciting stuff for old heads like myself.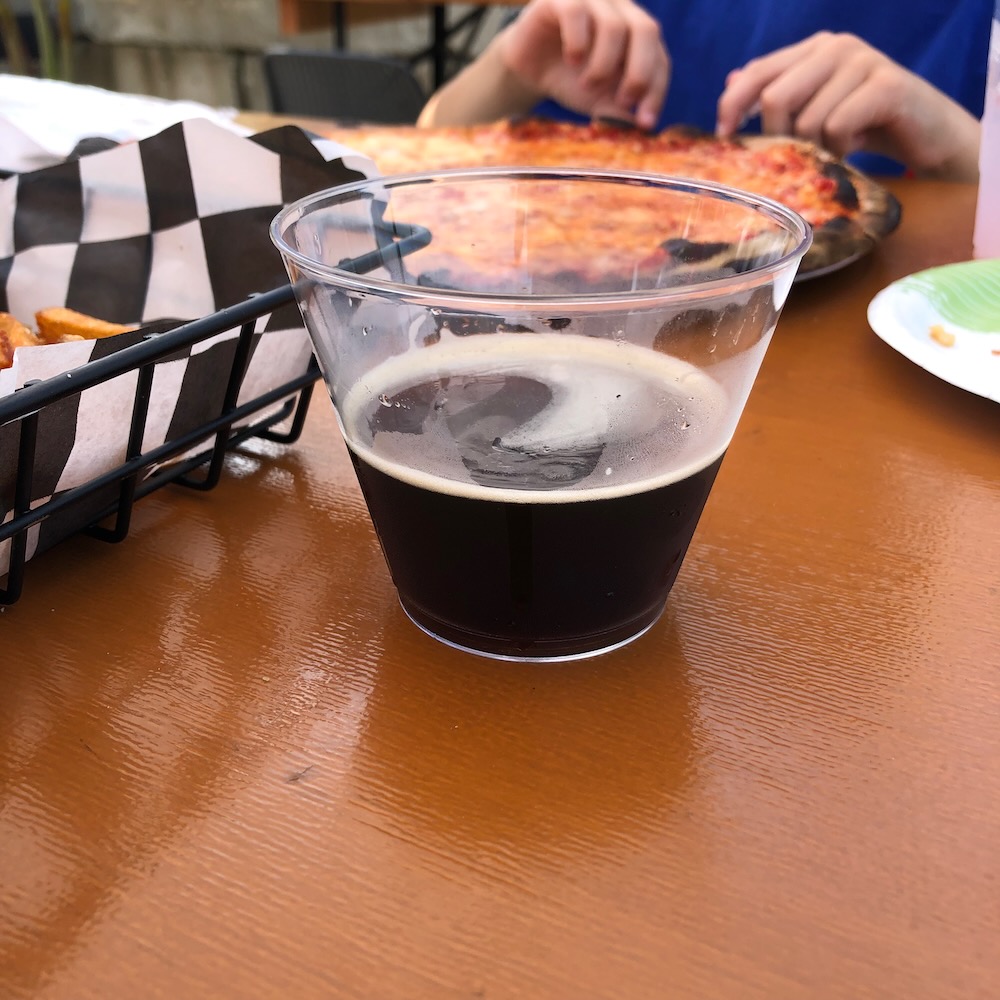 So I had one. Califragilistic. The menu said it was a celebration of the classic west coast style, "assertively bitter… malt sweetness…" holy cow, this wasn't a Sierra Nevada Clone, this was going to be Schwartz's (much maligned) Stony Creek Cranky IPA all over again!
It wasn't. Now, it wasn't a Sierra clone no matter how much Cascade, Centennial and/or Chinook hops was in the mix, but it wasn't bad either. And that's the end of my Dockside beer experience. Everything was fine. Nothing was bad. Which is fine. That's how these massive "something for everyone" brewpubs tend to be.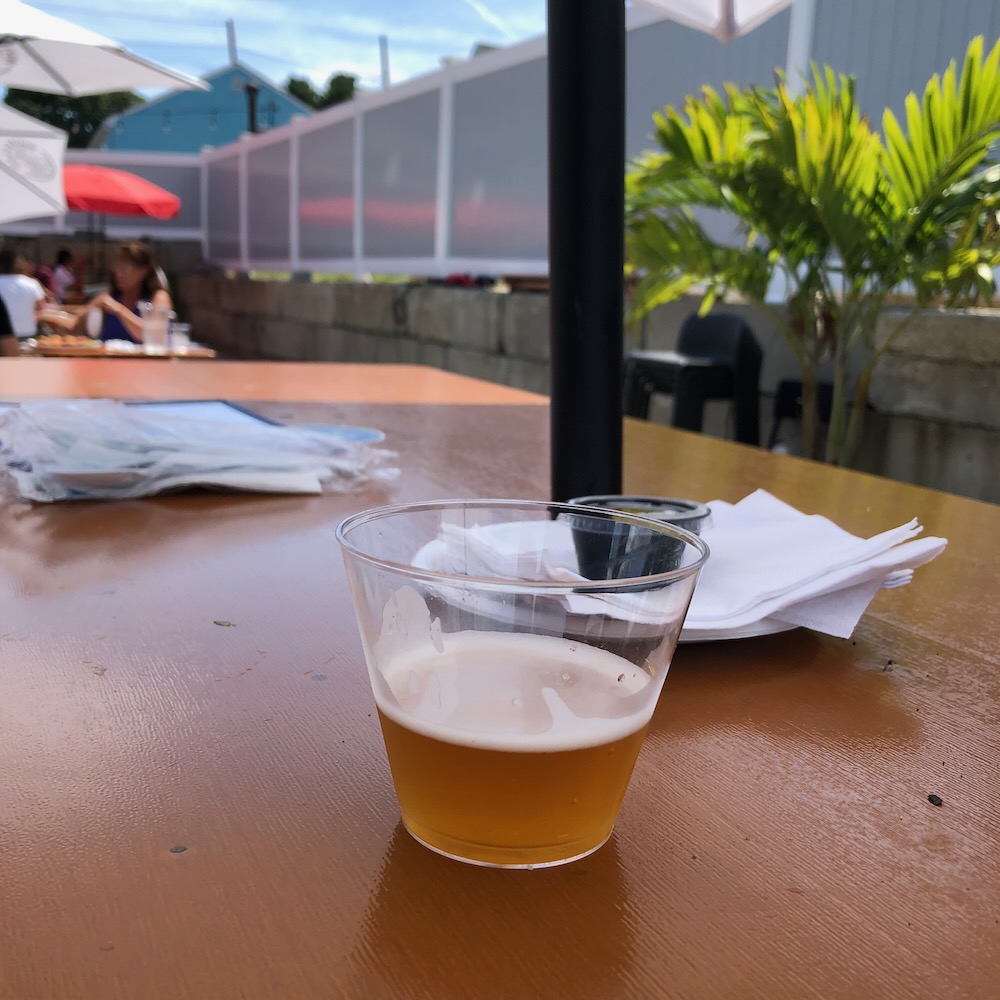 At some point in late 2021, Schwartz moved on to WeHa Brewing in West Hartford and Dockside hired on Keegan Dombrosky as lead brewer. Keegan had been at Back East Brewing in Bloomfield previously, and was mostly responsible for their highly successful Ice Cream Man series of NEIPAs (among others). Perhaps the beer will be better when you visit. Perhaps worse. Perhaps the same. You just never know until you go!
And you should go. Dockside is a cool spot. You can even go and sit on the deck in the winter – though I'm sure there's a limit to what they can deal with. Yes, Dockside has those "igloos" for your party to party in. They make it "fun" and "exciting" with fanciful lighting and everything:
And when you do go, get the mozzarella sticks. Tell 'em Calvin sent you.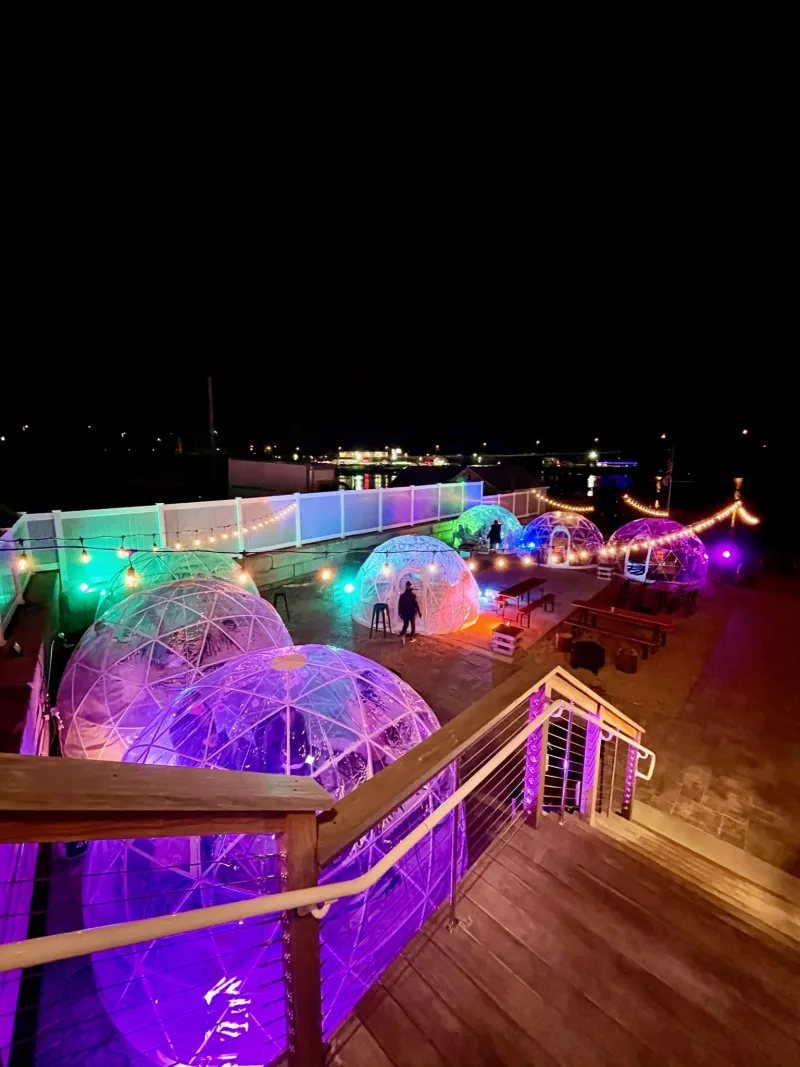 Dockside Brewery
CTMQ's page on CT Breweries and Brewpubs