Friday I'm in Love
Watercure Farm Distillery, Pomfret
November 2020
Nice. A Connecticut distillery that is an actual Connecticut distillery. With an actual still that actually distills alcohol.
I mostly gave up trying to sort out which of our distilleries are distilleries and which are "spirits producers," but I can say with conviction that Watercure, located on Route 44 in beautiful Pomfret, is a real distillery. So even if their output turned out to be terrible, I must give them tons of credit for not shipping in grain alcohol like so many other "spirits producers" around here (and the country) do.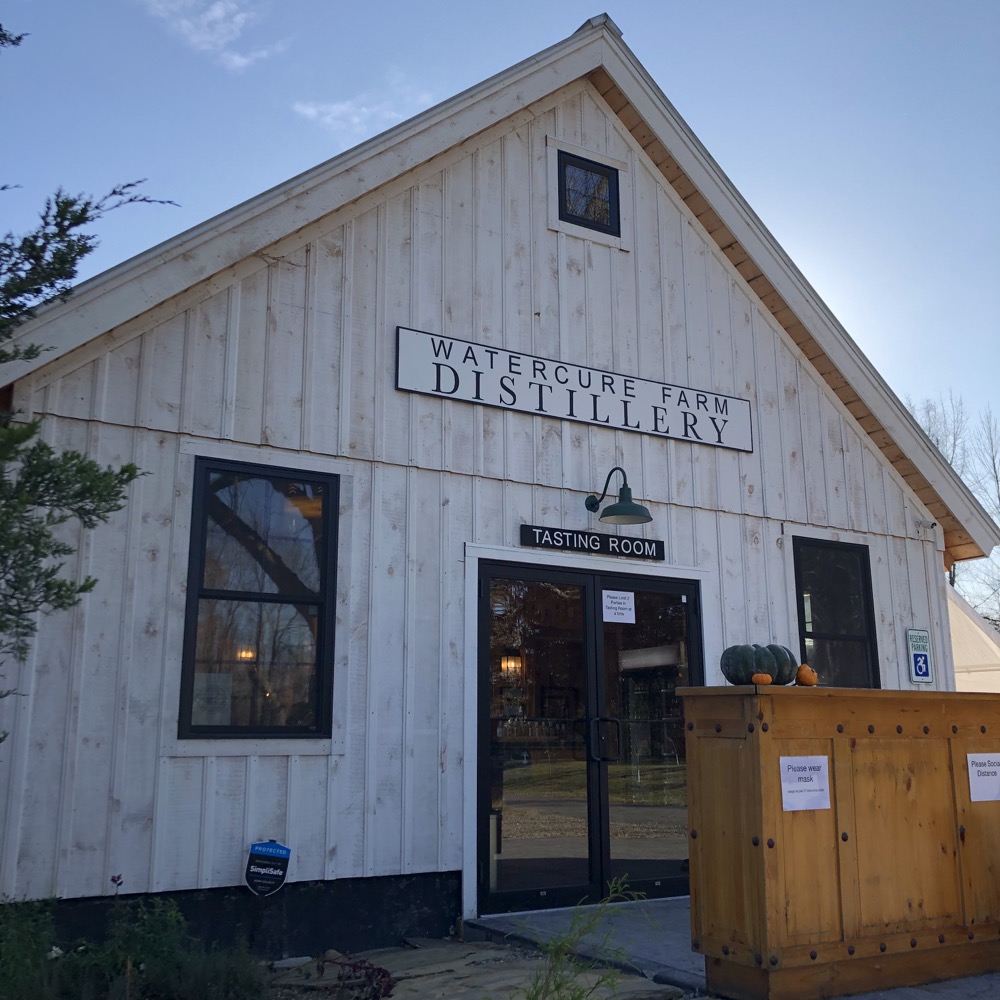 A few friends of mine began whispering about Watercure shortly after they opened. The consensus seemed to be that it was "interesting" and a couple guys were eager for me to visit. Why? It's not like I'm some sort of spirits expert… in fact, quite the opposite. Maybe that was their point.
Watercure says in their literature that they are located at the former entrance to the historic Gwyn Careg Estate, which I guess is true but the still-existing entrance on Wolf Den Road certainly looks like it's always been the main/front entrance. But it's not like I'm some sort of historic estate entrance expert either.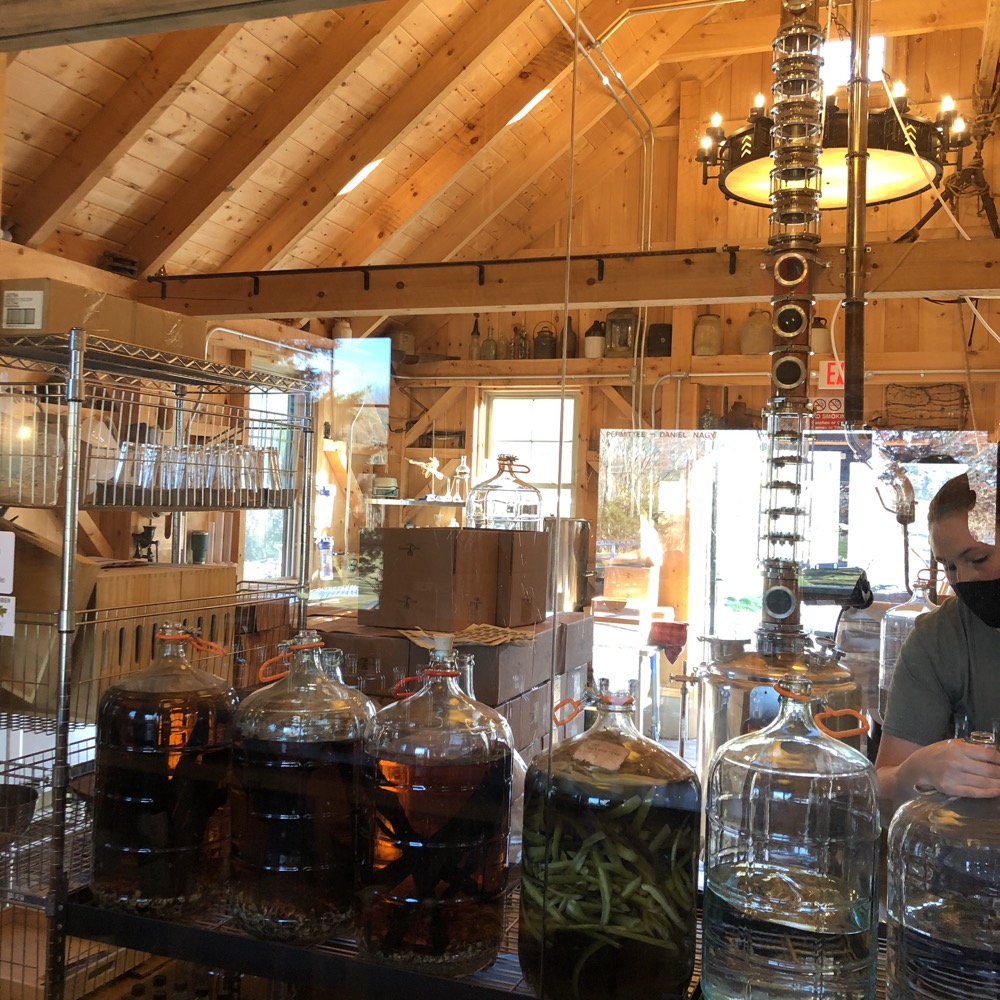 (As of 2021, Gwyn Careg is open for wedding receptions and such again after several years of neglect. It's a stunning property to say the least… and is home to the former national champion Noble fir tree!)
Watercure's barn is brand new and serves its purpose well. Ample parking, a small indoor space, and nice patio. It opened in late 2019, several years after the owners had been operating a small farm in town.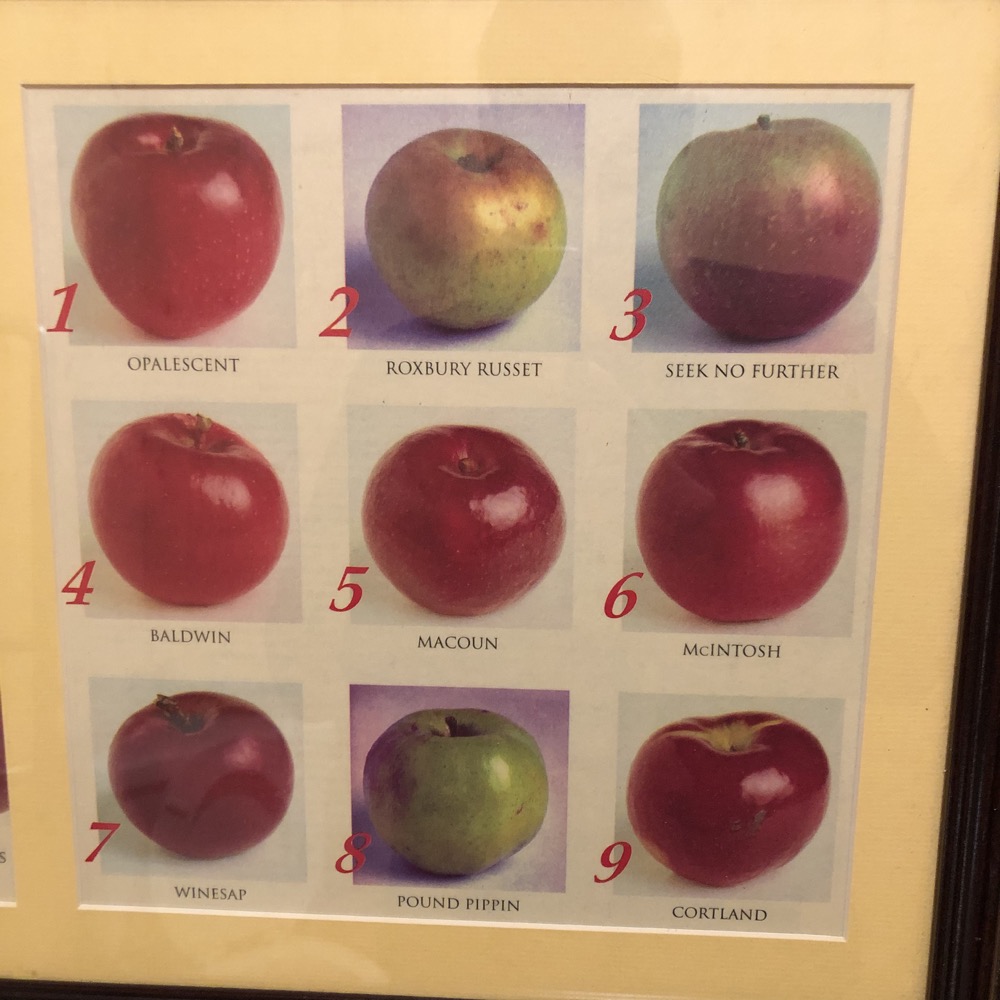 Once Connecticut passed the law that now allows distilleries more latitude with sales and tastings as long as 25% of their ingredients and whatnot were Connecticut grown, Dan and Aubrie Nagy took the plunge with Watercure. In fact, they went all-in on the Connecticut thing, as their vodkas and brandies use 100% Pomfret grown stuff.
Or, that was the business plan… though it's really not hard to stick to that so I believe they still do since they make potato vodkas and apple brandies. Pomfret has plenty of potatoes and apple varieties. Why not Connecticut corn bourbon? Oh. They do make a Connecticut corn bourbon.
Good on Watercure.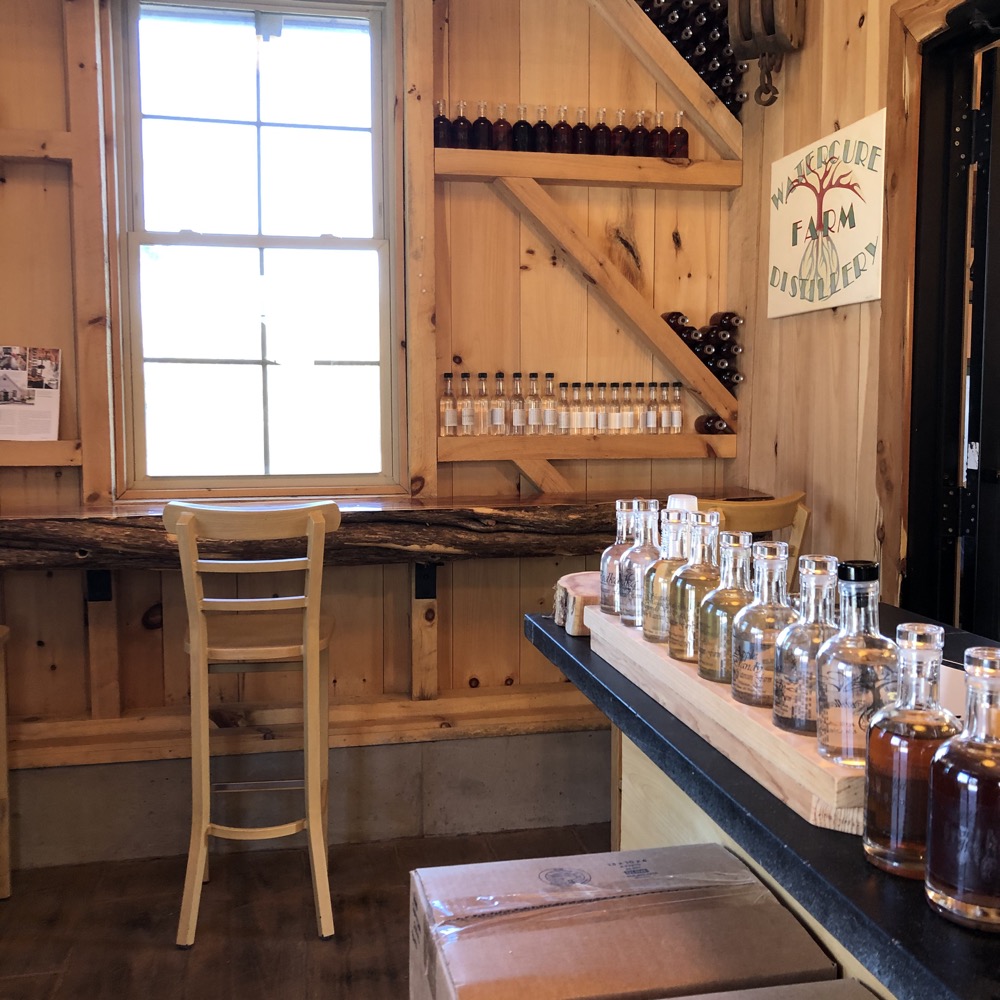 In an interview in Edible CT, Dan that distiller said, "I like distilling because there's a true science to it. The chemistry is fascinating. There's some parameters to making beer and wine but capturing the spirit off of that is much more in depth. We are making something that will never go bad and trying to preserve as much flavor as possible."
I like that attitude.
I spied Dan scurrying around in the production area during my visit, but I was served by another employee. I appreciated his honesty and assistance. I'm not much of a booze drinker at all and I told him as much. But hey, I was here for a tasting of four different spirits and I was going to choose what my gut told me to choose.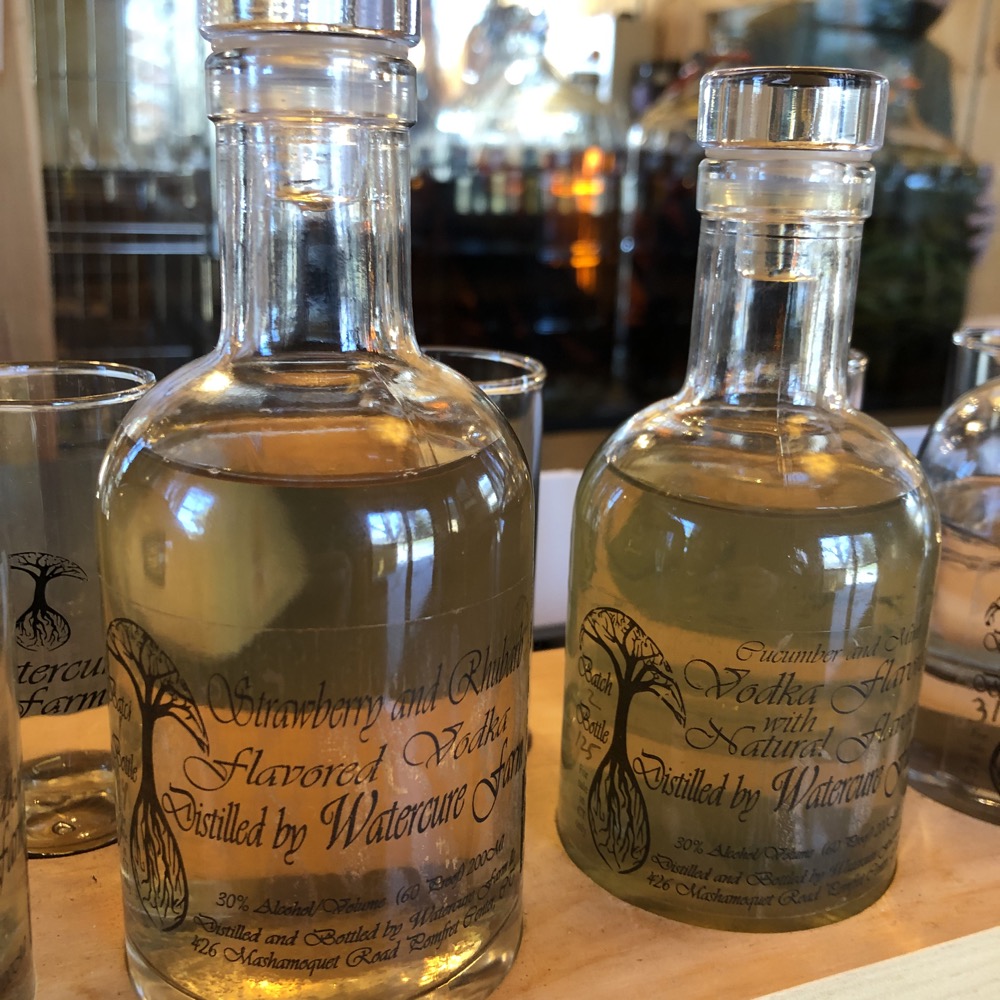 The live-edge wood bar here is impressive and the decor fits the space. There's only a glass wall that separated me from the production area, so I could see the still and other equipment.
Watercure's still looks a little bit different from some of the others I've seen around Connecticut. It has 17 glass plates, stacked in a tube almost to the ceiling of the barn. Each plate collects the condensate and is a bit of overkill probably. You know how you hear vodka advertisements that say "triple distilled" or whatever? I guess the idea here is that each time the process is run, it's like a 17 distillations. (I'm not sure if that's remotely accurate, but that's the idea anyway.)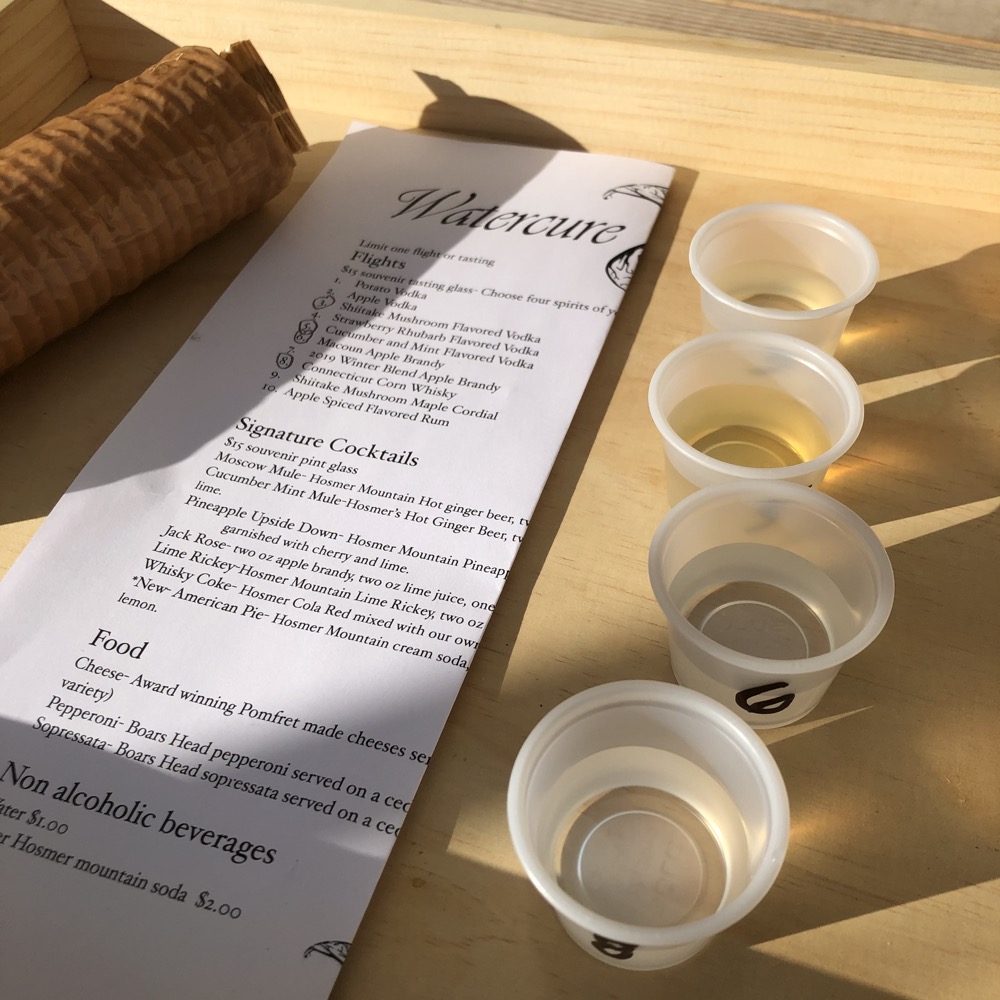 I had a choice of 10 varieties from which to choose. I'd heard about Watercure's use of shiitake mushrooms, so that was a definite. I think it's worth listing all ten to give you an idea as to what this place is about:
Potato vodkda, apple vodka, shiitake flavored vodka, strawberry rhubarb flavored vodka, cucumber and mint flavored vodka, Macoun apple brandy, 2019 winter blend apple brandy, Connecticut corn whisky, shiitake maple cordial, apple spiced rum.
Wow. Cocktails are also available as well, and as you can imagine, they can get pretty creative. I should note that they use Hosmer Mountain soda here, and yes, you can get a proper Moscow mule with Hosmer's unparalleled "dangerously" hot ginger beer.
And as if "shiitake" isn't a funny enough word, the misspelling on the sign here made it all the funnier… especially as you're reading my "sh*t take" on hard alcohol: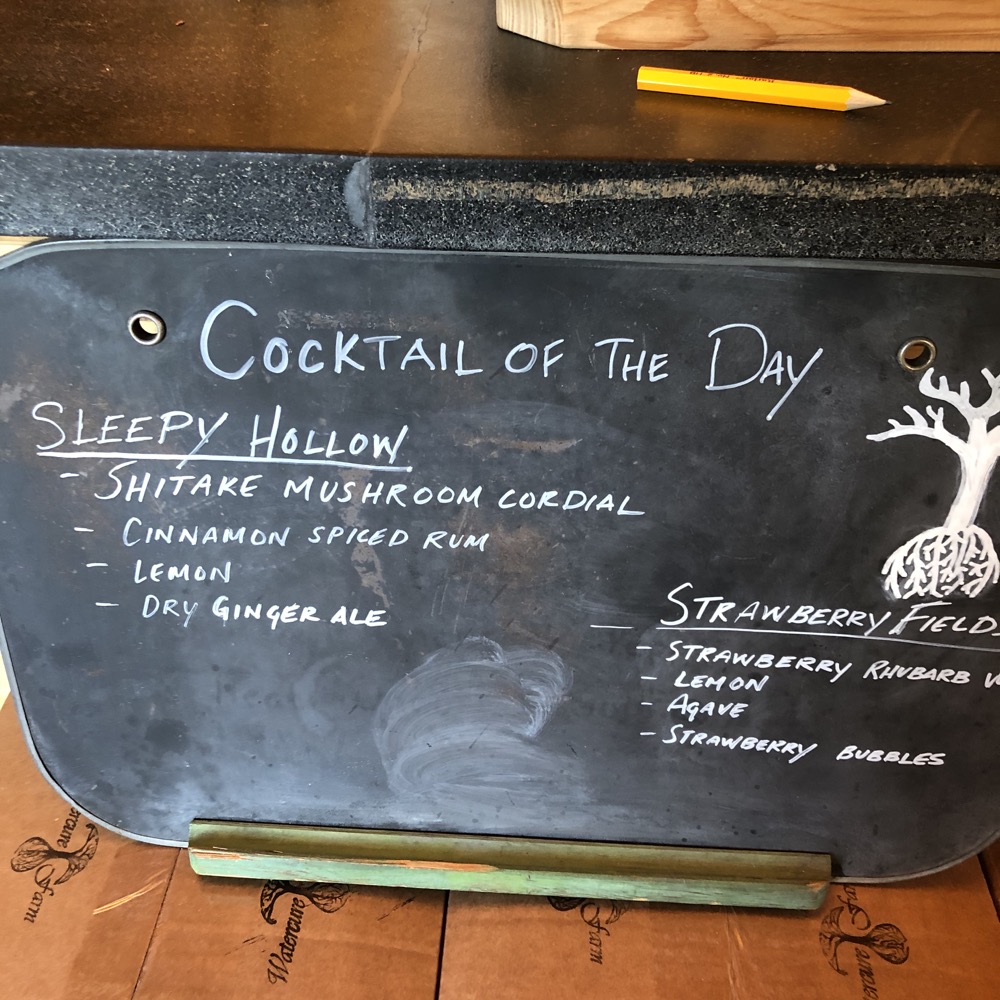 Each batch here is very small, and if you know anything about the process, a lot of fruit (or whatever) must be used to get enough distillate for bottling. Grind everything up into a mash, let it ferment, then distill it. Simple as that. (Not really, as you need to know what you're doing.) Here, the used up fruit (or whatever) is composted and then used for the fields on the farm. It's all very organic and hippie and nice.
I went with the shiitake vodka, the cucumber mint one, Macoun brandy, and the whisky. Totally out of my comfort zone. I also got a sleeve of Ritz crackers for some reason – I had told the guy I was starving and had been hiking all day. I appreciated the crackers. Local cheese is for sale here as well, and my conversation with my host led me to Winterplace Farm and Creamery afterwards.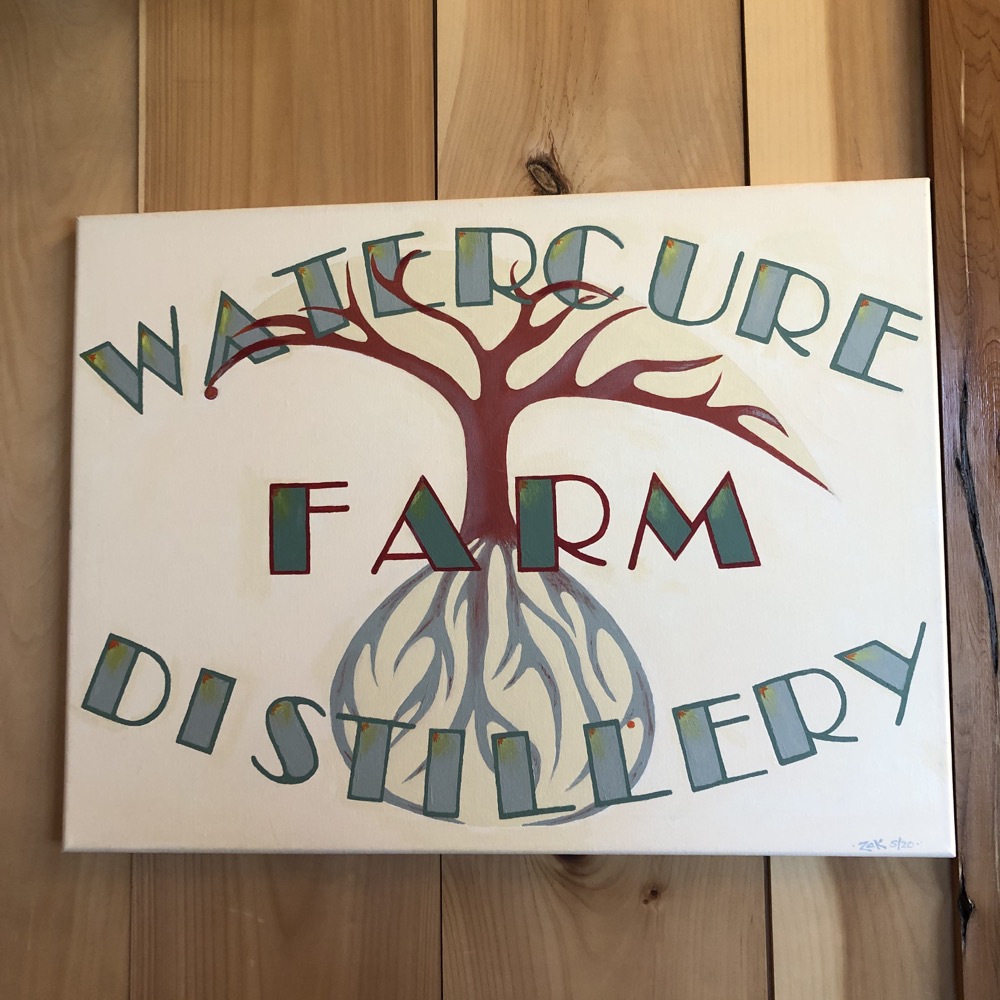 The shiitake vodka has an earthiness that Watercure claims appeals to scotch drinkers. The mushroom flavor is quite subtle, as all flavorings at a higher-end distillery tend to be. These are not like those monstrosities like cotton candy vodkas the kids are drinking these days. Clean, pure, subtle… that's the theme here.
The apple brandy only had a whisper of apple flavor – apples which, by the way, are from nearby Lapsley Orchard. Oh, and the shiitakes are Watercure-grown. When I mentioned that gin was my only hard liquor jam, I was told that the large cedar tree in front of the barn will provide "juniper berries" for the gin here. I was confused about the taxonomy of cedar vs. juniper, as cedar trees have cedar berries and junipers have juniper berries. But I think they're similar enough and this place makes shiitake vodka, so why not?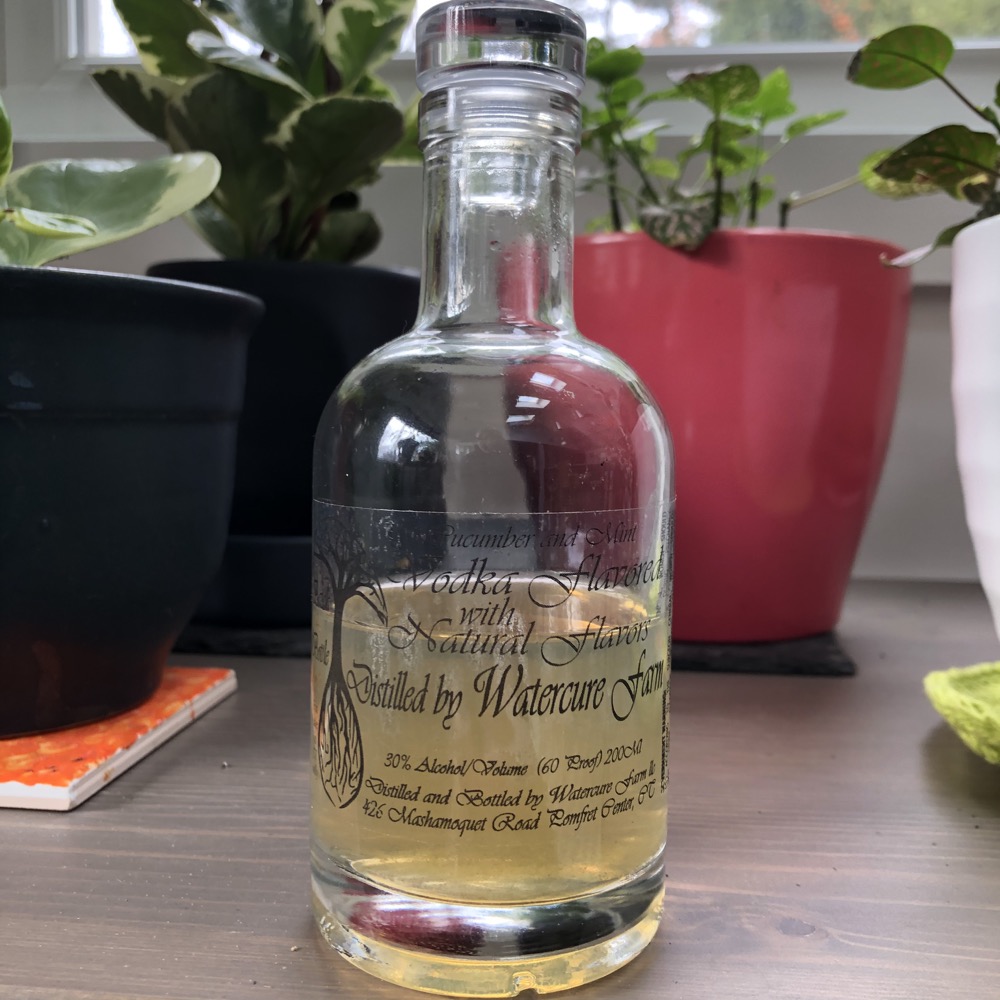 I most enjoyed the cucumber mint vodka and felt compelled to by a little 200mL bottle of it to bring home. (My wife rather loved the bottle itself.) As for the corn whisky… it was young corn whisky. No aging, just pretty much pure, local, legit ethanol and water. Oof. Of course most people would mix this with something, and its purity is its allure, but drinking it straight for me was a struggle.
Watercure is a great addition to the small but growing number of Connecticut distilleries. Two couples were enjoying mixed drinks on a random November Friday afternoon during my visit. This tells me it's pretty popular on weekends, and probably very popular on warm weather weekends.
Which also tells me the Nagys are probably going to have to buy another still soon and put an addition on their little purpose-built barn. Which… is what it's all about, right? Good for them and good for Pomfret.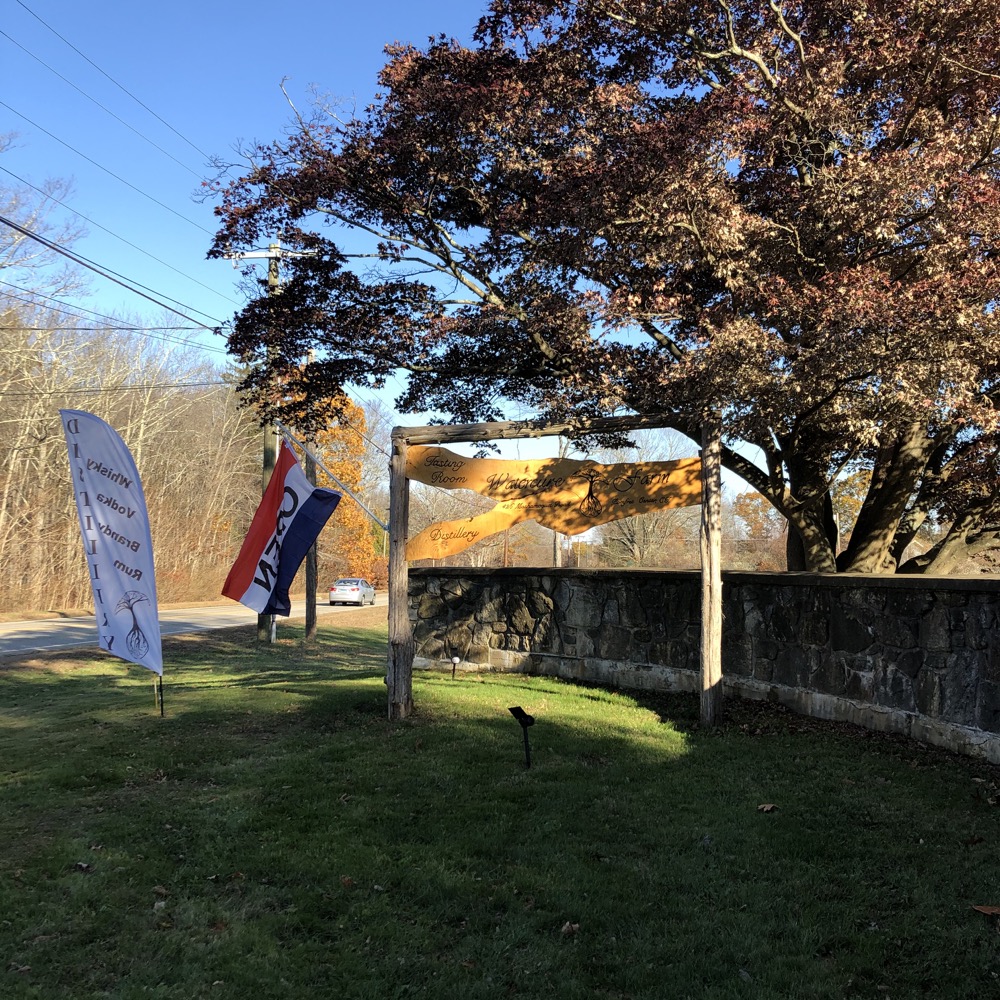 Watercure Farm Distillery
CTMQ's CT Distilleries