My Lists Keep Growing
Connecticut Historic Gardens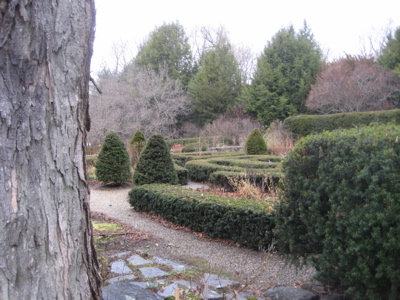 I like the idea behind this initiative. I like gardens and I like history so I must really like historical gardens. 13 of the current 15 gardens are at museums, so I'll get to them by default. Although, I've run into an issue with this… I've been to two in the winter (empty gardens – like the Bellamy-Ferriday House garden to the right – since revisited in June though) and one at night (couldn't see anything.) I did, however, happen to get married right in the middle of one, so that's cool. (And I'll be revisiting the winter/night ones as well. I just have to.)
One of the non-museum garden is only open to the public a couple times a year. That's sort of exciting for me.
Mission
Connecticut's Historic Gardens raises awareness of distinctive historic sites and gardens within Connecticut's borders. By pooling funding, design, marketing and volunteer resources, the organization increases programming opportunities, offering the public experiences rich in beauty and history, and brings greater recognition and visitation to member sites.
History
Connecticut's Historic Gardens was started in 2002 by a small group of historic sites with gardens that pooled resources to participate in the annual Connecticut Flower and Garden Show held in Hartford, Connecticut in February. Out of this collaboration came the development of a comprehensive brochure, funded by a grant from the Connecticut Commission on Culture & Tourism, that is now distributed in CT, MA and NY. The group now also participates in the New England Flower Show in Boston.
CTMQ Historic Garden Visits:
1. Webb-Deane-Stevens Museum, Wethersfield
2. Thankful Arnold House Garden, Haddam
3. Harriet Beecher Stowe Center, Hartford
4. Harkness Memorial State Park, Waterford
5. Bellamy-Ferriday Garden, Bethlehem
6. Glebe House Museum, Woodbury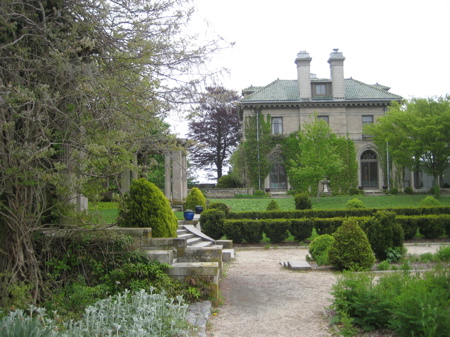 The historic gardens at Harknesss in Waterford
The As-Yet-Visited Gardens:
Butler-McCook House & Garden, Hartford (Night visit)
Florence Griswold Museum, Old Lyme
Hill-Stead Museum, Farmington
New London County Historical Society, New London
Osborne Homestead Museum, Derby
Promisek at Three Rivers Farm, Bridgewater (Rarely open!)
Roseland Cottage, Woodstock
Weir Farm, Wilton