Not Tuckering Out
Housatonic Overlook & Tucker's Ridge, Orange
January 2021
Rare is the trail that starts you off at the highlight of the trek. This is one such trail – presuming you begin at the northern end at the High Ridge Road turn-around. If you'd rather leave the views until you have some trail behind you, simply start at the southern entrance.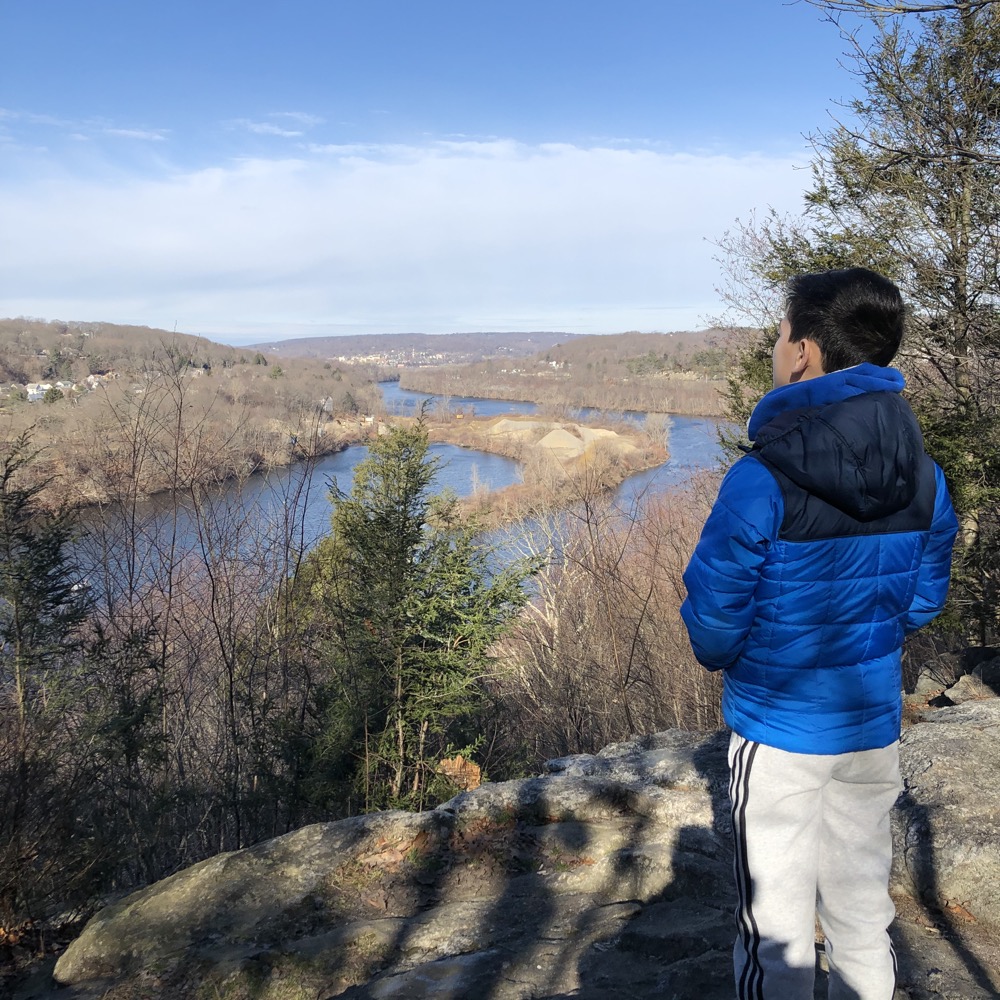 Armed with none of that knowledge, Calvin and I parked on a cold and clear January day, hopped out of the car, walked about 30 steps and wow, a view of the Housatonic River, Two Mile Island, and the downtowns of Shelton and Derby.
Cool. I wouldn't be surprised if Calvin expected to head right back to the warmth of the car at this point, but if he did, at least he kept it to himself. Even so, the main red trail that we took travels along the top of the cliff for a while which is cool, even by nine-year-old standards.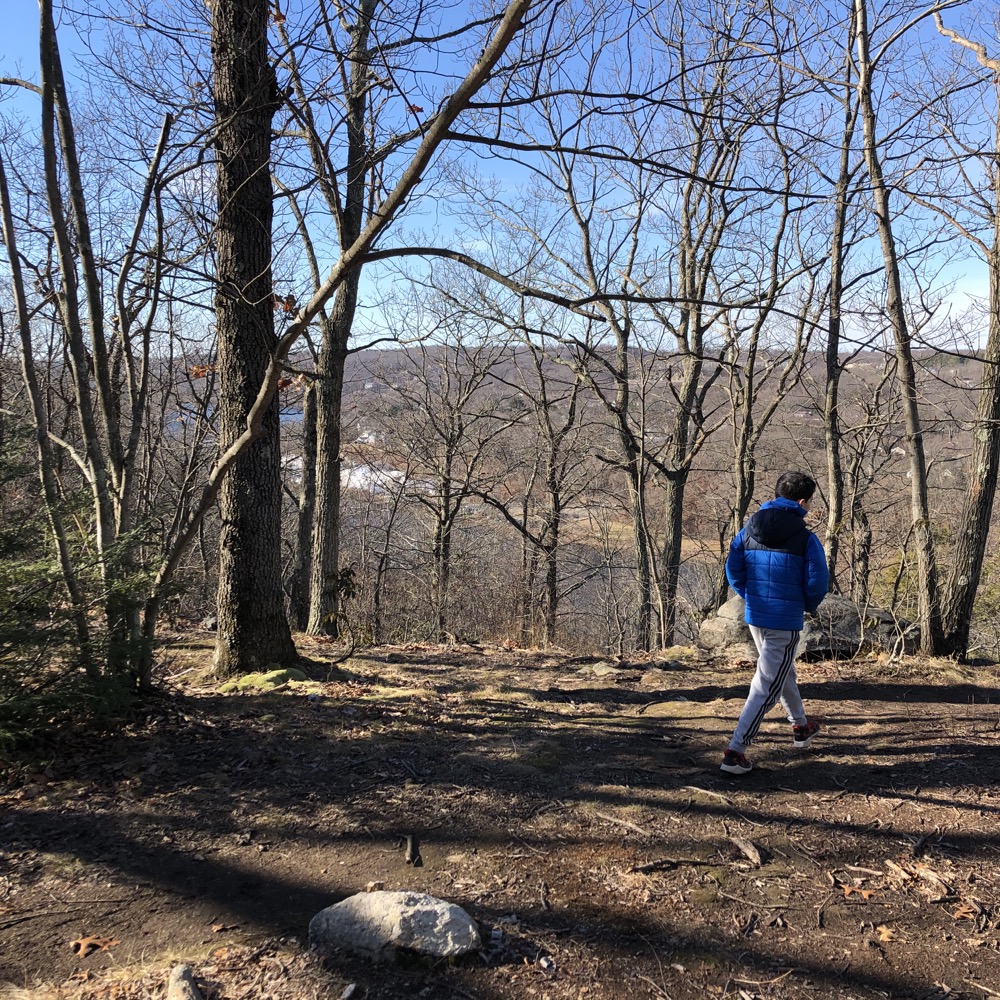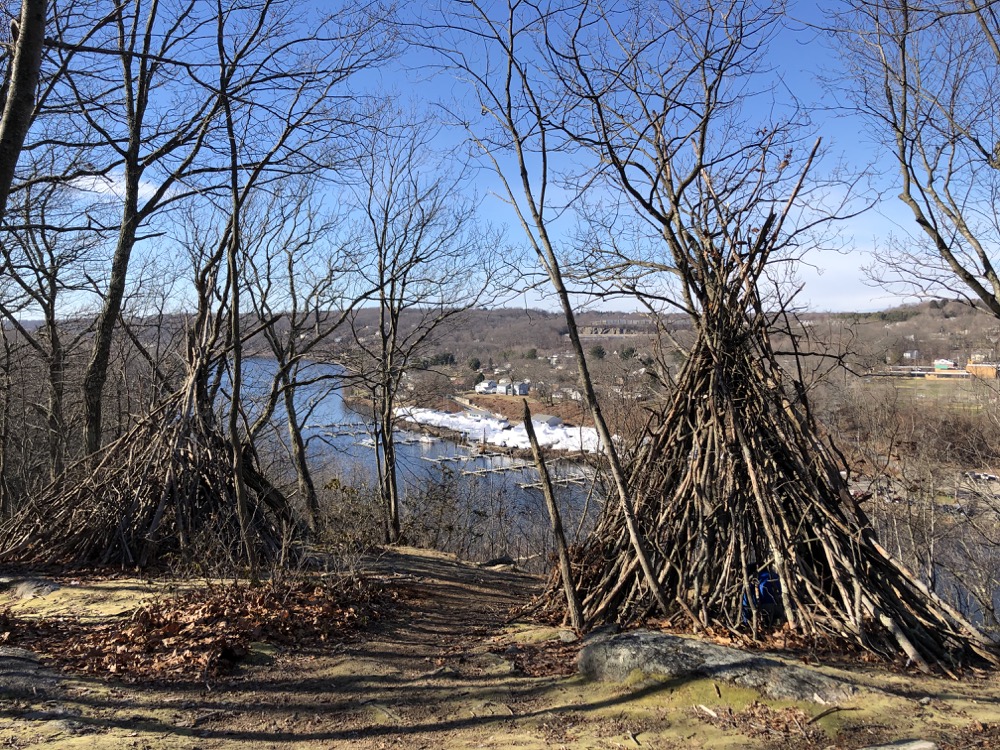 There are several trails here, but in total, they add up to less than two miles. The red trail forms a horseshoe – along the clifftop, then east up a hill and then north along its ridge to some wetlands. At that point, you must jump off on the yellow or the green trail and find your way back to your car.
We bushwhacked a bit and trail-hopped here and there to get a full picture of the place without hiking every foot of it. But we did hike the full length of the red trail and I would recommend you do the same. The cliff walk I keep referencing is called the eastern palisade according to at least one source. That sounds impressive, and I like it, but with the Palisades in New York and New Jersey not too far away, I can't give it that name.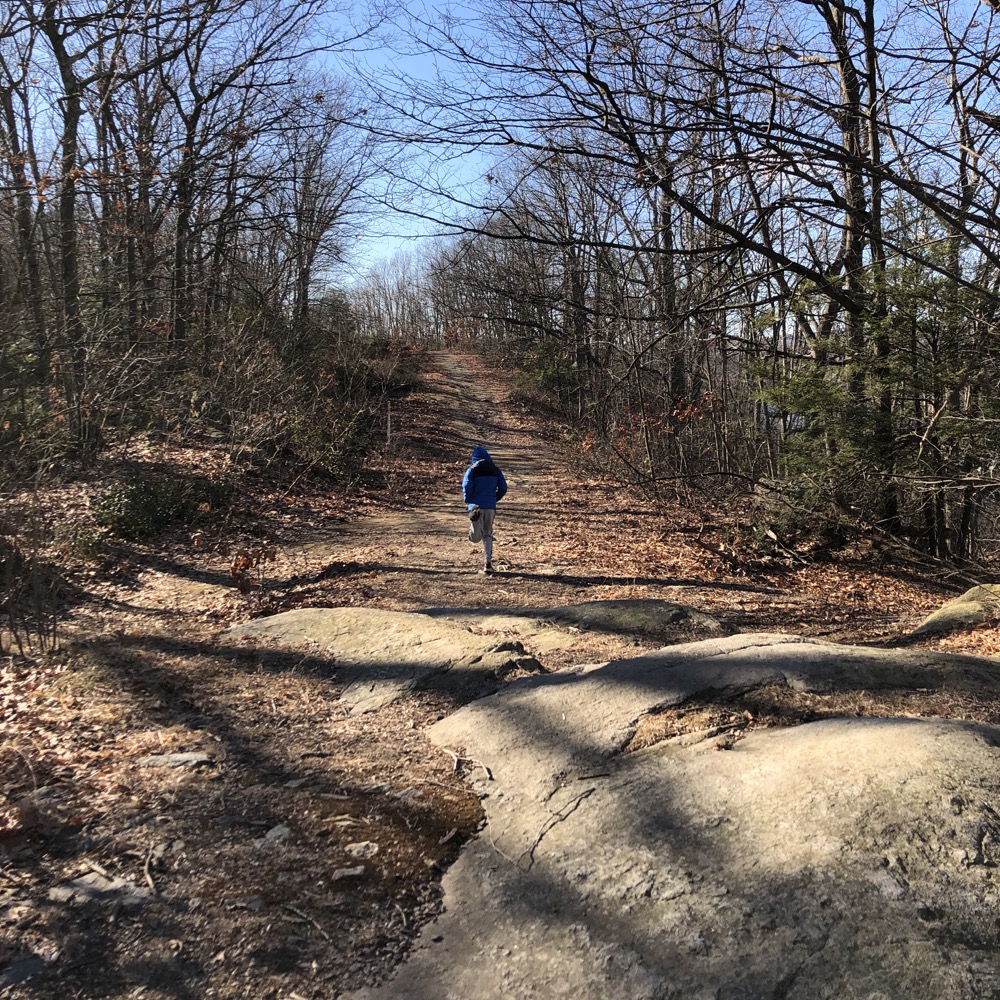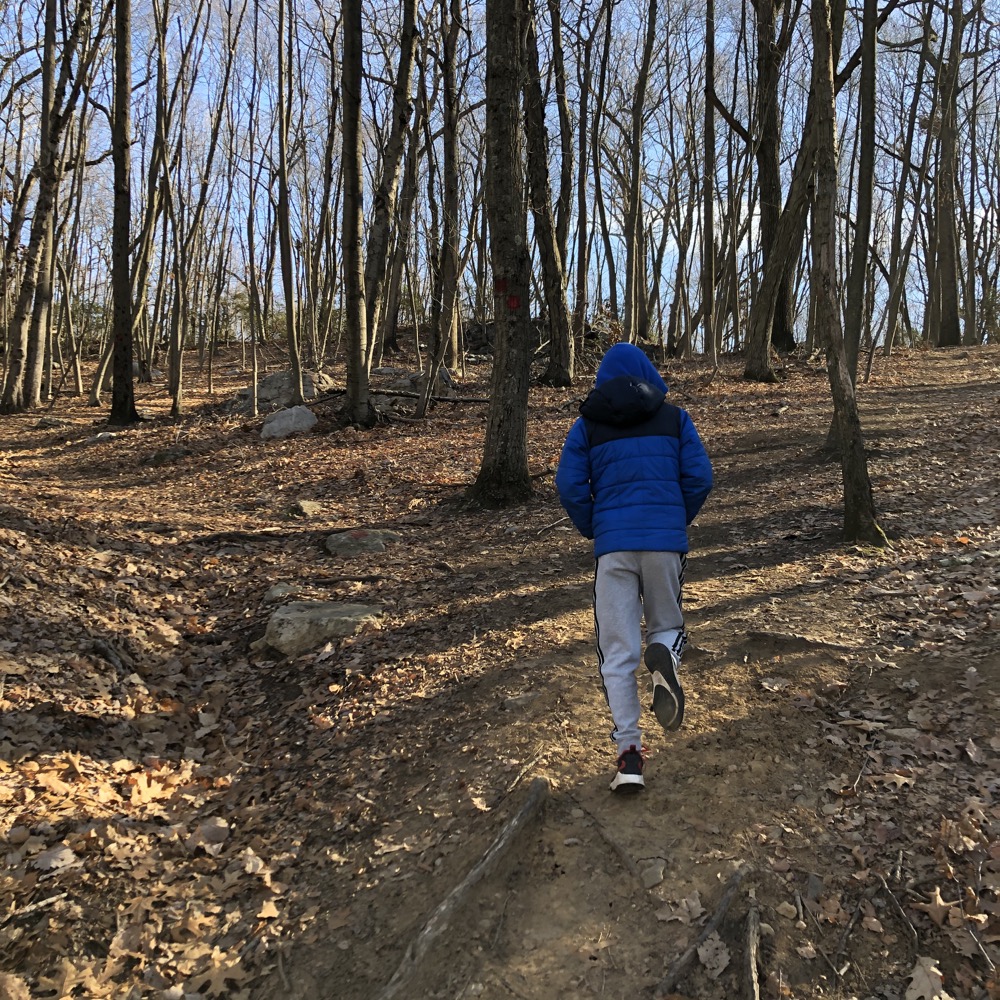 Someone had built two teepees at a lookout point. Fairly well-made ones at that. Kids having fun? Local school showing where local native Americans stood sentry over the river centuries ago? I have no idea, but I do know that at the end of our next hike over at Maltby Lakes, we came upon a man building teepees. Maybe it's an Orange/West Haven thing that I'm not familiar with.
Okay, this land feature is called Tucker's Ridge, not the eastern palisade. Good. A pipeline easement travels this same route and more-or-less shares space with the red trail now and again.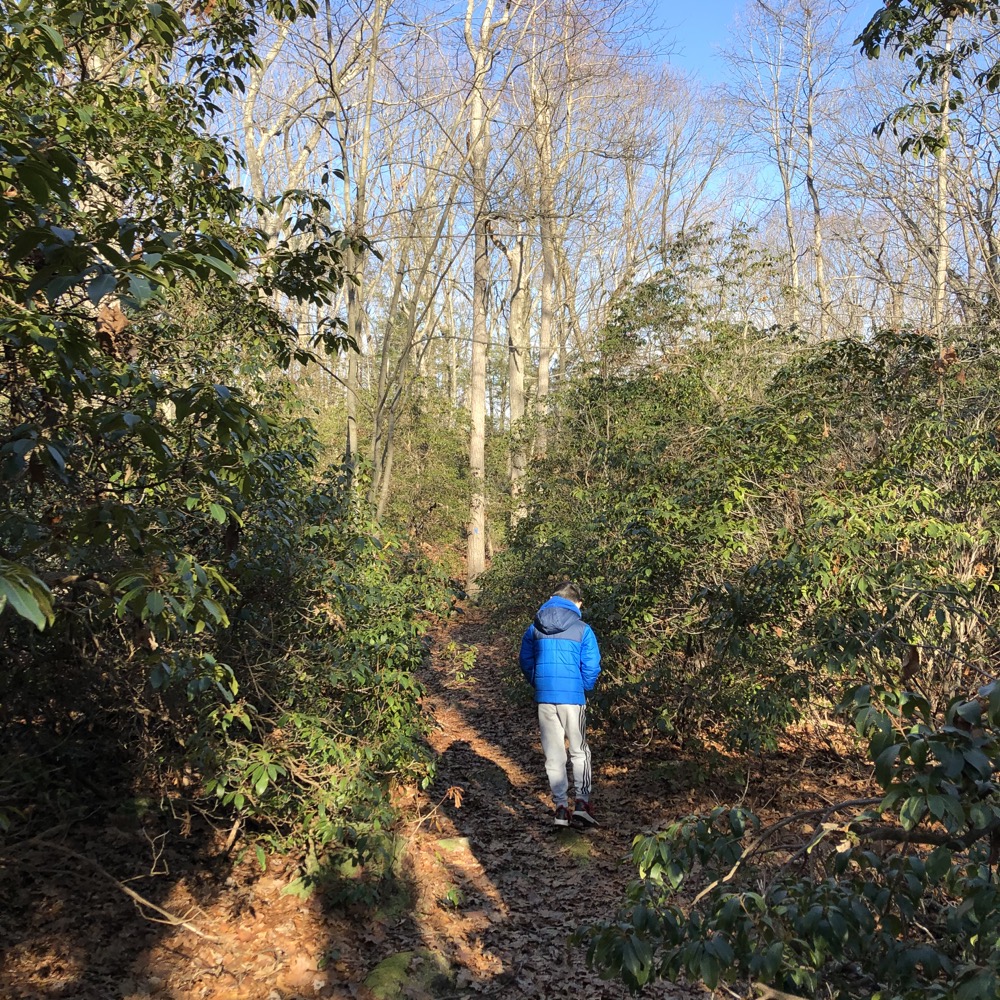 At the southern end of the property, we left the ridge and the views and headed east, into the woods. As mentioned, the red trail continues around the the property boundary while a small network of blue and white trails connect through the woods inside of the loop.
These are nice woods; full of mountain laurel and cliffs and fairly interesting boulders. I gave Calvin a few lessons in bushwhacking: Orienting oneself to the land, knowing from whence you came, how to ascend a super steep incline faster by not going straight up, etc. He seemed attentive, other than when he insisted he'd beat me up the incline by going straight. (I could have had a snack before he finally joined me on top.)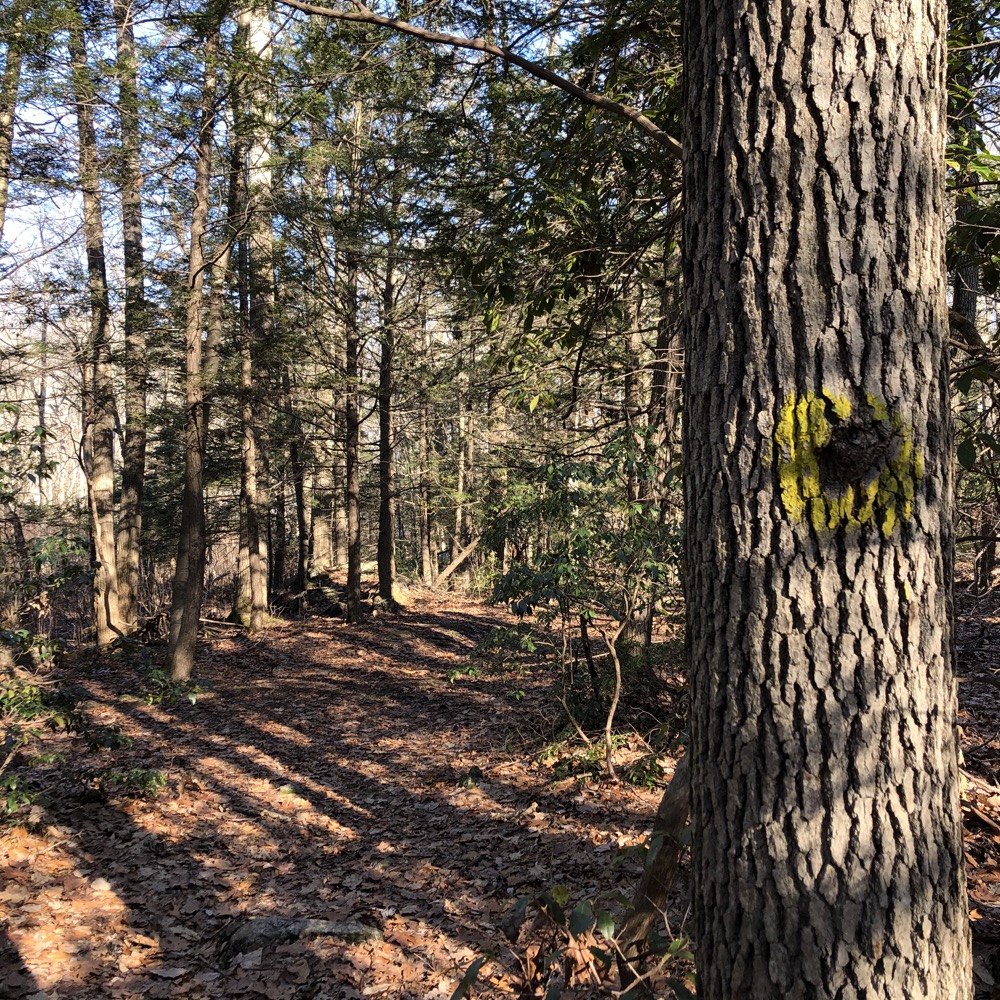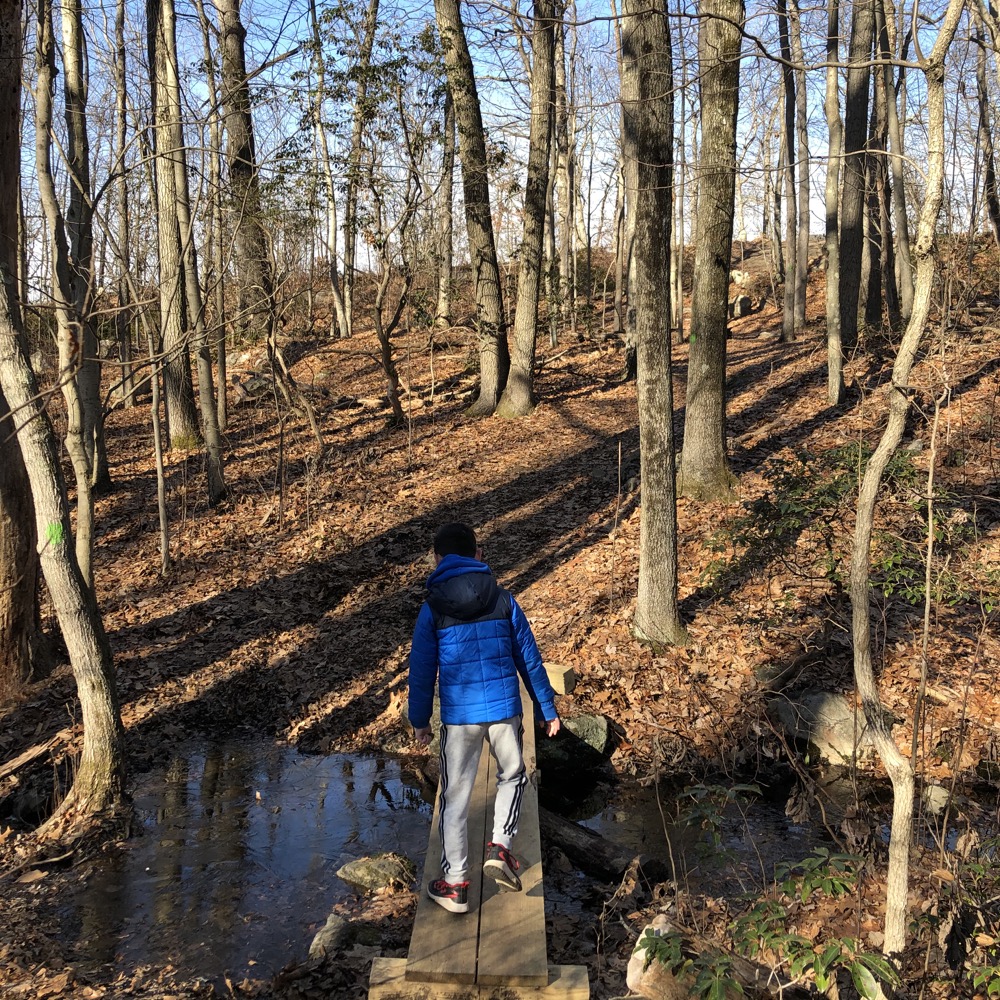 We poked around the blue trail, then the white and the yellow. We were at the northern end of the parcel now and its wetlands. If it was wet on a cold day in January, I imagine this to be fairly unpleasant in April. There are a few bridges and stanchions at least.
Lastly we traveled the green trail back to the pipeline right-of-way which we followed to our car. The town of Orange has a beauty spot here and after years and years of locals using the trails, the town officially acquired it in 2001. Amazingly, we didn't find evidence of partying teens but I imaging that has to be a thing here. (Risk of death by falling is pretty high, so maybe Orange teens are smarter than elsewhere.)
This was a fun little hike with surprisingly nice views. And it didn't tucker us out.