Stone Cold Cool
Guilford (Google Maps location)
September 8, 2012
The state of Connecticut operates fewer museums than you'd think. There really are just a handful, and many of them rely on partnerships with volunteers (Old New-Gate Prison in East Granby) and/or local historical societies (Prudence Crandall House in Canterbury). These relationships are hard to parse, but really, why would anyone care to do so? The important thing here is that the Henry Whitfield House has been a state owned and run museum since 1899. Eighteen Ninety-Nine! That's bananas!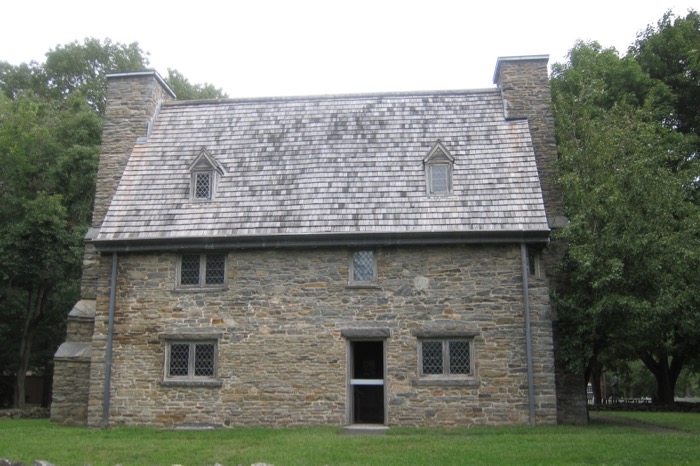 Additionally, it is a rare National Historic Landmark! A CTMQ superlative! And just for fun, it's also on the official route of the Menunkatuck section of the New England National Scenic Trail. We've hit the jackpot here in Guilford, folks.
Situated near the lovely Guilford Green, this is not just another historic house museum. I'll give you a second to absorb the following:
This is the oldest surviving house in Connecticut
It is one of the oldest stone American Colonial houses in the country.
It is the second oldest house in New England.
Whoa.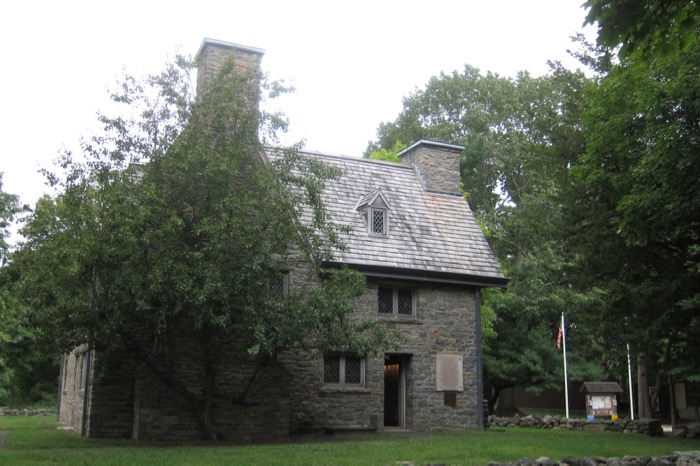 And – spoiler alert – it makes for a pretty great little museum as well. So let's start at the beginning… well, let me qualify that. At white man's beginnings in what is now Guilford, Connecticut.
Henry Whitfield was born in the 16th century in England. Seriously. This is real history here, people. He befriended the future founder of the Saybrook colony in Connecticut, George Fenwick at uni in England. He became a minister of the Church of England and lived a normal life doing that for quite a while. Then a whole thing happened in England under King Charles I and the Church started persecuting separatists and Puritans. Whitfield joined the Puritan cause and really stood up to the Church and the King by… hopping on a ship and sailing away to the New Haven Colony. Tough guy.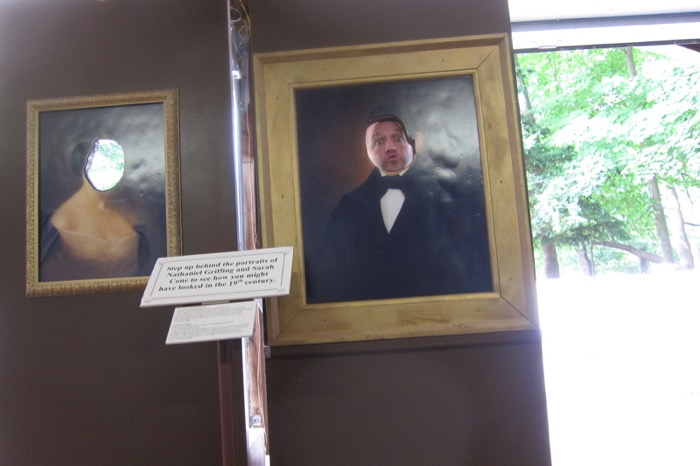 Just kidding, the Puritans were tough folks. Once in New Haven, he had a chat with his old friend Fenwick as well as Reverend John Davenport, who most CTMQ readers know as the founder of the New Haven Colony. (Right?) He and his crew purchased some land from the Menunkatucks and founded what became Guilford. They built a house – a handsome stone house for Whitfield – that also served as young Guilford's church and courthouse and even as a fortification of sorts. This was all done in 1639-40.
We'll talk about the house and the exhibits in a minute, but let's finish with our boy Henry. There seems to be some contradictory stories about his later life. He didn't just live out his years in Guilford. No. For some reason he abandoned his town and his congregation and scuttled back to Jolly Olde England. Something to do with Oliver Cromwell and the changed attitudes toward Puritans. He wound up getting reinstated into the Church and then he died in England.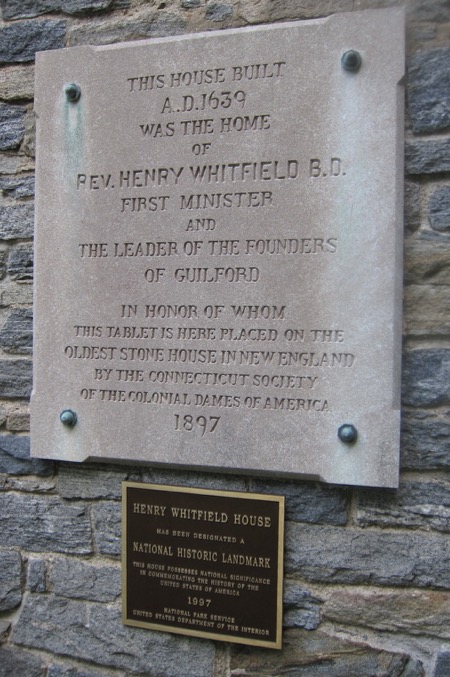 Some sources claim he left his wife and a bunch of his nine children in Guilford. The museum's signage says that his wife and a few kids traveled with him back to the Olde Country. I'll believe the museum because, well, they're the experts and frankly it's what I want to believe. Of course, they may just be covering for their man.
On to the house. How did it last 400 years? Mostly because the walls here are two-feet thick because of all the quarried stone available. The original mortar was made from clay and shells, which I find to be pretty cool. You can still see some shells in parts of the house. As I mentioned, the thick-walled house was also a fortress; the idea being it would shield residents from future attacks.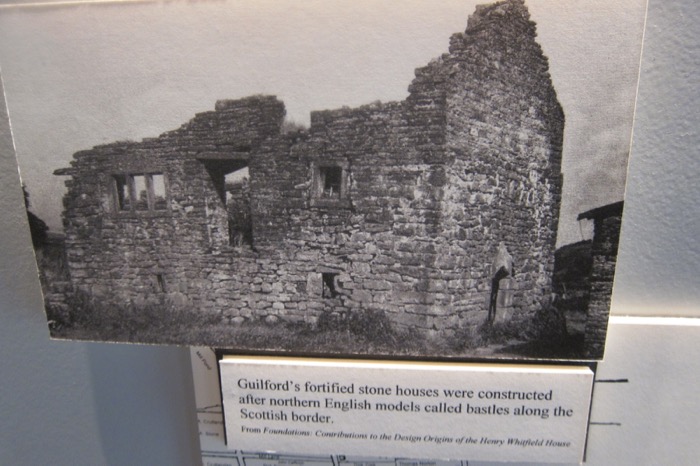 This required an unique architectural style unique for its time period and location. It is styled in the tradition of the estates of northern England and Scotland, rather than the lower English and London style found in the rest of New England. When the first settlers constructed the house, they built large rooms, ignoring the fact that smaller rooms would be easier to heat. They also ignored the abundance of wood available to them to construct an easily heated, yet still sturdy, home.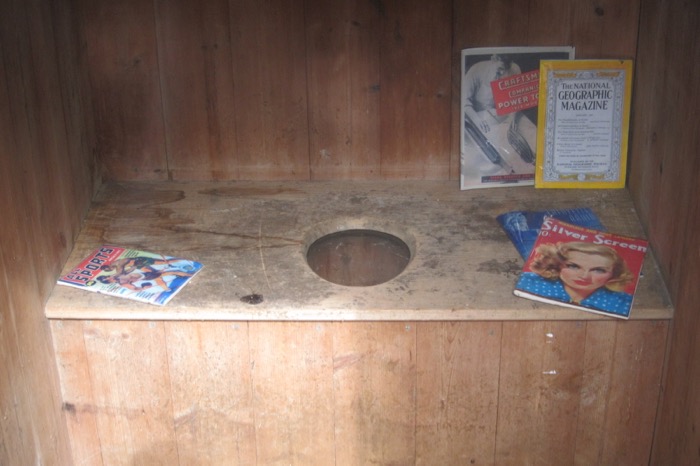 Again, the idea was that it would serve as a fort when needed. The great hall is thirty-three feet in length and fifteen feet in width and was built in a perpendicular ell to the rest of the house. That is a huge room for the time period. It served as a gathering place for worship as well as a place for travelers to gather and sleep. Back then, the settlers feared the King of England sending troops to punish them, they feared the Dutch who were at war with England and also nearby in New Amsterdam (NY), and of course they feared the natives. These all seem like rational fears to me.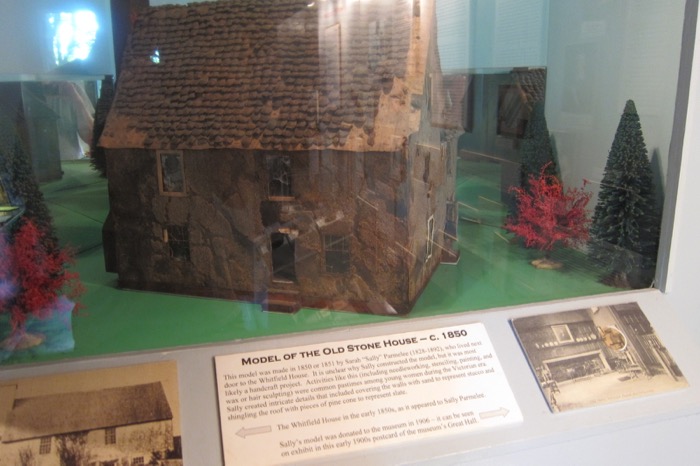 There is an oddly placed window in the house that some believe is an original placement. The reason? It looks out onto Long Island Sound and would have helped the residents to prepare for any of the aforementioned attacks.
Not much, if any, of the "stuff" in the house today was owned by the Whitfields. But almost all of it is from authentically from Guilford. No way would a family in 1640 have all this furniture. The house has also been remodeled a bunch of times over the centuries.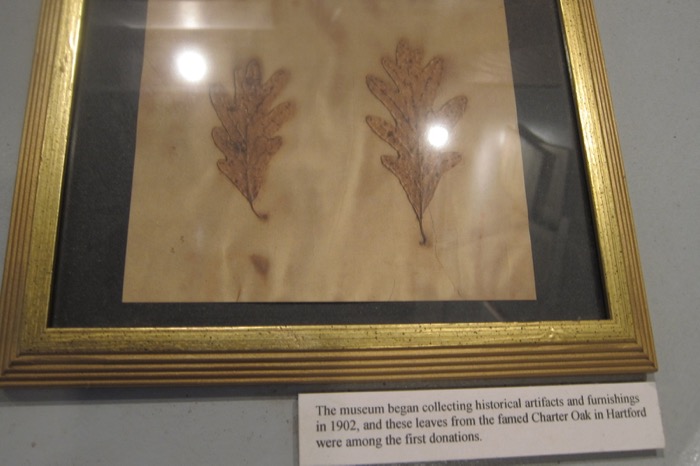 There was a fire here in 1860, so the owner updated and remodeled the house. The idea was, as you can imagine, to modernize its appearance and make it more comfortable to live in. Although it was 240 years old, it was still "just a house" that people lived in. I can't give them grief for what they did.
They raised the roof, put in a large addition off the back, altered the interior layout, and covered the granite structure with stucco. This was a working farm back then, but even so, the house never really lost its historical significance.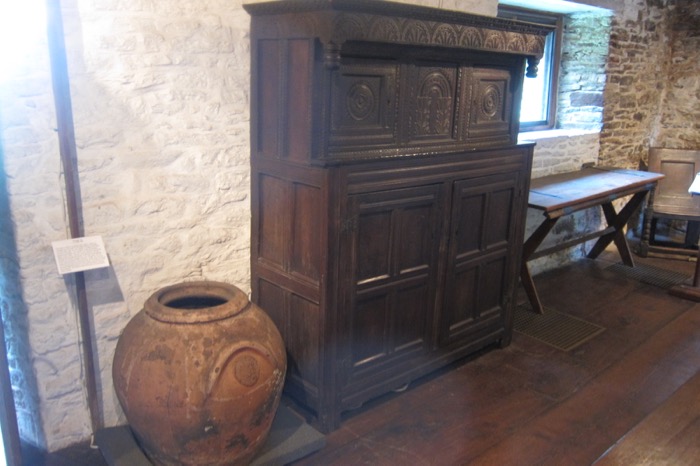 A short while later, the country celebrated its Centennial. Concurrently, a movement called The Colonial Revival was sweeping America. It lasted from 1876 into the 1930's and was exactly what it sounds like. American's were totally into outfitting their homes in a retro-Colonial style and building new structures out of the past.
For some people, like my parents, this trend continues to this day. Zing!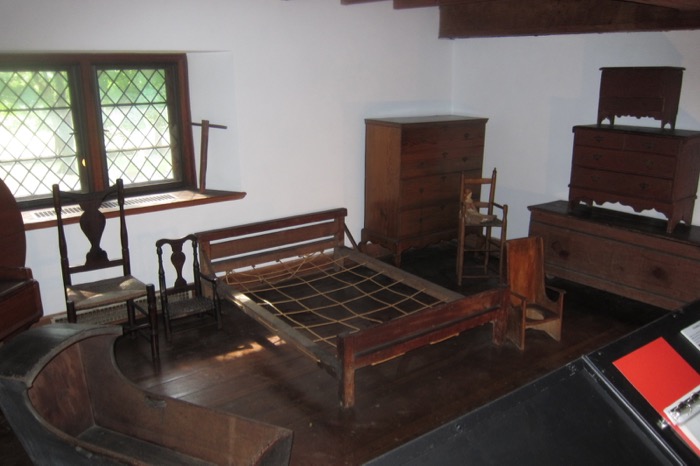 Colonial Williamsburg was created when this movement began and The Whitfield House was turned into a museum – even though people still lived there in 1899. By 1902, an architect was hired to truly reform the house back to its original, truly colonial state.
He and his team basically undid all the 1868 work; removed the rear addition, removed the stucco, and then restored the rest of the house to its original state as much as possible. They used physical clues, research, and educated guesses. Of course, the house was already 200 years old before cameras were invented, so it was a pretty tough task. That means that they also removed everything added to the original stone structure (woodwork, windows, etc.) and replaced with original materials as much as possible.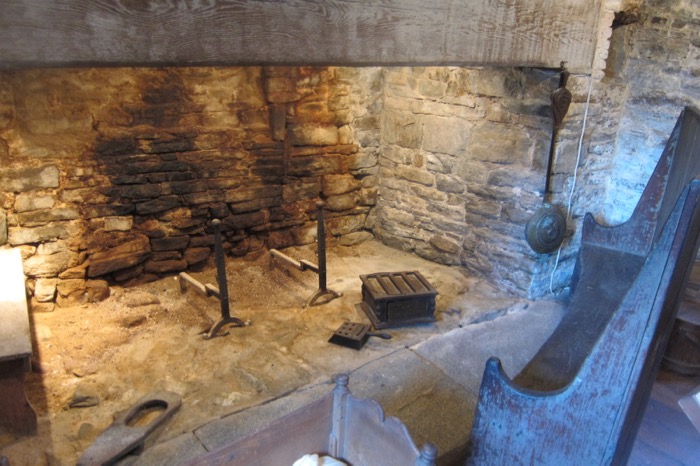 But they also built a large fireplace and chimney stack even though there was no evidence such a structure existed in 1640. This upset a bunch of historians, but… eh, whatareyougonnado.
I toured the house myself, but it is clear that a guided tour would be very informative and dare I say… fun. For non-tour goers like me, there are more than enough explanatory placards all over the place. It's not like I'd have thought twice about this chair: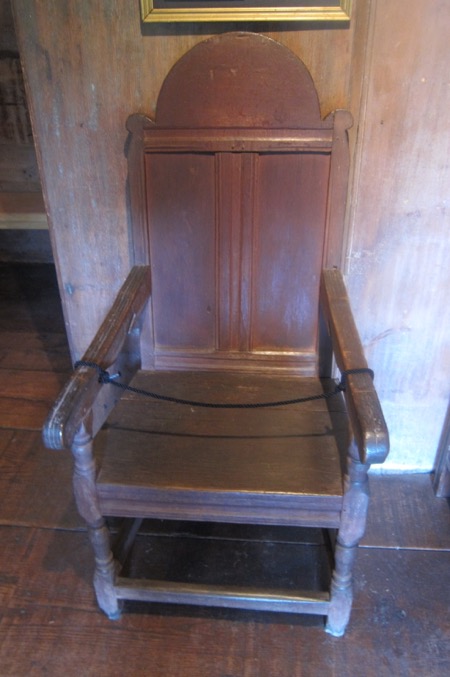 … if a sign didn't tell me that this was the most important piece in the joint. It was William Leete's chair from the mid-17th century! Leete was one of Guilford's founders and went on to become Governor of the New Haven colony before governing the whole of the Connecticut Colony.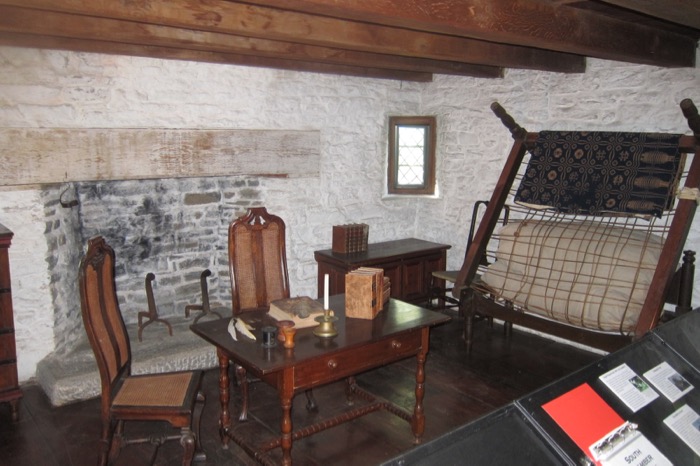 Visitors learn things like how important white-washed walls were (to brighten up the dank place) and how people used fat-dipped cattails to slowly burn for some nighttime light. How the beds were smaller then – not necessarily because humans were all that much smaller, but rather because humans slept in a semi-upright position to "aid in their digestion."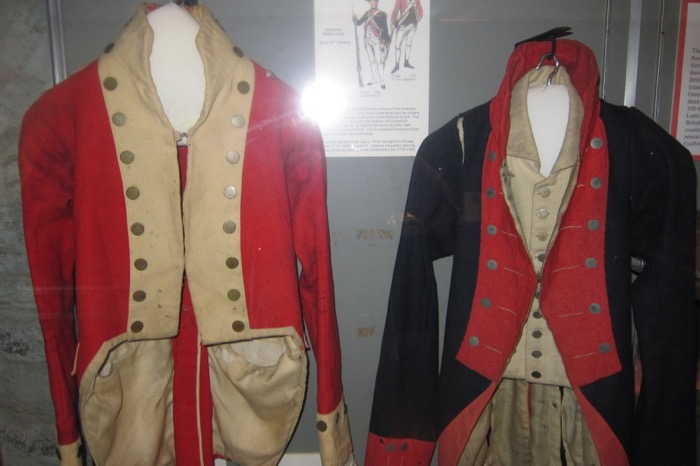 The garret is a room of mystery to this day. We know that the dormers up there were added in the last restoration for ventilation and light, but we don't know how the space was used by the Whitfields. It is thought it housed supplies for battle.
And there was a battle here! During the War for Independence, the British attacked what is now called Leete's Island and burned down a bunch of houses and stuff. Patriots countered the Brits and fought them off, but two Guilfordites lost their lives. I don't think the town suffered during the War of 1812, but they were on constant alert and ready to roll as needed.
I'm glossing over a bunch of stuff here at the Whitfield House Museum. You just need to go there yourselves. But I'd be remiss if I failed to point out the Tower Clock from Guilford's First Congregational Church that is kept here.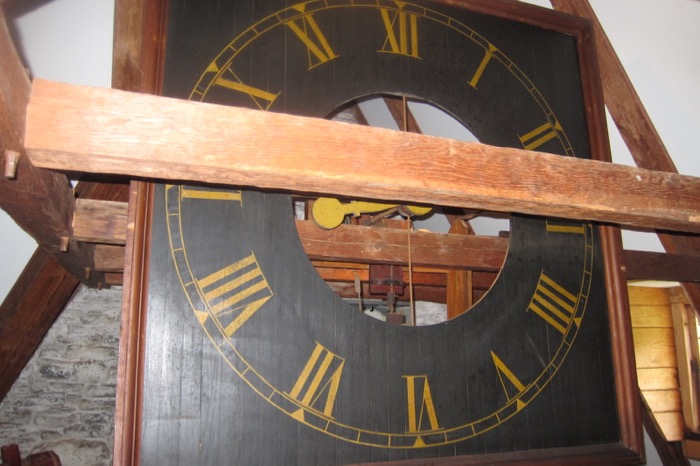 A local named Ebenezer Parmalee (whose house is now the Hyland Museum in town) built the church a clock in 1726. This supposedly made the Guilford church the first in Connecticut with a steeple, a bell, and a clock. Okay, that's so specifically random I'm not going to challenge the claim. Go ahead with your bad self, FCC of Guilford!
The clock was removed in the 1800's, replaced by a more modern one. It was saved and is now the oldest surviving tower clock remaining in New England – again, no point in checking on that claim. It's all yours, Guilford.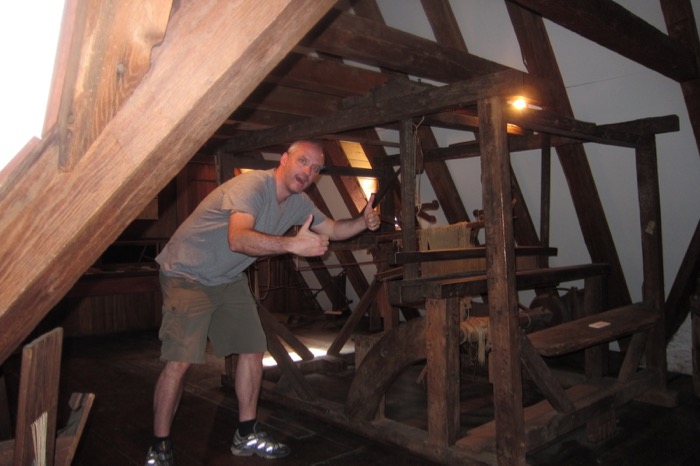 The clock only has one hand, as back in the day, no one had any need for the specificity of minutes. It is gravity powered and has a bunch of replacement parts, but it's still pretty cool and unique.
I skipped over the whole Faulkner Island Lighthouse display, as it's surely long gone by now. It was well done – if a bit wordy – and essentially explained the nearby structure's history and local importance, destruction by fire, and rebuilding. You can now tour the restored lighthouse if you wish.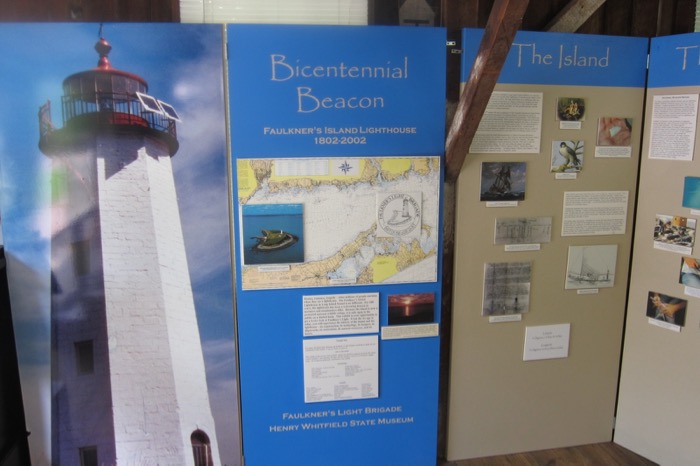 Other displays fill out the museum, which is very well presented and as far as American history goes, this place is certainly important – WAY more important than the state acts like it is.
I get that people aren't rushing to Guilford to see a dark and drafty stone house from the 400 years ago. I'll never pretend otherwise. But you know what? The Whitfield house is rad. Heck, it appears on Guilford's town seal and police vehicle decals!
Guilford has a bunch of historic house museums, and this one is king. Get down there and check them out. After all, this particular one may only last 400 more years!