Game 11, Mexico vs. Angola
Ay Chihuahua Mexican Restaurant and Cantina
June 16 , 2006
Since it was Friday and since it was a nice hot day here in central Connecticut, Ed and I figured that we simply had to take in the Mexico vs. Angola game at a true Mexican cantina. Now, Hartford has a massive Hispanic population, but they are mostly Puerto Ricans here. If Puerto Rico ever makes the World Cup finals, Hartford will have to declare a city holiday.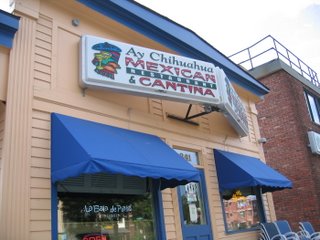 Ed and I met up at Ay Chihuahua Mexican Restaurant and Cantina on Franklin Avenue. Despite the totally cheesy name, this place is authentic – owned, staffed, and patronized by Mexicans. The place is also quite large and very nice inside. Even better, beers were 2 for 1 during the game. Ay chihuahua indeed.
The game progressed and Mexico had a ton of chances to score but had nothing to show for it at halftime. The crowd, of which Ed and I stood out like… well, like two tall northern European dudes who just came from corporate jobs amongst 50 or so short day-laborer Mexican guys. Oh yeah – and we were snapping pictures too, which didn't exactly endear us to our new amigos.
You see, since our country is building a freaking wall along the Mexican border, apparently that's not going over too well in the Mexican-American community. (Chanting "Osama" at our national soccer team is a unique way to express their outrage) I never felt uncomfortable, but I also didn't turn around and snap a group photo of the 25 guys behind us either. We were asked what we were doing (which I expected) so I simply told them we were with ICE and was snapping pictures to document illegal aliens. That's when I learned sarcasm doesn't translate so well.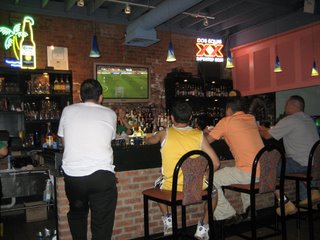 Anyway, at halftime and the score knotted at 0-0, Ed and I realized that we'd yet to see a goal scored for the team we were "rooting" for on one of our excursions. (We missed the early Portuguese goal last weekend.) We kept our curse to ourselves and enjoyed a meta-moment when an advertisement for the very restaurant we were in aired on Univision. Ed, a novice to the world of photo-blogging, fumbled and bumbled around with his new camera for the entire 30-second ad and ended up with 6 pictures of the floor. Ay-yi-yi… gringo stupido.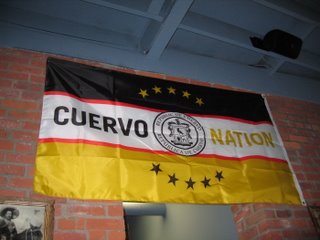 The game ended 0-0 and the crowd was thoroughly unexcited. We were getting more glares and grumbles so we simply paid our bill and hit the road. I really wanted to shout, "Viva la Revolucion!" Or, "Viva la Raza!" Or something like that to show our appreciacion, por favor, but alas, I did not. Muy, mucho scared.

The next day, Damian cheered on Iran and Ghana…
2006 World Cup Tour