Fudge 2020
Bolton Notch State Park Trails (South), Bolton
October 2020
Li'l ol' Bolton Notch State Park. With its horrible access road and graffiti covered rock outcrops… is, dare I say, awesome? Yes, it's awesome. It is a hub for so many things! Two lengthy multi-use trails – one which is a state park that travels through this state park! A real cave! The Shenipsit Trail! A really cool tunnel! Access to cool town properies in Bolton and Vernon! History! And trails.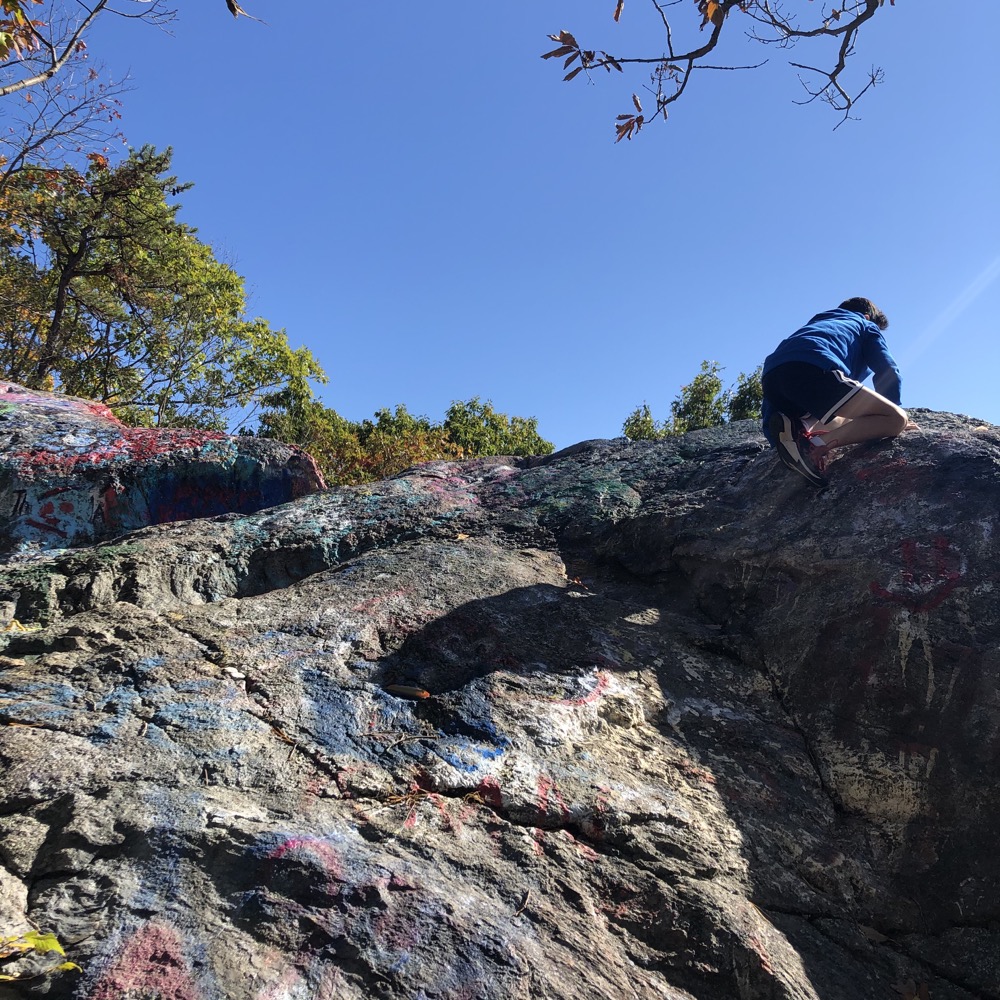 This page is about the trails. But only the two trails in the southern (Bolton) section of the park. Yes, it probably comes as a surprise to many, but there is a loop trail hidden away a mile or so north off of the rail trail and through Vernon's Valley Falls Park. Heck, the vast majority of Bolton Notch visitors don't even hike the easily accessible Bolton trails. And of those that do, the vast majority of them only hike a small portion of one trail – to get to the overlook.
Everyone's missing out. Calvin and I had a blast walking the two main loop trails here, and I'd encourage everyone to do the same. (On this particular hike, we skipped Squaw Cave, but you can read all about that here.)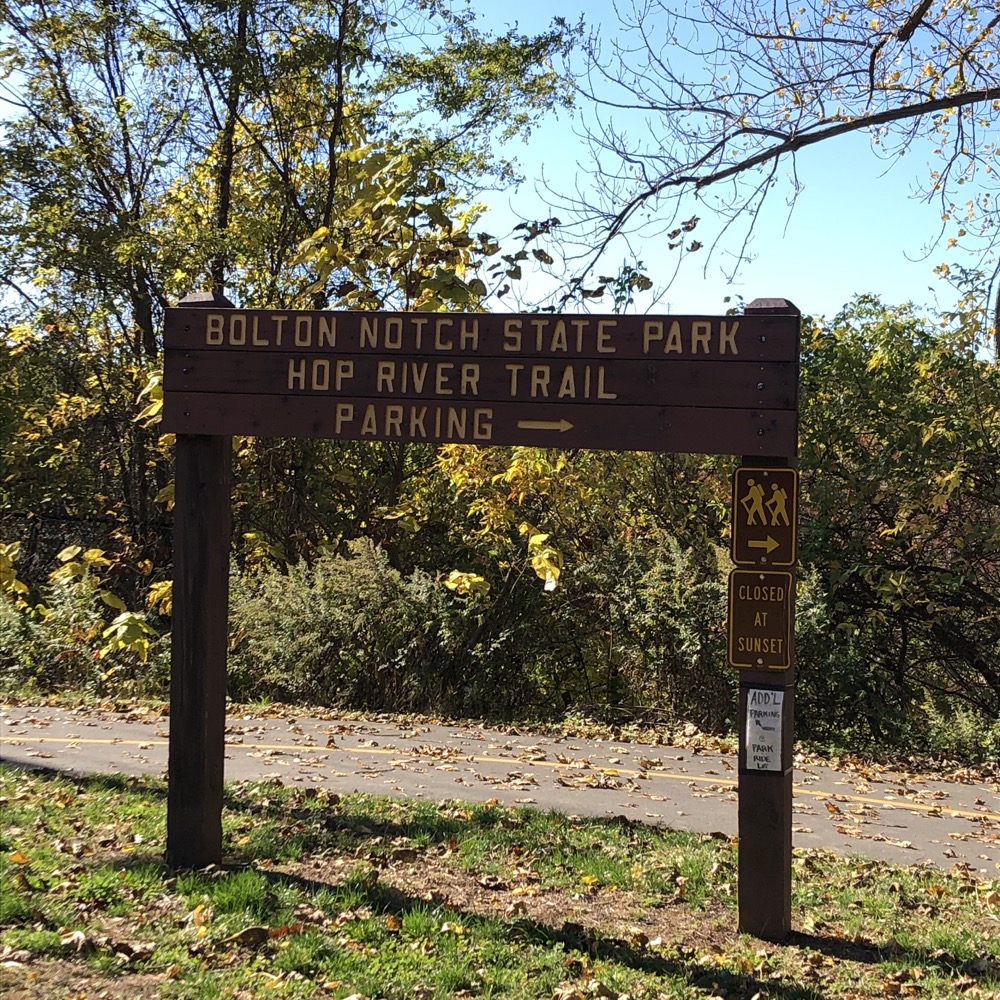 Garnet Trail (Very short)
A.k.a. "the short trail most people are aware of." From the parking area, the shared trailhead can be found just west along the Hop River Trail. It is blazed yellow and red, but heading up the hill, the Garnet Trail (red-blazed) peels off to the right.
It's fairly steep in some places and if it's icy or even wet, ill-prepared and/or unawares hikers might run into some trouble. As for us, the only trouble we ran into was vulgar graffiti.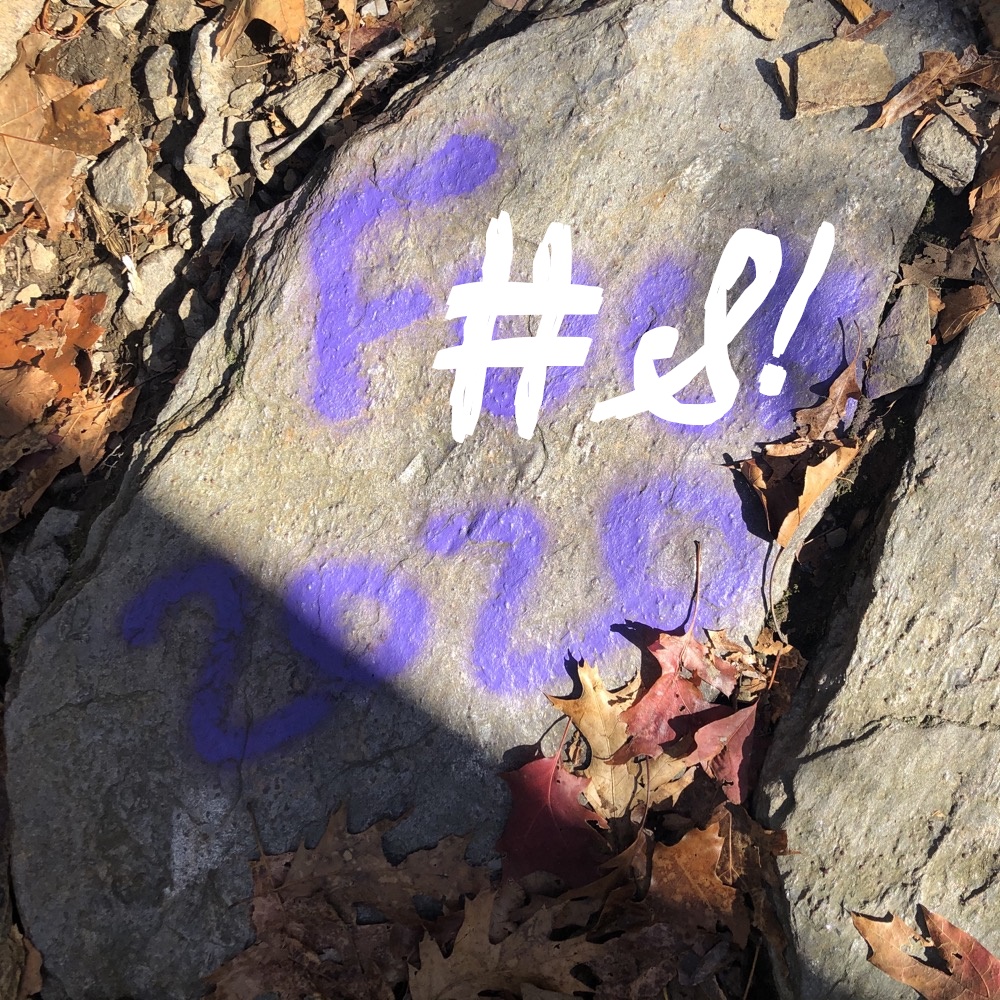 I can't really argue with that sentiment to be honest. (If you're reading this deep into the future, 2020 was the COVID pandemic year. And boy, it would be really great if people have forgotten about it in the future.)
Within a matter of minutes, we'd reached the famous flag overlook. The one you see from I-384 just past where the cops hide out in the woods. Yeah, you know where I'm talking about. There is a lot of graffiti up here and Calvin was very concerned for the safety of the vandals. (I'm guessing the flag is sanctioned to some degree, as it does deter something else being painted on the very visible outcropping.)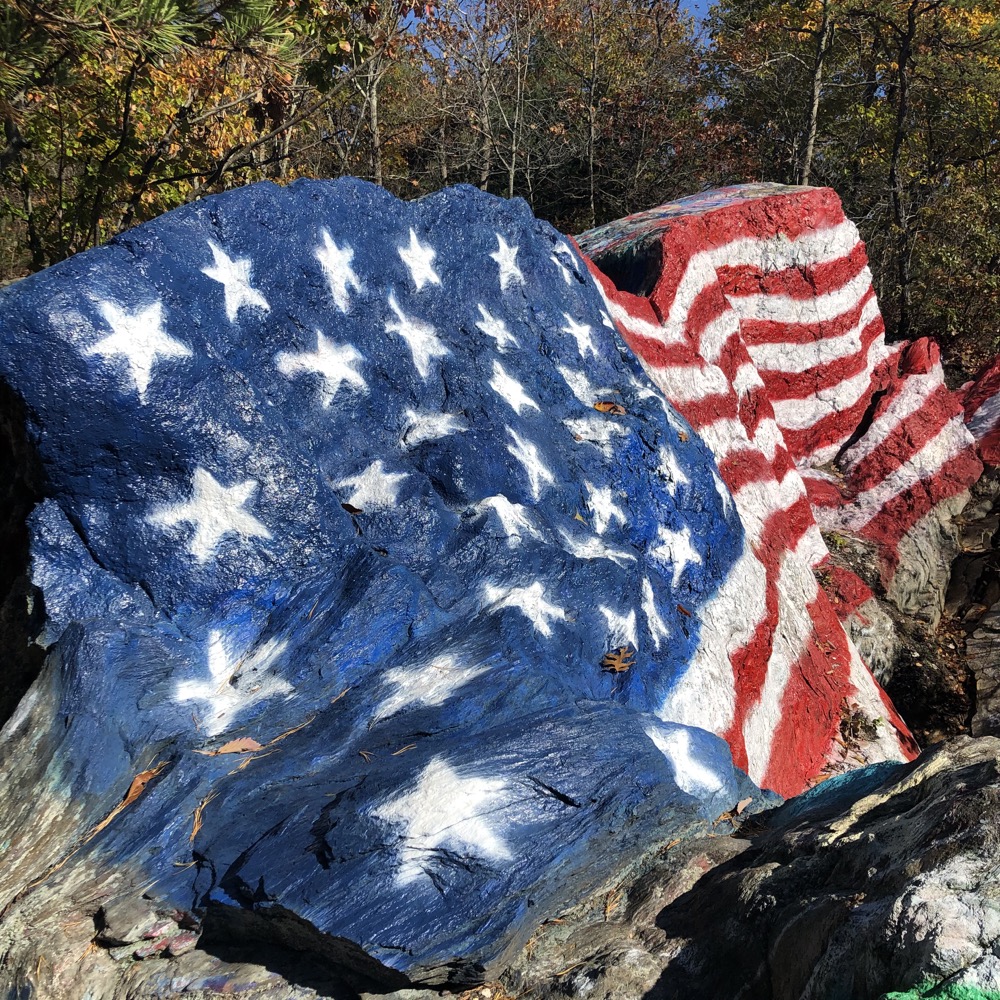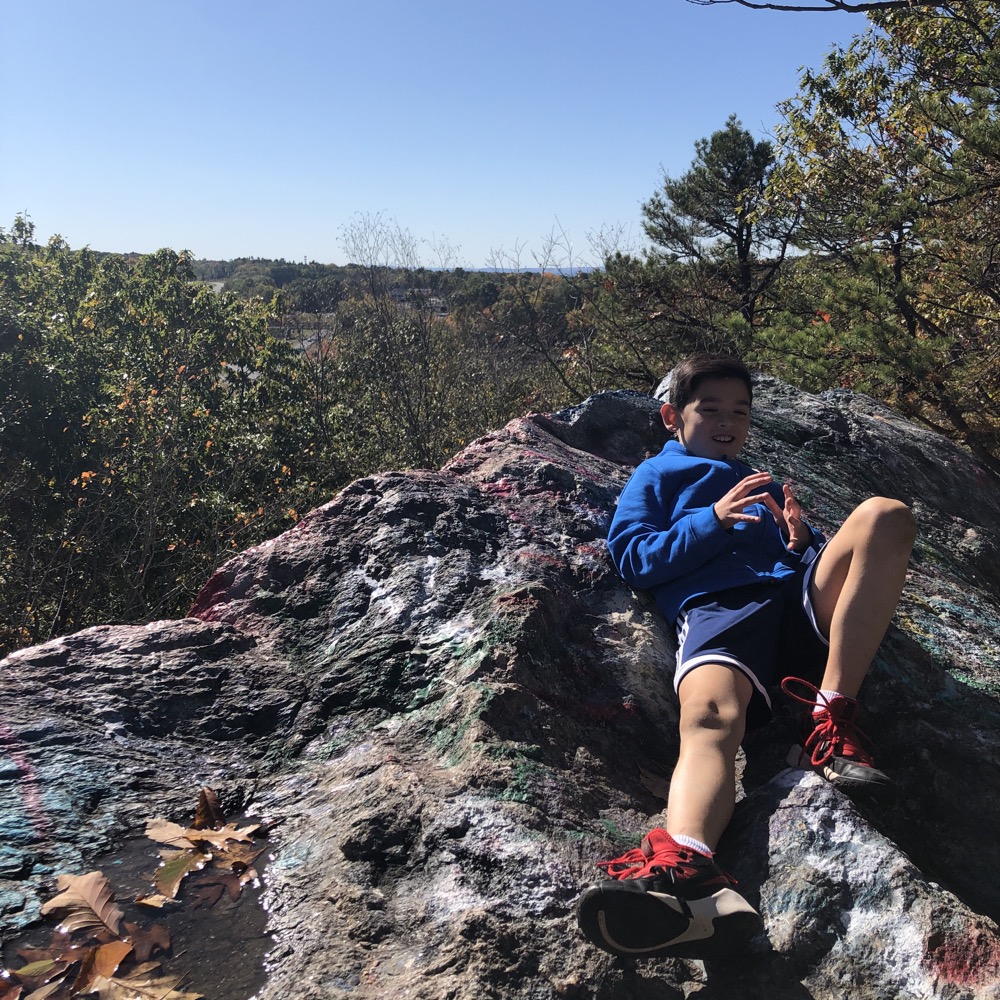 We poked around a bit and explored a few herd paths that took us to other, less exciting overlooks. The eastern views up here are nice enough for this part of the state, even with the highway below. But after a few minutes and other families scrambling around during the $#@! 2020 pandemic, we descended back down to the trail split with the yellow-blazed Mohegan Trail.
Mohegan Trail (1.5 miles)
People. Don't just go to the overlook and go home. Hike this trail! It's not very long, not very strenuous, and not at all crowded. But it's fun!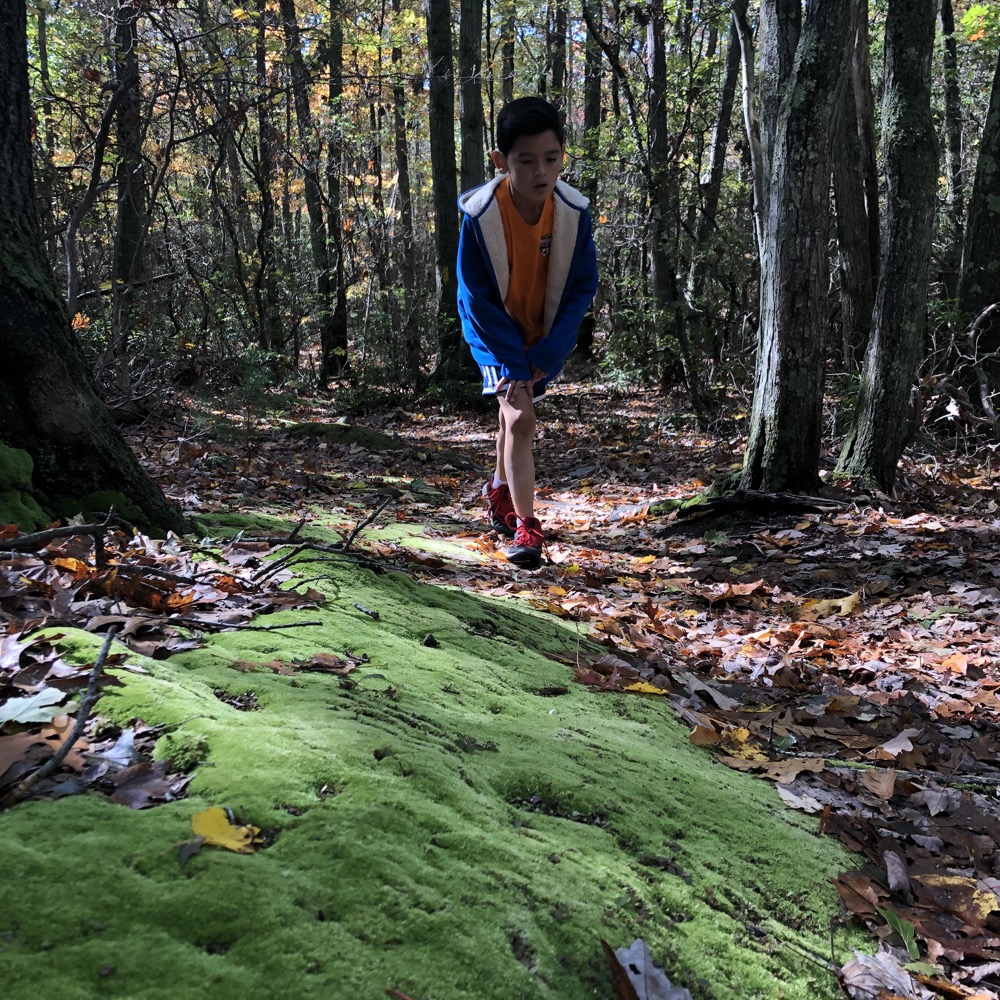 The Mohegan Trail does a big loop around the southern section of the park. Hiking counter-clockwise, Calvin and I reclimbed the hill and found ourselves walking along the top of the ridgeline north. The moss beds here are impressive to say the least and anytime my son sees a thick patch of green moss, he likes to lie down on it.
And I tell him to stop being weird. Then I check myself and realize he's nine and lying down on thick beds of green moss is actually a pretty cool thing to do… whether you're nine for forty-seven. So I let him do it for a bit. It's his thing.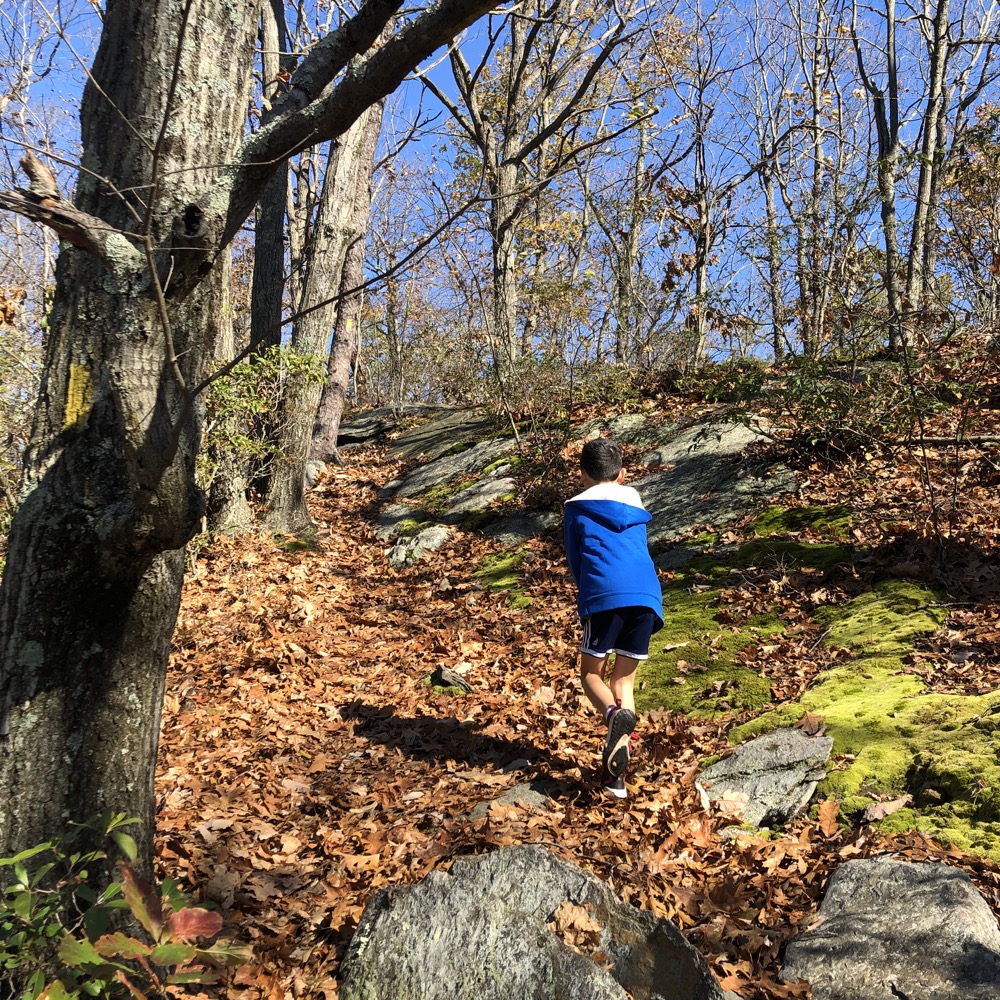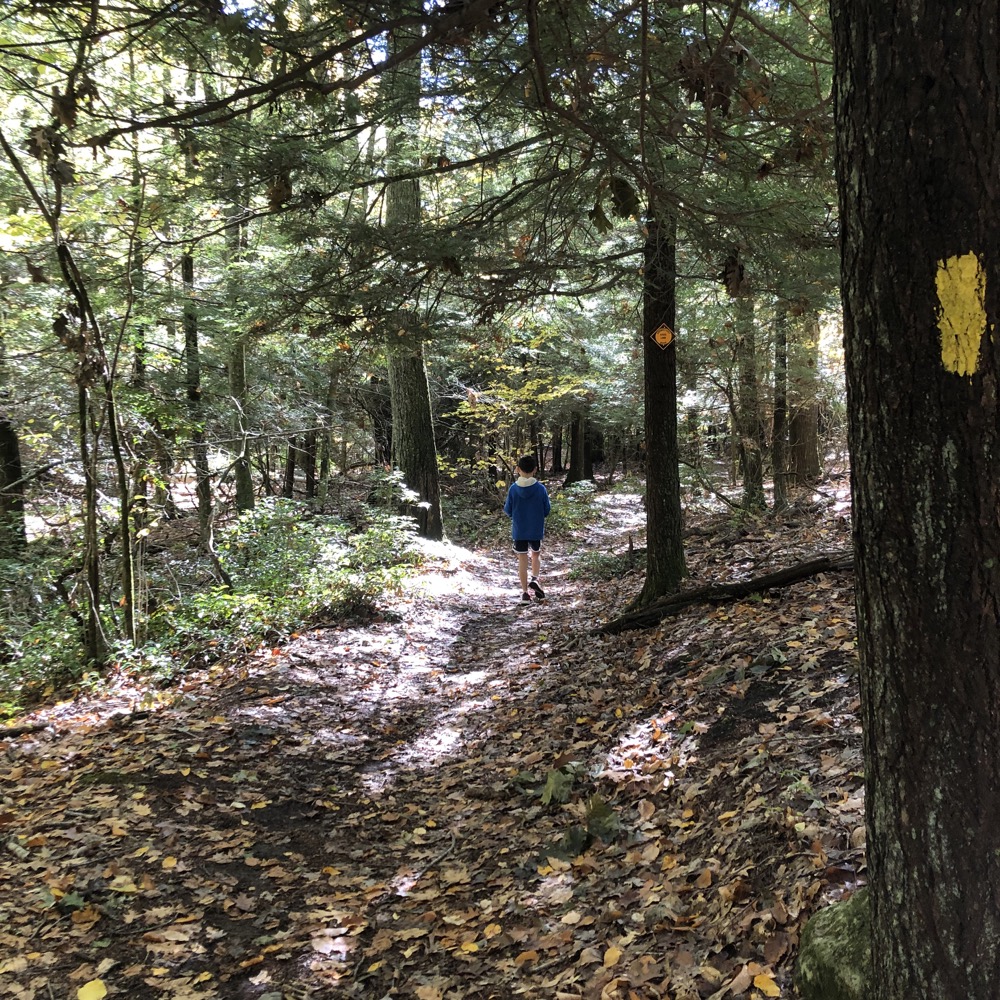 This little trail will take you to a hilltop with some scrub oak. It will take you through a thick grove of laurel. You'll traverse some streams and wetlands. Rumble through a typical open hardwood forest. Honestly, it has a little bit of everything.
And heck, once you reach the end, you'll have to walk a bit along the Hop River Trail back to your car. (Or head the other way to the park's other loop trail up in Vernon). This short stretch of the Hop River is fantastic, as it travels through the manmade gorge cut for the old railroad line that used to travel through here.
I'm infamous for my poor picture quality, but here's a rare one that I think it pretty darn cool: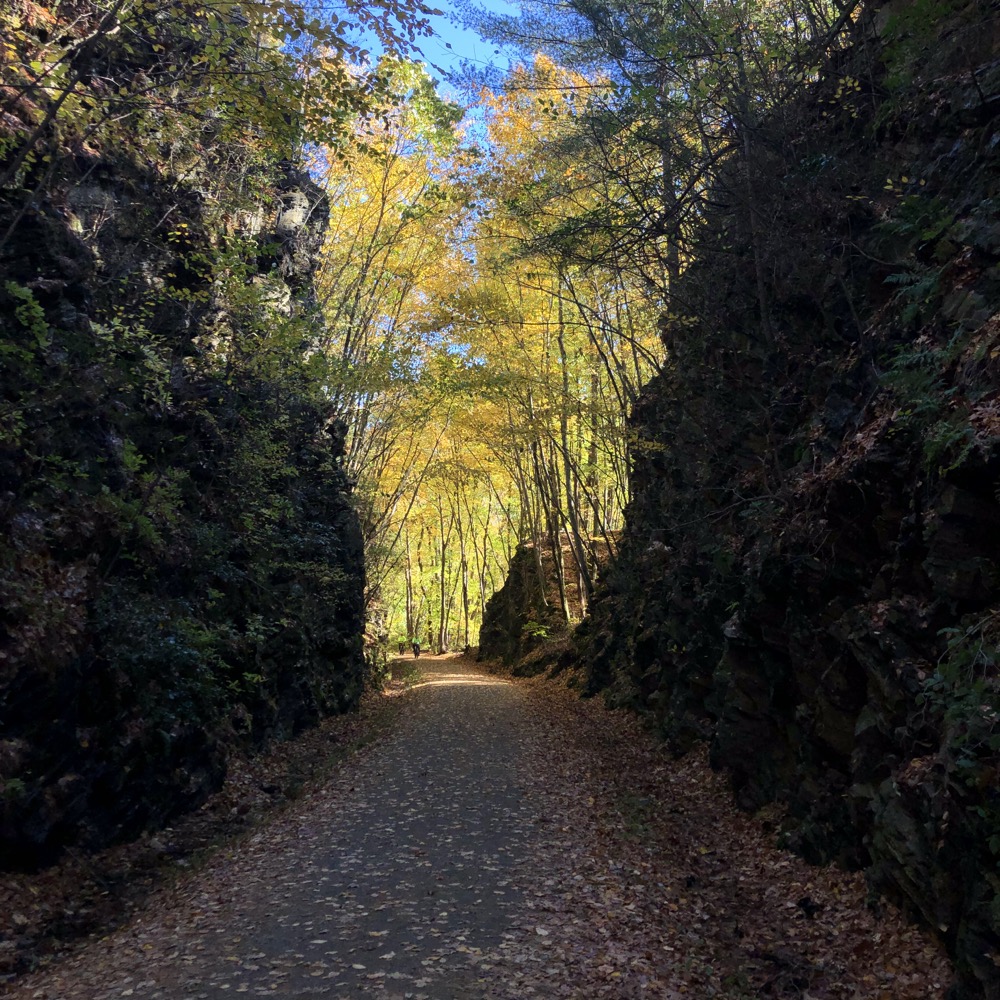 Nice, huh? I've always been partial to the yellow spectrum of fall foliage. With the multiple things to do here at Bolton Notch, I've visited at least 7 or 8 times over the years. And I still have a bit to explore.
And if I keep poking around, I'll keep finding relics of the railroad. Sure, the path through the rock is really cool, but when you hike around and find yourself above the trail, you'll find remnants of bridges and all sorts of stuff.
Li'l ol' Bolton Notch, hidden away via that terrible entrance road. Worth the effort every time.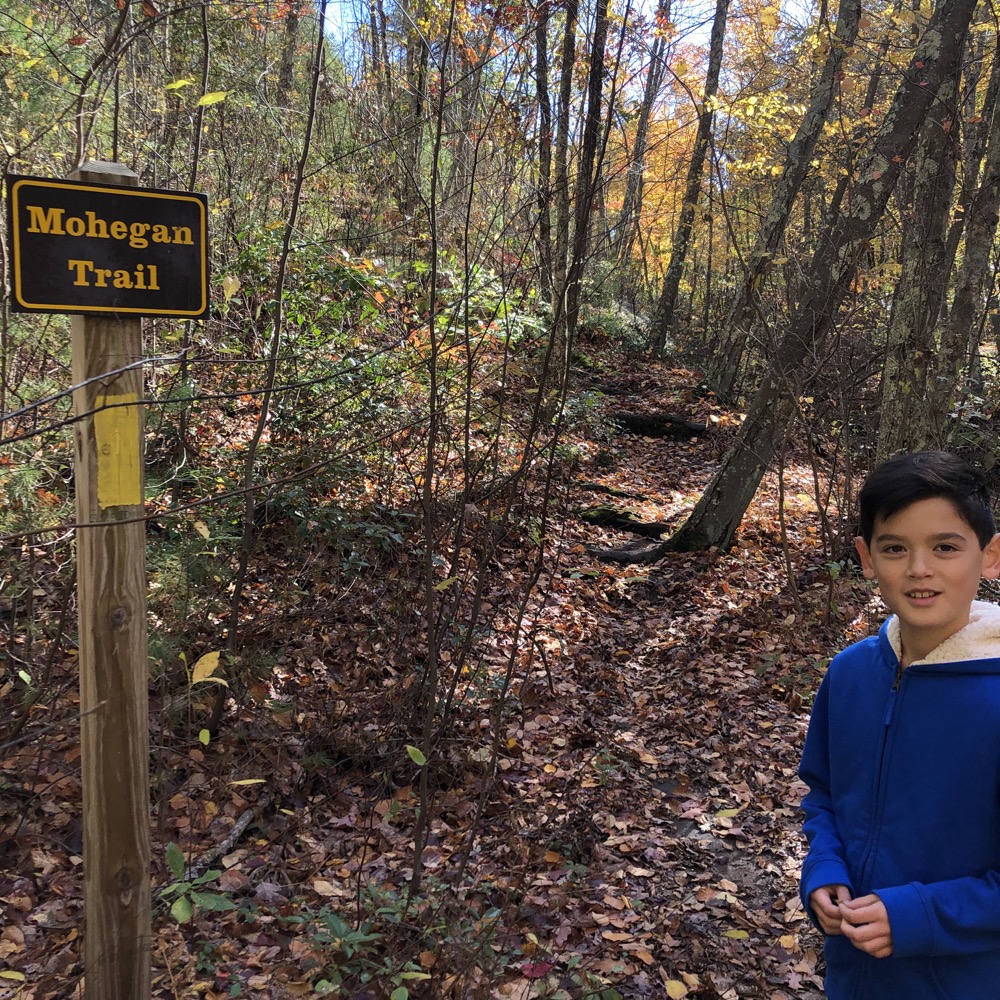 Bolton Notch State Park Trail Map
CTMQ's Bolton Notch State Park Intro