Another Dark Entry
Hidden Corners of New England, David Yeadon (1976)
What's the point of reading through and writing about a travel guide almost as old as I am? I'll tell you what the point of it is: because it's a travel guide almost as old as I am about a state that I think I know as much about as anyone.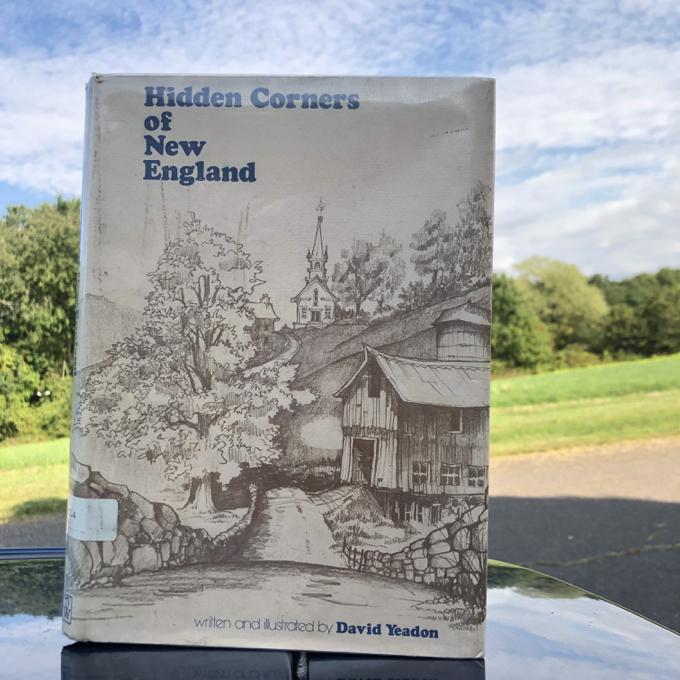 And I think it's kind of cool to read about what one guy felt was worth writing about in 1976 versus what I'd write about similarly today. And author David Yeadon wasn't just some chump either. He's written a ton of travel books ranging from this one to some for parts of Europe and elsewhere. I believe he's still at it from his current home in New York, but check this out. His career before travel writing was fascinating to me.
Yeadon was a city planner in Wakefield, England, 1959-65; senior city planner in London, England, 1965-67; project coordinator for city of Tehran, Iran, 1968-70; associate city planner in Los Angeles, CA, 1971-72; author and illustrator, 1972—.
That's impressive. And I've always had an interest in places like Tehran and Baghdad and Beirut that were pretty hip and cool until they weren't. This guy writing about Woodbury, Connecticut helped plan Tehran before the mullahs took over! What does he care about Woodbury, Connecticut after such experiences?
More than you'd think.
Yeadon was positively enamored with Woodbury. Woodbury and Cornwall, which are the only towns that made the cut in the 175 page guide to New England. Twelve pages in total. Seven percent of the book was about Connecticut. C'mon, Yeadon!
The book is still pretty good. Yeadon writes as a foreigner with a sort of aw shucks attitude towards New England. His explanation of our roads and signage and how you should get a map at a Mobil gas station are throwbacks to my youth. Memories of my dad with the foldout maps looking for backroads in West Virginia or wherever… those memories will never fade for me, and my love of maps still rages today.
Okay, I lied. Woodbury and Cornwall are Yeadon's jumping off points, and he does describe some sites in other towns. And some truly "hidden" ones at that. He's as fascinated by Churaevka in Southbury as I am. He also suggests exploring "the hills around Cornwall" but doesn't elaborate. I guess he had to get on up to Massachusetts or something.
It's interesting that the Dudleytown nonsense in Cornwall was a thing in the pre-internet days of our bicentennial year. This is especially doofy because back then, the Appalachian Trail traversed Dudleytown and Dark Entry Road – where today's Mohawk Trail travels. I always say that for decades, tens of thousands of AT hikers bumbled through Dudleytown without incident, but the urban legend continues. (And Yeadon buys into it, by the way.)
He also writes about the Foreign Mission School in Cornwall and Henry Obookiah – two interesting pieces of local (actual) history. The school is now a National Historic Landmark and I visited Obookiah's cenotaph after reading about him in the wonderful Sarah Vowell's "Unfamiliar Fishes."
So he really did highlight some "hidden" stuff, I'll give him that. I enjoyed Yeadon's folksy writing style and the book's illustrations, provided by the author himself, are nicely minimalistic yet skillful.
I love travel writing – which I suppose isn't a surprise. Old travel writing about stuff I'm very familiar with fascinates me. I think I found the book on the free cart at Bloomfield's Wintonbury library, but I forget. It's not something I'm suggesting you seek out unless you're into this stuff like I am.
And of course, if your interested in any town, including Cornwall and Woodbury, you'll always have the CTMQ Town Guides. Which are totally comprehensive and awesome.

CTMQ's List and Reviews of Connecticut Books