The Sky's the Limit 2016 Hiking Challenge #10
Millers Pond State Park, Durham/Haddam
Septemeber 4, 2016
Now into the double digits for our 2016 Sky's the Limit Challenge hikes, I was feeling confident about our chances for completion. (Well, let's be honest – we all knew we'd complete all 14.) Millers Pond afforded a leisurely stroll around a pond.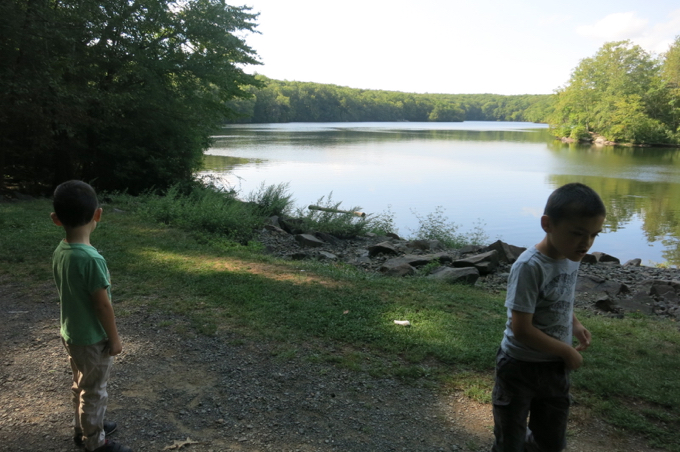 With plenty of rock throwing opportunities for the boys. Perfect.
The first half of our hike was as simple as these things get – a flat walk down a wide, graded trail along the west side of the pond. Calvin took a little while to get going for whatever reason, but upon seeing his brother scooting along, he got with the program and we pretty much flew down to the first interesting stop along the hike.
I'll rejoin you after a bunch of pictures.
Just past the dam and graffiti was the official Sky's the Limit photo spot. It was a lovely patch of grass and wildflowers that the boys enjoyed for a good twenty minutes. They picked flowers for mama, not understanding that their microscopic stems wouldn't survive the trip home, but it's the thought that counts, right?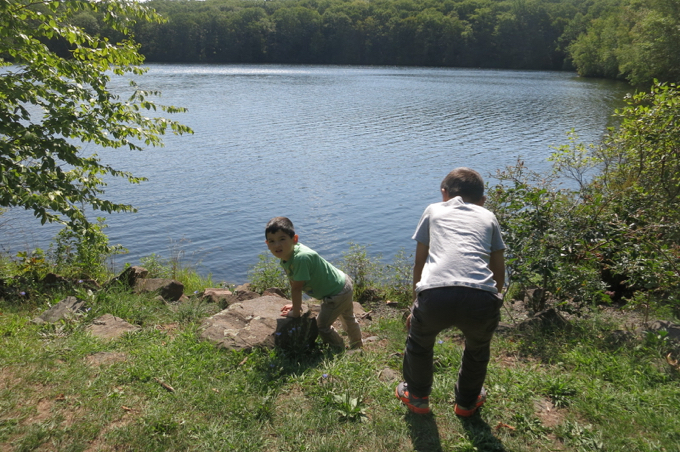 After the photo frolic, the trail re-enters the woods and becomes decidedly rockier and more interesting to traverse. Of course, Calvin loved this while Damian's pace slowed dramatically.
This stretch is also part of the Mattabessett Trail which is now part of the New England Scenic Trail. I've started to whisper suggestions into Calvin's ear, like, "You know, you can walk that way and go all the way to the beach!" and, "Hey, if we keep walking this way on this blue trail, we'll go all the way to that white tower (Heublein) near our house and can keep going all the way through Massachusetts!"
He is started to get excited about that kind of talk now, which is pretty great.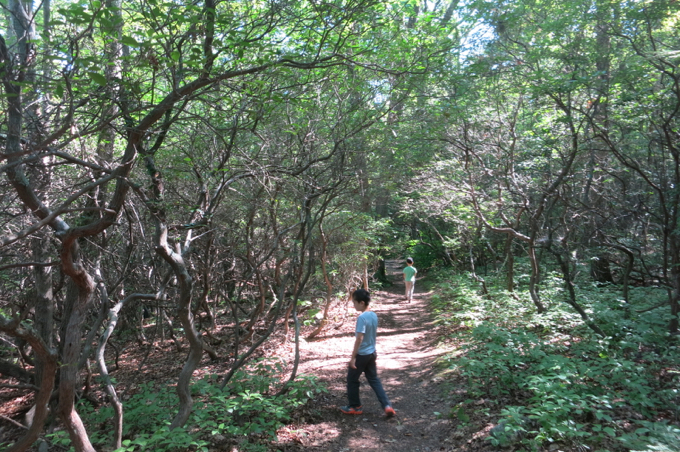 As we neared the end of our hike, the boys became very interested in geology. Calvin spearheaded the effort and peppered me with a ton of questions. "How did these rocks get here? How old are they? What makes rocks? Why are some rocks white and some gray? What the difference between pebbles and rocks and stones and boulders?" On and one he went, and I tried answering them to the best of my ability.
In the end, he was most interested in igneous rocks, of course, and wondered where all the volcanoes are. I've learned it's really tough for a five-year-old to comprehend geologic timescales, but that's okay. "Really, really, really, really super duper long, long, long, long time ago" works pretty well.
As we finished up, Calvin's new (and fleeting, it turns out) love of rocks propelled him to want to take a fairly sizeable one home with us. Fortunately for me, a park ranger was there and I gave her the dad look and she knew how to handle it: "You need to leave that rock here because animals need the rocks to hide under!"
Though saddened, Calvin acquiesced to her authority and dropped the rock.
Then we went home.

Millers Pond State Park
CTMQ's Millers Pond State Park Intro
CTMQ's 2016 The Sky's the Limit Challenge