Gridlock in Granby?!
Bushy Hill Cidery at Clark Farms, Granby
September 2022
"Go to Clark Farms" they said. "It's cute," I was promised. "Quiet little out-of-the-way country store atmosphere," was the pitch.
Yes, I'm friends with a few Granby residents. One has taught and worked with my older son for years. I work with another. Another is a longtime CTMQ reader. I trust these women. I like these women. I believed these women.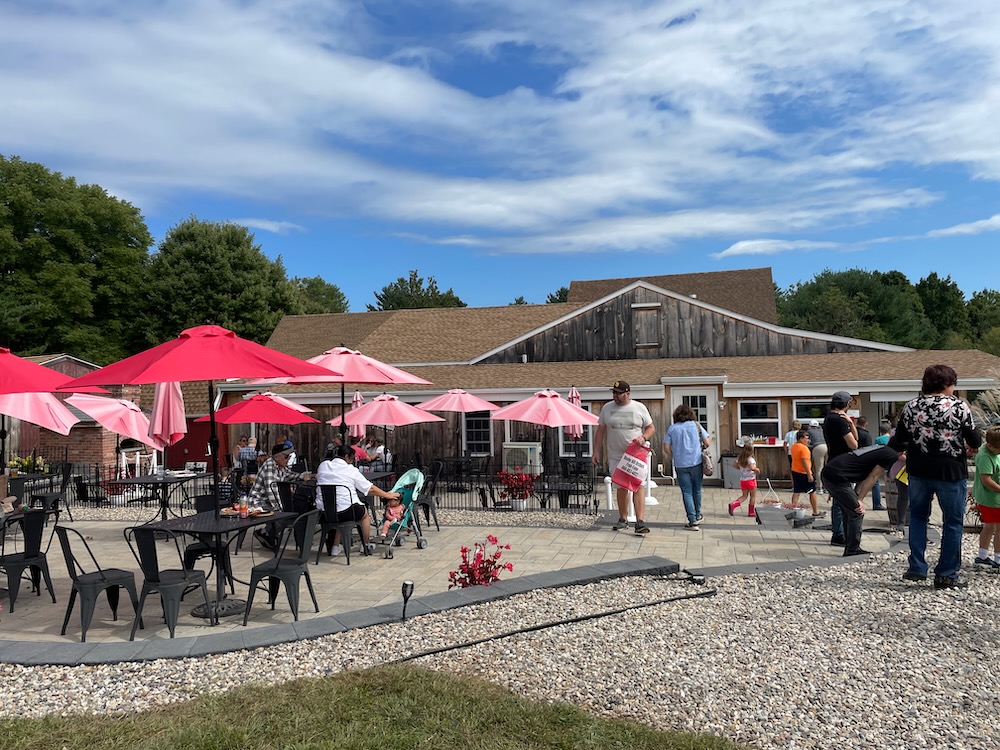 And so, as a result, I heeded these women. After a hike at the Katan-Ensor and Old Messenger Road Preserves just west of here, I made the short drive over to Clark Farms.
I'd driven past here many times over the years. I'd even stopped in for donuts once or twice. There were usually a couple cars in the parking lot, but that's it.
As I approached the lot this time, it was like rush hour in Manhattan. Cars were going every which way; parked all along Bushy Hill Road. The lot itself was full. What. Was. Happening?
I found parking and took in the scene. There were hundreds of people here and, not being hip to Granby's ways, I was a bit confused. I later learned this was Farm Day, and Farm Day in Granby is everything. It's Christmas and Halloween. Everyone goes around to the various farms in town and does Granby things.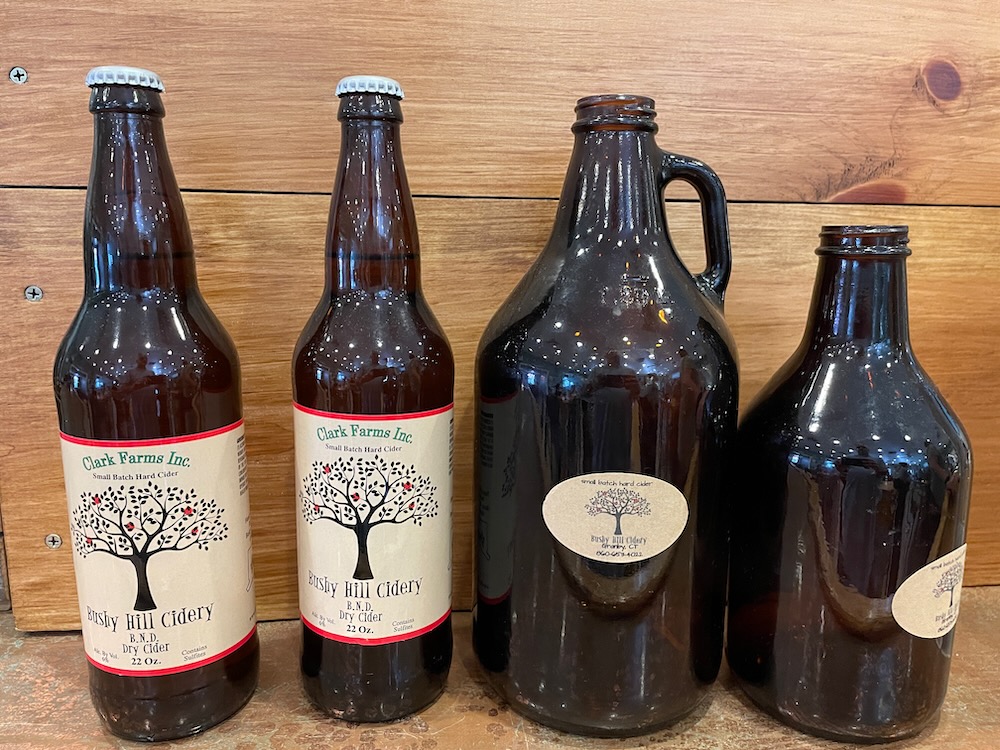 Apple picking at orchards (they have that here), hayrides (they have that here), feed farm animals (they have that here), buy apples (yes), eat food (yup), drink apple cider (of course), and taste a flight of hard apple cider alone in a corner while families surround you knowing you are not from this Farm World of Granby… that's a singular experience here, at Bushy Hill Cidery on Bushy Hill Road at Clark Farms.
The story of the Farm is a nice story. And it allows me to finally connect a few businesses around northern Connecticut to one extended family.
In June of 2010 Allen and Becky Clark purchased the 75 acre orchard from Hal and Nora Law. The Law family purchased the run down farm in 1976. They began planting apple trees the same year and opened to the public for U-Pick in 1980. Since 2010, Allen and Becky have continued to honor what the Law family had begun, and expanded on it by rehabbing the buildings which are now the store and restaurant.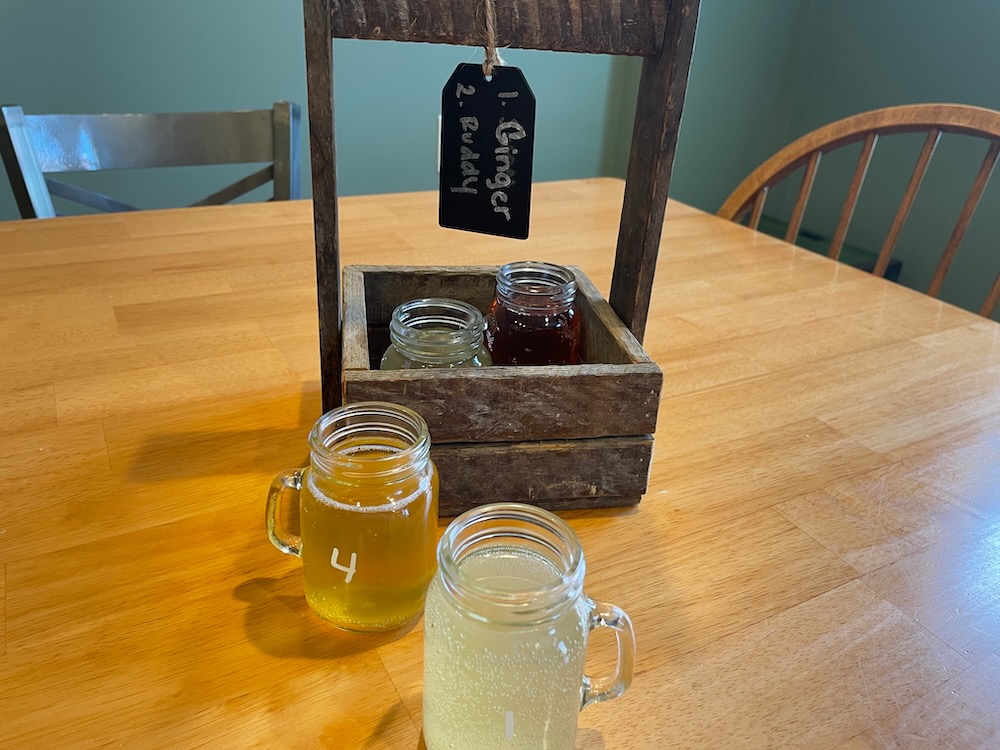 The Clark family owns a large greenhouse operation in Suffield as well as Griffin Farmstead Goat Dairy in East Granby.
The orchard here contains about 15,000 apple trees – and they are all "dwarfed" which I'm told makes for better apples somehow. They have peach trees and blueberries, Asian pears, nectarines, and plums along with the usual veggies. Everything is grown as environmentally safely as possible and it all seems like a very nice operation.
And judging by the crowds happily waiting in long lines when I visited, they must be doing something right. The line for the hard cider wasn't bad, and I had my flight of four different styles in short order.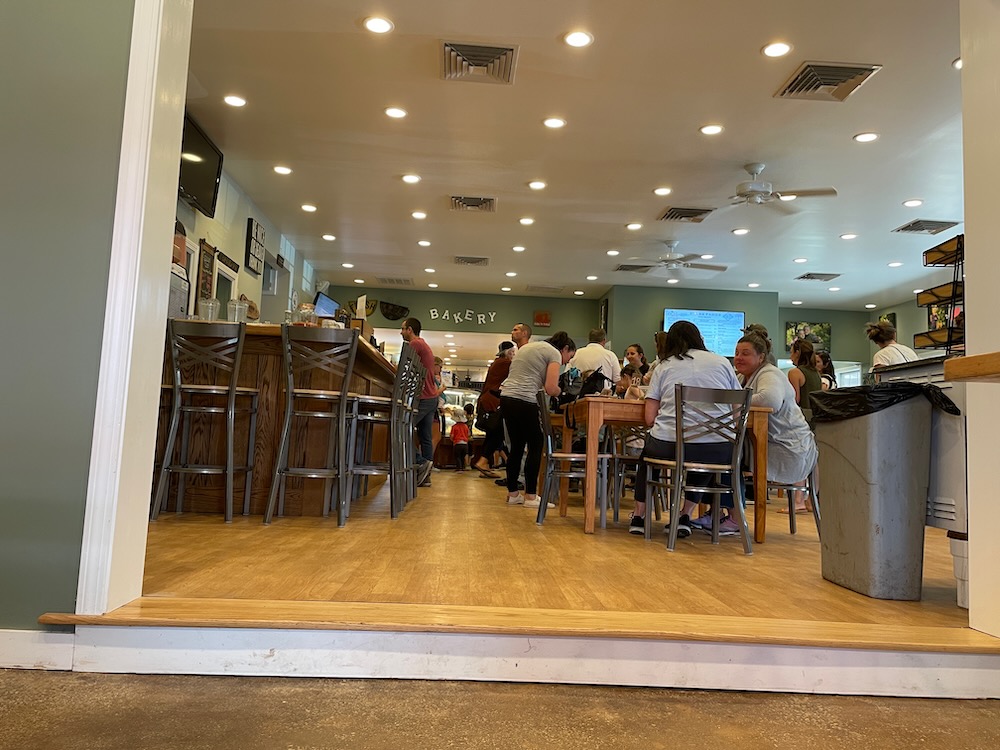 Thinking about Connecticut's other hard (carbonated) cideries, I think only Tree House Orchard & Farm Fermentory in Woodstock uses apples grown in their literal backyard. Pretty cool.
Keeping the "real, no-joke, this-is-Granby" farm motif, I was served my ciders in little Mason jars in a DIY wood carrier. I noticed they make some pretty creative drinks here with the cider as well. A cider mimosa? A hard apple cider slushie? They also make an apple wine here as well. But I stuck to the standalone hard cider.
They had four varieties on tap: BND (Dry), Ruddy Wild (dry-cranberry), Jump Start (ginger infused), and Bear Essentials (honey infused). The flight costs fourteen bucks. And it's adorable.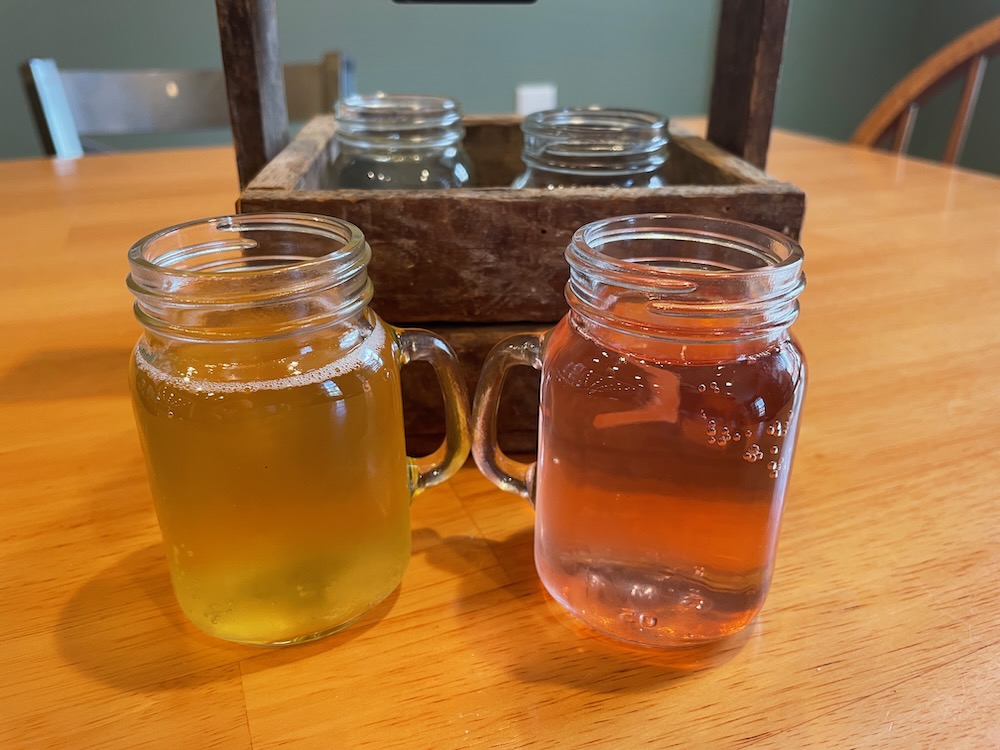 I always caveat these cider write-ups by stating I don't really dig hard cider too much. Many are way too sweet and many introduce certain yeast strains I simply do not like. So when I tell you that Bushy Hill is batting .750, that should tell you something. The ginger was fairly light on the ginger addition, and was pleasant and light. The BND was dry as a desert, slightly tart, and again, I wrote "pleasant" in my notes. It is so light… almost like the Mott's For Tots low sugar apple juice we give to our kids.
Ruddy Wild, the one with the cranberries, was a bit odd. Anything with cranberry has that weird mouth-coating quality that can be very off-putting. I happen to really like cranberry juice, and honestly expected more of their unique tart flavor here. It was "barely there," except the weird mouth-coating quality was in full effect. So I got the quality of the cranberries without too much of their flavor. Still, it wasn't bad.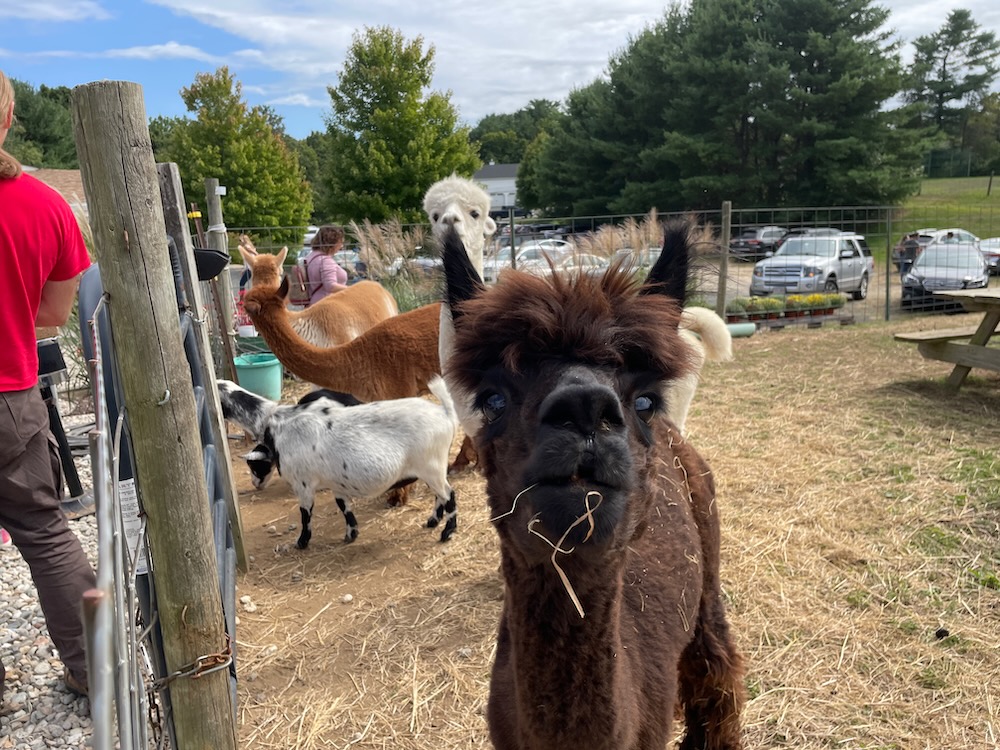 I saved the honey one for last. I suggest you save the honey one for never. This blend simply did not work for me. (And I love honey! Who doesn't love honey?) But this honey was acidic and harsh. Brutal. And I don't think anything was "wrong" with the cider per se. I think that the honey and the alcohol and the fermented apples just taste terrible together. Of course, you may think otherwise, but my notes say "Eesh." No more honey cider for me.
I finished up my flight and decided to buy my family half a dozen cider donuts. I had my choice of lines to stand in, but both were moving at a glacial pace. I had nowhere to be, so I stood in line, watched all the families enjoying Farm Day, and was quite happy with the five dollar total for 6 (smallish, but delicious) donuts, still hot from the oven.
I stopped by the llamas to say hello and enjoyed seeing all the smiling families with their freshly picked apples. Bushy Hill at Clark Farm is a happy place. A wholesome, friendly, family run place. Will their hard cider draw non-Farm Day crowds on its own? Probably not, but the orchard and the restaurant quality food and baked goods surely will.
Clark Farms is a wholesome place. Granby is a wholesome place.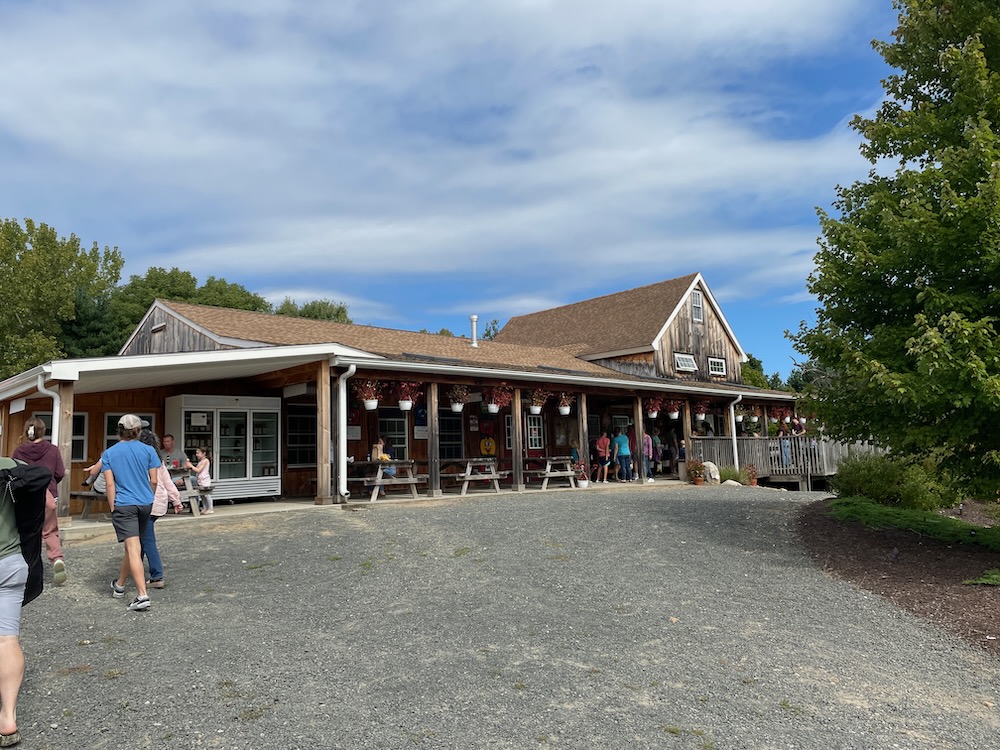 Bushy Hill Cidery at Clark Farms
CTMQ's Cideries & Kombucheries