Beauty! History! Granby!
Katan-Ensor & Old Messenger Road Preserves, Granby
September 2022
I can't pretend to know how active every land trust in Connecticut is. I'm sure there are several protecting new parcels, clearing and blazing new trails as I write. But I swear, the "competition" between the Granby Land Trust and the Canton Land Conservation Trust in northern Hartford County is fierce.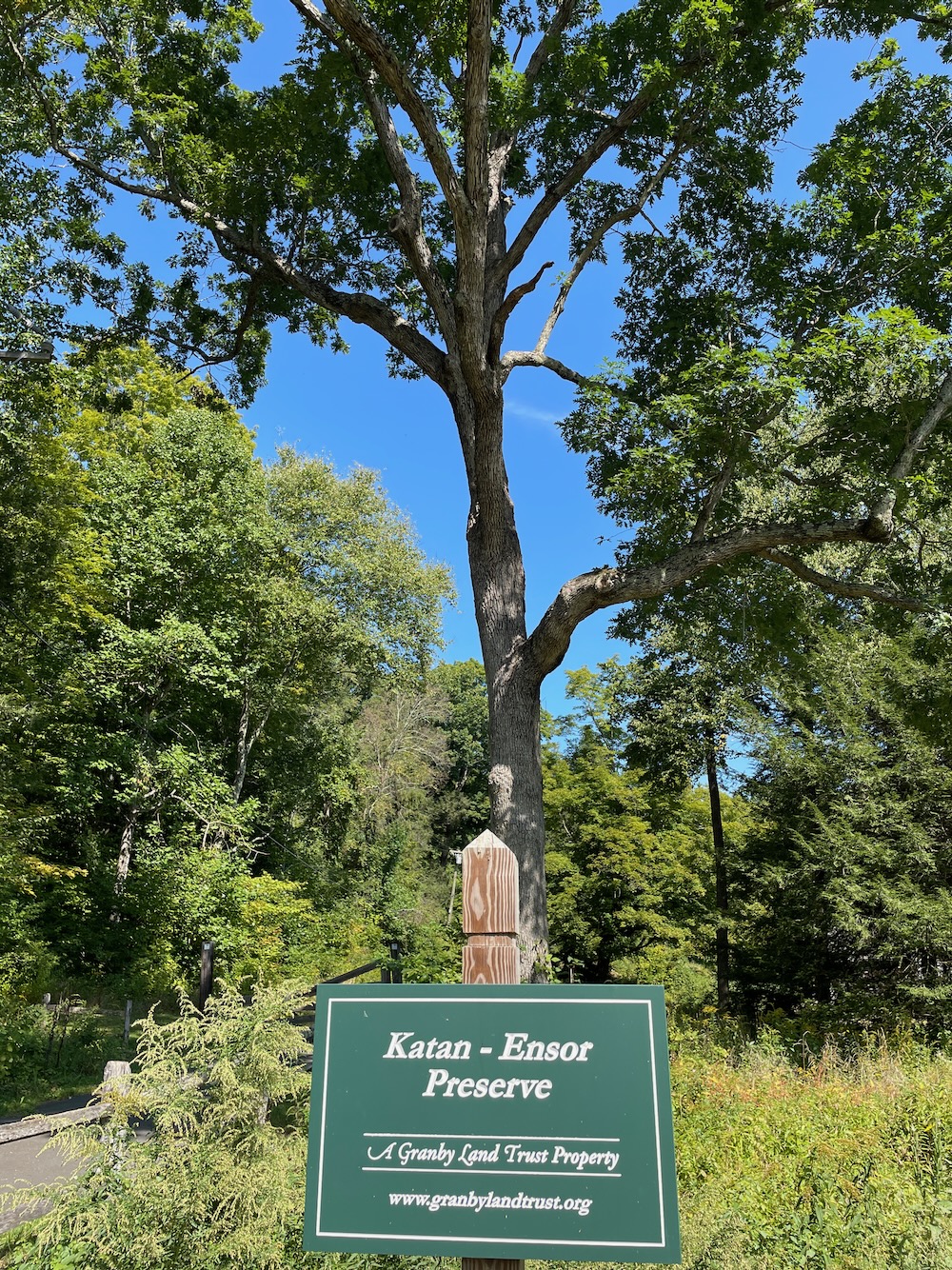 Each has opened newly trailed properties almost every year since the pandemic began. New websites, new signage… it's great to live near both and to enjoy the fruits of their labor.
Moreover, GLT's newer properties are fantastic, including the Schlicht Family and Richard P. Garmany Preserves which make up most of The Old Messenger Road Preserves. Just view this whole thing as one property to hike. It's much easier that way – and it's not too daunting or big at all.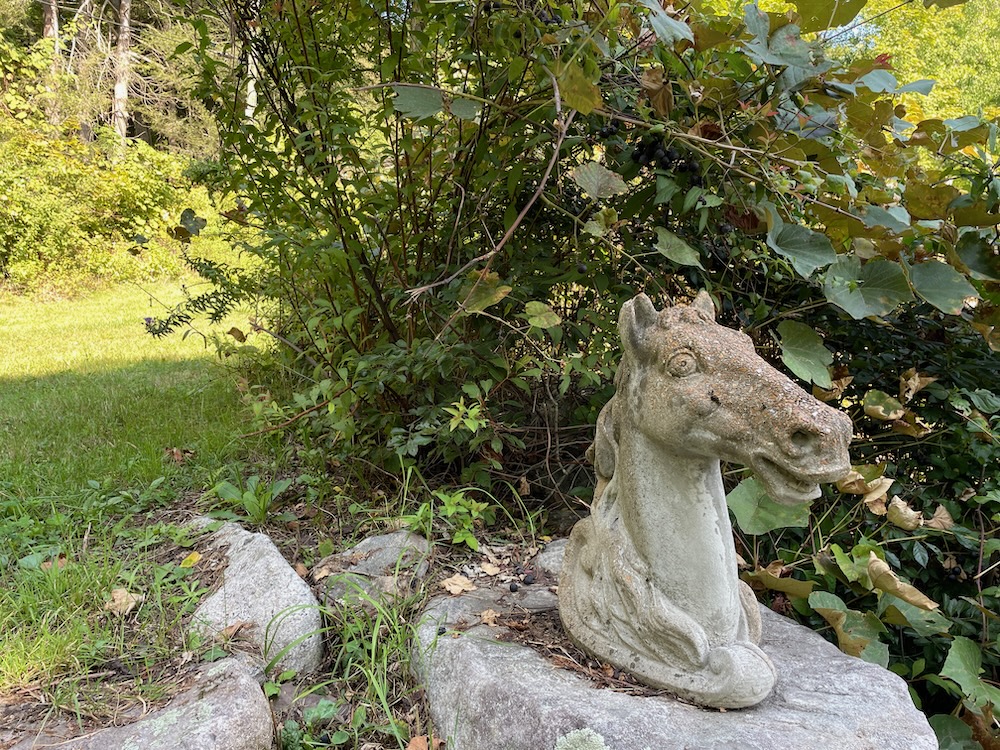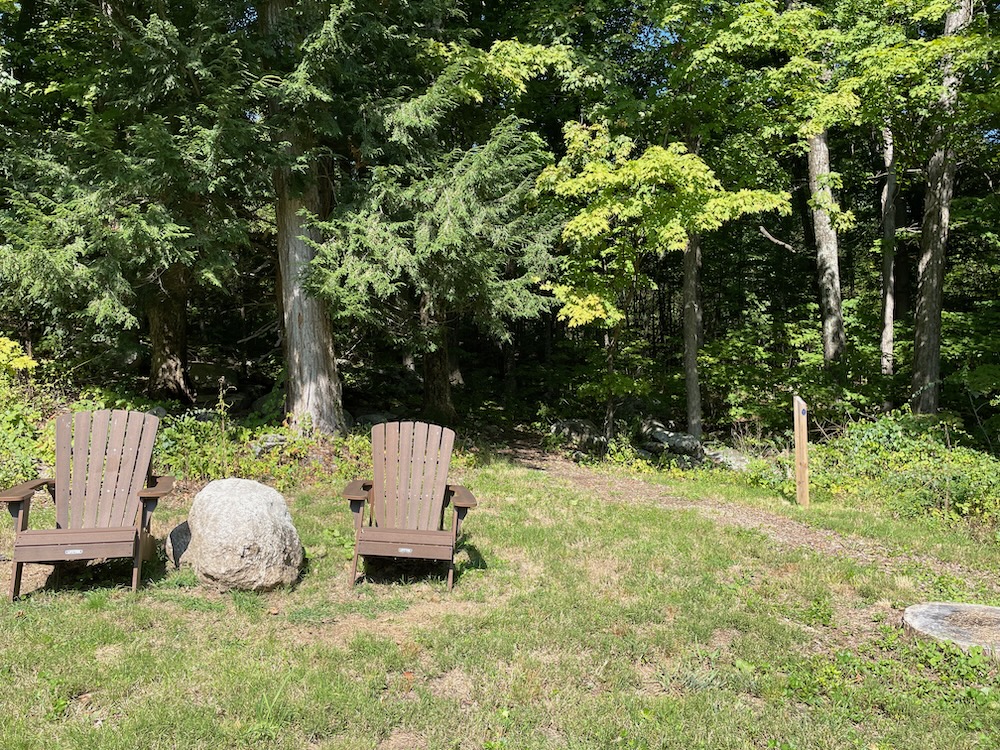 I don't know about all the people who donated all the land here, but the land trust has written a lovely little essay about Charlie and Joan Katan. They were life-long environmentalists and conservationists who lived at the end of Strong Road in West Granby. Joan loved her horses and Charlie loved his woods. The couple had long planned to donate their land to the GLT, and that's exactly what happened in 2019 after Charlie passed away.
Parking for the preserves is near their former home. The trail begins by passing their old barn, and a little stone horse head is perched on a stone wall; certainly something of Joan's that she'd love to know still guards the property.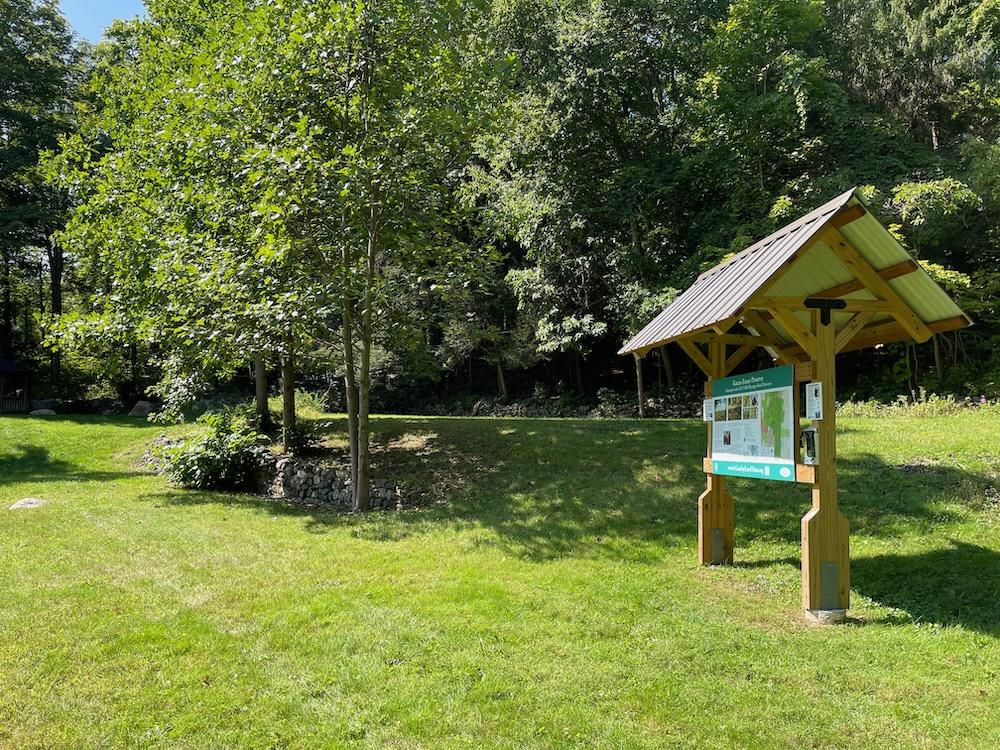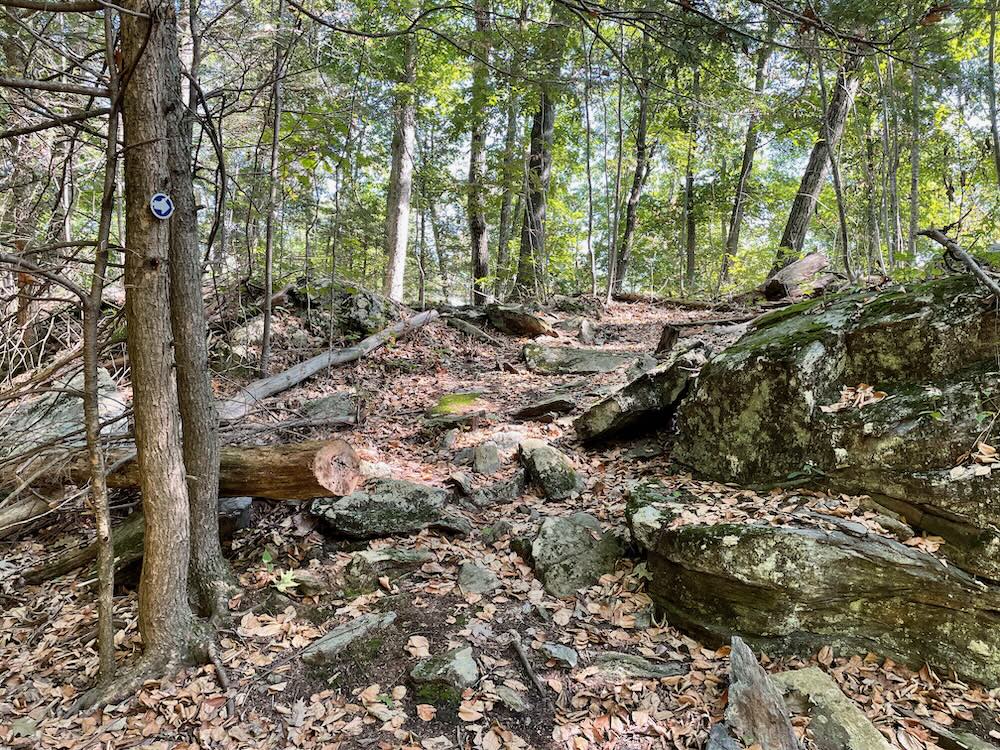 There's a nice GLT kiosk and sign, a gazebo, and an open field to begin the walk. If it feels like this trailhead has been here for a long time, that's because it has. These first trails were Charlie's trails and the old roads here surely predate him. In fact, at the northern end of the hike you'll pass some homestead foundations that date to 1750.
You can choose your own loop hike here and can pretty much avoid the climbs if you so choose. I did not so choose, by starting off going straight up an unnamed hill on the blue trail.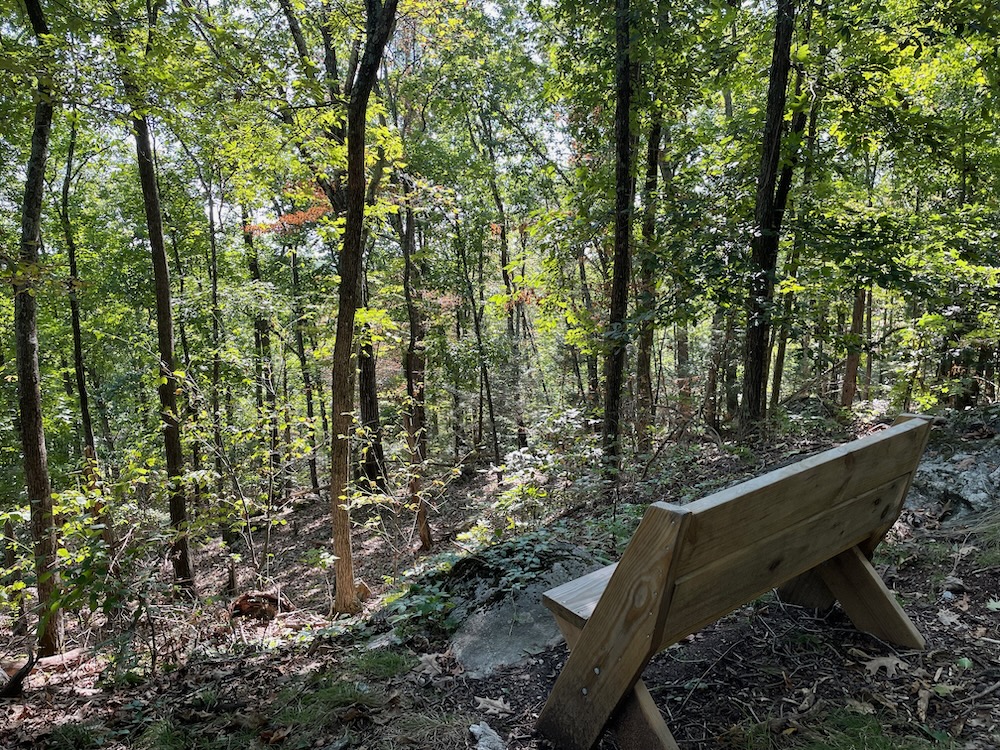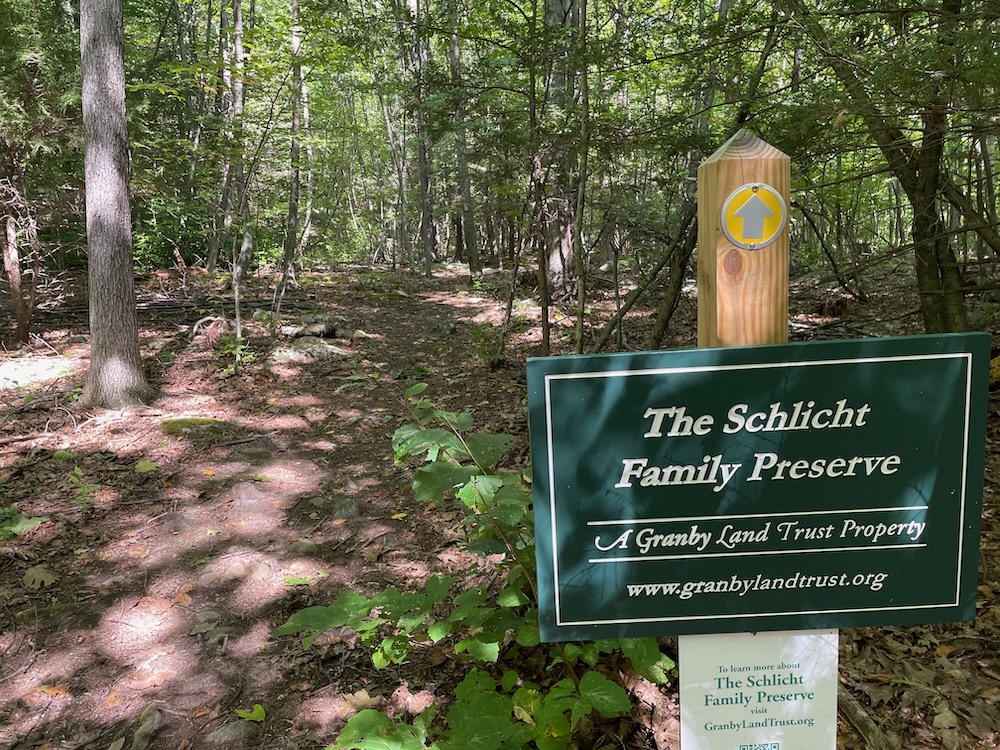 The climb isn't long and it's not too steep, but I'm realizing as I approach 50, a funny thing is happening. Uphills are becoming tougher for me. This is a bummer… it's also indicative of my general lethargy over the past year. I need to get out and up and down more hills!
The blue loop took me up through some nice rock features and to a bench. There is no view at this bench, but it's a nice bench for resting I suppose. (I hope there are no plans to clear trees to provide a view. This is a somewhat controversial practice, and the GLT clearly did it at the other, much better overlook here. I'm not totally against it, but since a great view already exists a short way away, let's leave this one alone.)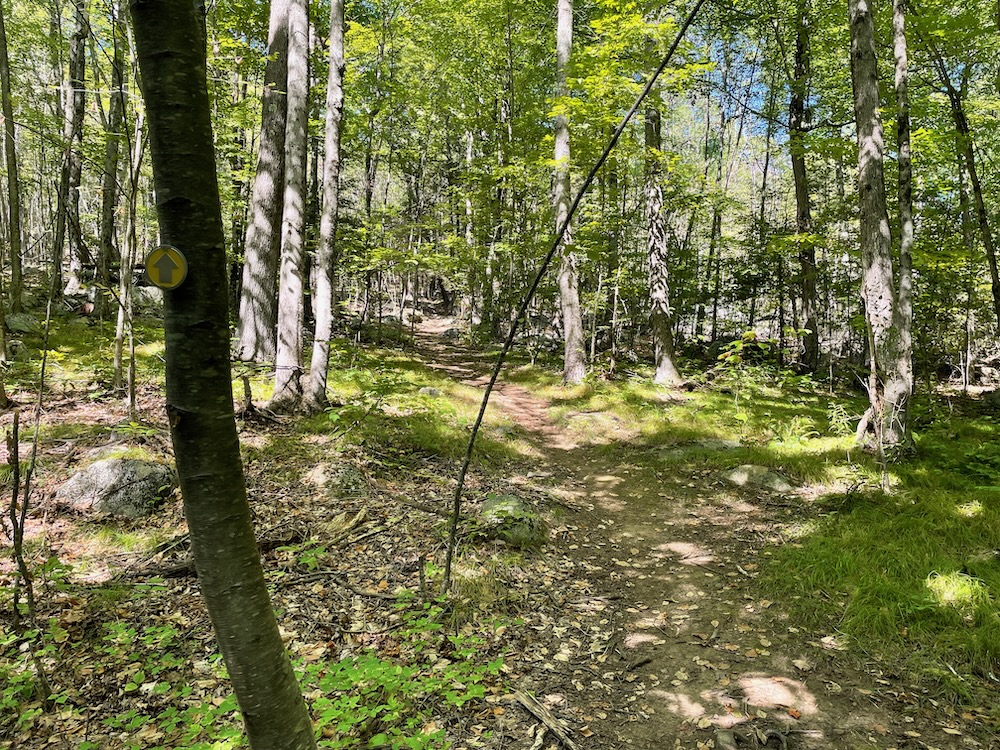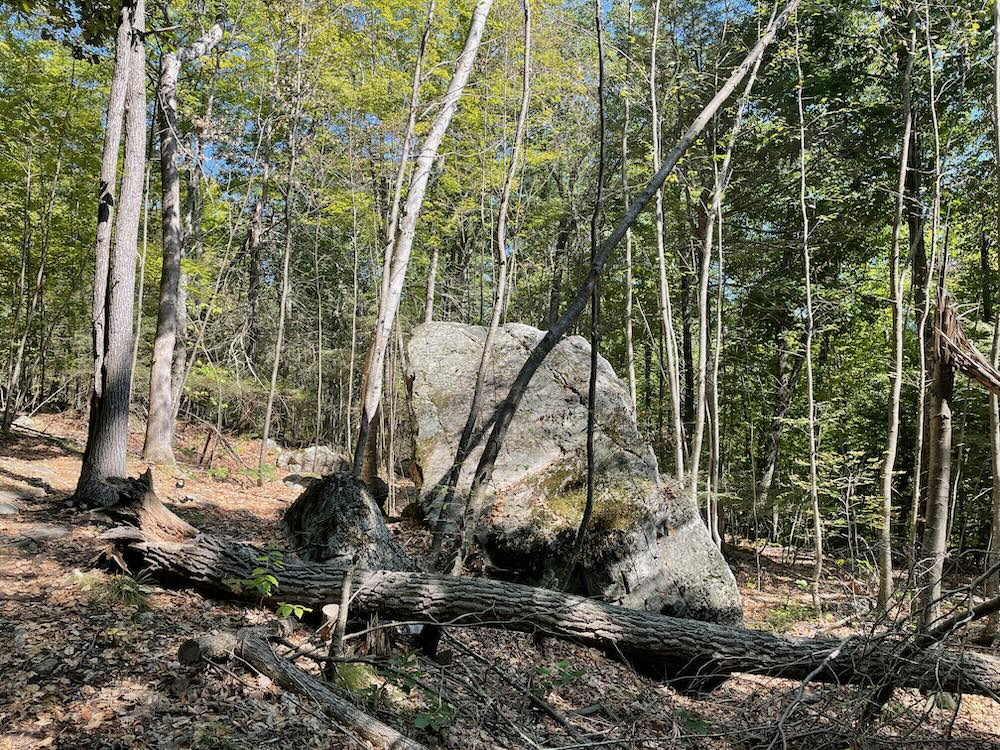 Back down and around to the main Katan-Ensor red trail (an old woods road) and north into the Schlicht Family Preserve, following the yellow blazes.
This is a nice, wide old road that probably hasn't seen four-wheeled traffic for a century. The trail heads northwest and gradually climbs what I've come to learn is (or was) called Popatunuck Mountain. A massive glacial erratic would certainly be inviting to my younger son to climb. Me? I simply passed it and said, "that's a handsome boulder."
The GLT has cleared a cut-off trail for those of you who don't want to continue to the northern reaches of the preserves. But come on… the entire loop is probably less than three miles. Go for it – especially in the spring or early summer when we're not in drought conditions.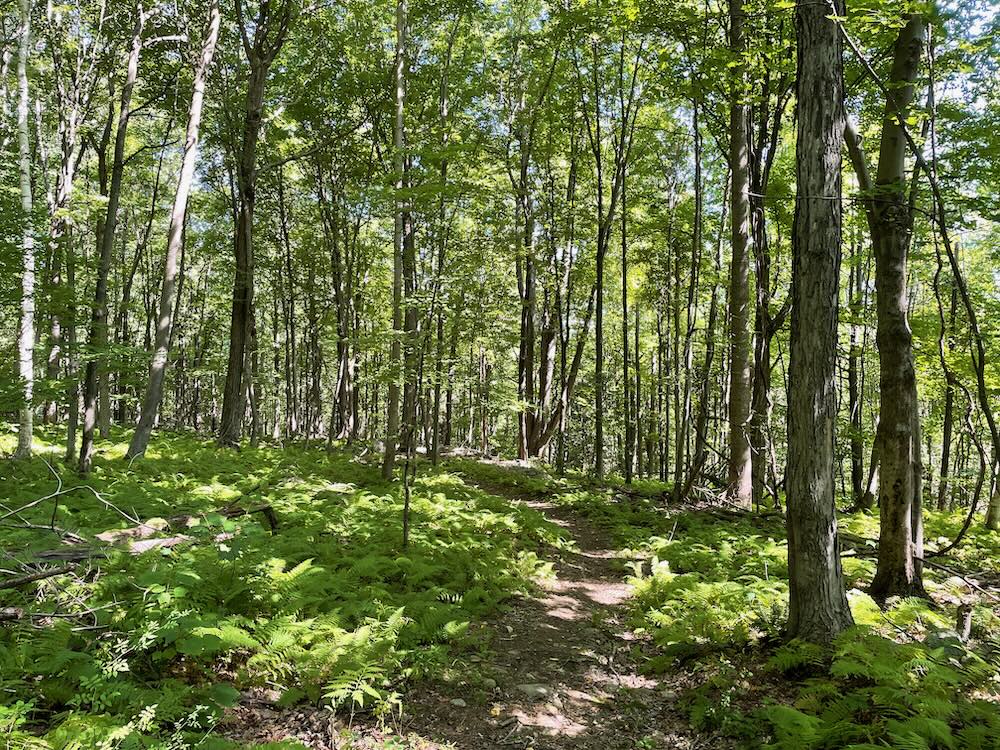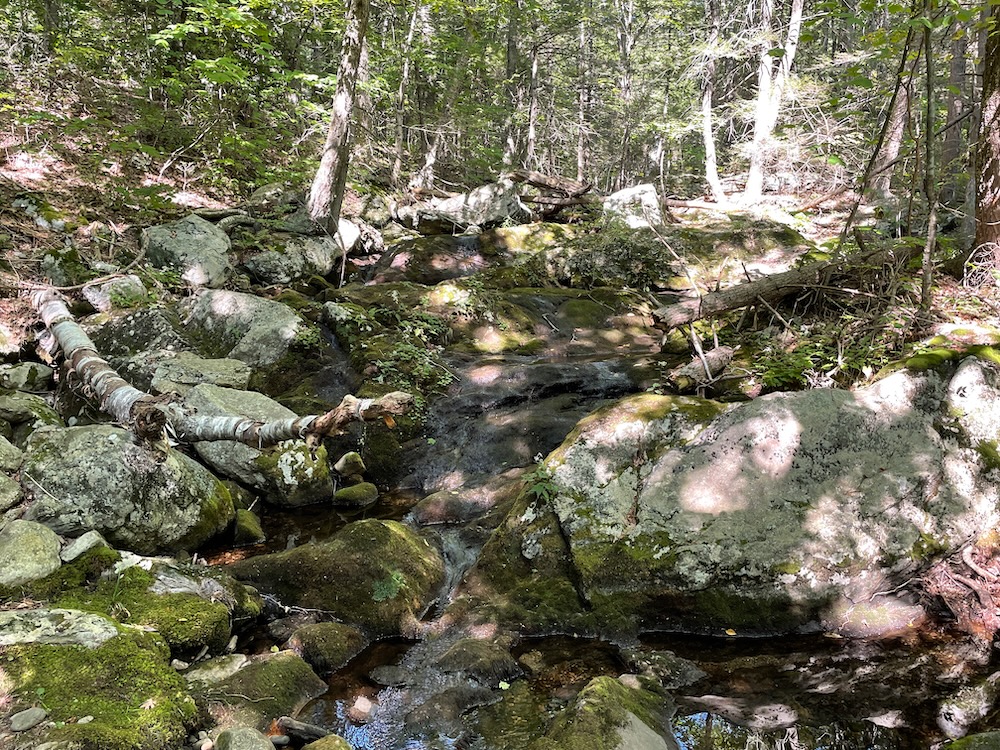 I was excited to add a new Granby waterfall to my page about "Unnamed Granby Waterfalls," as the GLT map and descriptions note a series of falls along Mountain Brook. I'm sure these are lovely when there's water, as the GLT has cleared and blazed a short spur trail to take them in.
Late summer 2022, however, was not an ideal time to enjoy the falls. Oh well, can't win 'em all.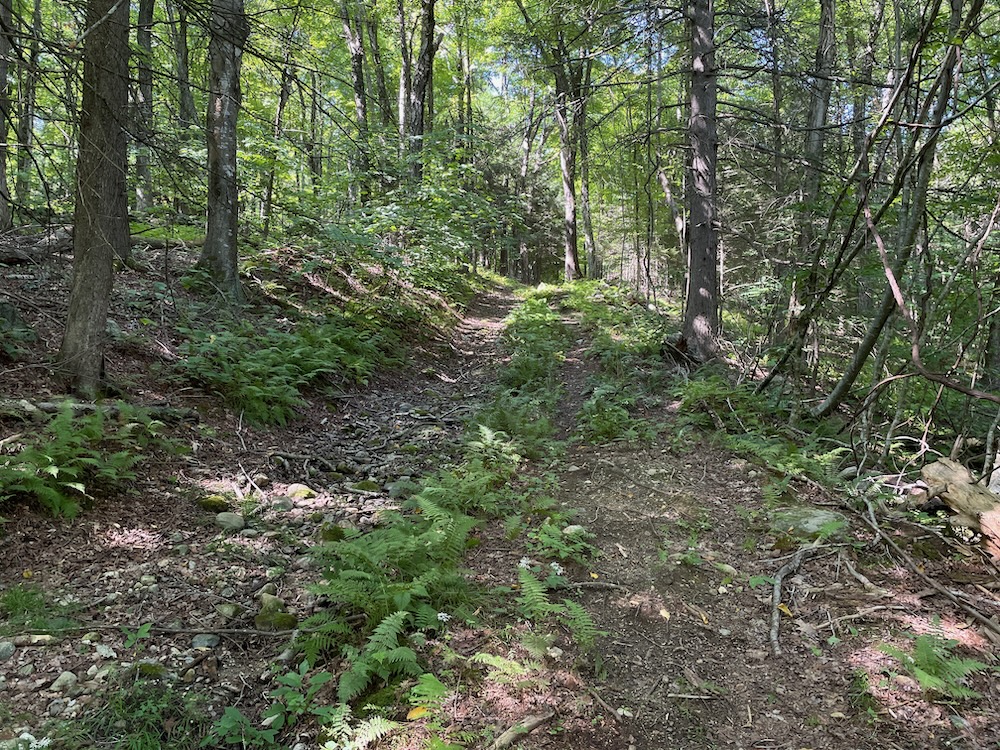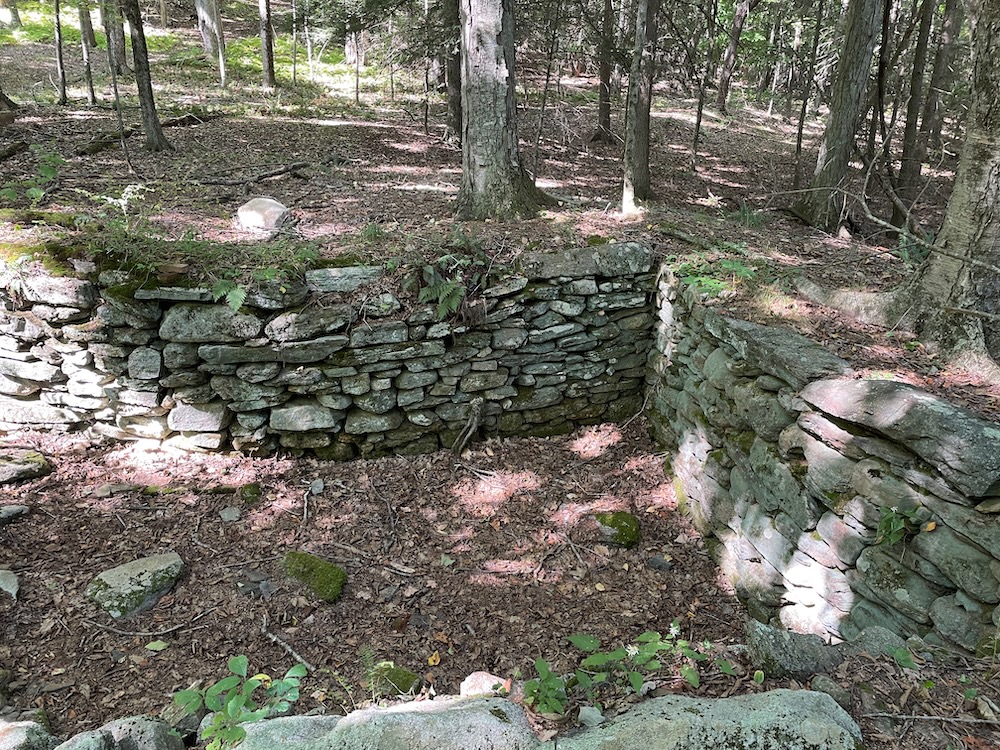 After the falls, the yellow loop heads up Popatunuck Mountain on Old Creamery Hill Road. Which here, is a "road" in name only. It used to be a usable road though, and it took me to the Messenger family homestead area in the Richard P. Garmany Preserve.
Now if you, like me, read The Brittle Thread of Life by Mark C. Williams, you have some knowledge of how people lives in the wild frontier of places like West Granby in Colonial times. It wasn't easy to say the least. And looking at these woods, I can't imagine how the Messenger family farmed the land here for many, many decades.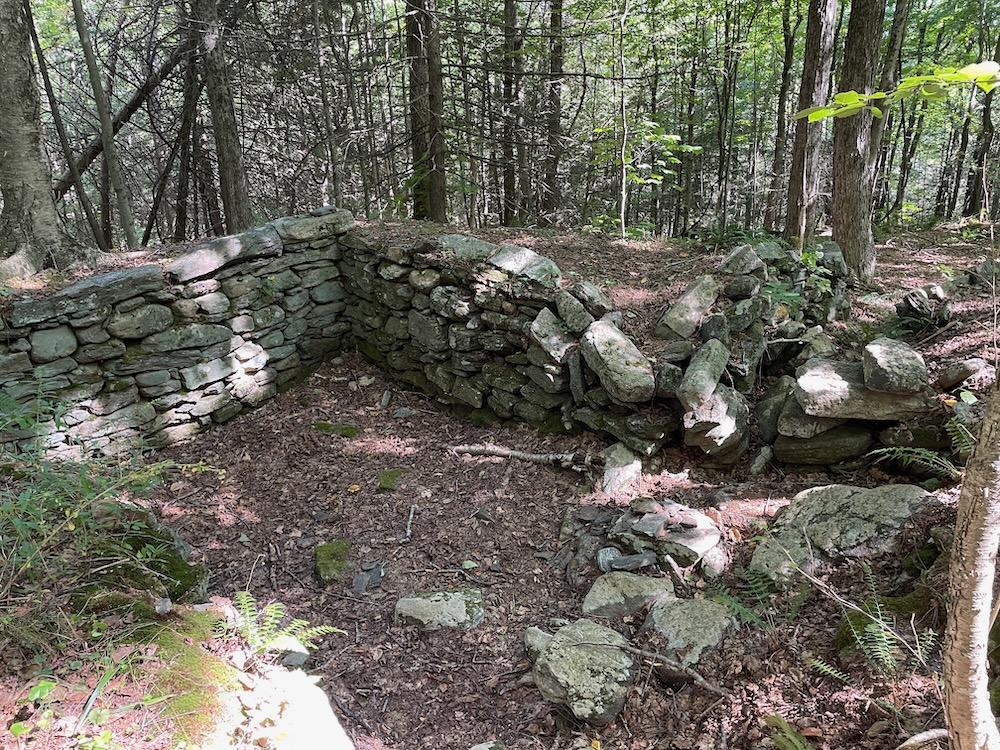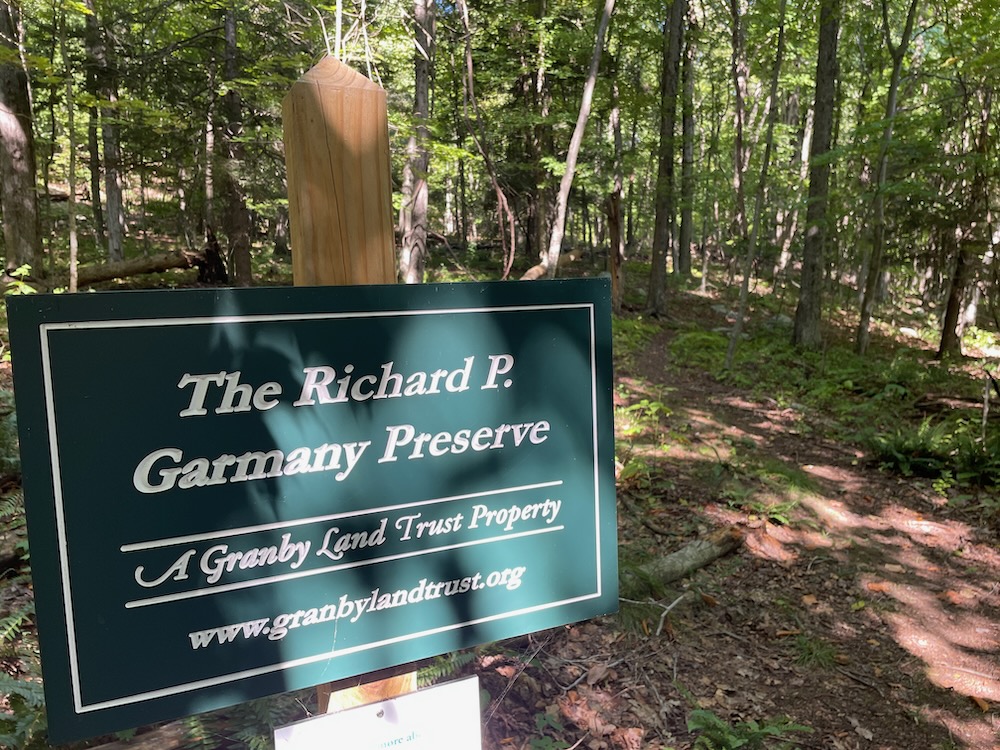 I named-dropped that book because the GLT has placed a sign in the woods telling a bit about the Messenger family and they cite a different book by the same author. I think I've read enough on the subject already, so this sign will have to suffice. There are three well-preserved foundations here, just west of the trail.
Nathaniel and Eunice Messenger settled here on Popatunuck Mountain at the time of the French and Indian War. Nathaniel's family was poor and a parcel in the mountainous, heavily wooded terrain that was exposed to attack from the west was all Nathaniel could afford when he set out to create his own farm. Nathaniel and Eunice made the most of it and raised a large family here, gradually acquiring and clearing more adjacent land to serve as farms for the next generation.

By the time of the American Revolution, many families had moved to West Granby, but even then, the Messengers remained relatively isolated in Popatunuck's rugged slopes and ledges. The soil was thin, and their plow was no match for the glacial till, so they harvested timber for the building boom going on in other parts of Granby; raised sheep, established apple orchards, and, to the horror of the local Congregationalist minister, distilled cider.

Four generations of Messengers farmed the land here before moving off the mountain in the late 19th century. The abandoned foundations, roadways, and stone walls here date to a perilous time in the nation's formative years when acquisition of a "competency" (subsistence land for one's family and one's children's families) was critical to a family's future.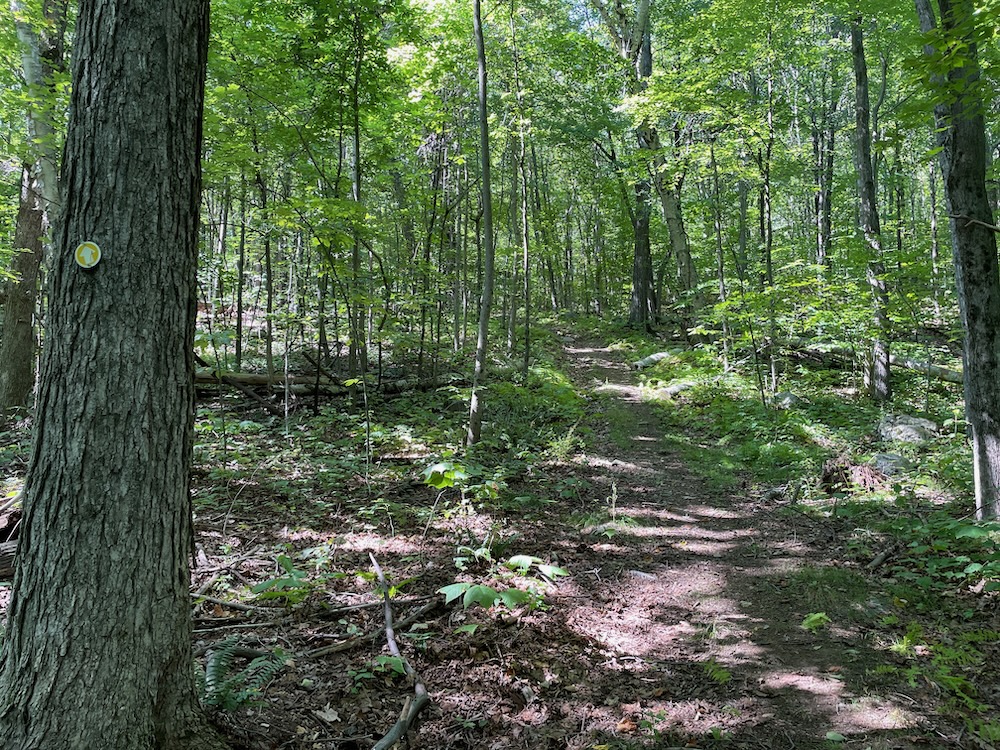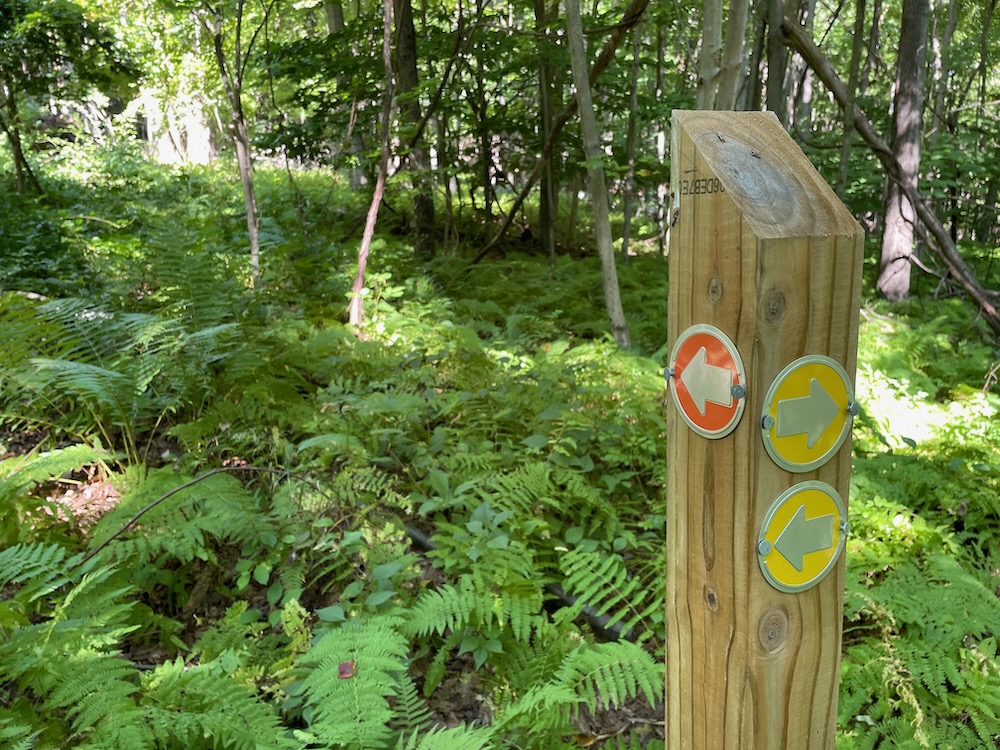 Interestingly, just north of here lies Lost Acres Orchard (and Lost Acres Vineyard) and just east, Clark Farms Orchard and Bushy Hill (distilled!) Cidery are both in operation in 2022.
At the Messenger homestead, the trail makes its turn back to Katan-Ensor Preserve and the parking area. But it's not a super easy trek – unless you choose that cutoff trail to avoid the climb.
Sticking to the main yellow trail, through the old stone walls and past rock outcrops that must have given the Messenger fits, I began ascending again. Another large glacial erratic loomed as I made my way to the spur trail out to the Scarlet Tanager Overlook after a short descent.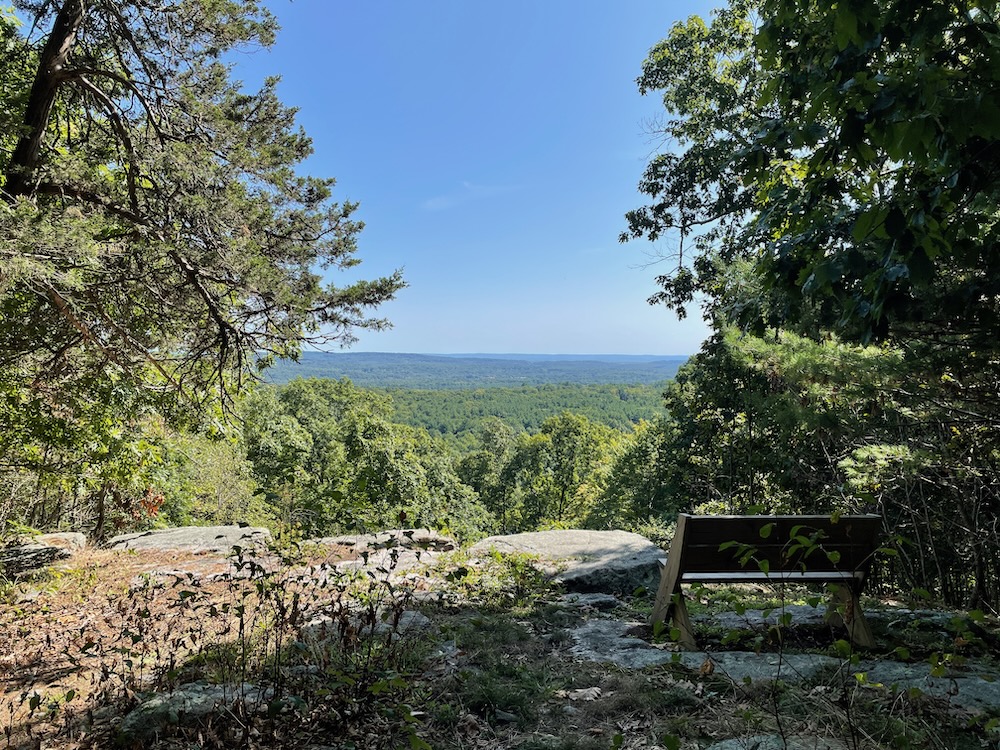 Wow. I hadn't done my research so I wasn't expected the view that appeared before me. Another bench is provided, and this time I took a seat and took it all in. It's here that the GLT did some tree-clearing and of course as I snapped a picture I suddenly didn't care about that aspect of the place. There are plenty of trees in these woods! And the Messengers chopped them all down a couple hundred years ago anyway. I enjoyed the view east.
The descent from the overlook is fairly steep, but not too long. I was back to the flat old woods road in short order heading south to my car. Crossed back over into the Katan-Ensor Preserve and this time followed the red trail (rather than the hilly blue loop again.) There was nothing too exciting about this last little bit and I was soon back in the field next to the Katan's barn and gazebo.
I don't know what the Granby Land Trust has up their sleeve for the future, but as long as they keep unveiling these fantastic properties, I'll keep hyping them up.
Beauty! History! Granby! I love it.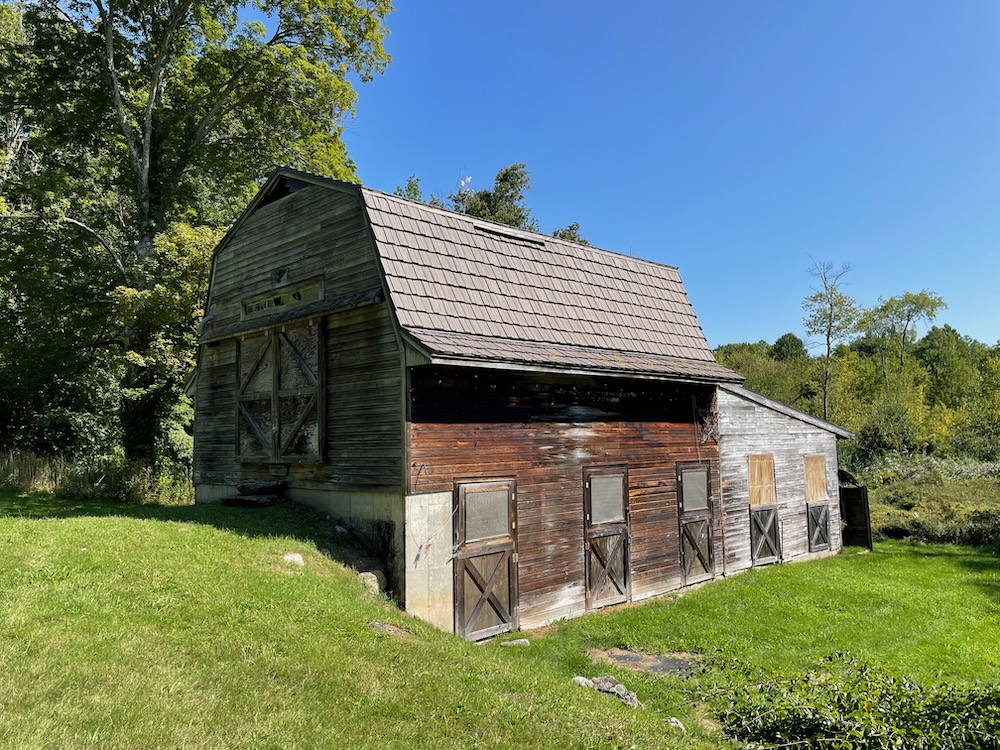 Granby Land Trust
Maps of the preserves
CTMQ's Granby Land Trust Trails