Ferreting Out the Ice Cream
Canton Creamery, Canton
June 2021
Yes, this is the place you drove past and did a doubletake. Yes, that building where Routes 44, 202, and 179 merge/split that sells tractors, chicken feed, hamsters, fishtanks, dog food, liquor, beer, flowers, and ice cream. Welcome to Petal & Paws in Canton!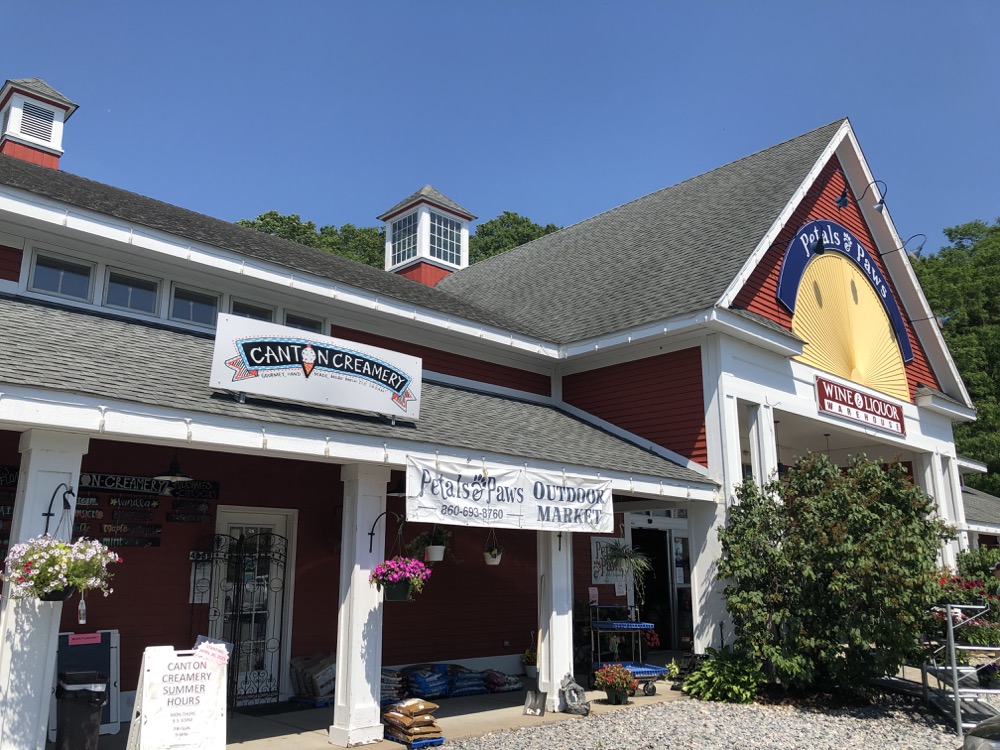 I'd driven past the building at least 300 times before finally stopping in. And the first time I did, I went merely to see if the Canton Creamery was as advertised: a small ice cream stand that makes its own ice cream in-house.
After missing the entrance on Route 44 and being surprised there's no alternate way into the lot along Route 179, I did a U-Turn and then entered the exit. The whole outside set-up here is awful. I parked and entered the door and found myself in… a liquor store. The liquor store is not part of the pet supplies and farm and ice cream store. The inside set-up here is a mess too.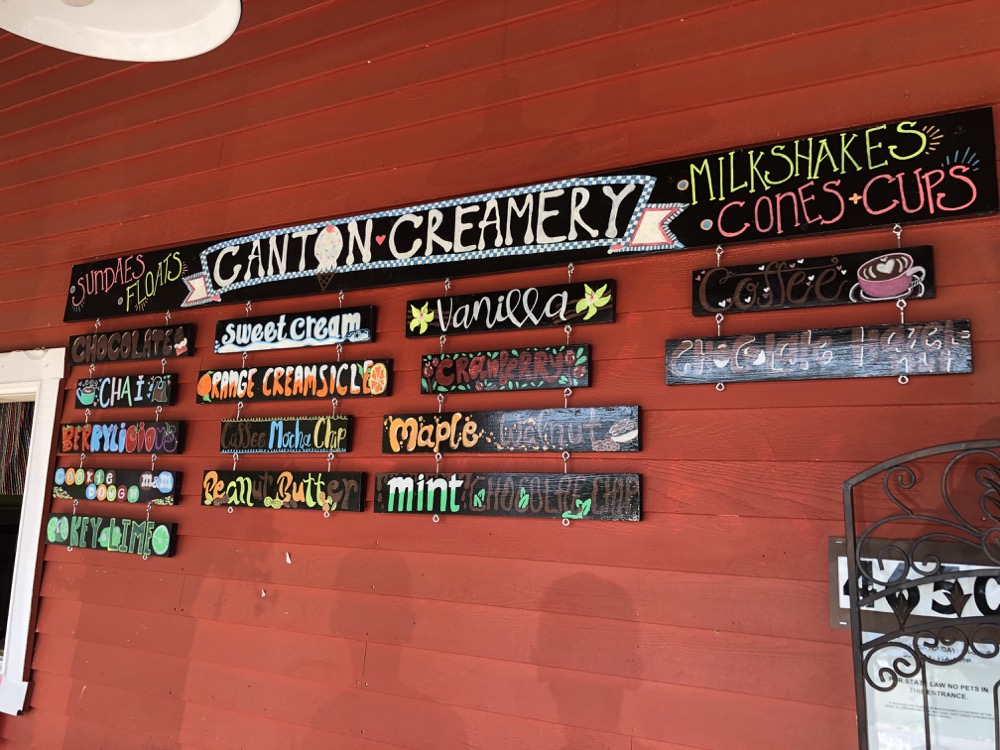 Once sorted out, I fake-shopped for pet and garden supplies in Petals & Paws and spied the corner occupied by the ice cream shop. My first thought was that eating ice cream with the unmistakable and unavoidable smells of a space that sells ferrets and fertilizer is… not ideal. The whole vibe here is very Nebraska.
But it's also a very real homemade ice cream shop.
Canton Creamery crafts delicious homemade micro-batch ice cream, featuring fresh local ingredients from Connecticut farms in season, and definitely made with love. Come in and sample some of your all-time favorites or try some of our unique creations.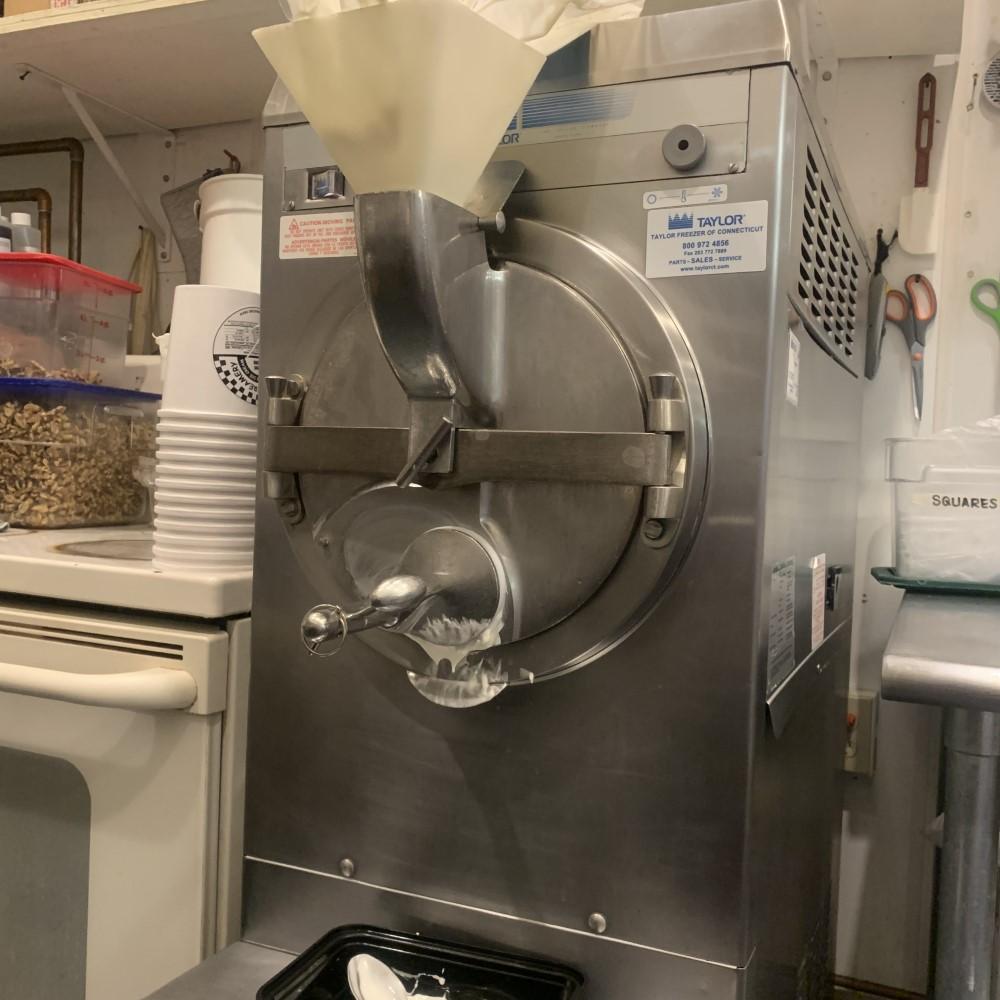 I didn't have any ice cream during my initial scouting visit. I waited until a blazing hot Sunday afternoon when I came with my son after a 4-0 domination of the Farmington Soccer Club. I only mention that because a) they are rivals who never beat West Hartford, and b) they play a particularly cheap and dirty brand of soccer. That's right, I said it.
There's a window to the patio so ice cream customers don't actually have to navigate the Iams and betta fish if the weather is cooperating. We had plenty of flavor choices, but we both went with the classics: chocolate mint chip for the boy and mocha chip for me. But they do get fairly creative here:
Come to the Canton Creamery for the best version of all the classics, or try some seasonal favorites featuring Connecticut blueberries or pumpkins, or one of our "adult" flavors made with Meyers Dark Jamaican Rum, Guinness Extra Stout, or Kahlua liquer. Fresh ginger, Chai tea, and Chamomile are a few of the infused flavors, and Oatmeal Cookie, Gingerbread Spice, S'mores, and Snickerdoodle are some of the Creamery's nods to Grandma's kitchen.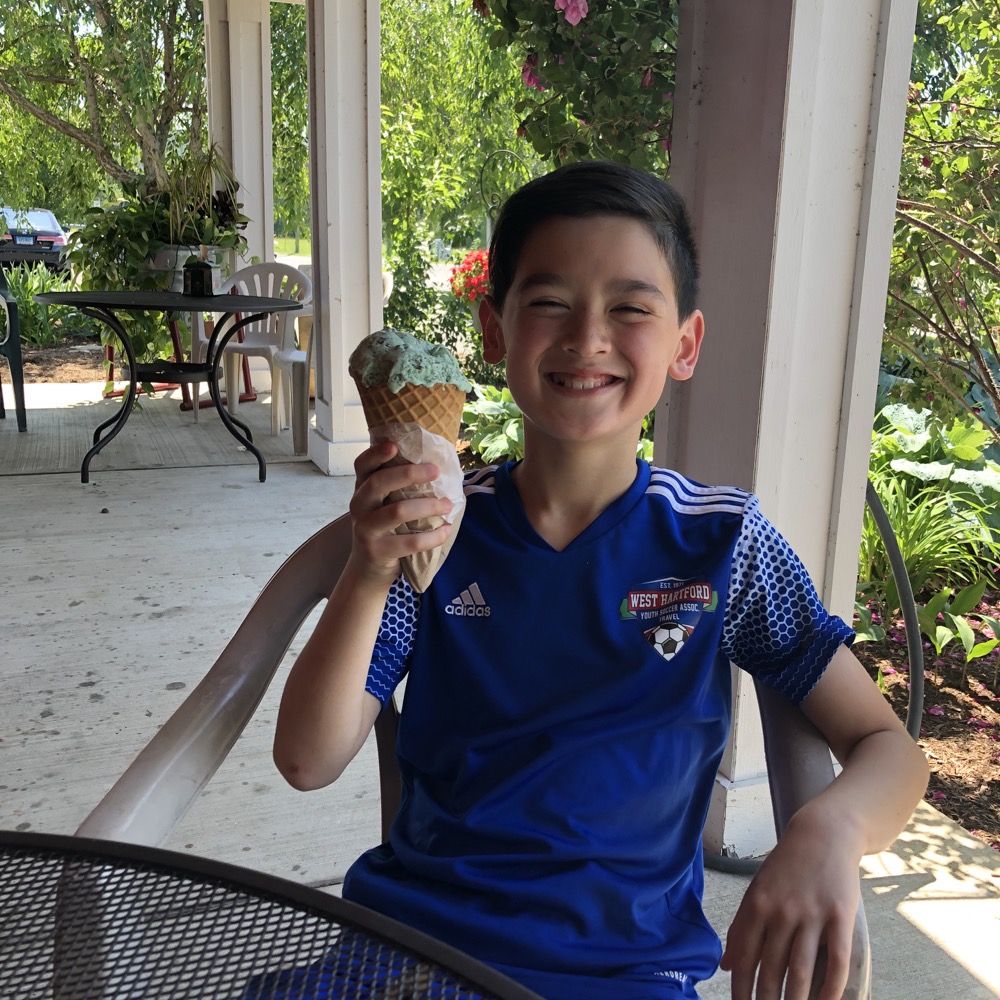 "Nods to Grandma's kitchen?" See… total Nebraska vibes. But they do have vegan options too, which is pretty Connecticutty. So are the Hosmer Mountain Soda floats.
Calvin and I found table under a canopy and quietly enjoyed our cones. A few picnic tables are scattered about. The ice cream is good. It's straight up ice cream; nothing crazy rich or ridiculously flavored. Calvin made two observations:
"Isn't it funny every time we get ice cream they always think the big cone is for you and the small cone is for me?" This is true.
Also, "why is no one here? It's super hot and sunny and we're the only people eating ice cream." This was also true.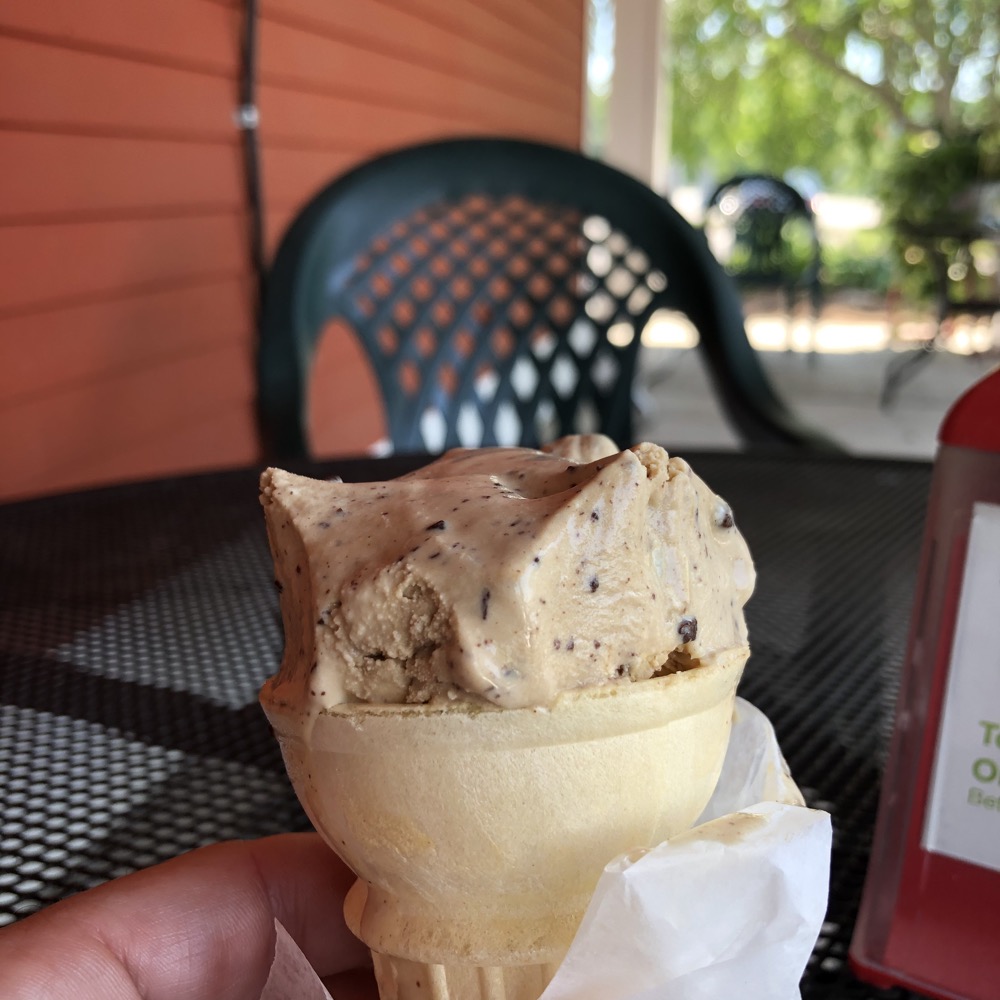 Now, it was 2:30 in the afternoon for one thing, and it was perhaps almost too hot for another, but I'll say that the weird location – both from a road engineering standpoint and a "it's literally in a chicken feed and gerbil store" standpoint – doesn't exactly help their cause.
But The Canton Creamery has been here for many years (and they are sold in many smaller grocery stores in the surrounding towns) so obviously it works. And it's location will work for us in the future, as any time we're returning for northwestern Connecticut adventures we'll be passing this place on our way back home. And something tells me ice cream addict Calvin has filed that fact away in his brain.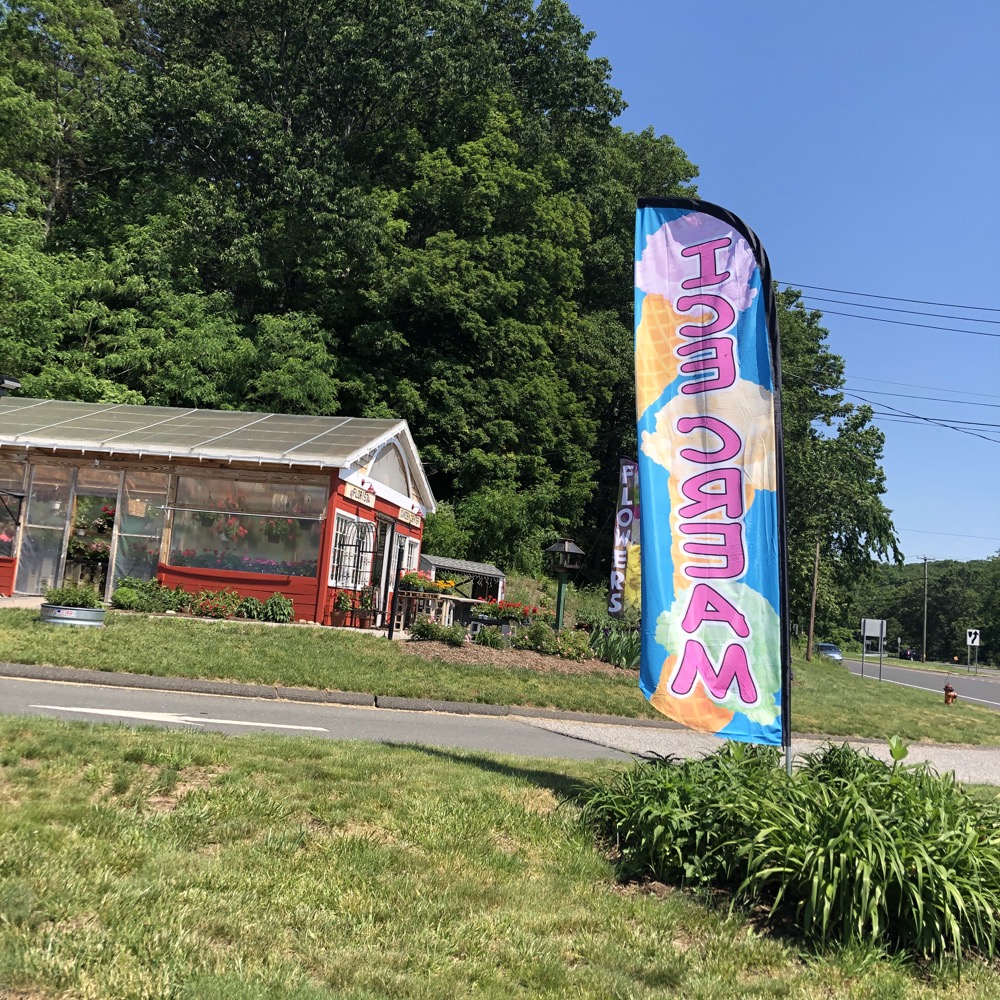 Canton Creamery
CTMQ's Homemade Ice Cream Trail