Bring Them On!
If you know anything about me, you know that I'm a sucker for hiking challenges. Peak-bagging and high-pointing and red-lining get me more excited than you'd ever believe. There are a slew of such challenges all over New England and New York – as well as all over the country and world. Real life makes completing these out of state challenges difficult, but it's fun to dream.
But there are several in our little state, although many seem to be fleeting or even possibly just hypothetical. As ever, if you are reading this and are familiar with any I don't have listed here, please let me know. I thought this page would be a good idea to create since everything below is in different places all over my site.

Active Challenges
Connecticut State Parks "The Sky's the Limit" Annual Hiking Challenges (2015- ): The state's DEEP expanded the excellent "No Child Left Inside" slate of activities to include year-long "hiking challenges." You must go to their designated places and take "selfies" of yourself at a specified point within a state park or forest. It really is a great thing the state does. I did it for three years with my boys, got the certificates and medallions, and that was enough for me.
The 2015 Sky's the Limit Challenge
The 2016 Sky's the Limit Challenge
The 2017 Sky's the Limit Challenge

CFPA Blue Trails Challenge: Connecticut Forest & Parks Association phased out their 3 patched trails in 2014, but have revamped the whole thing to include the entire trail system in a different way.
The challenge has changed slightly since it began, but basically there are mileage levels (50, 200, 400, 800) to attain for which you get CFPA gear. I'm just red-lining all the CFPA Walk Book trails for CTMQ, and I don't really need "stuff," but this is hands down THE hiking challenge in the state.
More information
CFPA Trail Map

Appalachian Trail, Connecticut Section, Sherman to Salisbury (56 Miles): Who doesn't know what the AT is? I hiked this section during my thru-hike in 1997, but that was way before CTMQ, so I'm doing it again. The Appalachian Trail Conference gives (gave?) CT rocker patches to completers.

Giant Master, Sleeping Giant State Park trails, Hamden (30+ Miles): This State Park trail network is maintained by the Sleeping Giant Park Association. Completing this one requires a LOT of double-backs and planning, especially for the solo hiker.
I highly recommend this one, as it gets you to places in the very well-known park most visitors don't know about. Everyone's been to the tower, but not everyone has seen the Giant's knees. You get a certificate and patch upon completion.
You must be a Sleeping Giant Park Association dues paying member while completing.
CTMQ's Sleeping Giant hikes
I AM A GIANT MASTER

Burlington Land Trust Trails Challenges: Hats off to the Burlington Land Trust as they seem obsessed with their trails. They've changed up their challenges over the years, and the "Trail Master" one never really took off. But I did it before they realized.
See the Burlington Land Trust's website for current challenge information, as they change every few years it seems. I don't know what – if anything – you get these days, but I got a handsome t-shirt.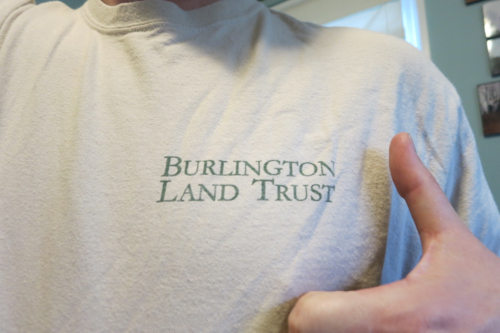 Steep Rock Hiker's Challenge, Washington, (~40 Miles): I've said it before and I'll say it again: the Steep Rock Association Preserves offer some of the best hiking in the state. Period.
Steep Rock Assocciation Info where you'll find information on a couple challenges; and you must be a Steep Rock dues paying member while completing. If you complete the Hiker's Challenge, you'll get a hat, a lapel pin, and a certificate.

Ives Trail (Bethel, Danbury, Ridgefield, & Redding, (19 Miles) I love a patched hike that I can feasibly do in a day. Although I'd spend almost as much time drive to and from as I would walking. But the completion patch will be worth it.

My made up Challenge & Peakbagging:
Connecticut 17ers: These are the ten highest peaks in Connecticut plus the other seven above 1,700 feet. Most of which are not trailed, and some of which are private property. I don't recommend you try to complete this list. Let me be the lone idiot to do so.
(Since I originally published my CT 17er list, several intrepid explorers have contacted me with tips and tricks to summit them. So I guess I'm not alone.)
Other Northeast Peak-Bagging Challenges
There are a million of these. I wish I could do these for my job, but I can't. Here's the list of all the challenges I care to list.


Retired Challenges
The Connecticut 400 Club: This one is officially retired in deference to the Blue Trails Challenge, but I'd like to hang on to it if you don't mind… this is our oldest (as well as our most misnamed) challenge. The CT400 Challenge was created in the 1970's when the CFPA trails totaled 400 miles. Since then, the mileage has more than doubled, but the name of the "club" remained until it was ended. This one was basically redlining the CFPA Walk Book, no matter the true mileage.

Three CFPA Patched Trails: There were a few other hike rewards within the Connecticut 400. However, as I mentioned above, they were sadly phased out in late 2014. They were:
The Mattabesset Trail, 57.2 Miles, part of the New England National Scenic Trail. This centrally located horseshoe-shaped trail is the central piece of Connecticut's section of the NET.
The Metacomet Trail, 59.6 Miles, part of the New England National Scenic Trail. From the Berlin Turnpike north to the Massachusetts line in Suffield, this is Connecticut's northernmost sector of the NET.
The Quinnipiac Trail, 24 Miles, I believe this is deemed the CFPA's oldest trail, hence its importance despite its relatively short length.
Back in the day, you'd get trail completion patches, but now you just get a good chunk of your 200-miler level of the Blue Trails Challenge. Which is still cool.

If you've read all the way down to here and know of other CT trail challenges with rewards, please let me know!