"Hi. I'm Mike. Mike the Mockingbird. I'm Here to Mock You."
Westport (Google Maps location)
March 26, 2016
Earthplace, "Where science, conservation, and education meet."
Load up the minivan honey, we're taking the boys to… school?
The way Earthplace sells itself, it almost sounds like that. But I'm here to let you know that Earthplace is actually pretty cool. Not to imply that school isn't cool. Any kids reading this, listen to me: school is totally cool. Now stop reading this ding-dong website and get back to your studies.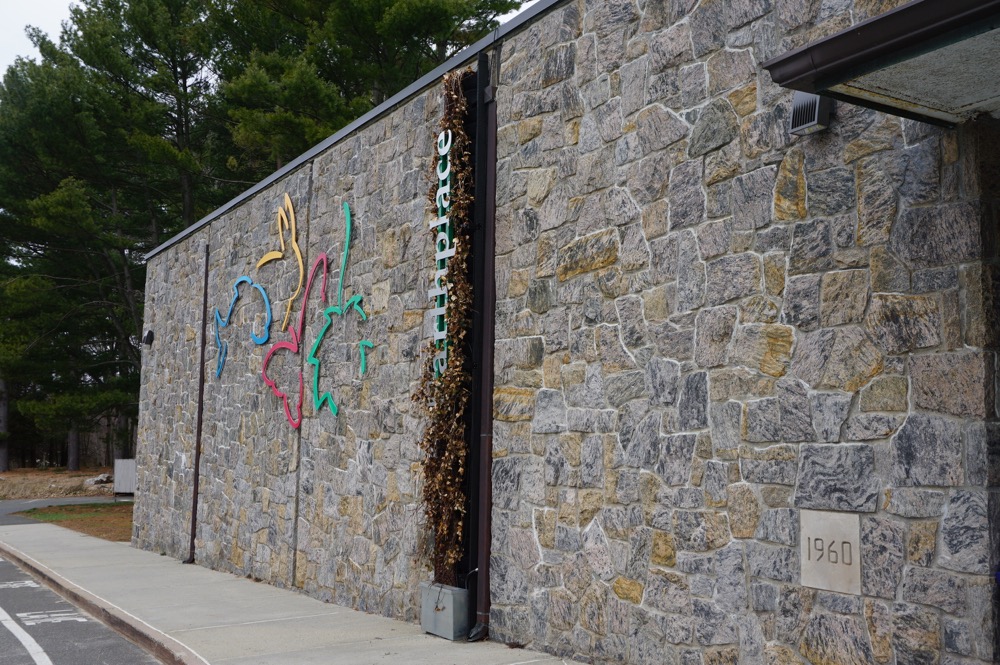 Now that we're all adults here, we all know school can be a total drag. And Earthplace edges a little close to that "overly educational" line a bit, but never crosses it. Unless, of course, you want to cross it – which would be great! The organization has research and educational offshoots that certainly seem like excellent pursuits.
But since I visited with my little boys, we weren't about to go study Long Island sound chemical run-off levels or anything. But before we get to what we did see and do here, let's learn a little bit about this place called Earthplace, which was founded in 1958.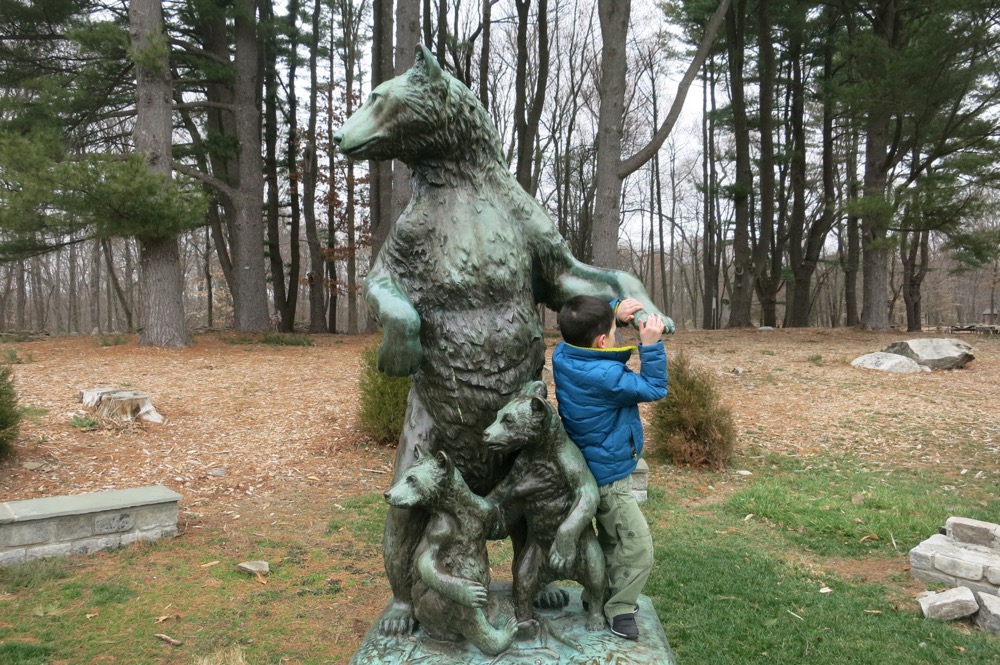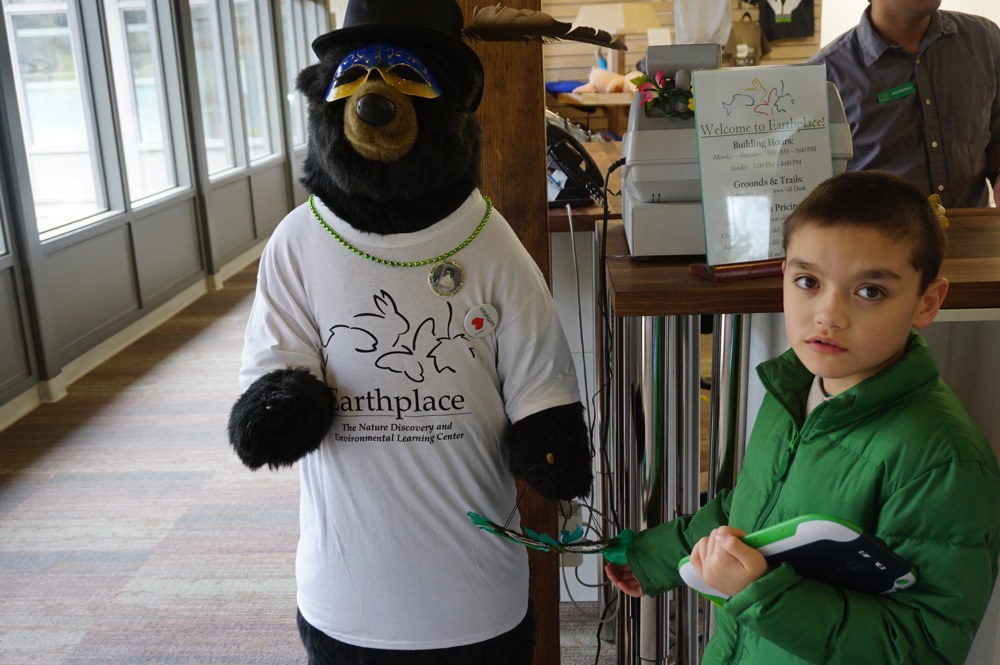 It has grown to include many mission-related resources including a state-licensed preschool, a nature based exhibit hall, and Harbor Watch, our locally renowned water quality research program. Our wildlife sanctuary consists of 62 contiguous acres of open space that supports a variety of habitats and several miles of walking trails—including a trail suitable for wheelchairs and strollers. We are also home to the live Connecticut Birds of Prey Exhibit and the indoor Animal Hall for daily viewing of our animal ambassadors. Earthplace works toward our mission every day by providing a diverse continuum of hands-on, nature-based learning experiences throughout childhood and young adulthood, as well as environmental programs and volunteer opportunities for adults.
It was known as The Mid-Fairfield County Youth Museum when it opened. That sounds like something that should exist in Iowa, not Westport, Connecticut. (Shout out to the Youth Museum in New Britain for keeping that moniker though.)
It then became The Nature Center for Environmental Activities which is somehow the worst name ever. So literal. Sheesh. At least they received the cool sculpture of a mother bear and her cubs from the prolific Anna Hyatt Huntington, whose similar works appear all over Fairfield County.
Earthplace's whole thing, if you haven't gleaned it yet, is that they blend science, conservation, and education into pathways for learning about nature and the environment. And speaking of pathways, we didn't hike any of the trails that wind through the woods here unfortunately. I will be returning to do just that someday.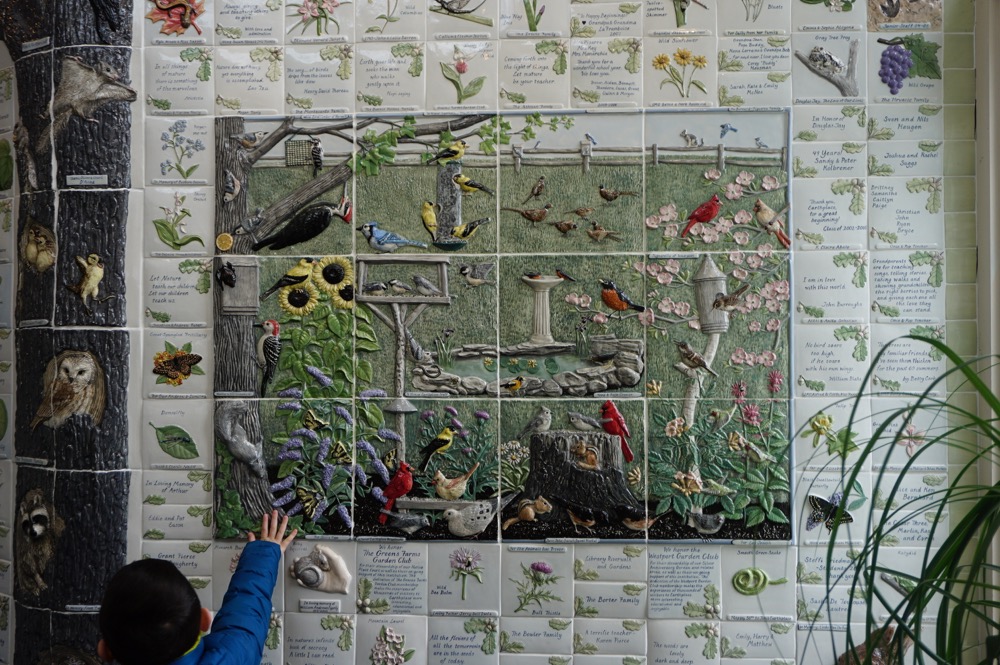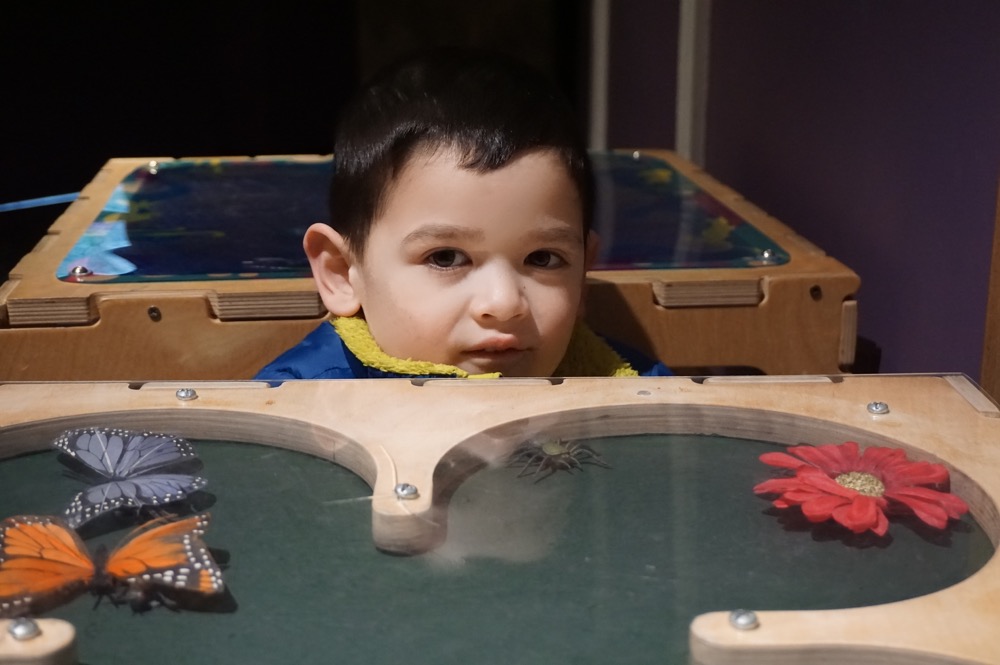 The building itself has an attractive fieldstone front and just inside the door, we were confronted with The Connecticut Wall of Nature. It's quite pretty and hugely impressive.
Designed and created by artist Marion Grebow, this wall in our entry area is composed of three-dimensional sculptured tiles that show scenes of nature found in Connecticut. All of the mammals, birds, amphibians, reptiles, insects, and plants are native to or are found in the state. The large border tiles focus on birds and mammals. The three scenic murals represent nature-related activities that can be enjoyed through Earthplace. The smaller tiles show local insects, amphibians and reptiles, as well as display quotations inspired by nature.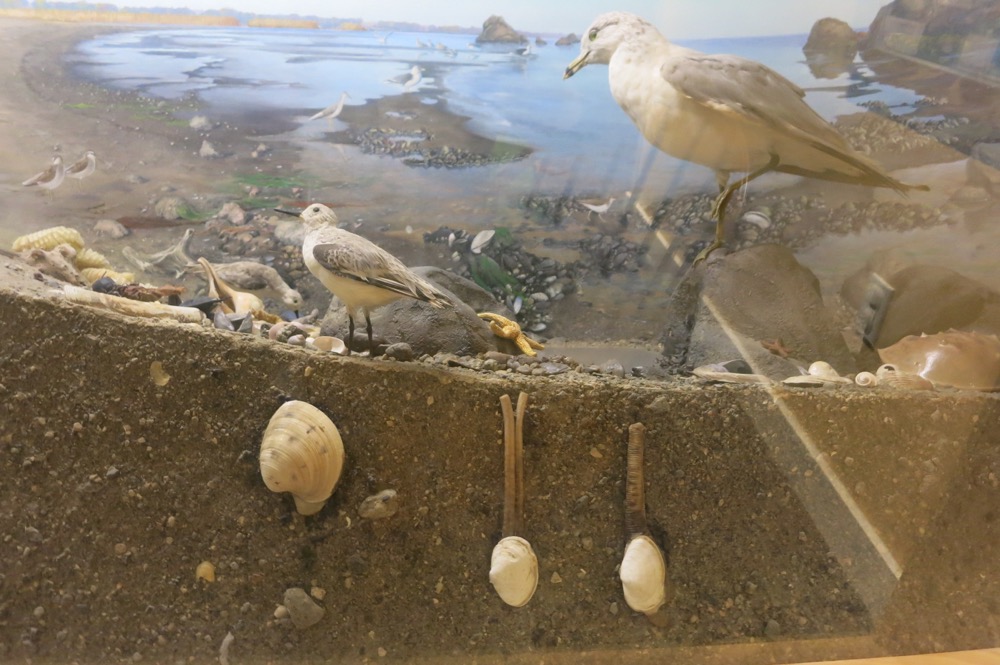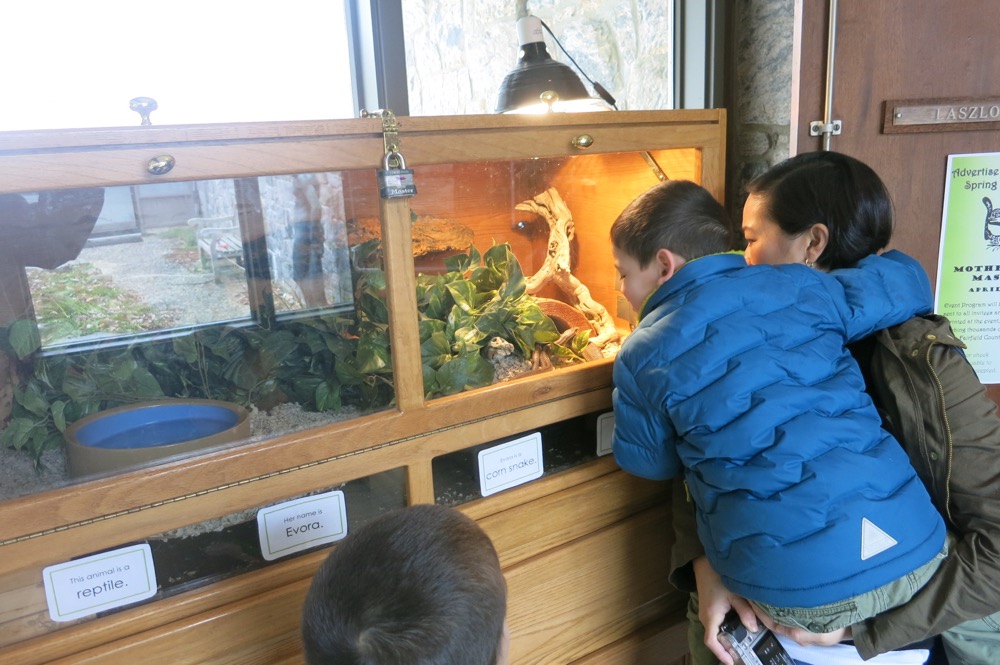 There are essentially three main areas here. A learning center that teaches kids about nature, a collection of animals, and the birds of prey outside. We started with the learning areas.
Natureplace at Earthplace is the typical learning center "filled with interactive areas to explore the wonders of nature." Wildlife dioramas depict different ecosystems of Connecticut in different seasons: spring woodlands, summer seashore, fall meadow, and life underground. There are also exhibits featuring topics such as local flora and fauna, environmental issues, backyard ecology and others.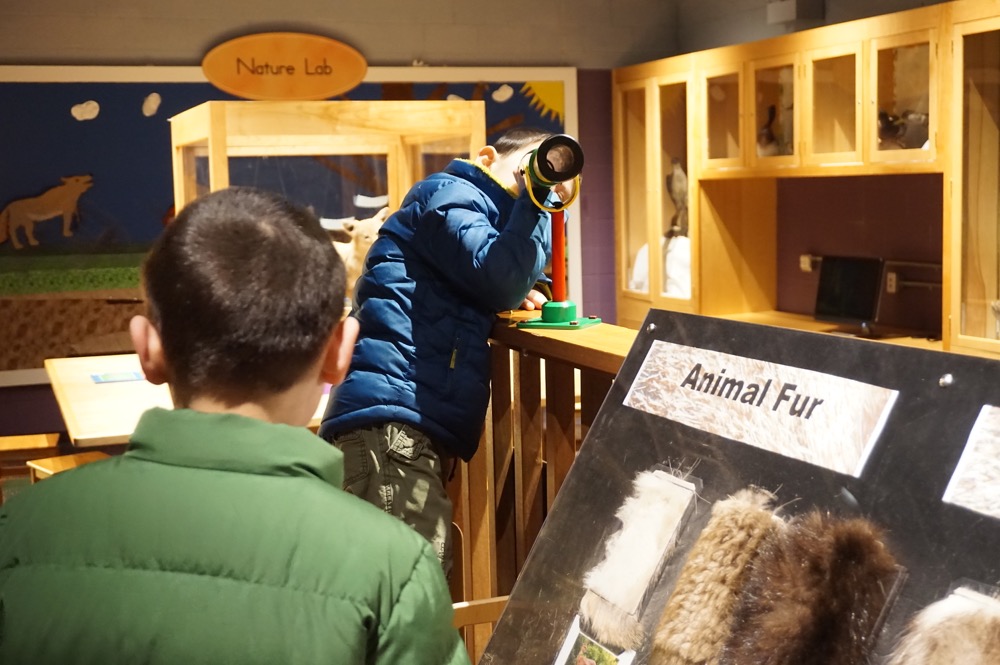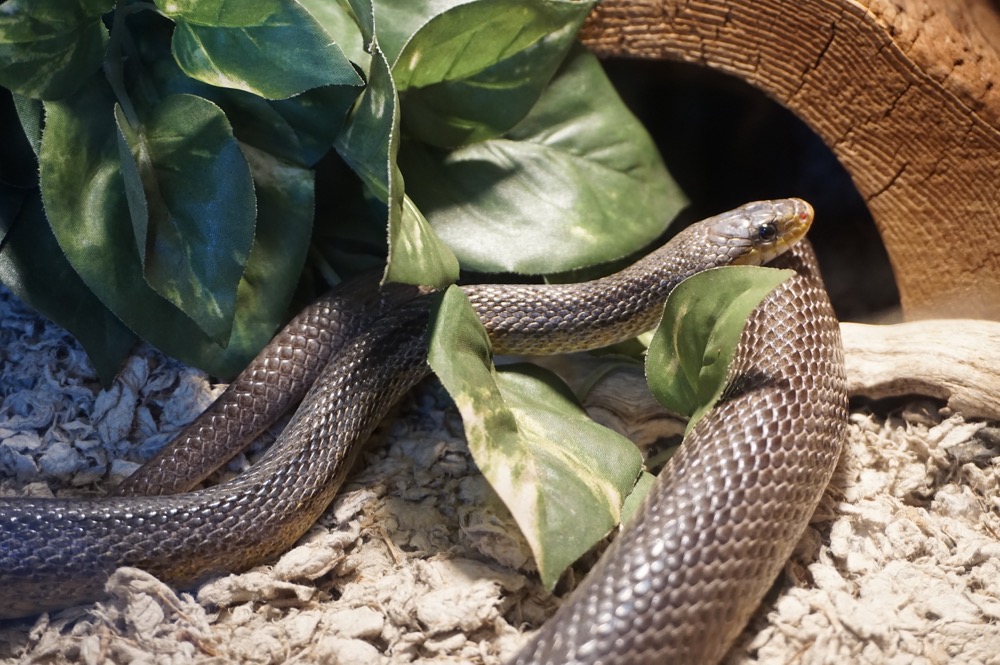 It's all very nice. Both boys spent a good deal of time here and I can only hope they learned a thing or two.
Calvin had his favorite exhibit for sure; helpfully labeled and everything: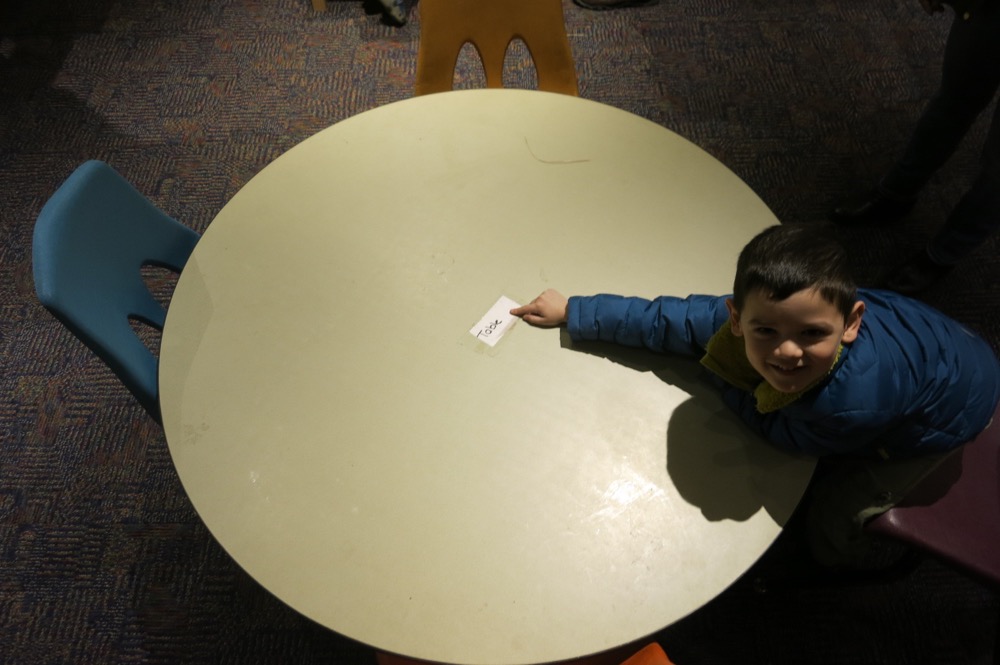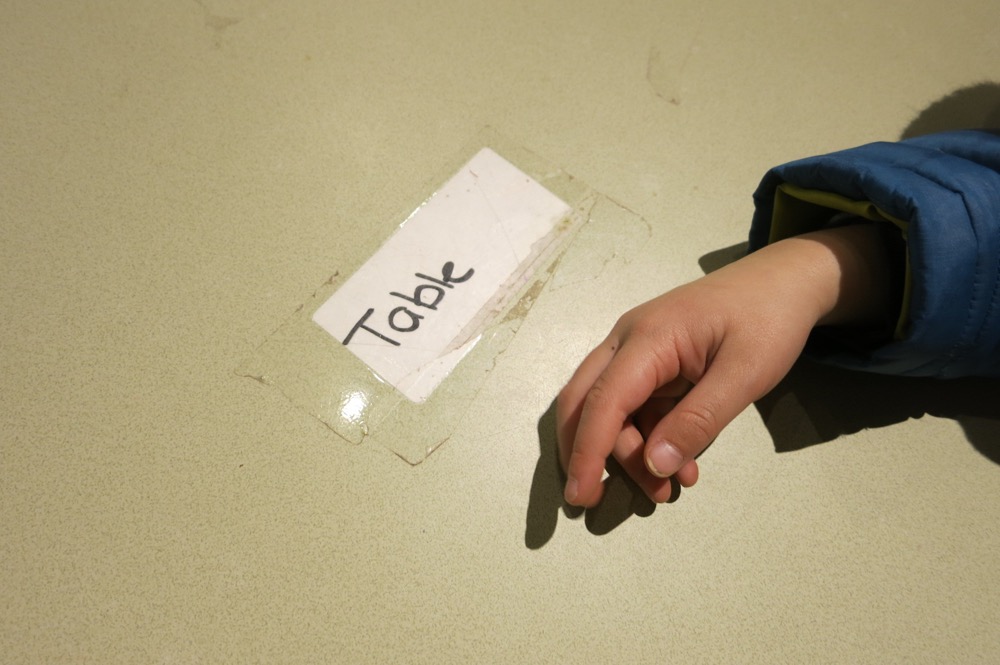 Oh, I've got more.
"Hey Damian, why don't you go ahead and open up that drawer over there. I'm sure there's something interesting in it – "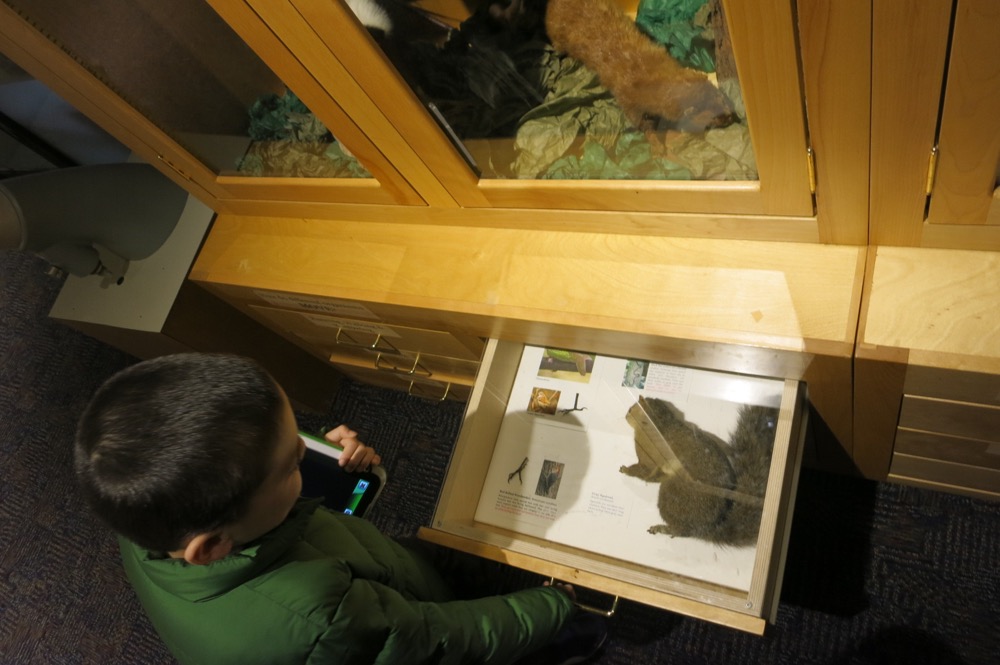 Oh. Wow. Was not expecting that.
There's just something different about a stuffed and mounted squirrel on a shelf versus one lying in state in a drawer. I can't explain why. Fear not, Damian was unaffected and even made a friend:
Alright, enough with the dead animals. Let's look at some live ones.
Our Animal Hall and the Connecticut Bird of Prey Exhibit provide our community with educational animal programs and experiences that focus on natural history, care and appreciation. We have over 50 different animal species including bald eagles, barred owls, box turtles, big brown bats, an opossum and many more.
Earthplace's mantra is to focus on local flora and fauna. But not all of the animals they house(d) are of southern New England. Still, I did appreciate the attempt. On the one hand, every kid likes to see iguanas and tortoises, but it's always good to show that hey, we've got some cool animals of our own here.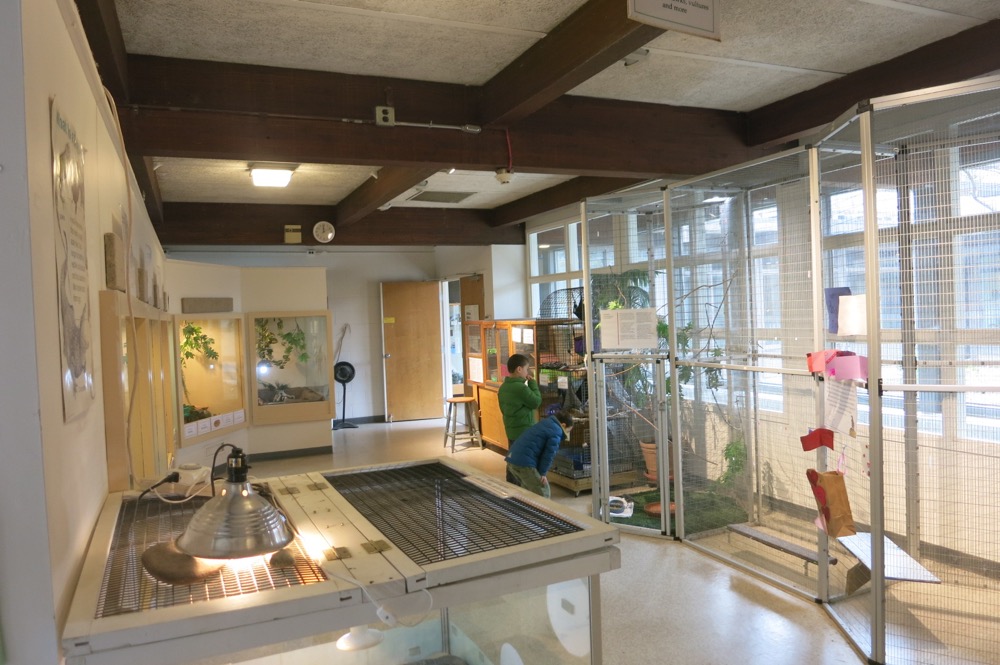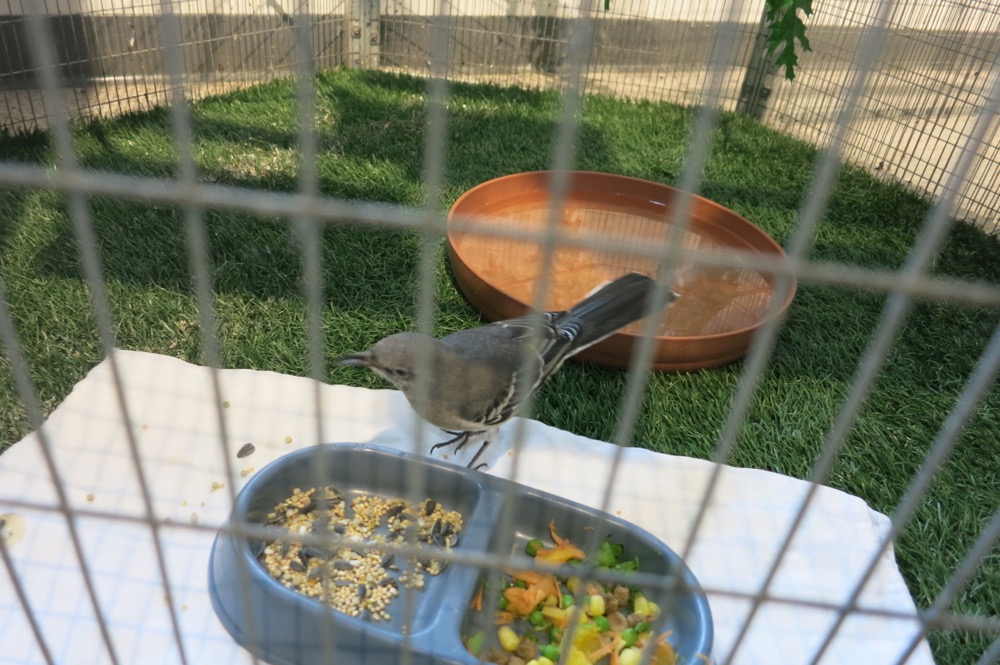 That's Mike. Mike the mockingbird. I cannot explain why that cracked me and Hoang up. We both get a kick out of animals with super common human names. Bob, Mike, Jane. Okay, it's not that funny Disclosure: my childhood cat – the best cat ever – was named Katie, and I loved Katie and have never once thought her name was remotely humorous… but Mike the mockingbird put us over the edge.
Perhaps we were just punchy from a long day out and about with two little boys. Let's go outside to see the big birds for a wake up call.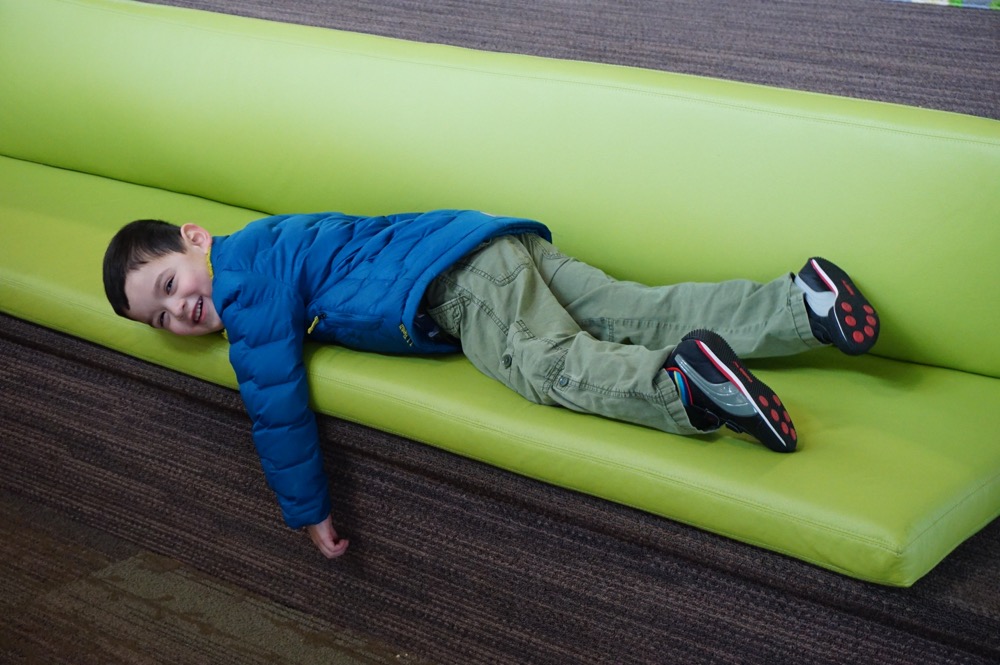 Calvin. Get up. Let's go.
Earthplace's birds of prey are the same birds of prey you'll see at two dozen other nature centers and such around the state. But they are never not cool. Hawks, owls, eagles, falcons… some of the most beautiful and powerful creatures in the entire animal kingdom…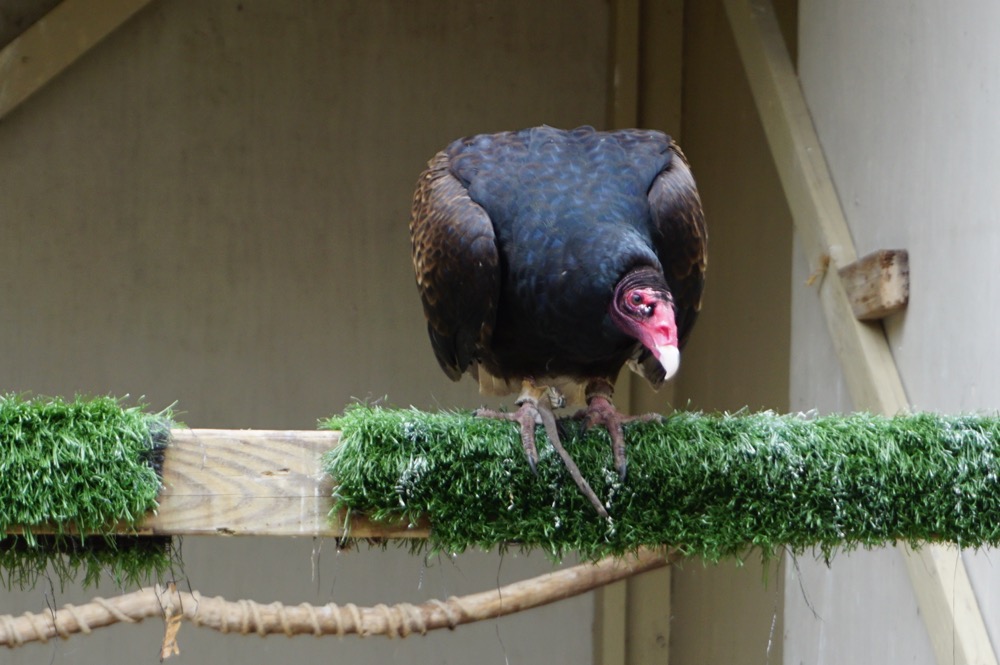 I said hawks, owls, eagles, falcons… some of the most beautiful and powerful creatures in the entire animal kingdom…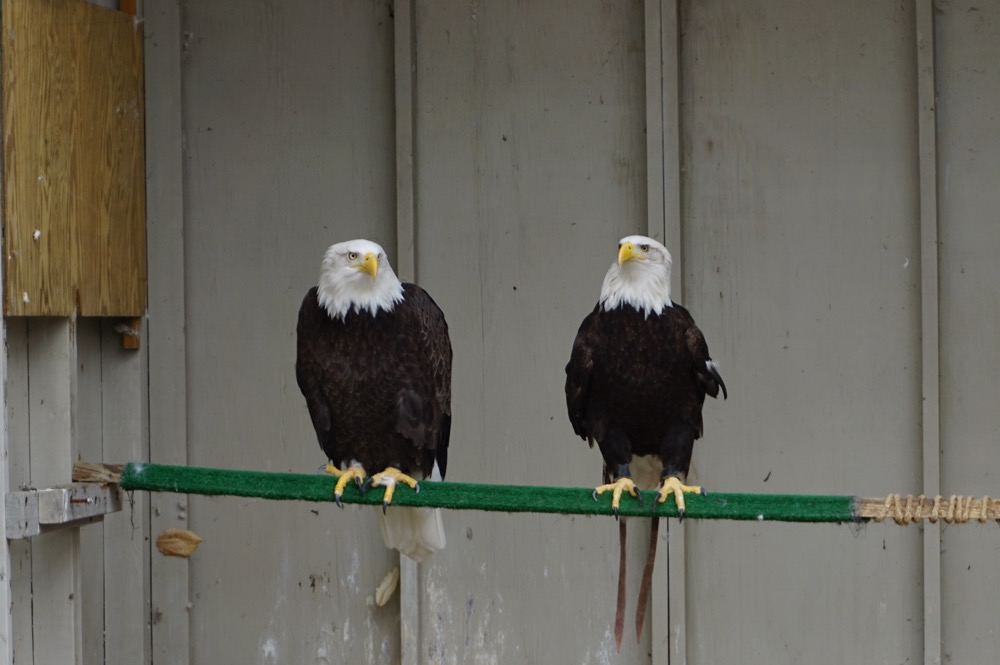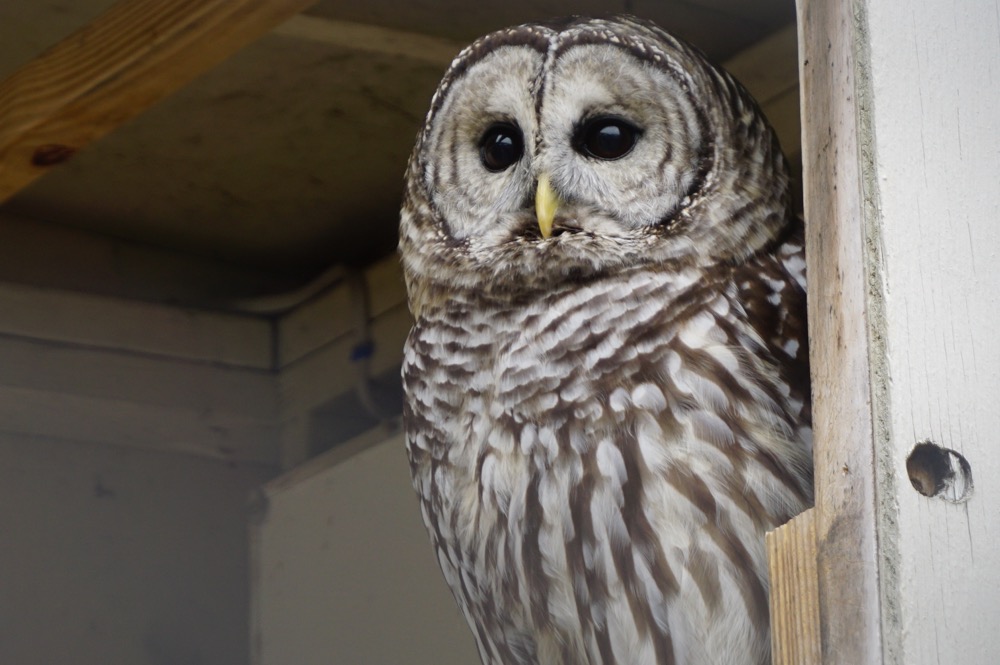 Phew. Thank you.
Of course vultures are cool and powerful in their own way and the world is a better place with them in it. After the outdoor exhibits, we poked around some of the play area outside, including a little basketball court(?)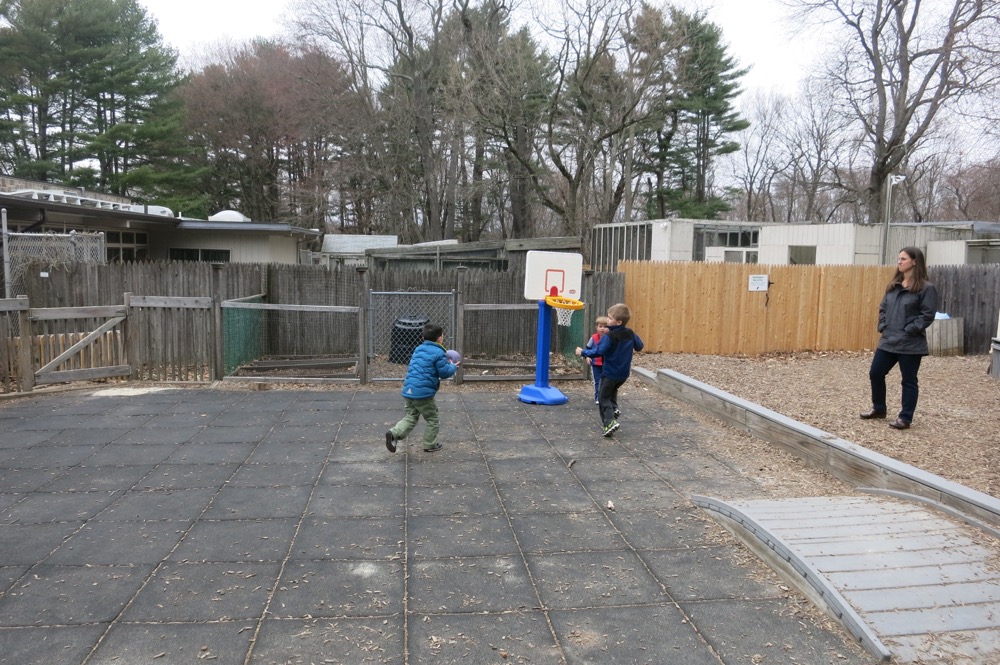 As I mentioned, I wanted to hike some of the trails, but that wasn't in the cards with my whole family in tow. Hoang and I let them climb and poke around for a while instead, while I learned a little bit more about Harbor Watch, which is intimately tied to Earthplace.
The mission of Harbor Watch is to improve water quality and ecosystem health in Connecticut. Harbor Watch addresses pollution threats to Long Island Sound and educates the next generation of scientists through hands-on research and experiential learning. As part of the larger organization of Earthplace, the work performed by Harbor Watch also supports the mission of Earthplace to build a passion in our community for nature and the environment through education, experience, and action.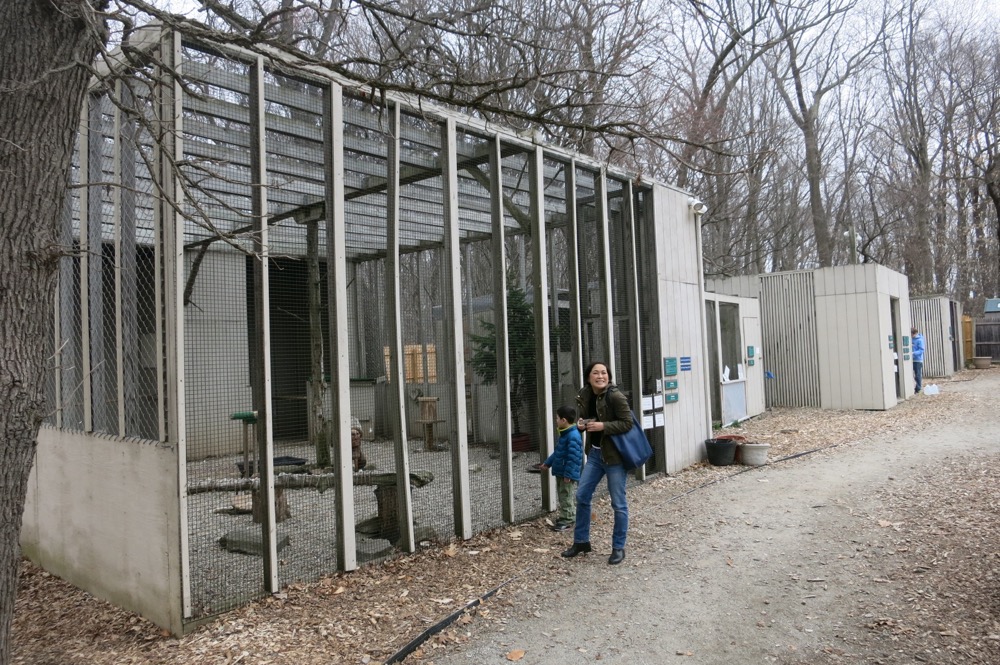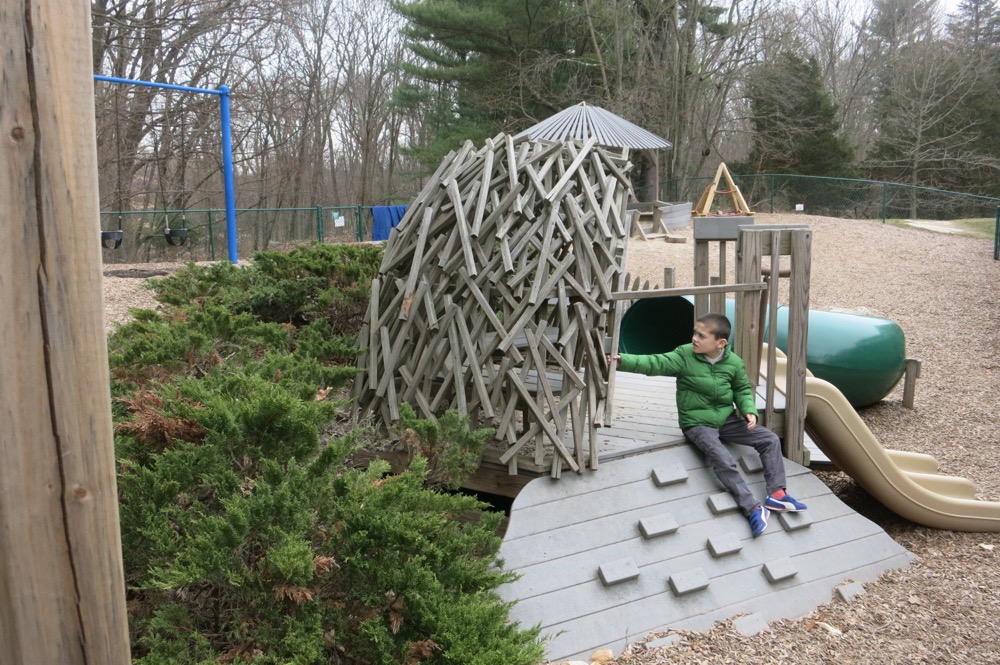 Since its inception, Harbor Watch has trained over 1,000 high school students, college interns, and adult volunteers in the work of protecting and improving the biological integrity of Long Island Sound and has monitored over 250 sites for a variety of physical and biological parameters.
Impressive. It seems like this place is where the bulk of Earthplace places its face. The museum itself is sort of a gateway to the greater mission, and I can get behind that.
And you know what? I have no issue with dead squirrels either.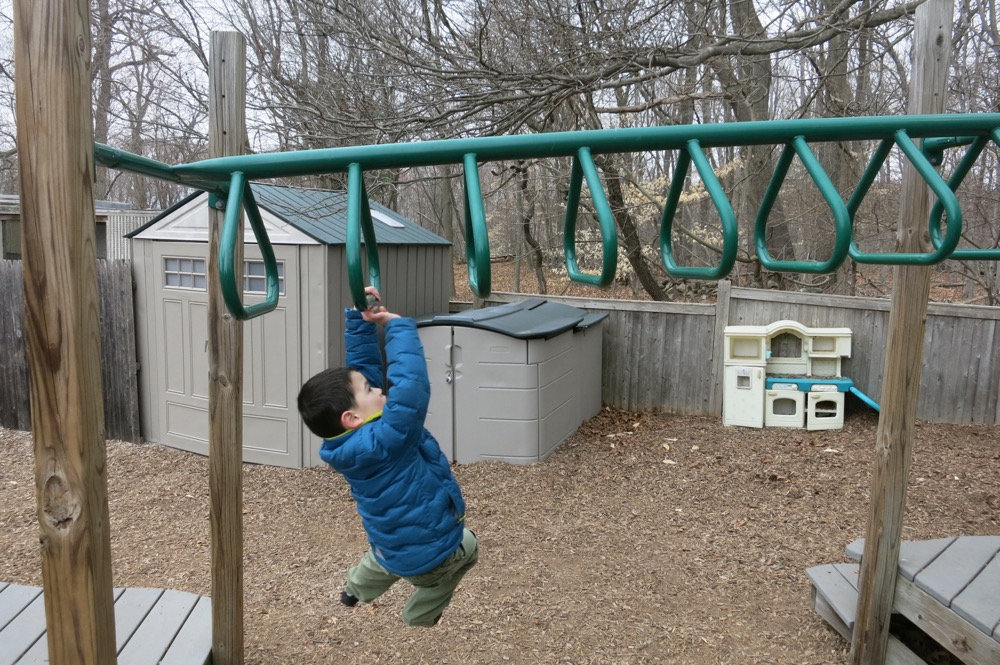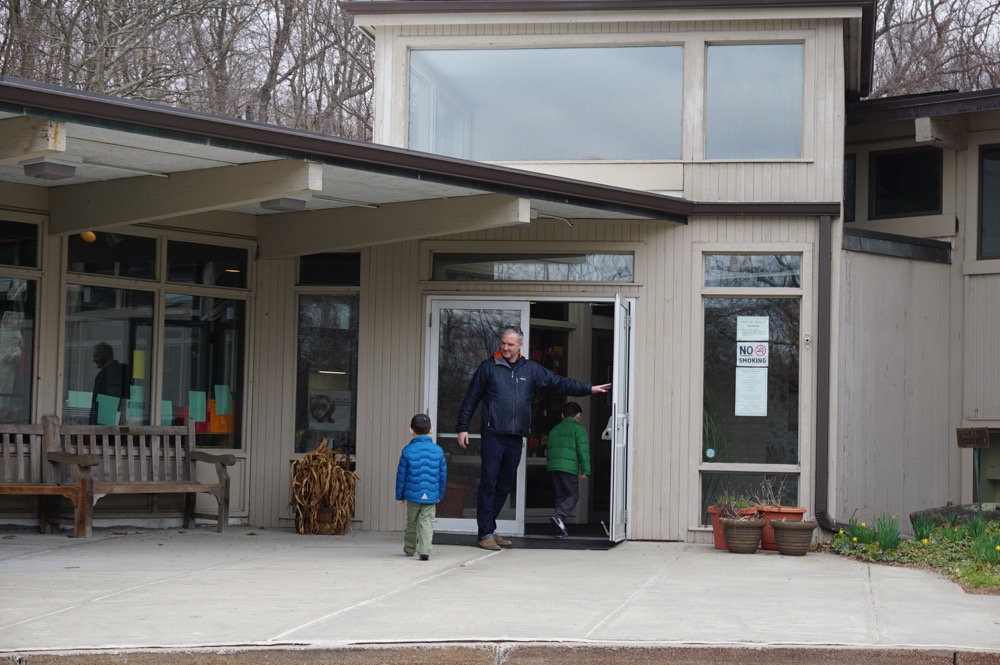 Earthplace
CTMQ's Museum Visits