Swingin' Good Time
East Haddam (Google Maps location)
June 10, 2017
Iconic.
From a national view, there are very few things that are truly iconic in Connecticut. Yale, New Haven pizza, Mark Twain's House, Mystic Seaport maybe… insurance? The Whalers logo for sure. Um, Greenwich wealth? CTMQ?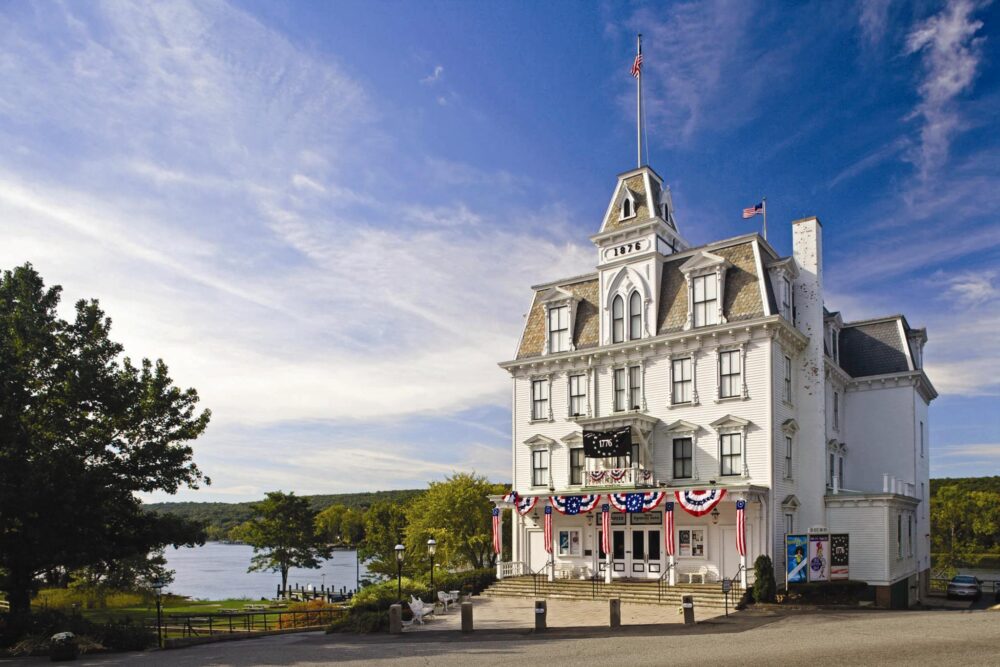 But if we shrink our 30,000 foot view and come down to earth a bit, I'd argue that the beautiful Goodspeed Opera House on the eastern bank of the Connecticut River fits the "icon" bill for sure. Tourism brochures love to feature the striking Victorian building whenever possible.
The Goodspeed offers tours on occasion and I'd been itching to catch one for years. I finally did with a large group on an annual Open House Day and I'd recommend you do the same – whether your interest lies in architecture, history, museums, or theater. Or any combination thereof.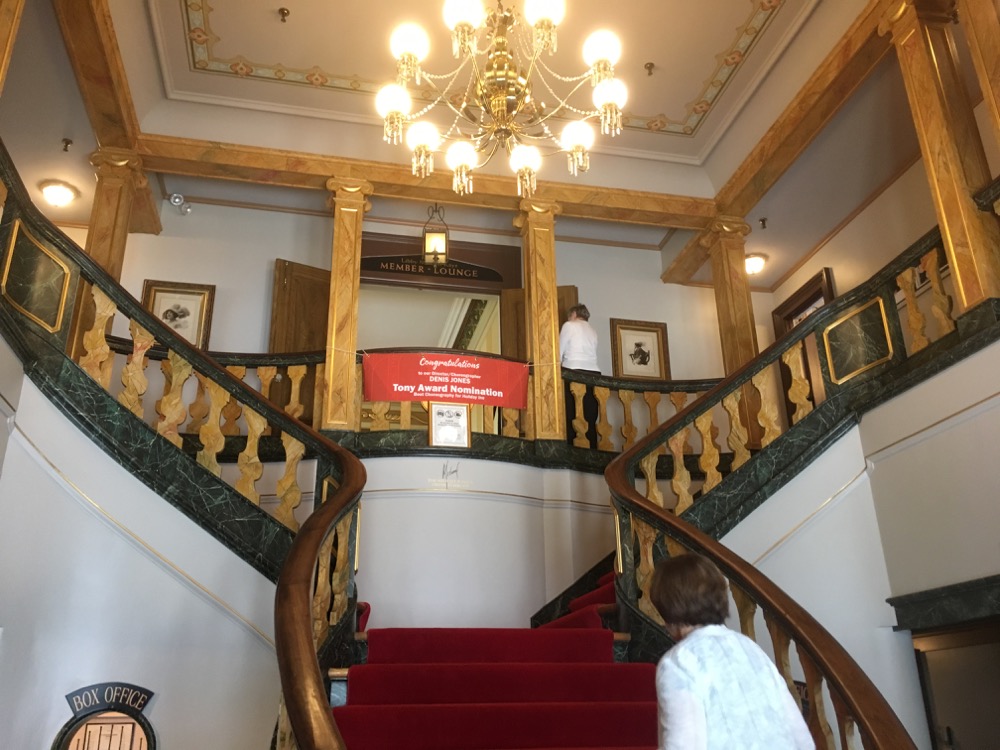 Oddly enough, the Goodspeed was never an opera house. The building was built in 1876 for William H. Goodspeed, a shipping and banking magnate who loved theater. In the 150 years since it was built, the building has endured a few vastly different lives – of course, originally as a theater, steamboat passenger terminal, and professional office space, it positively bustled.
After William Goodspeed's death in 1882, the opera house fell into disrepair, facing a series of less glamorous uses — from a militia base during World War I to a general store and a Department of Transportation storage facility. It was almost lost to history more than once – slated for demolition in 1958! – but was saved through the efforts of theater lovers and preservationists to re-open in 1963 with its original splendor.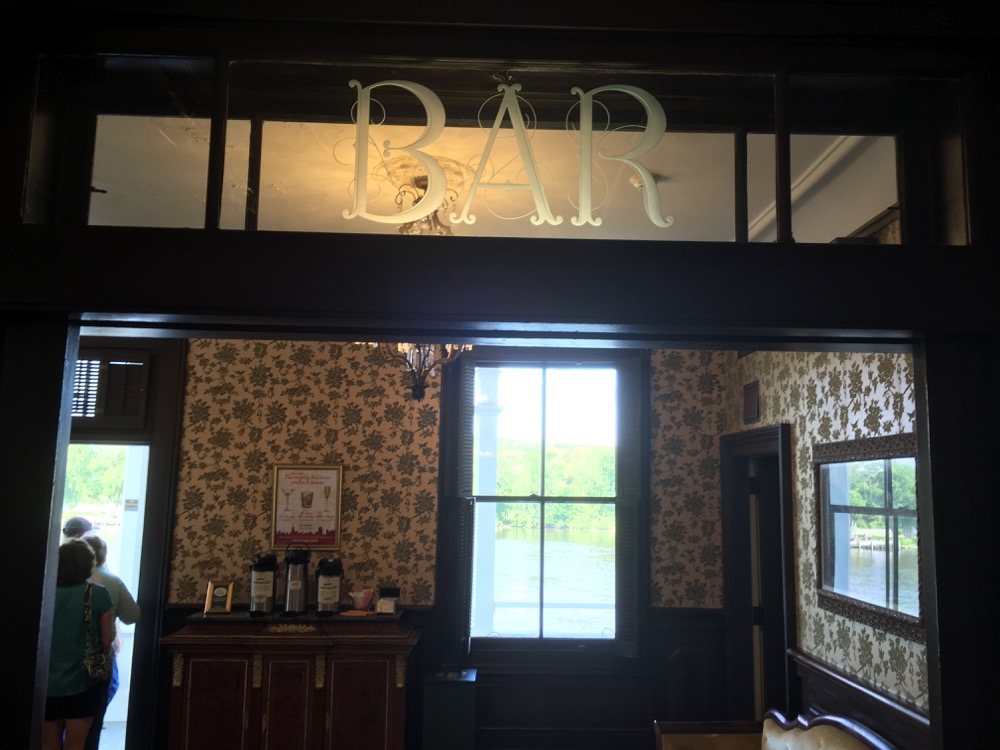 And thank goodness. Not only is it beautiful, but the Goodspeed is one of the most important production theaters in the country. And if and when you tour it, you learn things like how at six stories, it's the tallest building along the entire Connecticut River! Wait. What? That must've been the case in 1876. I can immediately think of a ton of taller buildings in East Hartford alone along the banks of the Connecticut River.
Back in its infancy, featured performers of the day were brought to East Haddam by steamboat, many directly from theatres in New York. Going to the Goodspeed was always an event, as it was a beacon of commerce, art, and architectural ingenuity.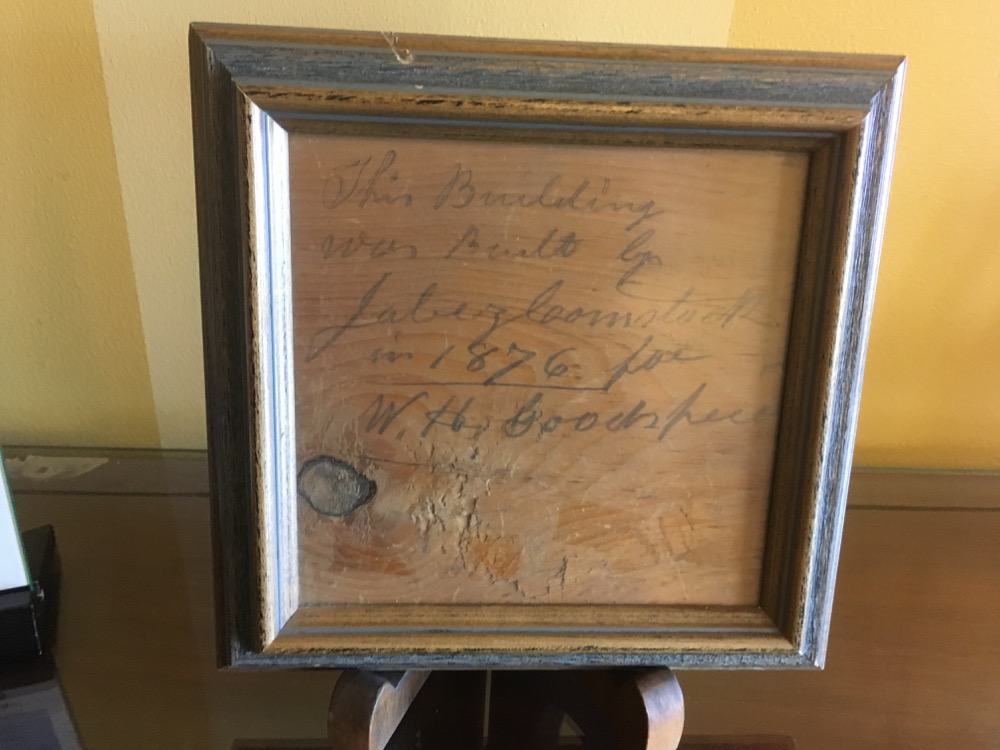 But as I wrote, this only lasted a very short while. Goodspeed died five years after his namesake theater opened and the whole thing just sort of… died with him. It slumped along for a while, but the Great Depression ended it. No touring companies could travel this far from New York and no one could afford a night out to the theater anyway.
In 1943, the building was purchased by the State Highway Department and used for the storage of winter-maintenance equipment… which is the saddest thing I think I've ever heard. By spring of 1958, the Opera House was set to be demolished; however, two persistent women fortunately recognized the importance of the Opera House and dedicated themselves to the cause of saving the building.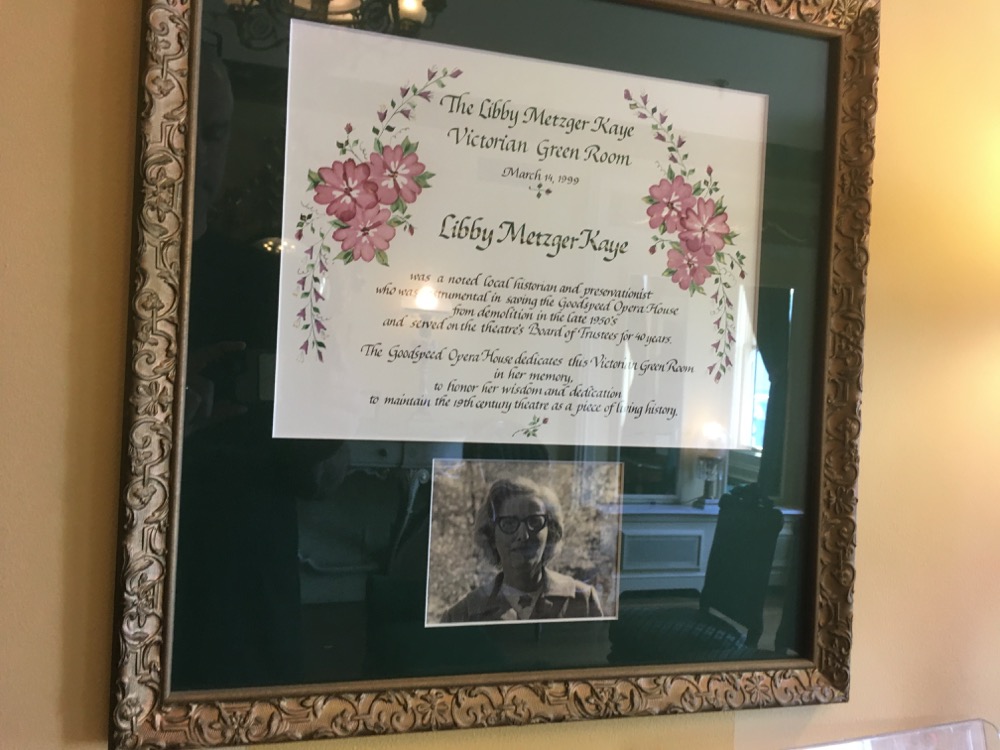 Those two women were Libby M. Kaye and Marian D. Terry. Kaye was a local and Terry was a Hartford mover and shaker. Both were interested in historic preservation and both sprung into action when they learned the state was going to raze the grand old building. They both recognized and appreciated the enchanting qualities of the building from a bygone age and the fact that it was one of the last surviving Opera Houses from the Gilded Age in the United States — perhaps the grandest of them all. They began to work together to avoid demolition, and both women worked tirelessly to enlist the help of their contacts in the Connecticut area.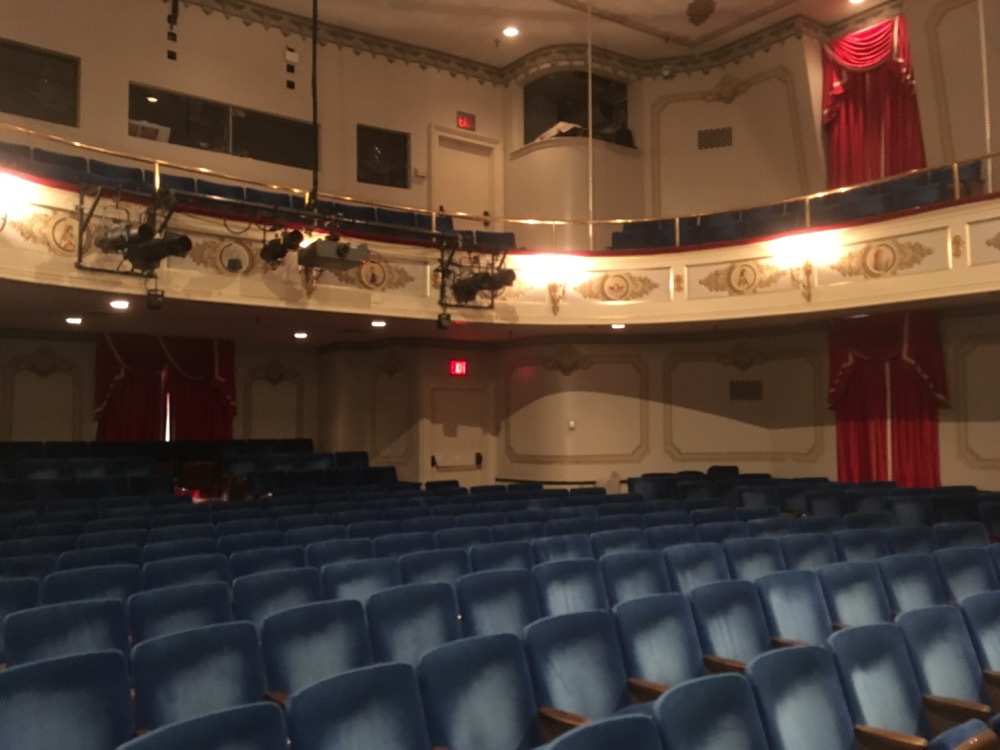 In 1959, the Goodspeed Opera House Foundation was organized to restore and reactivate the theatre. With the ultimate cooperation of the State of Connecticut and the support of donor-members of the Foundation, The Goodspeed was restored and rededicated on June 18, 1963, with the opening of the musical "Oh, Lady! Lady!!"
That sounds positively Chaucerian. But I hope the "Lady! Lady!!" was a subtle nod of thanks to the two women saviors who spearheaded the preservation effort.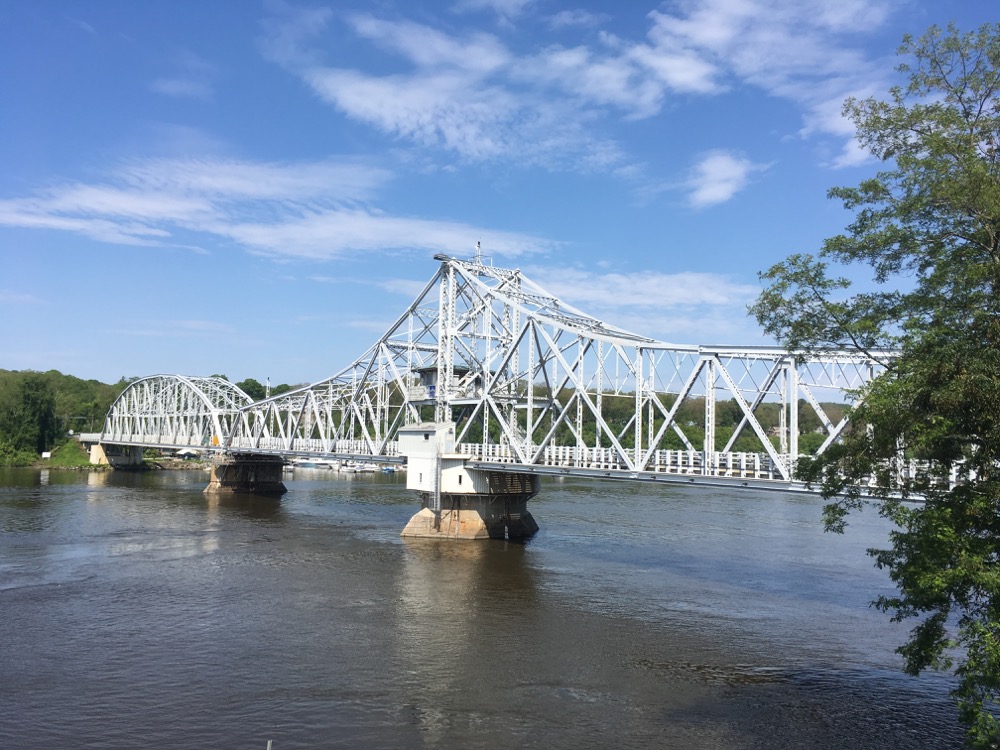 The theater layout is certainly unique. First of all, it's on the fourth floor of the joint. It has been re-worked and retrofitted in more ways than you could imagine, but it's 1876 character still remains.
On the tour, we learned all about the difficult technical challenges of production here. If you're really interested in these things, the Goodspeed website has lots of stuff like this:
The grid at The Goodspeed consists of 2″ x 7″ microlam joists installed in January 1995, which resemble the original wooden beams. Drops are flown using 6″ diameter roll tubes and traveler track is used extensively to move sliders, drapes, and other scenery. Electrics and hard scenic masking are flown using block and falls and are dead hung below the grid; all flying units and drops are custom rigged for each production.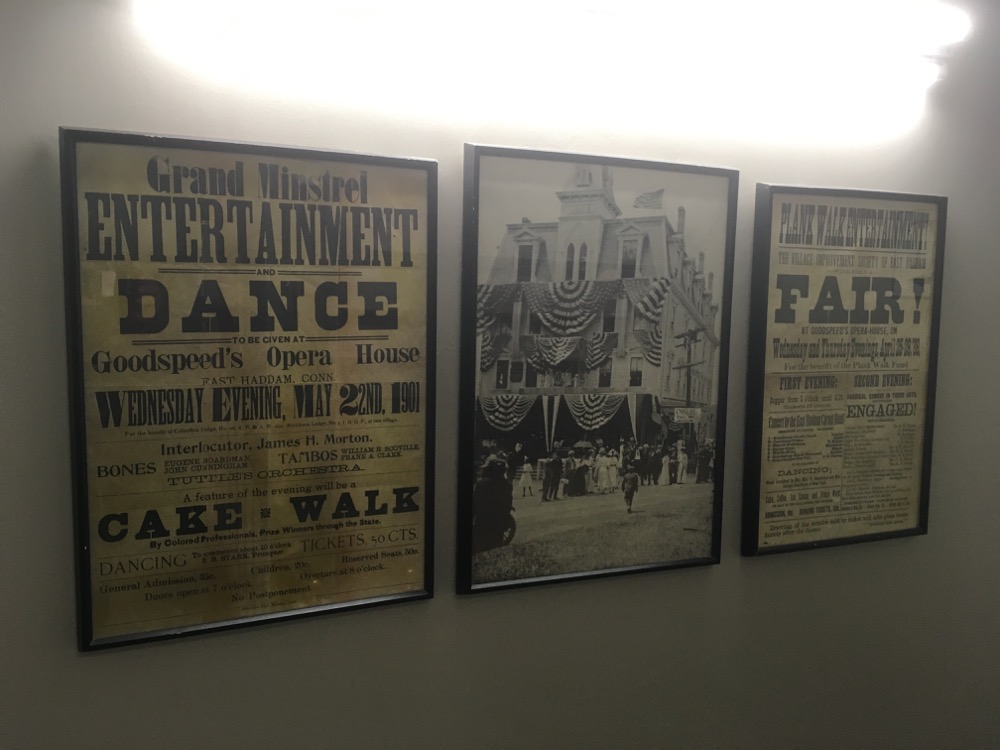 Since I have no idea what any of that means, I'll skip over it. Suffice it to say, getting scenery up to the fourth floor of a very old building is a challenge. Their website also has some eye-opening facts about their productions as well, like how the Goodspeed has won two Tony Awards (one in 1980 for outstanding contributions to the American musical and a second in 1995 for distinguished achievement for a regional theatre) and has sent 21 productions to Broadway.
The Goodspeed is the birthplace of some of the world's most famous musicals, including Annie, Man of La Mancha, and Shenandoah.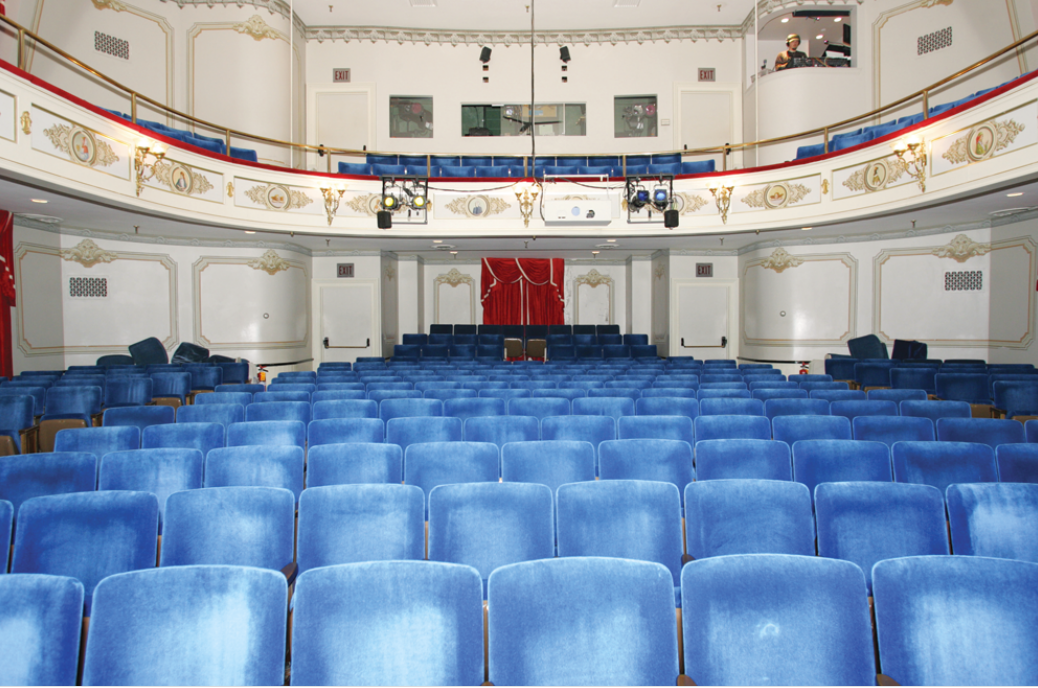 So we walked around, up and down, and learned about the grand old building. We stopped at the nicely appointed bar and looked out upon the river and the East Haddam Swing Bridge. As cool as the Goodspeed is, seeing the Swing Bridge swing – and not being caught in the traffic at the time, was pretty darn awesome.
We saw backstage and the actor's rooms and all sorts of inner workings of the place. This tour is definitely worth your time if you're even just a smidgen interested in such things.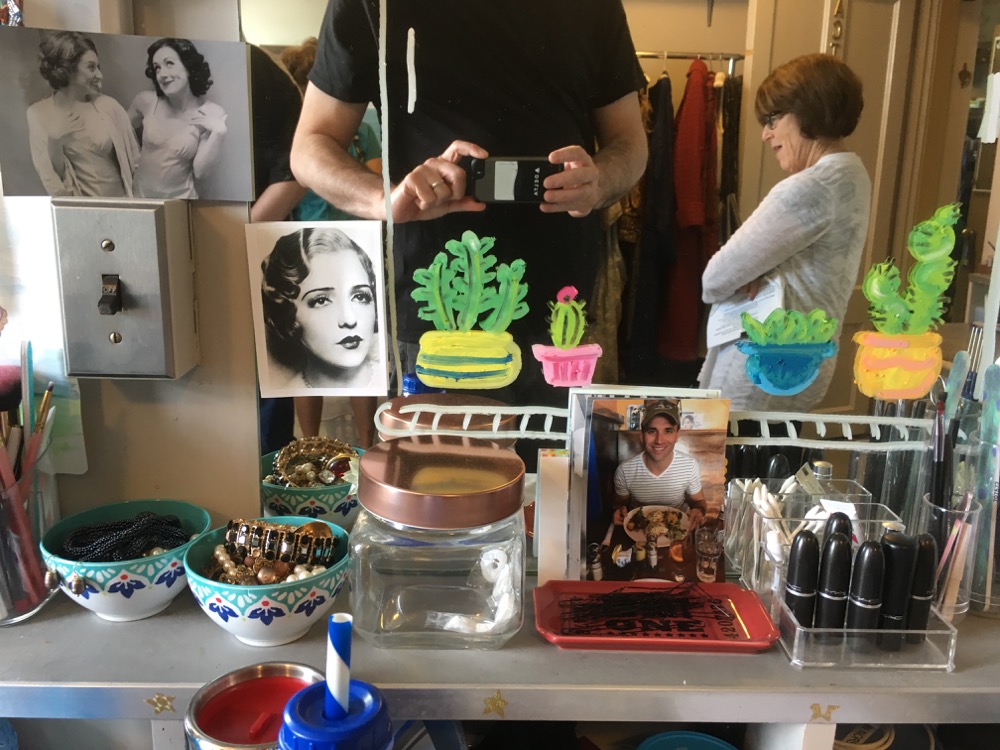 Beyond the Opera Houe, there is more or less an entire artistic community around it that supports it. Throughout East Haddam and Chester, Goodspeed owns and operates 23 buildings including rehearsal studios, scenic, costume and paint shops, the music department, library, gift shop and administrative offices. Each season Goodspeed employs 300 of Broadway's finest actors, directors, costumers, and set and lighting designers to complement its full-time resident staff of nearly 100. Residential housing can accommodate as many as 100 people at a time.
I didn't tour any of those 23 buildings, but some house CTMQ-worthy collections. Notably the Scherer Library of Musical Theater (nationally renowned!), The Max Showalter Room (collection of a stage legend's memorabilia!), as well as The Costume Shop and Cynthia Kellogg Barrington Costume Center. These last places can make or repair just about anything of any material. The costumes for Goodspeed productions are made from scratch often, or drawn from their collection of over 250,000 garments. The house "more than a mile" of costumes!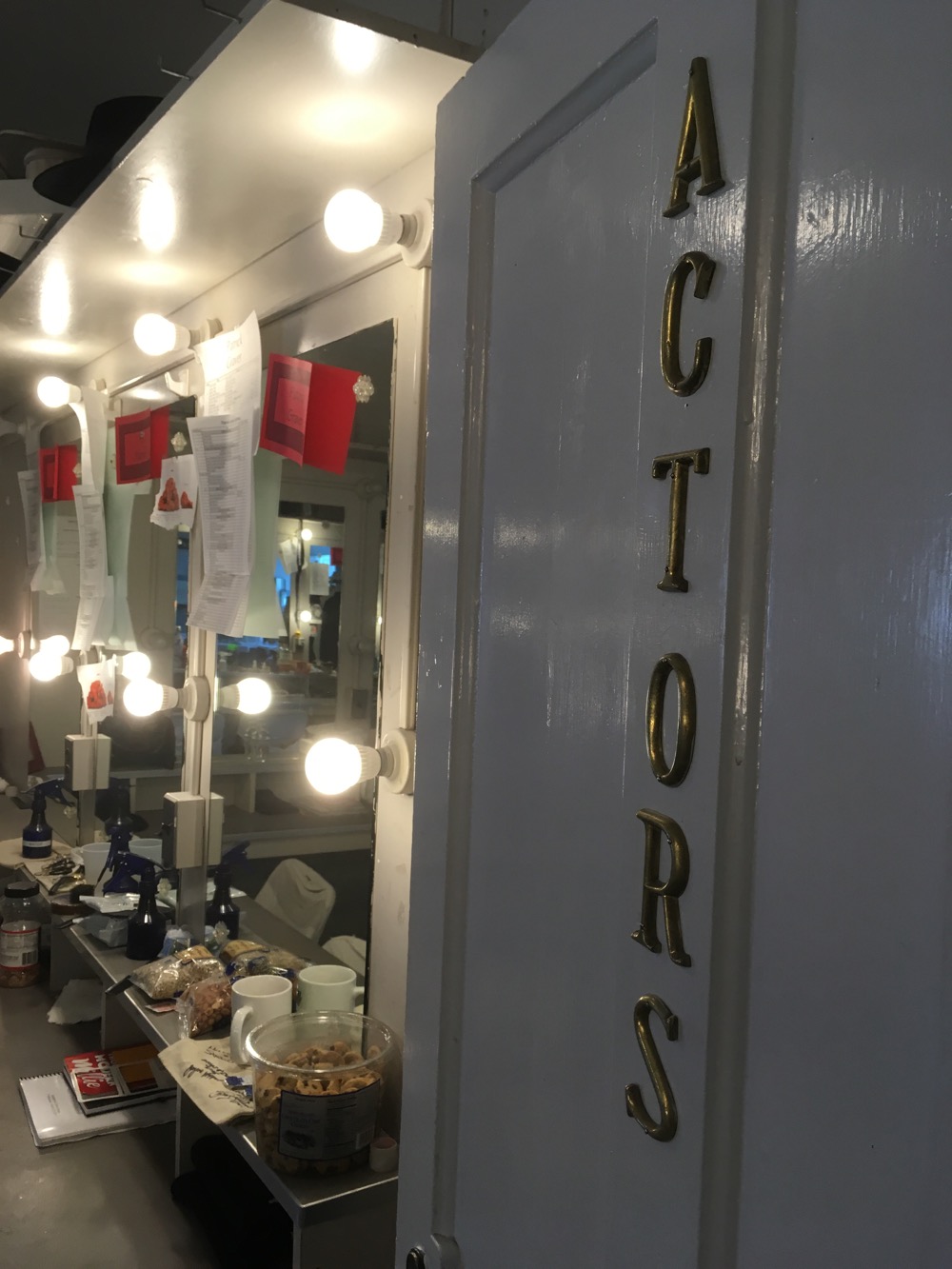 Across the river in Chester, you can take in a show at the Terris Theater – named for Norma Terris, not a misspelling of Terrace. I promise. I'm probably most fascinated by the Artist's Village. They built 17 new houses for traveling productions and that's just fantastic. Why pay to put them up at a casino hotel when they can live perfectly fine in a little house in East Haddam instead?
The new houses were built specifically for actors and singers, as the walls are soundproofed. They use geothermal heating systems and, well, it's apparently a really cool place to live while touring. I love that.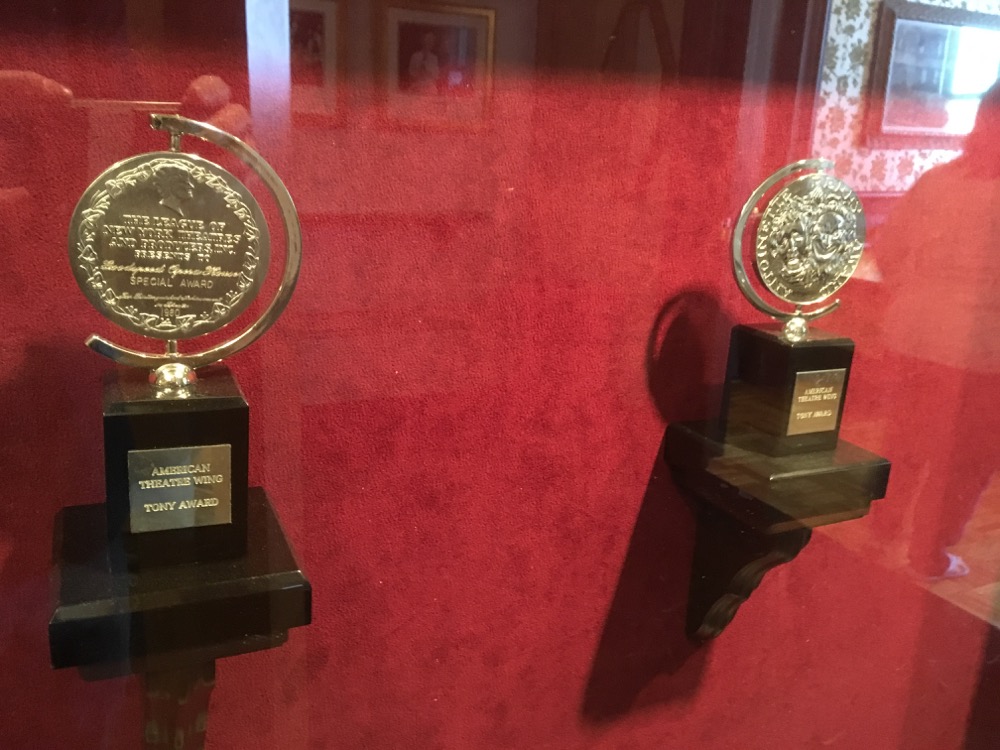 There's a whole Prop Shop and a Paint Shop and a rehearsal studio and… well, you get the picture. If you're in a traveling production and are slated to do a run at The Goodspeed Opera House, you'll live in a little house and everything you'll need is a stone's throw away. You'll get to perform in a historic theater with great acoustics. You'll get to send postcards of the beautiful building to your family who will continue to think Connecticut is filled with grand Victorian mansions and billionaires.
And if you, dear reader, are lucky, you'll catch a few world class productions at the grand old building.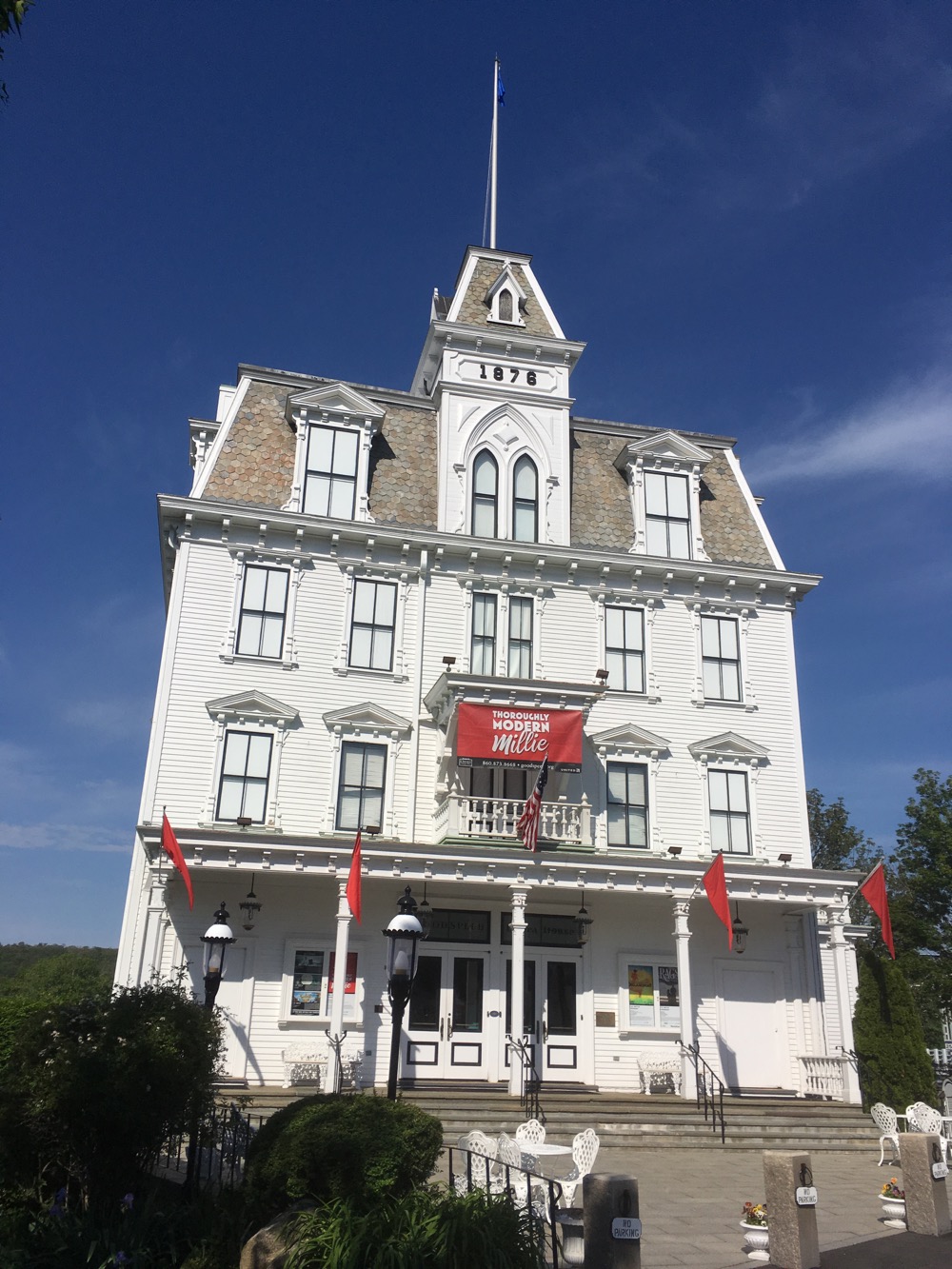 Goodspeed Opera House
CTMQ's Museum Visits
CTMQ's Theaters & Performance Venues