Bridging the Gap
Hockanum River Trail: Hillside & Olde Roberts Trails, East Hartford
~1 mile, June 2019
If you are reading my thru-hike of the Hockanum River Trail in order (generally south to north), you have already read the Martin Park Trail page. If you haven't, it's a fun one and you should. Better yet, start at the beginning with the HRT introduction and catch up.

I'm doing it. I'm combining two separate segments of the Hockanum River Trail on one CTMQ page. The HRT folks (the Hockanum River Watershed Association) in East Hartford (The East Hartford Hockanun River Association) loves to break this trail into too many segments. I've played along up until now, but I can no longer abide by their rules.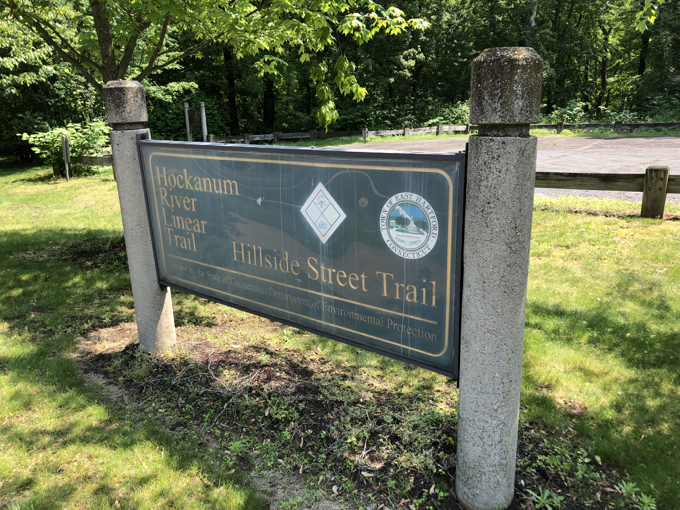 This is the HRT! There are no rules here! (Especially since I would expect the following two sections to be combined into one in the future.)
Enough of that, let's get going on the first bit.
Hillside Street Trail
The official length of this section is said to be 3/10 of a mile, one-way. I mean, does that really constitute a trail segment? The reason for this absurdity is that the trail officially ends after 3/10 of a mile – meaning there are no more massive pieces of infrastructure found everywhere else on the HRT. But a trail still continues north, but it's just a regular trail, not a fancy boardwalk and bridges trail.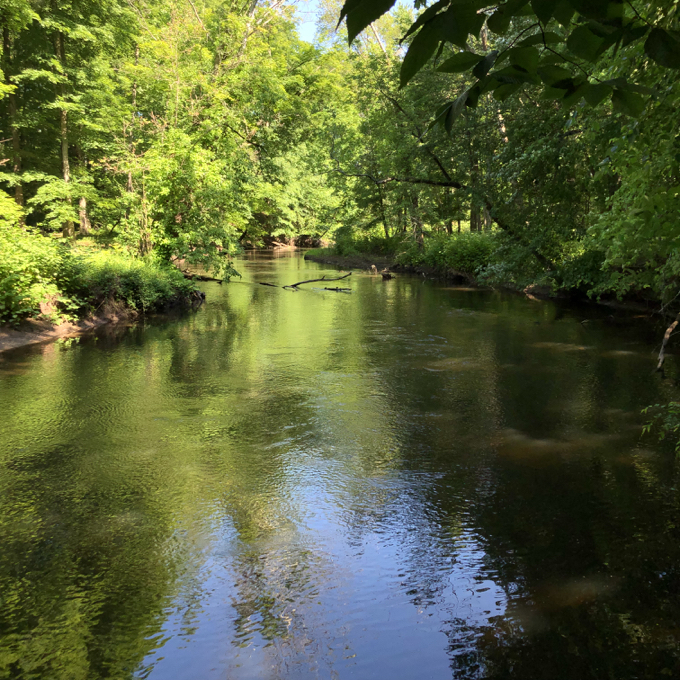 It begins on Hillside Avenue next to a cemetery at another signature HRT hikers' lot. As ever, it's relatively huge. A giant sign greets visitors again… for a 3/10 of a mile trail. The HRT gotta HRT, y'know?
At the trailhead, there's another sign noting that indigenous plants nearby were funded by some organization called the Conte Foundation. Unfortunately, the sign has been swallowed up by invasive Japanese knotweed.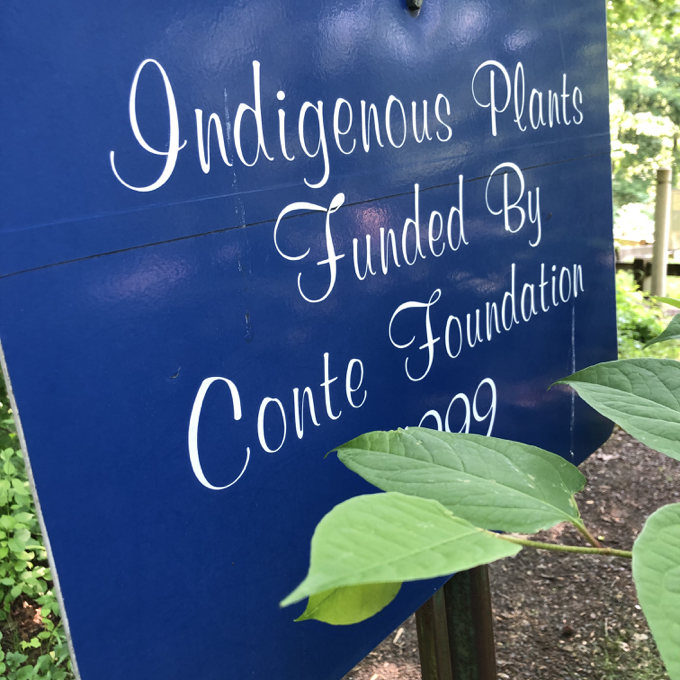 Down the hill from the lot, walkers can go left under Hillside Avenue to Martin Park, or right along the Hillside Trail. There are no hills on the Hillside Trail, as I believe the hill referenced in Hillside refers to the nearby cemetery on a hillside. No, the Hillside Trail travels along the Hockanum River.
And, as per usual, it travels in style! Yup, more massive boardwalks!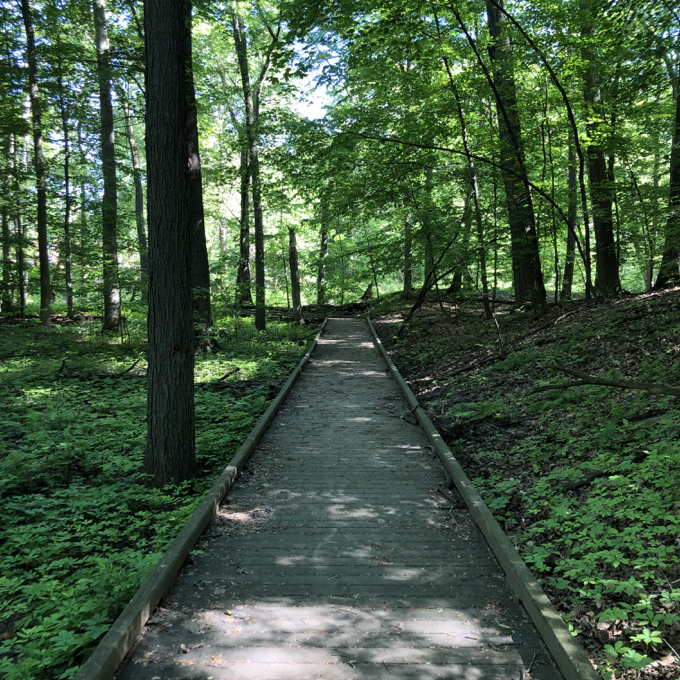 And bridges!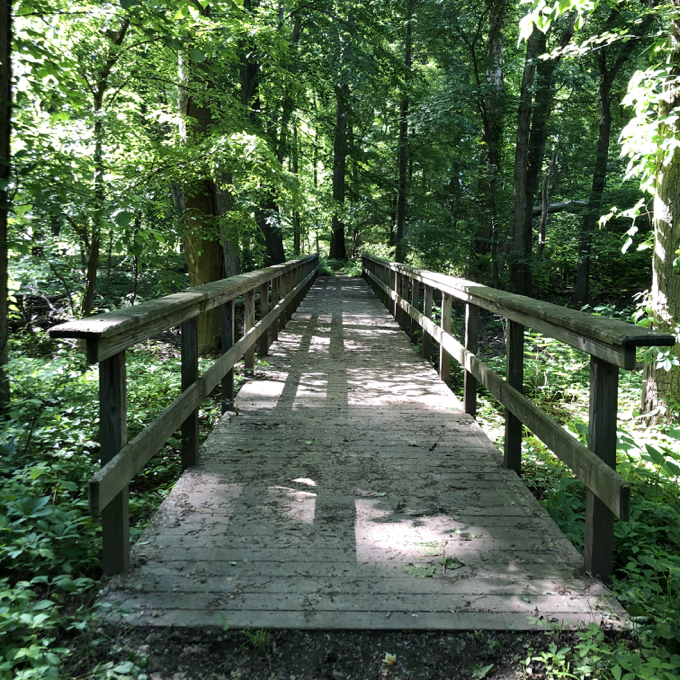 This is a very peaceful little walk to (officially) nowhere. They've imported stone dust and as you've seen, felt the need to build more huge chunks of infrastructure. The 3/10 of a mile little spur ends at some Brutalist style benches overlooking the Hockanum River.
But that's where the real fun begins.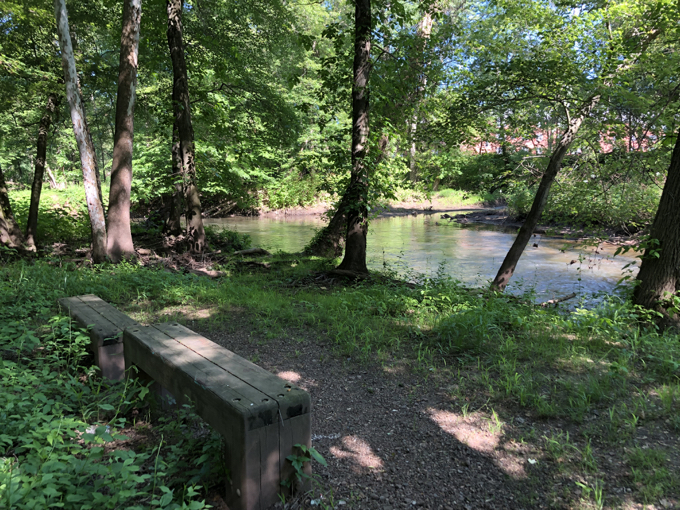 Hillside to Olde Roberts Trail
Let's let the trail maintainers describe the first bit of this segment:
Proceeding upstream, the Hillside Street Trail follows the river. At the end of its boardwalk are 2 benches. From there, the new section to Olde Roberts Street winds along the Hockanum through beautiful mature open forest. The mostly unblazed path twists and turns, close to the river, and crosses 3 wet areas where footbridges are planned and awaiting funding. These wet spots are usually passable except during flood stages of the river.
It has been many years since that was written, but nothing has changed, athough there were newer-looking stakes at the future bridge points in the ground. After the first few miles of boardwalks and bridges up from the Connecticut River, they suddenly stop here in the middle of the East Hartford woods.
In other words, this section of trail is… a normal trail. And it's quite nice! One of the nicest sections of trail in all of East Harford. Which is really weird when one considers the fact that it's not official trail. I walked it in June and had no issues with the stream crossings, but here's the thing: there's absolutely no need for gigantic and expensive bridges and walkways!
In fact, the slapdash methods I used to cross the streams worked fine. I realize they've created a monster and must continually feed it, but really… it's wholly unnecessary. Take, for instance, the first crossing: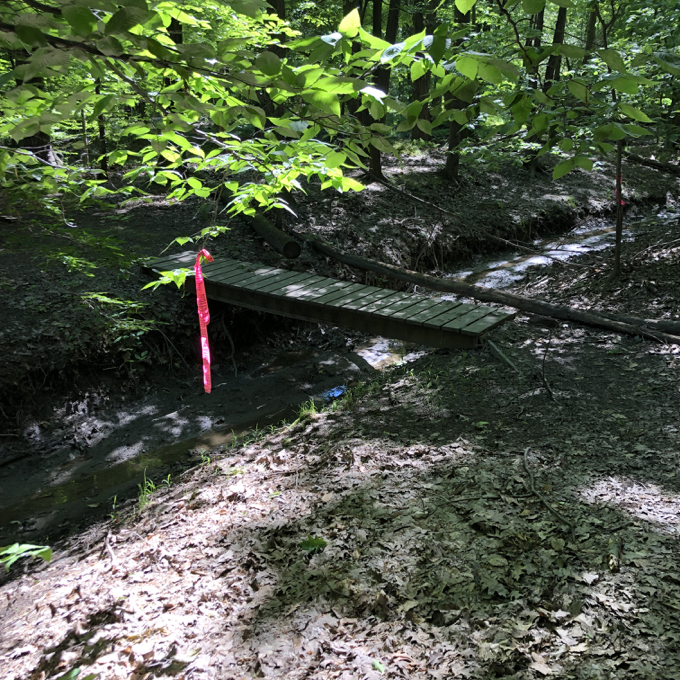 Believe it or not, this bridge served me well. The trail does indeed twist and turn and is easy to follow – even when the orange blazes disappear. After all, it merely follows the river. You can't really get lost here no matter what, as you're in East Hartford, not Eastford.
The second stream crossing used the old standby: sticks.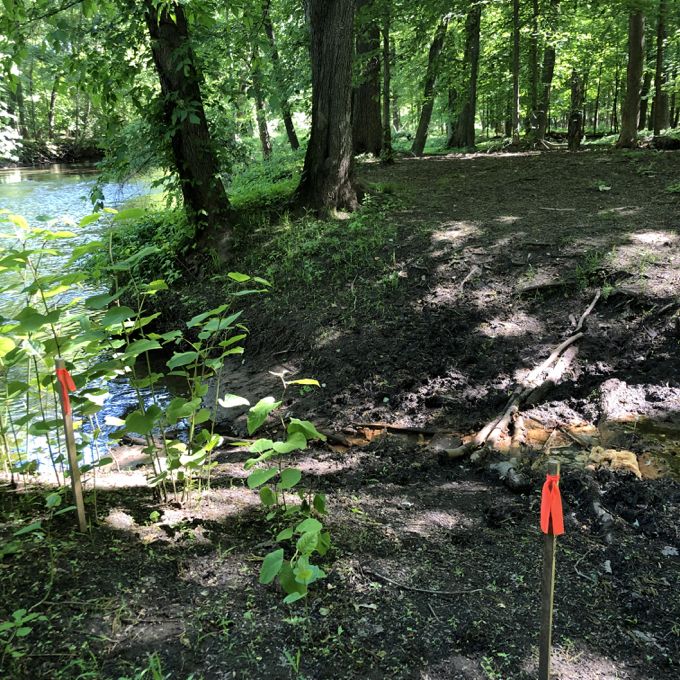 Look at the size of that stream. I could have jumped it. (In fact I did on my return trip.) I enjoyed the mild adventurousness of this unofficial trail. It would be kind of cool if it remains this way for another decade – you know, for all of you who are anxious to "thru hike" this trail like me.
Once in a while, an orange blaze would randomly appear.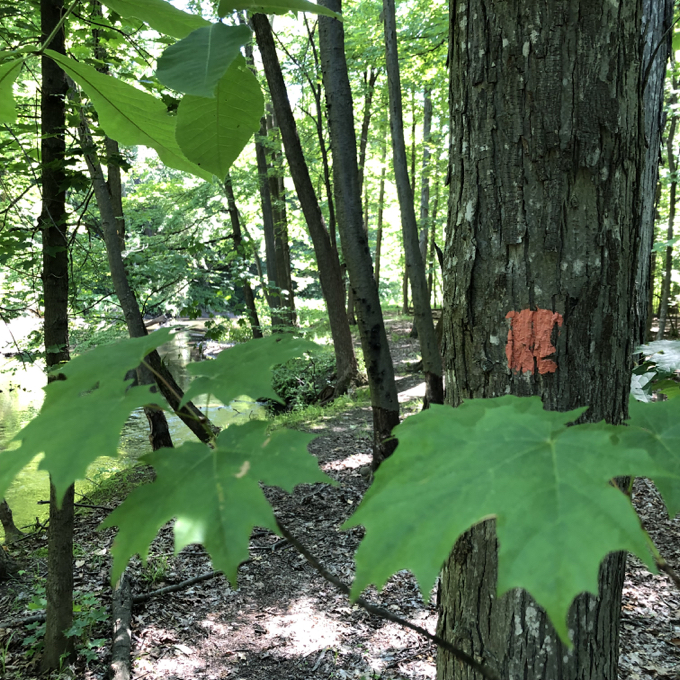 And every so often, overgrowth became a slight concern: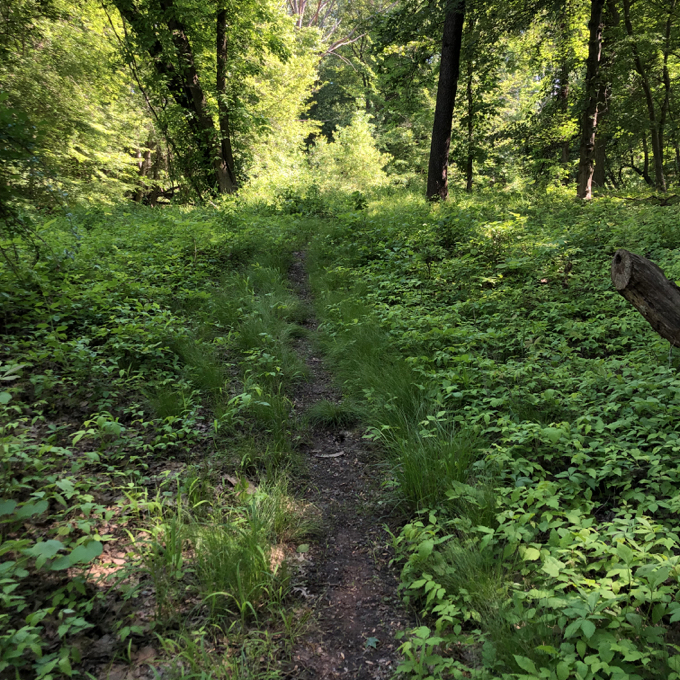 But again, the trail was simple to follow… follow to the next non-bridged stream crossing: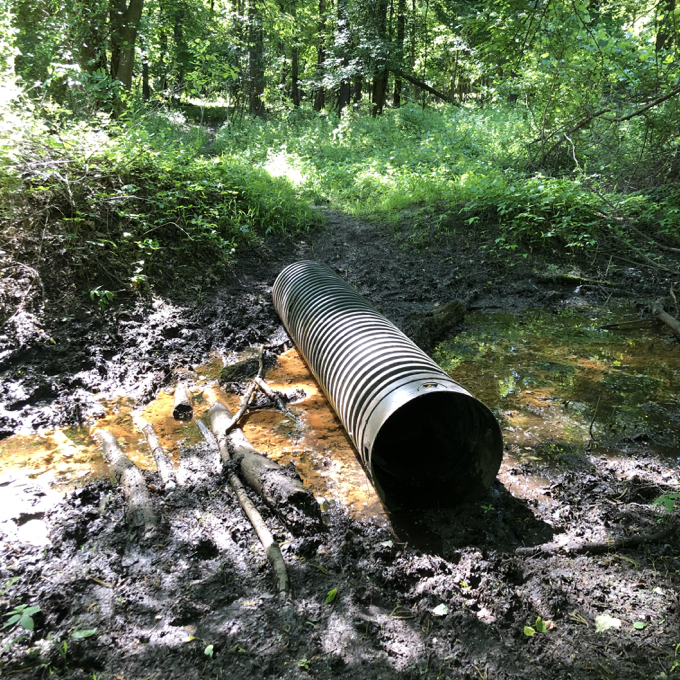 Okay, that's not the best method of crossing. But it worked. The further on I hiked, the more the trail deteriorated. After a short while, a massive old brick factory appeared across the river. Curious as to where I was at that point, I checked my phone and the names of the businesses currently occupying that old paper mill popped up.
One was Photosynthesis. Hm. I'd visited the photography store, education center, and gallery many years ago when it was up in Manchester. I had no idea they'd moved, but made a mental note to go check it out later in the day.
I did just that, and updated my page about them here.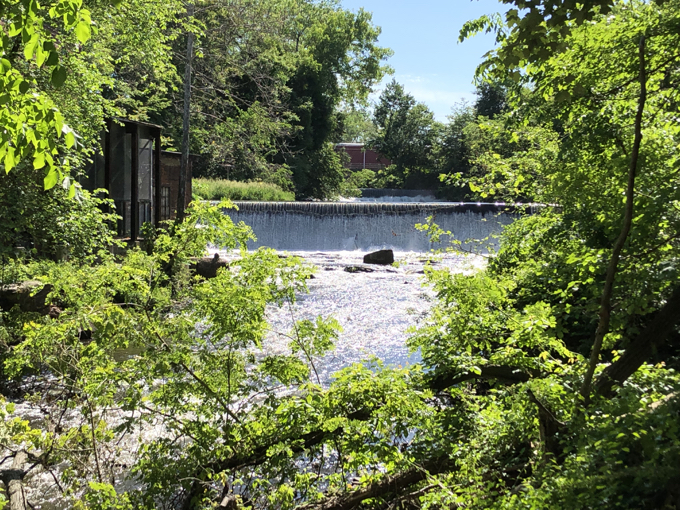 I also caught a glimpse of a series of manmade waterfalls. Upon returning home and doing some research, I found no mention of them anywhere… but now there is on this very website. After popping into Photosynthesis, I pulled off of Scotland Road to get a better view of the upper falls. Clearly many people come here to see them, as the pull-out was much-used and there are a ton of signs warning people away from the water.
I'm happy to put these falls on the map.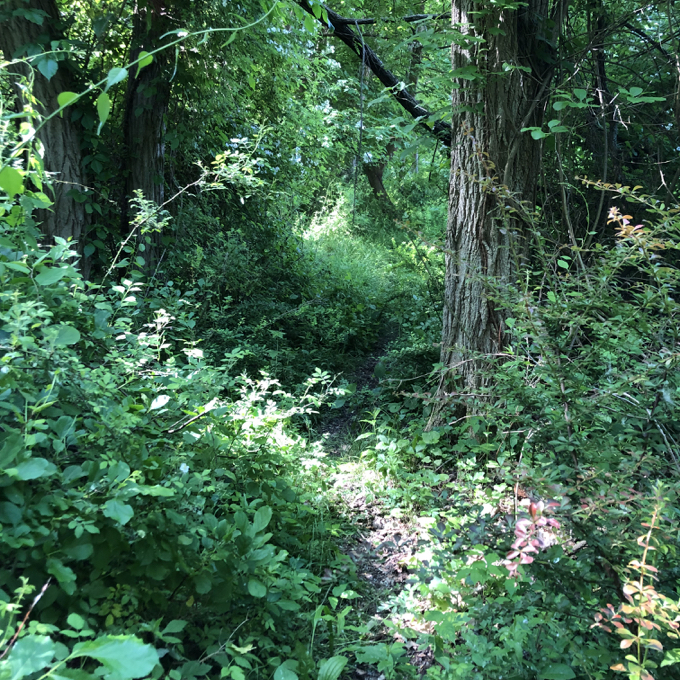 Back to the other side of the Hockanum and my hike. Let's turn to the trail folks for their description of the final walk of this segment:
… the hiker must follow the river bank up to a point across from the Old Mill. The trail then makes a right turn, generally following a brook, up a hill and out towards Olde Roberts Street. Here the trail becomes more defined with wood chips, and much more difficult with broken concrete, amesite, and dirt dumped many years ago. Eventually the path opens out onto Olde Roberts Street at our landmark green and white "Hockanum River Hiking Trail" sign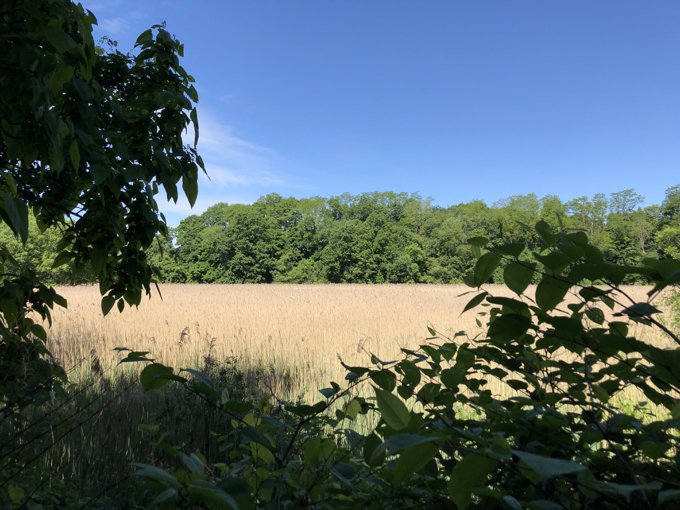 If you, like me, are asking yourselves how a trail can become "more defined" and "much more difficult," I have no idea. If you're asking yourselves why the folks who write the HRT descriptions seem obsessed with describing the urban decay associated with this trail every chance they get, well, then you don't appreciate the uniqueness and awesomeness of the HRT.
Just before the jumble of "broken concrete, amesite, and dirt dumped many years ago," I passed alongside a wetland teeming with birds. It was fairly nice, actually. And the roadworks dumping ground of yore wasn't too bad at all. Just kind of ugly.
Up the hill and through some brambles and voila! Olde Roberts Street and the end of the trail section. I love seeing a wholly different side of East Hartford along the HRT.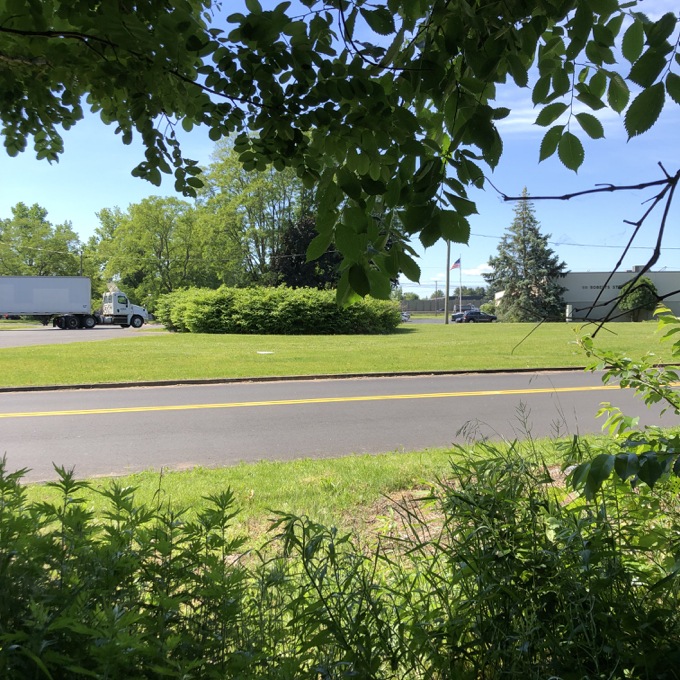 Official Hillside Street Trail Description
Official Hillside to Olde Roberts Trail Description
Continue on to Section 7, Chipper Drive Trail.

CTMQ's Hockanum River Trails Main Page
CTMQ's Land Trusts Main Page
Hockanum River Watershed Association