Doesn't Amount to a Hilliard of Beans
Hockanum River Trail: Hilliard, Manchester
.3 miles round trip, May 2015
If you are reading my thru-hike of the Hockanum River Trail in order (generally south to north), you have already read the New State Road Trail page. If you haven't, it's a fun one and you should. Better yet, start at the beginning with the HRT introduction and catch up.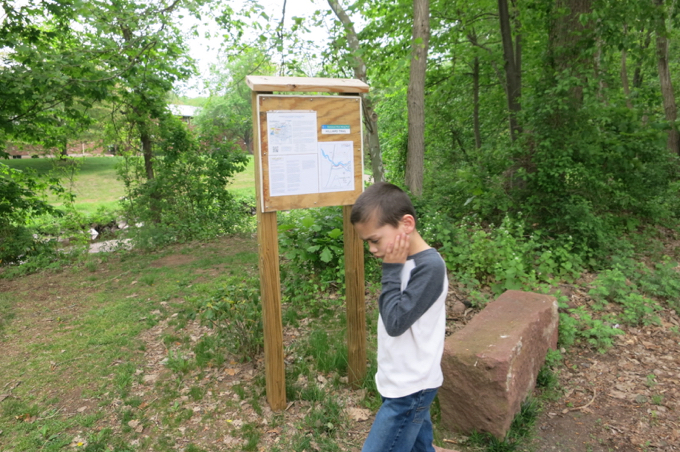 I "hiked" this one with Damian a couple years ago… because it was there. All 0.15 mile of it. I think this trail exists simply because the Hockanum River Linear Park Committee plans to create a trail along Bigelow Brook behind the Hilliard Mills which would extend this silly little thing all the way up to Center Springs Park.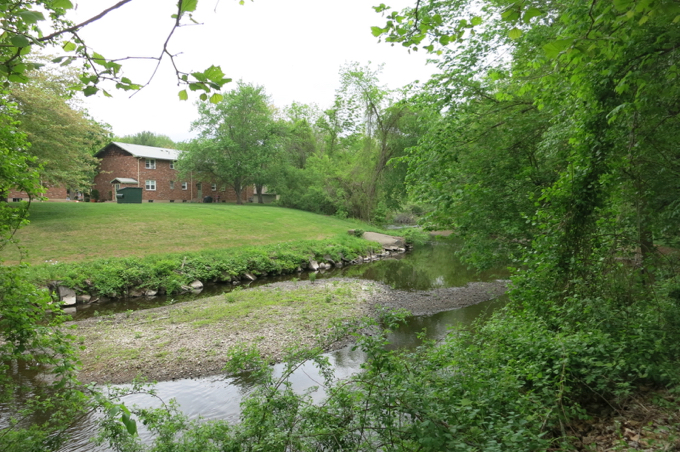 Which will (one hopes) make sense some day. But not yet though. Today, from this trail's parking lot at New State and Hilliard Roads, a hiker can easily get to the New State Road Trail and/or the Hackett Trail and beyond. A hiker has literally zero reason to do this one though.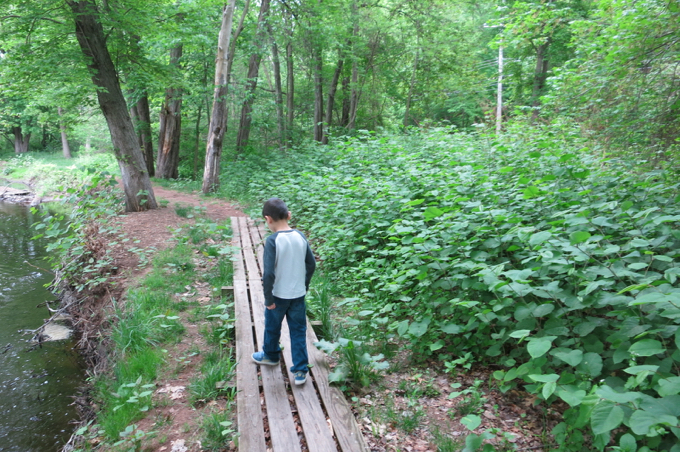 But they still put in the work on it! That's Japanese knotweed next to Damian above and that stuff grows like wildfire. Keeping it under control is an endless task, but even on this little trail, the HRLPC folks do it. They are amazing people.
There is some cool history here at least. From the HRLPC's site:
The Hilliard Trail is named to recognize E.E. Hilliard, who took over the first woolen mill in Manchester, which was started by Aaron Buckland in 1794 and later owned by Sidney Pitkin. Hilliard joined Pitkin in 1832 as an apprentice, later becoming a partner and operating the mill until his death in 1881. Hilliard's son, E.C., and later his grandson, E.E., then ran the mill.
The E.E. Hilliard Company was listed as a producer of woolen goods in the Manchester Town Directories until 1941. The mill buildings, with a few additions, still stand today across Hilliard Street from the trail. In its early days the mill got its water power from dams on Bigelow Brook and, after 1893, got hydroelectric power from a dam on the Hockanum River near the Peter Adams Paper Mill. This dam burst in the 1938 hurricane. The Adams Mill Trail traverses this empty pond basin today, and is owned by the Town of Manchester.

Currently, the new owners of the Hilliard Mills buildings are undertaking a major renovation for office and storage space. A new trail is also being planned along Bigelow Brook, in the rear of the buildings.
One thing which is easy to lose sight of is that, if there was no Hockanum River there would be no old mill, or at least not as large as it is today. The original mill got its water power from Bigelow Brook, which was channeled from a now-ruined dam across Adams Street, through pipes; then under and through the building before emptying into Bigelow Brook.

Remains of the ruined dam, the pipe, and the watercourse through the building are still visible today, on the Purdy Nature Trail which is owned by the Manchester Land Trust on the east side of Adams Street.
Annnnnnnd then we walked back to the car and went to lunch.
Continue on to Section 13, Hackett Trail
HRLPC's Hilliard Trail Description (Map below)

CTMQ's Hockanum River Trails Main Page
CTMQ's Land Trusts Main Page
Hockanum River Watershed Association