Please Tell Me They've Done "The Elephant Man" Here
Essex (Google Maps location)
June 2016
Connecticut is home to a slew of historic theaters. Many of them offer tours that present the buildings almost as museums – as they should. The idiom "if these walls could talk" applies to every one of these places as much as any other building in the state.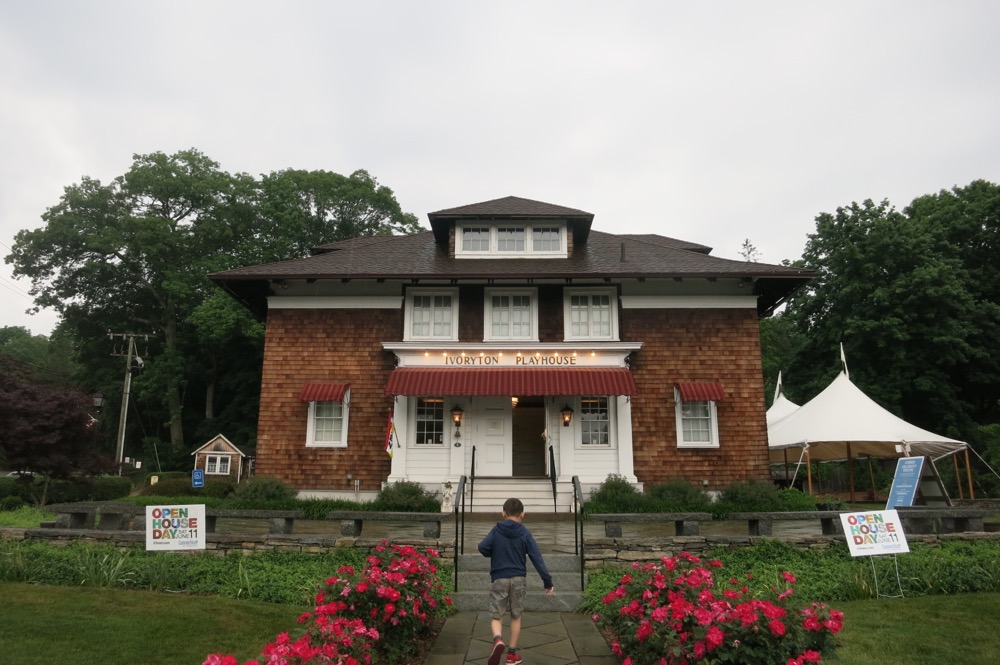 Fortunately, I had a tour guide so I didn't have to rely on mysticism during my visit to the Ivoryton Playhouse in the western section of Essex. If you're the type of person reading this page on this website, you very likely know the place-name origin of Ivoryton, so I won't insult your intelligence more than necessary.
Ivoryton is a "well-preserved example of a nineteenth-century company town" and was a world center of the ivory industry. Comstock, Cheney & Company and Pratt, Read & Company, located just a few miles away from each other near the Connecticut River, were the two largest ivory producers in the US. Elephants were slaughtered in Africa, slave labor carried the tusks across the continent, and then they were shipped to Essex and Deep River for refining and processing. It's crazy to me that this pretty little area in our state became the center of a brutal – and immensely successful industry.
(For more, I highly recommend a visit to Deep River Historical Society's Stone House Museum.)
I had Damian with me and I made it a bit of a game for him to find all the elephants he could during our tour. (After all, an old playhouse tour isn't the most exciting thing for a little kid.) And there are lots of elephants here. So if you didn't know why… know you do. CTMQ to the rescue.
The theater is housed in an old Comstock-Cheney recreation hall that was built in 1911 for the ivory workers who lived in the company town. I'm not sure how often they offer these free tours, as we visited on Connecticut's annual Open House Day in June.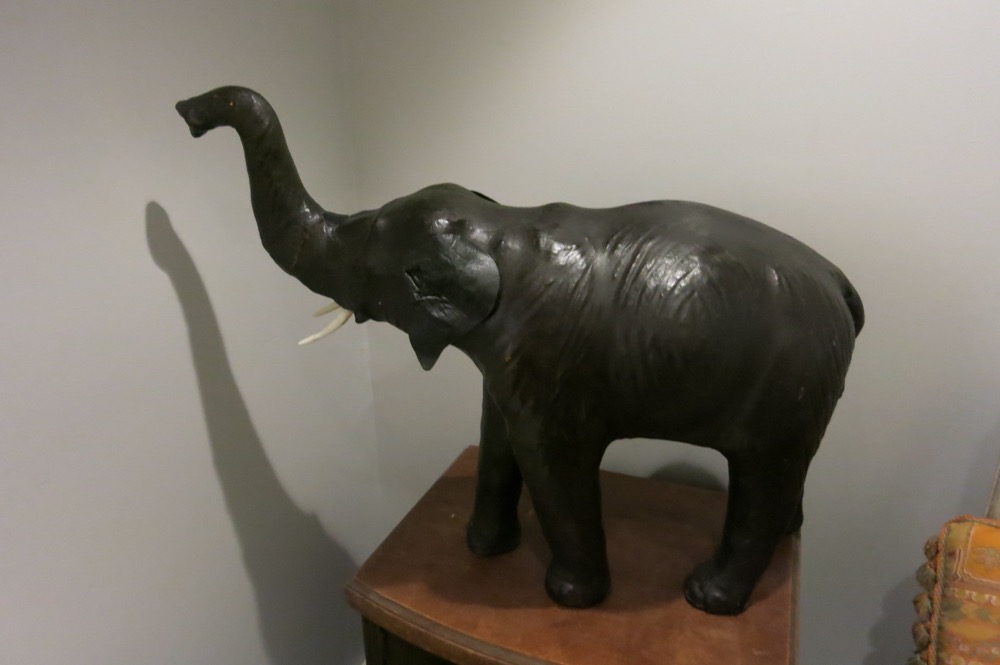 The building survived the general dismantling of the Comstock-Cheney complex because of a chance encounter by a guy named Milton Stiefel. I'd never heard of him either, but Stiefel started his long career in theater as an actor, playing with such famous personalities as Julia Marlow and Lionel Barrymore. I've heard of one of them at least. Eventually, his career took him backstage and he became nationally known as "The Assistant Director" as the right hand man and confidante of David Belasco, considered by historians as one of the greatest directors in American theatre.
Belasco died, as we all must do, and Stiefel took over productions that toured around the country. He was a big deal in those early 20th-century days. It was hard, rigorous work and Stiefel became burnt out and exhausted. He needed to take a break and the national traveler decided that the small Connecticut River town of Essex would cure his ills.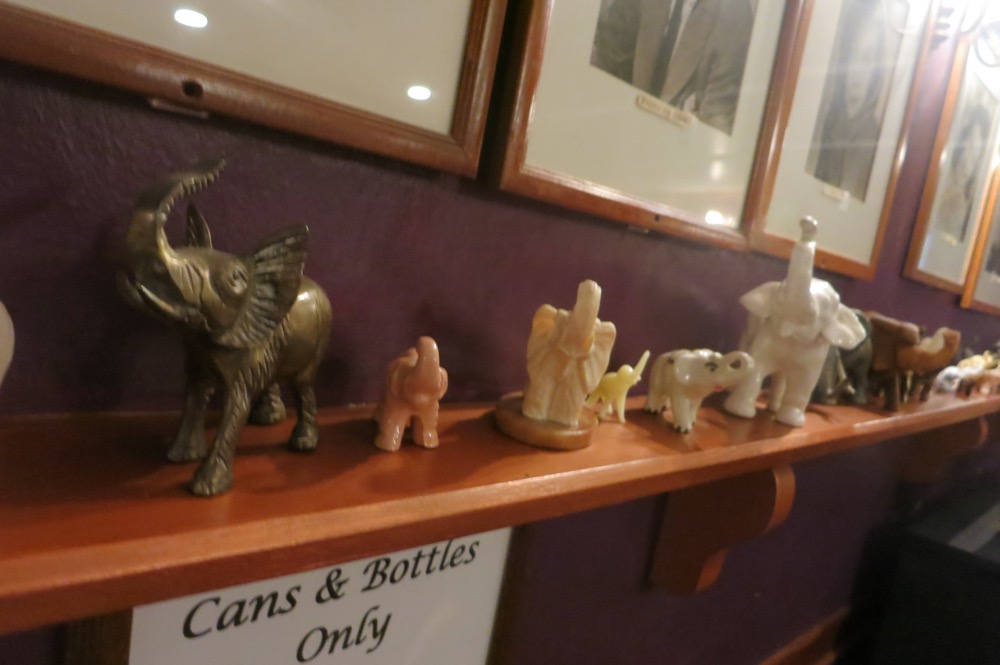 While recuperating, he noticed the unused recreation hall and gave up resting and immediately began planning a changeover to a theater for a resident stock company. And before Essex knew what hit it, "Broken Dishes" came off Broadway to be the first show at the Ivoryton Playhouse in June of 1930.
And here it comes! A ridiculous Connecticut superlative! With the opening show, the Ivoryton Playhouse became the first self-supporting summer theater in the nation. Therefore, it is the longest running self-supporting summer theater in the nation! Older theaters as in Dennis, MA, and Skowhegan, ME, were not self-supporting, but endowed by foundations of wealthy families. So there.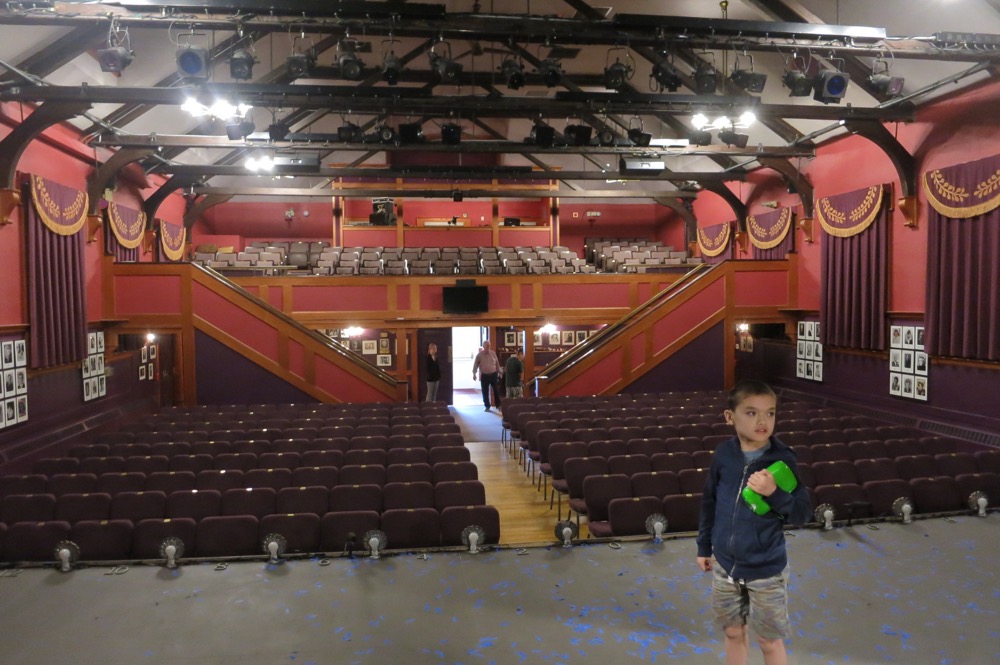 With Stiefel at the helm, the theater gained in prestige to the point that invitations to work there were highly prized in the theatrical profession. Its reputation grew nationally and Paramount Pictures produced a film short showing its complete operation. It quickly rose to become one of the nation's leading summer showplaces. Hugely famous movie stars worked here, and an unknown local named Katherine Hepburn debuted here as well.
World War II caused the Ivoryton Playhouse to go dark for a while, but afterwards Stiefel reopened it by calling in all his famous film star friends such as Marlon Brando, Ethel Waters, Art Carney, Tallulah Bankhead, Helen Hayes, Betty Grable, Groucho Marx, Myrna Loy, Gloria Swanson, Dorothy Lamour, Maureen O'Sullivan, and many others. Wow. All in li'l ol' Ivoryton.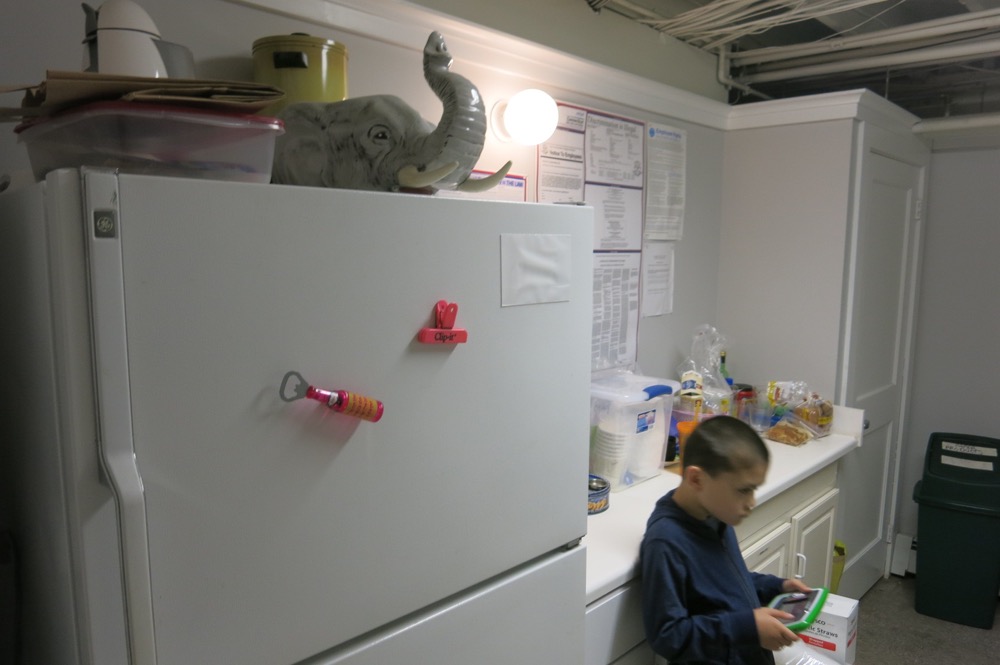 In fact, the playhouse's website lists 257(!) famous actors who have graced its stage. I won't pretend to have heard of them all, but here are some that jumped out at me – in addition to those previously mentioned: Alan Alda, Don Ameche, Conrad Bain, Sid Ceasar, Richard Chamberlain, Carol Channing, Jackie Cooper, Joyce DeWitt, Phylis Diller, Micky Dolenz, Troy Donahue, Patty Duke, Faye Dunaway, Bob Fosse, Eva Gabor, Lillian Gish, Elliot Gould, Gene Hackman, Helen Hayes, Buck Henry, Werner Klemperer, Cloris Leachman, Jayne Mansfield, Tom Poston, Vincent Price, Carl Reiner, Paul Robeson, Buddy Rogers, Ginger Rogers, Caesar Romero, Mickey Rooney, Robert Stack, Lana Turner, Gloria Vanderbilt, Dick Van Patten, Mae West, and Shelley Winters.
I love how many actors known for sit-comes I highlighted. Who knew Hawkeye Pierce, Phillip Drummond, Janet Wood, Colonel Wilhelm Klink, Meathead… to name a few… were also stage actors?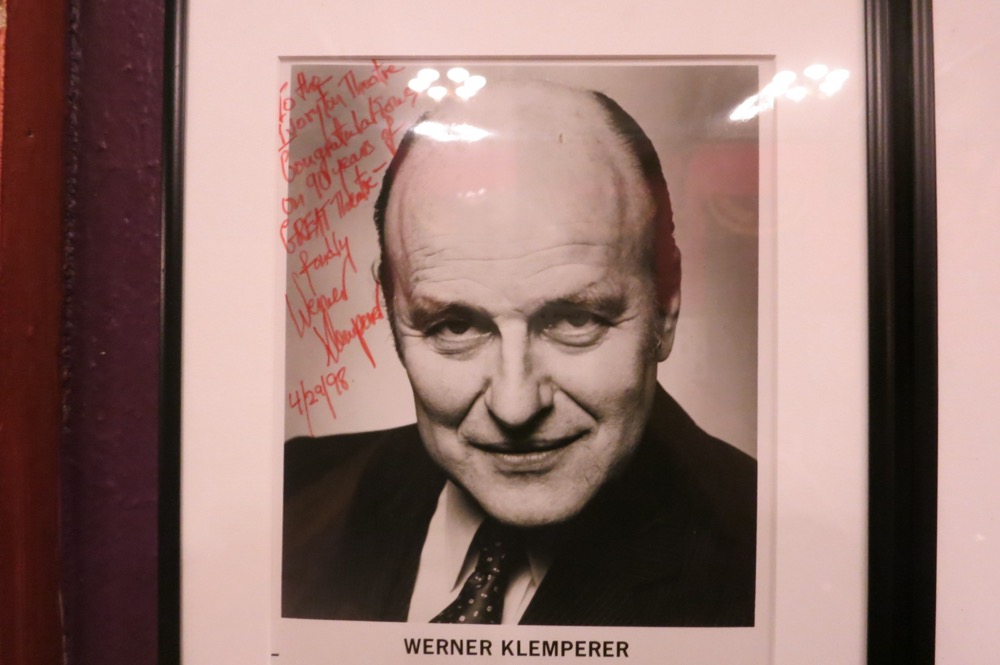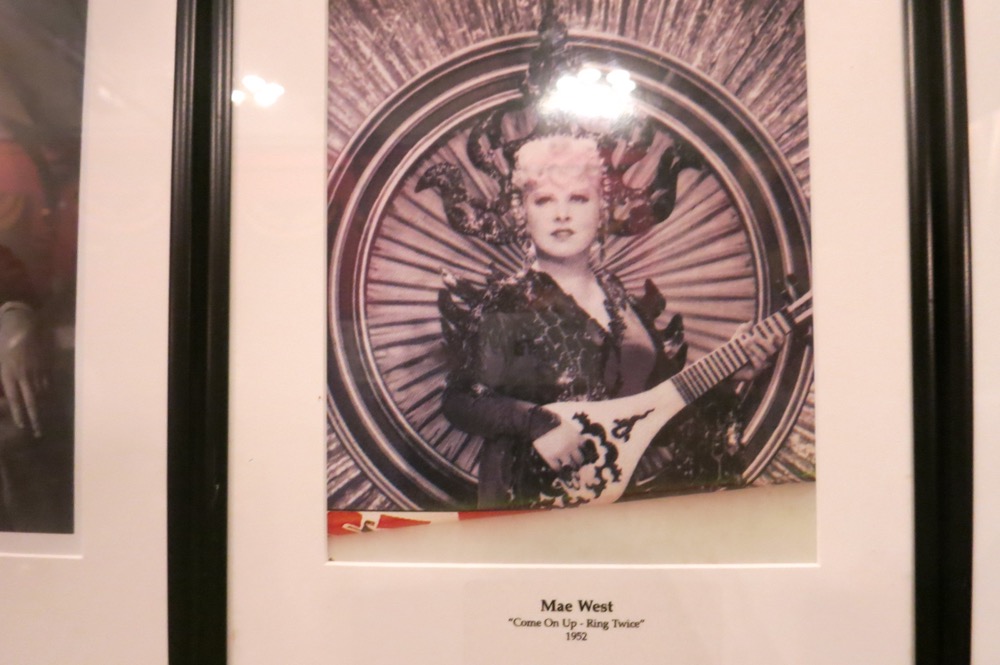 Stiefel continued at Ivoryton until his retirement in 1973, when he sold the theater. The theater went through some rough times and several owners well into the 1980's, and was almost torn down at one point. It is now owned and run by a foundation and has regained its status as a leading summer theater in the nation.
That's what they told me anyway. They renovated the building and replaced everything from the roofing to the lighting and the heating and cooling systems. In 2006, the Ivoryton became a year-round theater. And in 2016, I visited.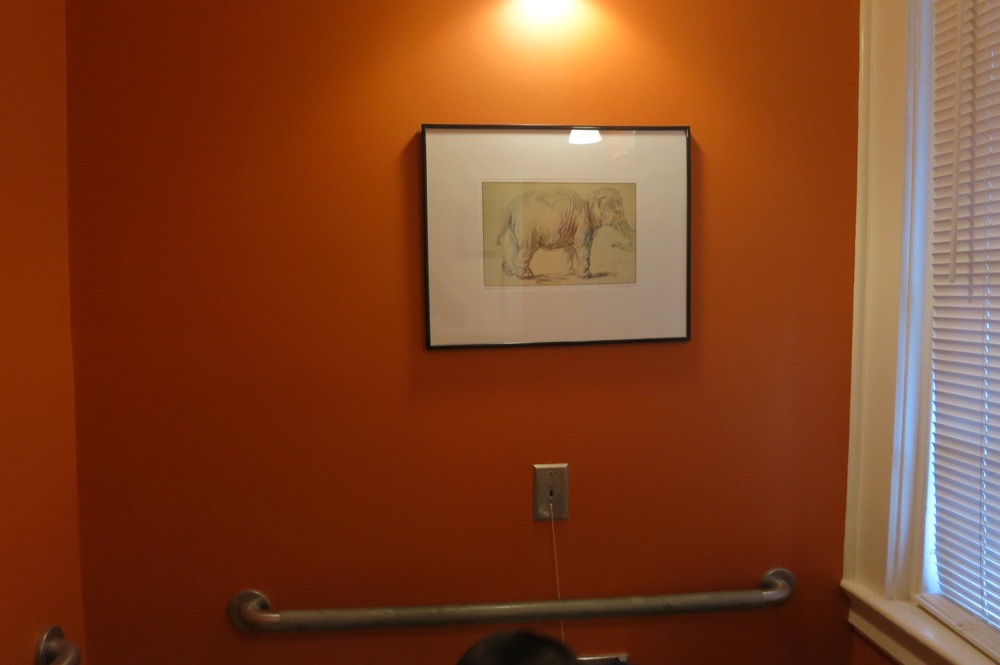 Our tour guide was great; highlighting some of the stories from the past rather than just showing us how rigging and ushering work. How they cram so much into so small a space, and how the actors go from stage right to stage left under, behind, over… whatever it takes.
We got to see the workshop where the sets and scenery are made and of course we spent some time in the wiggery. Wig shop? Wig room? Whatever they call it.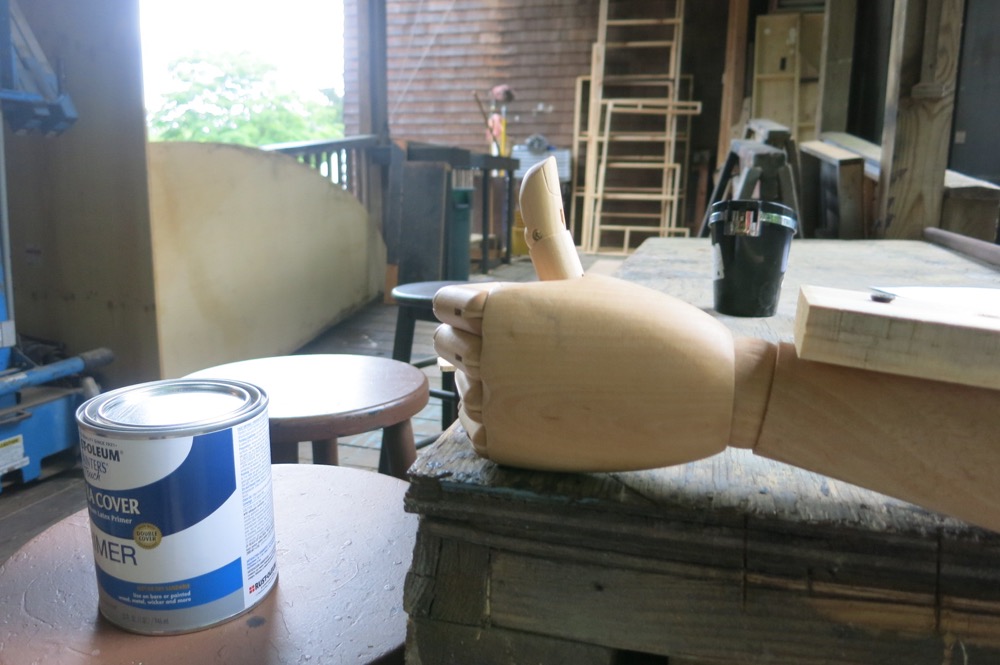 Back in the day, actors stayed with local families when they were working in town. Now, I'm sure they're put up in a nice hotel nearby. But it's really cool that this tiny theater in the little Ivoryton section of Essex grew from nothing to national prominence. We're lucky the building was saved and the theater company survived.
So much history… so many elephants.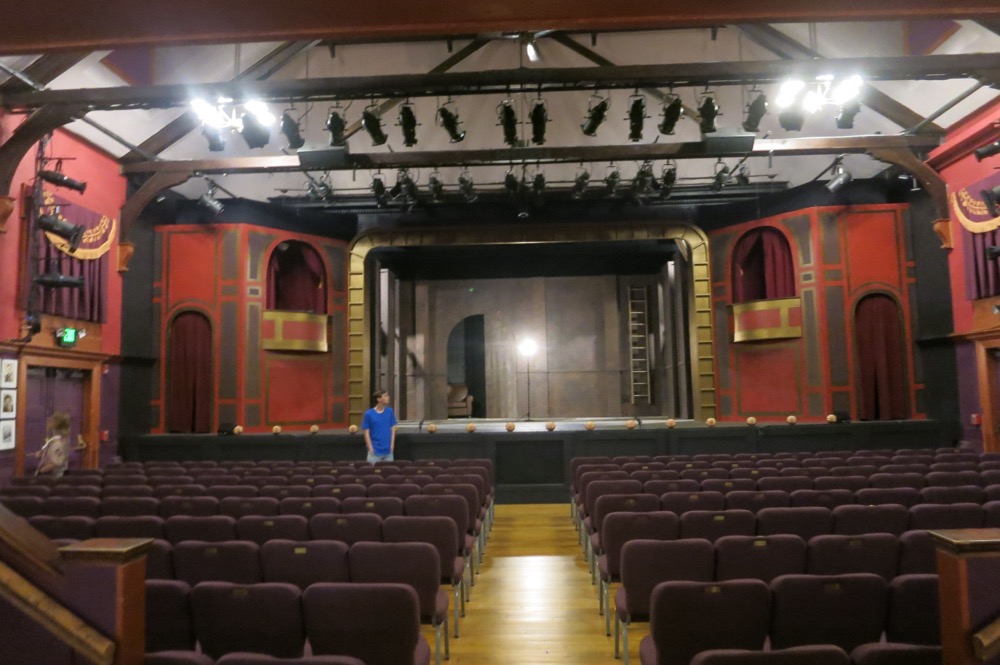 Ivoryton Playhouse
CTMQ's Theaters and Performance Venues
CTMQ's Firsts and Oldests
CTMQ's Museum Visits