So Metal
Lon Pelton's Sculptures, Windsor
Of course I don't feature every random sculptor or artist that has works outside around Connecticut. But there's just something about Windsor's Lon Pelton and his folksy, political, often gutsy – and often not commissioned nor unauthorized – art, that I felt a page on CTMQ was warranted.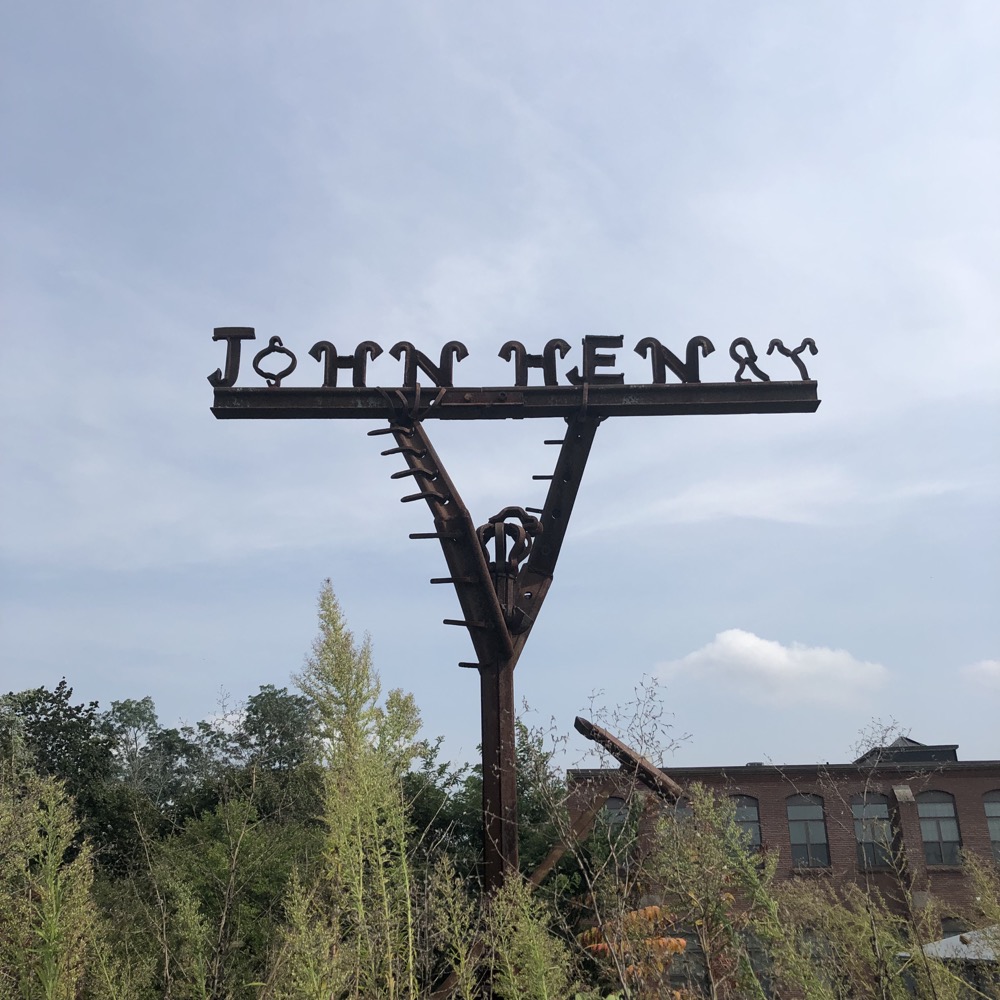 Mr. Pelton is a lifelong Windsor resident. From his birth in 1937 until now, the man is pure Windsor. He claimed in an interview his family has been here "Since 1630. We came to Windsor from Dorchester. The family's been here since the Mayflower."
Pelton has always worked with his hands and began sculpting back in the 1950's. As he aged, he began collecting large pieces of… stuff. Bank vaults, machine parts, large equipment parts, that type of stuff. But instead of letting it rust in his backyard, he began creating art from it.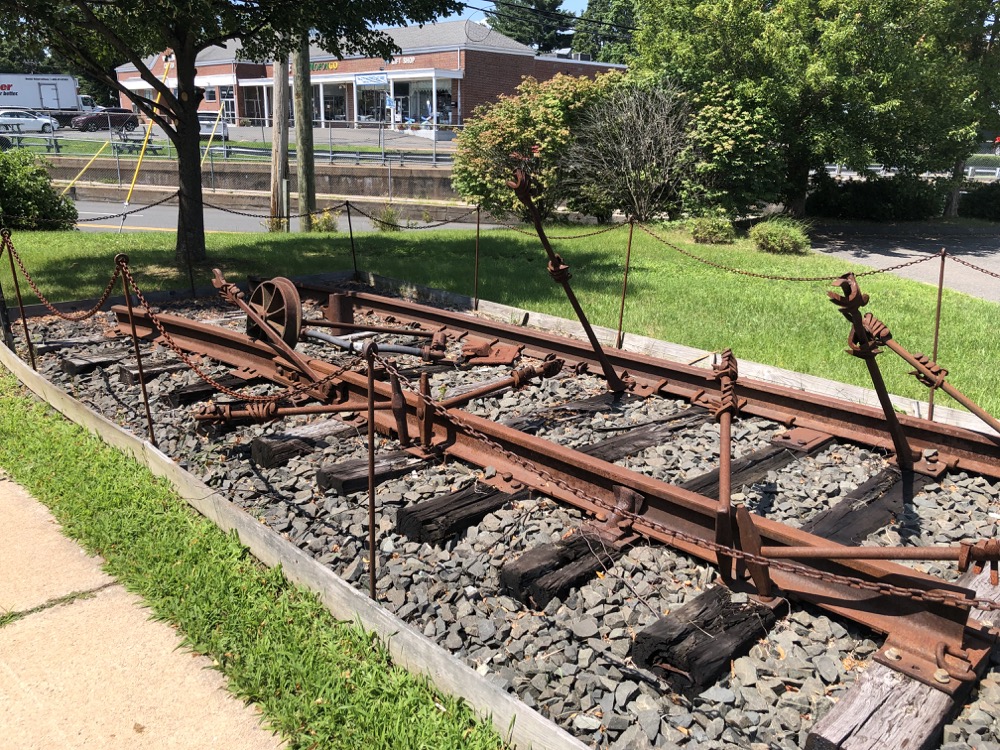 His first big piece was '(Moly) Mosquito' which was also his first "statement" piece. The large metal mosquito was a message to the town of Windsor after they had stopped mosquito spraying. Pelton's reason? "The mosquitoes here are so bad. So I put that on the front steps of the Town Hall saying, 'What are you going to do about your mosquito problem?'"
And a local folk hero was born. In the intervening years, Pelton has branched out and has placed a couple of his works – without permission – in Hartford as well. The most notorious incident was at the state capitol and yes, he was arrested, charged, and convicted as a public nuisance for it.
There's one I got arrested for. It's huge; weighs about a ton, ton and a half. I put it on the front lawn of the state capitol. Right when Marcelina Delgado was shot in her father's lap in a drive-by shooting in Hartford. They asked for help from the outlying towns, and they were going to go into session in the state house talking about banning guns. So I built this big gun being stabbed by a knife and there's a bullet hole in the knife. On the base it says, 'No gun ever shot anyone. No knife ever stabbed anyone. It's the way we portray violence in this country.' I put it on the front lawn of the state capitol and I was arrested for it. I had to go to court.
Um, we all hate mosquitos, right? Pelton is a conservative Republican and much of his art reflects those views. I've no clue if he's a Trumper, nor do I care, but here he is angrily explaining how President Obama, the Constitutional lawyer, trampled over the US Constitution.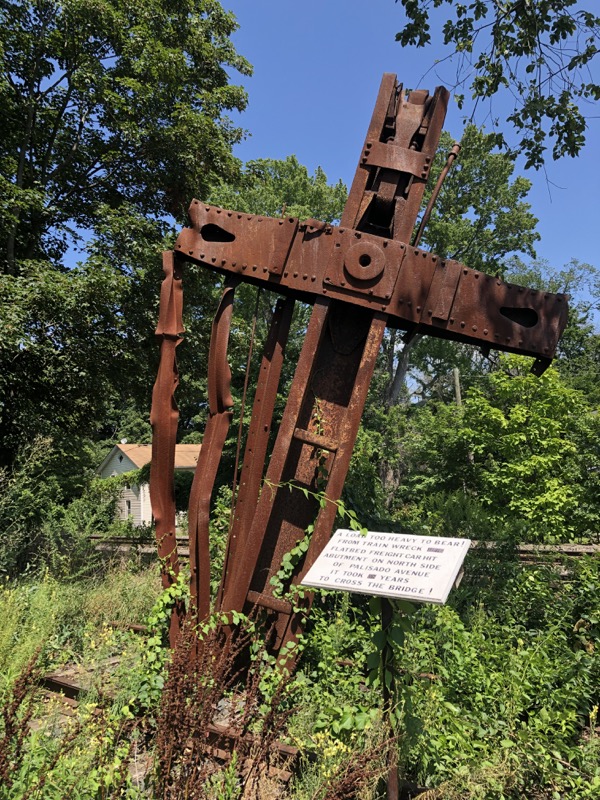 While he and I would disagree politically, I'm still drawn to his art and his spirit. Not all of his sculptures offer political commentary; some are just silly and even fun. It's clear that he is able to weave humor into his art which I appreciate.
Pelton seems to be beloved in his hometown, and he has been part of town wide celebrations and high school sculpture competitions and all sorts of civic honors. Perhaps Windsor has struck a deal with him to not place any more 3,000 pound rogue sculptures on the town hall veranda or something. Heck, even the local Windsor Arts Center has commissioned Pelton for some outdoor works.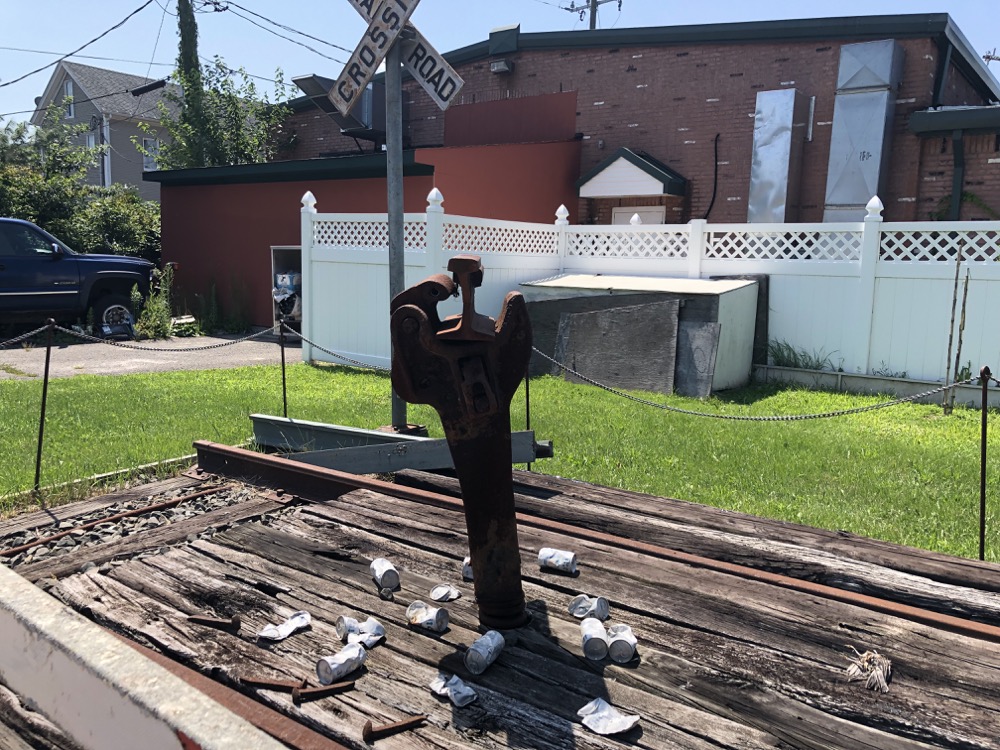 I've come across some of his work around Windsor over the years. There are some along the Windsor Center River Trail and there's a whole thematic installation at the site of of former restaurant in the town center. The latter pieces seem a bit neglected and I've no idea if they will survive, but I found the pieces pretty interesting. Interesting enough to feature on this page.
Lon utilized fragments from "the Windsor train wreck of 1975" (was that an "event?") to make this work of art. Just 200-feet away from where the sculptures now stand, a lumber carrying train derailed and piled up in a massive wreck. I have no idea how Pelton came to possess rail and train coupler parts, but that's the claim here. Oh wait, as is often the case with his work, Pelton provides a bit of an explanation: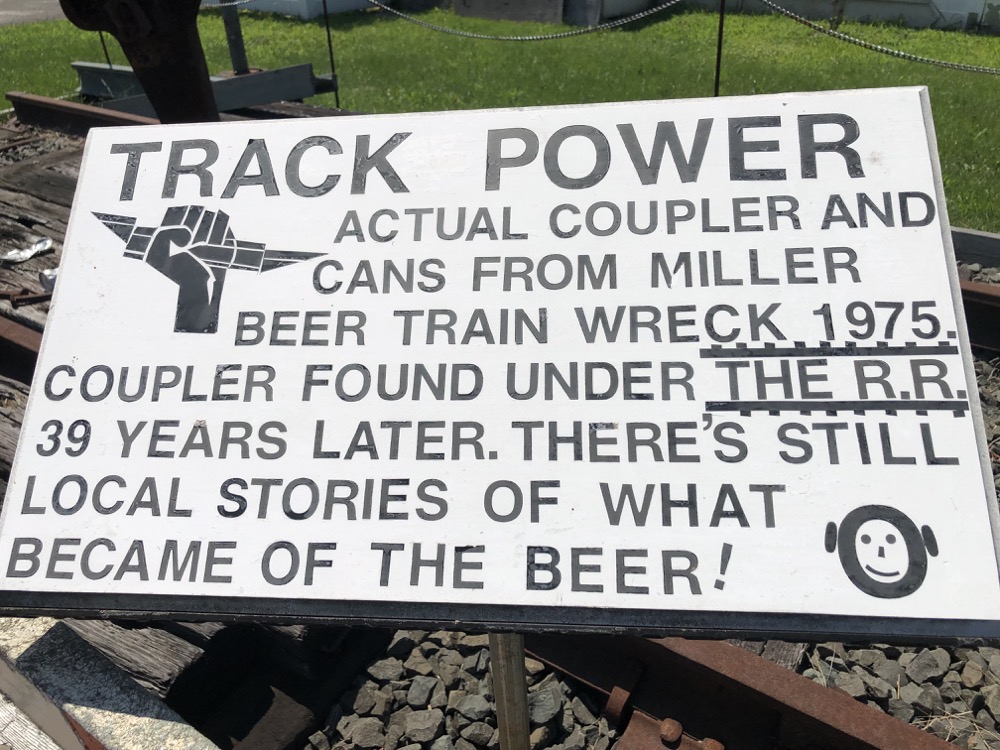 Well there you go.
Pelton has been a prolific artist. I have no idea how many sculptures of his are displayed around Windsor, but I'd guess at least 25. He's not afraid to be a bit controversial, but seems to at least have a winking self-awareness regarding his views and his pieces.
While I can't seek out the works and doings of every Connecticut eccentric artist, I do enjoy highlighting one every now and then. Lon Pelton of Windsor certainly fits that bill.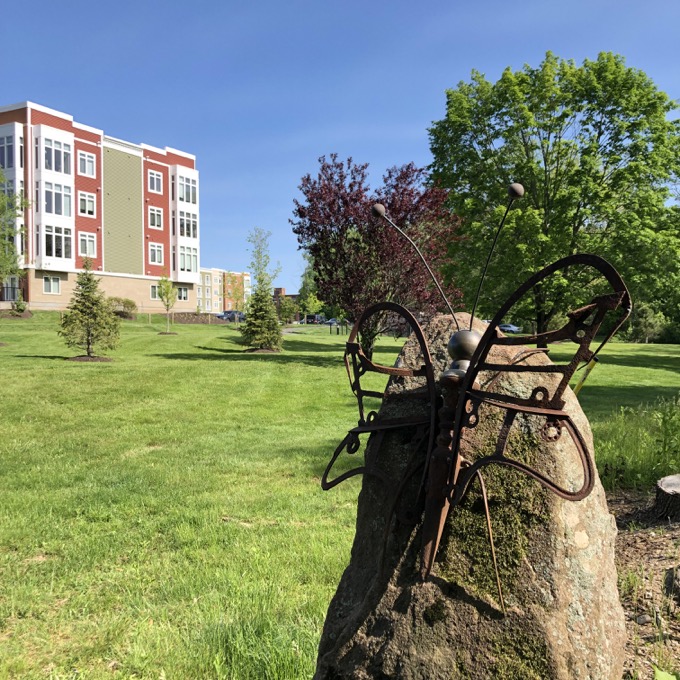 Lon Pelton
Source: Journal Inquirer interview
CTMQ's Painted Roadside Rocks, Public/Outdoor Art/Sculpture, & Goofy Giant Things