CTMQ in the Hauser
Hauser Nature Preserve, Litchfield
November 2022
Ooohhhh, I don't know. This is one of those trails and hikes that are there and therefore I walked it. Don't get me wrong – it's quite nice! But every now and again it hits me that I'm out here bouncing around the state hiking trails that no one other than locals will ever walk.
And then I have the hubris to think you all want to read about it!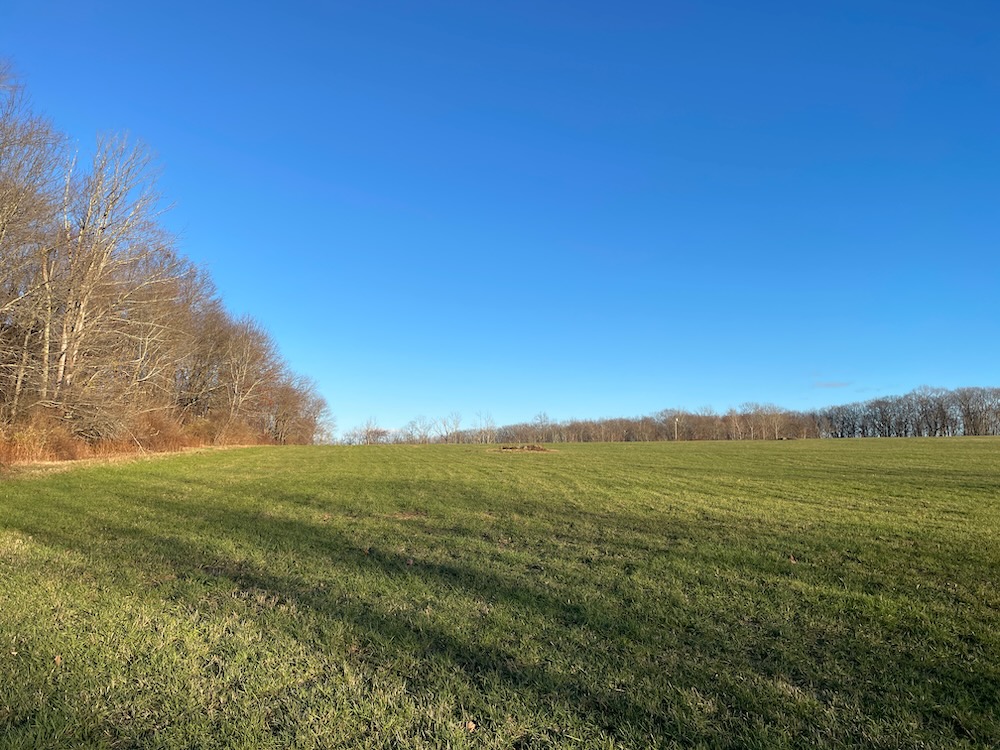 I made my annual pilgrimage to pick up the Thanksgiving turkey at Bunnell Farm in Litchfield and then made the annual pilgrimage to "whatever trail is on the way home that I can do before the sun sets." In 2022 that was here, at the Northwest Connecticut Land Conservation Trust's Hauser Nature Preserve.
Long time fans of the Hauser Preserve will note that this used to be a Weantinoge Land Trust property. In fact, some signage here still has the old name. As all western Connecticut CTMQ readers and hikers know, the Weantinoge and Naromi Land Trusts merged in 2020 to form the new entity.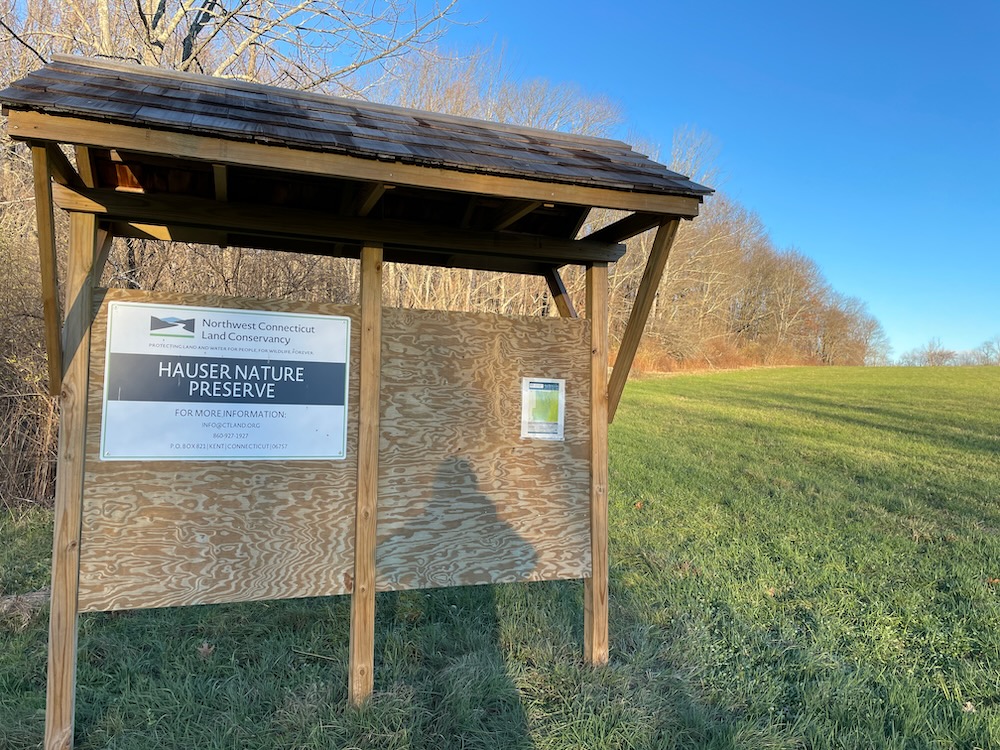 But the Hauser Preserve has been around nearly as long as I have. The creation of the preserve in the mid-1970s was a decisive step by Gustave and Rita Hauser to preserve some of Litchfield's highest and most developable land. Much of the land is farmed; including a tract 1/4 mile south of the mapped parcel (since grazing occurs there it is not open to the public).
There's a little hiker's lot off of Fern Avenue which I can assure you, does not look like a place called "Fern Avenue." (It's not an avenue by any definition is what I'm saying.) The trail begins at the bottom of a sloping hay field and takes hikers on a yellow-blazed loop through the woods.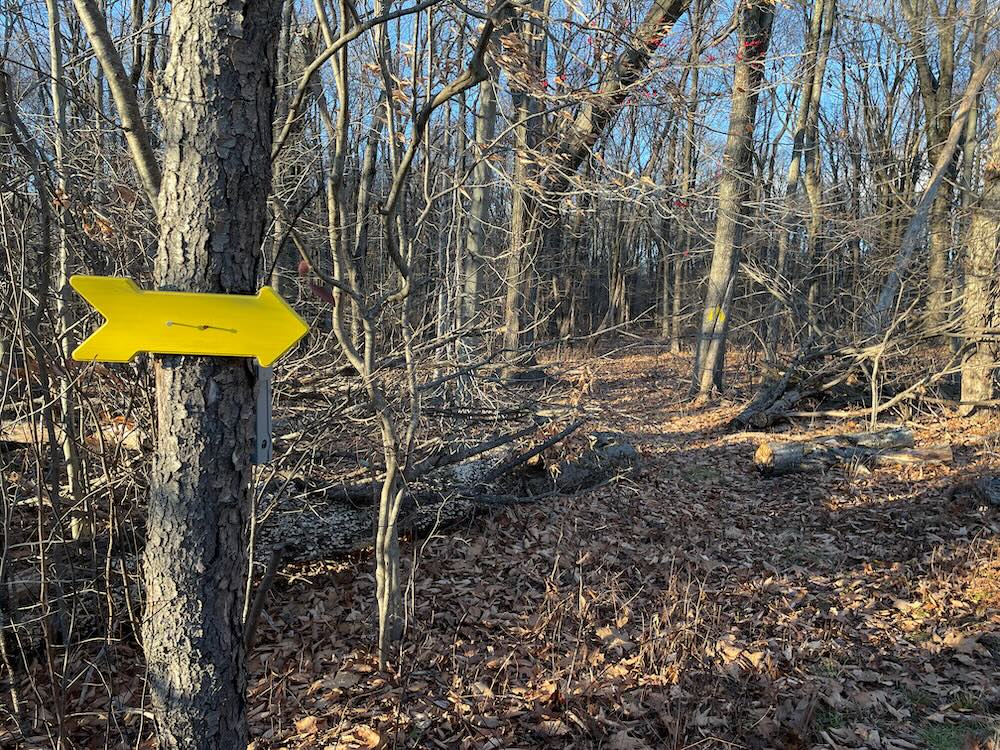 Higher than Litchfield's village center, the hayfield looks out to the high points of the Litchfield Hills, including Cornwall's Mohawk Mountain. Since I was hiking in late November late in the afternoon, I was staring directly at the sun when I tried to look west. I imagine this is a pretty nice place to watch the sun rise over the western hills.
This is interesting:
By virtue of the poorly drained soils, the hayfield usually can't be cut until after mid-July. This has been a saving grace to one of Connecticut's populations of bobolinks, a declining species. They require unmowed meadow for breeding before migrating to Argentina. In addition to the breeding grounds, the hayfield appears to be a major pre-migration staging ground for area bobolinks that are displaced by mowing elsewhere in the vicinity. Timothy and reed canary grass seeds fatten them for their long journey. Bobolinks can be seen here from mid-May through July; dogs are prohibited during the nesting season.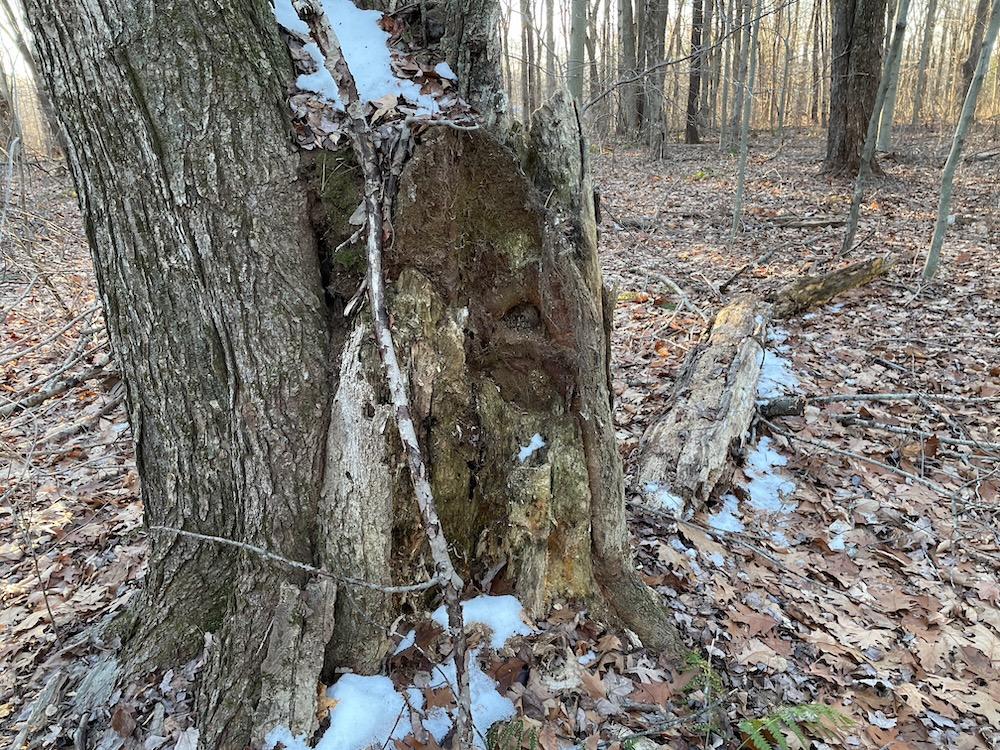 I had no idea bobolinks only wintered in Argentina. So I checked: Most Bobolinks winter east of the Andes in the grasslands (or pampas) of southwestern Brazil, Paraguay, northern Argentina, and central Bolivia. Geolocator data revealed that Bobolinks often pause for several weeks in the grasslands of Venezuela, Colombia, or Bolivia before continuing on to wintering areas. Eh, maybe Litchfield bobolinks only go to Argentina.
I entered the woods about three-quarters of the way up the hayfield hill to follow the loop. The trail is named in memory of Ed Eveleth, a local Litchfieldian who championed the towns natural resources and selflessly gave his time to the town. It's a nice trail.
I was somewhat surprised to see some pockets of snow out here; hidden from the sun in shaded areas. There's also a small brook and some old stone walls and a hill. (Truth be told, I love trails like this if only for my list-completion OCD. Self-contained, relatively short, interesting enough; check, check, check.)
The back of the Hauser Preserve is contiguous with Topsmead State Forest, so it can feel pretty remote once down the far side of the hayfield hill – even though you know you literally just left your car next to a big house. There used to be a couple different loops here, but that seems to have been cut back to just the one main one. The trail curled around and began climbing back up to the top of the hill as it pops back out into the field.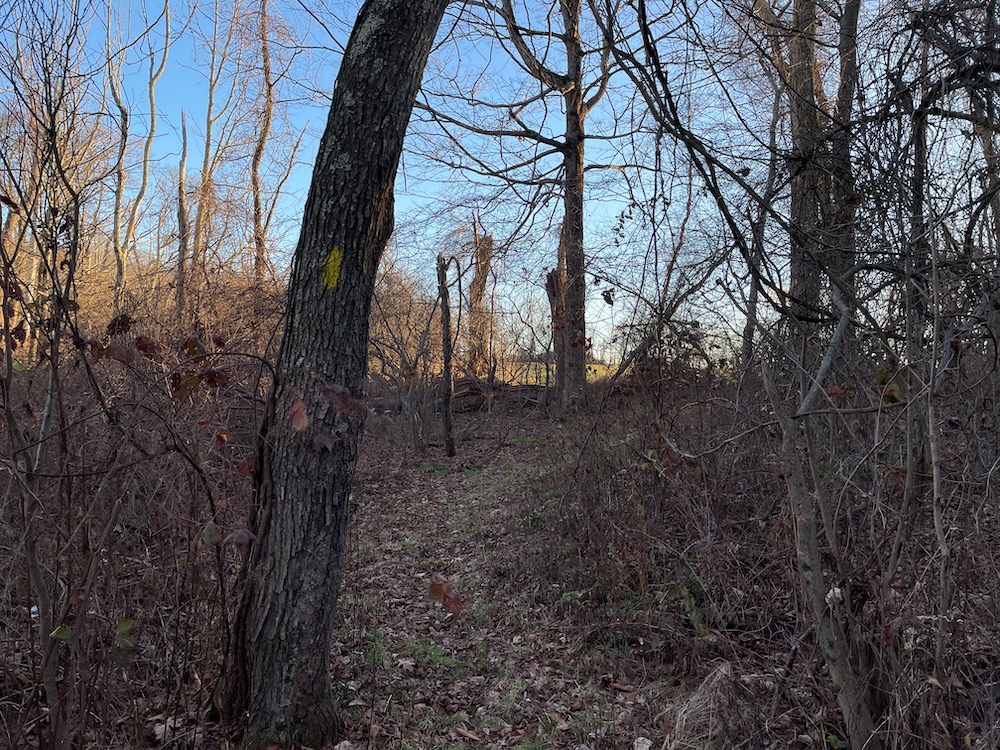 The sun was still a smidge too high for my iPhone to deal with in any artistically pleasing way. Even so, it was a nice moment for me high above Litchfield, 22-pound turkey in the car, mere days before everyone's favorite holiday.
Hauser is a 110-acre mosaic of land that represents a partnership of donors and of field and woods… of conservation-minded farmers and neotropical migratory birds. And that's cool.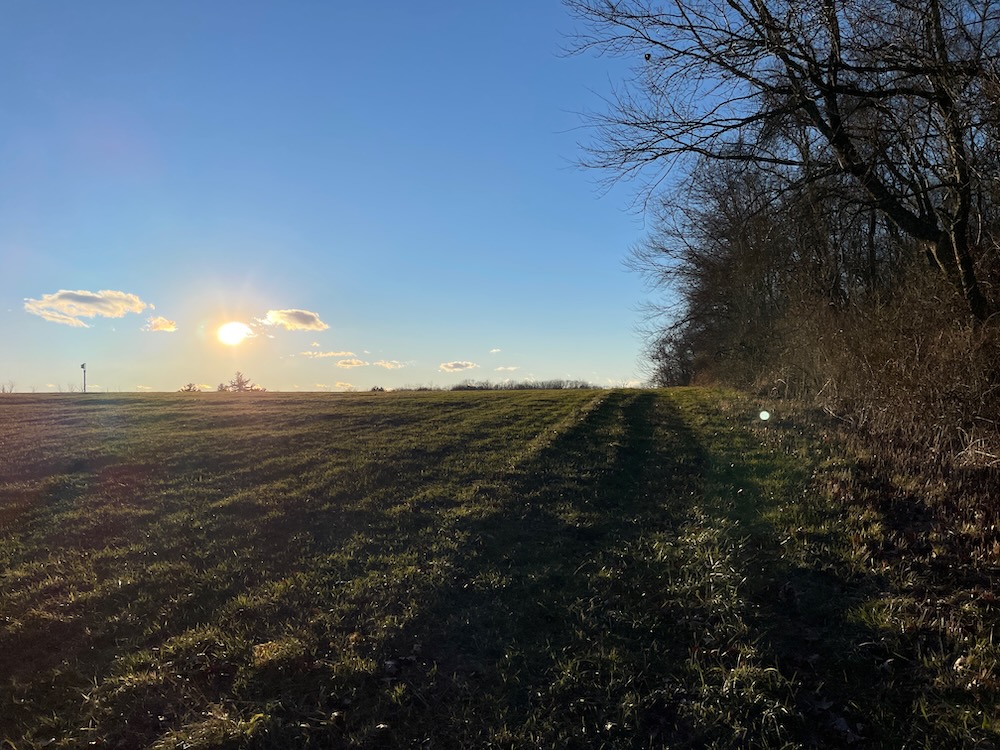 As I made my way down the hill back to my car with another mile or so of trail behind me, I kept thinking of those bobolinks. It's like 5,000 miles one way to Argentina and those little birds make that happen. Sure, I've hiked more than 5,000 miles in my 50 years but that's a ridiculous comparison.
I'm glad I was about to eat a turkey and not a bobolink.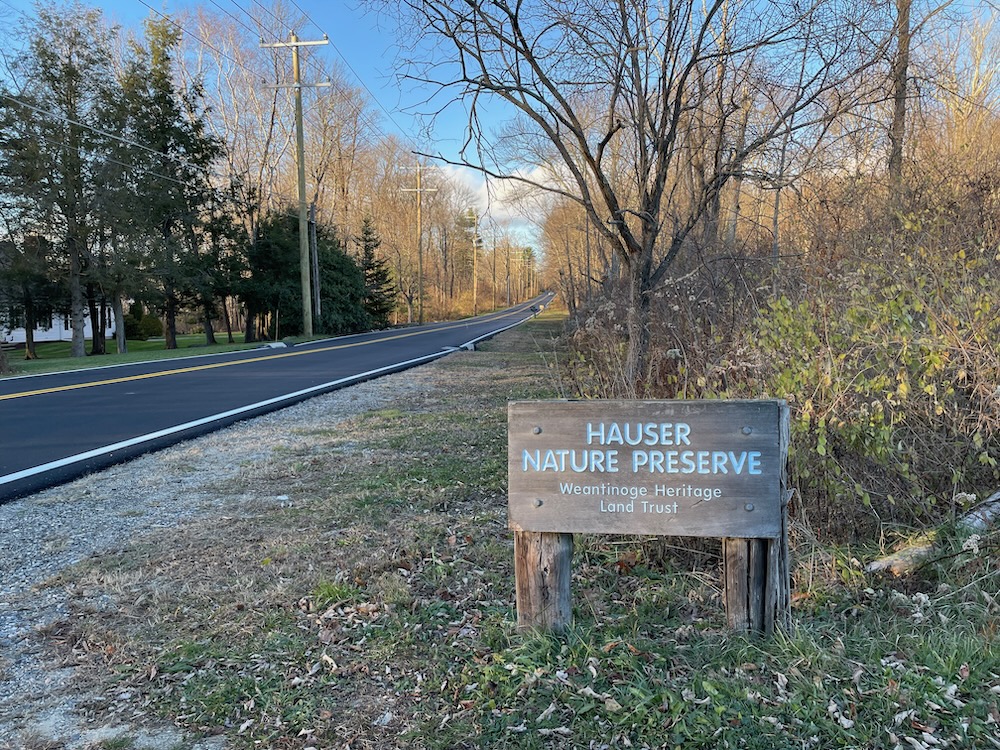 Northwest Connecticut Land Conservancy
CTMQ's Northwest Connecticut Land Conservancy Trails