Where Weather is the Arch Enemy
Portland's Brownstone Arch
May 18, 2011
Way back in 2011, I did a full CTMQ Day down the Connecticut River Valley. From Middletown to Old Saybrook, I hit several museums and other "stuff" for this website. Now, five years later, I'm going through those pictures and seeing some stuff I never wrote about.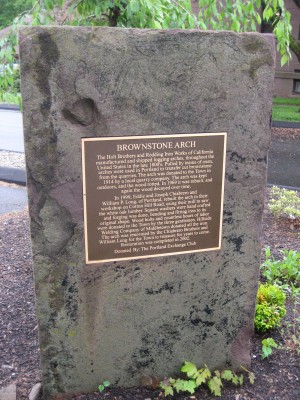 Some things I probably skipped over because I didn't deem them worthy of this site at the time… an innocent time when I wasn't trying to capture every single dang thing in the state that exists.
So here we are… reading about a thing that exists in Portland, Connecticut.
This thing is called an "arch." And while the brownstone blocks it was used to carry built arches and buildings, this thing is called an arch because of the arched shape of its axle. This arched axle allowed the thing to carry large blocks of brownstone.
You'd think they'd have come up with a different name for the thing, but they had more important things on their mind back then. Like providing food and clothes for their 14 kids and stuff.
Regardless, this is a thing that the town of Portland is very proud of. It has been built and destroyed by weather three times over the last century. The latest iteration, built by volunteers in the late 20th century, is now protected by a covered pavilion – AND it's next to the Portland police station to hopefully protect it from vandals as well.
By the way, the police station is a beautiful brownstone building AND there's a Progressive ET sign there as well. And the nearby brownstone quarry is a National Historic Landmark AND an adventure/water park.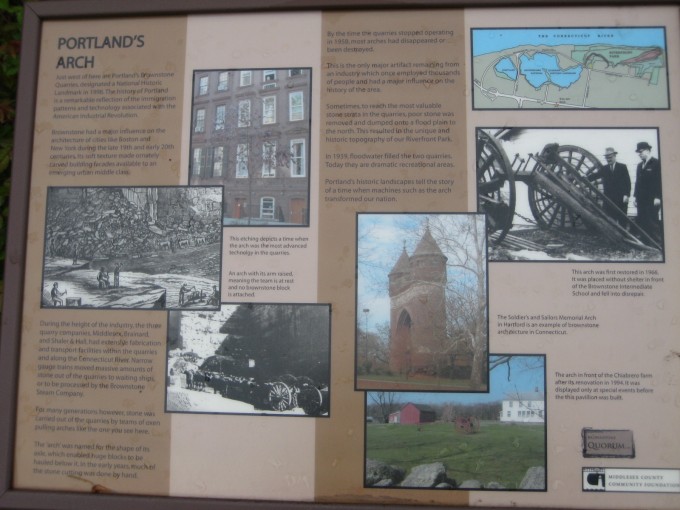 As you probably know, Portland's brownstone was used to build many houses and buildings in New York City and Boston, as well as many ornamental (actual) arches, like the Soldier's and Sailor's Memorial Arch in Hartford (which you can climb up inside). The stone was mostly hand cut in the quarries and then piece by piece, the chunks were loaded onto these arches and hauled off by teams of oxen and onto waiting ships to be cleaned and shaped for building.
The bottom line: this contraption, that built Portland's most important industry, helped build up our country's greatest cities. It's called an arch because of the shape of its axle which is really dumb and confusing.
History is fun.