Mon Cheri
Canton Land Conservation Trust, Canton
March 2023
After I completed this hike, I asked my friend Rich something about it. After some back and forth he wrote, "Guess I need to head back over there. It seems impossible to complete anything in Canton."
And that's a perfect way to start off this page. Because it is impossible to complete anything in Canton. Which is a good thing… as long as I can ignore that "List Completion Obsession Devil" on my shoulder.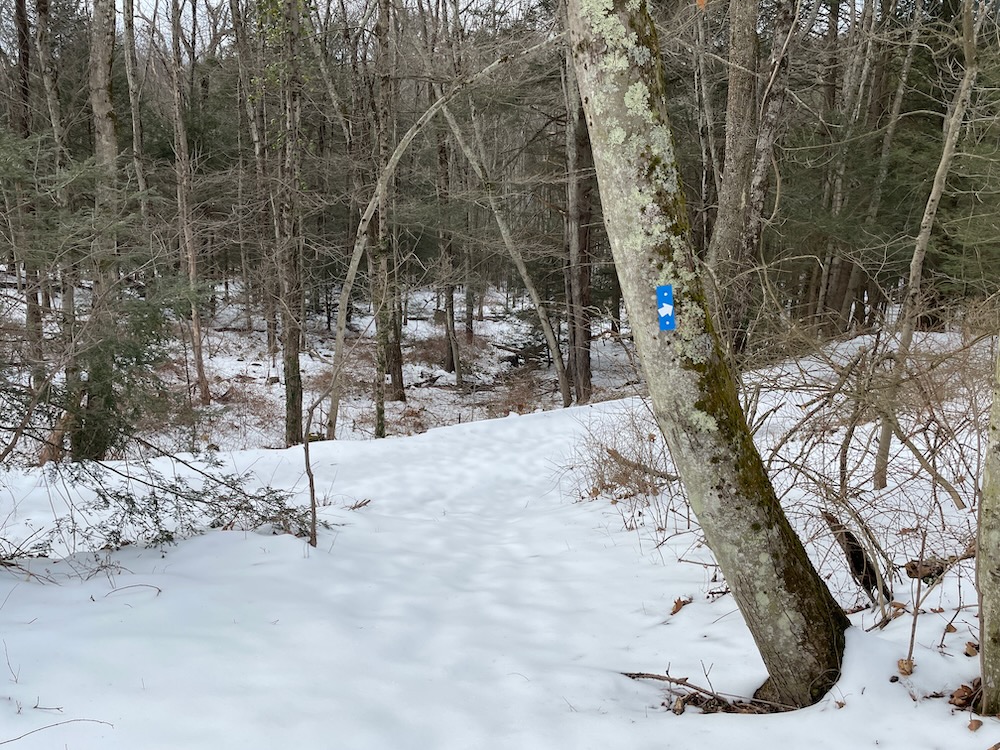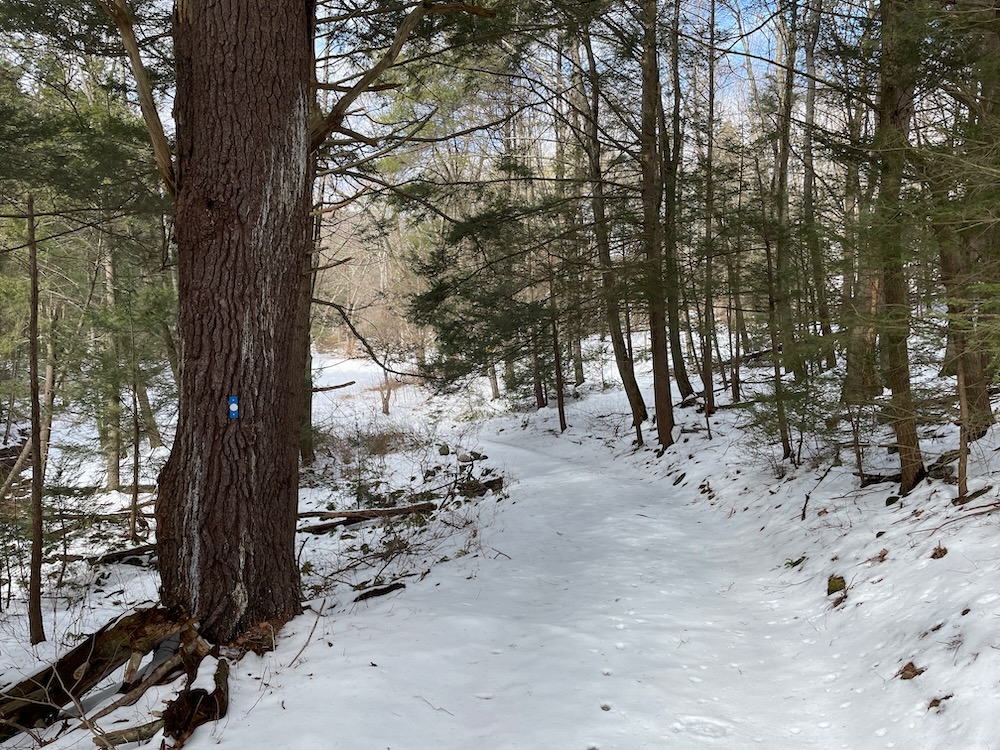 Yes, friends, the Canton Land Conservation Trust has done it again. They've cleared, blazed, and mapped a new property a year after clearing, blazing, and mapping their last new property. So every time I "complete" Canton, the CLCT says, "Hold my Nalgene bottle" and proves me wrong. Which is fine. Keep going, CLCT. You're only two towns away from me. You keep blazing, and I'll keep hiking. I will win this battle.
Their newest property is just a mile or so north of Route 44 right off of Route 179. And guess what? It features Cherry Brook! Cherry Brook is nearly synonymous with Canton hiking – and for good reason; it's a lovely brook.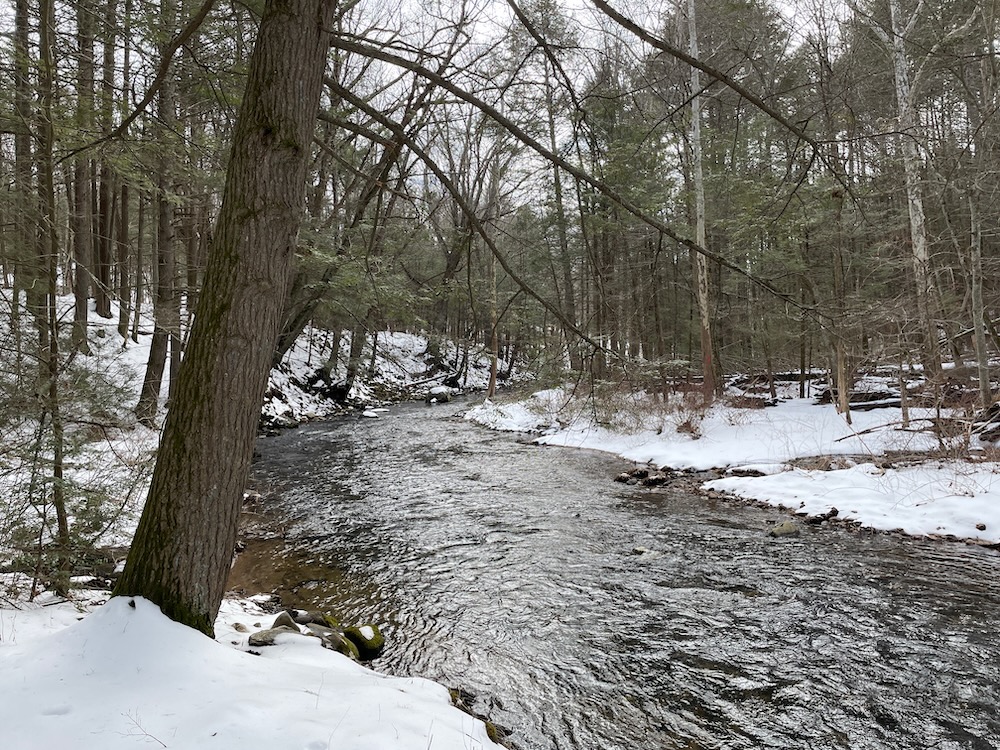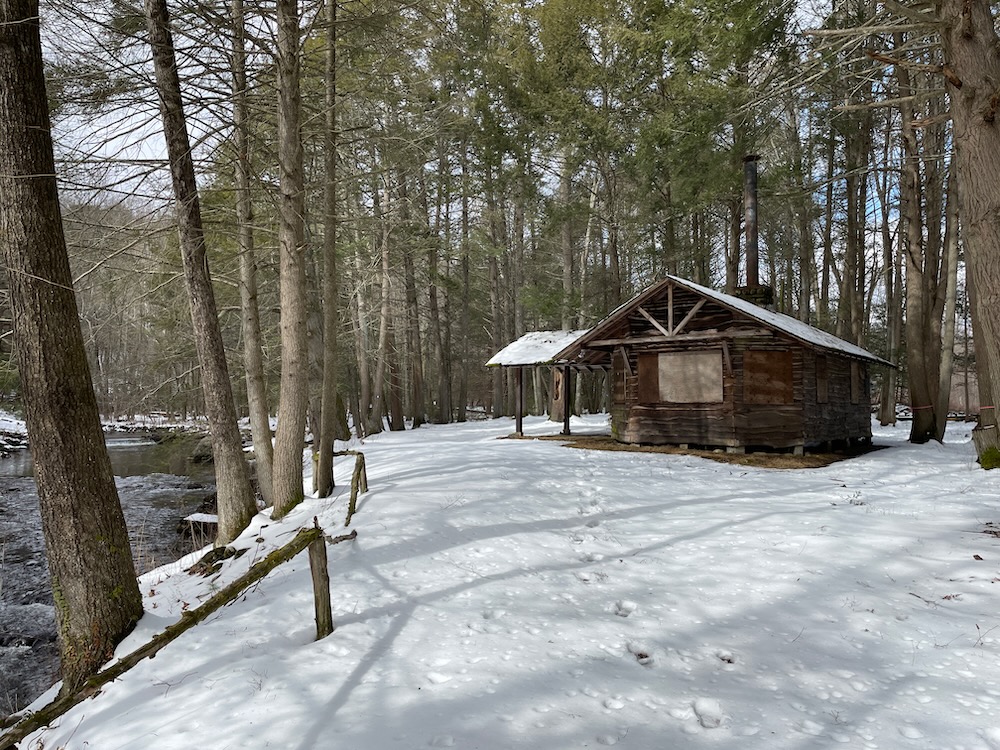 When there's no snow, I'm sure the parking area is fine. There are plans to make the spaces a bit more defined in 2023. Just go there and park. You'll be fine. (Apparently you can also open the gate to the long dirt driveway and head down the hill to park in the woods. That's great, but also totally unnecessary – and I wasn't about to do it myself.)
And then get out of your car and follow the signs and blue blazes. From the road, these will take you on a nearly 2-mile loop that will throw you for a loop. I've come to expect fun surprises from Canton, but they're usually up north in the deep woods. This place is pretty close to civilization.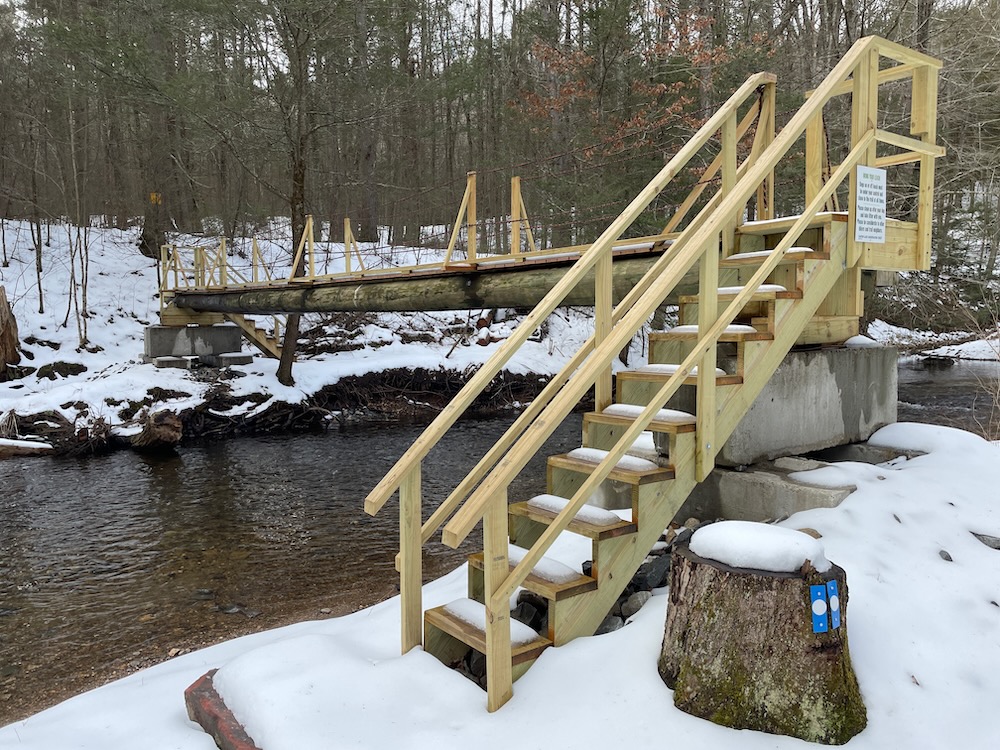 As you've surely noticed, I was hiking through some snow. In the winter of 2022-23 that seemed impossible, I know. But I did it! Two inches of heavy, wet snow! Yay?
The trail follows a driveway down to Cherry Brook and led me to an old cabin. What's up with Canton and its old cabins? I don't know! But there's an old cabin in their Smith Tree Farm Trails property too. Usable cabins.
This cabin has something to do with Lucy T. Pratt. And Clara and William Caffelle? No idea. But I do know that in 2012, Winifred Pratt donated the 22-acre parcel known as Pratt Place to the land trust in memory of her husband Leon Pratt. In 2019, Alfred Reid donated a 2.3-acre parcel adjacent to Pratt Place. In 2021, Elizabeth Cotterman and Gerald Green donated a 26-acre parcel also adjacent to Pratt Place.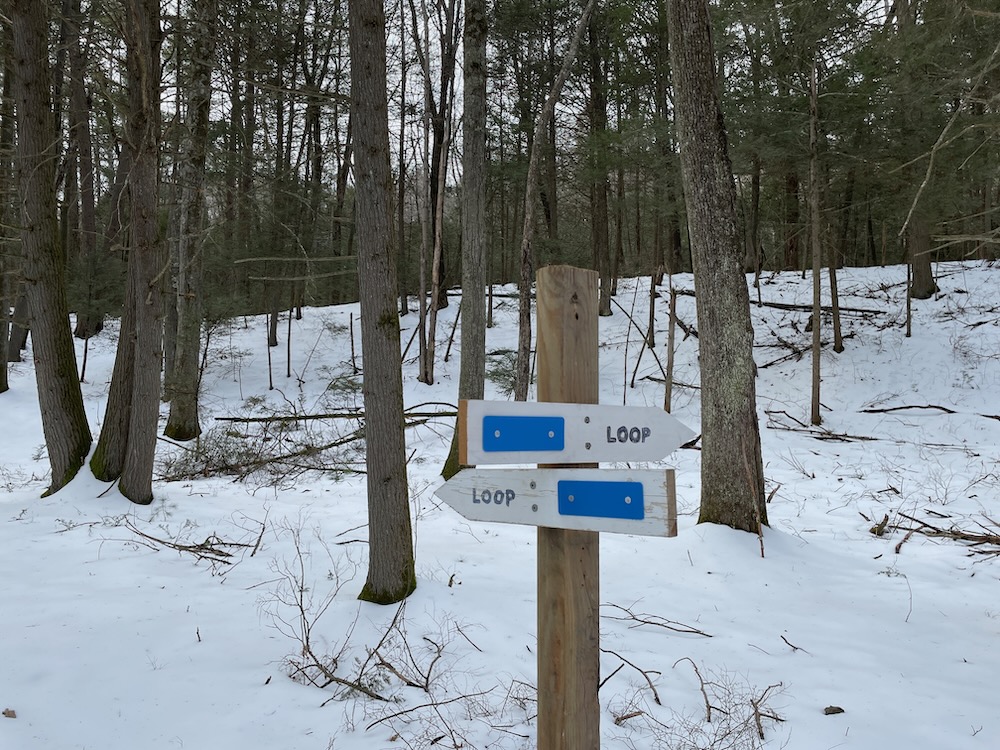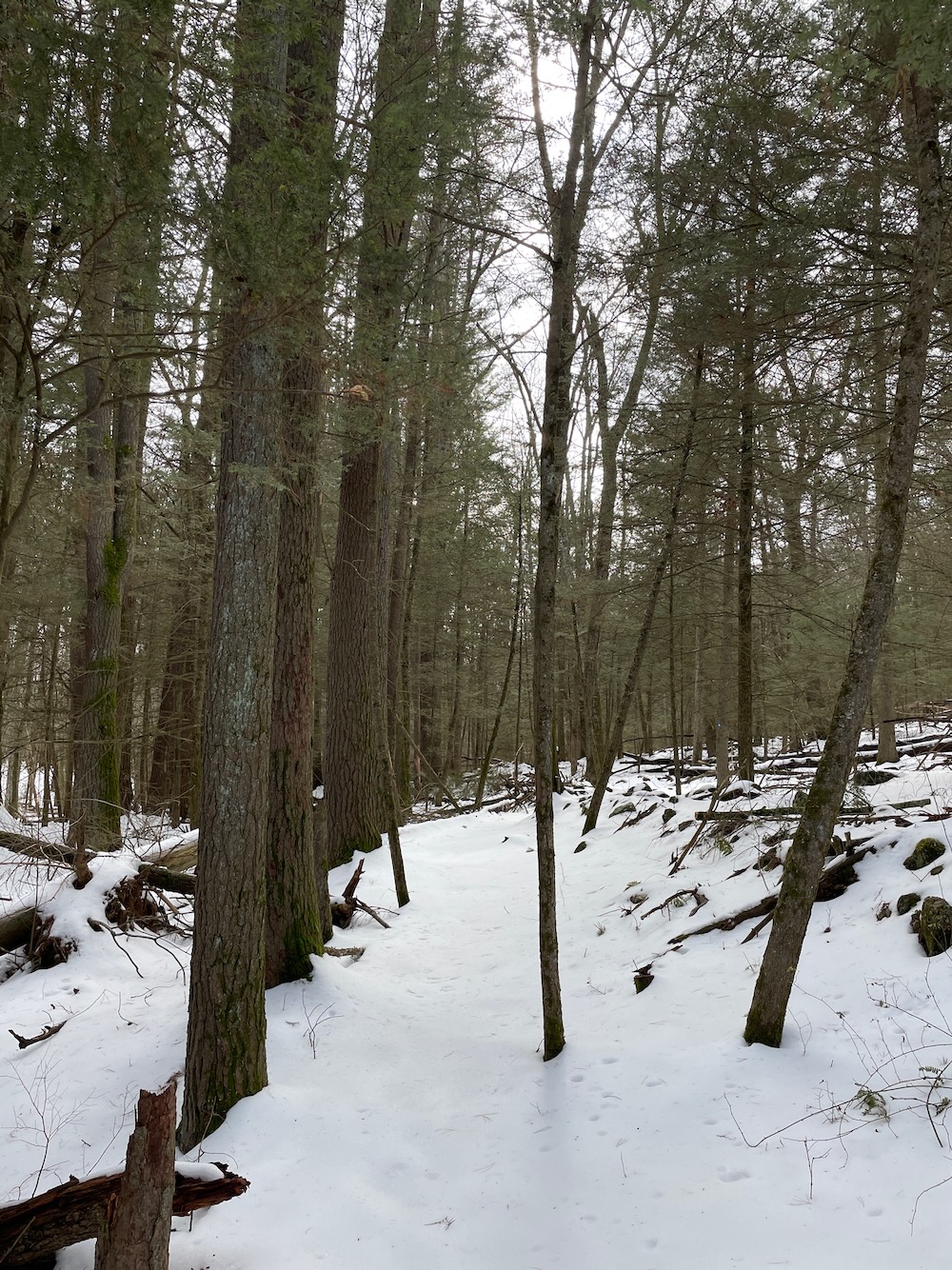 And then in 2022, CLCT began a project to add a bridge, a parking area, a trail, a pollinator pathway demonstration project, and educational signage. And in early 2023, I hiked this joint.
The main trail here, the blue loop past the cabin, has been named after Waquaheag, the Native American name for an individual better known to locals as Cherry, for whom the Cherry Brook and Cherry Brook Road were named.
Really? They called the guy "Cherry?" Sigh. Was everything dehumanizing to the natives?
At least Cherry Brook features in so many great CLCT properties. A mildly fitting tribute I guess?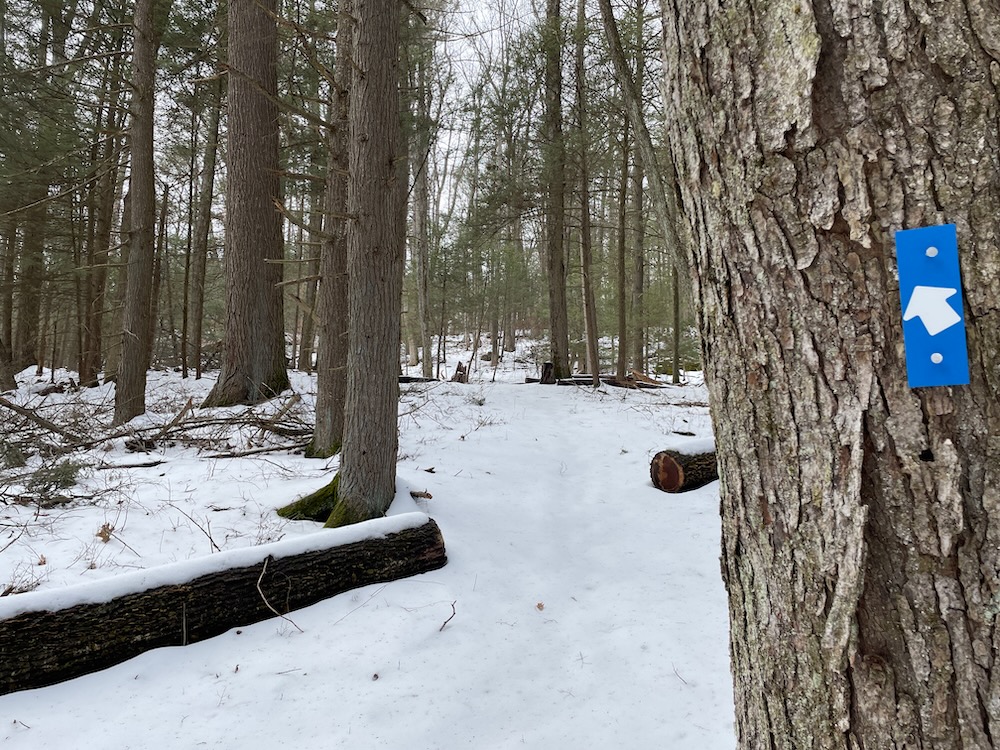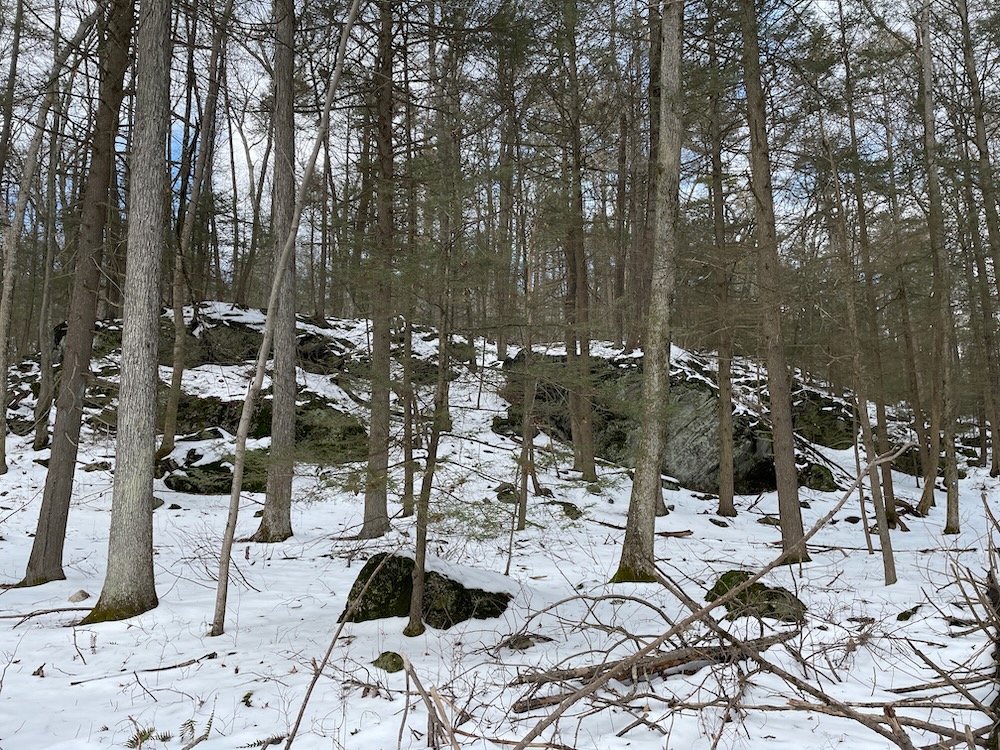 The bridge here over the brook is built to last. It spans Cherry Brook well above the 100-year flood level, which we all know is important in these last days of earth. The construction blocks in the banks are covered with tons of riprap to help protect the foundations when Cherry Brook inevitably has a significant rise. At least two prior bridges were constructed in this area and taken out by a combination of high water, ice and floating debris, so this bridge is deliberately placed well up into space.
Just across the bridge, a red trail splits off to the left and takes hikers along the brook. As I write this in March 2023, this trail does not exist anywhere online. Until now, baby…
Horseshoe Trail, .75 miles, Red-Blazed
It's apparently called the Horseshoe Trail. It's about three-quarters of a mile long and it is blazed red. You may think it gets its name from its shape, but just a minute down the trail along Cherry Brook are some horseshoe pits.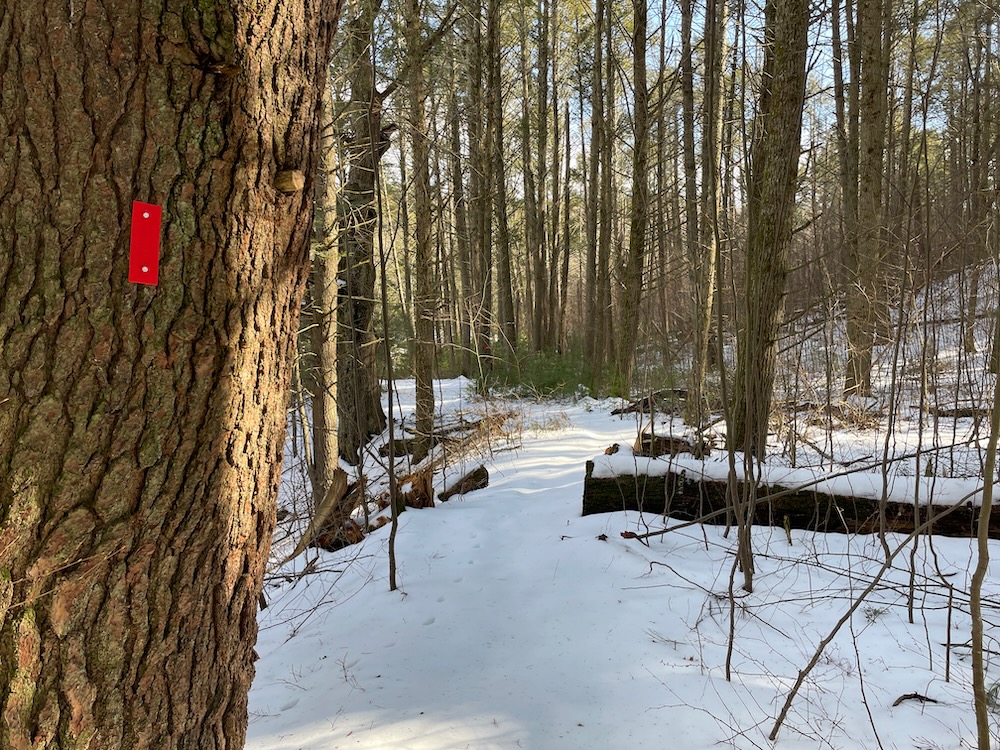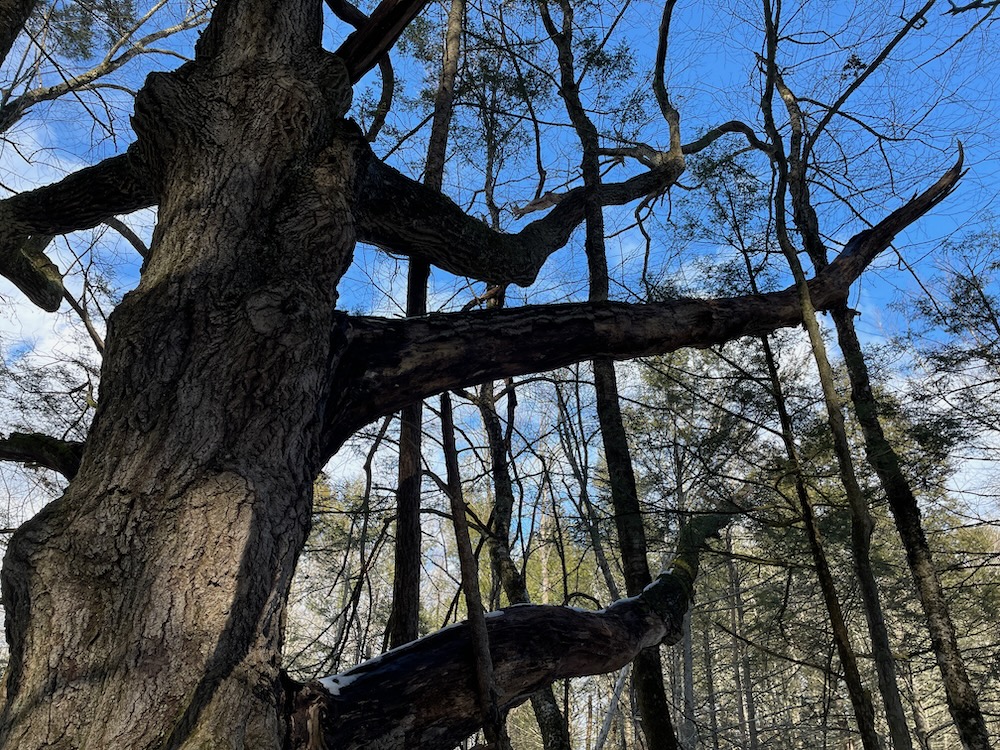 Why are these here? Who is walking this far into these woods to play horseshoes in an idyllic location? I don't know, but I want to know, I'm fascinated by this.
The trail leaves Cherry Brook and loops around what I'm going to call a drumlin to rejoin the main Waquaheag Trail.
Waquaheag Trail, 1.3 miles, Blue-Blazed
This trail is a great little trail. Towering pines, massive boulders, cliffs, seasonal views, and a surprising variety of terrain and flora.
I've come to expect this type of place from the CLCT, but that doesn't make it any less fun to experience for a first time. I set out on the loop clockwise which I was happy with later. If you prefer steep ups to downs because of bad knees, go counter-clockwise. If you prefer steep downs to ups because of general middle-aged lack of fitness, go clockwise.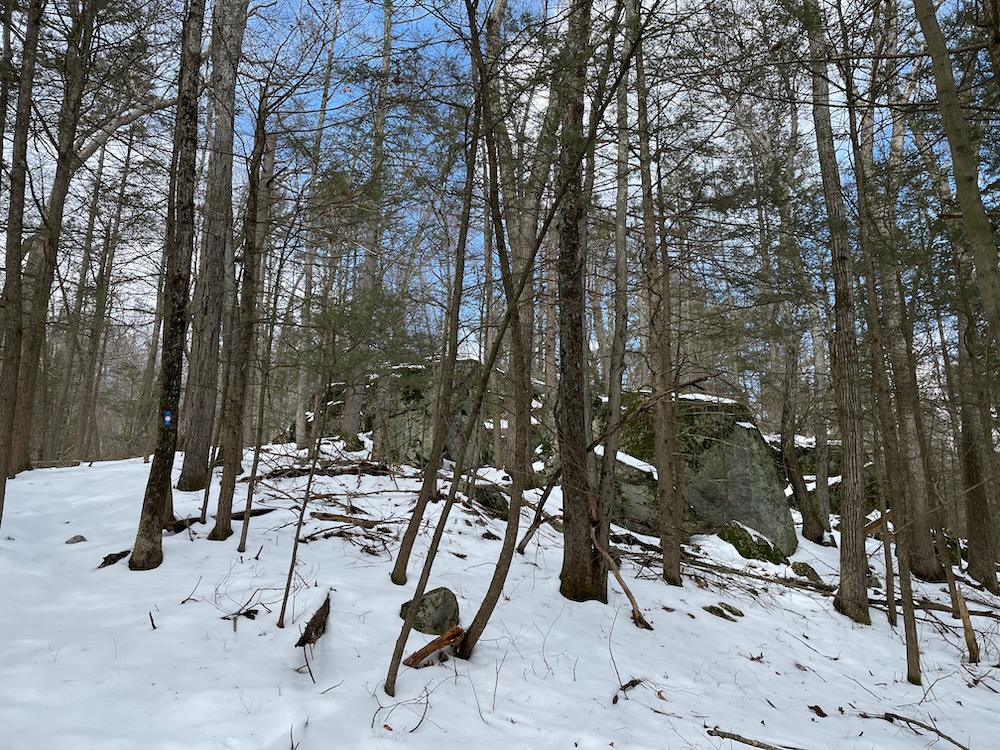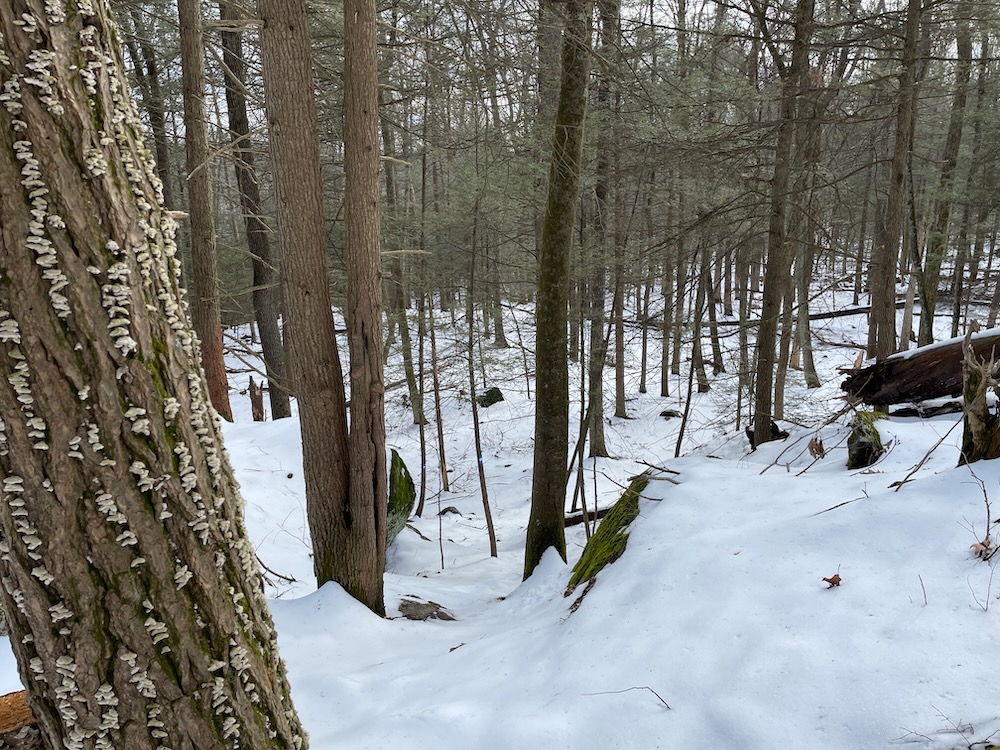 The trail creators did a fine job utilizing as much of the Pratt parcels as possible. The trail reaches the boundary several times in all directions. Oh, and if you're reading this before you head out… take note of what lies west when you park out on Route 179. See that ridgeline? You're about to hike up that.
Not quite to the top, but close enough.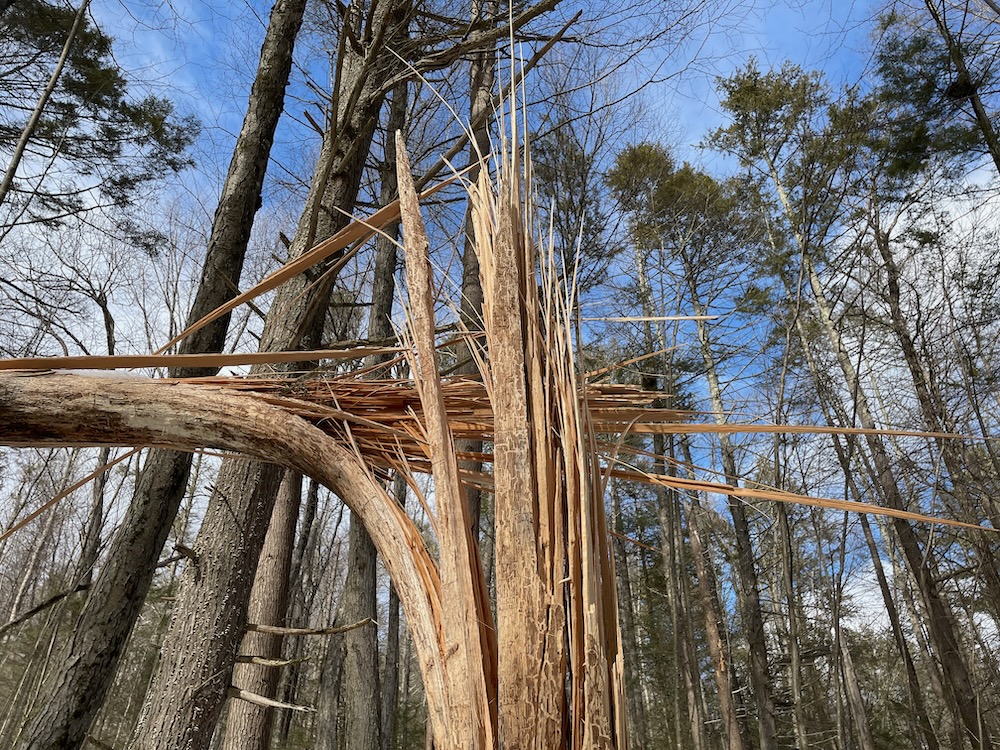 After some gentle slopes, the trail heads west and up. Pointy boulders spring from the earth and the trail takes them all in. At one point, at least in the winter with no greenery, I could see the trail looped back on itself. I could see it would take me through a boulder field – after climbing up another couple hundred feet or so.
That's a little cruel, but I figured it would be worth it – and it was. This area is a natural playground of oddly shaped boulders and small cliffs. This would be a great hike to take a kid along with you – not too long, not too easy, and just the right amount of "danger" and clambering opportunity to keep them engaged.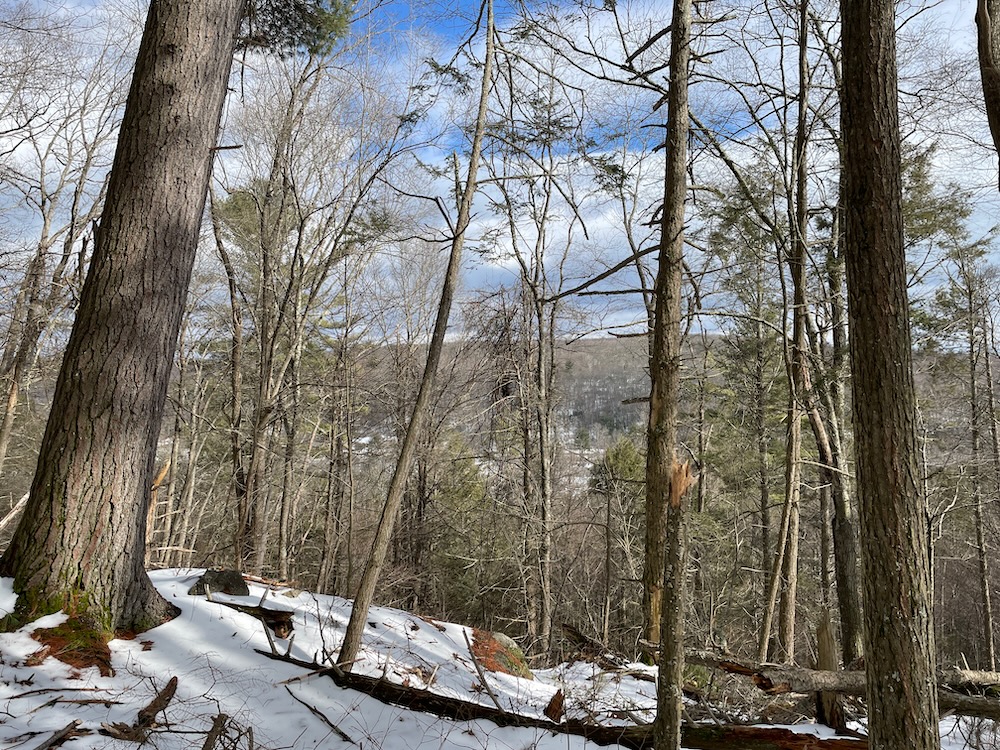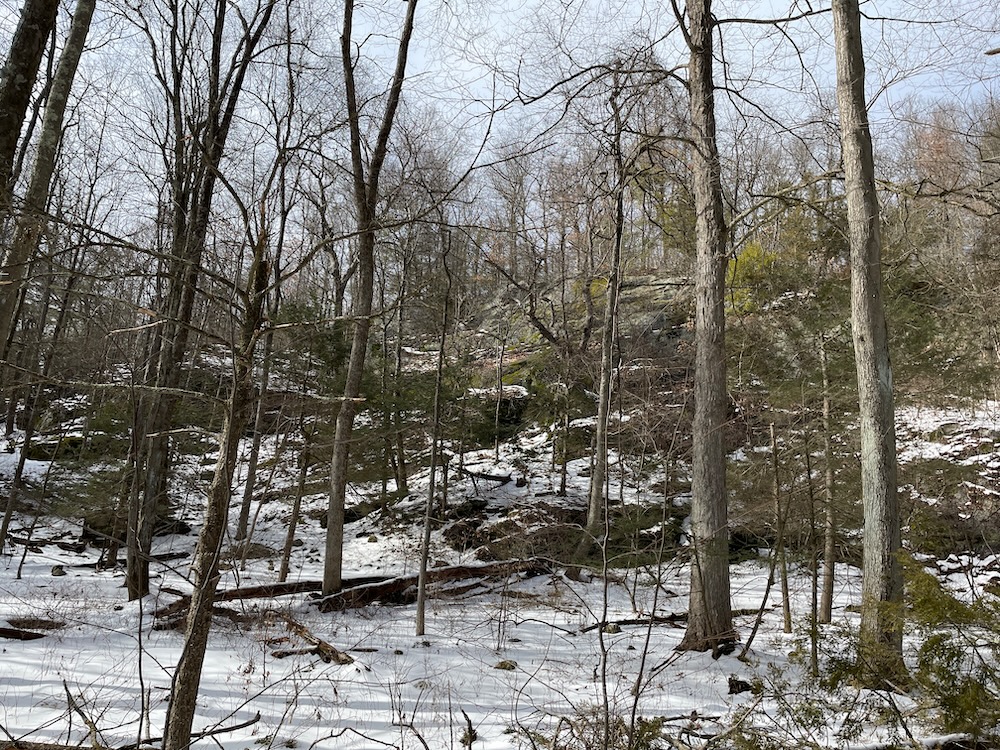 The ecology up here is pretty cool. This isn't the typical traprock ridge we in central Connecticut are so familiar with. This is wetter, more protected… mossier and lusher. And the CLCT has done yeoman's work clearing this trail, as evidenced by the massive chainsaw cuts through some very large felled trees.
They've also done work trying to find the most interesting (and yes, strenuous) path through these upper western reaches of the parcel. You may get annoyed at times, as the twists and turns can seem fairly pointless. The aim of the trail creators is clearly to take you up and through pretty much every interesting rock feature available to them.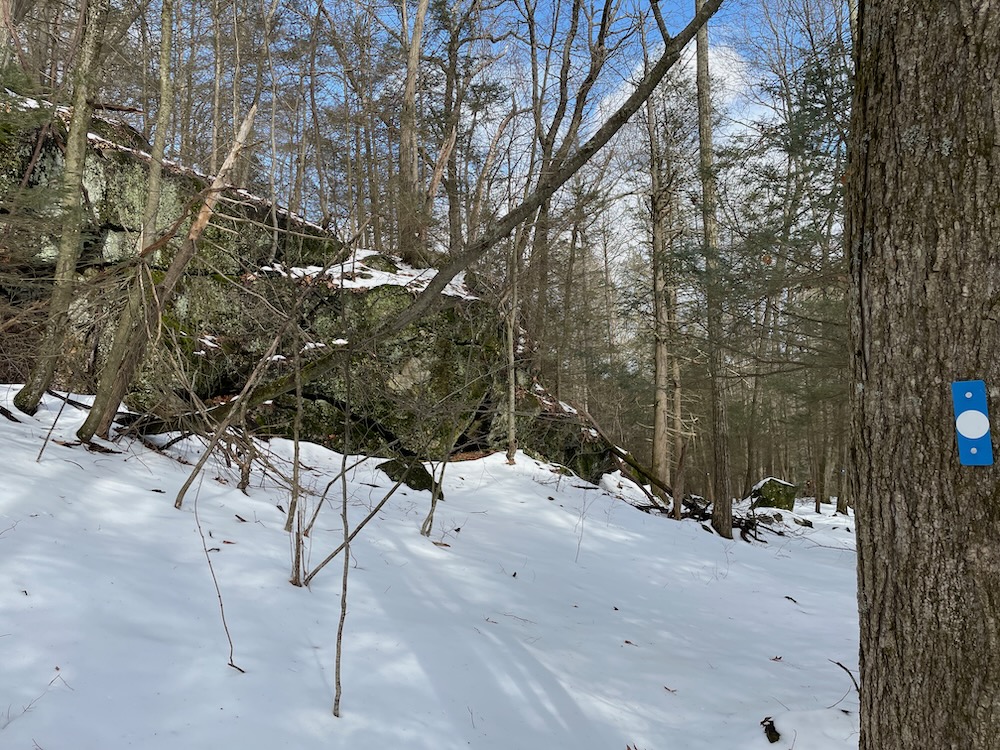 And they do a good job of that. At least when faced with the steepest and largest near vertical wall, saner heads prevailed and the trail merely skirts the bottom of the daunting cliff face.
When finally done with this section, the trail heads east – and down. Very steeply down in places. With the snow cover and my Kahtoola microspikes, I was able to almost glissade in places. Always fun. A lot more fun than slogging up these sections.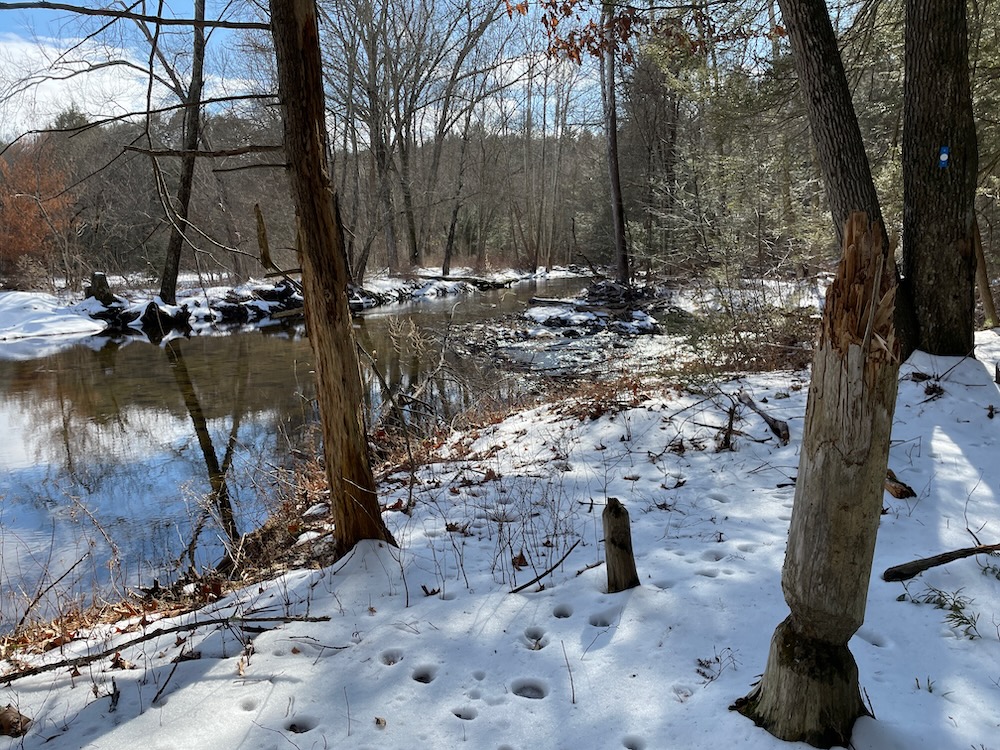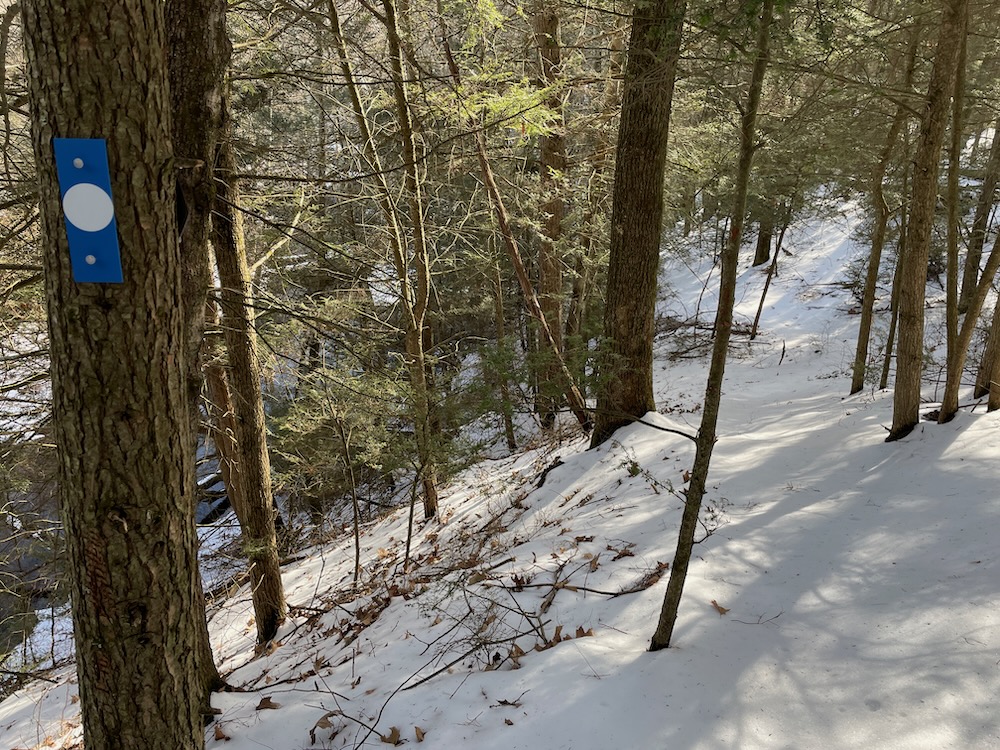 The trail ultimately reaches Cherry Brook again and then follows it down to where the loop began. Along the way there are some built up trail sections to limit erosion – the CLCT puts work into their properties. Back across the bridge, past the old cabin and up the hill to my car.
It's now a multi-year joke in my house – okay, just in my head – that every time I hike a new Canton trail that I've yet again "completed" Canton. This would be maybe the fourth time I've "completed" the town. And I'm sure the land conservation trust is blazing a new trail as I write and I'll "complete" Canton again next year. And the year after that.
And I'm fine with that, as long as the new properties are as cool and interesting at Pratt Place. CLCT: Mon Cheri (Brook).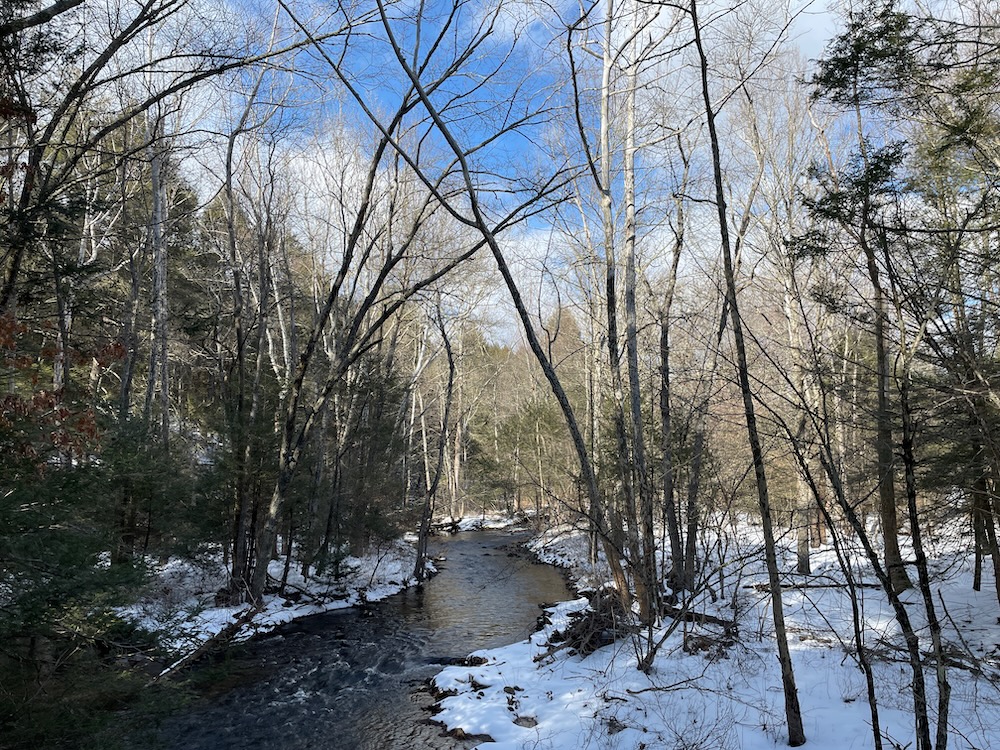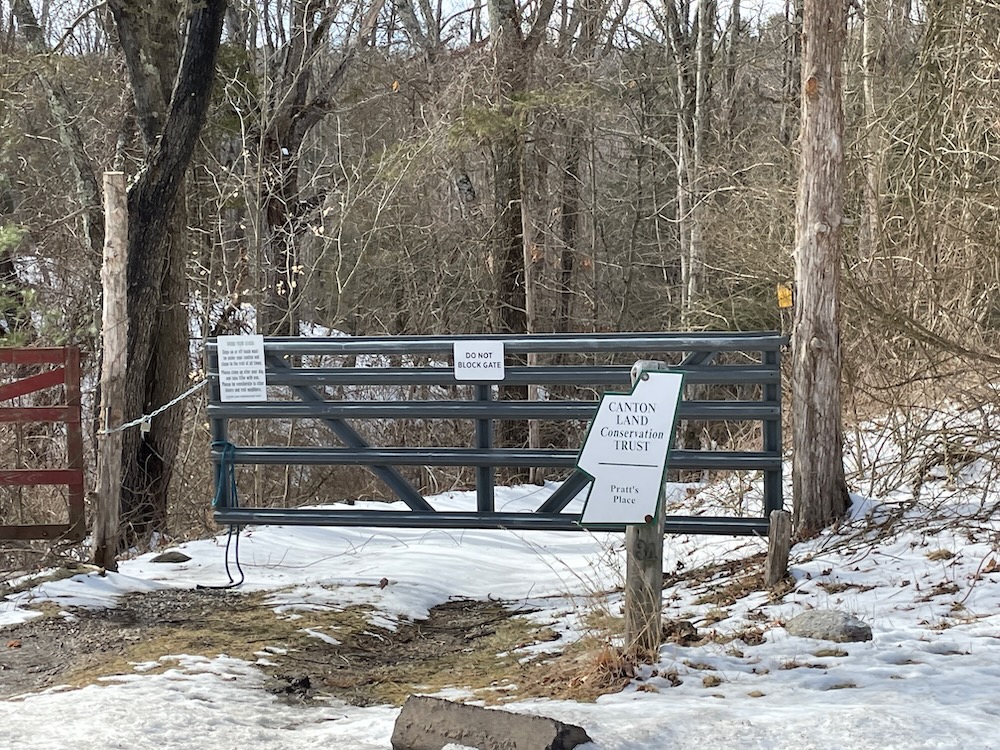 Canton Land Conservation Trust
CTMQ Hikes CLCT Trails