Pondy Brewster
Beer and Brewster Ponds, Prospect
I'm sure there a historical reason that these two ponds are named what they are named and I'm sure it's for the obvious reason and I'm sure no one thinks that's even mildly entertaining. After all, Beer Pond and Brewster Pond don't really compare to Lakes Leakalot and Leakalot More in Eastford. Or even Beetle Bung Pond in Middlebury.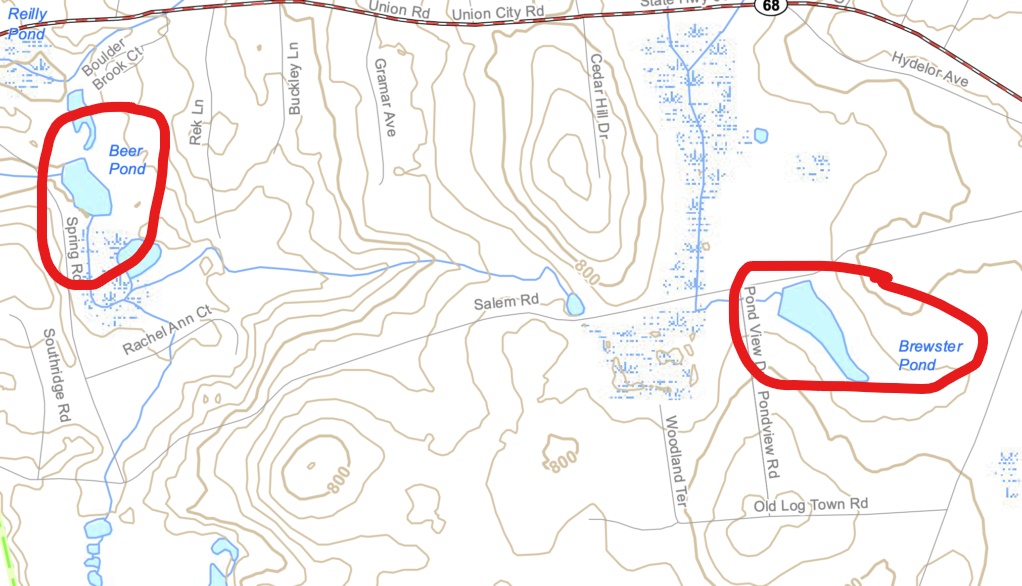 I know this. You know this. But here we are.
Hey, I'm the one who slow-rolled through Prospect neighborhoods in an effort to capture the photographic beauty of Beer and Brewster Ponds… a mission which at which I failed miserably.
There is nothing remarkable about either pond, and I'm left to wonder if anyone has ever noticed the two ponds with such closely related names before in such close proximity. Actually, I wonder if anyone even knows the names of these wholly unremarkable ponds.
Of the two, Brewster Pond is by far the more attractive. Beer Pond is choked with phragmites and other junk in 2023. Adjuncts, if you will. One could say Beer Pond is symbolic of what befell "craft beer" in recent years – normal clean beer became choked and clogged with lactose and fruit pulp and hop particles and all sorts of crap.
Meanwhile, real brewers (a la Brewster Pond) hated that trend and tried to keep their beers clean and sludge free. One of those brewers, just to put this page to bed, is my friend Matt Westfall (formerly of New England Brewing Company, now owner of Counterweight Brewing in Cheshire)… happens to live in? Yup, Prospect.
And there you go – Prospect's drunken ponds. Enjoy your day.