Somebody's Watching Me
Rockwell Park, Bristol
February 2023
I'm just an average man with an average life
I work from nine to five, hey, hell, I pay the price
All I want is to be left alone in my average home
But why do I always feel like I'm in the Twilight Zone and?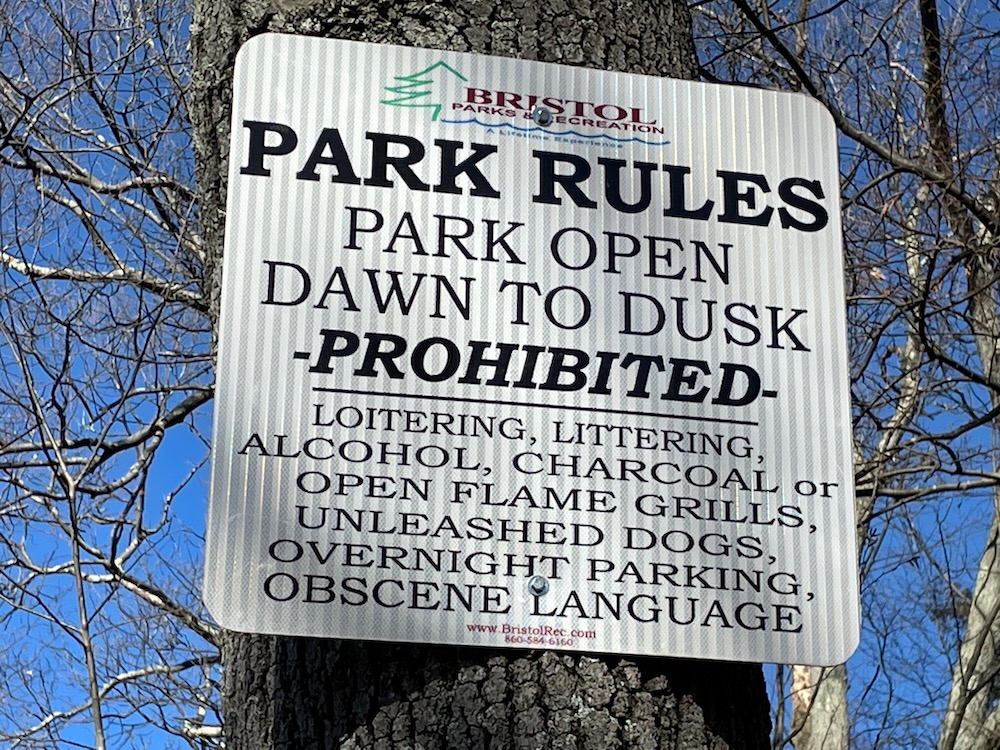 I always feel like somebody's watching me
And I have no privacy (oh, oh)
I always feel like somebody's watching me
Tell me is it just a dream?
Obscene language is prohibited? At Rockwell Park? In Bristol? This is my favorite thing ever.
If you don't get the above reference (title, song, etc.), then I'm sorry. That's the way things rolls here at CTMQ dot org. You get it or you don't.
And that's how things are at Rockwell Park, a municipal space I kind of fell in love with when I visited. You get that… or you don't.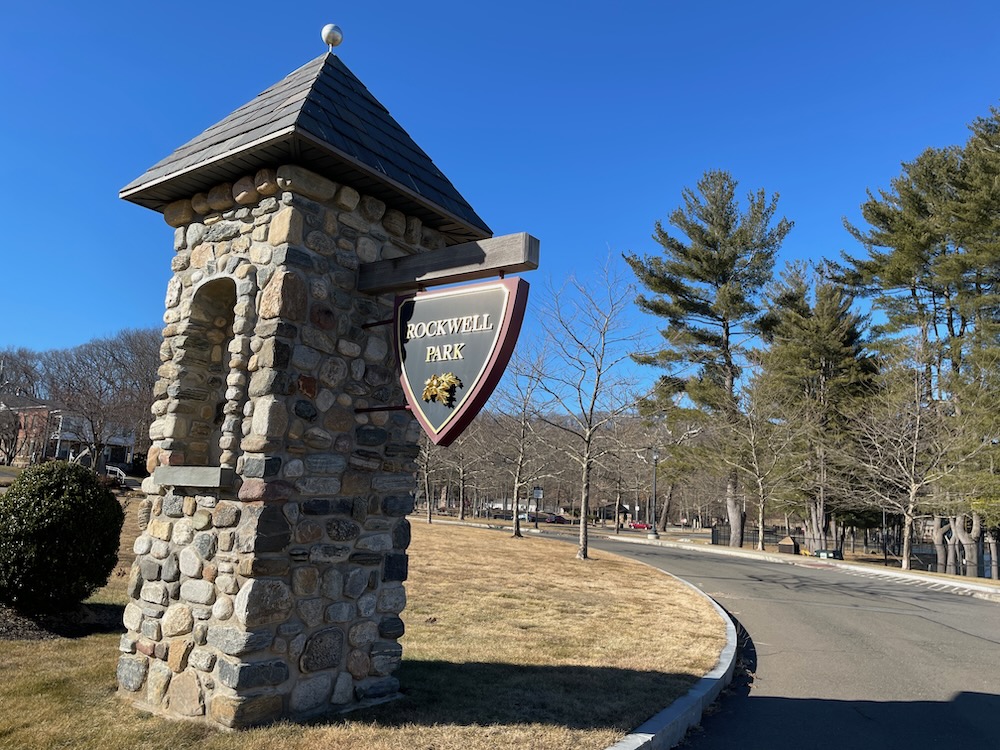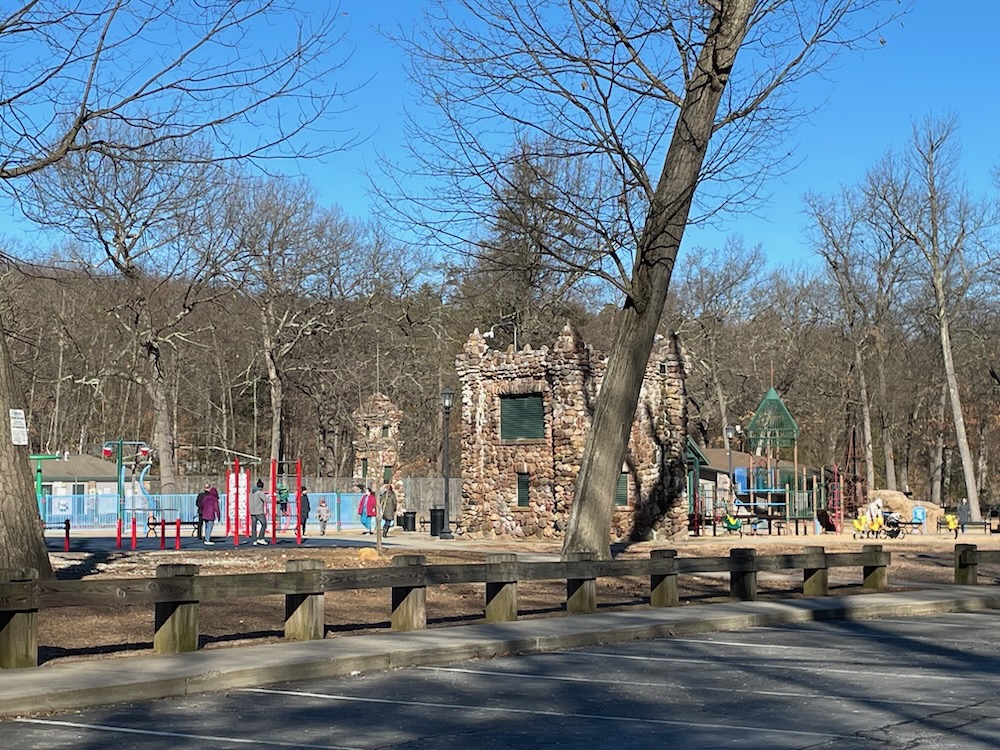 Yes, this place is in the heart of Bristol. Yes, there have been unhoused encampments here in the woods. Surely there have been the types of issues you're going to find at any urban park in any city in the world. But that's life. Bristol has done an incredible job maintaining Rockwell – at least in early 2023. I'm sure it ebbs and flows over the years.
This park has history! Cool buildings! A pool! A legit skate park! An awesome looking playground! Ponds! Hiking trails! Mountain biking trails! A disc golf course! An amphitheater! The Pequabuck River! Hills! Ravines! And more!
Rockwell Park is essentially split between the flat and open spaces near the many parking areas and the hilly, wooded sections. The buildings and structures of the park are characterized by rustic cobblestone architecture. This theme carries through to the three main entrances to the park that each have gates built out of cobblestone. Some of the buildings here are quite impressive, and others are "follies" – intentionally built fancifully, but serving no real function.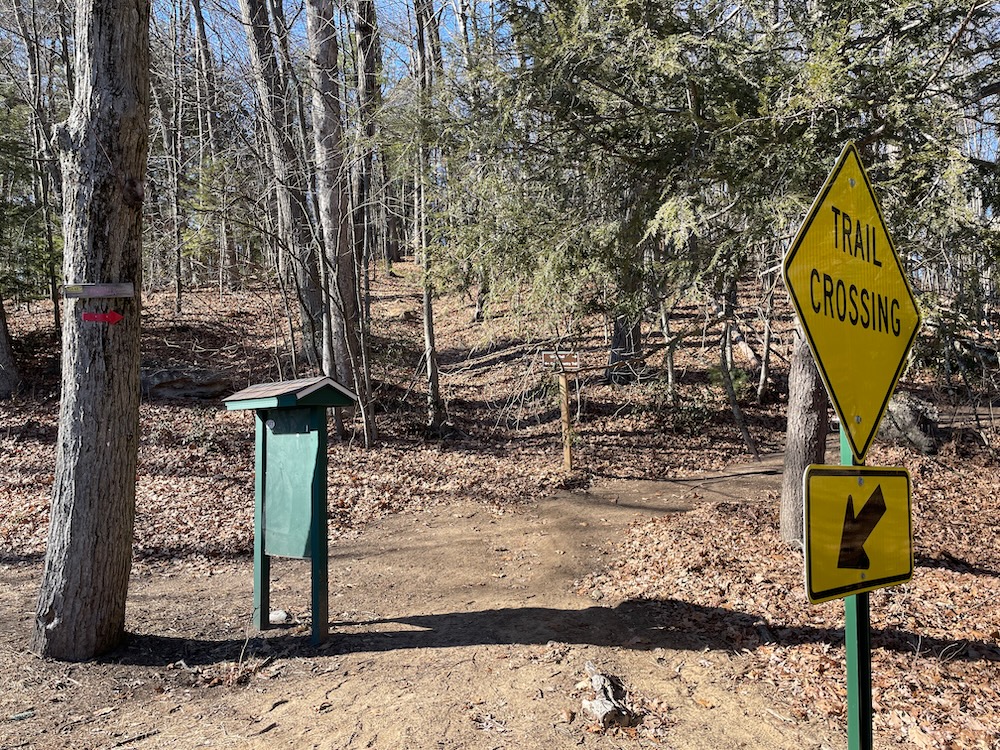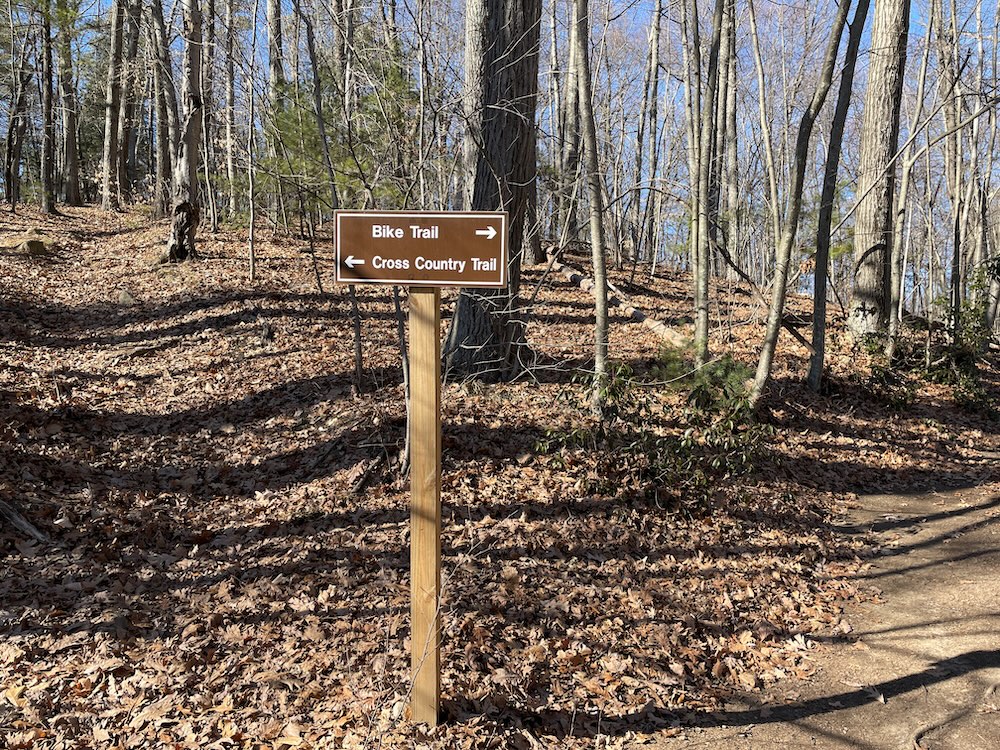 The 105-acre park was donated to the city in 1914 by Nettie and Albert Rockwell, the owner of a local manufacturer of automotive parts, doorbells, and other products. The parkland was originally part of the Rockwell estate, and the couple also regularly contributed additional funds for maintenance and new facilities. It was designed by the same landscape architect who designed Stanley Park in New Britain and the campus of what is now Loomis-Chaffee in Windsor.
I arrived on a fairly chilly winter's day and found the park to be rather bustling. Most city parks are bustling, of course, but Connecticut's post-industrial cities have such a bad rap, I'm always happily surprised to see such bustling.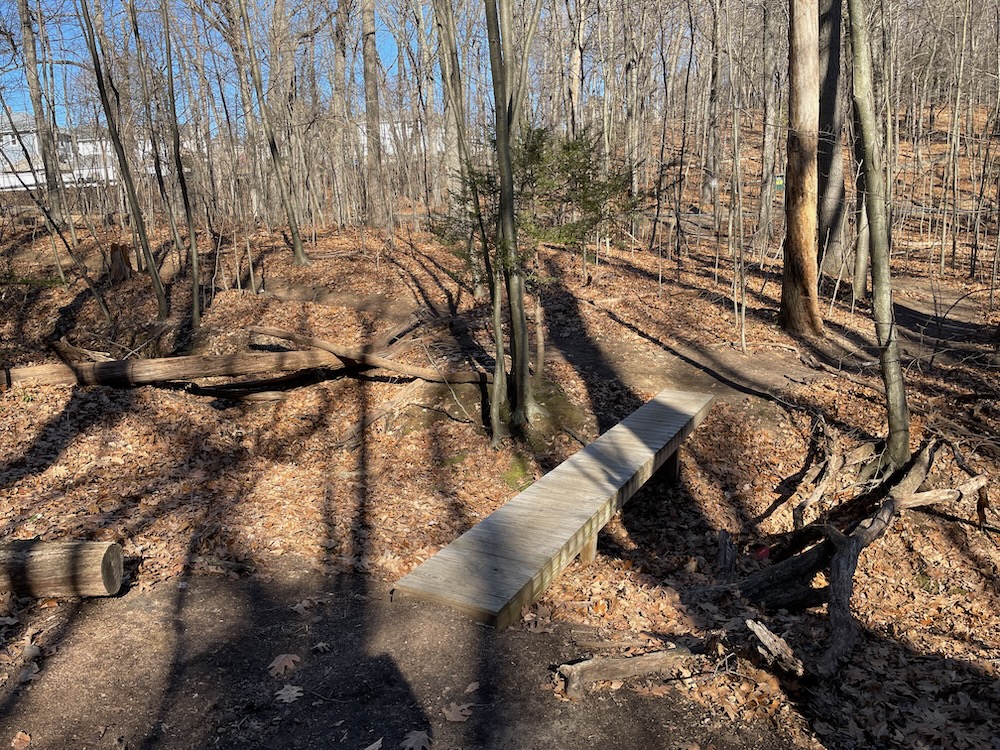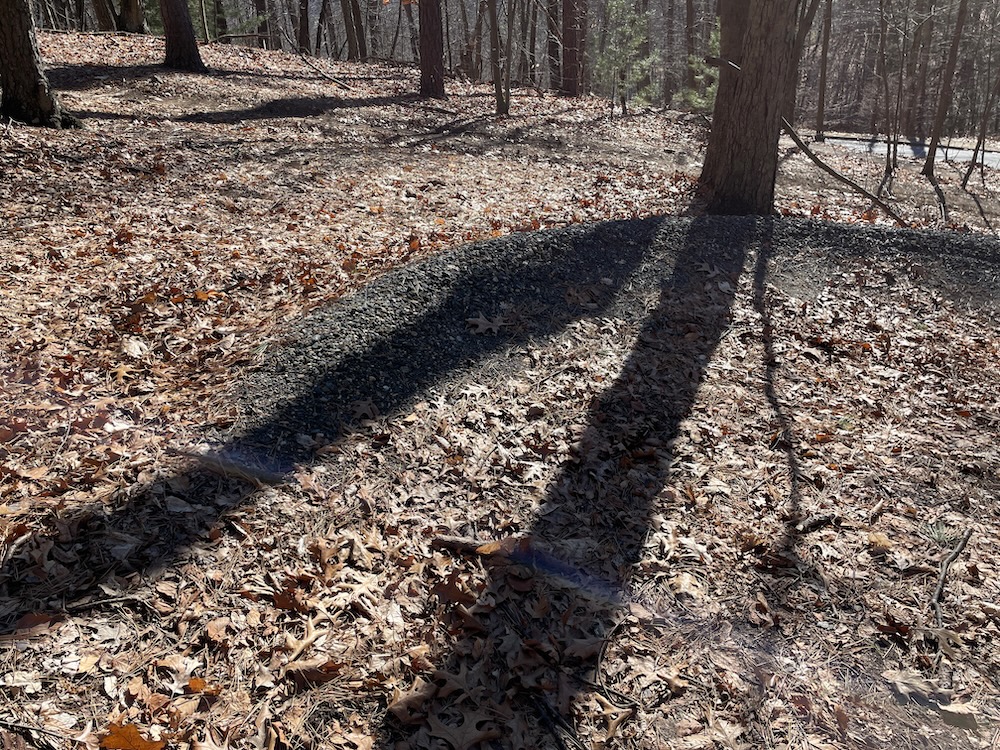 Several people have mentioned the dark side of Rockwell Park. That vagrants roam the place. That it can be dangerous. All that stuff. And I'm sure that's true at times, but I spent an hour in the backwoods here and saw exactly zero "homeless" people. I was blown away by how clean the entire park was. And I still can't get over how much effort Bristol puts into this place.
Take, for example, the thought out usage rules for the skate park:
Bikes are allowed on Tuesday, Thursday, and Saturday from dawn to dusk on the skate plaza only. Bikes should not have steel pegs. Alternatives allowed will be aluminum, plastic, or peg-less. No bikes are allowed in the bowl portion of the park at any time. Skateboarders are only allowed on Monday, Wednesday, Friday, and Sunday from dawn to dusk. The bowl is open seven days a week from dawn to dusk for skateboarders only.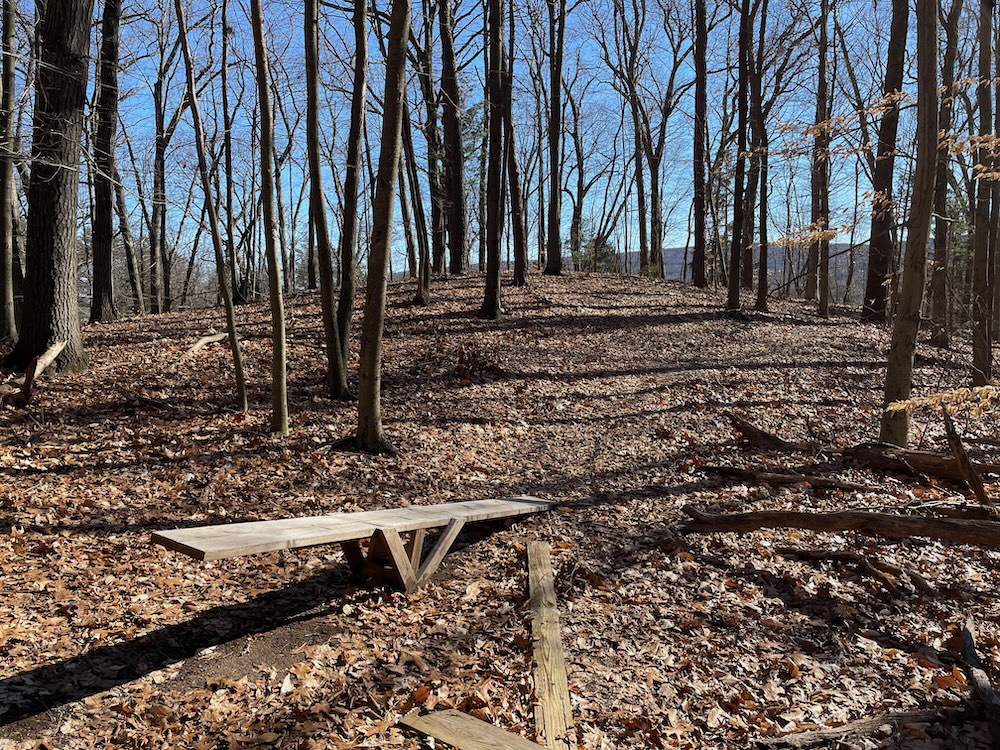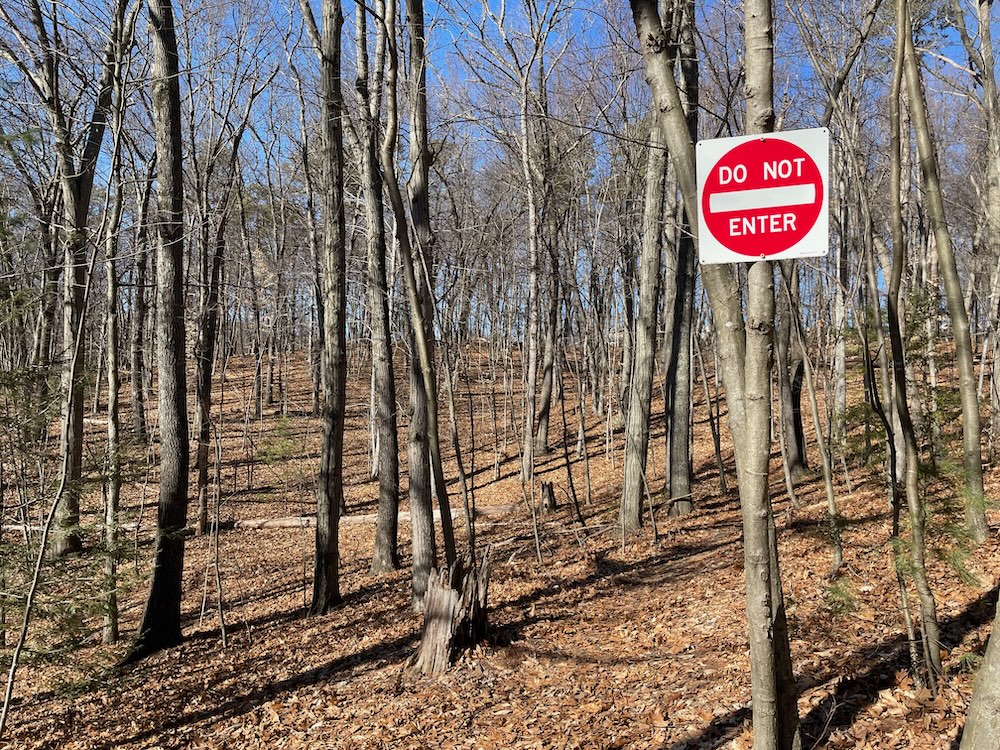 It's as hilarious to think that skaters would stick to the specifics of these rules as it is to think they aren't using obscene language when they fail to land that fakie kickflip ollie for the 83rd time.
Also hilarious? Imagining the city employee who wrote this:
Home to concerts, festivals, trails, picnics, playgrounds, skateboarding and pool, Rockwell Park is a favorite place for the locals. With a fully equipped free outdoor skate park that includes ledges, a bowl, stairs, rails and more, it is the perfect place to play a game of skate or practice your bike tail whips.
The park's trails have proper signage. The disc golf course is said to be one of the best and most challenging around. The mountain bike trails have well-made berms built into the off-camber sections.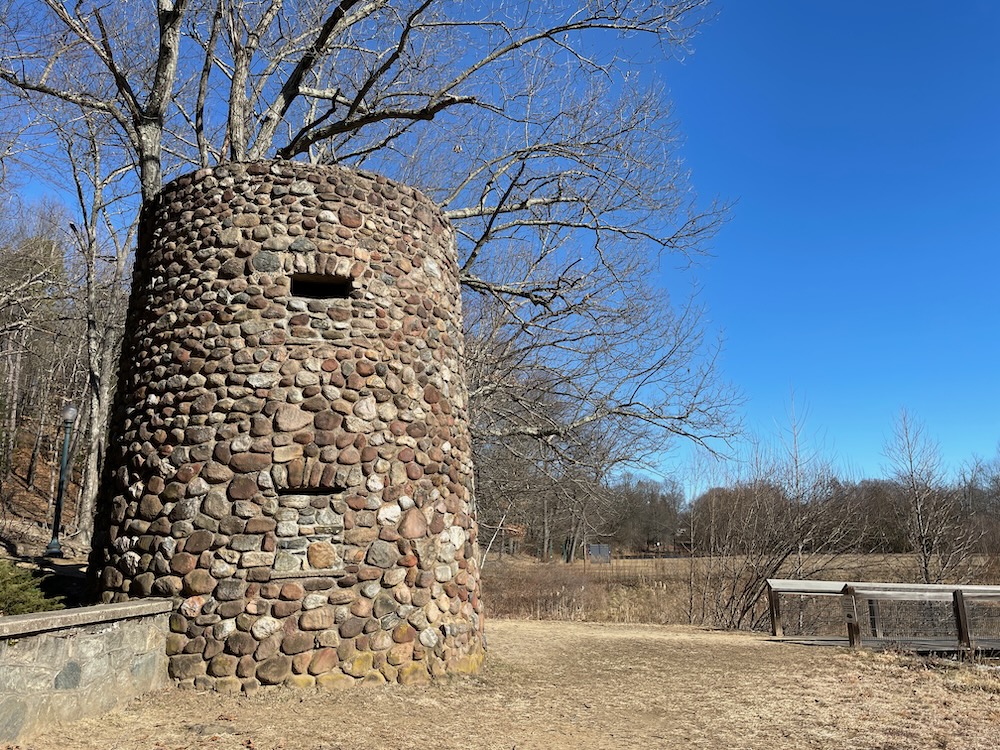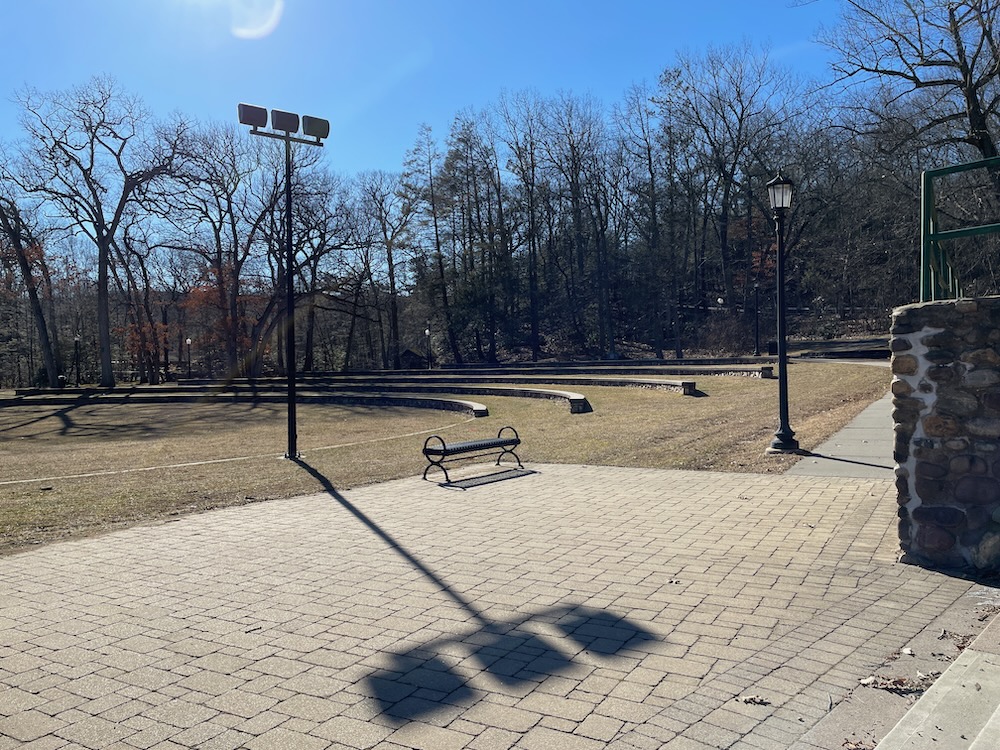 My aim was to take in as much of the place as possible, but to mainly focus on what I usually mainly focus on: the hiking trails. Now, what one considers "hiking trails" here is an individual preference. There's the quite nice flat stroll around the pond. There's the mess of mountain bike trails that are never really good for hiking. There's the disc golf course pathway. And then there's the wooded hiking trail.
I set off on the hiking trail first. Signs pointed the way, but I quickly learned those signs are mere suggestions here. And I quickly learned that it's nigh impossible to just stay on that particular route.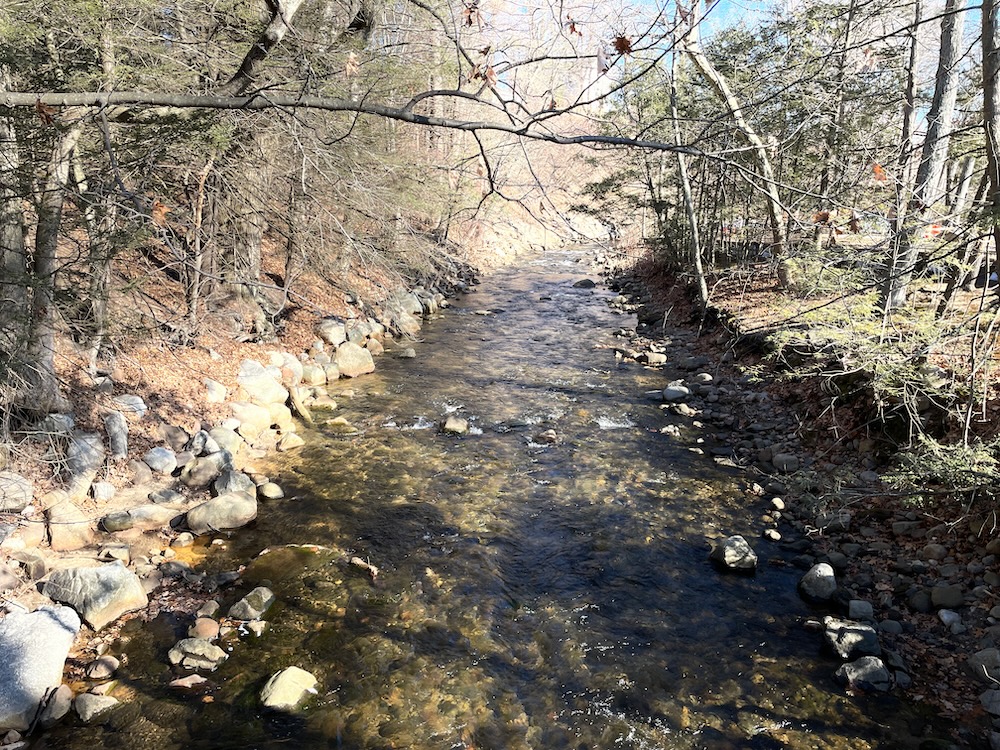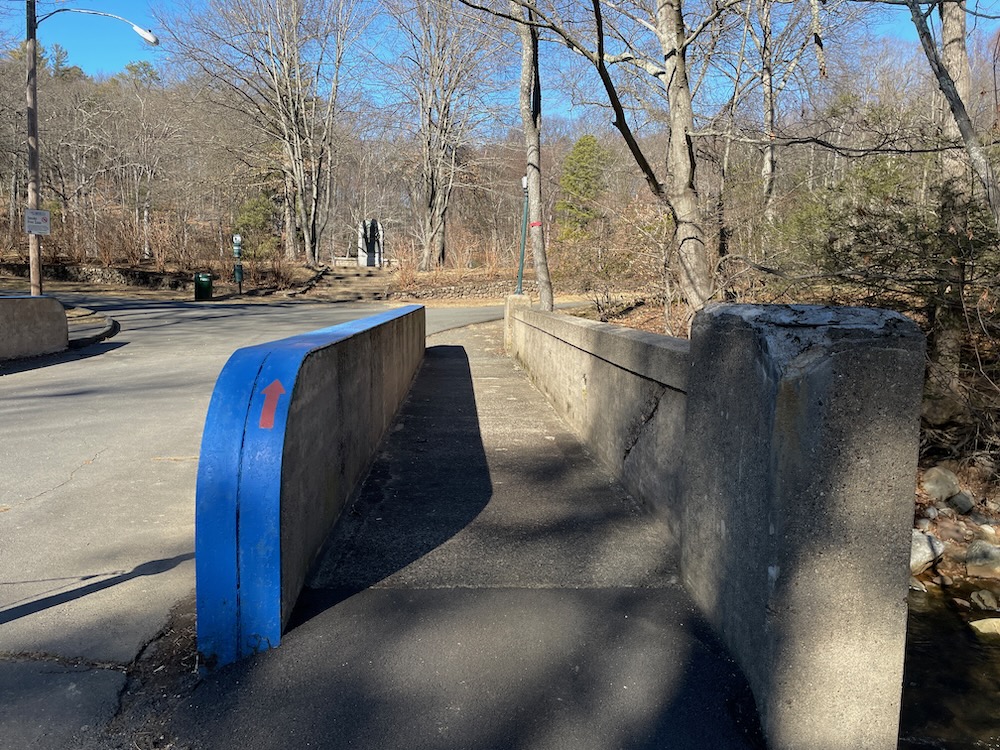 After climbing a hill, I found myself crossing a park road and went into the eastern section of the park, which is all purpose-built for mountain bikes. As I just said, hiking these types of trails is pretty dumb, as they are too twisty and turny and rarely make for pleasant walks. Still, I spent a good deal of time in this section of woods, growing more and more impressed with the construction and upkeep of the place.
I would my way back to the road and crossed back over to the hiking hiking trail; it's just a loop up a hill, around, and back down. It does connect to the disc golf course and I'm sure several people walk that loop as well. I poked around a bit, but was much more interested in the historic parts of the park.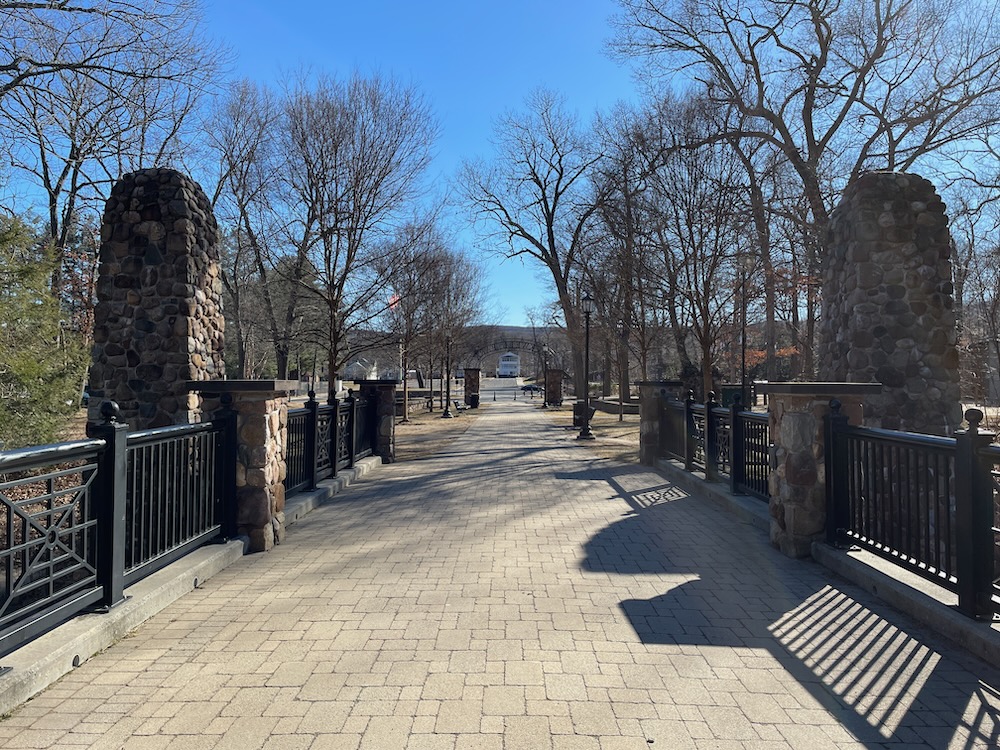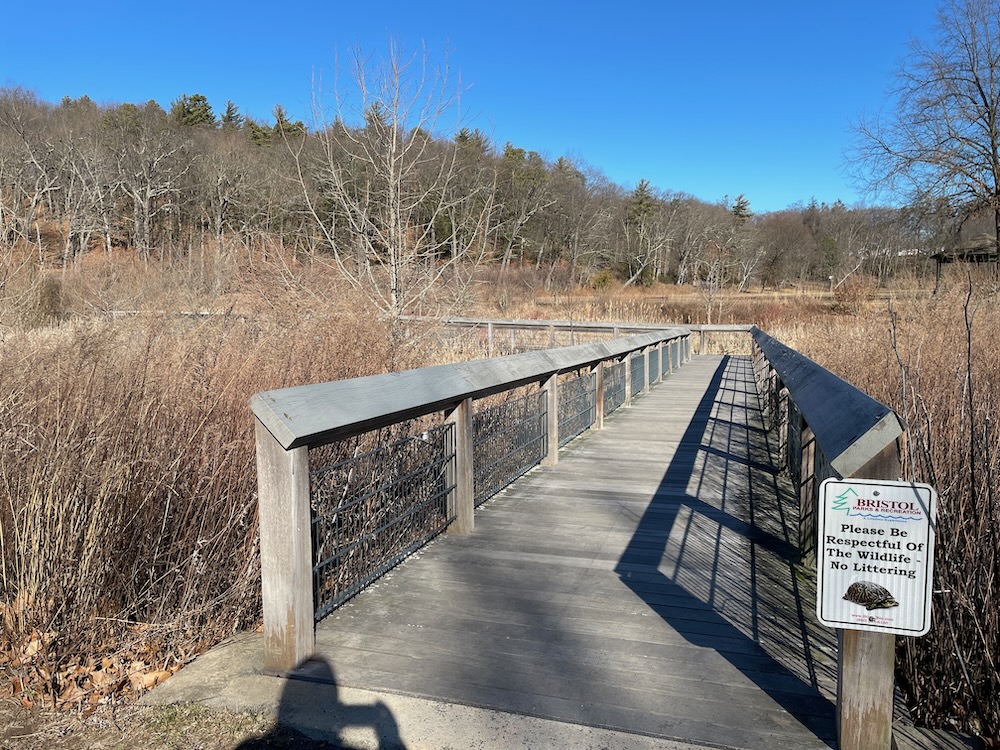 I descended – and there are some rather steep hills and ravines here – back down to the pond area and began walking the path around it.
Rockwell Park has some intricate stone work all over the place. The building that was built orginally as the bathhouse is absurdly ornate. I've no idea what it's used for these days, but its ridiculousness is an anomalous wonder here in the heart of Bristol. And, for that matter, so is the amphitheater.
They host concerts and stuff here, which is great, but its flat design just reminds me of something from 1678… as if I was alive in 1678.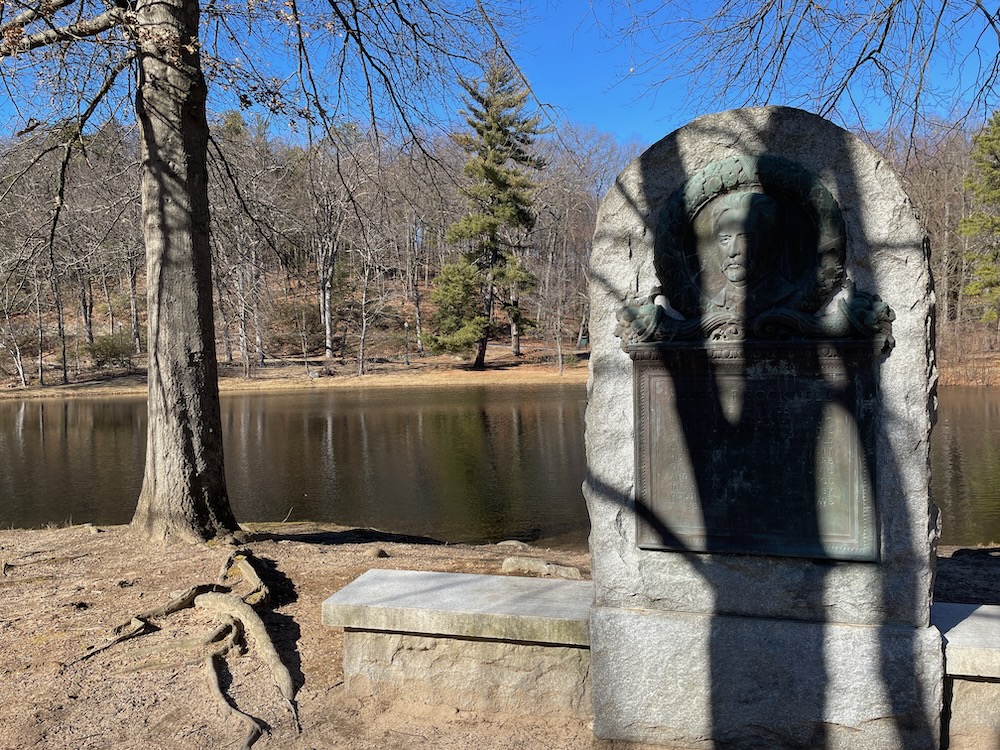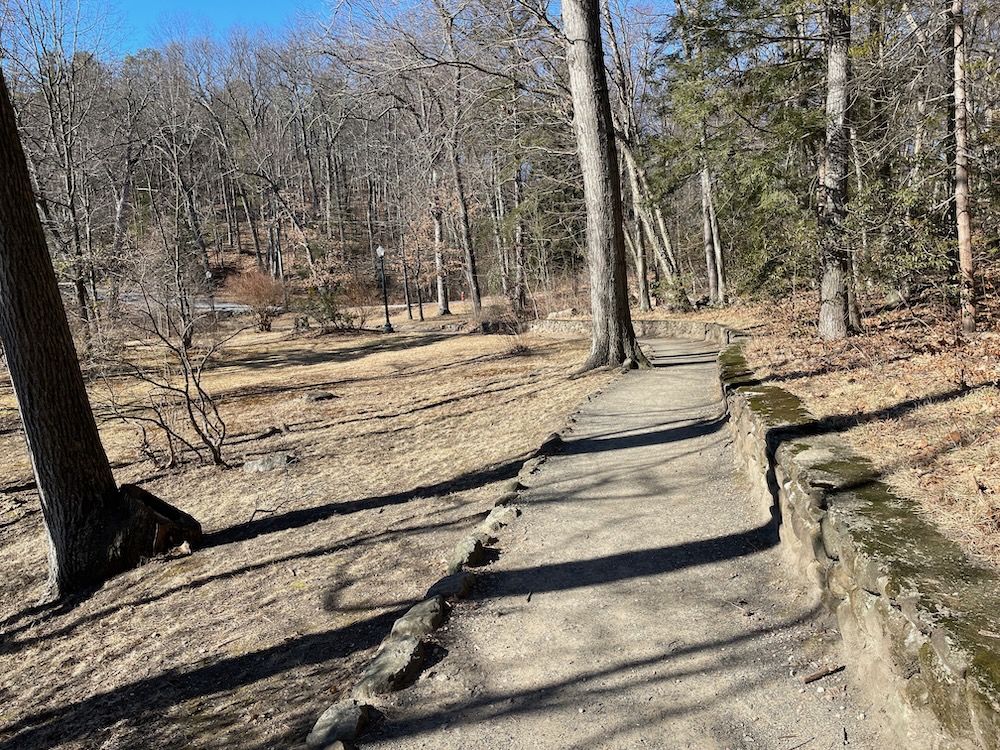 Bristol has even built an impressive raised boardwalk through a marshy area. It appears that phragmites has overtaken the little marsh, but if the upkeep of the rest of the park is any indication, I'm guessing they may remove all of that someday.
I finished my walk here by strolling down the crushed stone path along the Pequabuck, passing several monuments and plaques and the ornate cobblestone entry gate. Yes, some of Bristol's squalor can be seen near the park. Yes, Bristol has its issues. But don't we all? I know I do, and I know my own town does as well.
I will forever champion urban parks and urban trails. I think we all should.
Even if there are sketchy people that make you feel like…
I always feel like somebody's watchin' me
And I have no privacy
I always feel like somebody's watchin' me
Tell me is it just a dream